Jump to Recipe
---
This roasted cauliflower post includes affiliate links. When I find a great product or service, I like to share it with my readers. Sometimes I use affiliate links so I can earn commission for my recommendations. Thank you for your support!
---
Roasted Cauliflower in a Sticky Lemon Sauce with Steamed Asparagus
Skip the takeout tonight and make this Roasted Cauliflower in a Sticky Lemon Sauce instead! This easy vegan recipe is simple and ranks among my favorite vegan Chinese food options. To keep this vegan dinner healthy, I roasted the cauliflower instead of frying it and tossed it in an easy lemon sauce sweetened with maple syrup instead of honey. Then I paired this delightful vegan meal with simple steamed asparagus and brown rice.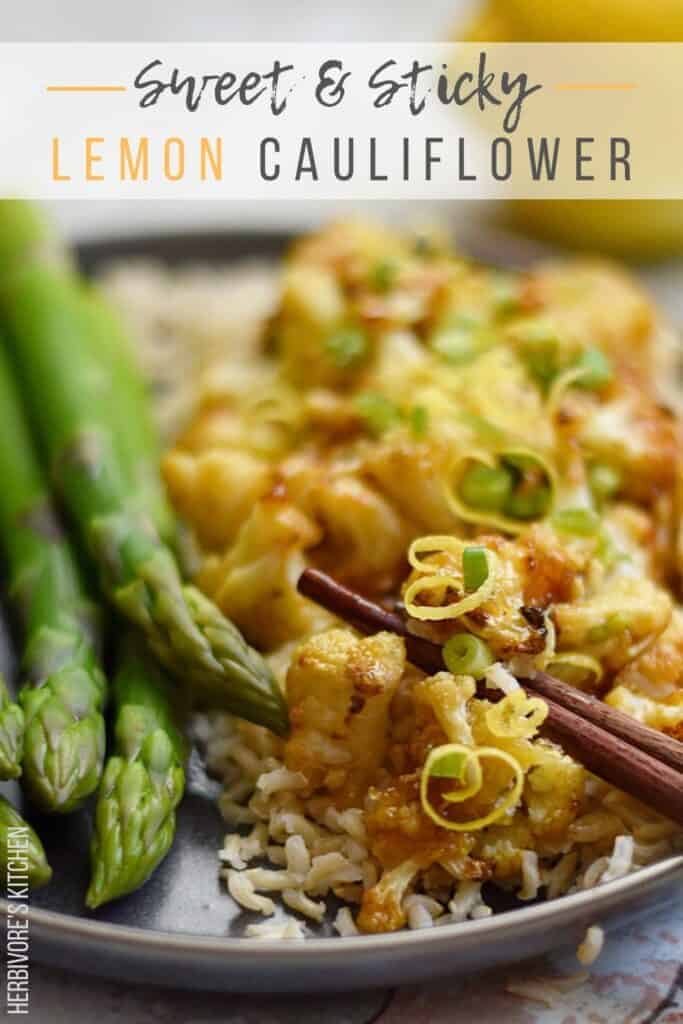 Keeping This Cauliflower Dish Healthy
Generally speaking, I really don't like frying food at home. It's messy, of course. To me though, the real drawback is figuring out what to do with the post-cooking oil. I know you can keep it for a few fries, but I'm just not that organized. Undoubtedly, I will find a jar of previously-used oil in the back of my pantry months later and have to throw it away.
As we all know, baking and roasting is a healthier option than frying – an added bonus to my home-fried food aversion. For this vegan recipe, I roasted the cauliflower. Roasted cauliflower will give you a pleasant crispy-on-the-outside-soft-on-the-inside result without the distraction of a heavy batter or overwhelming amounts of oil.
The Trick to Getting Crispy Roasted Cauliflower
The trick to crispy roasted cauliflower is threefold. This first step might sound counter-intuitive, but I steam the cauliflower before I roast it. This step pre-cooks the cauliflower so that when it goes into the oven, it achieves a crispy exterior before all of the moisture cooks off. This simple 8-minute step will make all of the difference, I promise!
The cauliflower will be nice and moist when it comes out of the steamer, so I skip the step of dunking it in a heavy batter. Once it cools off a little bit, I toss it in a small amount of cornstarch being careful to shake off any excess. The easiest way to do this is to sprinkle to cornstarch over the cauliflower while it's in a colander after draining off the water. Then I shake it, allowing any excess to escape from the bottom of the colander.
Step three is to use the oil in this vegan recipe wisely. Using a basting brush, I lightly coat the bottom of a baking sheet with a neutral oil (I like grapeseed) then lay out the cornstarch dusted cauliflower on it. You can, if you'd like, use the basting brush to brush a small amount of additional oil on each piece of cauliflower before putting it in the oven. My preference, though, is to lightly spray the oil using a reusable, non-aerosol dispenser. I've tried a number of these over the years and these are my favorite. They deliver a nice, even spray without the crazy hand cramps that often come with a tool of this sort.
Making the Sticky Lemon Sauce for Your Roasted Cauliflower
This sauce is super simple and packs in a lot of flavor! Most often, you'll see recipes for Honey Lemon, but the vegan substitution is as simple as maple syrup. The sweetness of the syrup pairs up really nicely with the acidity of the lemon and the saltiness of the tamari. I like to add a little bit of cornstarch at this point in the recipe as well.
What is Cornstarch?
If you're not familiar with it, cornstarch is often used as a thickening agent in soups, stews and sauces. When it is heated, the starches are activated and swell. It's also used (as I did above) as a coating to help food develop a crispy exterior when baked or fried. Cornstarch is made from corn, so it's a gluten-free alternative to using flour as a thickening agent. It also has a more neutral flavor.
In many recipes, you'll see the addition of cornstarch by making a "slurry." A slurry – the combination of a small amount of cold liquid and the starch – will enable you to add cornstarch to a hot liquid without the cornstarch forming lumps. You'll see this technique in dishes like my No Coq Au Vin. For this recipe however, I blend the sauce in a mini food processor while all of the ingredients are cold and stir fry the sauce with the cauliflower at the very end.
All About Asparagus
Asparagus is one of my favorite vegetables. Asparagus adds a punch of color to any dish and is loaded with antioxidants, vitamins and minerals. I love to add this vegetable as a simple side (as I did here), but it's also a great candidate for grilling and roasting. I also add it to curries (like my Thai Green Curry Noodle Bowl) or use it in dishes like my Vegan Sushi Rolls.
How to Shop for Asparagus
When shopping for asparagus, look for a bunch that is bright green without signs of wilting or dryness. The tips should compact, bright green with a hint of purple. The diameter of the spears will vary. This is an indicator of the maturity of the asparagus when harvested and not the tenderness of the spears themselves. Both options can be flavorful, but I prefer to find the thicker spears when serving it as a side and the thinner spears when adding it to pasta, fried rice or curries.
How to Prepare Asparagus
To prepare asparagus, you first "unbunch" the spears and rinse them, removing any dirt or debris. Then, line the spears up by the bottom and trim away the dried ends. For thicker spears, it's worth the extra time and effort to peel them. To do this, simply use a vegetable peeler and peel the outer layer of skin away from the bottom half of the spear.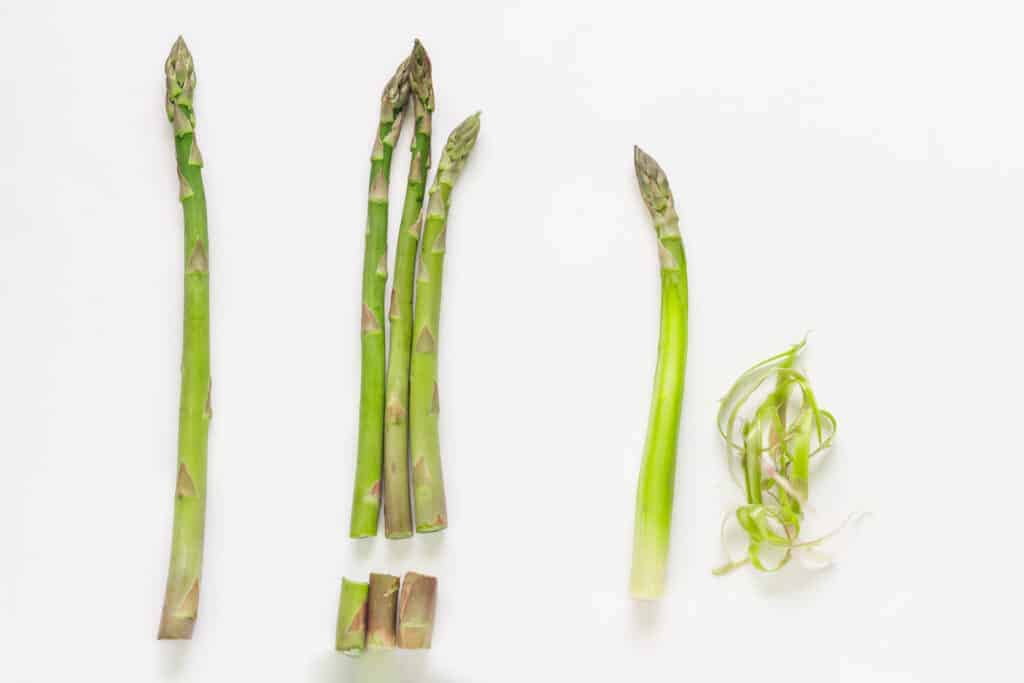 For this recipe, I elected to steam my asparagus. This simple method of cooking allows the superfood style of this vegetable to shine through. As you may already know, steaming is a method of cooking through water vapor. When steaming, vegetables are not in contact with the liquid itself, which prevents all those good-for-you elements from escaping. Steam time for asparagus varies depending on the diameter of the spears, but generally takes about 8 minutes.
Putting Your Roasted Cauliflower in Sticky Lemon Sauce Together
While the cauliflower takes a few extra steps, this dish does come together quite easily. I usually start by making the rice. In this case, I chose a brown basmati rice – a long grain rice with a sweet aroma. I like using aromatic long grain rice for a dish like this where I want the rice to have its own defined texture and flavor. Long grain rice maintains its structure and is complemented by a sauce, whereas a short-grain rice is a better option when you want the rice to absorb a liquid – for example, using Arborio rice in a dish like risotto or my Vegan Paella.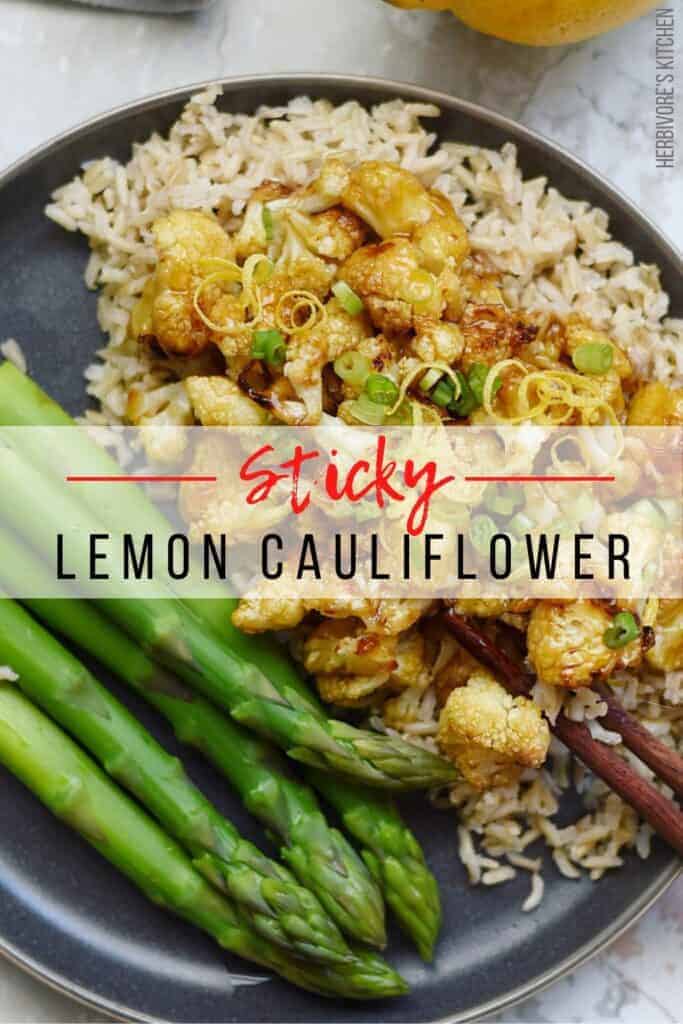 While the rice is cooking, I'll get busy on the cauliflower and make the sauce. The rice should be done shortly before the cauliflower, so I'll just cover the pot to allow it to stay warm. When the cauliflower done roasting, I'll steam the asparagus. It's best taken right from the steamer to the plate. And, while that's underway, I heat up the no honey lemon sauce in a large skillet. As it begins to simmer, the sauce will thicken. At that point, I'll start to gently toss in the roasted cauliflower. The sauce will continue to thicken, creating a sticky, caramelized coating to the cauliflower. Then it's all a matter of getting it plated and on the table hot!
What's in My Kitchen to Make This Vegan Recipe Easier?
Want to know what tools and resources I keep on hand to make my vegan cooking even easier? Here's a short list of what helped me create this blog post and recipe. For the complete list, visit my Shop where you can find the kitchen gadgets I like as well as a list of books that I recommend.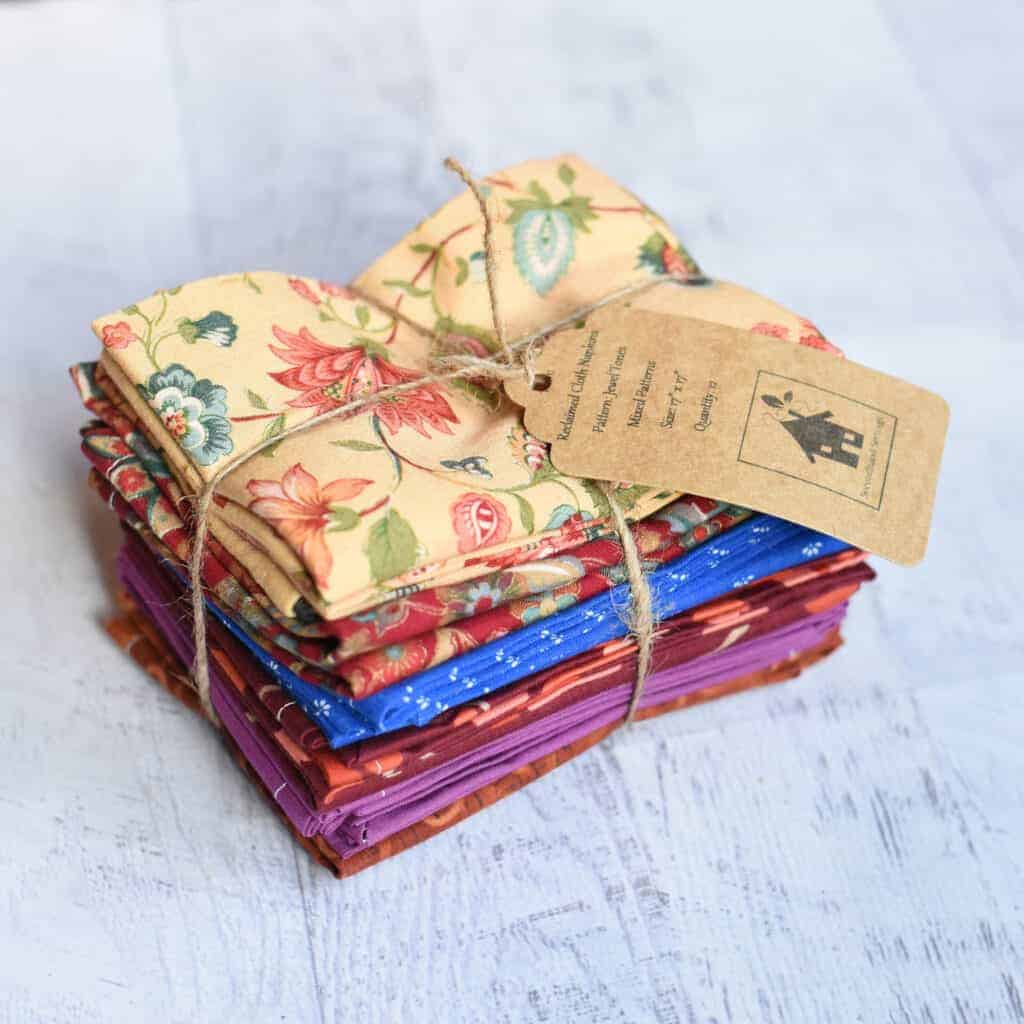 Before I get into cooking, I want to share these napkins. I found these on Etsy over a year ago and, not only do I LOVE them, I buy them as gifts for nearly everyone I know.
These napkins are upcycled and reusable, allowing you to not only avoid throwing away paper products but to also reuse fabrics – a small but significant way to cut back on water, dyes and chemicals used in the production process.
These napkins are so darling (they come in lots of different patterns and colors) and they're machine washable. I just throw them in with whatever load of laundry I'm doing. They don't wrinkle easily, so a quick fold will have them back on your table doing what they were meant to do… be reused!
I've tried a lot of non-aerosol oil dispensers over the years. Most of them were disappointments, either because they delivered a direct stream of oil instead of a mist before becoming clogged or because my hand would cramp so badly trying to hand pump out a few measly drops.
These dispensers are game changers though. I have the set of two, one that keeps olive oil and a second that I filled with grapeseed oil. They help me to use a fine amount of oil when I only need a small amount.
There are a few tools in my kitchen that get used all the time and this mini 4-cup food processor is one of them. It's perfect for sauces that don't require me to bring out the big guns. Clean up is easy and it doesn't take up much space.
These things are amazing! When I discovered parchment paper, I thought I had things figured out. No more greasing pans or ruining them with charred food. Then I discovered these silicon baking pads. They're oven-safe up to 450 degrees, dishwasher safe (top rack only) and easy to clean and REUSE!
Down a broiler pan? These aluminum baking sheets come highly recommended by the cooks who know best – Epicurious, Cooks Illustrated and Food & Wine. I bought mine because I needed a good, sturdy baking sheet to use under the broiler. One that wouldn't warp – and this one lives up to the task.
Aluminum is a good conductor of heat, so these baking sheets cook evenly. They're also light in color, so they discourage over-browning.
Here's my theory: food tastes better if it's eaten with the utensils it was designed for. This is why I use Ramen Soup Spoons for my ramen bowls (check out my Veggie Loaded Veggie Ramen) and why I use chopsticks for dishes like my Vegetable Lo Mein. These fiberglass chopsticks are attractive, inexpensive and reusable and won't give you splinters!
This handy dandy little tool is about to bring a ton of flavor to your dishes!
If you don't zest, it's something you should start doing. Everything from lemon, to lime, to oranges are zestable ingredients. I add lime zest to my corn salsa used in my Spicy Lentil Street Tacos Recipe and lemon zest is a great add for dishes like homemade tomato sauce.
Designed to serve pasta, I use these shallow dinner bowls all. the. time. I love that I can present all of the ingredients of a dish without over-serving in terms of portion. With a standard bowl, food ends up being stacked and that's no way to display all of your hard work. These bowls are an inexpensive, practical way to present everything from pasta bowls, curry bowls and burrito bowls.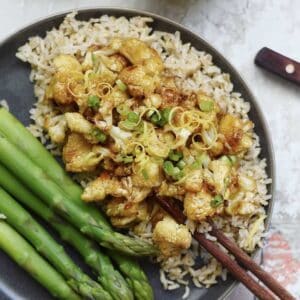 Roasted Cauliflower in a Sticky Lemon Sauce with Steamed Asparagus
Skip the takeout tonight and make this Roasted Cauliflower in a Sticky Lemon Sauce instead! This easy vegan recipe is simple and ranks among my favorite vegan Chinese food options. To keep this vegan dinner healthy, I roasted the cauliflower instead of frying it and tossed it in an easy lemon sauce sweetened with maple syrup instead of honey. Then I paired this delightful vegan meal with simple steamed asparagus and brown rice.
Ingredients
2

cups

dry brown Jasmine rice

1

head

cauliflower

washed and cut into small florets

3

tbsp

cornstarch

1

bunch

asparagus

prepared as described below

1

tbsp

grapeseed oil

plus spray (see directions below)

1/2

cup

water

2

tbsp

tamari

3

tbsp

maple syrup

1

tbsp

fresh lemon juice + zest

1

tbsp

cornstarch

1

clove

garlic
Instructions
Preheat your oven to 425º.

Cook the rice in accordance with package directions.

Wash and break the cauliflower into bite-sized florets. Set up your steamer basket, being careful to ensure that the basket is not submerged in water. Bring the water to a boil and add the cauliflower florets. Steam until easily pierced with a fork. About 8 minutes.

Put the steamed cauliflower into a colander. Gently sprinkle the cornstarch over the cauliflower and shake to remove any excess.

Using a basting brush, lightly coat a large baking sheet with grapeseed oil. Lay the cauliflower out on the baking sheet. Then, either using the basting brush or a refillable, non-aerosol dispenser, lightly coat the top of the cauliflower pieces.

Bake the cauliflower 30-35 minutes until golden-brown and crispy, stopping to flip the cauliflower occasionally.

While the cauliflower is baking, prepare the sauce by combining the water, tamari, maple syrup, lemon juice, cornstarch and garlic in a mini food processor. Blend until smooth. If you don't have a mini food processor, whisk the water and cornstarch together first in a small bowl then add the rest of the ingredients.

When the cauliflower has approximately 10 minutes left, prepare the asparagus by washing and trimming the woody ends. If the spears are thick, consider peeling the ends of the spears (about halfway down the spear to the bottom) with a vegetable peeler to remove the tough exterior. Prepare your steamer, bringing the water to a bowl. Steam the asparagus for ~8 minutes. The finished asparagus should be bright green and firm, but able to be pierced with a fork.

While the asparagus is steaming, add the sauce to a large skillet. Bring it to a simmer, stirring frequently. The sauce should start to thicken. Add the roasted cauliflower and gently toss the cauliflower into the sauce as it thickens. 2-3 minutes.

Plate your dish with the Basmati rice topped with the sticky cauliflower. Add the asparagus spears as a side and sprinkle with lemon zest. Serve with additional tamari and sriracha sauce as desired.
About Herbivore's Kitchen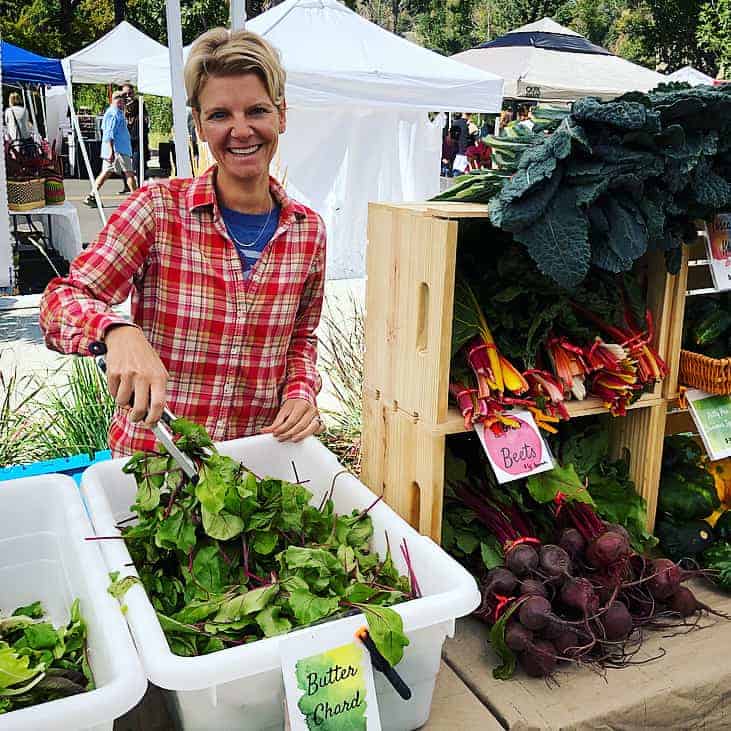 Herbivore's Kitchen is a blog run by me, a plant-based home chef and aspiring food photographer. I switched my and my family's diet to a plant-based diet after learning about the health benefits of going vegan. Making this change has prompted a variety of food and holistic-lifestyle related questions that I explore through this blog. I talk about how to pick and prepare the most nutritious foods, to how to reduce waste at home, to how to live a more sustainable lifestyle while on the road.