Fresh Tomato Salsa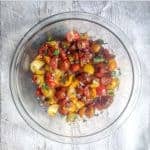 Summer gets me in the mood for salsa! Whether I'm dressing up some nachos, filling a taco or just snacking on it with some warmed tortilla chips, salsa is so satisfying. While I like new and different combinations — pineapple green salsa or peach habanero — my favorite is just a fresh tomato with a lot of lime.
This fresh tomato salsa recipe takes a few extra minutes because I hand chop the tomatoes, but I think it's worth it. I just like the larger, chunkier tomato pieces as opposed to putting all of the ingredients into my food processor. Aesthetically, I think this version is the best if you're adding the salsa to a dish, like tacos. It's just so colorful and inviting! If you're wanting to serve it as an appetizer with chips, the large tomato pieces do make it a little cumbersome. In this case, I do run it through the food processor with a few quick pulses. Either way, it's best if you make the salsa at the beginning of your meal preparation because it will marinate in its own juices and become all that much better.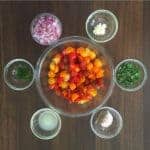 If I can get my hands on them, I love to use varied color grape tomatoes. It just gives the salsa a little bit of pop. If those aren't available, I prefer red grape tomatoes or Campari tomatoes. I love the bold sweetness that they offer, but they do have a lot of seeds and a lot of juice. If you Google it, a lot of other recipes recommend Roma and other meaty tomatoes with fewer seeds. To each his own.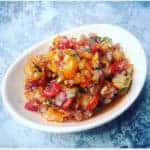 When I use grape tomatoes, I rinse them and then cut them into quarters. This sizing gives the salsa a really chunky appearance. Then I add an onion (vidalia if it's in season; red if it isn't), garlic, cilantro, lime juice & lime zest and salt and pepper. Chopped jalapeño works well too if you like a little bit of spice. I don't add olive oil to mine because I don't think it needs it. The lime juice and the juice from the tomatoes seem to do the trick.
I always use fresh lime which enables me to use the zest. As you may already know, I try and up the ante in each of my recipes by including an ingredient that is new and interesting or otherwise might be overlooked. I call it my 1-Better Ingredient. And, in this case,it's the lime zest. You can read more about the health benefits of lime zest (and other citrus fruits) here. But, with a fresh salsa, it hardly seems fair to label one ingredient as better than the others — the whole thing packs a very serious nutritional punch!
Fresh Tomato Salsa
August 15, 2018
: 6
: 20 min
: Easy Peasy!
Summer got you in the mood for salsa? This fresh tomato version is a medley of sweet onions, zesty lime and satisfying tomatoes.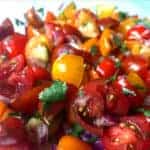 Ingredients
1 pint grape tomatoes, cut into quarters
1/2 onion, vidalia or red, finely chopped
1 clove garlic, finely chopped
1 lime, juice and zest
1/4 c. roughly chopped cilantro
Salt and pepper, to taste
Directions
Step 1

Rinse the tomatoes and rough cut into quarters. Set aside in a medium-sized bowl.

Step 2

Finely chop the onion and garlic. Add to the tomatoes. Zest the lime and add the zest and the juice to the tomatoes, onions and garlic.

Step 3

Roughly chop the cilantro. Add to the salsa, along with salt and pepper to taste.

Step 4

Allow the salsa to rest for at least 10 minutes, stirring occasionally, so that the flavors can meld together.

Step 5

Note: This recipe is for the chunkier version of the salsa. As mentioned in the blog post, I like to use this version when I am adding it to a dish. Arguably, it's too chunky to eat with chips and salsa. If you'd like it as a snacking salsa, simply put it in a food processor and pulse a few times.
What's in my kitchen that makes this recipe even easier?
While my version is older, a good chopper makes making salsa so much easier! It gives you a lot of control over the size of your cuts and it keeps your fingers away from a knife edge and free from the residual smell of onions and garlic. For this recipe, I don't use it for the tomatoes or the cilantro — only for the onions and garlic. If you don't already have one, having a good zester is key. Like the chopper, my version is a little older, but this one gets great reviews and it has a peeling tool — perfect for summer cocktails!
Did you make this salsa? What did you think? Did you make any changes to it? Tell us about them!
Don't forget to show us your stuff on Instagram! Let us know you did with the hashtag #herbivoreskitchen!