Get to Know Your Friendly Food Blogger
Welcome everyone! (Seriously! Whether you're a long-time vegan or just vegan curious, I am glad that you are here!) My name is Kate and I am the food blogger behind all of the vegan recipes that you'll find on Herbivore's Kitchen!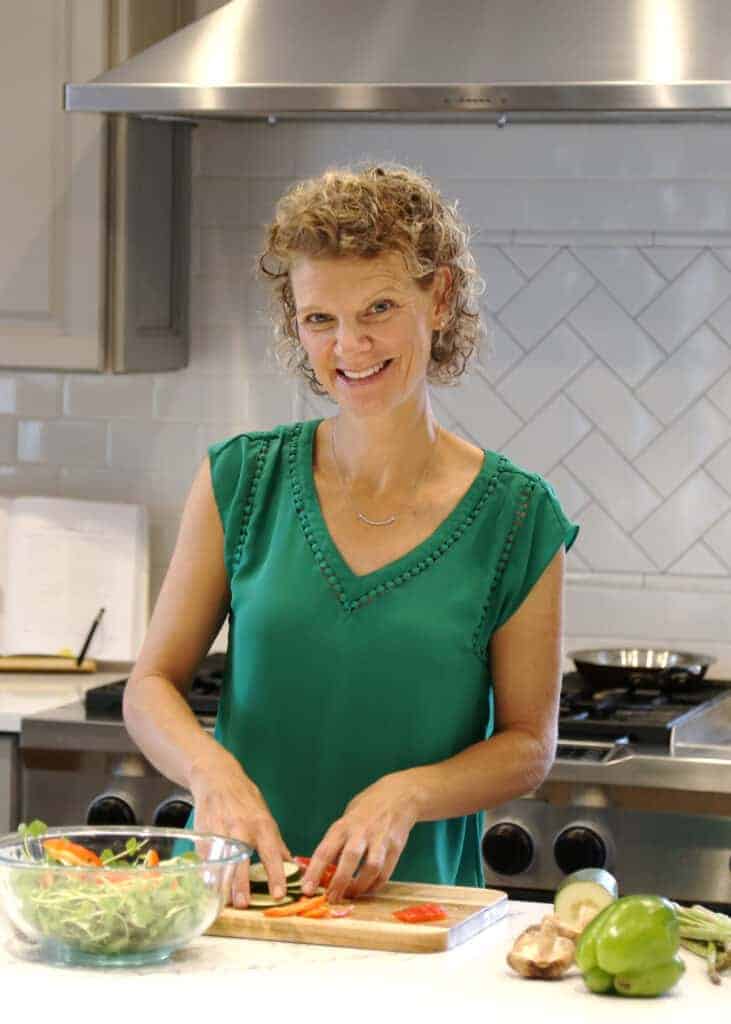 Food has always been a hobby for me. I've always loved to cook…and eat. In recent years, that love has grown to include more and more food-related activities. I'm a food science nerd (check out my favorite food science books here). I geek out over food styling (I actually have a color wheel so that the color of my napkins complements my food) and I'm learning more and more about food photography every day.
I find that most people go to a vegan food blogger's About Me page for two reasons: (1) they're looking for an example of how to go vegan, or (2) they're interested in food blogging and are wondering how to get started. So, whichever camp you're in, hopefully my story gives you a little insight.
About Herbivore's Kitchen: How I Decided to Eat Plant-Based
My path to becoming a "vegan" (more on those quotes below) started when I accidentally attended a lecture on plant-based eating. A friend of mine asked me to join her for a speaking event called The Anti-Inflammatory Kitchen. I felt bad because I thought that meant she had bad gas, so I went. During that lecture I learned that an anti-inflammatory diet had a little to do with having gas and a lot to do with eating to live well.
While, my decision to change to a plant-based diet started out for health reasons, it's now largely fueled by environmental concerns. As you'll see below, I'm a huge fan of spending time outdoors. It only makes sense that I make decisions that reflect that. Did you know that eating plant-based is one of the easiest ways to make a big difference?
On Being the Perfect Vegan
And while I know it's the way to go… (deep breath)… I am not the perfect vegan. It's taken me a while to accept that, especially in light of this blog. So many vegans make this out to be an all-or-nothing proposition though and it's so daunting. Who wants to be part of a club where failure to meet the standard is an almost certainty? It's too much pressure. It occurred to me that perhaps I could offer a different perspective, so here is my philosophy:

If you subscribe to the argument (and I do) that eating a plant-based diet and making vegan-based choices will lead to a healthier you, living on a healthier planet, then it stands to reason that doing those things some of the time will reap the same proportional benefits. If you're just getting started, don't get sidelined by others telling you that "you're not a real vegan." Any effort, whether that's Meatless Mondays, vegan-curious, vegan-lite, mostly vegan or fully tenured vegan, is progress. My goal with this blog is to make the club bigger, so you're welcome here.
About Herbivore's Kitchen: How I Became A Food Blogger
My path is anything but typical, although I think a lot of food bloggers have that in common. I'm a long-recovered attorney and a mother of two. That sentence probably tells you all you need to know about how I got started blogging, but that's not my whole story. I'm also a former small business owner, an avid outdoor enthusiast, a voracious reader, a relentless entrepreneur and an adult who still doesn't know what she wants to be when she grows up.
Being creative is my jam. You'd think that would be obvious, but I needed to have it pointed out to me. At age 43 no less. I took a class on happiness. As part of the class, I had to determine what characteristics most aptly defined me. The idea was: if you know who you are, you can make better decisions about what will make you happy. After a series of tests, I received a list of my characteristics. Creative was my #1, followed by love of learning, curiosity, humor and honesty. [If you'd also like to take this class, you can find it on Coursera. It's a free online class out of Yale University.]
By the time I took the class, I had already started my blog and my Instagram account, but I was doing them both anonymously. It was self-fulfilling but didn't want anyone who knew me to know. In my mind, it didn't get any more cliché than lawyer-gone-blogger. The class (and some talk therapy) made me realize that I was fighting my greatest strengths and it was making me miserable. So, I shared my Instagram account with a few friends (now my biggest champions) and I decided to take blogging more seriously. In short, I came out as the nerd that I am.
Where You'll Find Me When I'm Not in the Kitchen
As I mentioned above, I'm an outdoor enthusiast. I live in a small town in the northwestern corner of Colorado called Steamboat Springs. It's known for its skiing in the winter and biking in the summer and it suites me perfectly.
In the winter, you'll find me on my skis (alpine, skate and backcountry) or out on a snowshoe with my beloved Australian Shepard, Tig. My husband is also a big skier and my kids are competitive nordic combined athletes (if you follow in Instagram stories you'll see them launching 15+ meters on any given Wednesday night).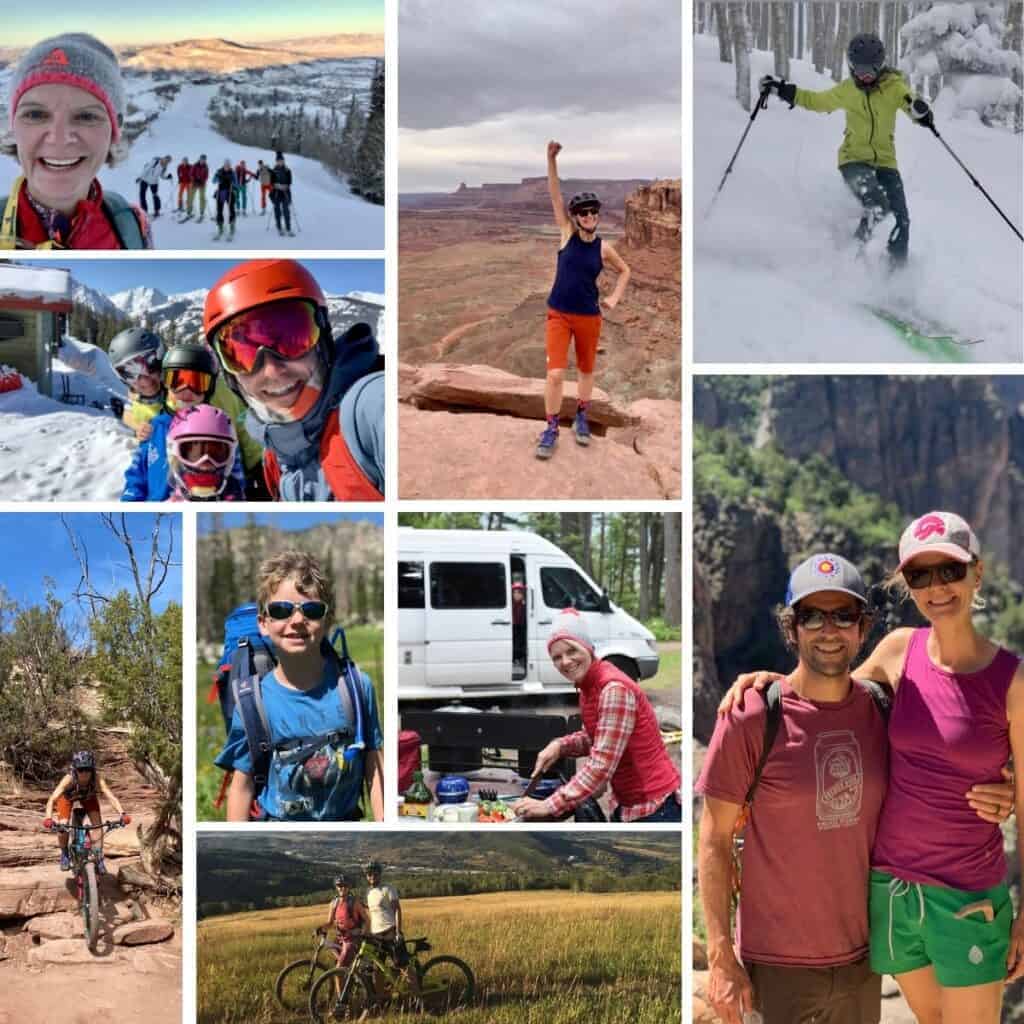 Summer is my favorite though. I love mountain biking. We have a Sprinter campervan (named Tootsie) and we travel around in her all summer long finding new adventures all over Colorado, Utah, New Mexico, Idaho, Wyoming, Montana and even British Columbia! She's tricked out with a sweet little kitchen, but I often set up an outdoor kitchen and share my recipes from there. You really can't beat the view!
Some Final Thoughts on Being a Food Blogger
I feel really lucky to have turned my love of cooking into a career. I have some really great sponsors and I've just released my first cookbook 5-Ingredient Vegan Cooking: 60 Approachable Recipes with Few Ingredients and Lots of Flavor.In addition to sharing my recipes, cooking tips and outdoor adventures,
I've recently launched a new venture called Confessions of a Food Blogger. Here you'll find helpful and informative food blogging articles, online courses and plenty of tips and tricks if starting your own food blog is on your bucket list.
Don't Be Shy! Introduce Yourself!
I'm always keen to meet new people, so please feel free to send me a message! Let me know what you think of the blog or if you've tried to cookbook. If you happen to find your way to Steamboat Springs, shoot me a note for a run or a ride!