This Vegan Barbeque: The Best of Vegan Grill Recipes & Vegan BBQ Sides includes affiliate links. When I find a great product or service, I like to share it with my readers. Sometimes I use affiliate links so I can earn a commission for my recommendations. Thank you for your support!
The Best of Vegan Grill Recipes & Vegan BBQ Sides
Plant-based eating doesn't mean that you have to miss out on the backyard barbeque! In fact, if you bring any one of these vegan barbeque recipes, you're likely to get invited to more of them.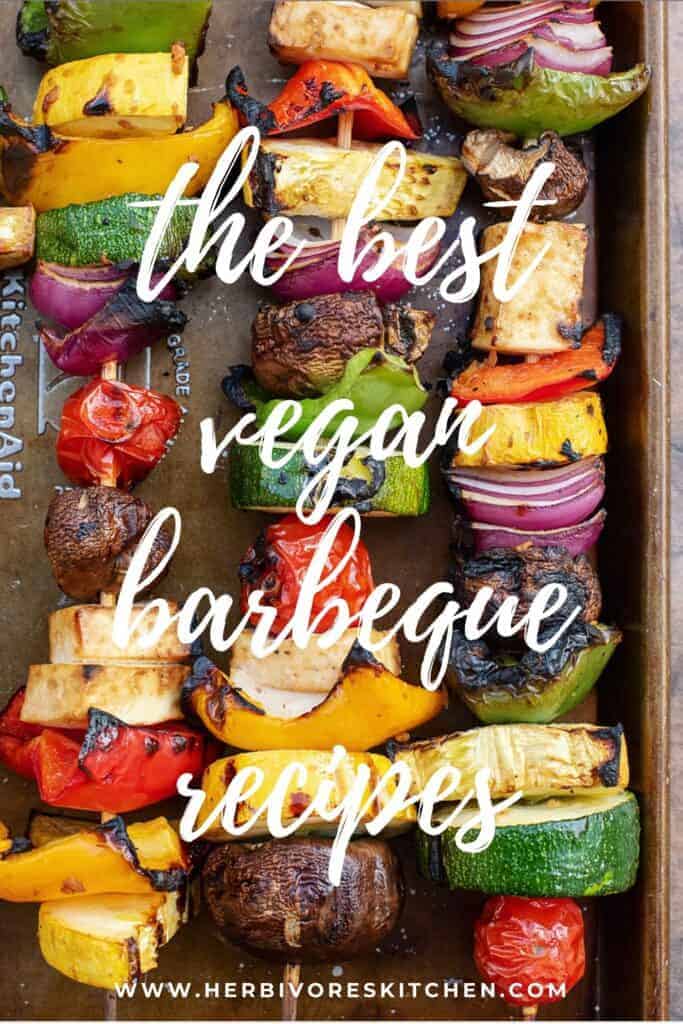 These vegan barbeque ideas cover salads and sides, like mango guacamole and sweet corn salsa, as well as vegan grill recipes, like veggie burgers and shish kebabs. These recipes are vibrant, full of flavor and made with easy-to-find wholesome ingredients. So, fill up the cooler, light up the grill and plan on having the best of plant-based eating with these vegan barbeque recipes!
Grilled Vegan Recipes: Success Depends on Good Grill Maintenance
If you're planning on having plant-based eaters to your backyard barbeque, you need to be prepared. When it comes to vegan barbeque the trick is food that won't stick to the grill. There's nothing worse than losing bits of your plant-based burger to a sticky grill (p.s. this also applies to traditional hamburgers too).
To prep your grill, make sure to preheat it for at least 10 minutes. When it's hot, take a wire brush to the grate and put your back into it. When the grill is hot, you should be able to remove those pesky bits of char that cause new food to stick.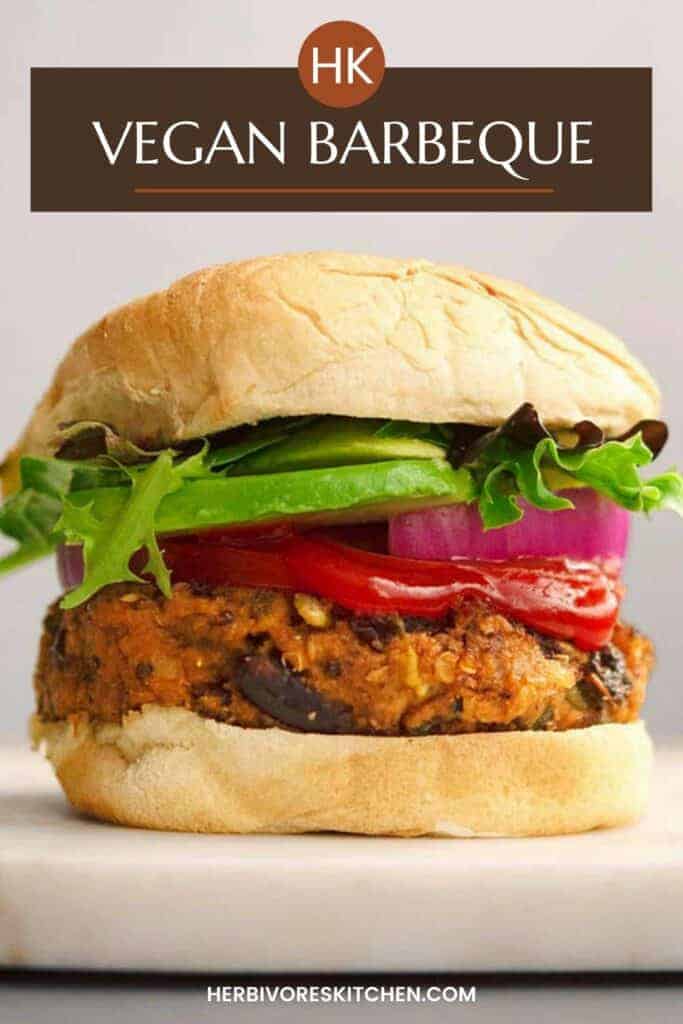 Once the grill is cleaned, you can lightly oil the grate. Make sure to use a high-temperature tolerant oil. I personally like safflower oil. According to Serious Eats, the best way to oil your grill is to soak a paper towel in the oil and then use tongs to lightly grease the grill grate. Of course, oil and fire are a bad combination, so make sure that your hands are protected. And make sure that you allow excess oil to drain from the paper towel before applying the oil to the grill.
The Best of Vegan Barbeque Recipes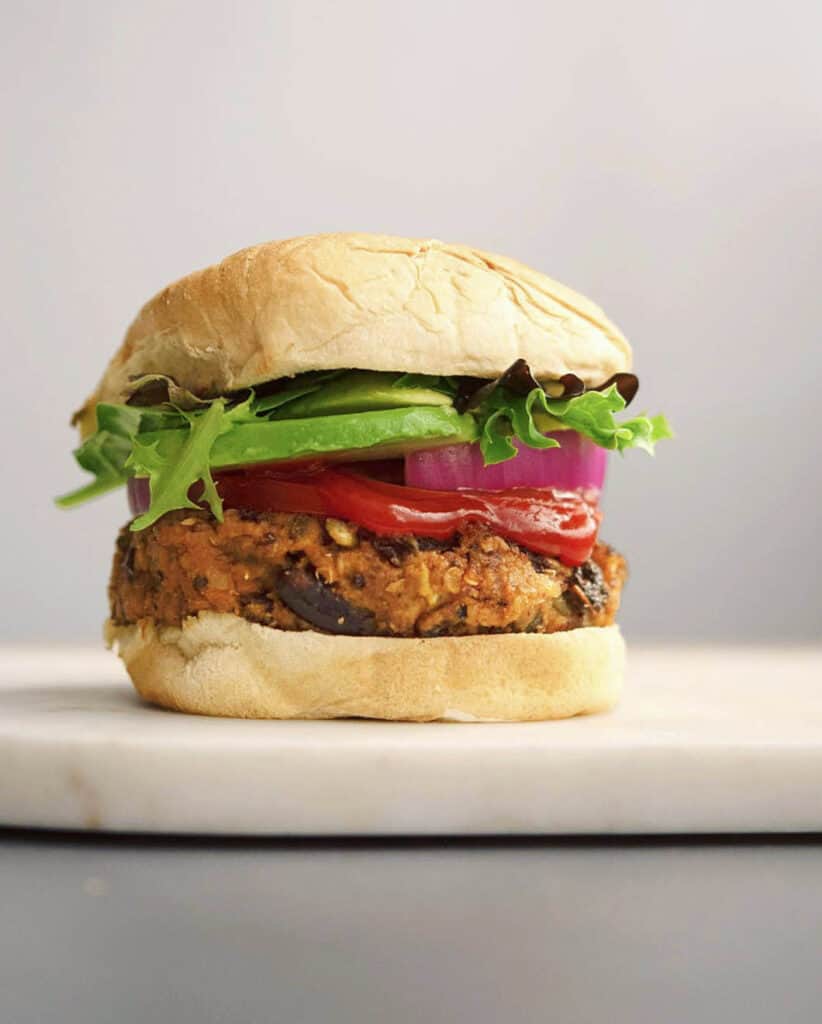 Homemade veggies burgers come in a variety of flavors, but I'm particularly proud of these Red Bean Burgers. These vegan burgers are made with kidney beans and quinoa and are held together with flaxseed "eggs" and a mashed Russet potato. This combination gives them a meaty texture that won't crumble as they cook. Pile these vegan burgers with ketchup, mustard, slices of avocado, lettuce and tomato and make your omnivore friends do a doubletake.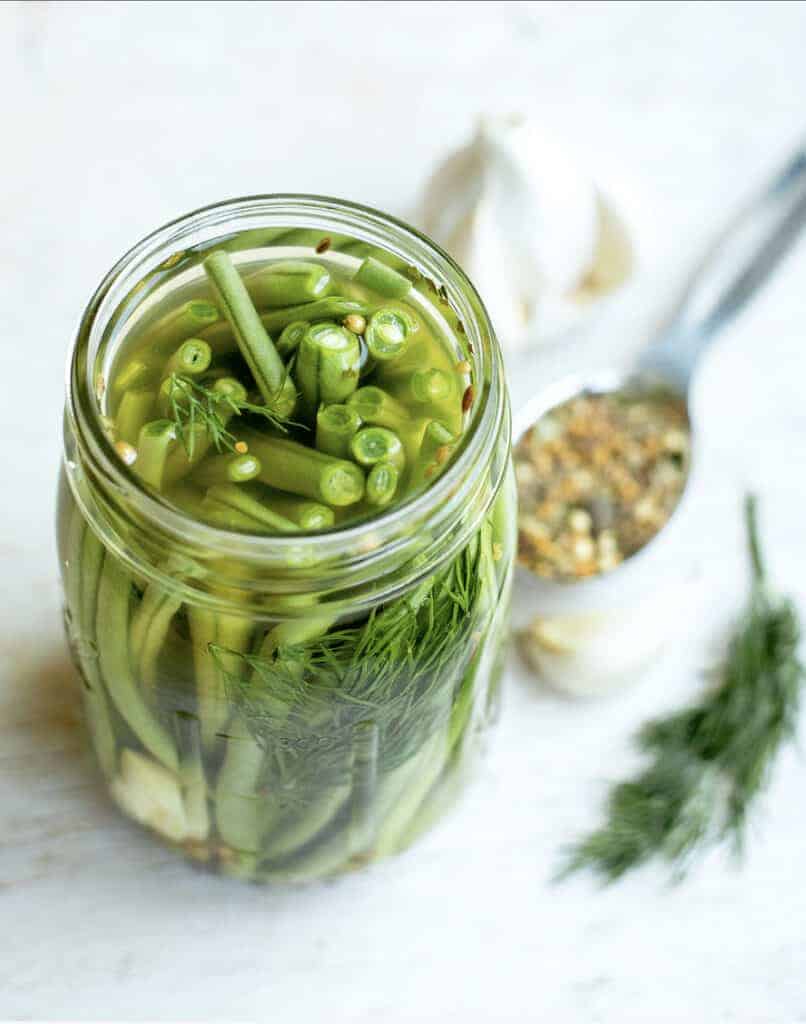 Forget pickles. Well, actually don't. Bring them too. But Dilly Beans are a special summer treat. My mother started making them for my kids and now a visit to grandma is now synonymous with a jar (or three or four) of Dilly Beans. Similar to dill pickles, Dilly Beans are a great way to showcase your summer harvest. Trust me, there's something really wonderful about the crisp snap of a pickled green bean.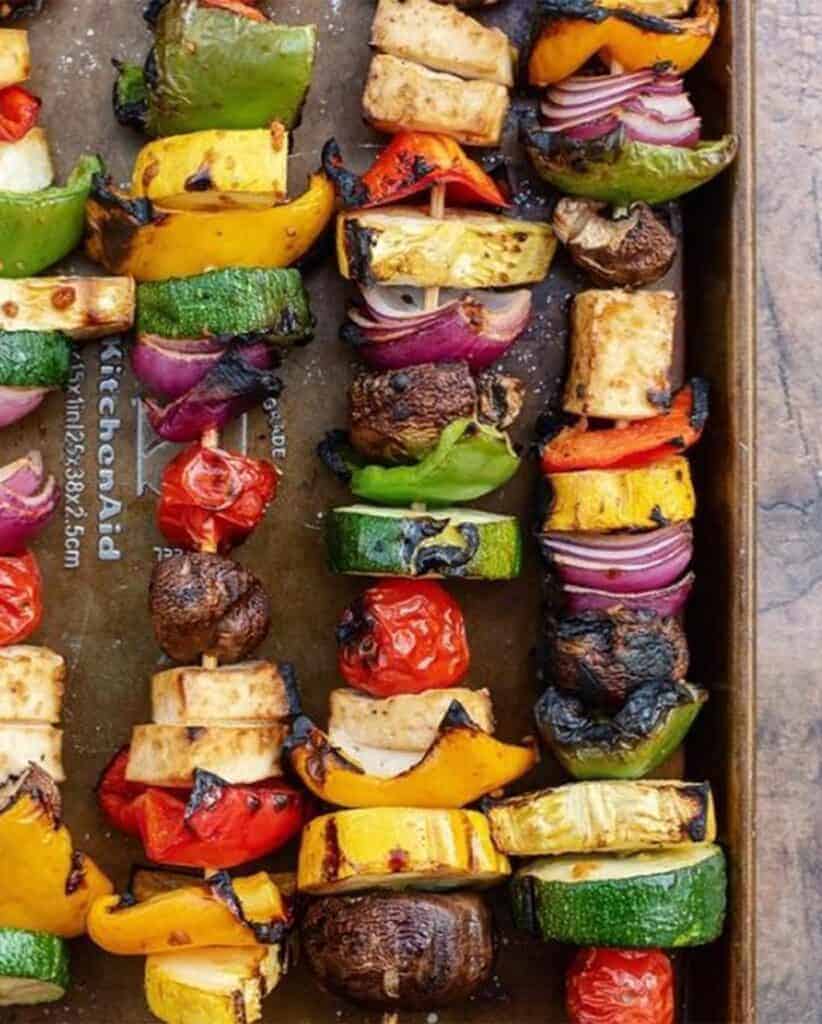 Nothing says summer quite like the shish kebab. These vegan shish kebabs feature a colorful assortment of fresh vegetables alongside my favorite meat replacements – tofu and mushrooms. I marinate everything in a homemade teriyaki sauce, but if you're overwhelmed with pre-barbeque prep work, feel free to find a commercial version.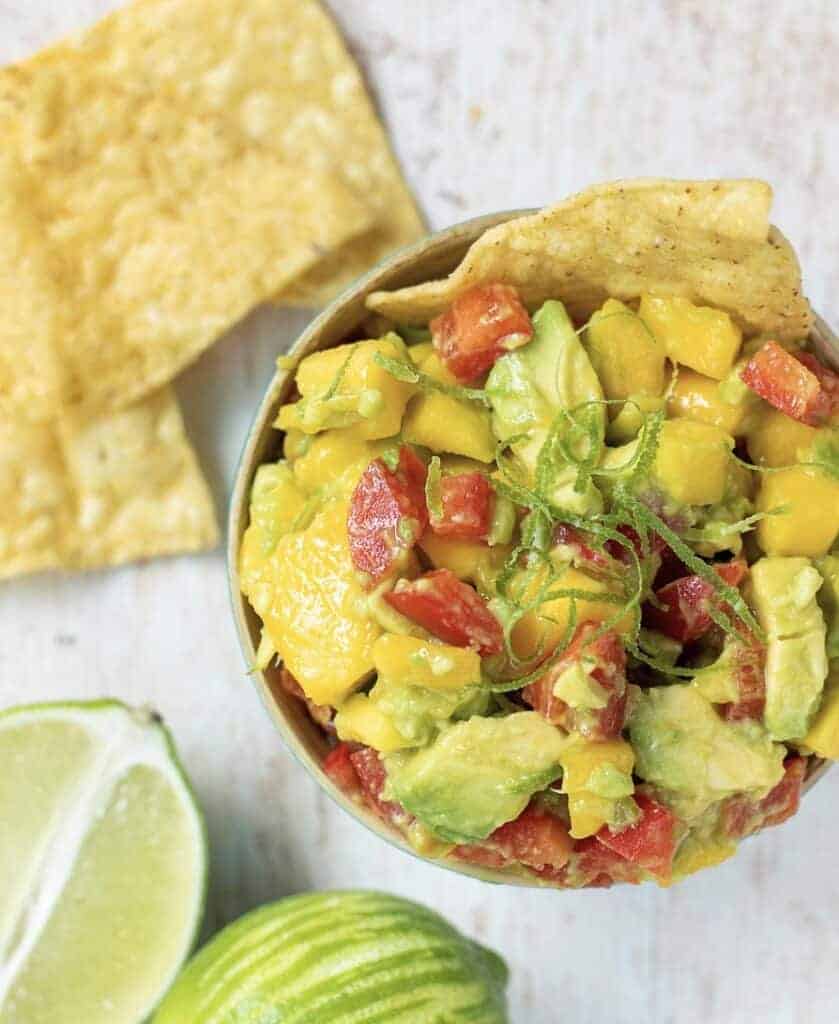 This guacamole recipe has a special place in my heart. My dad, who hates avocados, loves this mango guacamole. Trust me, if he loves it, you're going to love it too. The sweetness of the mango is complemented by the creamy avocado and (if you want) a little bit of spice from diced jalapeno.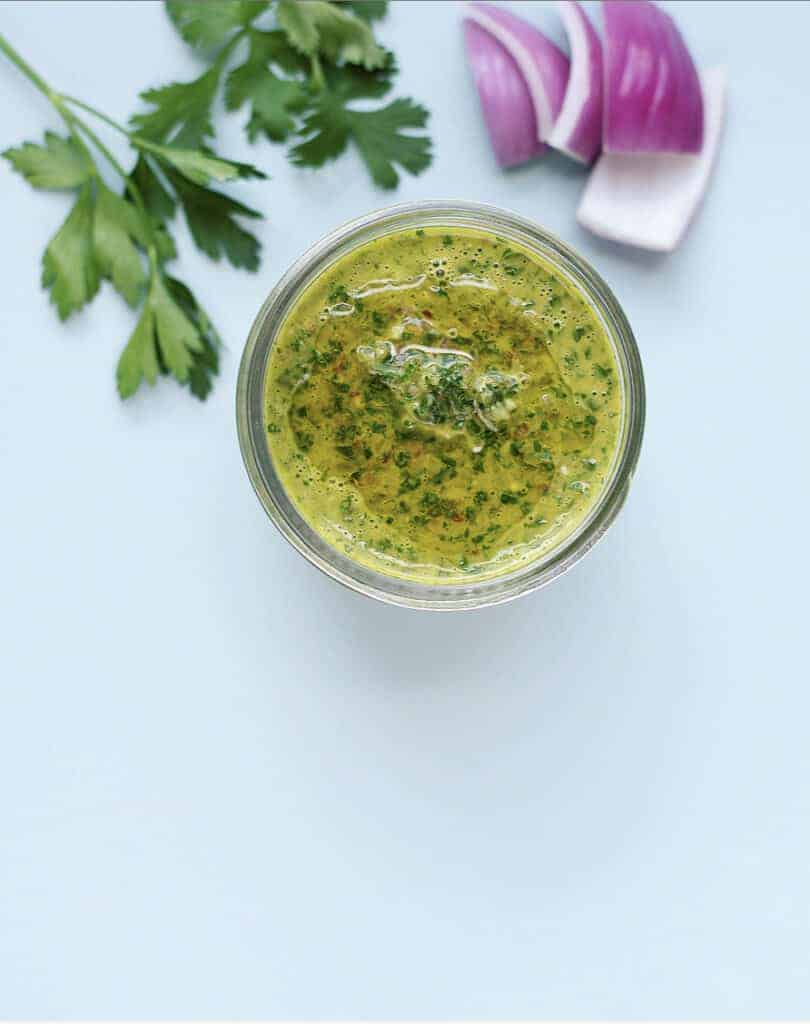 Chimichurri is one of my favorite summer condiments. If you haven't tried it before, chimichurri is a blend of fresh parsley and cilantro. Red wine vinegar gives it a lovely tang while olive oil makes it thick and silky. I like to add plenty of spice with crushed red pepper.
Chimichurri is often served with beef (it's Argentinian and they do love their beef), but I like to serve it over grilled portobello mushrooms. To grill portobello mushrooms, first clean the mushrooms thoroughly and scoop out the gills. Then lightly brush both sides of the mushrooms with oil and grill for a few minutes on each side (about 3 minutes per side) until the desired doneness is reached.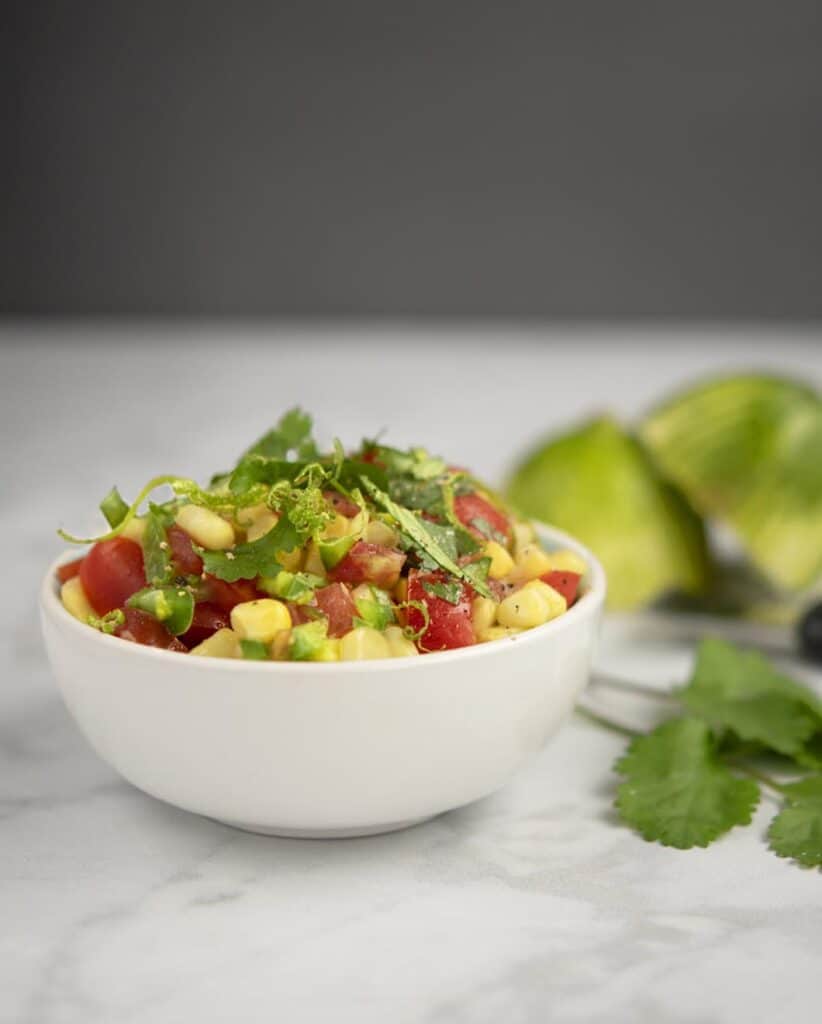 Nothing beats summer corn! Especially when you combine it with diced grape tomatoes, red onion, jalapenos and plenty of fresh lime juice. To make this vegan bbq side really stand out, make it earlier in the day and then chill it in the refrigerator for a few hours.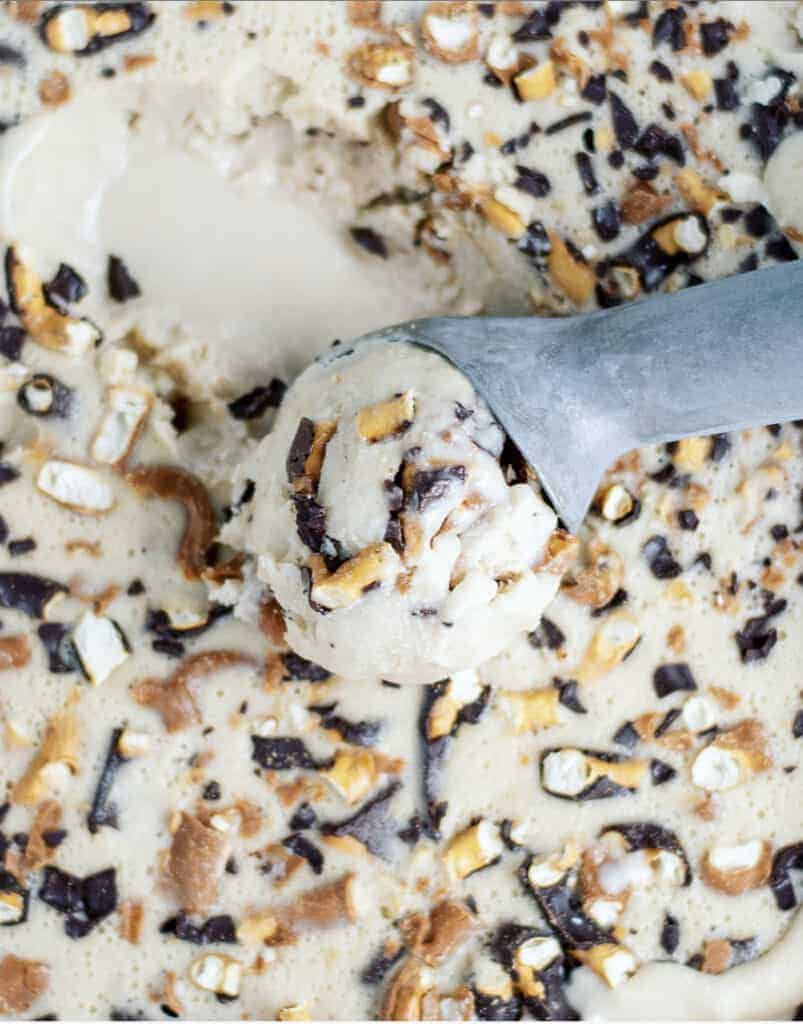 Ice cream is practically mandatory in the summertime. Plant-based eating doesn't rule having a big bowl of it out either. This vegan ice cream is made with thick, homemade cashew cream, oat milk and a hint of banana and packed full of chopped dark chocolate and peanut butter covered pretzels. It's like the vegan version of Ben & Jerry's Chunky Monkey!
Get Your Vegan Barbeque On!
It's time to get those evites out! You no longer have to fear how you're going to feed your plant-based friends at your backyard barbeque. If you try any of these vegan barbeque recipes, I would love to hear about them. Drop me a comment below or tag me on Instagram @herbivoreskitchen.
Do You Love These Vegan Barbeque Recipes?
Do you love these vegan barbeque recipes? Summer eating extends beyond the grill! If you're into cold noodle salads, then be sure to check out my Vegan Thai Noodle Salad with Sweet Chili Vinaigrette. Or, if an outdoor taco bar is more your scene, be sure to check out my The Best Vegan Taco Toppings post.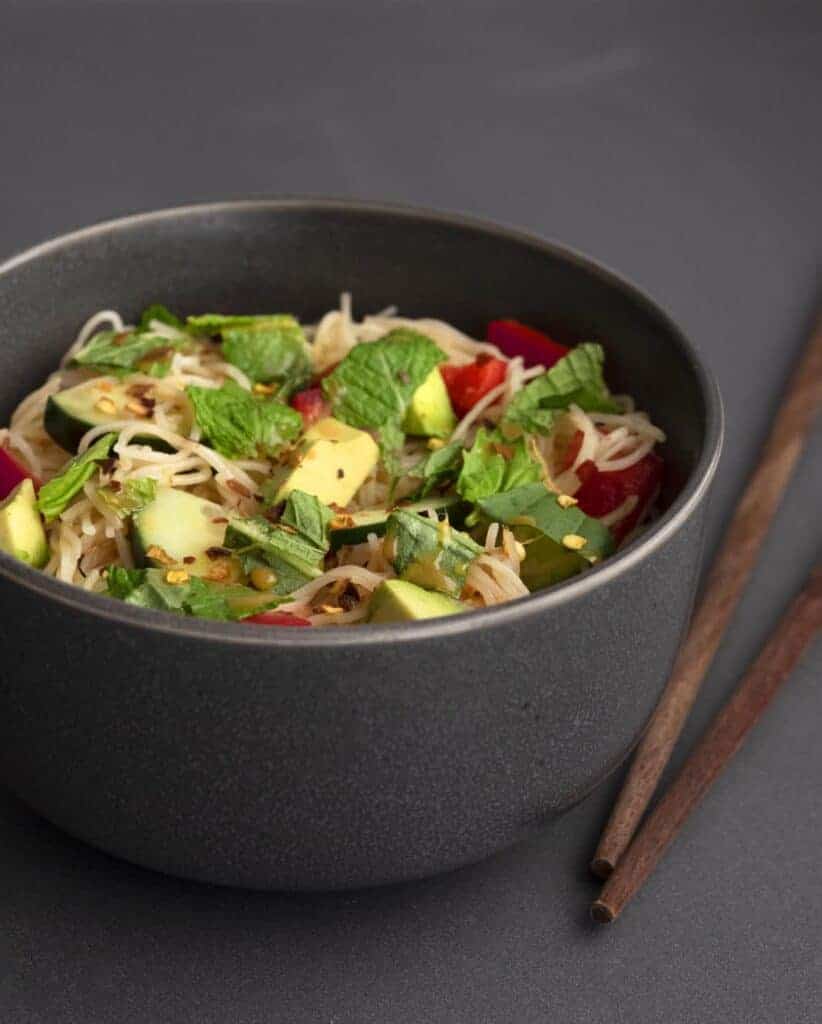 If you're looking for really easy, fresh recipes this summer, consider the cold noodle salad. This Vegan Thai Noodle Salad with Sweet Chili Vinaigrette recipe comes together in less than 30 minutes and its colorful presentation makes for a great way to showcase your farmer's market haul.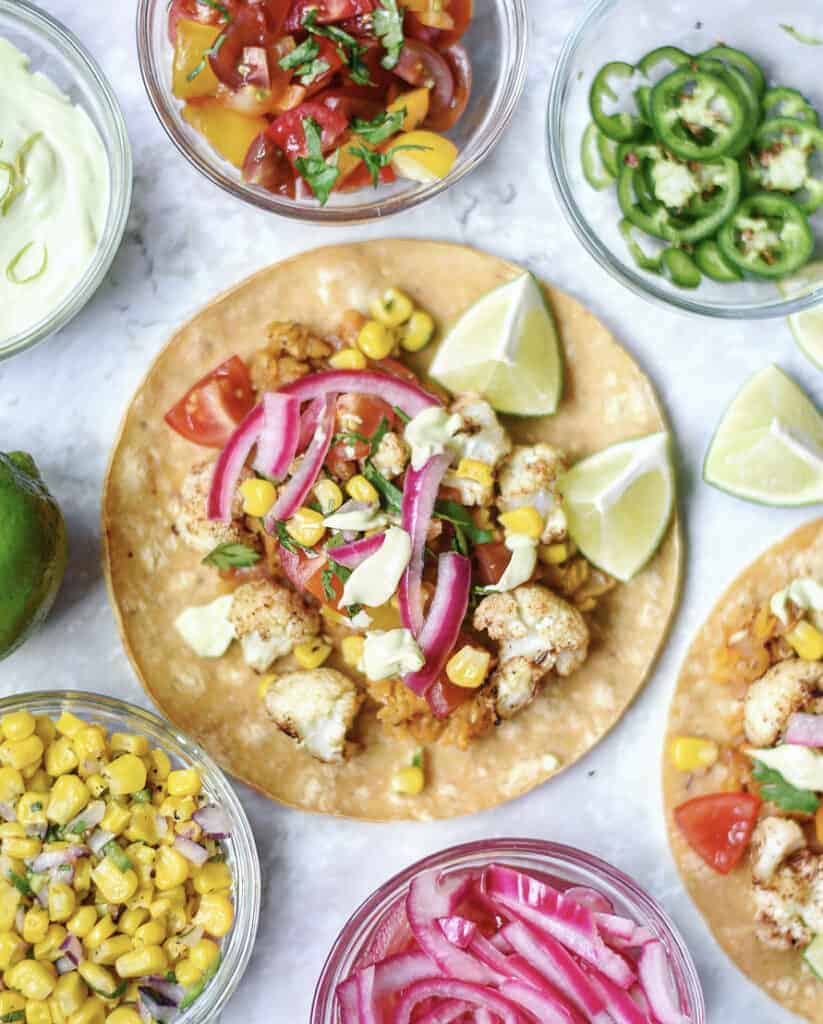 Going vegan doesn't mean your reduced to a life of boring tacos. Quite the contrary actually. There are so many vegan-friendly toppings for tacos that your biggest problem is going to be having enough room in your tortilla.
About Herbivore's Kitchen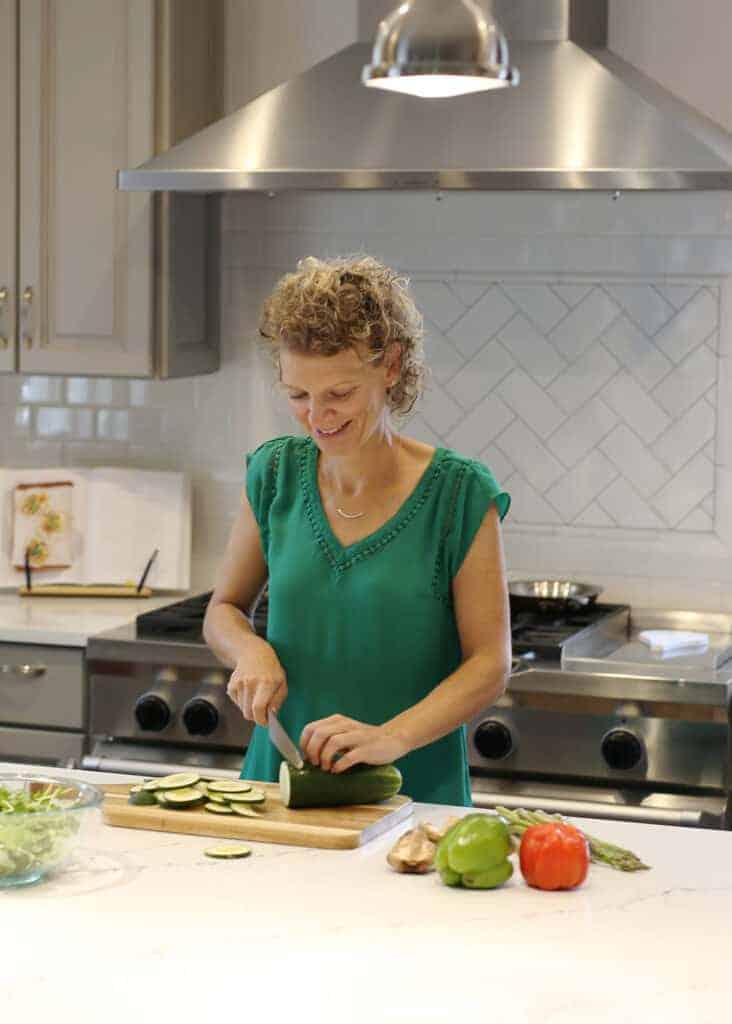 Herbivore's Kitchen is a plant-based food blog started by me, a vegan home chef, cookbook author, aspiring food photographer and how-to-be-a-better-food-blogger junkie. You'll mostly find creative and tasty vegan recipes and detailed deep dives into vegan ingredients (check out my Vegucation section) on my blog. I love knowing as much as I can about the food that I make. I'm also really into running a food blog as a business, so I've also got a section of my blog titled: Confessions of a Food Blogger where I get into the nitty gritty on how to build, manage, market and monetize a food blog.