Spicy Red Lentils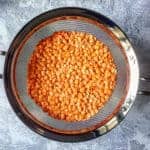 These spicy red lentils are a fan favorite in my household. When we switched to a plant-based diet, red lentils became a staple – they're tasty, simple and really good for you! I make them early in the week and we use them for several days. Having them in the fridge makes them a simple choice for a healthier meal option — whether it be for breakfast, a quick lunch or an easy "Mom's out of town" dinner.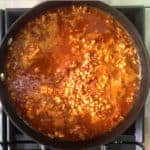 Lentil burritos for breakfast are a popular choice for my husband and my kids. I used to eat them as well, but as I progressed further into a plant-based diet I decided to forego the burrito and just eat the lentils as a bowl, which is how they're featured here. I often make this same bowl for lunch and for dinner my family will eat these lentils on tortilla chips with my fresh tomato salsa, black beans, toasted pepitas and fresh guacamole. The nachos have so much flavor, we don't even miss the cheese.
These lentils are relatively easy to make, but you do have to keep an eye on them while they're cooking as I often find that I need to add more water during the cooking process. I start with a deep frying pan and usually make the lentils in the morning while my family eats breakfast and prepares to leave for work or school. During this time, I'm active in the kitchen, but breakfast is low key enough that I can have these cooking in the background.
I choose red lentils because they are mild in flavor and cook down to a softer texture and, once mashed, are almost creamy. I prefer that to the structure that a green or brown lentil maintains when it's cooked. They're easy to find and inexpensive, especially when you buy them in the bulk food section of the grocery store. Just be sure to rinse them and pick out any debris before preparing them. Another key to this recipe is chipotle paste. I use Olo's (below) in so many of my recipes. It's a smoky spice that (at least in this format — be careful if you use a chipotle pepper directly) delivers an even heat to any dish. I add 1 T. to this recipe and some will say that's too spicy. I'm always adding more hot sauce though at the end so it may be best to start slowly and see what you like.
In terms of dressing this dish up, I love adding some sliced avocados and some greens. I used torn spinach in the featured image, but if I have micro greens on hand, you can be sure I'll add those! This dish also does well with variations, so sometimes when I am making it, I'll add a can of roasted tomatoes (which will change the need for additional water), some diced sweet potato or I'll throw in a handful of fresh spinach to cook in at the end.
Spicy Red Lentils
August 28, 2018
: 6-8
: 20 min
: 25 min
: 45 min
: Easy Peasy!
These Spicy Red Lentils are a super versatile dish that keeps well in the fridge and can be used for breakfast, lunch and dinner!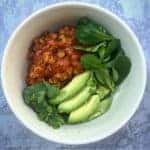 Ingredients
1 onion, finely chopped
2 cloves garlic, minced
1 T. olive oil
1 T. cumin
1 T. chili powder
1/4 c. tomato paste
1 T. chipotle paste
1 1/2 c. red lentils, rinsed and drained
2 c. water (w/ 2 c. additional on reserve)
Sliced avocado, spinach and hot sauce as garnishments
Directions
Step 1

Heat the olive oil in a deep skillet. When shimmering add the diced onion. Cook on low heat until onion is soft and translucent — about five minutes. Add the mined garlic and cook on low heat for an additional 5 minutes.

Step 2

Add cumin and chili powder and continue to cook while stirring until spices are fragrant – about 1 minute.

Step 3

Add the tomato paste and chipotle paste and continue to cook while stirring – about 1 minute.

Step 4

Add 2 c. of water and the red lentils. Turn up to a medium heat and allow the lentils to simmer covered.

Step 5

Watch lentils carefully as water will cook down. Continue to add water 1/2 c. at a time until lentils are soft. Typically, I will need to add ~2 c. of additional water.

Step 6

When the lentils are soft, mash with a potato masher and serve in a bowl garnished with avocado slices, spinach (or other greens) and (optional) hot sauce.
What's in my kitchen that made this recipe even easier?
My model is a little older, but having an easy-to-clean, easy-to-store chopper in the house makes the everyday chore of chopping onions and mincing garlic that much easier. And, I don't have the issue of hands that smell like garlic for days. Olo's Chipotle Paste is my go-to for chipotle spice. It's so much easier that opening a can of chipotle peppers for one pepper and then throwing the rest away. It's also a more consistent heat, so I know what I am getting when I put it in. Likewise, I love using tomato paste in a tube. It's so much less wasted food than buying even a small can in the grocery store. I've been using Amore Tomato Paste for some time now and I love the flavor and consistency.
Have you made these Spicy Red Lentils? What did you think?
Don't forget to strut your stuff and show us your Spicy Red Lentils on Instagram with the hashtag #herbivoreskitchen.