Avocado & Strawberry Vegan Sushi Rolls With Macademia Nut Crunch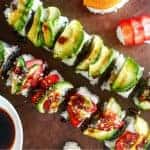 You can have your sushi and eat it too – even on a plant-based diet. Years ago when I lived in Philadelphia, there was a little sushi restaurant in the Art District that had a shrimp tempura roll featuring strawberries, avocado and crushed macadamia nuts. I would go there whenever I could and when I couldn't, I would put a special request in for strawberries on my sushi wherever I went. Quite often, the restaurants wouldn't have them offer and over time, I forgot about them as an addition to a sushi roll. When I converted my diet to a plant-based diet though, the idea of adding strawberries to my sushi came back to me, as did that first roll that inspired me and so I've decided to recreate it here without the tempura shrimp.
This recipe is really simple and contains just a couple of ingredients that are readily found at the supermarket: strawberries, avocado, sushi nori and sushi rice. In addition, I made a very simple sweet soy glaze to drizzle over the top. If you look online, you can find quite complicated versions of this, but I make mine with 1:1.5 parts tamari and maple syrup, reduced by boiling.
You may be thinking now: "sure, the ingredients are easy, but rolling sushi?" Trust me. It's pretty simple stuff if you have the right equipment, which is really easy to find. I bought a very simple sushi rolling kit on Amazon and it's worked very well for me. And, rather than making my own sushi rolling video, I'll just share the link to the video that I used on YouTube. It's only 47 seconds long and makes it pretty clear what you need to do.And, if I can make one more suggestion before releasing you on your vegan sushi journey it would be to use wasabi powder and not the pre-mixed wasabi that comes in a tube. You mix it with a little bit of water and you'll get the nice looking wasabi that you'd find in a restaurant. I just find the stuff in the tube to be gelatinous and a real turn off after I've worked hard to prepare my sushi.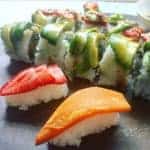 Oh, and one more thing… if you'd like looking to make a meal of it, you can also try my Roasted Sweet Potato, Asparagus and Basil Sushi Rolls and my Red Miso Soup. If you have leftover toppings, they almost make for great nigiri pieces!
Strawberry Avocado and Macademia Nut Vegan Sushi
September 3, 2018
: 8-Piece Roll
: 30 min
: 20 min
: 50 min
: Moderate (but worth it!)
Craving sushi but wondering how to do it on plant-based, vegan diet? This simple strawberry, avocado and macadamia nut version is sure to satisfy your tastebuds!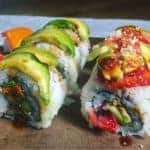 Ingredients
1 sheet sushi nori
1/2 c. sushi rice (it is important to use sushi rice)
2/3 c. water (or water as per sushi rice directions)
4 strawberries, thinly sliced
1 avocado, thinly sliced
1/4 c. macadamia nuts, crushed
1/4 c. tamari
1/4 c. + 2 T. maple syrup
Wasabi powder
Directions
Step 1

Prepare rice in accordance with package directions. While rice is cooking, slice the strawberries and avocado and crush the macadamia nuts.

Step 2

In a small saucepan heat the tamari and maple syrup to a boil, stirring constantly until a thick syrup has formed. Set aside.

Step 3

Prepare your sushi making station and familiarize yourself with how to roll sushi. (Here is a quick and helpful instructional video on how to roll sushi).

Step 4

Lay out your sushi mat and cover with a plastic bag or plastic wrap. Align the sushi nori with the bottom edge of the mat and cover with a thin layer of sushi rice. Flip the nori over so that the rice is facing down. About 1 inch from the bottom edge of the nori, make a thin horizontal strip of your sushi fillings – the strawberries and avocado.

Step 5

Roll the sushi and dress the top of the roll with any desired toppings. I do another layer of strawberries and avocado. Sprinkle the crushed macadamia nuts on top and drizzle with sweet soy sauce. You may need to reheat the sweet soy sauce before drizzling.

Step 6

Wet the blade of a very sharp chef's knife and slice the sushi roll into bit sized pieces.

Step 7

Serve with wasabi and any extra tamari, as desired.
What's in my kitchen that made this recipe even easier?
I highly recommend making your own wasabi using wasabi powder over buying the ready-made wasabi paste in a tube at the store. You have better control over the consistency and the store-bought tube brands (at least in my experience) are a bit gelatinous and unappealing. I really like and consistently use Eden Wasabi Powder with great results. And, you'll need a good sushi making kit. This one is perfect for a beginner. At less than $10 it's a nominal investment and it comes with an instructional booklet (that is emailed to you upon purchase, or can also be downloaded).
Did you make this sushi? What did you think? Did you change anything?
Don't forget to strut your stuff! If you make this sushi, share a pic and let us know by tagging it #herbivoreskitchen on Instagram.