Vegan Eggs Benedict
I spend a lot of time in the kitchen trying to recreate my favorite dishes in a healthier, plant-based fashion. Take, for example, my hearts of palm fish tacos, my garbanzo bean no tuna fish sandwiches, or my vegan sushi rolls. This week, I was inspired by one of my all-time favorite breakfast items, pre-plant based at least: Eggs Benedict. There are so many versions of this dish that I loved, but one in particular stands out in my mind. What I loved most about it was that the Benedict wasn't built on an English muffin or a buttermilk biscuit but rather on a potato pancake.
In my version, I not only converted the dish to vegan, but I upped the ante a bit by changing the potato pancake to a purple potato pancake. A simple rule of thumb with vegetables is that the more colorful varieties tend to offer the most nutritionally. That and it does make for a prettier plate as well. In the interest of full disclosure, this recipe does take some time and some planning ahead. Both the "egg" and the "hollandaise sauce" call for a cashew cream sauce. It's not hard to make, but it does require soaking the cashews for at least 4 hours, but ideally overnight. It's worth the extra effort though because it's a stunning brunch option for a lazy Sunday morning in the kitchen, so as you wrap up dinner on Saturday night you just need to remember to soak your cashews and you'll be all set.
To create these, I spiralized the potatoes and mixed them with a simple vegan latke batter. Then, I packed the mixture into a muffin tin to obtain the desired shape and baked them instead of frying them. I layered the potato pancakes with some sliced avocado, a garbanzo flour "egg," a slice of tomato and a dollop of cashew cream hollandaise sauce. Garbanzo eggs are a pretty simple vegan substitute for breakfast and you can dress these up nutritionally as well by adding turmeric and flaxseed to the batter. You can use the batter to make omelets, scramble it or (as I did) create a poached version. To do this, I poured a little bit of the batter into the muffin tins and baked them along side the potato pancakes for the last nine minutes. To make the hollandaise sauce, I started with 1 cup of my base cashew cream sauce and then added 1 tablespoon of nutritional yeast and 1 tablespoon of lemon juice. Once added to the top of the tomato, I season it with some sea salt, cracked pepper and a sprinkle of cayenne pepper.
Vegan Eggs Benedict
September 2, 2018
: 6
: 45 min
: 30 min
: 1 hr 15 min
: Moderate (But Worth It!)
Want to dazzle your friends with vegan brunch? This potato pancake and garbanzo flour version is complemented with slices of fresh tomato and avocado and a creamy cashew hollandaise sauce.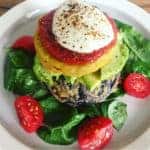 Directions
Step 1

Preheat oven to 400 degrees F.

Step 2

Mix the spiralized potatoes and sliced onions with the flour, egg replacement, flour and salt. Add the spiralized potatoes to a lightly oiled muffin tin filling each of the muffin compartments to the top. In a twelve muffin tin, you should have enough potatoes to fill 6 compartments. Leave the other 6 compartments empty. Bake for 20 minutes. At 20 minutes, take the muffin tin out of the oven and in the remaining 6 empty muffin compartments pour the garbanzo egg batter. Fill only to halfway. You want the eggs to be a smaller in proportion to the potato pancakes. Bake for an additional 8 minutes or until the garbanzo eggs are cooked through.

Step 3

While the eggs and potatoes are cooking, heat 1 t. oil in a small skillet and lay the tomato slices into the skillet. Season with salt and pepper. Gently pan fry the tomato slices until tender — 3-5 minutes. Set aside.

Step 4

Mix 1 c. of the cashew cream sauce with the nutritional yeast, lemon juice, salt and pepper to taste

Step 5

Remove the potato pancakes and the garbanzo eggs from the muffin tin. When the potato pancakes are slightly cooled, gently press them flatter to create a level base for the Benedict tower. Layer on the avocado, the garbanzo eggs, the cooked tomato slices. Finish with a generous spoonful of the cashew cream sauce seasoned with salt, pepper and cayenne pepper.
Did you try this recipe? What did you think? Did you change anything? Tell us about it.
Don't forget to strut your stuff! If you tried this recipe snap a photo and share it on Instagram with the hashtag #herbivoreskitchen.