This Why Go Vegan? Three Books to Read When You're Considering a Plant-Based Diet post includes affiliate links. When I find a great product or service, I like to share it with my readers. Sometimes I use affiliate links so I can earn commission for my recommendations. Thank you for your support!
Why Go Vegan? Three Books to Read When You're Considering a Plant-Based Diet
Are you considering adopting a vegan lifestyle and wondering what it truly means to go vegan? Or even why to go vegan?

When questions like these are swirling around in your head, it's sometimes hard to seek out the answers. If you're anything like me, you start with the first question and then quickly get distracted by the variety in advice. So as my topic for this week's blog post, I'd like to recommend three books for someone wondering why to go vegan.
Let's Back Up for a Moment. What Does It Mean to "Go Vegan"?
Take a scroll through Instagram on any vegan food blogger's feed and you'll consistently see the hashtag #govegan. It's a trendy topic these days and with the launch of the Impossible Burger® at Burger King® and Beyond Meat's® record-setting IPO. In the swirl of all this news, you might also be wondering: is it time for me to go vegan?

But, what does it really mean to go vegan?

Let's start with the basics. Veganism isn't a diet so much as it is a philosophy. In simple terms, vegans seek to avoid animal-derived products. From a diet perspective, this includes abstaining from things like meat, eggs, dairy products (like butter, milk & cheese) and honey. Instead, vegans embrace a diet that is void of animal products. From a lifestyle perspective, vegans will also abstain from buying and/or using non-food related items that are derived from animal products and/or tested on animals.
Why Go Vegan?
Typically, people decide to go vegan for health, environmental and animal welfare reasons.
What Are the Health Reasons to Go Vegan?
Research offers up plenty of health reasons to go vegan. Everything from better weight management, to a healthier heart, to protecting against diabetes and certain cancers. There are dozens of studies indicating that the elimination of animal-derived products from the diet can have considerable health benefits. However, there are certain distinctions to understand when making the decision to go vegan for health reasons. The most notable is the distinction between a vegan diet and a plant-based diet.

Wouldn't a plant-based diet also be a vegan diet though? Yes, but the reverse isn't necessarily true. It is possible to go vegan and still miss out on all of the health benefits offered by a vegan lifestyle. A vegan can live on potato chips and still fall under the definition of vegan. Yes, that's an extreme example, but if health reasons are your driving force to go vegan, then you'll not only need to avoid animal-products, but you'll need to replace them with the right foods. Research shows that those "right foods" are plant-based whole foods like whole grains, legumes, nuts and seeds; vegetables like broccoli, spinach and cauliflower; and fruits like berries, mangos and apples.
Why Go Vegan? Those Health Reasons… My First Book Recommendation
Right foods, wrong foods? This can be a lot to unpack, but the concept of basic everyday food at the grocery store as medicine is really fascinating. That's why my first plant-based book recommendation is: How Not to Die, by Dr. Michael Greger.

Wait! Don't click away just yet. I know, the title is a bit sensational. After all we're all going to die eventually. But title aside, the argument this book makes is that it's one thing to eat to live and it's another to eat to live well. And by living well, the author means living healthfully.

This book is my plant-based bible. While it's a scientifically based book, it's also highly approachable and empowering. Its suggestions can be easily adopted and the science behind them is compelling. It reads easily, is touching and humorous.

The book is divided into two parts. The first part is a chapter-by-chapter walk through the most common causes of pre-mature death, like heart disease, diabetes and cancer. As Dr. Greger walks through each disease, he draws in study after study that demonstrates how a plant-based diet can potentially reduce the risk of dying of these diseases.

Where the first half of the book is why you should consider a plant-based diet to avoid certain diseases, the second part of the book is how you can adopt a plant-based diet to potentially avoid an early demise.
Environmental & Animal Welfare Reasons to Go Vegan
Oh boy. Brace yourself. Reading and/or watching a documentary about the impact an omnivore diet has on our planet, let alone the treatment of animals in pursuit of the same, is not for the faint of heart. While I know there is some pretty shocking commentary out there detailing the treatment of animals and the precarious state of our planet, I'm not inclined to recommend anything that someone will put down or turn off. Frankly, it's a lot of death and destruction to take in.

Early on, when I started really thinking about the impact my daily habits have on the environment, I went way down the rabbit hole and ended up in a place that felt like despair. It seemed like any effort I might make would never be enough and therefore, what was the point? Since then, I've established some boundaries around my efforts and the images and information that inspire those efforts. I still need to find some joy each day and I decided that watching live footage of factory farms and slaughterhouses isn't necessary for me.
Why Go Vegan? The Environmental Reasons & My Second Book Recommendation
For those reasons discussed above, I'm offering up Michael Pollan's The Omnivore's Dilemma as my second go vegan tome.
But, wait a second. Michael Pollan isn't a vegan, is he?

No, he isn't. And he isn't a vegetarian either. So why would I recommend this book to someone who is considering whether or not they want to go vegan?
For two reasons:
First, it's incredibly engaging and non-judgmental. The book is creatively divided into four meals, each of which walk through in detail what it takes from an agricultural, environmental and political standpoint to bring each of the four meals to the table. In a fairly non-combative way, the reader is made to really see where the food on his or her table comes from.
Second, it's very thought-provoking, especially for a person who is re-evaluating their diet from an environmental and moral standpoint. I picked it up after reading How Not to Die and had already made the determination that I was no longer a meat-eater for health reasons. The Omnivore's Dilemma solidified my decision from an environmental and moral standpoint.
What's interesting though, is that telling people to go vegan isn't its goal. Rather, it poses the question: how can we eat more responsibly?
Regardless of whether you're considering going vegan, vegetarian or remaining an omnivore, any step in eating more responsibly is a step in the right direction. This is why I would recommend it to someone who is considering going vegan. In the end, isn't our collective goal a heathier population and a better planet?
Want to Experiment in Going Vegan? My Third Vegan Book Recommendation
My third and final go vegan book recommendation is a vegan cookbook. As I was researching a change to my own diet one of the things that frustrated me the most finding a lot of answers to the question "why go vegan," but not enough information about how to go vegan.

While there are a number of very good vegan cookbooks on the market, the one that I recommend to someone that is thinking about going vegan is Vegan Reset by Julie Kim-Hansen. She provides basic kitchen tool and ingredient recommendations; talks about managing a vegan diet on a budget as well as discusses other easy ways to achieve a more holistic lifestyle.

After covering the basics, Julie lays out a 28-day plan for going vegan, one week at a time, complete with weekly shopping lists. The ingredients are uncomplicated and able to be found at a local grocery store. The recipes are easy-to-understand, quick to make (with meal-prep, which Julie also introduces the reader to) and creative so that newbie vegans can appreciate that a change to a plant-based diet doesn't mean giving up interesting and flavorful dishes.
There You Have It – Three Books to Read When You're Wondering: Why Go Vegan?
I hope that if you're curious about the question "why go vegan" and wondering how to go vegan, that these recommended books will provide you with some valuable insight and information. If you're able, please come back and comment after you've read them.
I'd be very interested to hear what you thought and/or if you've come across any other books that you think should make the list.
And, if you're interested in my other book recommendations, be sure to check out the Recommended Reading section in Herbivore's Kitchen's Shop!
About Herbivore's Kitchen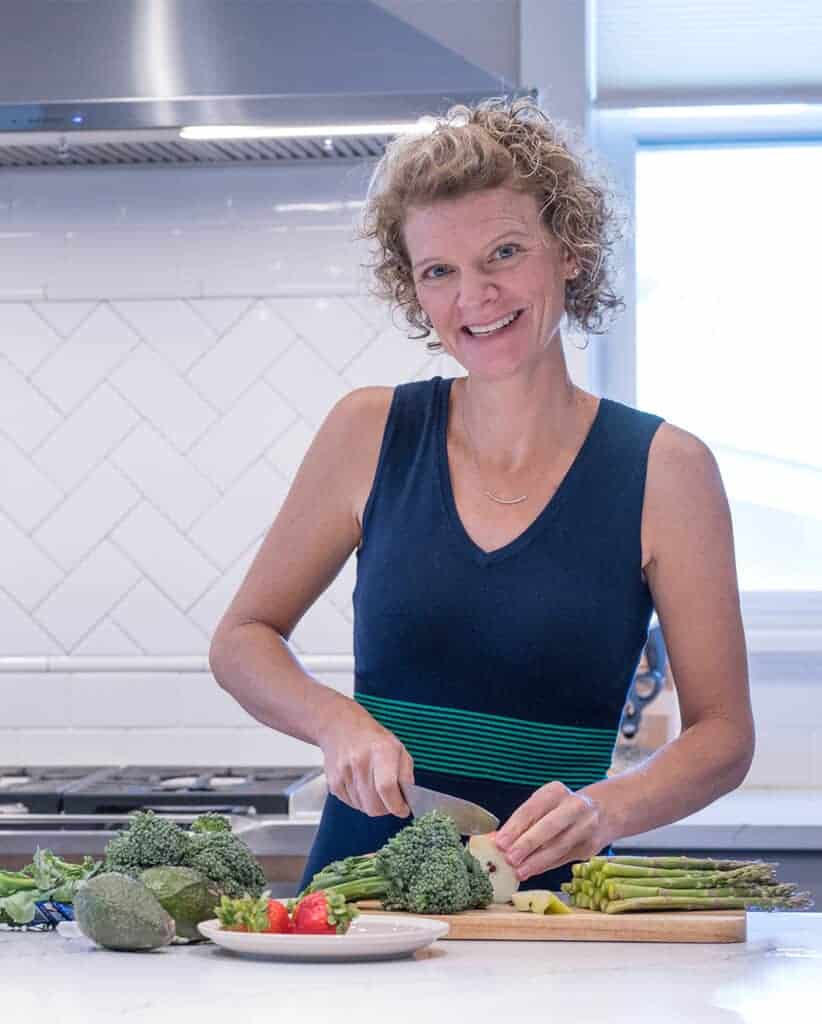 Herbivore's Kitchen is a blog run by me, a plant-based home chef and aspiring food photographer. I switched my and my family's diet to a plant-based diet after learning about the health benefits of going vegan. Making this change has prompted a variety of food and holistic-lifestyle related questions that I explore through this blog. I talk about how to pick and prepare the most nutritious foods, to how to reduce waste at home, to how to live a more sustainable lifestyle while on the road.