Jump to Recipe
Roasted Portobello Mushroom and Artichoke Open-Faced Vegan Sandwiches
This roasted portobello mushroom and artichoke recipe makes the best open-faced vegan sandwiches. Thick ciabatta bread, with a spread of fresh vegan pesto sauce, slices of tomato and toasted pine nuts complement portobello mushrooms marinated in balsamic vinegar and roasted artichoke hearts.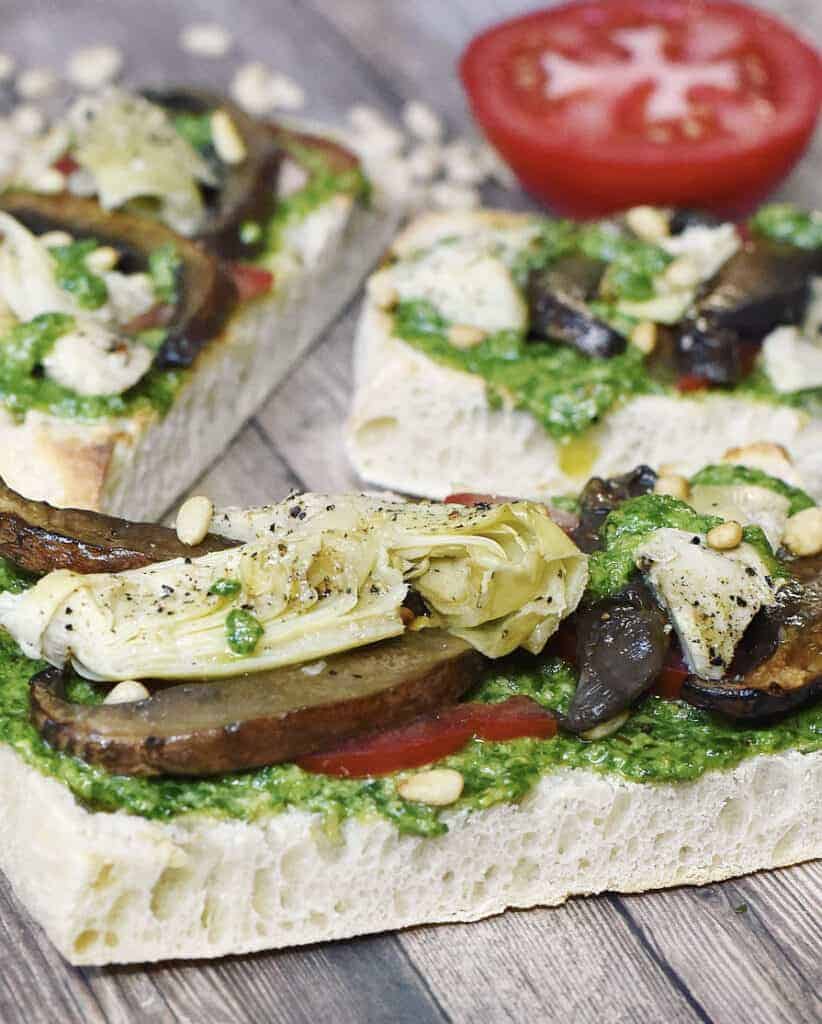 When Vegan Appetizers Make Vegan Dinners
Snacky-dinner is a popular, lazy-day dinner option at my house. It often happens on Sundays during football season or on game night, when we're all inclined to forego formalities and eat dinner while we do something else. Since our attention is often divided, I like to make vegan dishes that are a match the ease of the evening. That is, eating with our hands and involving as few dishes as possible.
On a lot of these nights, I'll make a vegan pizza and this recipe would do just as well if you made it on a pizza crust. But, this week I had this lovely loaf of ciabatta bread so I opted for open-faced vegan sandwiches.
Assembling Your Roasted Portobello Mushroom and Artichokes Sandwiches
When I first made this recipe, I took all of my raw ingredients (i.e. marinated mushrooms, artichoke hearts, ciabatta bread and pine nuts) and assembled my open-faced sandwiches with the idea that I'd put them in the oven for one-stop shopping until everything was cooked to perfection. Let's just say: not a good look.
The problem, of course, is that everything cooks at a different rate and pine nuts, which burn easily after a few minutes don't fare well waiting for roasted mushrooms. So, I revised this recipe by cooking the various parts and assembling them into the open-faced vegan sandwiches at the end for a much, much better result.
To do this, I get started by roasting the portobello mushrooms, artichokes and tomatoes. When those ingredients are underway, I'll toast the pine nuts, make the pesto and finally, toast the ciabatta. If you do it this way, you'll end up with a hot dish and not a hot mess of a dish. What can I say, mistakes are made to be learned from.
The Best Vegan Pesto Recipe
Pesto sauce is an ingredient that every vegan chef should have in their arsenal. There are so many delicious uses for it, like these pesto vegan sandwiches, green pesto pizza and pesto pasta dishes. This vegan recipe will bring it to your table with as much flavor as the parmesan-spiked original.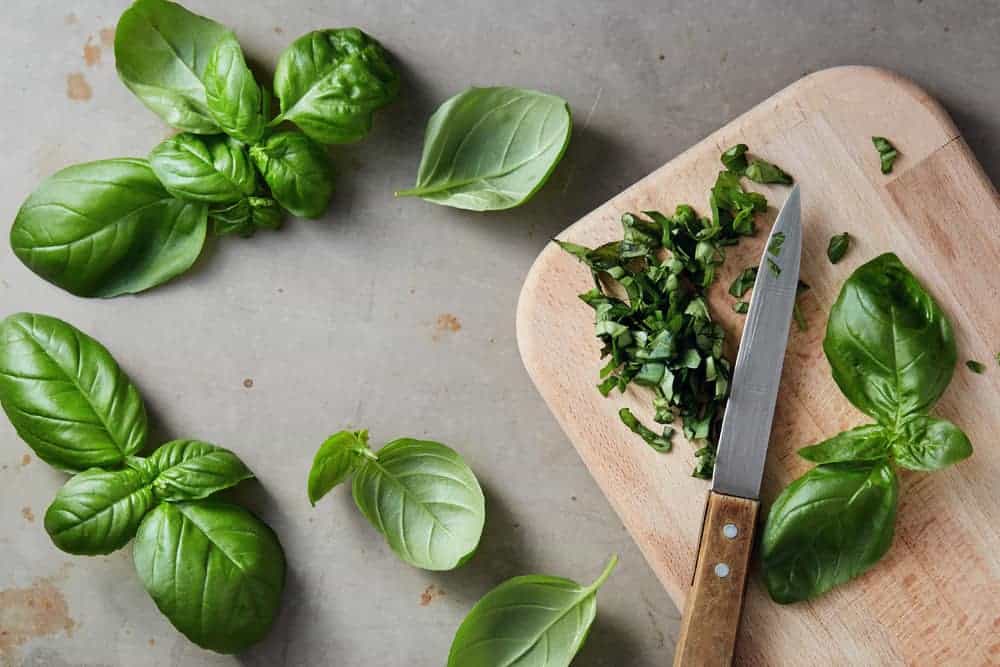 Fresh basil, pine nuts, olive oil, garlic, parmesan cheese and salt and pepper are the traditional ingredients in basil pesto. My pesto recipe stays as close to the original as possible, but swaps out parmesan cheese with a combination of nutritional yeast and fresh lemon juice. You can learn how to make it here.
In addition to sharing my pesto recipe, this blog post digs into some interesting food science facts that, when understood, can make pesto sauce even more flavorful just through technique.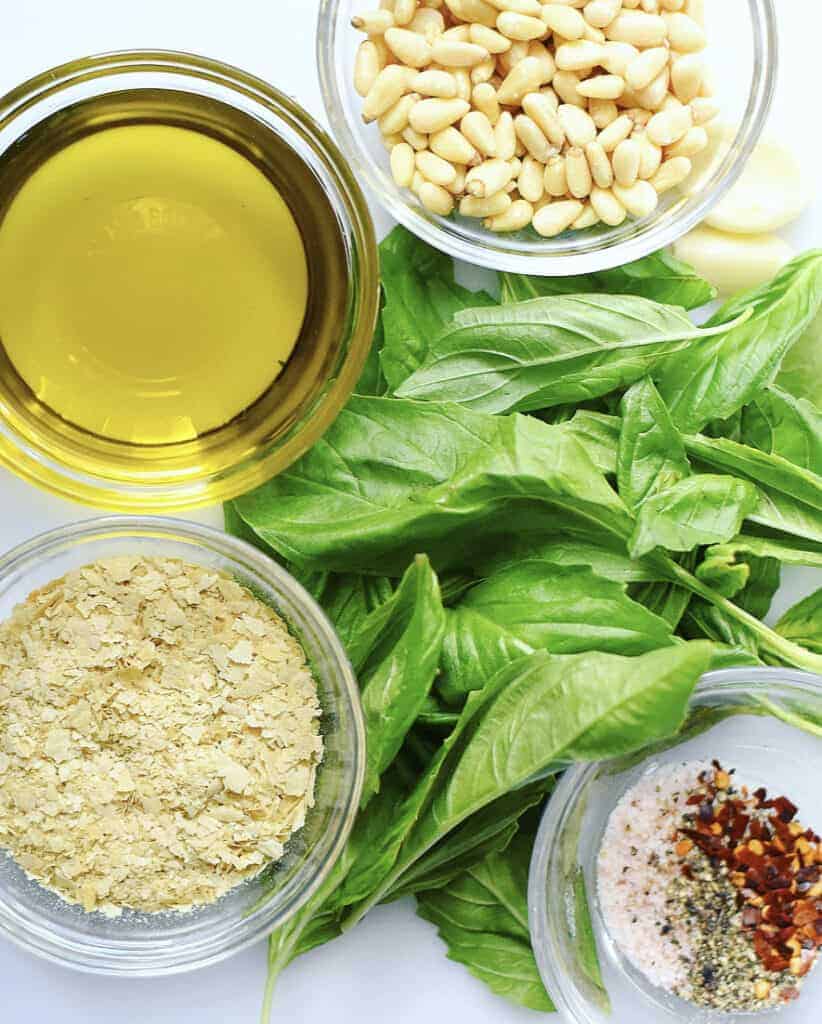 Cooking Lesson: How to Toast Pine Nuts
If you've been following me for a while, you know I like to sneak in a little food education with every blog post. Today, I wanted to talk about how to toast pine nuts.
If you're not familiar with pine nuts, I highly recommend acquainting yourself as quickly as possible. Also called piñón (Spanish) or pignoli (Italian), these tiny delicacies make a big impact in vegan cooking. Pine nuts are very high in oil, which gives them a creamy texture and a buttery taste. Despite their moniker, pine nuts aren't nuts. They're seeds (from certain species of pine trees). Avoidance of pine nuts is recommended for people with nut allergies, however. (1)
On their own, pine nuts can be a delight, but toasting them really makes them shine. I use them in my vegan pesto recipe, sprinkle them on salads and use them as a topping on pasta dishes. Be forewarned though, pine nuts cost a pretty penny (due to challenges of harvesting them) so you want to make sure know what you're doing when you toast them because they do burn easily.
I like to toast my pine nuts in a skillet. This helps me to keep an eye on them because, as I said, they go from golden brown to burnt very quickly. To do this, heat up small dry skillet – you don't need to add any oil. You want the pine nuts to have space as you're toasting them, so don't plan on doing large quantities. I usually do a ¼ of a cup at a time. A little bit of toasted pine nuts goes a long way, so I find that this amount is plenty for topping whatever dish it is that I have planned. I stir them frequently as they're toasting and the minute they take on that golden-brown hue, I remove them from heat. The whole process only takes 5-7 minutes.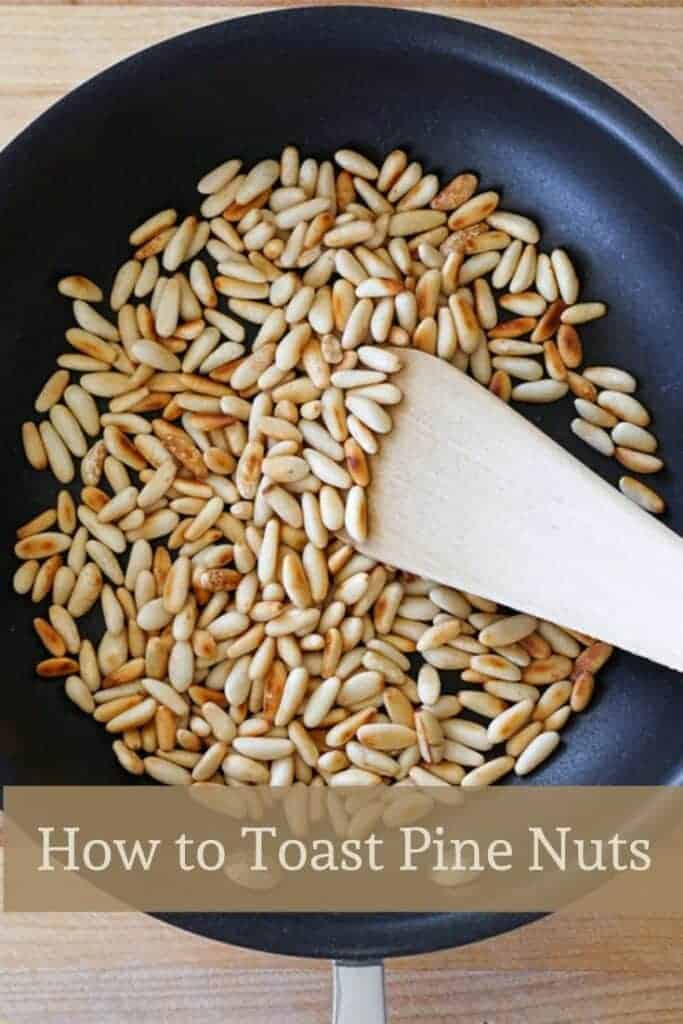 What's in My Kitchen to Make This Vegan Recipe Easier?
This post includes affiliate links. When I find a great product or service, I like to share it with my readers. Sometimes I use affiliate links so I can earn commission for my recommendations. Thank you for your support!
I often get asked what gadgets and tools I have in my kitchen that help me pull all of my recipes together. I included a list below along with a description about why I like them so much. If you have any questions about them, please feel free to reach out to me in the comments!
Wooden Spoon & Scraper This wooden spoon & scraper is great for getting keeping your pine nuts moving. It's an especially useful tool when using a non-stick skillet.
There are a few tools in my kitchen that get used all the time and this mini 4-cup food processor is one of them. It's perfect for sauces that don't require me to bring out the big guns. Clean up is easy and it doesn't take up much space.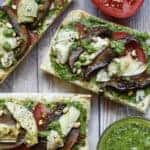 Roasted Portobello Mushroom & Artichoke Vegan Sandwiches with Basil Pesto
This roasted portobello mushroom and artichoke recipe makes the best open-faced sandwiches. Thick ciabatta bread, with a spread of fresh vegan pesto sauce, slices of tomato and toasted pine nuts complement portobello mushrooms marinated in balsamic vinegar and roasted artichoke hearts.
Ingredients
1

loaf

ciabatta bread

4

portobello mushrooms

washed with gills removed

1/4

cup

balsamic vinegar

3

tbsp

extra virgin olive oil

divided + `1 tsp

1

can

artichoke hearts

1

tomato

sliced

1/4

cup

pine nuts

vegan basil pesto

find my recipe here

salt & pepper

to taste
Instructions
Preheat your oven to 400 degrees.

Combine the balsamic vinegar and 2 tbsp of olive oil. Set aside.

Wash your portobello mushrooms and remove the gills by scraping them out with a spoon. Lay them, unsliced, in a single layer in a shallow dish and pour the oil & vinegar mixture over them. Allow to rest for 15 minutes, gently spooning the marinade over them periodically.

Drain and rinse the artichoke hearts. Toss them lightly in 1 tbsp of olive oil.

Lay the marinated mushrooms and artichoke hearts out on a baking sheet. Season with salt and pepper and allow to roast for 15 minutes, flip and then roast for an additional 15 minutes. With 5 minutes remaining, add the sliced mushrooms to the sheet, drizzle with 1 tsp olive oil and season with salt & pepper).

While the mushrooms, artichokes and tomatoes are roasting, make the vegan basil pesto. You can find the recipe here.

Toast the pine nuts (see the notes in this blog post for suggestions of how to do this).

When the mushrooms, artichokes and tomatoes are done, you are ready to assemble your sandwiches. Toast your ciabatta slices just before taking the roasted vegetables out of the oven. Spread a thick layer of pesto sauce on each slice of toasted ciabatta bread, then add a layer of the roasted vegetables. Drizzle on some additional pesto sauce and sprinkle with toasted pine nuts.
About Herbivore's Kitchen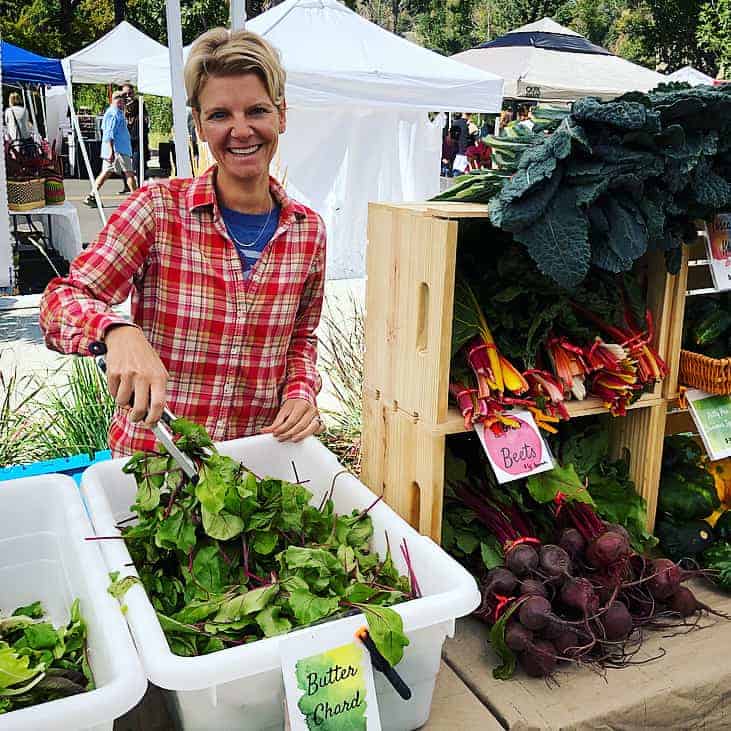 Herbivore's Kitchen is a blog run by me, a plant-based home chef and aspiring food photographer. I switched my and my family's diet to a plant-based diet after learning about the health benefits of going vegan. Making this change has prompted a variety of food and holistic-lifestyle related questions that I explore through this blog. I talk about how to pick and prepare the most nutritious foods, to how to reduce waste at home, to how to live a more sustainable lifestyle while on the road.
---
Sources
(1) https://www.foodallergy.org/common-allergens/tree-nut-allergy