Jump to Recipe
This Vegan Pesto Recipe includes affiliate links. When I find a great product or service, I like to share it with my readers. Sometimes I use affiliate links so I can earn a commission for my recommendations. Thank you for your support!
The Best Vegan Pesto Recipe
Looking for a good vegan pesto recipe? This basil pesto recipe is easy and super flavorful. Using nutritional yeast instead of parmesan cheese and less olive oil than traditional pesto recipes, this vegan pesto sauce bends toward healthy and works wonderfully on pasta dishes and sandwiches.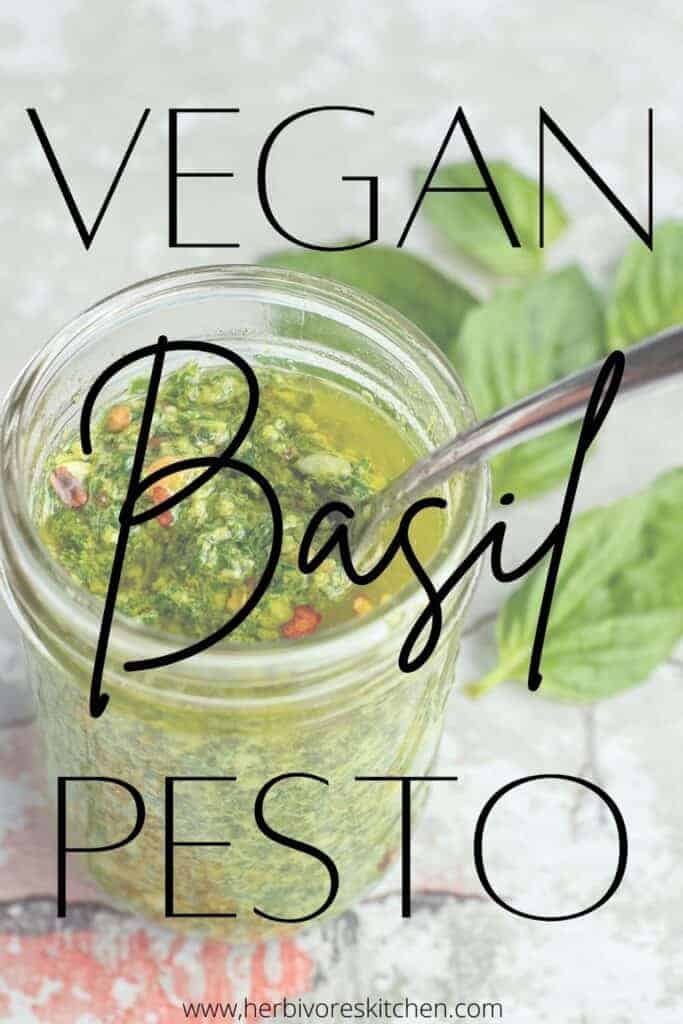 What is Pesto Sauce?
In writing this blog post, I realize that there's a good chance that some of you may be familiar with pesto sauce but may never have made it. I can relate – pesto sauce was something I'd often order out, but avoid making at home because I imagined it was a difficult task with lots of ingredients that were hard to find. As it turns out, this isn't the case.
A The Best Vegan Pesto Recipe Starts with Fresh Basil
Pesto sauce features fresh basil as its primary ingredient. You should be sold already, as the smell of fresh torn basil alone makes making pesto sauce at home worth it.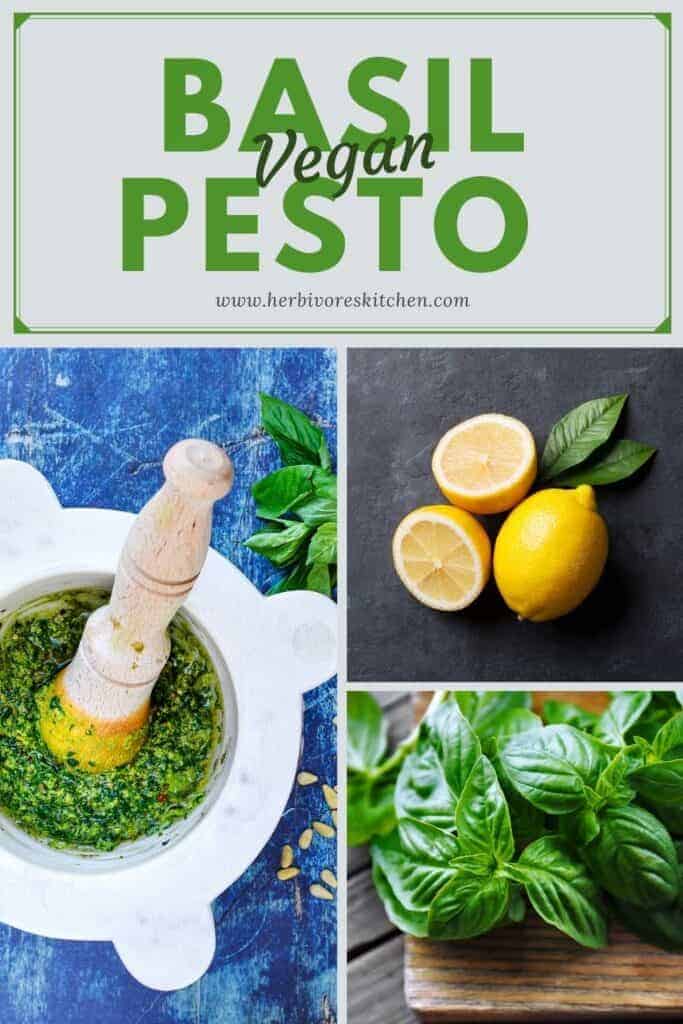 You can usually find fresh basil in the produce section at your grocery store, but don't be afraid to keep a pot of it growing on your counter at home. Think I just made this easy recipe hard? Not necessarily. There are a number of ways to keep fresh herbs growing at home, even during the cold months. Check out my "What Makes This Recipe Easier" section below for my method.
How to Store Fresh Basil
One of the best things about growing your own basil at home is that you pick it when you need it. There's no plastic clamshell packaging or trying to use it up before it starts to turn black in the fridge. (If you've brought packaged basil home from the store, you know what I mean.) But, if you're not quite ready to give up that much counter-space, here are a few tips for keeping purchased basil fresh until you're ready to use it:1
If you're not using your fresh basil right away, don't put it in the refrigerator. After a day or two, the leaves will wilt, darken and start to become slimy.
Fresh basil does best if you treat is like a bouquet: trim the stems and store it on your counter top in a jar of water. Change the water regularly and trim any dead leaves.
Use it up! I have several recipes that use pesto sauce, but don't think pesto sauce is your only option. Adorn the top of your pizza, dress up your tomato soup or tear up a few leaves and sprinkle it in your salads. Nothing beats getting a pop of fresh basil when you're digging into your greens!
What Else Makes the a Good Pesto Sauce?
In addition to fresh basil, traditional pesto recipes include olive oil, parmesan cheese, pine nuts, garlic and salt and pepper. Variations may swap out the pine nuts for walnuts and supplement the basil with spinach and kale.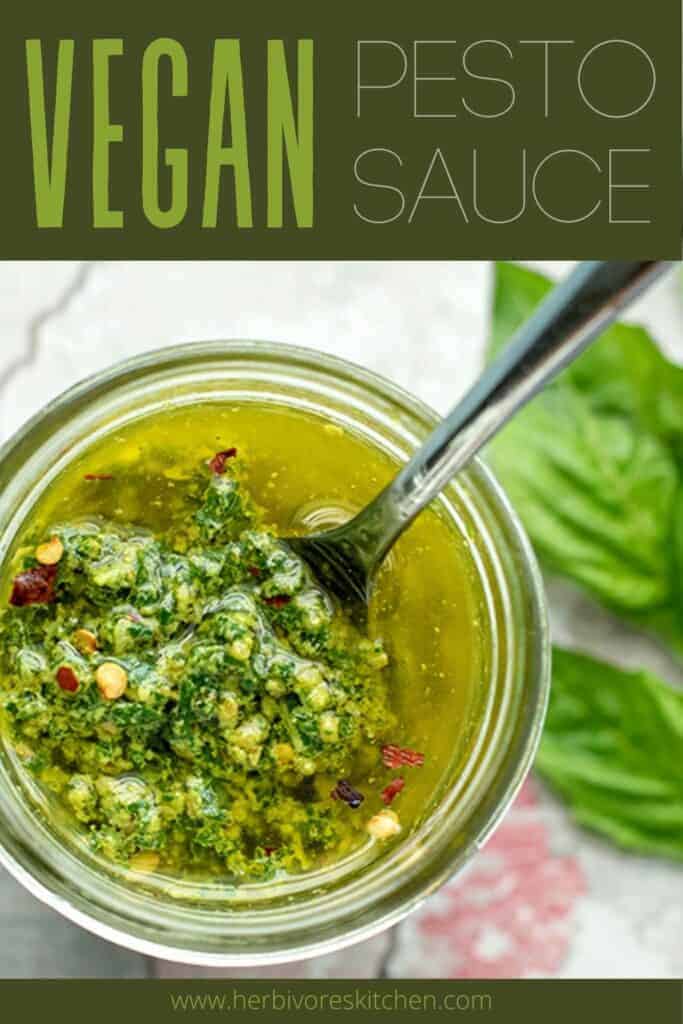 The Tools to a Great Pesto Recipe
In all of the research I did for this recipe, the one thing that everyone seems to agree on is that a mortar & pestle makes superior pesto. Busy modern life though. But, I do have to say, I'm intrigued enough to give the mortar & pestle a try. I just added a nice Italian marble mortar & pestle to my Christmas list. If I'm lucky, I'll get one and I'll update this post when I do.
Update: Using a Mortar and Pestle to Make Vegan Pesto
I finally got the chance to try it! I received this lovely handmade Italian marble mortar and pestle for Christmas 2019. Mia madre found it on Etsy – so it has the added bonus of supporting a small business. And, the shipping was free. When you feel how heavy a marble mortar and pestle is, you'll know to appreciate that!
Is a mortar and pestle a little indulgent? Perhaps. But, with the slowdown of life in 2020, I've been learning to enjoy making a few things the hard way. Like baking my own bread and, yes — making basil pesto by hand. I even grew the basil in my greenhouse. Maybe it's the labor of growing my own herbs for this or the ache in my right forearm from all the mashing and grinding, but I found this vegan basil pesto to be silkier and more flavorful than its mini food processor counterpart.
If you're willing to give it a try, here are few tips to making basil pesto by hand:
Start with the garlic and salt. Slice the garlic to started and then it to the mortar along with the salt. The salt will help to grind down the garlic until it forms a paste.
Tear the basil before adding it to the mortar and add it in small bunches.
Toast the pine nuts. I've actually no evidence that this makes basil pesto by hand any easier, but the flavor!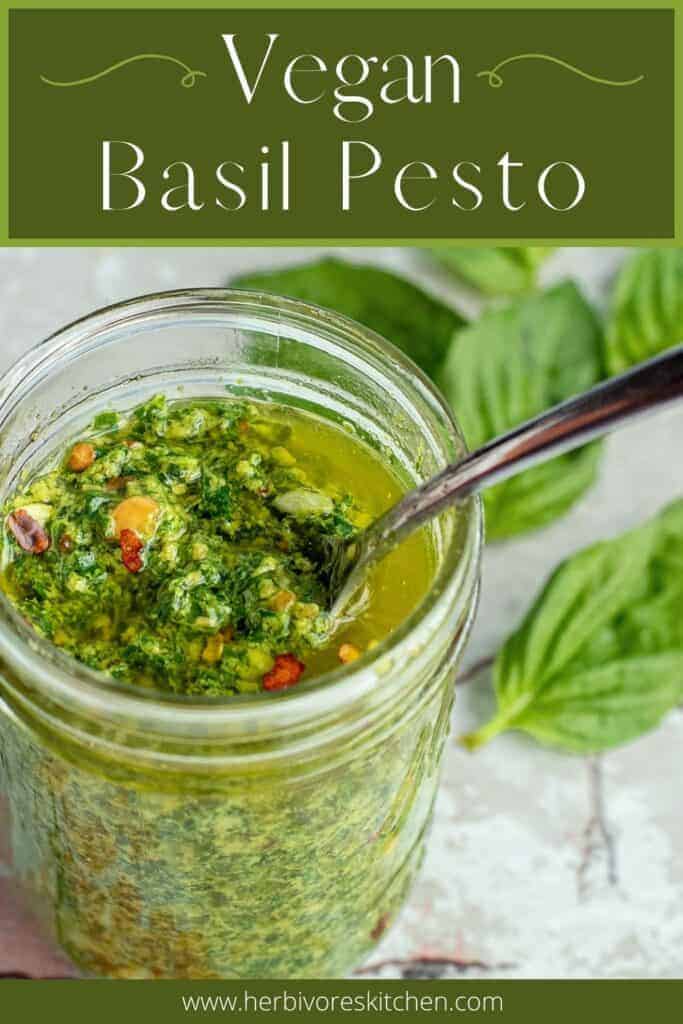 Making The Best Vegan Pesto with a Mini Food Processor
Not into heavy kitchen equipment that doesn't get used every day? I totally understand. This vegan pesto also does well in the mini food processor. It requires a little ingredient organization, as in it is not as simple as "add all ingredients to the food processor and pulse." There are (my favorite!) food chemistry reasons for this that I'll get into below. But, there are a lot of reasons that this little tool makes my "things that make this vegan recipe easier" list. First, it's compact, so it's perfect for making small batch soups and sauces. It's pretty easy to clean and, even with the staging of ingredients, it makes this pesto recipe super quick!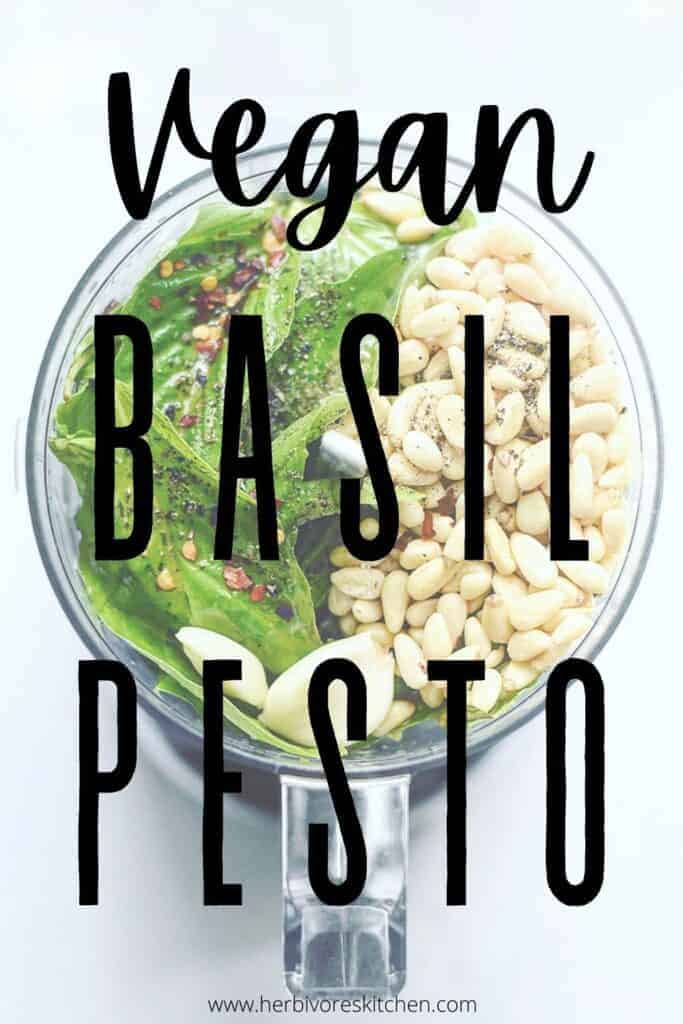 Parmesan Cheese in Pesto Sauce? What's a Vegan to Do?
Admittedly, the pungent, acidic bite of parmesan cheese is a tricky omission to overcome in vegan pesto sauce. I made many-a-batches, simply swapping out the parmesan cheese with nutritional yeast. If you're not familiar with nutritional yeast, I dug into it a bit in my Basil Pesto Stuffed Shells Recipe. The short version is this: nutritional yeast is a deactivated yeast that is commonly used in vegan recipes as a substitute for cheese. And while nutritional yeast offers up a hint of cheese, it doesn't pack quite the same punch as parmesan cheese. As such, my early versions of pesto sauce just came out a touch flat, with much of the flavor being overpowered by the extra virgin olive oil. It just needed…something.
Then, one day, I was writing my blog post for my Homemade Tomato Sauce and describing my newfound love for food chemistry. In particular, I was learning about using acids to enhance flavors – something I'm finding particularly helpful in vegan cooking. Parmesan cheese is one example of an acidic flavor enhancer. Lemon juice is another. So, the next batch of pesto I made, I added a small amount of lemon juice and a small sprinkle of crushed red pepper… and I found my something.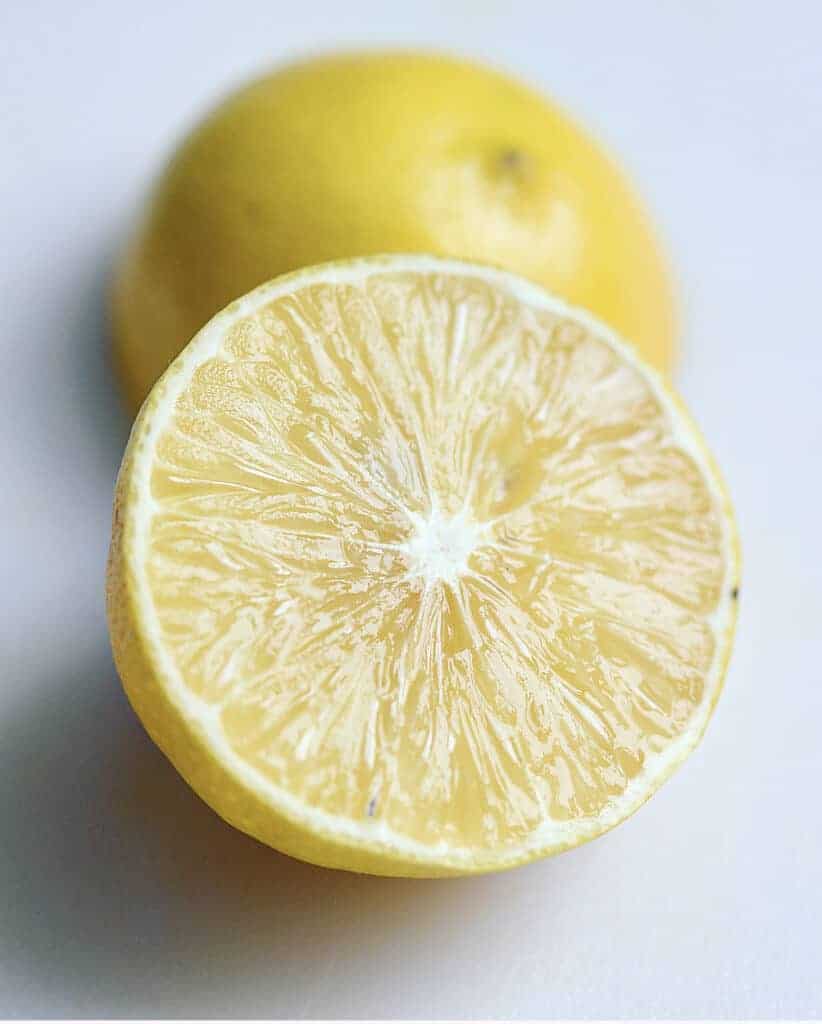 What Else Is in My Best Vegan Pesto Recipe?
With the exception of nutritional yeast, crushed red pepper and lemon juice, I stay pretty close to the traditional ingredients. I use fresh basil as the base. I've tried supplementing with both spinach and kale, but I find that I like the basil on its own. I also much prefer pine nuts to walnuts. Pine nuts have a sweet creaminess to them, whereas I find walnuts to be a bit too bitter.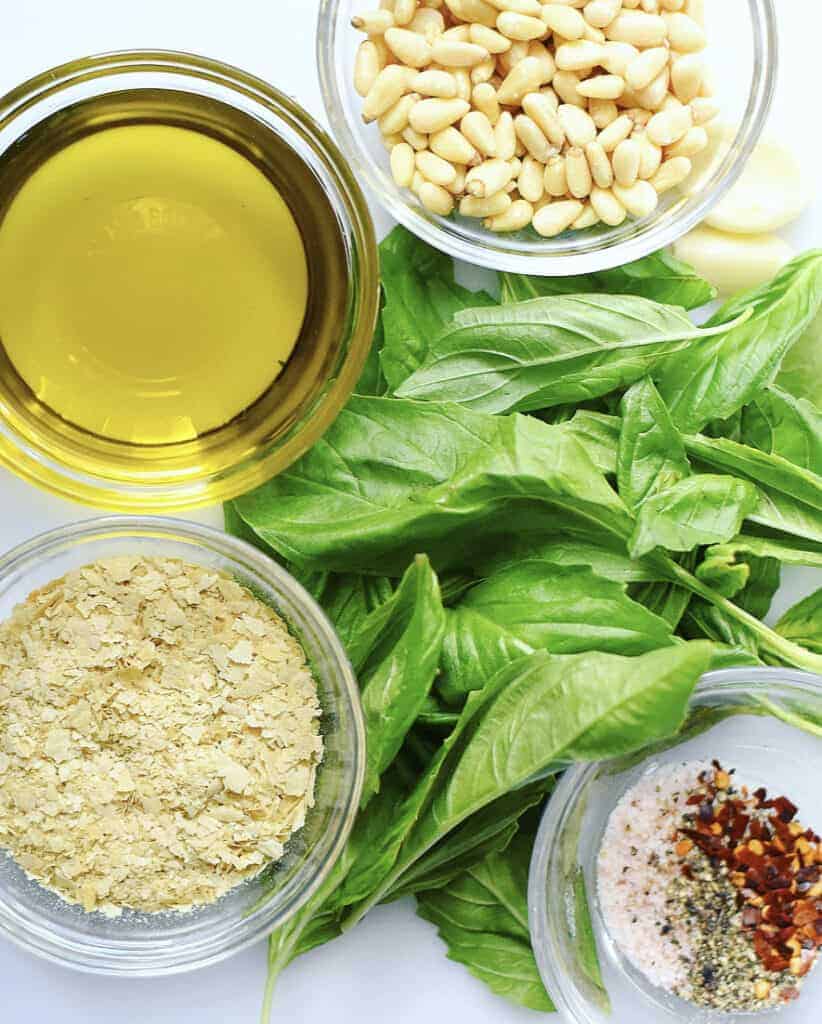 I also try to use only as much olive oil as necessary to achieve a thick paste/sauce. Selecting a good quality olive oil is something you should consider for all of your cooking, but in a sauce like pesto sauce, it's particularly important because of its prominence. I buy and use extra virgin olive oil in my cooking, but a word of caution when using it to make pesto sauce: blending extra virgin olive oil at high speeds is thought to lead to an unnecessary bitterness. As such, I've recommended adding olive oil at the end and stirring it in by hand.2
Finally, salt is a key ingredient in a good pesto recipe. I include pepper in the recipe as "to taste." I hesitate to recommend a total amount of salt because I think salt is something that really should be done by taste, but ½ teaspoon is a good place to start. Sprinkle some in and taste. If you're not getting a "Wow!" factor (i.e. every other ingredient seems to really come to life) then try adding some more. I usually end up somewhere around 3/4 tsp to 1 tsp.
What's in My Kitchen to Make This Best Vegan Pesto Recipe Easier?
I often get asked what gadgets and tools I have in my kitchen that help me pull all of my recipes together. I included a list below along with a description about why I like them so much. If you have any questions about them, please feel free to reach out to me in the comments!
Aerogarden Bounty
I bought this a few years ago and have success growing herbs and lettuces in it ever since. I love that it is mostly hands off — perfect for someone who has trouble keeping plants alive. I use my own seeds using the Grow Anything seed pods.
There are a few tools in my kitchen that get used all the time and this mini 4-cup food processor is one of them. It's perfect for sauces that don't require me to bring out the big guns. Clean up is easy and it doesn't take up much space.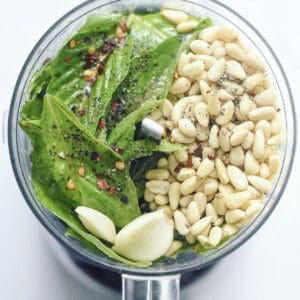 The Best Vegan Pesto Recipe
Looking for a good vegan pesto recipe? This basil pesto recipe is easy and super flavorful. Using nutritional yeast instead of parmesan cheese and less olive oil than traditional pesto recipes, this vegan pesto sauce bends toward healthy and works wonderfully on pasta dishes and sandwiches.
Ingredients
Basil Pesto Sauce
2

c.

fresh basil

washed, dried and loosely packed

2

garlic cloves

1/2

tsp

salt

1/4

c.

pine nuts

toasted; see Recipe Notes

2

tbsp

nutritional yeast

1/2

tsp

crushed red pepper

1/2

c.

olive oil

2

tsp

fresh lemon juice

pepper

to taste
Instructions
Prepare your basil by washing and drying the leaves.

Combine the fresh basil, garlic cloves, salt, pine nuts, nutritional yeast and crushed red pepper into your mini food processor. Blend until all ingredients have been reduced to small pieces.

Remove the ingredients from the food processor. Stir in the olive oil and lemon juice.

Add fresh ground pepper, to taste
Notes
Toasting pine nuts adds to their richness. To toast pine nuts, add them to a hot, dry skillet. Stir them constantly until they just begin to brown. About 2 minutes. Then remove them from the heat immediately. Their high fat content will cause them to burn quickly.
About Herbivore's Kitchen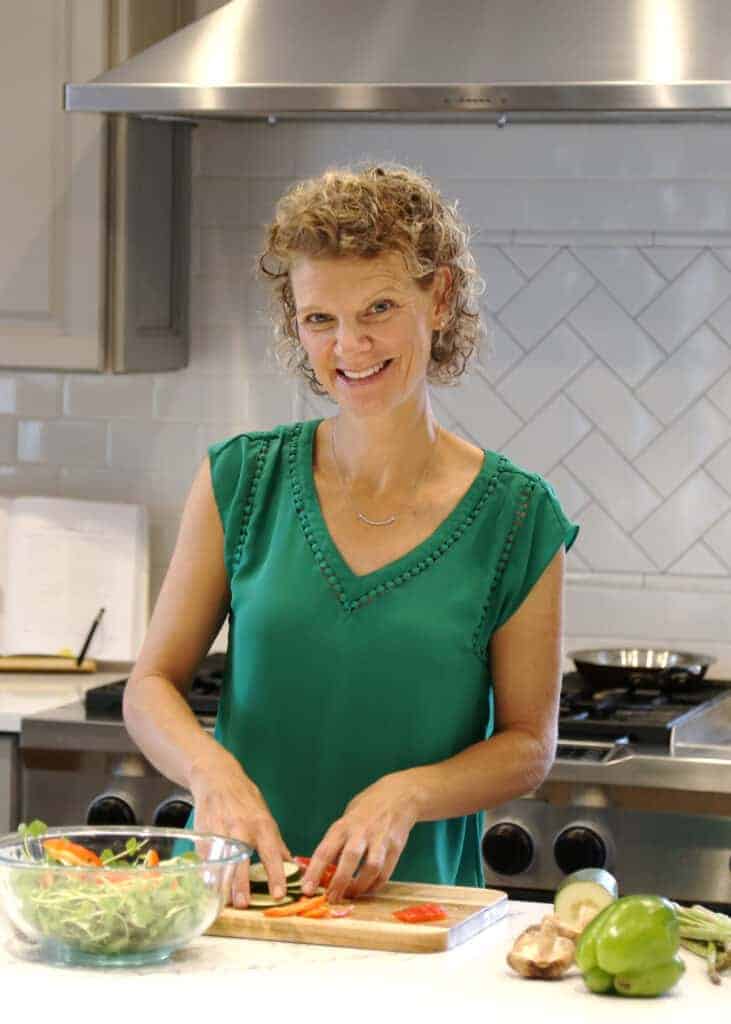 Herbivore's Kitchen is a blog run by me, a plant-based home chef and aspiring food photographer. I switched my and my family's diet to a plant-based diet after learning about the health benefits of going vegan. Making this change has prompted a variety of food and holistic-lifestyle related questions that I explore through this blog. I talk about how to pick and prepare the most nutritious foods, to how to reduce waste at home, to how to live a more sustainable lifestyle while on the road.
---
Sources:
(1) https://food52.com/blog/22732-i-tested-basil-storage-methods
(2) https://www.seriouseats.com/2014/07/how-to-make-the-best-pesto.html.