Jump to Recipe
---
This post includes affiliate links. When I find a great product or service, I like to share it with my readers. Sometimes I use affiliate links so I can earn commission for my recommendations. Thank you for your support!
---
Creamy Vegan Mushroom Soup Recipe
Looking for an easy vegan mushroom soup recipe? This creamy mushroom bisque is just what you've been craving! Savory cremini mushrooms simmered in red wine give this vegan soup recipe a ton of umami, while coconut milk gives it a richness that you'll swear can't be dairy-free. This easy vegan recipe is designed to appeal to vegan beginners and vegan veteran alike.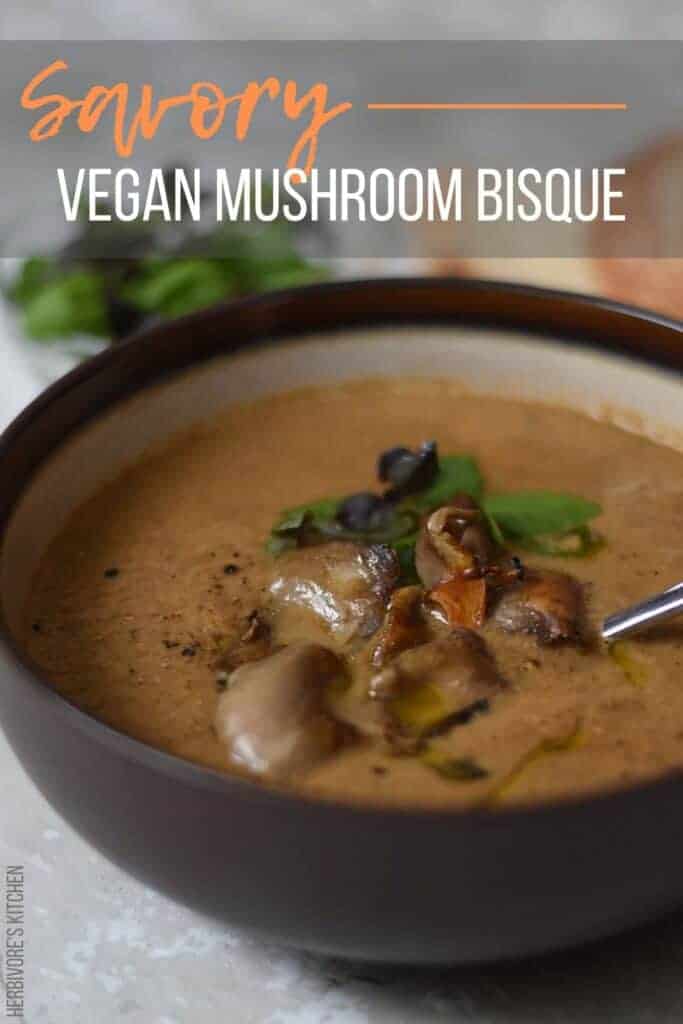 Easy Vegan Recipes: Creamy Mushroom Soup
Several months ago, I committed to creating easy vegan recipes that would appeal to both vegan beginners and vegan veterans looking to put a creative, healthy dinner on the table (with yummy leftovers for lunch). This mushroom soup recipe fits that bill, I think. The ingredient list includes easy to find vegetables, oils and spices. And while I chose to top the soup with crispy oyster mushrooms, they're not essential to the flavor of the soup. They add a nice texture and good aesthetics though, if you're willing to give them a try!
Vegan Mushroom Soup Recipe: What Kinds of Mushrooms Do I Use?
For this recipe, I used cremini mushrooms for the soup and topped it with crispy oyster mushrooms. Cremini mushrooms are popular and readily available at most grocery stores. While they may sound exotic, cremini mushrooms are the middle child of the common cooking mushroom family. They're the older sibling to white button mushrooms and Portobello's kid sister. That is, they're all the same mushroom, but are aged differently. As such, they're firmer and have a richer flavor that white button mushrooms but are smaller and less earthy-tasting than Portobello mushrooms.
I recommend buying cremini mushrooms loose if you're able to – that way you can pick the freshest of the bunch. You're looking for firm mushrooms, with no dark spots. They should be dry, but not dried out (i.e. if they are slimy or have a fishy smell, then pass on them). When you get them home, store them in the refrigerator in a paper bag and plan on using them in a couple of days.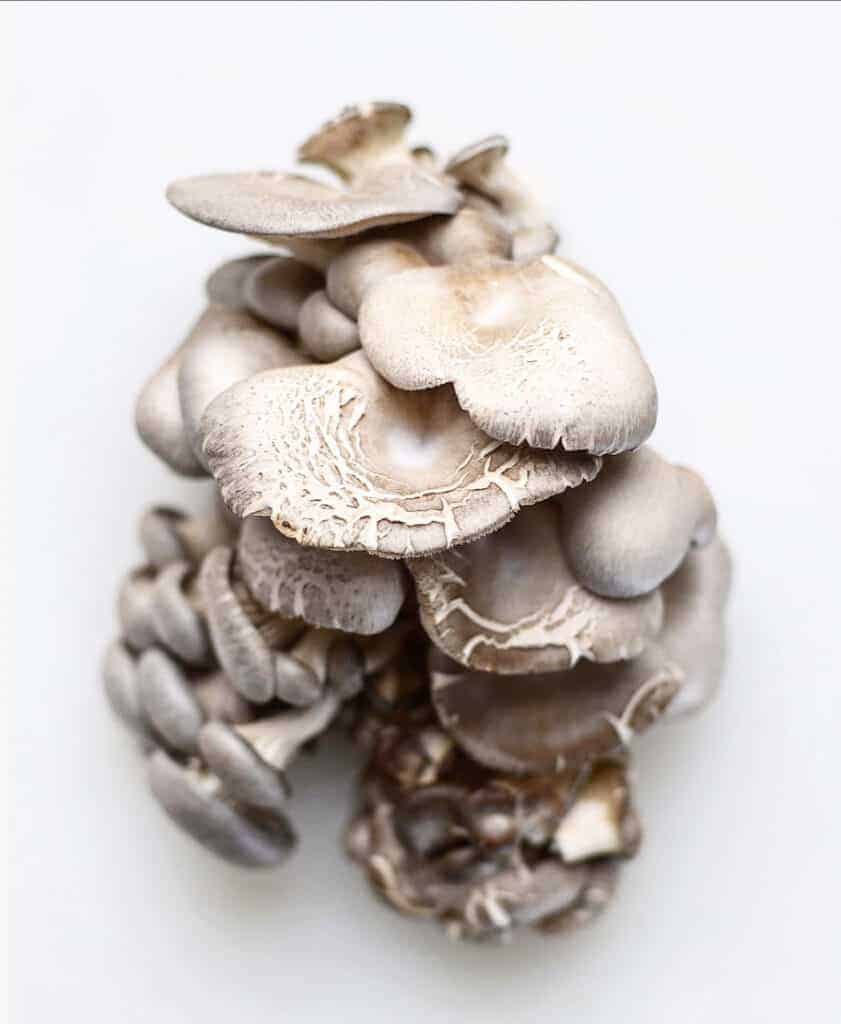 Oyster mushrooms can be a bit harder to find, but as I said, they're not critical to this recipe. They're a delicate mushroom with a mild, savory flavor. For the effect you see in the picture, I washed and trimmed the mushrooms from the stem and then gently tore them into smaller pieces. You can see this step in the video. It makes them bite-sized, but also gives them a rustic effect. You can pretty much pair this soup with a loaf of crusty, homemade bread and picture yourself in a remote French farmhouse. As a trick to use less oil for this recipe, I first simmered the oyster mushrooms in a ¼ cup of water until the water cooked off. Then, I added 1 tbsp of olive oil and let them crisp up.
What Makes This a Savory Mushroom Soup Recipe?
While it's true that mushrooms are a vegan ingredient known for umami, I wanted to coax a little more flavor into this vegan soup recipe through my other ingredients. As a first step, I sautéed the cremini mushrooms in red wine before adding them to the broth. If you're not into cooking with wine, don't worry. You can do this with vegetable broth (or even water) if you'd prefer.
Try Using Shallots in the Vegan Soup
For this vegan soup, I chose to use shallots which are more delicate than onions and offer up a more mild, sweeter flavor. They're readily found in most grocery stores and are a nice treat if you'd like to try something new. Shallots are high in antioxidants (higher than onions) making them good allies in fighting diseases like cancer, heart disease and diabetes.(*)When you get them home, store your shallots in a cool dark place (not in the refrigerator). Like onions, you can slowly cook shallots in olive oil to bring out the most flavor. They, like garlic, are more delicate and burn easily so keep an eye on them – they become bitter when burned. If you have any shallots leftover, be sure to try my Roasted Shallot Salad Dressing recipe!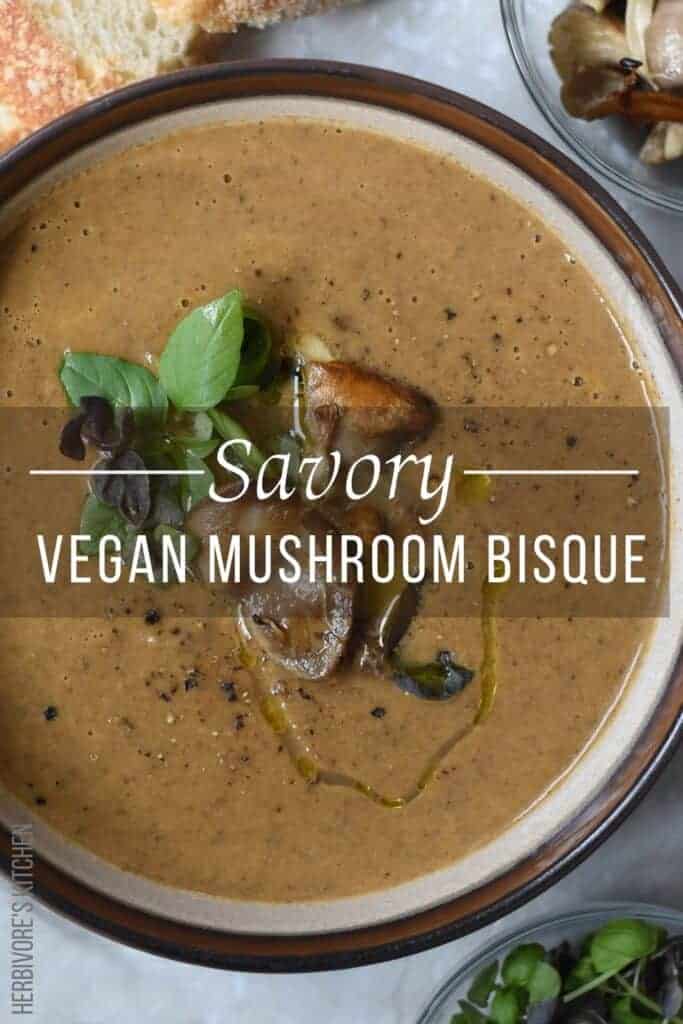 Other Vegan Ingredients to Add Depth of Flavor
The addition of 2 tbsp of tomato paste is another vegan umami trick. When sautéed for a few minutes before the liquid ingredients are added, it becomes becomes richly flavorful. I add my spices to the shallots and garlic just before the tomato paste and cook them just long enough for them to become fragrant. This way, the tomato paste becomes infused with the flavors of my chosen spices. For the creaminess, I added 1 14 oz can of full-fat, unsweetened coconut milk. When simmered with the other flavors of this soup, coconut milk lends a richness to the dish without an overwhelming flavor of coconut.
How to Bring this Vegan Mushroom Soup Recipe to Your Table
This vegan soup is very easy to make, taking about 30 minutes from start to finish. It will also make great leftovers for a couple of days if stored in the refrigerator. To serve it, I like to add salt and plenty of fresh ground pepper, as well as a drizzle of olive oil. For this presentation, I also added crispy oyster mushrooms (discussed above) and a handful of basil microgreens as toppings. The microgreens lend flavor as well as aesthetic appeal for serving. You can usually find a few choices for microgreens in the produce section of your grocery store, but I like to grow my own. They make a wonderful indoor garden project. If you're interested in that, be sure to check out my kitchen counter herb gardening tools below (I have all of them and love them).
What's in My Kitchen to Make This Vegan Recipe Easier?
Want to know what tools and resources I keep on hand to make my vegan cooking even easier? Here's a short list of what helped me create this blog post and recipe. For the complete list, visit my Shop where you can find the kitchen gadgets I like as well as a list of books that I recommend.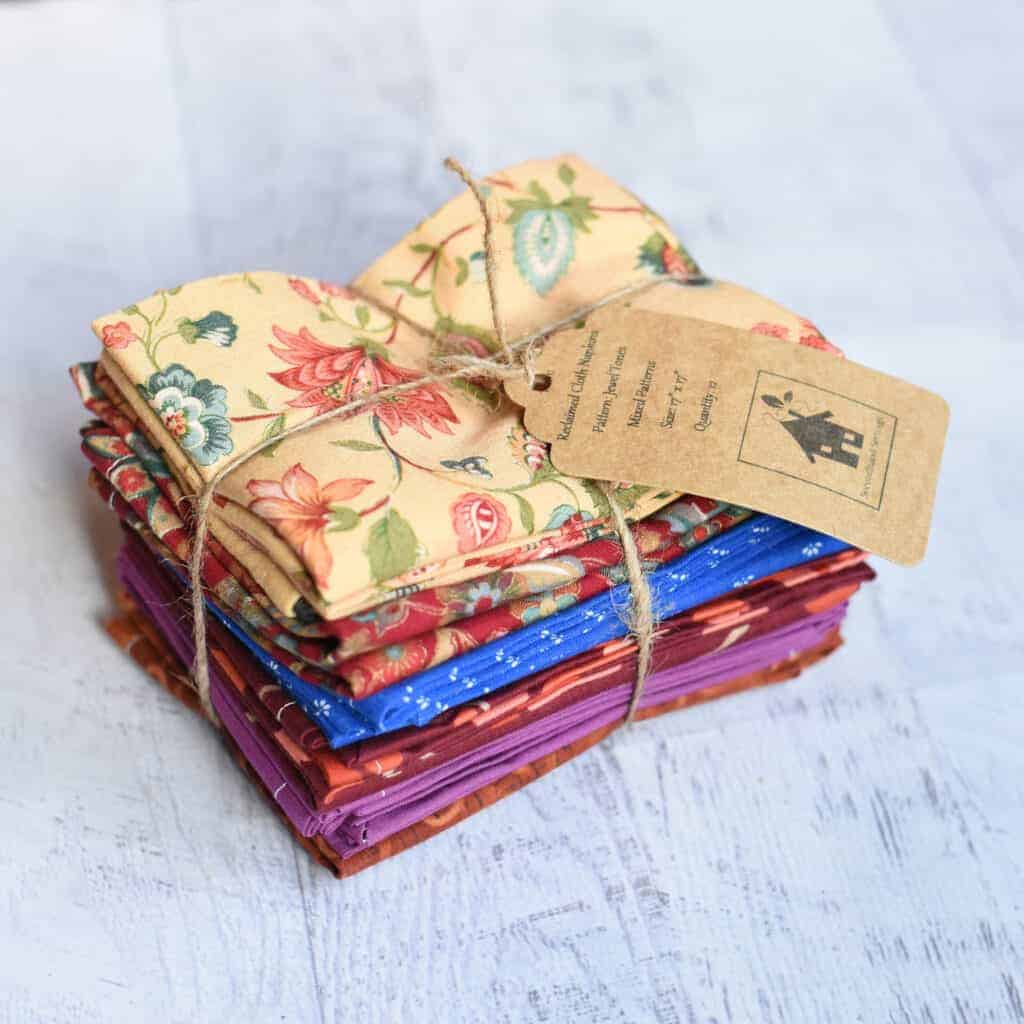 Before I get into cooking, I want to share these napkins. I found these on Etsy over a year ago and, not only do I LOVE them, I buy them as gifts for nearly everyone I know.
These napkins are upcycled and reusable, allowing you to not only avoid throwing away paper products but to also reuse fabrics – a small but significant way to cut back on water, dyes and chemicals used in the production process.
These napkins are so darling (they come in lots of different patterns and colors) and they're machine washable. I just throw them in with whatever load of laundry I'm doing. They don't wrinkle easily, so a quick fold will have them back on your table doing what they were meant to do… be reused!
No, that's not the brand. It's just the idea! But, I own this set of Global™ knives and They're some of my most prized possessions in the kitchen. This set is universally well-rated for the at-home chef and will get you a good, solid set of knives without totally breaking the bank.
As I said above, having an immersion blender is like having a magic wand capable of getting your kids to eat vegetables. And, yes, I know. A lot of people didn't like it when Jessica Seinfeld tricked her kids into eating veggies. If that makes me a bad mother, then so be it.
It seems silly, but these bottles are one of my favorite kitchen tools. They're a great way to distribute things like olive oil to dishes (just check out how I added extra virgin olive oil to my Mushroom Soup) and for plating sauces in an aesthetically pleasing way.
I bought this a few years ago and have success growing herbs and lettuces in it ever since. I love that it is mostly hands off — perfect for someone who has trouble keeping plants alive. I use my own seeds using the Grow Anything seed pods.
Aerogarden Grow Anything Seed Pods
These seed pods work with the Aerogarden Bounty – the indoor gardening center. I use these pods along with my own seeds to keep an indoor garden of fresh herbs going all year long.
This starter is a great way to grow your own microgreens at home! At any given time, I have broccoli, radishes and alfalfa sprouts going.
Expanding Fiber Soil
Just add water! These dehydrated soil discs are perfect for the indoor gardener. When you're ready for your next round of micro greens, add one of these discs to the plexiglass tray and add water. Within 15 minutes, you'll have an oxygen-rich environment for the microgreens of your choice!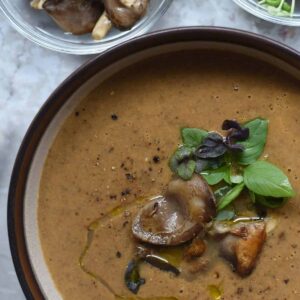 Creamy Vegan Mushroom Soup Recipe
Looking for an easy vegan mushroom soup recipe? This creamy mushroom bisque is just what you've been craving! Savory cremini mushrooms simmered in red wine give this vegan soup recipe a ton of umami, while coconut milk gives it a richness that you'll swear can't be dairy-free. This easy vegan recipe is designed to appeal to vegan beginners and vegan veteran alike.
Ingredients
1 1/2

lbs

cremini mushrooms

washed and roughly chopped

1

cup

red wine

1

tbsp

extra virgin olive oil

1/2

cup

shallots

roughly chopped

3

cloves

garlic

roughly chopped

1

tsp

dried rosemary

1

tsp

dried oregano

1

tsp

dried thyme

2

tbsp

tomato paste

1/2

tsp

salt

1/4

tsp

pepper

1

quart

low-sodium vegetable broth

1

14 oz can

full-fat, unsweeted coconut milk

1

pint

oyster mushrooms

prepped as described in the directions

1/4

cup

water

1

tbsp

extra virgin olive oil

extra virgin olive oil

as garnishment

microgreens

as garnishment (I used sweet basil microgreens)
Instructions
Wash and roughly chop the cremini mushrooms. Add the mushrooms to a large, deep-sided skillet and simmer with the red wine until the wine has cooked off. About 6-8 minutes.

While the mushrooms are simmering, heat the olive oil in a large stockpot. When shimmering, add the shallots and garlic and sauté on medium-low heat until golden brown. This takes a few extra minutes, but adds a lot of flavor.

Add the oregano, thyme and rosemary. Stir to combine and toast until fragrant. About 1 minute. Then add the tomato paste and toast until it becomes a deep red.

Next add the salt, pepper, vegetable broth and coconut milk. Add the cremini mushrooms to the broth and wipe out the skillet. Bring the broth to a simmer.

While the broth is simmering, trim the oyster mushrooms. Wash and wipe off any dirt and tear the mushrooms into smaller pieces.

Simmer the oyster mushrooms in ¼ cup of water until the water has cooked off. Add the olive oil and sauté on medium heat until crispy. Set aside on a paper towel to drain any excess oil.

Using an immersion blender, blend the soup until it is smooth. If you are using a standard standing blender, carefully blend the soup in small batches.

Serve immediately with a drizzle of olive oil, the crispy oyster mushrooms and microgreens.
Notes
The question is often asked: should I wash my mushrooms? While this is a debated point, I fall into the "yes" camp. My research indicates that mushrooms actually absorb only a small amount of water when washed. To wash my cremini mushrooms for this recipe, I destem them and run the palm of my hand over them under running water to loosen any dirt or debris.
Don't cook with wine? That's okay! Try simmering the mushrooms in vegetable broth or water. If you are cooking with red wine, chose a bottle that you would drink. It doesn't have to break the bank, but if you wouldn't drink a glass of it, then I don't recommend cooking with it.
Not sure about shallots? Be sure to read the blog post for some tips on cooking with this ingredient. Don't be tempted to turn up the heat so they cook faster either. Sauté them gently on medium-low heat to bring out the most flavor.
About Herbivore's Kitchen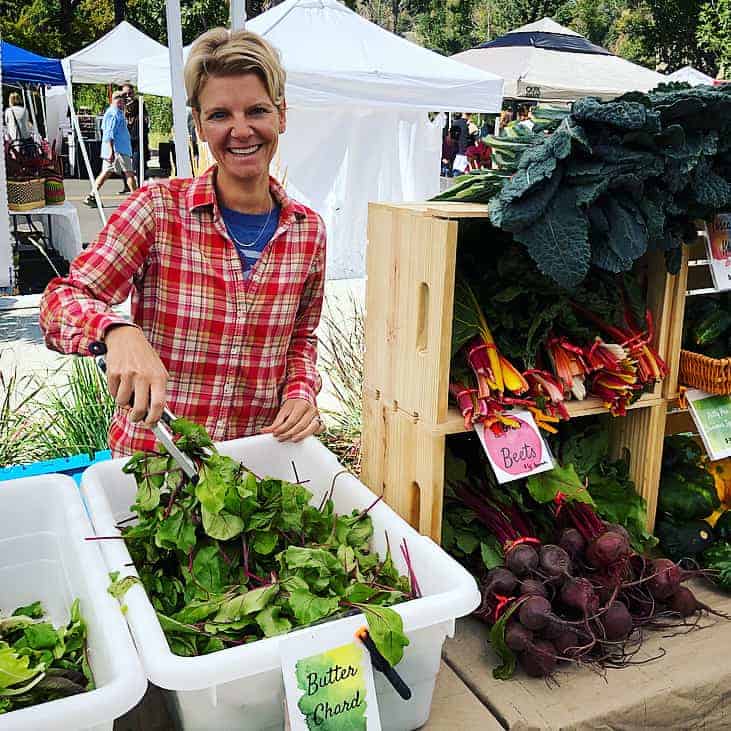 Herbivore's Kitchen is a blog run by me, a plant-based home chef and aspiring food photographer. I switched my and my family's diet to a plant-based diet after learning about the health benefits of going vegan. Making this change has prompted a variety of food and holistic-lifestyle related questions that I explore through this blog. I talk about how to pick and prepare the most nutritious foods, to how to reduce waste at home, to how to live a more sustainable lifestyle while on the road.