Jump to Recipe
---
This Creamy Tomato Soup with Split Peas and Lentils is from my Easy Vegan Recipes series. This post includes affiliate links. When I find a great product or service, I like to share it with my readers. Sometimes I use affiliate links so I can earn commission for my recommendations. Thank you for your support!
---
Easy Vegan Recipes: Creamy Tomato Soup with Split Peas and Lentils
Keep it simple with one of my easy vegan recipes! This recipe for creamy tomato soup is made even healthier by adding plenty of veggies, split peas and lentils. This soup is a one-pot wonder and is easily made with staples you probably already have in your kitchen.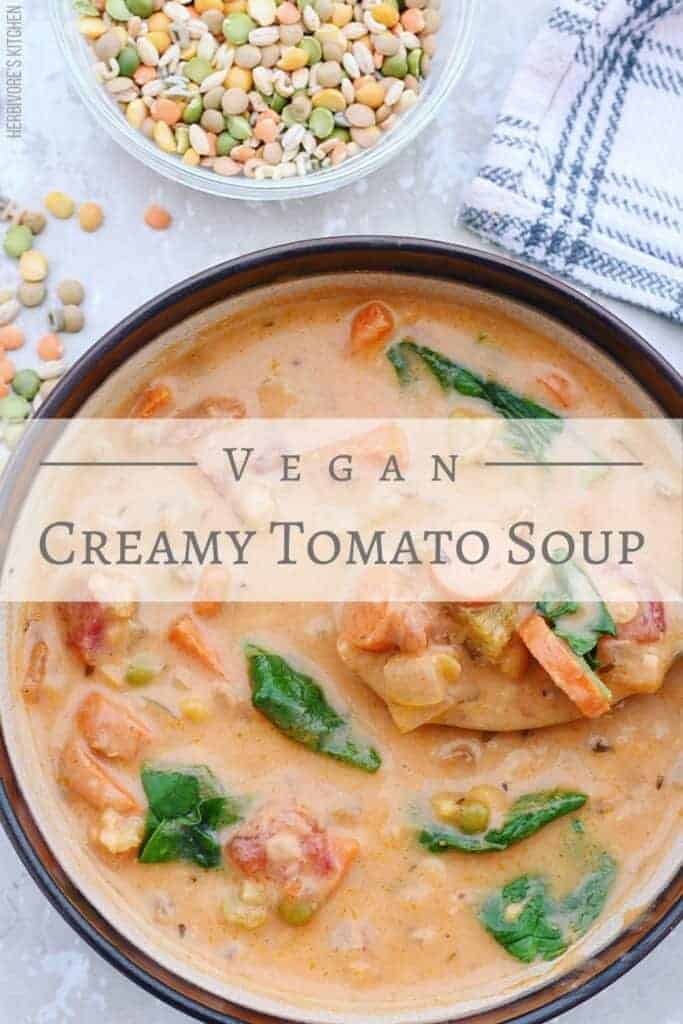 What's in Your Pantry? Probably Everything You Need to Make One of My Easy Vegan Recipes
Lately I've been thinking a lot about easy vegan recipes – a timely subject in uncertain times with the produce section of the grocery stores wiped pretty clean each day. Yes, for those of you coming across this post in the future, you might recognize this vegan recipe part of the COVID-19 time capsule.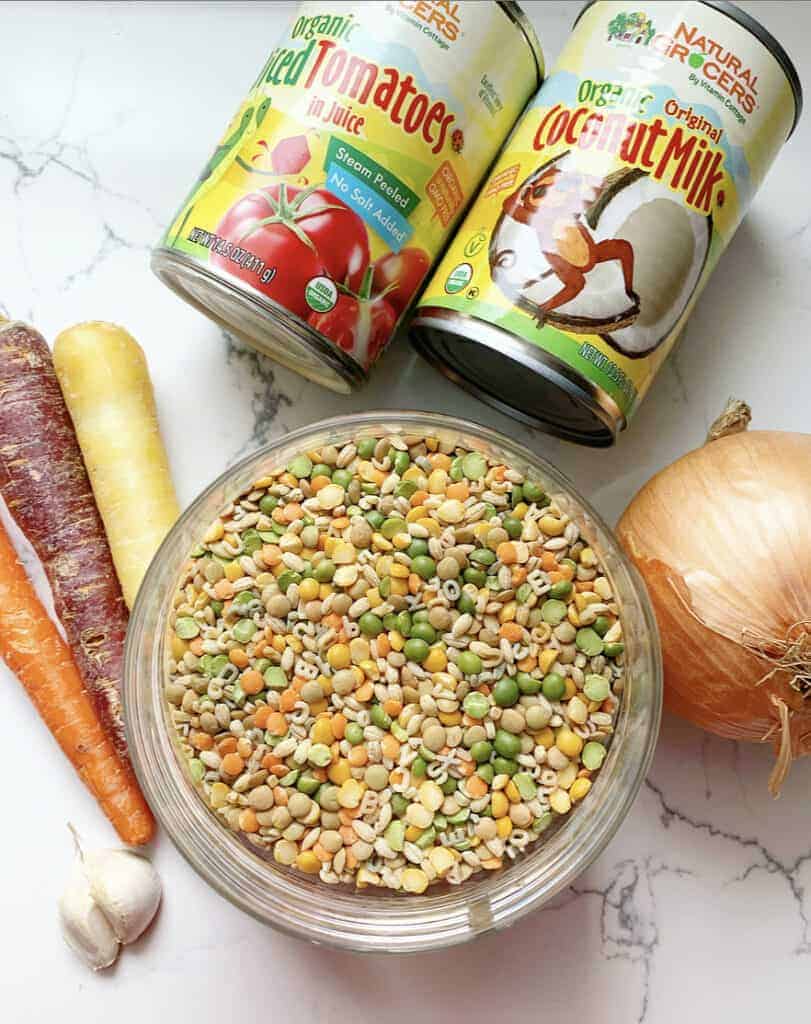 In an effort to put forth simple, healthy recipes that are readily achievable, I'm working on a list of vegan-friendly ingredients that I stock in my pantry (stay tuned!). With these items, and whatever vegetables you happen to have on hand, you can create truly delicious vegan meal options.
So what do easy vegan recipes require?
Require is a strong word, actually. I would lean toward suggest. To make this, I sautéed garlic and onions, tomato paste (actually, I do think this is essential), dried rosemary, thyme and oregano. Then I added one can of diced tomatoes, a can of full fat unsweetened coconut milk and one quart of vegetable broth. From there, it's a matter of vegetables and legumes that you have on hand. I added carrots, celery and spinach. But, you could do peas and potatoes if that's what you've got. No vegetables – don't stress. Just make it as a creamy tomato soup and enjoy it that way.
For my legumes, I added a cup of Bob's Red Mill Vegi Soup Mix, which includes a hearty combination of green split peas, yellow split peas, barley, red and green lentils and pasta (alphabet style). I always have a few bags of this one hand (especially now) because it goes a long way toward making a healthy dinner without having to think very hard. Of course, any of these on their own would be equally good – just check out my Recipe Notes for some intel on cooking split peas below.
Tips & Tricks for Easy Vegan Recipes
I have a theory about making vegan recipes – you need to eek as much flavor out herbs, spices and vegetables as you can. And that requires some thoughtful cooking techniques. For example, I like to cook my onions on a medium-low heat, allowing them to slightly brown before I add minced garlic which has a tendency to burn if added too early. Another trick – sauté your tomato paste. Seriously, this is my favorite. If you cook the tomato paste before adding liquids to the mix, you'll end up with a much richer flavor. Finally – full fat, unsweetened coconut milk. It's rich and savory and, when simmered in a broth like this, creamy without a heavy coconut flavor.
What's in My Kitchen to Make This Vegan Recipe Easier?
Want to know what tools and resources I keep on hand to make my vegan cooking even easier? Here's a short list of what helped me create this blog post and recipe. For the complete list, visit my Shop where you can find the kitchen gadgets I like as well as a list of books that I recommend.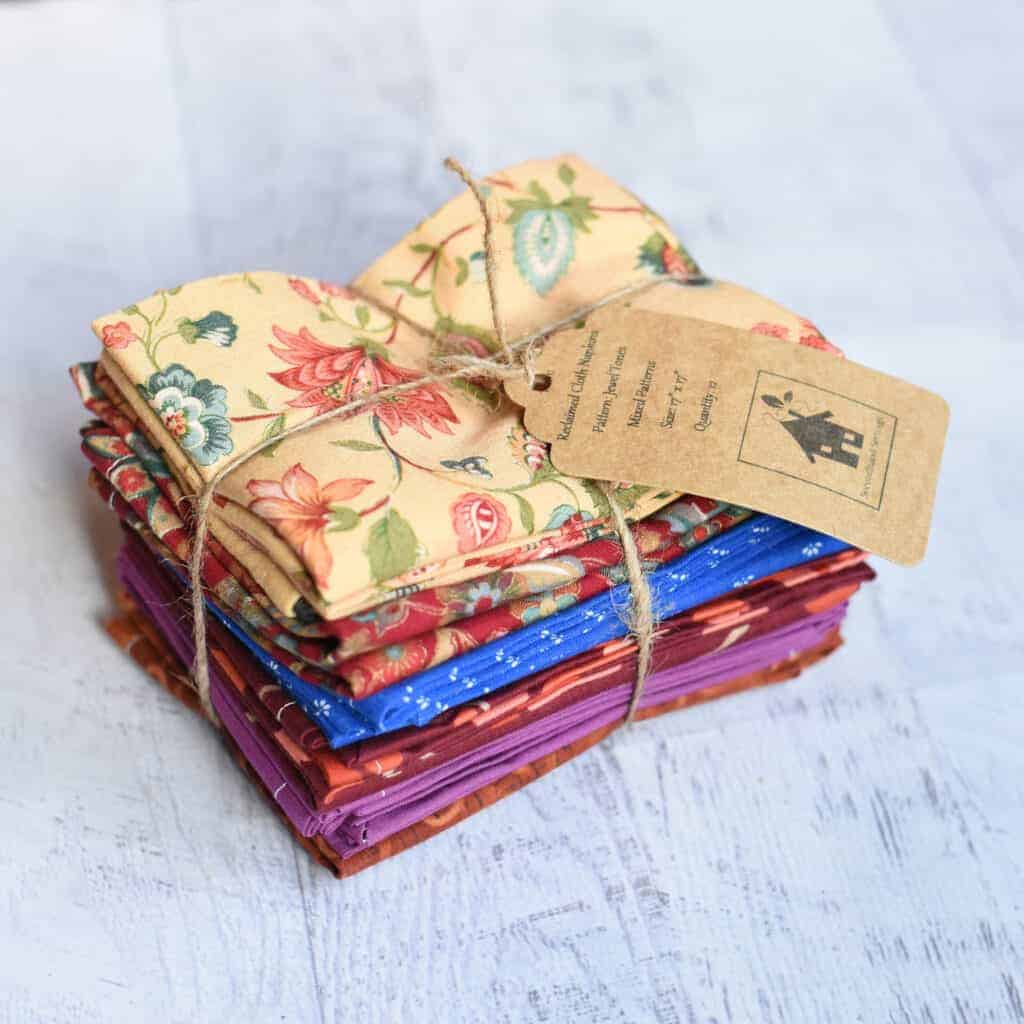 Before I get into cooking, I want to share these napkins. I found these on Etsy over a year ago and, not only do I LOVE them, I buy them as gifts for nearly everyone I know.
These napkins are upcycled and reusable, allowing you to not only avoid throwing away paper products but to also reuse fabrics – a small but significant way to cut back on water, dyes and chemicals used in the production process.
These napkins are so darling (they come in lots of different patterns and colors) and they're machine washable. I just throw them in with whatever load of laundry I'm doing. They don't wrinkle easily, so a quick fold will have them back on your table doing what they were meant to do… be reused!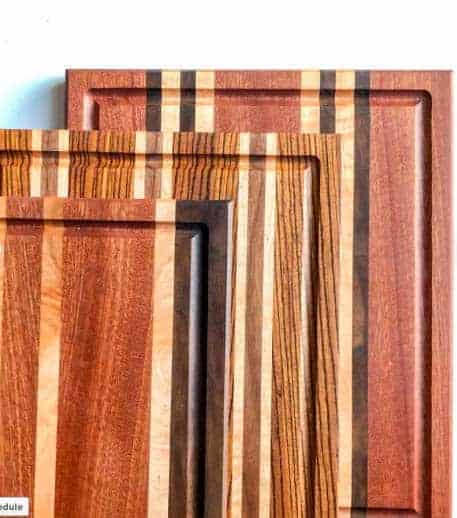 Recently, I spent some time researching the best cutting boards. I've been a plastic cutting board believer for a long time. And, yes, you can put them in the dishwasher.
Wood cutting boards, though, are a healthier option. This board I found on Etsy is made of maple and walnut, both hardwoods. Hardwoods are fine-grained, offering up less deep cuts for bacteria to hide. They're also "self-healing" in that, over time, the wood will partially repair itself over time. So, a well-cared for wood cutting board, even though it costs more at the outset, should last you a long time.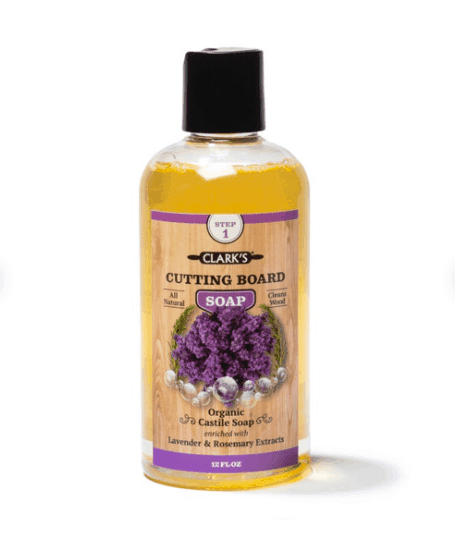 Speaking of wood cutting board care… this natural castile-based soap is free from animal products. Just another step in making your kitchen more sustainable! And it's scented with rosemary and lavender oils, so it smells amazing too!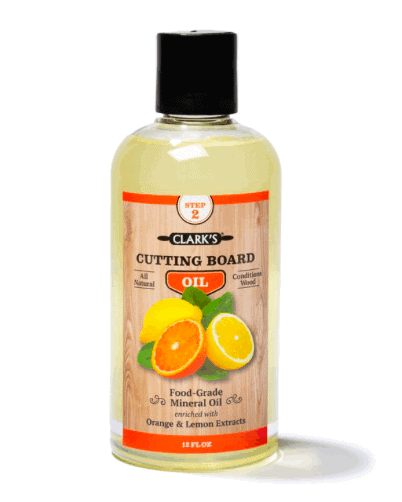 And, after you clean your wood cutting board, be sure to treat it with food-grade mineral oil. Mineral oil will help prevent your cutting board from drying and cracking, thereby extending its useful life. I like this mineral oil because it exceeds FDA standards for food-grade mineral oil and it doesn't contain any potential allergens, enabling you to use it without worry.
Years couple of years ago, I replaced my traditional crockpot with this multi cooker. I love this thing. It has settings for sautéing, simmering, braising, boiling and warming (among others). It's one-pot, slow cooking at its finest. I sauté my onions and garlic, then bring my broth to a boil, reduce it to a simmer and low, slow cook it all afternoon. All in one device.
I maintain that this is an essential kitchen tool. Yes, I know that you can squeeze a lemon (or lime, or orange) with your hands, but do that and then try this and see just how much more juice you get from each fruit. It also has the added benefit of separating (most) of the seeds from the juice.
No, that's not the brand. It's just the idea! But, I own this set of Global™ knives and They're some of my most prized possessions in the kitchen. This set is universally well-rated for the at-home chef and will get you a good, solid set of knives without totally breaking the bank.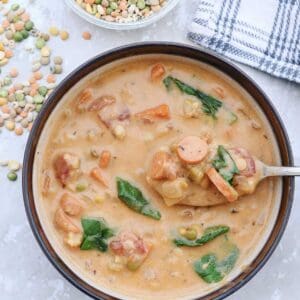 Easy Vegan Recipes: Creamy Tomato Soup with Split Peas and Lentils
Keep it simple with this easy vegan recipe for creamy tomato soup amd make it healthy by adding plenty of veggies, split peas and lentils. This soup is a one-pot wonder and is easily made with staples you probably already have in your kitchen.
Ingredients
1

tbsp

extra virgin olive oil

1/2

yellow onion

chopped

2

cloves

garlic

minced

2

tbsp

tomato paste

1

tsp

dried rosemary

1

tsp

dried thyme

1

tsp

dried oregano

1

stalk

celery

washed and sliced into 1/4" pieces

2

carrots

washed and sliced into 1/4" pieces

1

cup

Bob's Red Mill Vegi Soup Mix

or sub in 1 cup of red or green lentils, yellow or green split peas; see Recipe Notes

1

14 oz can

unseasoned diced tomatoes

1

14 oz can

unsweetened, full fat coconut milk

1

quart

low-sodium vegetable broth

3

cups

water

2

bay leaves

2-3

handfuls

baby spinach

salt & pepper

to taste
Instructions
Note: I like to cook this entire meal in my KitchenAid Multi Cooker. It sautés, boils, simmers and slow cooks all without dirtying another pot.

Heat the extra virgin olive oil on low-medium heat until shimmering. Add the onions and sauté until golden brown. About 8-10 minutes.

Add the minced garlic and sauté 1-2 minutes more.

Add the spices and tomato paste and increase the heat to medium. Sauté, stirring frequently, until the tomato paste becomes a dark red.

Add the celery and carrots. Stir to coat.

Add the diced tomatoes, vegetable broth, water, coconut milk and bay leaves. Bring to a boil, then reduce to a simmer.

Add the Bob's Red Mill Vegi Soup Mix (or substitute red or green lentils or green or yellow split peas; see Recipe Notes)

Simmer on low heat until the lentils are cooked through.

Remove the bay leaves. Add the baby spinach and cook until wilted.

Season with salt & pepper and serve with crusty bread.
Notes
I'm a huge proponent of sautéing your tomato paste to bring out additional flavor. See my blog post for tips on this.
No carrots, celery or spinach? No problem. You can add peas and potatoes. Get creative with the vegetables you have on hand. Or, eat this creamy tomato soup just on its own.
In my experimentations with this recipe, I've noticed that my split peas would often stay very firm. I did some research and, as it turns out, the acidity in the tomatoes affects the split peas ability to soften. You might notice this with the Bob's Red Mill Vegi Soup Mix, but I don't find it bothersome when they're mixed with the lentils, barley and pasta. If you're just cooking with split peas though, the texture might be undesirable. I recommend cooking the split peas separately until soft and then adding them to the soup.
About Herbivore's Kitchen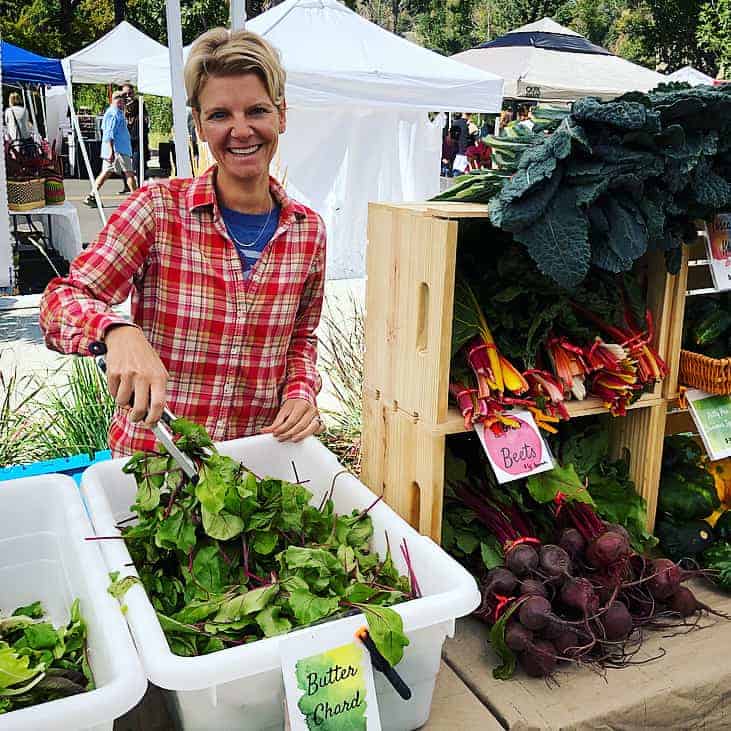 Herbivore's Kitchen is a blog run by me, a plant-based home chef and aspiring food photographer. I switched my and my family's diet to a plant-based diet after learning about the health benefits of going vegan. Making this change has prompted a variety of food and holistic-lifestyle related questions that I explore through this blog. I talk about how to pick and prepare the most nutritious foods, to how to reduce waste at home, to how to live a more sustainable lifestyle while on the road.