Jump to Recipe
---
This Baked Falafel Burgers post includes affiliate links. When I find a great product or service, I like to share it with my readers. Sometimes I use affiliate links so I can earn commission for my recommendations. Thank you for your support!
---
Baked Falafel Burgers
Check out these baked falafel burgers! This summer has me trying to up my veggie burger game and this baked falafel recipe is one of my new favorites. Fafafel, which is made out of chickpeas, is a healthy alternative to traditional hamburgers and are super easy to make. I opted to bake these falafel burgers as well, making them less messy and better for you.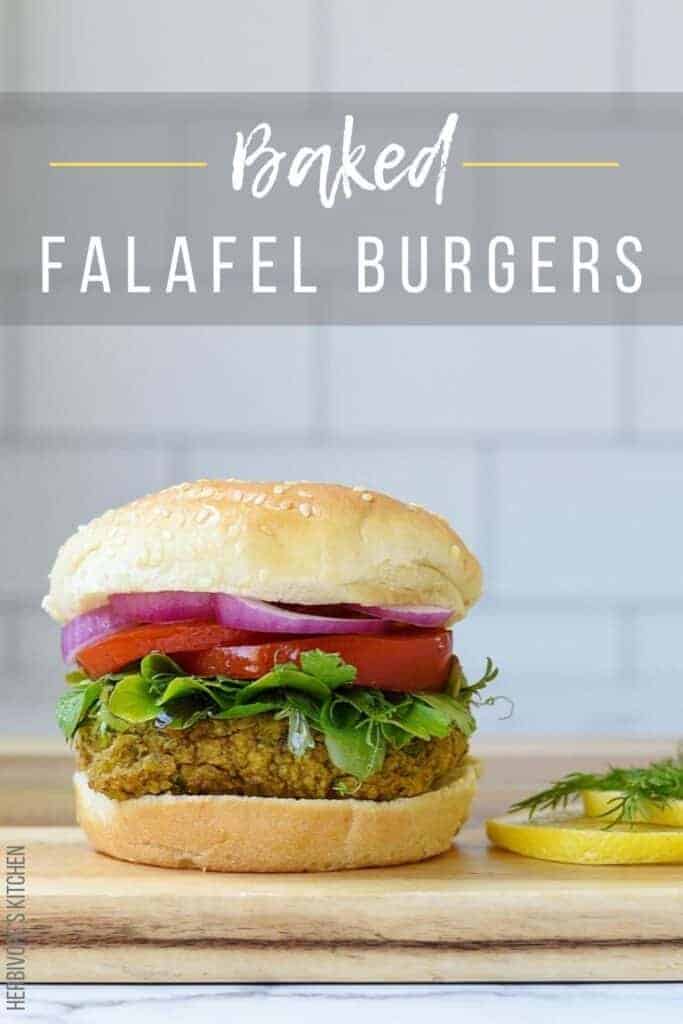 What is Falafel?
To understand falafel you need to first understand chickpeas. Chickpeas are a legume and great source of protein and fiber. They're a popular ingredient in a variety of vegan recipes – everything from hummus to vegan quiche to Chana Masala. If you'd like to learn more about how to cook chickpeas, check out my blog post here.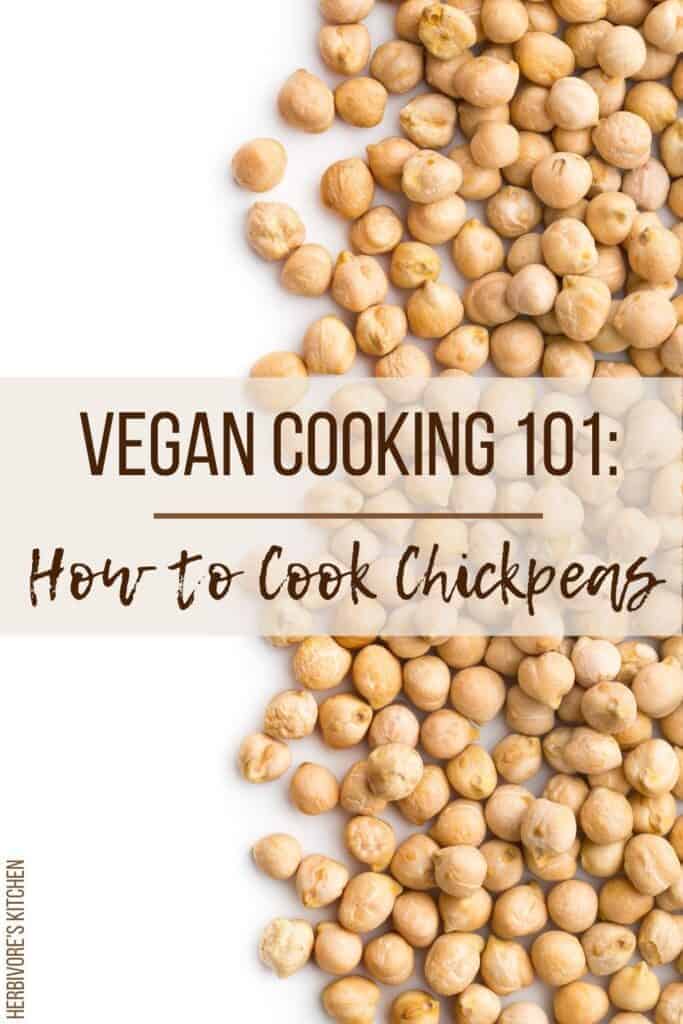 Falafel is made with cooked chickpeas and chickpea flour. These key ingredients are combined with red onion, lemon juice, parsley and cilantro and then fried (or, in this case, baked) into patties. In Mediterranean cultures falafel is a fast food, sold by street vendors in toasted pitas with hummus, tahini and cucumber and tomato salad. It's a refreshing and hearty vegan dish – perfect for walking around in the warm weather. I'm a regular at my local farmer's market falafel truck.
How to Make Baked Falafel
I think the biggest challenge to homemade baked falafel is creating a mixture with the right consistency. My strategy around this is three-fold: (1) keep the ingredients small, (2) add a binding agent, and (3) start with dried chickpeas.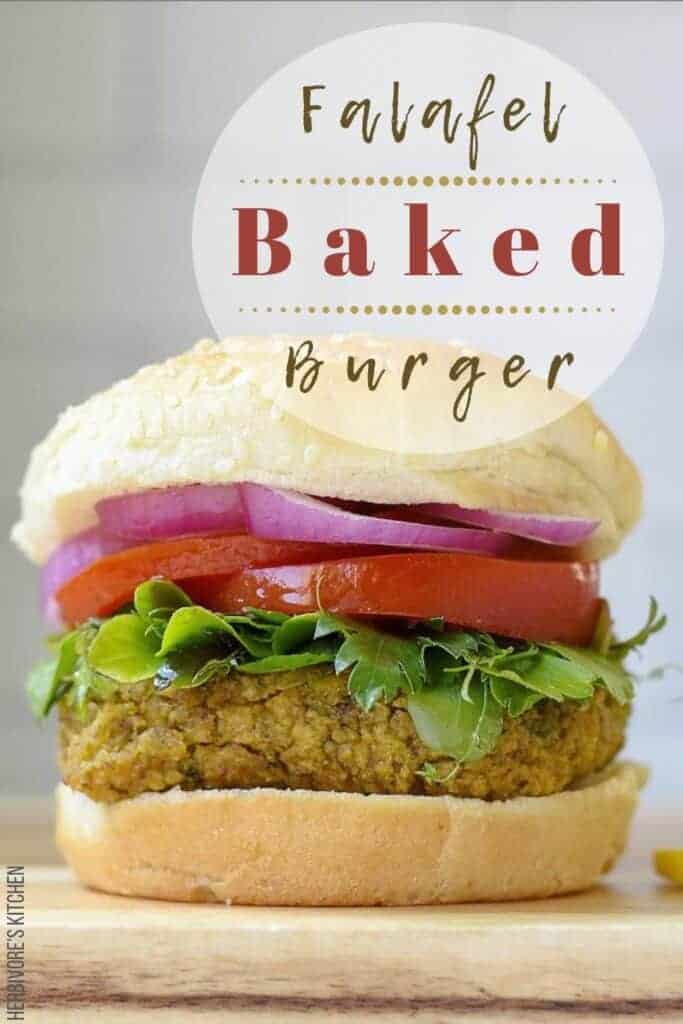 Regarding my first rule, I've found that large pieces of red onion and/or chickpeas often result in falafel that falls apart. To avoid this, I hit the pulse button on my food processor a few extra times. In addition, I've learned that it helps to pre-cut the red onion before adding it to the food processor as it doesn't break down as quickly as the other ingredients.
I've also discovered that adding a simple binding agent – in this case a flaxseed egg – goes a long way toward making falafel that stays together. If you're not familiar with a flaxseed egg, it's simple combination of flaxseed meal and water. I usually do a ratio of 1:3. For example, if I am using 1 tbsp of flaxseed meal I would combine it with 3 tbsp of water. This combination, when left to sit for 5+ minutes, becomes thick and gelatinous. Flaxseed eggs are a popular tool in vegan cooking.
Using dried chickpeas in any recipe can be kind of a PITA (pun intended). Like a lot of plant-based ingredients, chickpeas require soaking before they can be added to a recipe. Soaking typically happens overnight which, of course, requires advanced planning. Just what you needed, right? Another item on your to-do list. Rest easy though, there is a quick-soaking method for dried chickpeas (read about it here) or you can substitute canned chickpeas. They just make for a softer falafel.
Turning Baked Falafel into Falafel Burgers
This is the easy part! You just make your falafel bigger. I don't like to make my falafel patties too large because I want a good ratio between my burger bun, the falafel and my garnishments. Usually, I like to add slices of red onion, ripe tomatoes and some mixed greens from my garden.
In terms of sauces for your falafel burger, I'm a big fan of a simple cashew cream sauce spiked with dill and lemon juice. Smearing creamy hummus is another option, especially when you add some chopped Kalamata olives into the mix. Whichever way you decide to top this falafel burger make sure you have some extra cilantro and parsley around as garnishment! Mint and dill are also tasty options to add to the mix of greens topping your baked falafel burger.
What's in My Kitchen to Make This Baked Falafel Burger Recipe Easier?
Want to know what tools and resources I keep on hand to make my vegan cooking even easier? Here's a short list of what helped me create this blog post and recipe. For the complete list, visit my Shop where you can find the kitchen gadgets I like as well as a list of books that I recommend.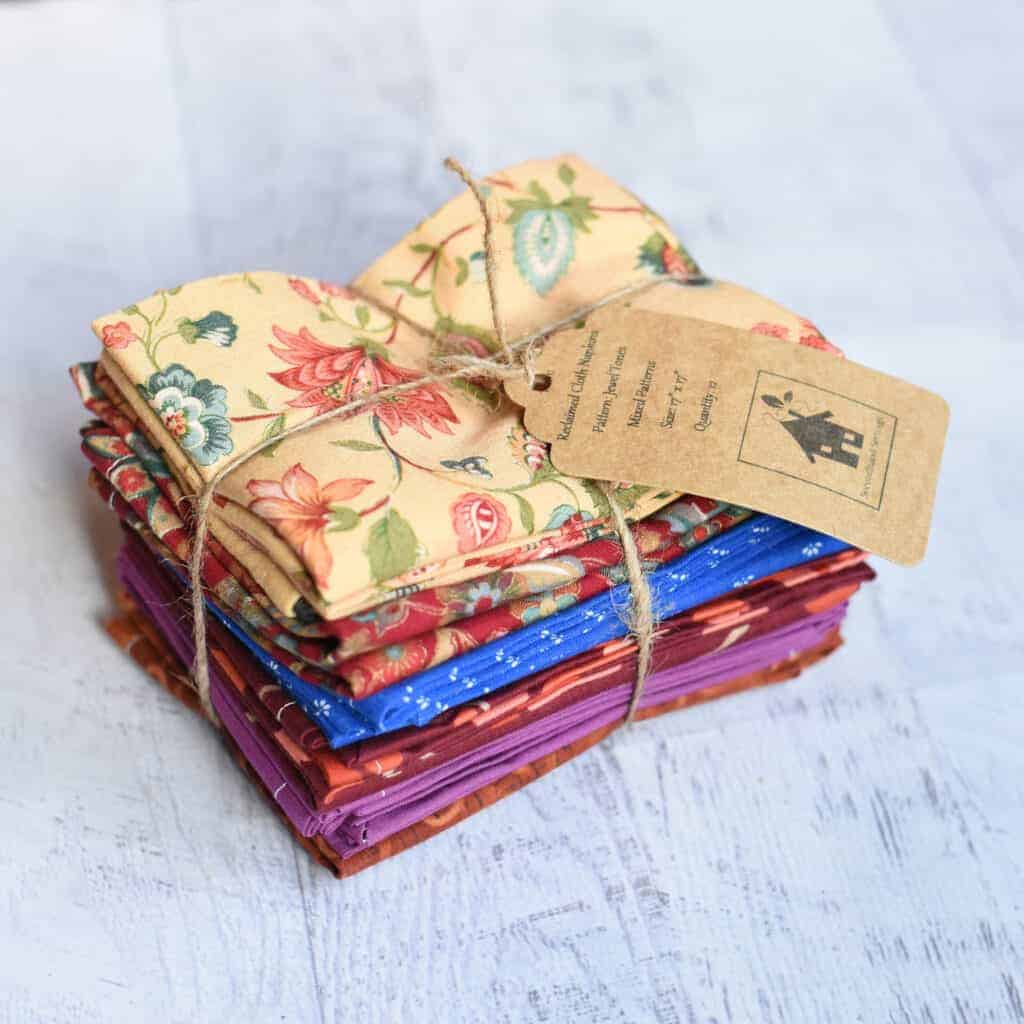 Before I get into cooking, I want to share these napkins. I found these on Etsy over a year ago and, not only do I LOVE them, I buy them as gifts for nearly everyone I know.
These napkins are upcycled and reusable, allowing you to not only avoid throwing away paper products but to also reuse fabrics – a small but significant way to cut back on water, dyes and chemicals used in the production process.
These napkins are so darling (they come in lots of different patterns and colors) and they're machine washable. I just throw them in with whatever load of laundry I'm doing. They don't wrinkle easily, so a quick fold will have them back on your table doing what they were meant to do… be reused!
I picked the Hamilton Beach 8-Cup Food Processor. I use my food processor all. the. time. But, for this recipe, I used it to make the pizza dough. I like making pizza dough in my food processor because it's a lot easier than trying to make it with a bowl and spoon and, damn, my KitchenAid mixer is really heavy. I only get that out of the cabinet when there are cookies involved.
I only bought one of these a few months ago, but wow! I'm so much happier not peeling garlic cloves with my fingernails. I'm pretty sure I'll collectively get at least a day of my life back because of this device.
No, that's not the brand. It's just the idea! But, I own this set of Global™ knives and They're some of my most prized possessions in the kitchen. This set is universally well-rated for the at-home chef and will get you a good, solid set of knives without totally breaking the bank.
I bought this a few years ago and have success growing herbs and lettuces in it ever since. I love that it is mostly hands off — perfect for someone who has trouble keeping plants alive. I use my own seeds using the Grow Anything seed pods.
These things are amazing! When I discovered parchment paper, I thought I had things figured out. No more greasing pans or ruining them with charred food. Then I discovered these silicon baking pads. They're oven-safe up to 450 degrees, dishwasher safe (top rack only) and easy to clean and REUSE!
Down a broiler pan? These aluminum baking sheets come highly recommended by the cooks who know best – Epicurious, Cooks Illustrated and Food & Wine. I bought mine because I needed a good, sturdy baking sheet to use under the broiler. One that wouldn't warp – and this one lives up to the task. Aluminum is a good conductor of heat, so these baking sheets cook evenly. They're also light in color, so they discourage over-browning.
These seed pods work with the Aerogarden Bounty – the indoor gardening center. I use these pods along with my own seeds to keep an indoor garden of fresh herbs going all year long.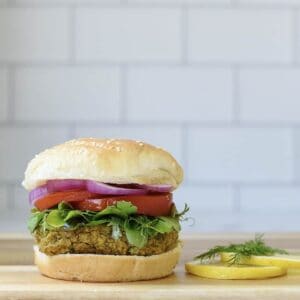 Baked Falafel Burgers
Check out these baked falafel burgers! This summer has me trying to up my veggie burger game and this baked falafel recipe is one of my new favorites. Fafafel, made out of chickpeas, is a healthy alternative to traditional hamburgers and are super easy to make! I opted to bake these falafel burgers as well, making them less messy and better for you!
Ingredients
2

cups

dried chickpeas

also known as garbanzo beans

1

tbsp

flaxseed meal

3

tbsp

water

1/2

cup

chickpea flour

1/2

cup

red onion

roughly chopped

2

garlic cloves

1/2

cup

cilantro

washed and roughly chopped

1/2

cup

parsley

washed and destemmed

1

tbsp

fresh lemon juice

1

tsp

salt

1/8

tsp

pepper

1

tbsp

cumin

1

tbsp

safflower oil
Instructions
Add the dried garbanzo beans to a large bowl. Cover with water, making sure that the beans are fully submerged with several inches of water on top of the beans. Allow to soak overnight or for at least 8 hours.

Preheat your oven to 400º. Prepare a baking sheet a silicon baking mat. Brush with the safflower oil.

Combine the flaxseed meal and water in a small bowl. Whisk to combine and set aside for 5 minutes then stir again.

Drain and rinse the garbanzo beans. Combine the garbanzo beans, chickpea flour, red onion, garlic, cilantro, parsley, lemon juice, salt, pepper and cumin in a large food processor. Pulse to combine until the ingredients are a thick consistency. You don't want any large pieces remaining (a few whole pieces are okay) but you don't want to reduce the ingredients to a paste.

Using your hands, form the mixture into burger-sized patties and place them on the baking sheet. Bake for 40 minutes, pausing to flip the burgers halfway through.

Serve the falafel burgers on toasted sesame seed buns smeared with hummus and topped with sliced red onions, sliced tomatoes and fresh greens. I like to add some fresh mint and cilantro to my greens as well.
Notes
I think dried chickpeas work best for making falafel, but if you decide to use canned chickpeas substitute the 2 cups for 2 14 oz cans. Drain and rinse the canned chickpeas then spread them out on a clean kitchen towel. Using the corners of the towel, gently rub the chickpeas to remove as many of the skins as possible. You do not need to cook the chickpeas before using them to make the falafel.
Just a note on prepping cilantro and parsley. Cilantro stems are edible and can be roughly chopped along with the leaves. I recommend trimming and discarding the end of the stems. Parsley stems, on the other hand, are bitter. The parsley leaves need to be removed from the stems before being adding to the falafel mix.
About Herbivore's Kitchen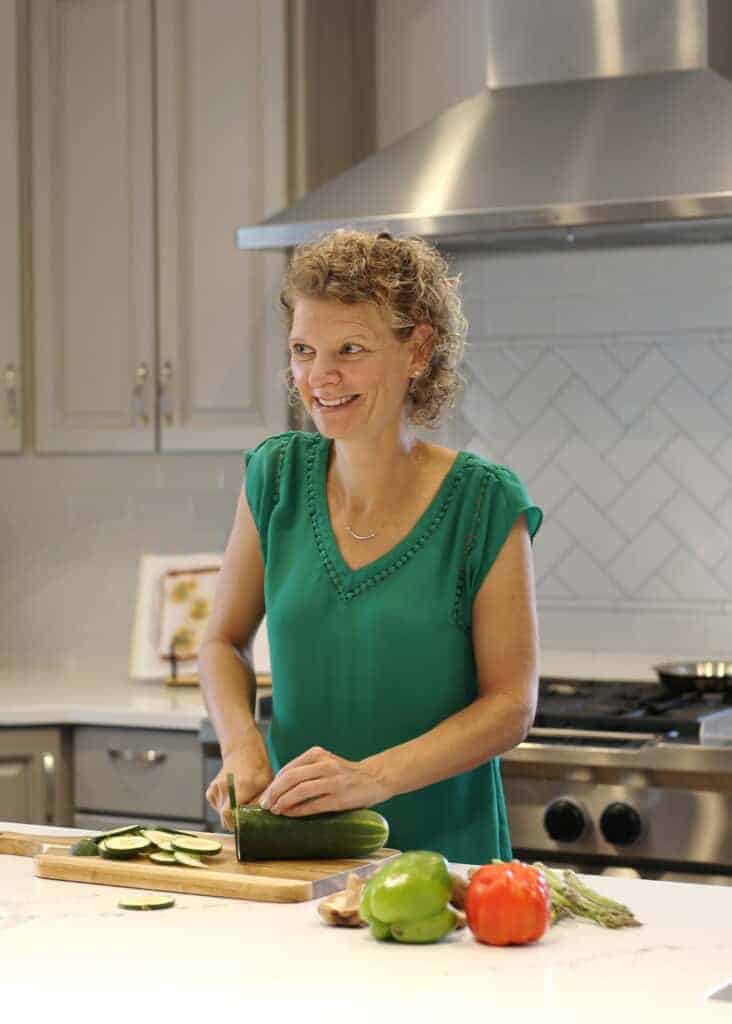 Herbivore's Kitchen is a blog run by me, a plant-based home chef and aspiring food photographer. I switched my and my family's diet to a plant-based diet after learning about the health benefits of going vegan. Making this change has prompted a variety of food and holistic-lifestyle related questions that I explore through this blog. I talk about how to pick and prepare the most nutritious foods, to how to reduce waste at home, to how to live a more sustainable lifestyle while on the road.