Jump to Recipe
---
This Strawberry Rhubarb Galette Recipe includes affiliate links. When I find a great product or service, I like to share it with my readers. Sometimes I use affiliate links so I can earn commission for my recommendations. Thank you for your support!
---
Strawberry Rhubarb Galette: The Ultimate Vegan Dessert!
I am galette obsessed. Peach, plum, mushroom…this strawberry rhubarb galette. Not familiar with galettes? All you really need to know is how easy they are to make. This galette recipe features a homemade vegan pie crust, but you can make things even easier by using a store-bought crust for "practice" (as I like to call it). The filling for this strawberry rhubarb galette is silly easy. I made it with fresh strawberries and rhubarb, sugar and chia seeds.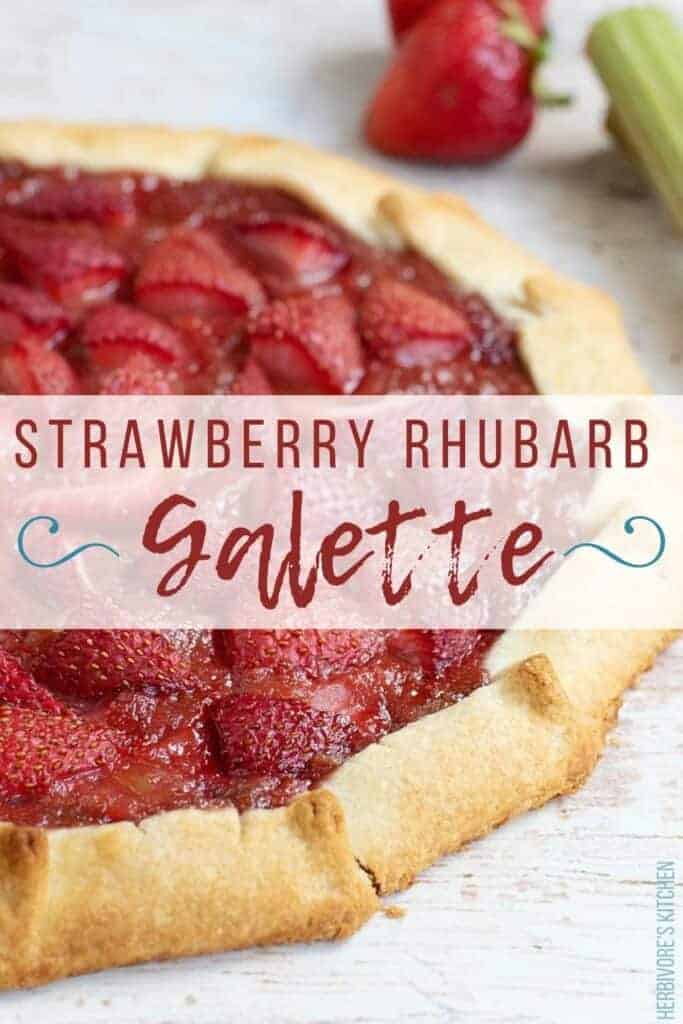 Ooh-la-la! Sounds Wonderful! Now What is a Galette Exactly?
A galette is a free form pie. Unlike a traditional pie, a galette doesn't require a pie dish, crust crimping, lattices or any other complications that are likely to get between you and a slice of fresh fruit pie. Traditionally a French dish, the word galette is derived from the Norman word "gale" – translated as "flat cake." And flat it is – it's essentially pie crust baked around the filling of your choice. My kids liken it to pizza. With fruit. And I have to hand it to them. It's far closer to a pizza than a cake. From the mouths of babes…
What's Not to Love About a Galette?
As far as I can tell a galette has no downsides. It's rustic-looking by design, which takes all of the stress that pies bring and makes them a positive thing. There's no need to create the perfectly crimped crust. A task I actively avoid. In fact, the closer you can make this look to a treat that just came out of the oven in a French farmhouse, the better!
What Makes this a Vegan Galette?
Eggs are often used to "wash" the crust in a traditional galette. Washing the crust creates a barrier between the crust and the fruit filling, which often has a high water content. Without a barrier, the crust may become soggy when baked. And who wants a soggy galette?
Of course, eggs are not vegan-friendly ingredients. In their stead, I use chia seeds. If you're not familiar with chia seeds, be sure to check out my "How to Cook with Chia Seeds" Vegu-cation post. Chia seeds are tiny black or white seeds. They are high in anti-oxidants, protein and fiber, making them a vegan superfood. The latter characteristic though (high in fiber) is what makes them a good substitute for eggs in vegan baking. Chia seeds can absorb ~10x their weight in water. This combination results in a gelatinous consistency. This is what keeps the crust crispy and the filling from running when the galette is cut.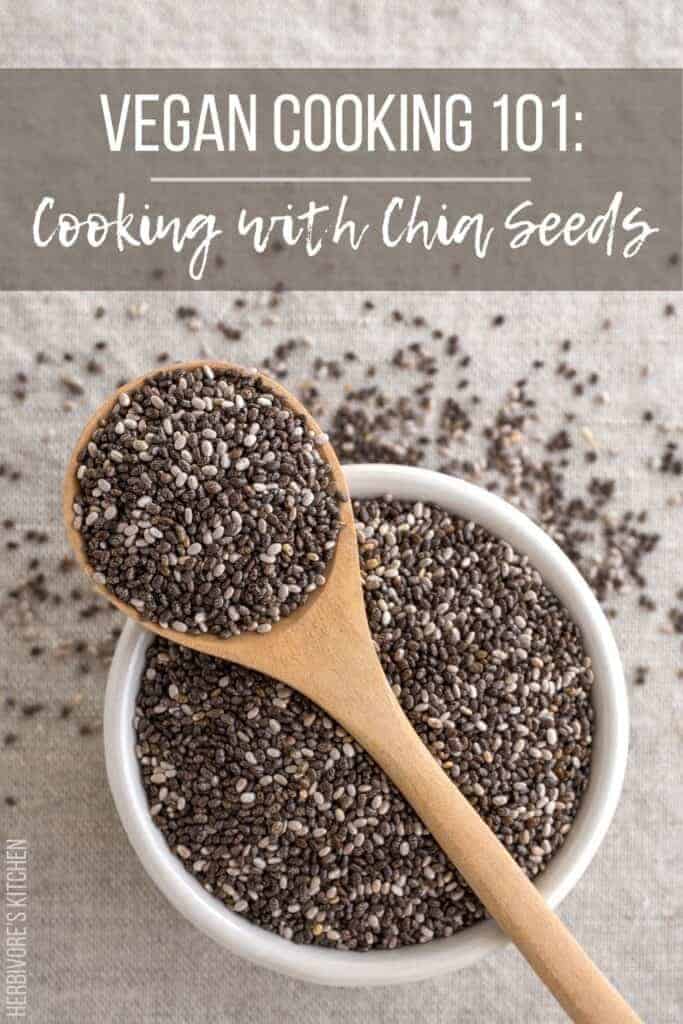 How to Make this Strawberry Rhubarb Galette
I love how simple this recipe is. The ingredients are super straightforward. I especially love the recipe for the filling, which can be adapted for any number of different fruits. With a little pre-prep (i.e. making the pie dough in advance), you can have this beautifully rustic dessert on your table.
Making a Vegan Pie Crust
I start by making the pie crust. The trick to a good, flaky pie crust is keeping the butter cold. As you combine it with the flour and salt you want it to remain in its solid state. So, when the dough is fully mixed you still want to be able to identify flakes of butter in it. If you can achieve this, the butter will then melt when the crust bakes. As it melts, the butter creates small air pockets and those pockets are what make the crust flaky.
Friction and body heat make working with cold butter challenging, so you want to handle the butter as little as possible. I pre-prep my butter before I mix it with the flour and salt. That is – I want it in small pieces to start and I want those pieces to be cold. To do this, I use a cheese grater and grate my butter sticks into thick slivers. Then I put them in the refrigerator until I am ready to use them.
Traditional pie making will have you making the crust with your hands, but I make mine in the food processor. I first add the flour and salt and then add the butter bits. After a few pulses, the butter will combine with the flour and have the consistency of sand. At that point, I add ice water until the dough is formed. Then I pack it in a recycled bread bag and leave in the fridge for at least an hour.
Why Do You Chill Pie Dough?
Are you getting your food science fix? I hope so! You chill the dough so that the gluten in the flour has time to relax and so that the butter stays cold. Allowing the gluten to relax makes the dough easier to roll out and makes it less likely to contract in the oven. I cite an hour in the refrigerator for this recipe, but longer is better. In fact, pre-prepping the pie dough makes this recipe so much faster and easier!
But wait? Don't the directions say to take the pie dough out the fridge and let it warm up before rolling it out? It's true. I do say that. You'll need it to warm up slightly so that it can be rolled out. It will be quite hard when it comes out and you'll want to wait until it's a bit more pliable.
Making the Strawberry Rhubarb Filling for this Galette
I gave away my big secret above, which is that I use chia seeds to thicken the filling. Most traditional galette recipes I've read suggest just laying the fruit into the center of the galette and letting the oven do the work. I find that doesn't work well with vegan galettes because the moisture from the fruit makes the crust soggy and it takes some practice to get the fruit the right size. Too thick and it will undercook (or the crust will burn). Too thin and it will disintegrate before the crust is fully cooked.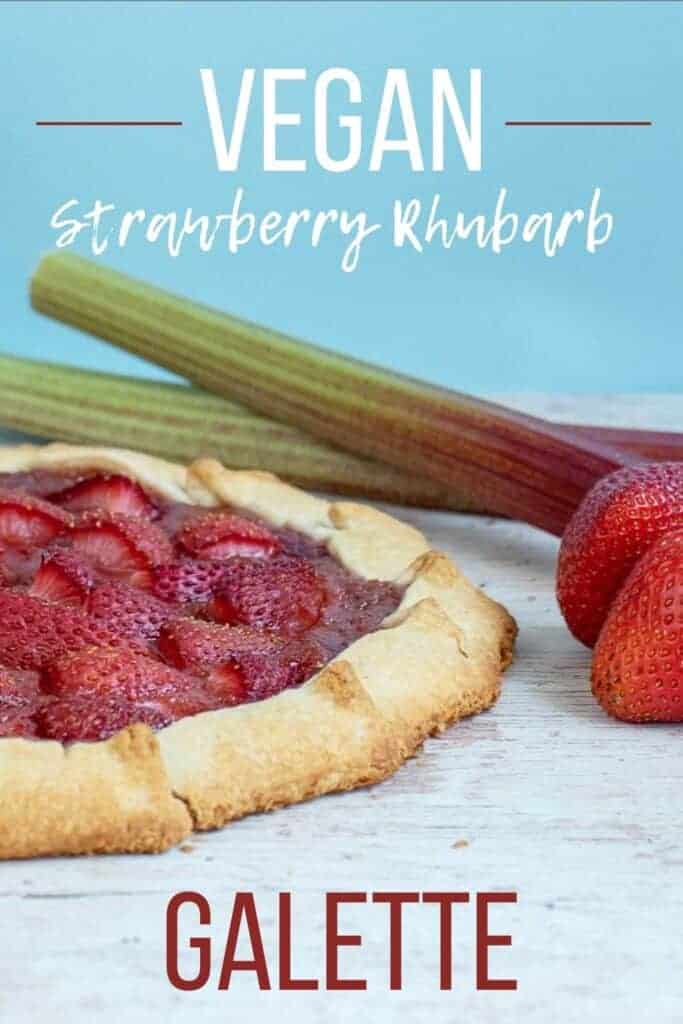 Getting around these challenges works out to be pretty easy. For this recipe, I just take a portion (2/3rds) of the prepared fruit and simmer it with sugar and lemon juice. After about 10 minutes, the fruit will be soft and will break apart easily with a wooden spoon. Then I stir in the chia seeds and let it cool for 10 minutes. After it's thickened and cooled a little, I spread the jam across the pie crust leaving 1-1 ½" of crust to fold over. Then I top the galette with sliced fruit, a sprinkle of sugar and a quick baste of melted vegan butter.
Let's Talk Galette Filling! What is Rhubarb?
Rhubarb is a vegetable fruit. It's one of those mystery plants that is actually one thing (a vegetable) but commonly gets referred to as another (a fruit). Rhubarb looks like pink celery. You'll only find the stalks for sale in the grocery store and that's for a good reason. The stalks are edible. The leaves, on the other hand, are poisonous.
Rhubarb stalks can be eaten raw, but I'd advise against it. In fact, when I was making this galette my husband snapped up a few pieces of chopped rhubarb thinking it was celery. The look on his face when he chewed it was one of instant regret. Rhubarb is tart. It's exactly this characteristic though, that makes it such a wonderful companion to strawberries. And sugar.
When I prep rhubarb, I trim the ends and then remove the outside layer with a vegetable peeler. It's usually quite stringy. Then I chop the rest of the stalk like you would a piece of celery. When it's cooked into the jam, rhubarb will quickly lose its structure. That's okay. In fact, I cook all of the rhubarb into the jam and just top my galette with strawberries.
Serving Your Vegan Strawberry Galette
Once the galette comes out of the oven, you'll want to let it rest for 20 minutes or so. For one thing, burning the roof of your mouth with hot sugar is only something you do once. Letting the galette cool will also allow the jam to firm up so that it doesn't run when you slice into it.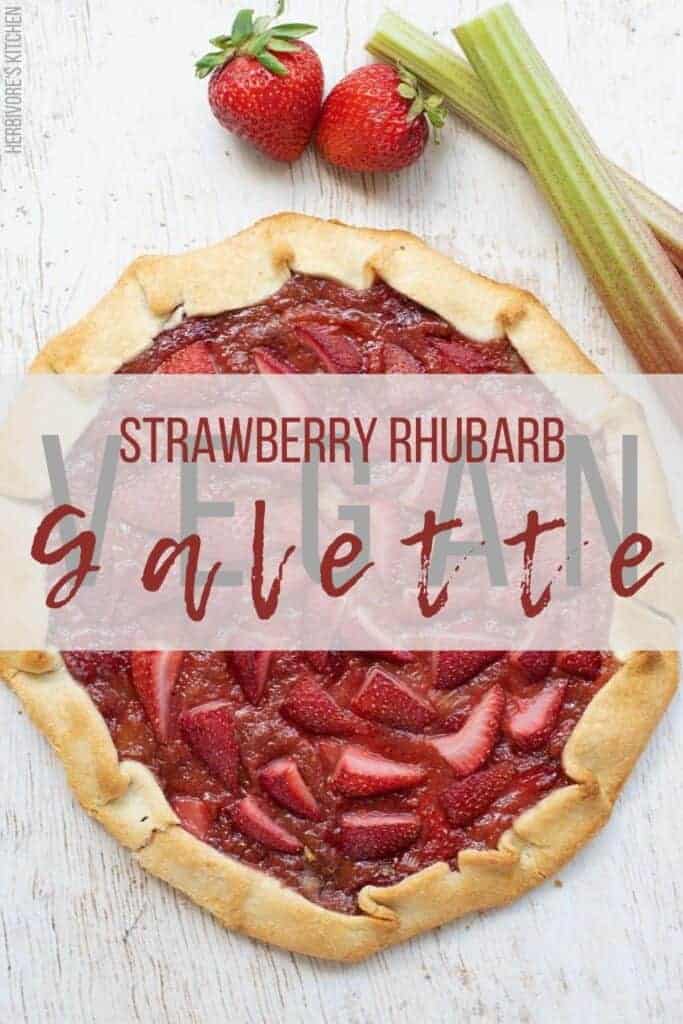 I like to serve galette in a simple manner. Just sliced and enjoyed. You can top it will other delicacies like vegan ice cream (I just happen to have some recipes for that) or vegan whipped cream if you'd like. No judgment. Just note that many vegan whipped creams are frozen and require 4+ hours to defrost before they can be enjoyed.
What's in My Kitchen to Make This Vegan Strawberry Rhubarb Galette Easier?
Want to know what tools and resources I keep on hand to make my vegan cooking even easier? Here's a short list of what helped me create this blog post and recipe. For the complete list, visit my Shop where you can find the kitchen gadgets I like as well as a list of books that I recommend.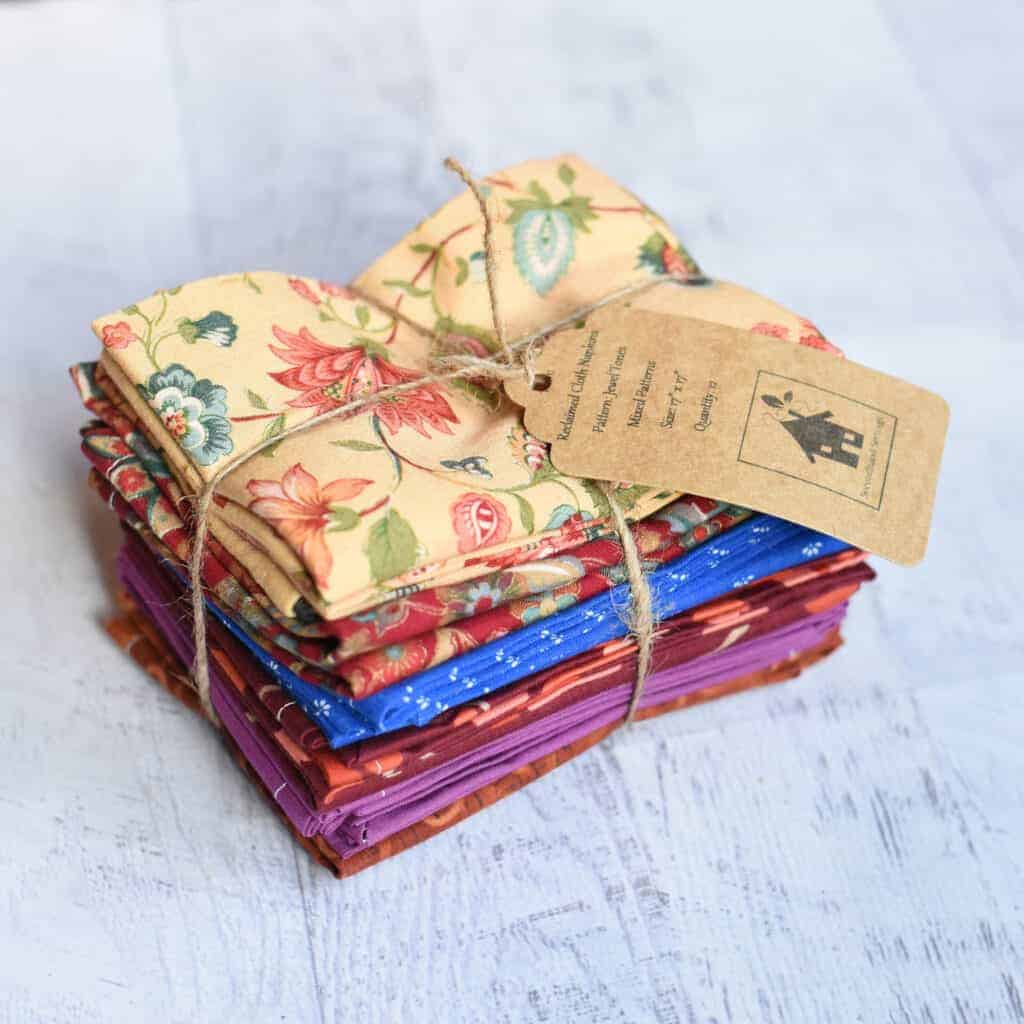 Before I get into cooking, I want to share these napkins. I found these on Etsy over a year ago and, not only do I LOVE them, I buy them as gifts for nearly everyone I know.
These napkins are upcycled and reusable, allowing you to not only avoid throwing away paper products but to also reuse fabrics – a small but significant way to cut back on water, dyes and chemicals used in the production process.
These napkins are so darling (they come in lots of different patterns and colors) and they're machine washable. I just throw them in with whatever load of laundry I'm doing. They don't wrinkle easily, so a quick fold will have them back on your table doing what they were meant to do… be reused!
I picked the Hamilton Beach 8-Cup Food Processor. I use my food processor all. the. time. But, for this recipe, I used it to make the pizza dough. I like making pizza dough in my food processor because it's a lot easier than trying to make it with a bowl and spoon and, damn, my KitchenAid mixer is really heavy. I only get that out of the cabinet when there are cookies involved.
No, that's not the brand. It's just the idea! But, I own this set of Global™ knives and They're some of my most prized possessions in the kitchen. This set is universally well-rated for the at-home chef and will get you a good, solid set of knives without totally breaking the bank.
I maintain that this is an essential kitchen tool. Yes, I know that you can squeeze a lemon (or lime, or orange) with your hands, but do that and then try this and see just how much more juice you get from each fruit. It also has the added benefit of separating (most) of the seeds from the juice.
Down a broiler pan? These aluminum baking sheets come highly recommended by the cooks who know best – Epicurious, Cooks Illustrated and Food & Wine. I bought mine because I needed a good, sturdy baking sheet to use under the broiler. One that wouldn't warp – and this one lives up to the task. Aluminum is a good conductor of heat, so these baking sheets cook evenly. They're also light in color, so they discourage over-browning.
These things are amazing! When I discovered parchment paper, I thought I had things figured out. No more greasing pans or ruining them with charred food. Then I discovered these silicon baking pads. They're oven-safe up to 450 degrees, dishwasher safe (top rack only) and easy to clean and REUSE!
Love to cook with cast iron? Ever forget how hot those handles get? Yeah, me too. The Ove Glove will help to protect your hands when cooking (and forgetting). These pot holders are heat safe to 540 degrees and two come in a package – one for holding the handle and one for supporting the bottom of your cast iron skillet (because we all know it's too heavy to pick up with one hand).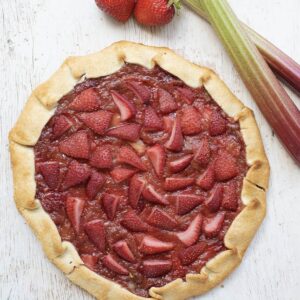 Vegan Strawberry Rhubarb Galette
I am galette obsessed. Peach, plum, mushroom…this strawberry rhubarb galette. Not familiar with galettes? All you really need to know is how easy they are to make. This galette recipe features a homemade vegan pie crust, but you can make things even easier by using a store-bought crust for "practice." The filling for this strawberry rhubarb galette is silly easy. I made it with fresh strawberries and rhubarb, sugar, lemon juice and chia seeds.
Ingredients
For the Vegan Pie Crust
1 1/4

cups

all-purpose flour

1

tsp

salt

1/2

cup

vegan butter

+ 1 tbsp for basting the crush

4

tbsp

ice water
For the Strawberry Rhubarb Filling
1

quart

fresh strawberries

thoroughly rinsed and sliced with the tops removed

2

stalks

rhubarb

with the ends trimmed, outer layer peeled and sliced into ¼" pieces

1/2

cup

sugar

+ 1 tbsp for sprinkking on top of the finished galette

1

tbsp

fresh lemon juice

2

tbsp

chia seeds
Instructions
Using a cheese grater, roughly grate the vegan butter into thick slivers. I do this on a cutting board so that I can spread out the slivers. Refrigerator for later use.

Combine the flour and salt into a food processor. Pulse to combine. Add the chilled butter and pulse until the butter is combined. The mixture should be crumbly with obvious small flakes of butter.

Add the ice water 1 tbsp at a time. Pulse until a dough forms. I usually find that I need ~4 tbsp of ice water.

Form the dough into a ball and wrap it in plastic. I like to use a clean, recycled bread bag. Allow the dough to chill in the refrigerator for at least 1 hour.

While the dough is chilling, add 2/3rds of the strawberry slices and all of the rhubarb to a medium-sized sauce pan. Add the sugar and lemon juice and stir until the fruit is thoroughly coated. Bring the fruit to a low simmer, stirring occasionally. As the fruit releases its moisture, it will become syrupy. After 10 minutes, remove the fruit from the heat and stir in the chia seeds. Rest in the refrigerator until ready for use.

Preheat your oven to 400º.

Prepare a baking sheet with parchment paper or a silicon baking sheet. After an hour, remove the dough from the refrigerator and allow it to warm up slightly. When it is pliable, roll the dough out into an oval/circle shape that will fit on your baking sheet. Don't worry about it being perfect! That's the beauty of a galette. Transfer the pie crust to the baking sheet.

Spread the strawberry rhubarb jam on the pie crust leaving only 1-1 ½" inches of the edges free from the jam. Lay the sliced strawberries on top of the jam and then fold the edges of the crust over the outer edge of the jam. Roughly pleat the crust as you go.

Melt 1 tbsp of vegan butter in the microwave. Using a basting brush, generously spread the vegan butter on the outside edges of the galette. This will give the crust a nice browned appearance. Then sprinkle 1 tbsp of sugar over the crust and top of the galette.

Bake the galette on the middle rack for about 30 minutes. It is done when the crust is golden brown. Remove the galette from the oven and transfer the baking mat or parchment paper to a cooling rack. Allow the galette to cool for at least 30 minutes. Then slice and enjoy!
About Herbivore's Kitchen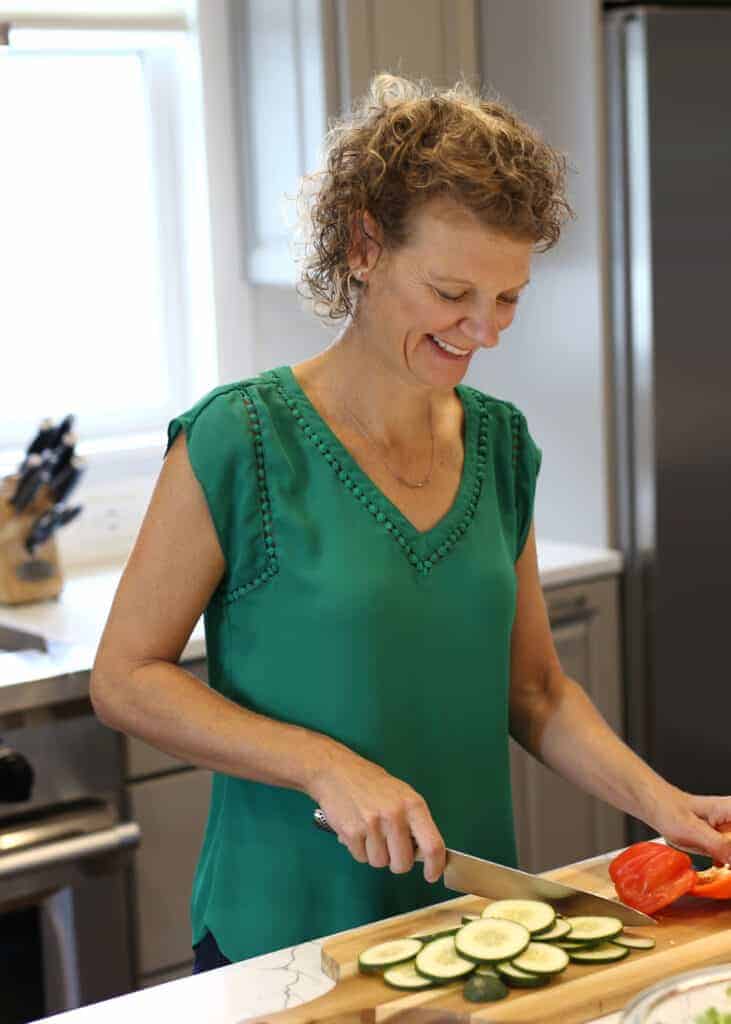 Herbivore's Kitchen is a blog run by me, a plant-based home chef and aspiring food photographer. I switched my and my family's diet to a plant-based diet after learning about the health benefits of going vegan. Making this change has prompted a variety of food and holistic-lifestyle related questions that I explore through this blog. I talk about how to pick and prepare the most nutritious foods, to how to reduce waste at home, to how to live a more sustainable lifestyle while on the road.