Jump to Recipe
---
This Vegan Lettuce Wraps with Asian Dipping Sauce recipe includes affiliate links. When I find a great product or service, I like to share it with my readers. Sometimes I use affiliate links so I can earn commission for my recommendations. Thank you for your support!
---
Vegan Lettuce Wraps with Asian Dipping Sauce
Do you love PF Chang's lettuce wraps, but wish they were vegan? Then this vegan lettuce wraps recipe is for you! I've dressed up these simple tofu lettuce wraps with some extra veggies for a healthier version of the original. And that dipping sauce? I've got you covered there too! This recipe for my tangy, salty Asian dipping sauce will have your taste buds singing!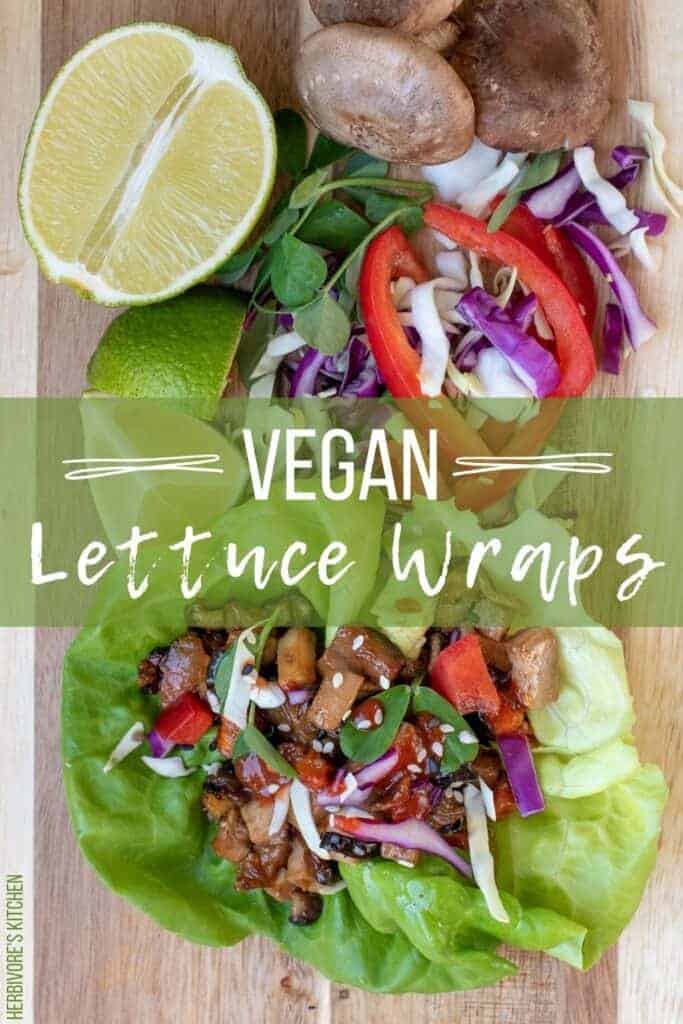 Choosing the Lettuce for Your Vegan Lettuce Wraps
Let's start with the basics: which lettuce makes for the best lettuce wraps? If you guessed butterhead lettuce, you're right! But did you know that butterhead lettuce is actually a category of lettuce? It includes Boston lettuce and Bibb lettuce.
Both Boston and Bibb lettuce make a great choice for vegan lettuce wraps. True to its name, butterhead lettuces offers up a delicate, sweet flavor. While Bibb lettuce leaves are smaller and more tightly curled, Bibb lettuce is the more flavorful of the two. But, it's also more expensive and harder to find, so if you see a head of Boston lettuce don't hesitate to pick it up for this recipe. You won't be disappointed!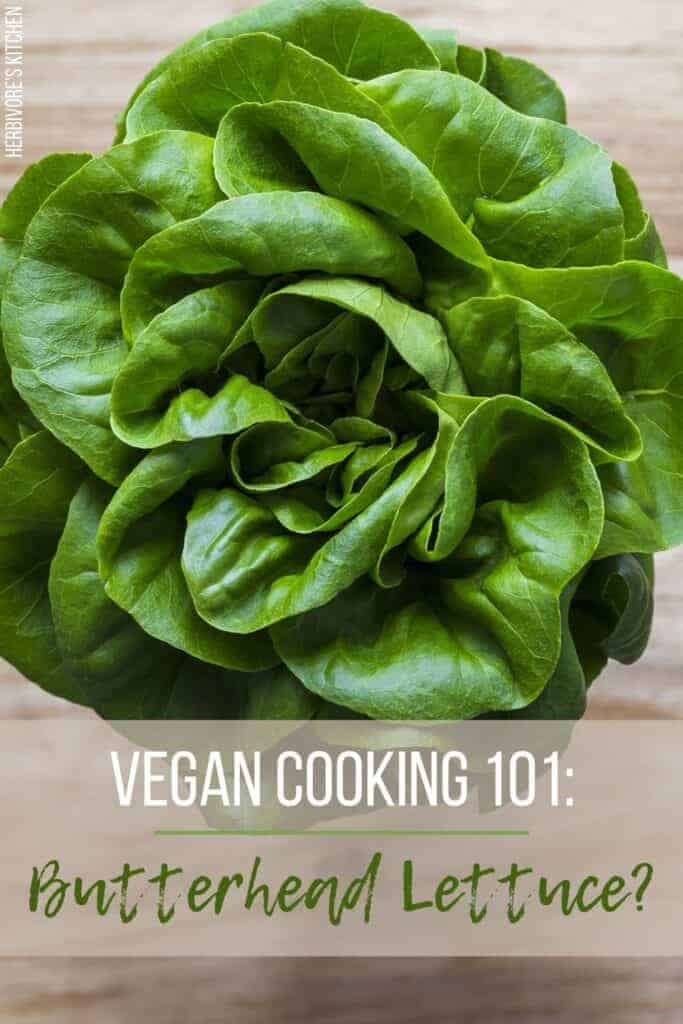 Flavor aside, what makes butterhead lettuce the ideal vehicle for vegan lettuce wraps is its shape. Butterhead lettuce leaves are small and curled – nature's own version of an edible dish. This tofu lettuce wraps recipe calls for 1 head of butterhead lettuce. This usually produces enough leaves to make this dish for a family of four. When in doubt though, don't be afraid to buy two heads of butterhead lettuce. It's usually packaged with the roots intact, so it can be stored in the refrigerator for 5-10 days.
As is true with most lettuces, dirt and debris have a tendency to get trapped between the leaves of butterhead lettuces. As such, it's important to clean the lettuce carefully. I like the tear the leaves and rinse them individually. If you're into pre-prepping, the best way to store butterhead lettuce leaves for later use is to dry them (I use a salad spinner) and then store them in an airtight container with some damp paper towels. Properly drying and storing loose butterhead leaves will prolong their freshness.
Making the Filling for These Vegan Lettuce Wraps
I've tried several different versions of this tofu lettuce wrap filling and I think I've finally settled on this one as the best. It includes some variety in taste and texture, which is where it deviates from the ever-popular PF Chang lettuce wrap. I'm all for more vegetables though.
In addition to teriyaki tofu, I've included sautéed shiitake mushrooms and small-diced carrots in the recipe. These vegetables are mixed into the filling itself, along with scallion whites, garlic and ginger. For color (and extra nutritional benefit) I also added some thinly sliced purple cabbage, green Napa cabbage and red peppers. You know that the most colorful vegetables are often the most nutritious, right?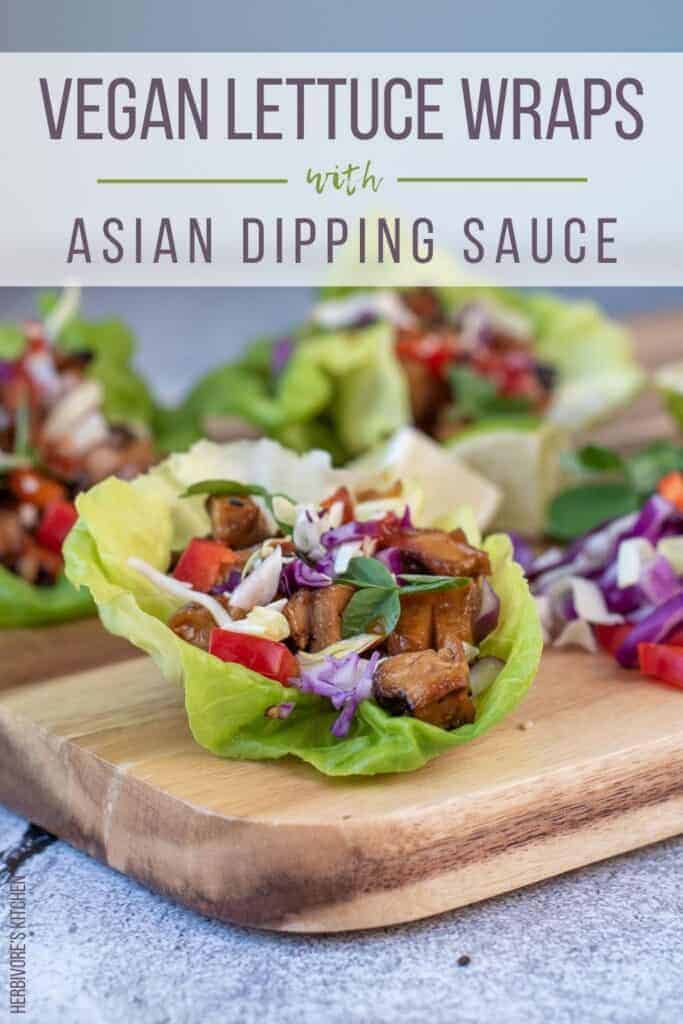 In the past I've pan-fried the filling, which included shredded extra-firm tofu. Lately though, I've been experimenting with baking the filling using small cubes of extra-firm tofu and, I have to say, it produces a much more satisfying texture than what I've been getting from the pan. Extra-firm tofu, as firm as it is, tends to turn into a bit of a mush with all the spatula action required to cook it evenly in the pan. I just love it when experimenting in the kitchen pays off!
Asian Dipping Sauce – The Cherry on Top of Vegan Lettuce Wraps
If I'm being totally honest, for me the ingredients above are (mostly) a vehicle for my Asian dipping sauce. This is where I think this recipe takes PF Chang's lettuce wraps a step further. I make this from scratch. It takes some additional time, but I think it's well worth it. You can't fake the flavor of fresh-squeezed lime juice.
As it's written, my Asian dipping sauce recipe isn't terribly spicy. I do this because…well, kids. I've ruined plenty-a-family-dinner with my overzealousness on spice, so I leave this to the individual parties at the table to add. If you're looking for more heat, sriracha sauce is a quick and easy way to get it. I'm a sriracha fan for sure, but for this recipe I like adding chili paste. Specifically, Sambal Oelek.
This Indonesian sauce is heavenly. "Sambal" is the Indonesian word for "a paste made from chili peppers," while "oelek" refers to the mortar & pestle means of crushing said chili peppers. In its purest form, sambal oelek is crushed chilies and salt, but some commercial varieties (and of course, homemade recipes) incorporate other ingredients like vinegar or lime juice. Either way, this condiment gives this Asian dipping sauce heat and aesthetics – just think about all those chili pepper bits floating around in the sauce.
What's in My Kitchen to Make This Vegan Lettuce Wraps Recipe Easier?
Want to know what tools and resources I keep on hand to make my vegan cooking even easier? Here's a short list of what helped me create this blog post and recipe. For the complete list, visit my Shop where you can find the kitchen gadgets I like as well as a list of books that I recommend.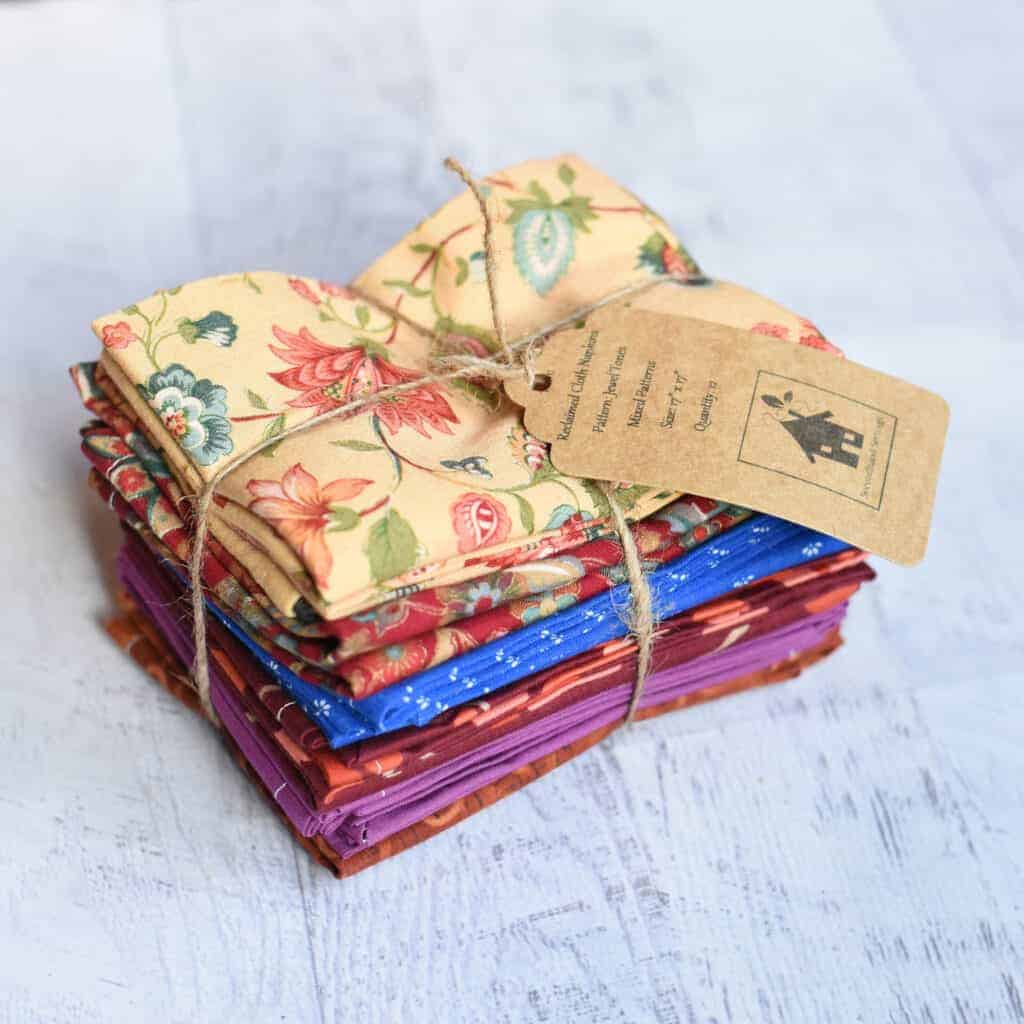 Before I get into cooking, I want to share these napkins. I found these on Etsy over a year ago and, not only do I LOVE them, I buy them as gifts for nearly everyone I know.
These napkins are upcycled and reusable, allowing you to not only avoid throwing away paper products but to also reuse fabrics – a small but significant way to cut back on water, dyes and chemicals used in the production process.
These napkins are so darling (they come in lots of different patterns and colors) and they're machine washable. I just throw them in with whatever load of laundry I'm doing. They don't wrinkle easily, so a quick fold will have them back on your table doing what they were meant to do… be reused!
Down a broiler pan? These aluminum baking sheets come highly recommended by the cooks who know best – Epicurious, Cooks Illustrated and Food & Wine. I bought mine because I needed a good, sturdy baking sheet to use under the broiler. One that wouldn't warp – and this one lives up to the task.
Aluminum is a good conductor of heat, so these baking sheets cook evenly. They're also light in color, so they discourage over-browning.
These things are amazing! When I discovered parchment paper, I thought I had things figured out. No more greasing pans or ruining them with charred food. Then I discovered these silicon baking pads. They're oven-safe up to 450 degrees, dishwasher safe (top rack only) and easy to clean and REUSE!
I love this addition to my kitchen. Being able to effectively dry lettuces and herbs makes salads taste better. Wet lettuce leaves prevent the oils in salad dressings from sticking to the lettuce, rendering a gorgeous plate of greens soggy before their time. Another good reason to invest in a salad spinner: dry greens store better and last longer in the fridge.
Admittedly, I didn't own a tofu press for a long time. I pressed my ­tofu by wrapping my tofu in a clean tower and topping it with a heavy cast iron skillet. I did this for a number of years without issue until my cast iron tipped off of the tofu on day and landed on my new hardwood floor, denting it. My husband gave me this tofu press for Christmas after that.
Now that I have a tofu press, I'm all about them. And this tofu press is pretty slick. It applies even pressure to a block of tofu. And pressure matters. Too little and you won't drain enough of the liquid. Too much and you'll crush your tofu, making it impossible to cube it for even cooking.
No, that's not the brand. It's just the idea! But, I own this set of Global™ knives and They're some of my most prized possessions in the kitchen. This set is universally well-rated for the at-home chef and will get you a good, solid set of knives without totally breaking the bank.
I only bought one of these a few months ago, but wow! I'm so much happier not peeling garlic cloves with my fingernails. I'm pretty sure I'll collectively get at least a day of my life back because of this device.
I've read a dozen posts about why you shouldn't use a garlic press. One of them actually suggested that they take up valuable kitchen space. I mean, I guess if you have a tiny kitchen you might have to make those choices. They're smaller than a can opener. I love mine. I hate, hate, hate mincing garlic.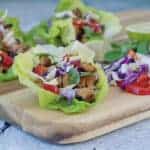 Vegan Lettuce Wraps with Asian Dipping Sauce
Do you love PF Chang's Lettuce Wraps, but wish they were vegan? Then this Vegan Lettuce Wraps recipe is for you! I've dressing up simple tofu lettuce wraps with some extra veggies for a healthier version of the original. And that dipping sauce? I've got you covered there too! This recipe for my tangy, salty Asian Dipping Sauce will have your taste buds singing!
Ingredients
Lettuce Wraps
1

tbsp

safflower oil

or other heat-tolerant oil

1

10 oz block

extra firm tofu

pressed and diced into small cubes

10-12

shiitake mushrooms

washed and diced

2

scallions

washed and sliced with the white parts separated from the green parts

1

tbsp

fresh garlic

minced or pressed

1

tbsp

fresh ginger

finely minced

1

carrot

washed and diced

1

head

butterhead lettuce

Boston or Bibb

3/4

cup

teriyaki sauce

1/4

head

purple cabbage

sliced very thin

1/4

head

Napa cabbage

sliced very thin

1/2

red pepper

sliced very thin

1-2

limes

washed and cut into wedges

sesame seeds

as garnishment
Asian Dipping Sauce
1

tbsp

fresh garlic

roughly chopped

1

tbsp

fresh ginger

roughly chopped

1/3

cup

fresh lime juice

1/4

cup

sugar

1/4

cup

tamari

1/2

cup

safflower oil

or other neutral-tasting oil

1

tsp

crushed red pepper
Instructions
Vegan Lettuce Wraps
Preheat your oven to 375º. Prepare a baking sheet by basting it with a light layer of safflower oil. About 1 tbsp.

In a large bowl, combine the scallion whites, garlic, ginger, cubed tofu, shiitake mushrooms, carrot and teriyaki sauce. Toss to coat.

Spread the lettuce wrap filling on the baking sheet and bake on the middle rack for 25-30 minutes until the mixture has a light crispy texture.

While the filling is baking, separate the leaves from the head of butterhead lettuce. Rinse and dry thoroughly and set aside.

To make the dipping sauce, combine the minced garlic and ginger with the lime juice, sugar, tamari, safflower oil and crushed red pepper flakes into a small food processor. Blend until well combined.

To serve, put the tofu filling in a bowl with the lettuce leaves, cabbage, red pepper, limes, scallion greens, sesame seeds and Asian Dipping Sauce on the side. Make each wrap by spooning the filling into the lettuce leaf and topping as desired.
About Herbivore's Kitchen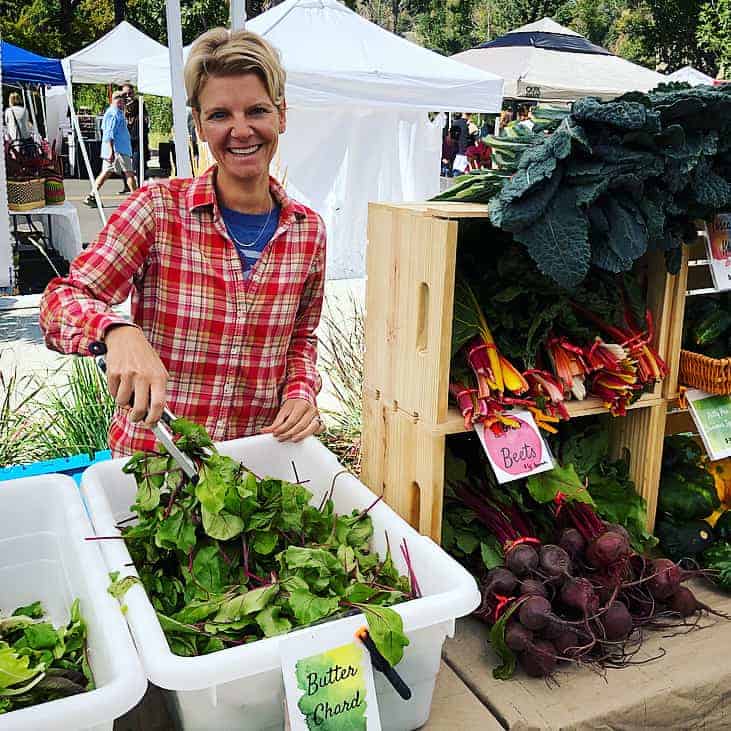 Herbivore's Kitchen is a blog run by me, a plant-based home chef and aspiring food photographer. I switched my and my family's diet to a plant-based diet after learning about the health benefits of going vegan. Making this change has prompted a variety of food and holistic-lifestyle related questions that I explore through this blog. I talk about how to pick and prepare the most nutritious foods, to how to reduce waste at home, to how to live a more sustainable lifestyle while on the road.