Jump to Recipe
This Teriyaki Noodles with Vegetables: Use Up the Veggies in Your Fridge with this Teriyaki Bowl post includes affiliate links. When I find a great product or service, I like to share it with my readers. Sometimes I use affiliate links so I can earn a commission for my recommendations. Thank you for your support!
Use Up the Veggies in Your Fridge with this Teriyaki Bowl
Looking for a good way to use up the vegetables in your fridge? Then you've got to try this easy, vegan Teriyaki Noodles with Vegetables recipe! Packed with goodness, this Asian noodle bowl is a great way to put a delicious, plant-based dinner on the table!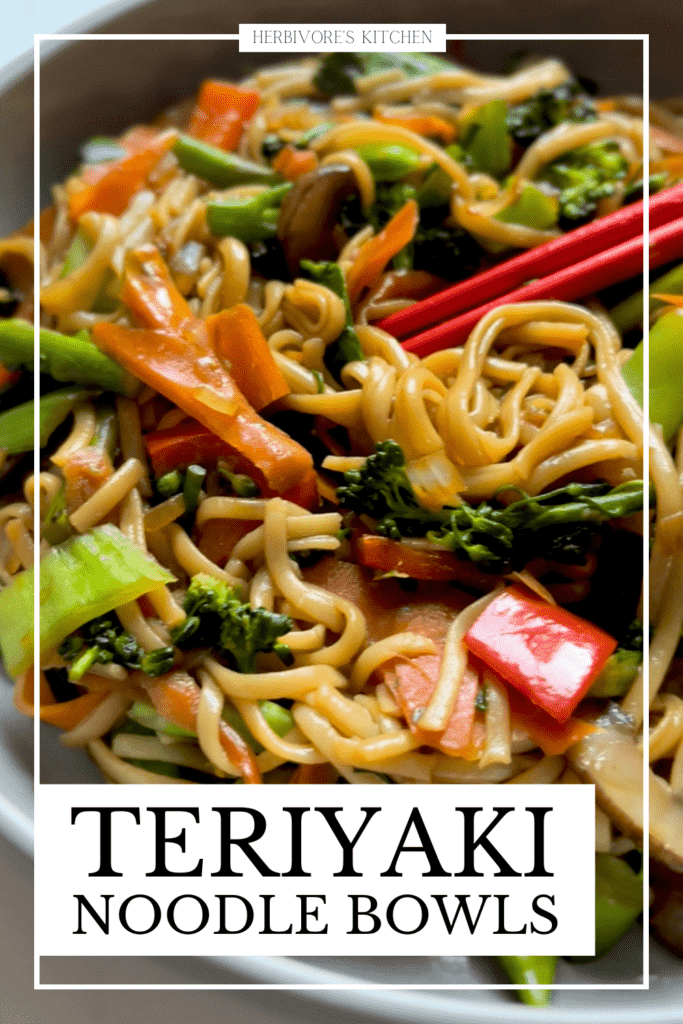 What Does Teriyaki Sauce Go Well With?
Believe it or not, this is a question that comes up! The answer is: A LOT! Obviously, I use it in this teriyaki bowl recipe, but I also like to use it as a dipping sauce for my vegan eggrolls and in rice and veggies bowls.
In addition to noodles and rice, I include a lot of stir-fry vegetables in this recipe like red bell peppers, asparagus, broccolini and mushrooms.
Of course, if you want to add a little more protein to this recipe, tofu roasted with a little olive oil salt and pepper makes a great addition!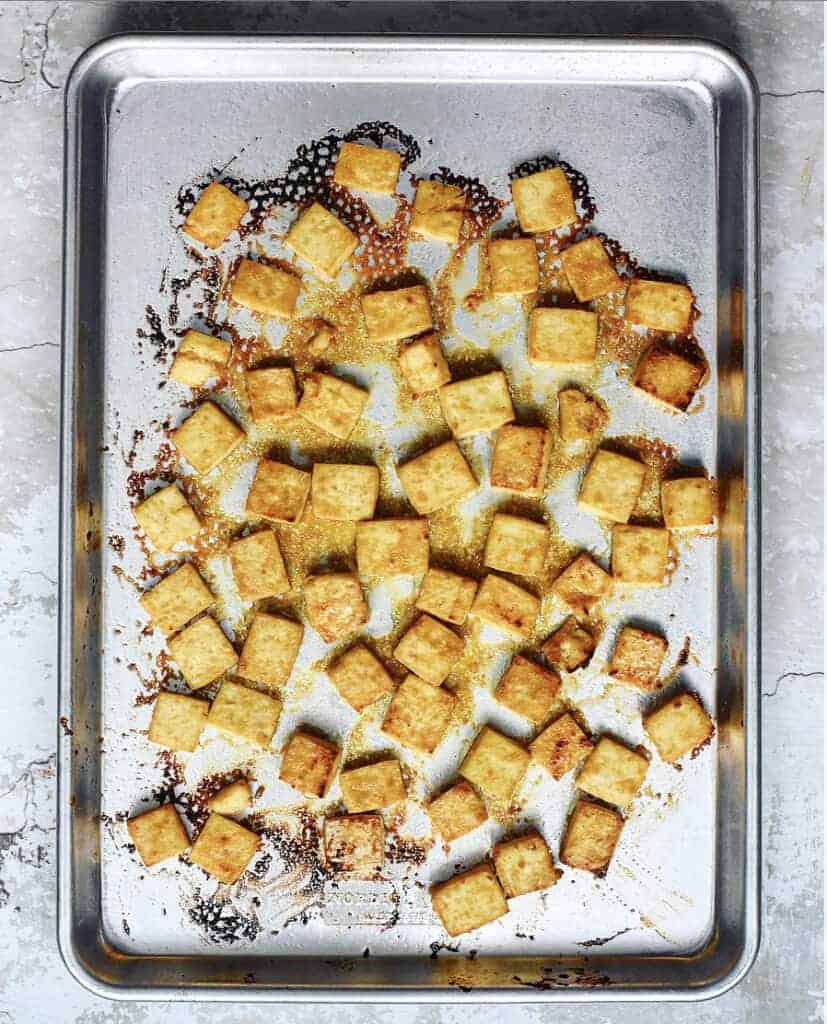 Is Teriyaki Sauce Vegan Friendly?
The answer depends on the brand, but I include a vegan teriyaki sauce recipe below. Some commercial brands include honey as a sweetener.
Another question that often comes up is whether teriyaki sauce is gluten free. More often that not, it isn't. This is because most teriyaki sauce recipes include soy sauce. This recipe calls for tamari sauce making this recipe gluten free!

Do You Love This Teriyaki Noodles with Vegetables Recipe?
Do you love this teriyaki bowl recipe? Be sure to check out some of my other Asian noodle recipes! If you're into mushrooms, then my Miso Glazed Vegan Scallops Over Soba Noodles is for you! are for! Forever-searching for an easy ramen noodle bowl? Then you'll love my Vegan Miso Mushroom Soup!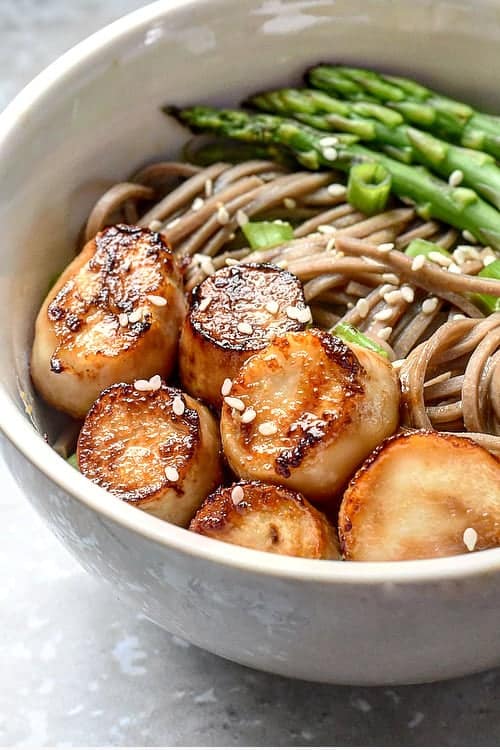 This vegan scallop recipe will have you amazed! Who knew that marrying a miso glaze to a king oyster mushroom could lead to these stunning vegan scallops! This dish is dazzling and made even better with the addition of soba noodles in a tangy miso dressing!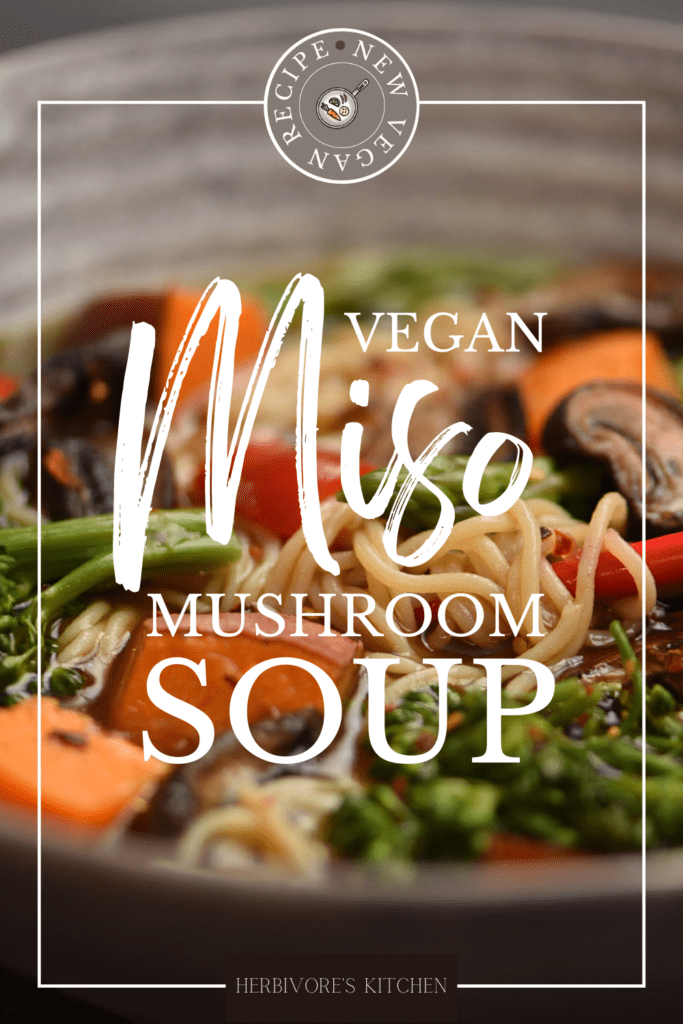 Looking for savory ways to eat your veggies? This Vegan Miso Mushroom Soup is the perfect solution to a chilly day.
What's in My Kitchen to Make This Teriyaki Bowl Easier?
Want to know what tools and resources I keep on hand to make my vegan cooking even easier? Here's a short list of what helped me create this blog post and recipe. For the complete list, visit my Shop where you can find the kitchen gadgets I like as well as a list of books that I recommend.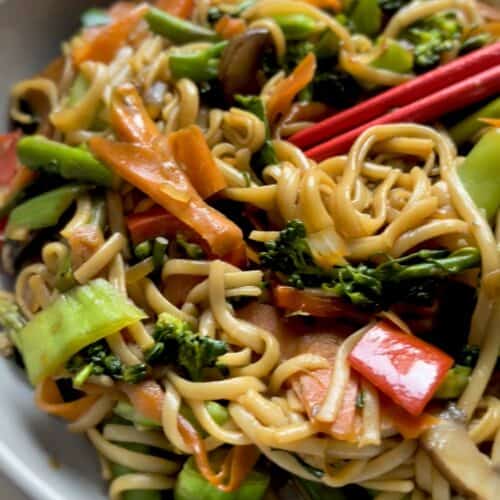 Teriyaki Noodles with Vegetables
Ateriyaki bowl is a great way to use up vegetables! Give this Teriyaki Noodleswith Vegetables recipe a try today!
Ingredients
1

tbsp

minced garlic

1

tbsp

minced ginger

1/2

cup

tamari sauce

2

tbsp

pure maple syrup

1

tbsp

unseasoned rice wine vinegar

1

tbsp

cornstarch + 1 tbsp water

1

8 oz pkg

ramen rice noodles

10-12

cremini mushrooms

washed & sliced

1/4

cup

water

1

tbsp

safflower oil

1/2

tsp

salt

1/2

yellow onion

diced

12-15

snap peas

washed and trimmed

1

bunch

fresh asparagus

washed, trimmed and cut into bite-sized pieces

1

carrot

shaved

1

head

bok choy

washed, trimmed and roughly cut

1

bunch

broccolini

washed and diced

1

red pepper

washed, deseeded & diced

sriracha sauce

to taste
Instructions
Add the first five ingredients to a small saucepan. Bring the mixture to a simmer.

Blend the cornstarch with 2 tbsp water to create a slurry. Add the slurry to the tamari mixture and continue to simmer, stirring constantly, until the sauce has thickened. Remove from heat and allow to cool. Set aside in an 8 oz mason jar.

Cook the rice noodles al dente according to package directions. Rinse in cold water and set aside.

Add the mushrooms and 1/4 cup of water to a large skillet or wok. Simmer until the water has cooked off.

Add the safflower oil, salt and onions and sauté on high heat until the mushrooms & onions begin to brown.

Add the snap peas, fresh asparagus, carrot, bok choy, broccolini and red pepper and sauté on high heat until the vegetables are crisp and bright in color.

Add the noodles to the skillet or wok.

Add the teriyaki sauce and toss until the noodles and vegetables are evenly coated. Serve immediately with sriracha sauce as desired.
About Herbivore's Kitchen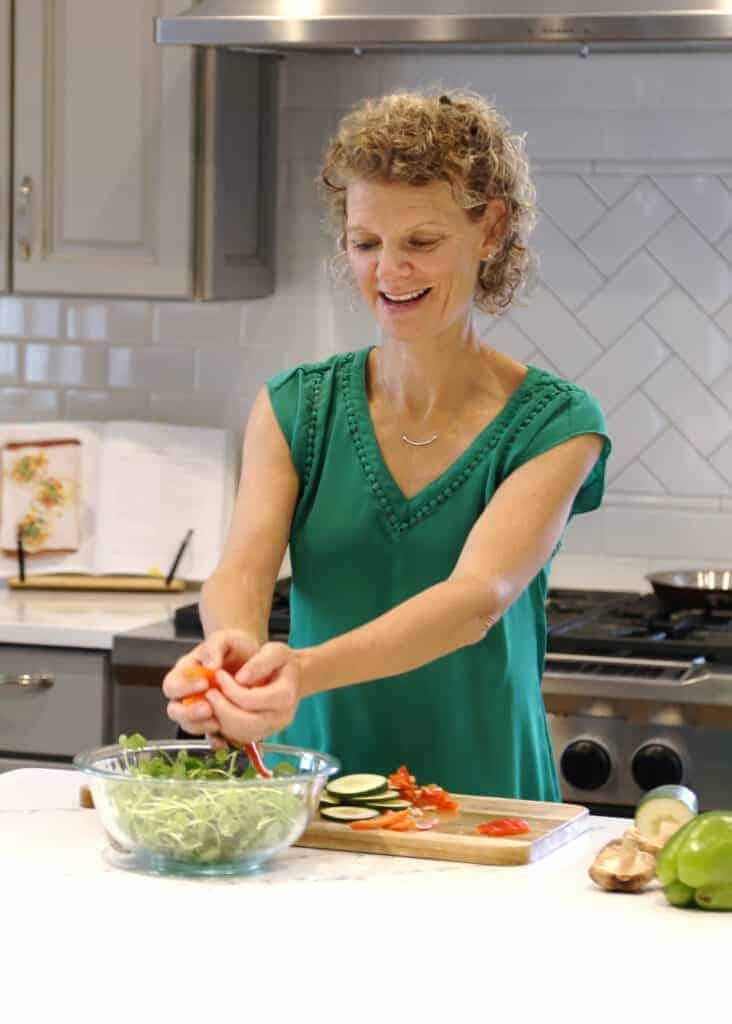 Herbivore's Kitchen is a plant-based food blog started by me, a vegan home chef, cookbook author, aspiring food photographer and how-to-be-a-better-food-blogger junkie. You'll mostly find creative and tasty vegan recipes and detailed deep dives into vegan ingredients (check out my Vegucation section) on my blog.