The Highlights
Vegan
Dairy-Free
Gluten-Free
Warm & satisfying
Chock full of healthy vegetables


---
Get Ready To Get Your Pho On!
Pho is easily one of my favorite dishes. Over the years, it's become a Sunday night staple in the wintertime, following a day of being outdoorsy in the cold. At first, this meant picking up simple takeout. But, as time went on, I first became bothered with the sheer amount of trash that a single takeout meal of pho would require. Then later, as I switched from bone broths to vegetarian and then to vegan versions, it became impossible to do as a quick takeout meal. And that's okay. I'm glad for it now because it sent me on a quest to figure out how to make it myself, creating less waste and using ingredients that fit into my diet.
All of this, of course, is a preamble to say "this is not a recipe you start at 5:30 pm and have the table by 6 pm." It does take some preparation. But you can make the broth in advance and freeze it for a full month of pho Sundays. And, veggie prep is always something that can be done in advance as well, enabling you to distribute the work over time. Of course, it always helps to have a sous chef in the kitchen to help chop.
Let's Talk About The Broth, Shall We?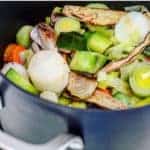 As anyone who's ever consumed pho before knows, the beauty is in the broth. You really have to nail this if you're going to eat vegan pho. On the one hand, it's easier than traditional broth because, well, there isn't a lot in the way of navigating animal parts. On the other, it takes work to get a vegan broth thats deep and rich and that embraces all of the flavors that you come to recognize as pho.
I tried a variety of recipes for vegan pho and nothing quite stuck until I came across Lukas Volger's cookbook "Bowl." I bought this as I was transitioning from omnivore to vegetarian and also at a time when I moved to a small town where good ethic food wasn't less readily available. At first, the recipes were a little daunting (for me, anyway) with unfamiliar ingredients. But if you stick with it, this cookbook is incredibly rewarding. Toward the back of the book, which is where I like to hang out (with its recipes for dumplings and all) there are two recipes for Vegetarian Pho Broth, one full and one quick. They're both good, but I put the effort into the full recipe more often than not.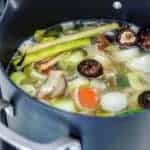 The work in making the pho broth comes before you ever light match to stove (it's a quaint reference, I know). First, there are many ingredients and if you're new to the vegetarian/vegan/cooking scene some of them might be unfamiliar. There's also a fair amount of peeling, chopping, smashing, charring, stirring and pouring. Keep after it. Once you get these guys together in a pot, you'll walk into your kitchen and think: pho. It's spot on. And the simmering only takes an hour.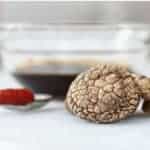 The Bowl recipe references the addition of salt and sugar in the text, but it doesn't get into detail on how and when to add them. That's where I come in. In my vegan travels, I've put together a vegan fish sauce, which adds both a saltiness and a sweetness to the broth and includes (in a vegan sense anyway) what the Vietnamese treat as a staple in their cooking. And for good reason. The fish sauce gives the broth a little more depth and umami (you know, that fifth category in the sense of taste that you feel you never learned about growing up). In addition to that, I like to add tamari or liquid aminos. These go in after you've created the base broth and strained the broth from the veggies. In other words, at the end. And, I pretty much insist that you add lime juice when you're prepping your bowl. This, with a little bit of sriracha spice if that's up your alley and you are well on your way to an epic vegan pho experience.
Decorating Your Pho Broth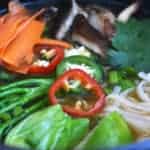 This is the fun part. Sometimes I'll host a pho party and cover my countertop with pho accessories. My favorites are broccolini, carrots, bok choy, rice noodles, shiitake mushrooms, baked tofu, cilantro, sliced jalapenos, mint and thai basil. I'm also not one to stand on ceremony here with just traditional options. I'll throw in sliced radishes, kale, spinach, cauliflower, squash, zucchini… really anything to get more bang for my vegetable buck. Hoisin sauce (there are vegan options on the market and I'm working on a vegan recipe), lime juice, sriracha all add to the experience as well. For ingredients like the tofu, broccolini and the mushrooms, I prep these ahead of time. I'll do a quick broth-based saute of the mushrooms to soften them up, bake the tofu in a teriyaki marinade and steam the broccolini. You can steam the broccolini over the rice noodles as they cook it you'd like.
Serving Pho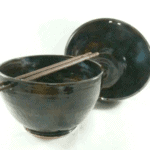 I also serve pho by placing some of the rice noodles in the bottom of the bowl, adding the broth while it's still piping hot and then letting my guests take it from there. The broccolini is pre-steamed, but the broth will soften the other vegetables perfectly, so I do not pre-cook those. I'm also the proud owner of four hand-thrown pho bowls made by a local potter which make the experience all that more authentic. I spent several hours on the hunt for the perfect pho bowls. In the end, I found them on Etsy (love that site) and as it turned out the artist lived down the street from me. How's that for fortuitous? If you're not on your way to Colorado any time soon though, you can find them (and the artist, Blue Sky Pottery) on Etsy too.
The Recipe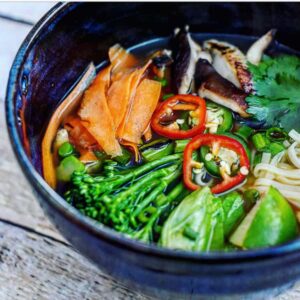 Vegan Pho With Fresh Vegetables
If you're looking for the perfect vegan pho, you're in the right place. It starts with a made-from-scratch vegetable based broth and ends with a collection of brilliantly colored vegetables, some spices and fresh herbs. The basis of the broth was originally developed by cookbook author Lukas Volger; shared with permission.
Ingredients
Pho Broth
1

large

onion, cut into quarters

1

3-4 piece

fresh ginger, peeled and cut into thick coins

2

tbsp

peanut oil

2

medium

leeks, cleaned and sliced into 1-inch pieces

use both the white and green parts of the leek

2

large

carrots, washed and sliced into 1-inch pieces

1

medium

daikon radish, peeled and sliced into 1-inch pieces

10

cloves

garlic, peeled and smashed

1

stalk

lemongrass, coarsely cut and smashed

3

whole

star anise

3

whole

cloves

2

whole

cinnamon sticks

1/2

tsp

fennel seeds

5

dried shiitake mushrooms

1

small handful

cilantro stems

1/4

cup

vegan fish sauce

1/4

cup

tamari or liquid aminos
Pho Toppings & Seasonings (All optional)
1

large

carrot, washed and shaved or sliced into thin pieces

2

bunches

broccolini, washed and cut into bite-sized pieces, including the stems

10-12

shiitake mushrooms, rinsed and sliced

2

heads

bok choy, rinsed and cut into bite-sized pieces

1

small handful

mint

1

small handful

thai basil

1

small handful

cilantro

2

scallions

cleaned and sliced

1

jalapeno, sliced into thin coins

2

limes

rinsed and cut into 8 wedges

1

package

rice noodles, prepared in accordance with the package

hoisin sauce, to taste

sriracha sauce, to taste
Vegan Fish Sauce
4

cups

water

1/2

cup

tamari

3

cloves

garlic

.25

ounces

dried shiitake (or other) mushrooms

2

tsp

tomato paste

1

tsp

whole peppercorns

1

sheet

torn nori

2

tsp

turbinado sugar in the raw
Instructions
Vegan Fish Sauce (Optional; Vegan Fish Sauce Can Be Purchased Pre-Made)
Making the Pho Broth
Preheat broiler and place cut onions and ginger coins on a cookie sheet. Place under the broiler, watching carefully until both the ginger and onions begin to char. Remove and set aside.

In a large pot, heat the peanut oil until shimmering. Add the leeks, carrots, daikon radish, garlic, lemongrass, star anise, cloves, cinnamon, fennel seeds. Toss the vegetables and spices to coat and allow to soften and become fragrant. About 5 minutes.

Add 4 quarts of cold water and the charred onions and ginger and shiitake mushrooms. Bring to a boil then reduce to a simmer. Simmer for 1 hour.

Allow the broth to cool and then separate the broth from the vegetables and spices. I do this by placing a new pot in my sinker with a large strainer over the top. I then pour the broth through it, collecting the vegetables and spices. Be sure to use a fine enough strainer to catch the smaller pieces (i.e. the whole cloves, fennel seeds and smashed garlic). Discard the vegetables and spices.

Place the strained broth on the stove and add the vegan fish sauce and the tamari. Allow to heat for serving. You'll want to broth to be hot so as to soften the vegetables you add as toppings.

While the broth is reheating, prepare your rice noodles according to the packaging. While the water for the rice noodles is heating, I like to steam my broccolini over the top of the pot in a small strainer. I steam it until it is bright green and just slightly softened.

When the noodles and broccolini are prepared, arrange a pho station for your dinner guests, laying out the broccolini, carrots, mushrooms, noddles, bok choy, scallions, limes and herbs, spices and sauces. I highly recommend adding fresh squeezed lime juice to the final dish to brighten the flavors.
Notes
I did not add any meat substitutes to this version, but in the past I've added a baked teriyaki tofu.  I love this as an addition and it does make for a more filling meal.