Jump to Recipe
---
This Pho Chay Recipe: Go On & Get Cozy with This Vegan Vietnamese Soup! post includes affiliate links. When I find a great product or service, I like to share it with my readers. Sometimes I use affiliate links so I can earn a commission for my recommendations. Thank you for your support!
---
Pho Chay Recipe: Go On & Get Cozy with This Vegan Vietnamese Soup!
Searching for a tasty pho chay recipe that will bring this flavorful cultural dish to your table in a cruelty-free manner? This vegan Vietnamese recipe is a savory and simple dish, chock full of vegetables and with a pho chay broth that is both deep and rich with flavor.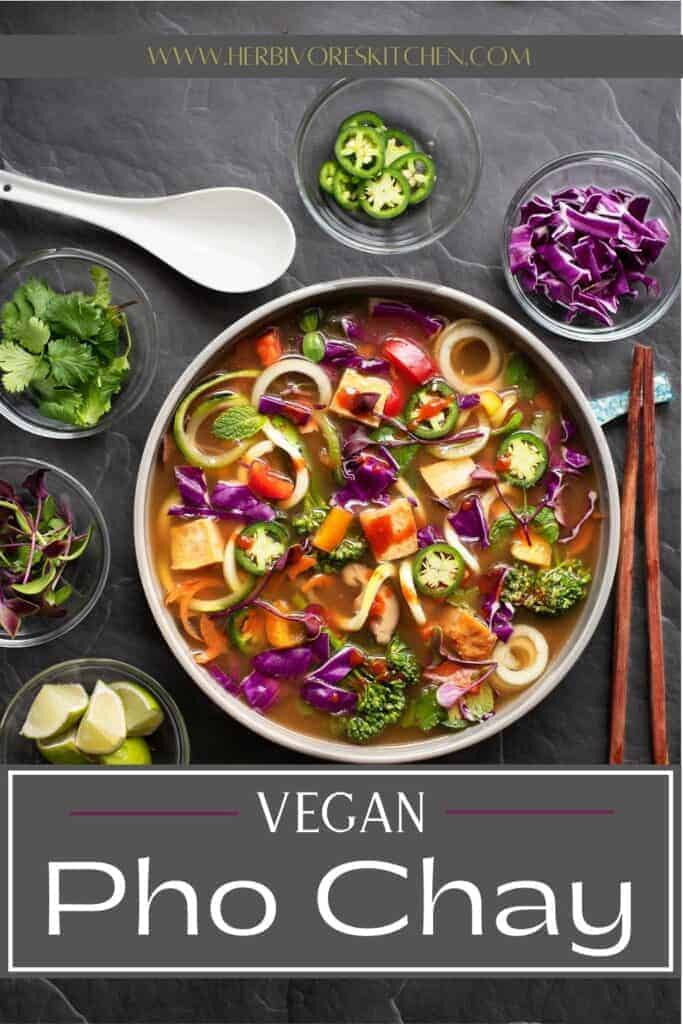 What is Pho Chay?
If you've not tried pho, you are definitely missing out. Pho is a delicious Vietnamese soup that, for lack of a better description, has so many layers of flavor that it will make your taste buds sing.
Traditionally, the clear broth is a beef bone broth, simmered with star anise, cloves, cinnamon, ginger and lemongrass then served over rice noodles and usually accompanied by thinly sliced beef, bean sprouts, rice noodles, mint, basil, lime and jalapenos. Pho chay is one of many vegetarian Vietnamese recipes, as the word chay means vegetarian in Vietnamese.
Pho Chay Pronunciation: What is Correct?
Wondering how to pronounce the word pho? You're not alone. Americans often pronounce this as foe (as in friends and foes), but it's actually pronounced fuh? (with the question mark indicating the proper inflection).
While Americans eat pho for lunch and dinner, pho is traditionally served for breakfast in Vietnam (as I pleasantly discovered on a 2018 trip there.) Don't worry though, I won't judge if you enjoy it for three meals a day!
Making Pho Chay Broth & Is Pho Vegan Friendly?
My pho chay broth is similar to a vegetarian lemongrass pho recipe – it features charred onions and ginger, alongside toasted star anise, cloves, cinnamon sticks and lemongrass stalks. I don't use fish sauce, as that would thwart this pho chay recipe's status as a vegan pho. I use tamari instead.
The tamari swap is actually quite common, but I have a trick I like to use at the end that I like to think is original (and extraordinarily clever). I add miso paste. Yes, yes, I know. Miso is traditional Japanese, but I find that the broth without it is just too thin. Miso paste solves all that – it adds wonderful depth-of-flavor.
All of these ingredients make for a richly satisfying vegan Vietnamese pho recipe.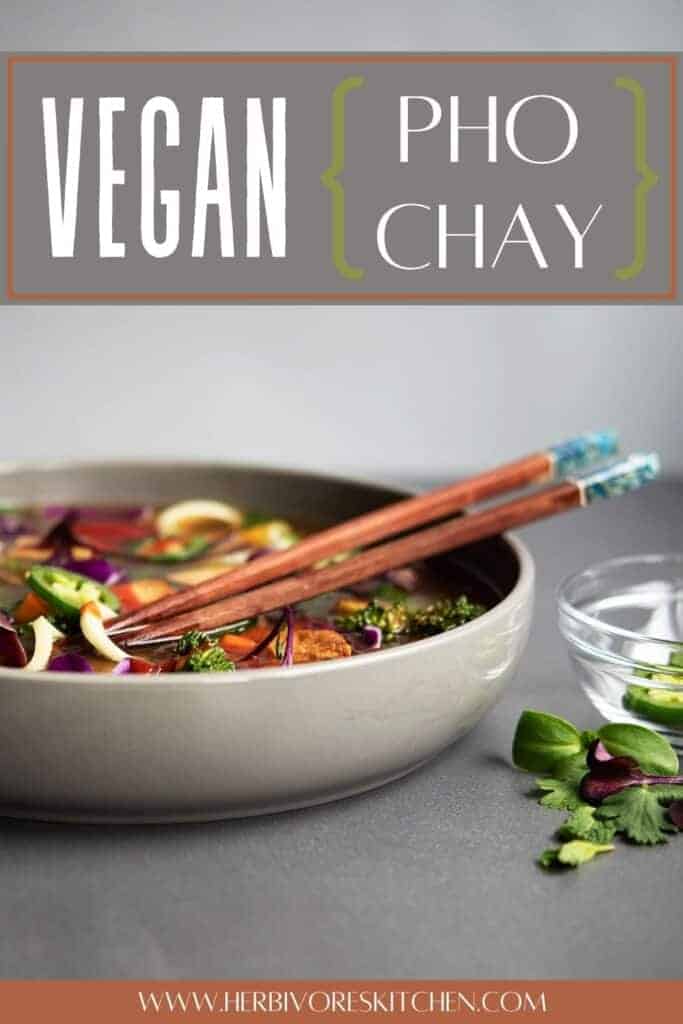 Making Your Vegan Pho Chay Healthy (and Visually Interesting)
Once I had the pho chay broth nailed down, I started thinking more about what to serve with my vegan pho broth. As I mentioned, traditional pho is pretty basic in its additions – usually beef and rice noodles. I decided that since I was already bucking the trend with my miso-infused pho chay broth, I might as well continue and do the additional ingredients my way as well.
Vegetables like broccolini, carrots and shiitake mushrooms add so much nutrition to this soup. In this version, I also added baked tofu, zucchini zoodles, red pepper, edamame & purple cabbage. Who doesn't like to cook with all the colors?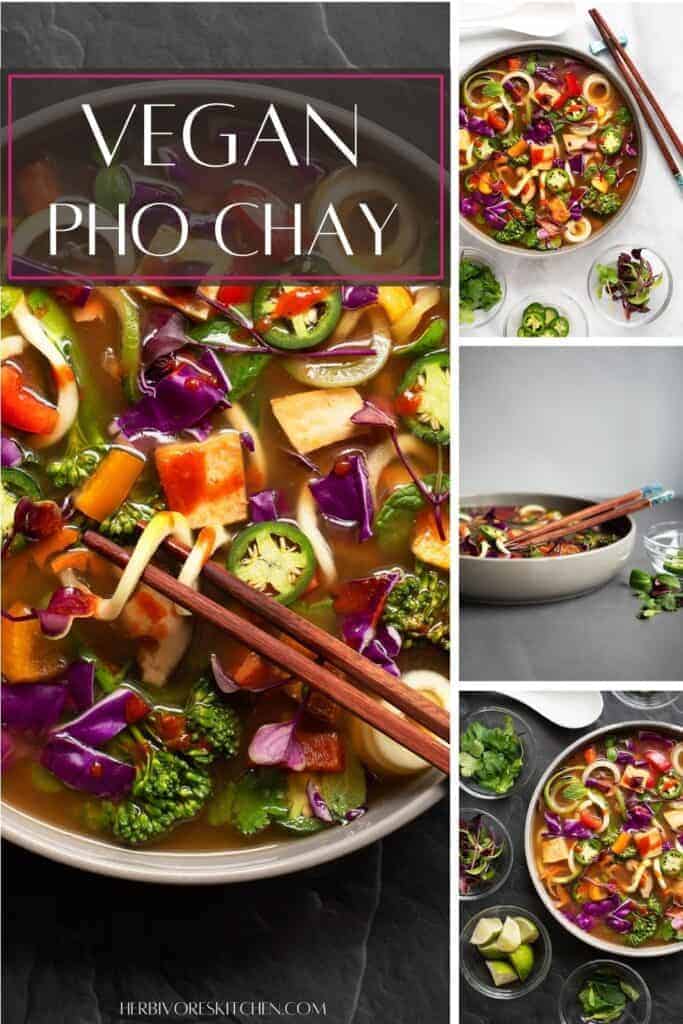 What Ingredients Make My Pho Toppings List?
Of course, the final step to a good vegan Vietnamese pho experience is not to forget the herbs, spices and other flavor enhancers at the very end. If you're thinking about skipping this part, I really encourage you not to! Or, at the very least, buy a lime and squeeze its fresh juice into your bowl. The lime just wakes everything up. Then add fresh mint, basil and cilantro and sprinkle on some chopped scallions, sliced jalapenos and add a dash of sriracha and you are well on your way to an epic bowl of pho chay!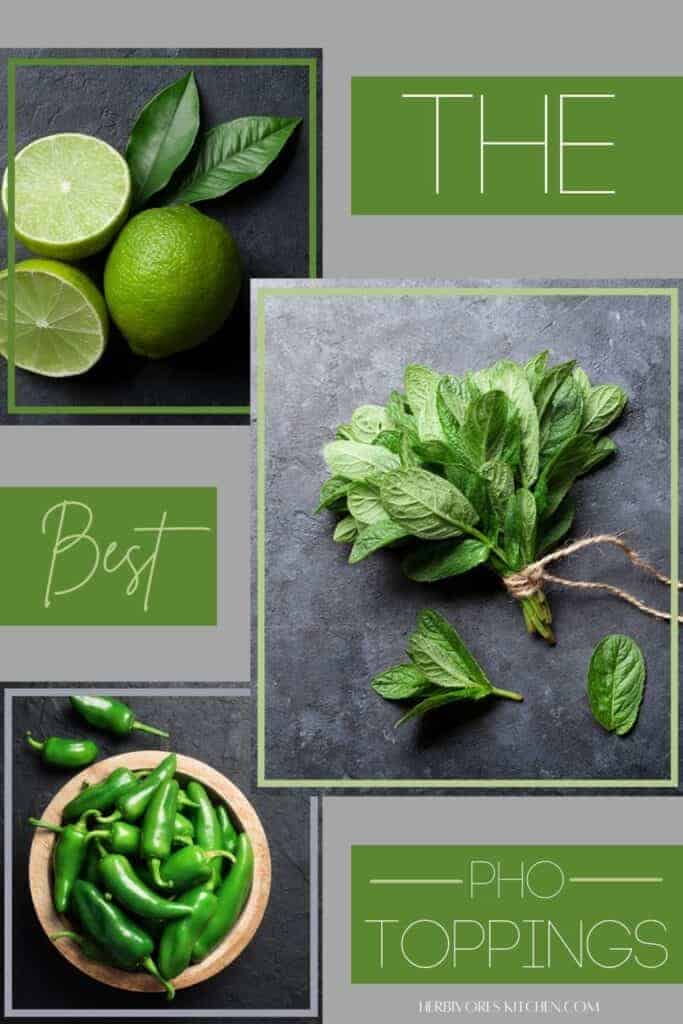 Do You Love this Pho Chay Recipe?
If you loved this Pho Chay Recipe, then be sure to check out some of my other vegan Vietnamese and Southeast Asian recipes! If soup is your thing, my Vegan Tom Yum Soup is divine! Are you more into noodle bowls? Then you need to add my Vegan Spring Roll Bowls to your vegan recipe rotation! Can't decide? I've got you covered with this Thai Red Curry Lemongrass Soup!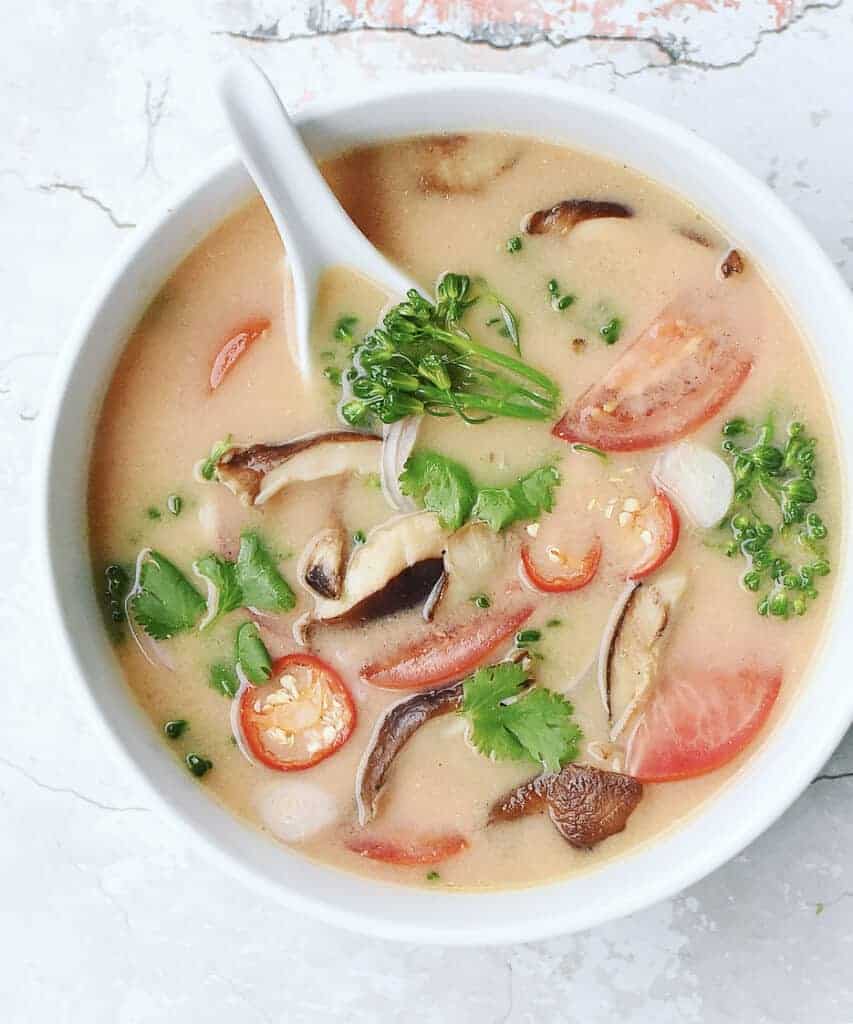 This Vegan Tom Yum Soup recipe seeks to simplify the ingredients to those that you can find in your regular grocery store, omitting the need to travel to more than one place to bring this delicious Vegan Tom Yum Soup recipe to your table.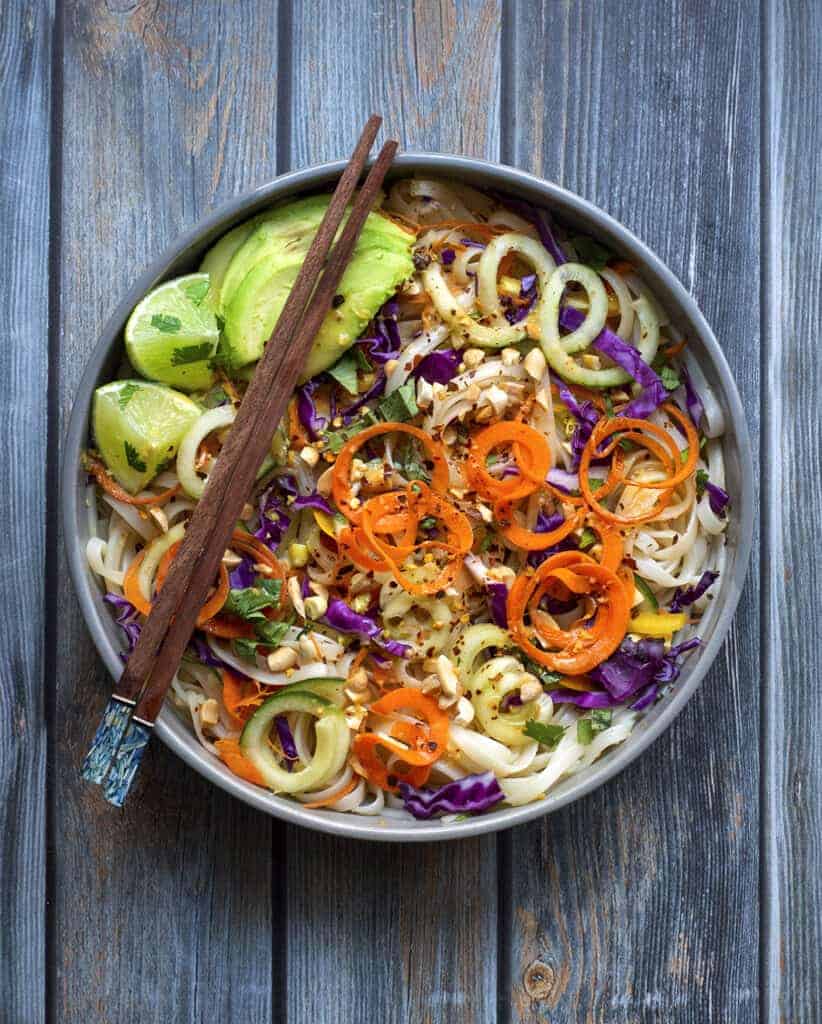 Without question, spring rolls are a showcase dish — all of those vibrant colors carefully packaged in edible rice paper. Perhaps more enticing though, is the creamy, spice of peanut dip or the sweet, citrusy tang of homemade chili sauce. What's not to love? I can tell you what. Making them. These Vegan Spring Roll Bowls offer all the bright, vibrant colors and flavors that spring roll recipes provide without the hassle of wrapping with rice paper.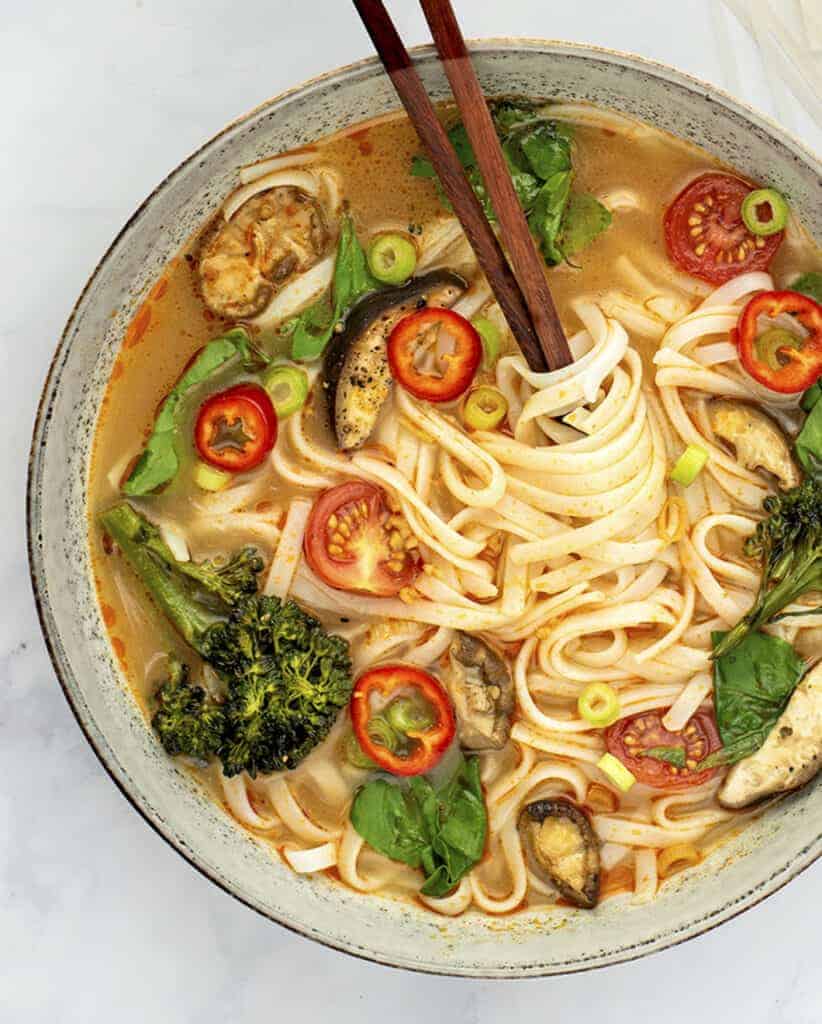 For this Thai Red Curry Lemongrass Soup recipe, I created spicy broth with a touch of coconut creaminess. It features lemongrass along with ginger, scallions and red curry paste. Then I filled it with a variety of healthy vegetables — roasted broccolini, spinach, tomatoes and shiitake mushrooms — as well as a large serving of pad Thai rice noodles.
What's in My Kitchen to Make this Vegan Recipe Easier?
Want to know what tools and resources I keep on hand to make my vegan cooking even easier? Here's a short list of what helped me create this blog post and recipe. For the complete list, visit my Shop where you can find the kitchen gadgets I like as well as a list of books that I recommend.
Vegetables never had it so good!
I'm telling you, vegetables just taste better when you cut them into fun shapes. Okay-that's only partially true. What totally true is that you can spiralize zucchini and replace your pasta for a veggie-forward "pasta" dinner (and make it even better by topping it with my Homemade Garden Vegetable Tomato Sauce). Not into zucchini? How about those crispy sweet potato chips topping my Veggie-Loaded Easy Vegan Ramen Soup? Who doesn't love chips!
Admittedly, I didn't own a tofu press for a long time. I pressed my tofu by wrapping my tofu in a clean tower and topping it with a heavy cast iron skillet. I did this for a number of years without issue until my cast iron tipped off of the tofu on day and landed on my new hardwood floor, denting it. My husband gave me this tofu press for Christmas after that.
Now that I have a tofu press, I'm all about them. And this tofu press is pretty slick. It applies even pressure to a block of tofu. And pressure matters. Too little and you won't drain enough of the liquid. Too much and you'll crush your tofu, making it impossible to cube it for even cooking.
Down a broiler pan? These aluminum baking sheets come highly recommended by the cooks who know best – Epicurious, Cooks Illustrated and Food & Wine. I bought mine because I needed a good, sturdy baking sheet to use under the broiler. One that wouldn't warp – and this one lives up to the task.
Aluminum is a good conductor of heat, so these baking sheets cook evenly. They're also light in color, so they discourage over-browning.
Noodle bowls are a favorite of mine and I love serving them when I have guests. I recommend picking up a set so that you have plenty of room for all of that delicious broth! I'm currently digging this decorative set!
Like the noodle bowls, eating miso ramen is more fun with the right spoon. These Asian soup spoons are perfect for this ramen noodle bowl!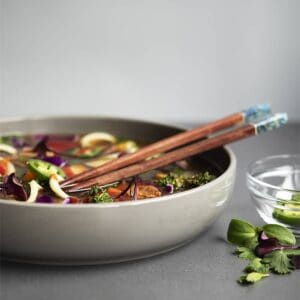 Pho Chay Recipe
Looking for that perfect vegan Vietnamese recipe? Look no further than this spicy vegan pho chay recipe!
Ingredients
Vegan Pho Broth
2

whole

star anise

3

whole

cloves

2

whole

cinnamon sticks

2

stalks

fresh lemongrass

scored and smashed with a knife handle (see Recipe Notes for alternatives)

1

inch

fresh ginger

sliced into 1/4" coins

1

yellow onion

quartered

2

quarts

water or low-sodium vegetable broth

I like Pacific Foods Low-Sodium Vegetable Broth

1/4

cup

low-sodium tamari

1/4

cup

light miso paste

I like Sweet White Miso from South River Miso but it by mail order. Cold Mountain Miso can be found in most grocery stores. I would recommend their Yellow Miso for this recipe.

1

tbsp

organic turbinado sugar

or other desired sweetener
Optional Additional Ingredients (the more, the better!)
20-25

shiitake mushrooms

washed, destemmed and cut to maintain even size; reserve the stems for the broth

1/4

cup

water

1

tbsp

safflower oil

or other neutral tasting oil

1

zucchini

washed and spiralized

1

carrot

washed and spiralized

1/4

head

purple cabbage

julienned

1/2

bell pepper

washed, deseeded and cut into bite-sized pieces

Baked Tofu with a Miso Glaze

this is optional. You can find the recipe here.
Herbs & Spices (optional, but highly recommended)
1

bunch

fresh mint

washed, destemmed and torn

1

jalapeno

washed, deseeded and sliced thin

1

bunch

fresh basil

washed, destemmed and torn

2

limes

washed and quartered

sriracha sauce

to taste
Instructions
Preheat oven to 400 degrees.

Heat a large, dry stock pot. When hot, add the onions and ginger coins. Allow to char briefly.

Add the star anise, cinnamon sticks and cloves. Cook until fragrant. 1-2 minutes.

Add the water (or vegetable broth), mushroom stems & the lemongrass. Bring the broth to a low simmer. Cover and allow to simmer for 1 hour.

While the broth is simmering, add the shiitake mushrooms and water to a sauce pan. Bring the water to a simmer and cook until the water has cooked off. Add the safflower oil and saute the mushrooms until they begin to brown.

Prepare the optional ingredients: spiralize the zucchini and carrots, julienne the purple cabbage and slice the red pepper.

Prepare the herbs and spices: wash and tear the mint and basil. Slice the jalapenos and quarter the limes.

When the ingredients are prepared, place a second stock pot or a large bowl in the sink with a large colander over the top. Strain the vegan pho broth to remove the larger ingredients. Allow to cool slightly.

Add the tamari. Then remove 1 cup of the slightly cooled broth into a small bowl and stir in the miso paste to create a slurry. Add the slurry to the broth.

To create your bowls, add the optional ingredients (the zucchini, noodles, carrots, red pepper, purple cabbage) to the bottom of the bowl and spoon over the hot broth. Season with the herbs and spices.
Notes
Don't forget that a lot of the flavor comes from the lime, herbs and spices added at the end of the dish. As I say in the blog post, I insist on the lime. It is not to be missed! Getting a nip of mint or basil in a bite really makes this recipe stand out as well.
Want to take this recipe up a notch? Try making it with my Baked Tofu with a Miso Glaze. It is super flavorful, makes the dish more filling and adds protein.
Pho is better with noodle bowls and slurping spoons! I found some inexpensive, fun options on Amazon that make serving this dish all the more fun!
About Herbivore's Kitchen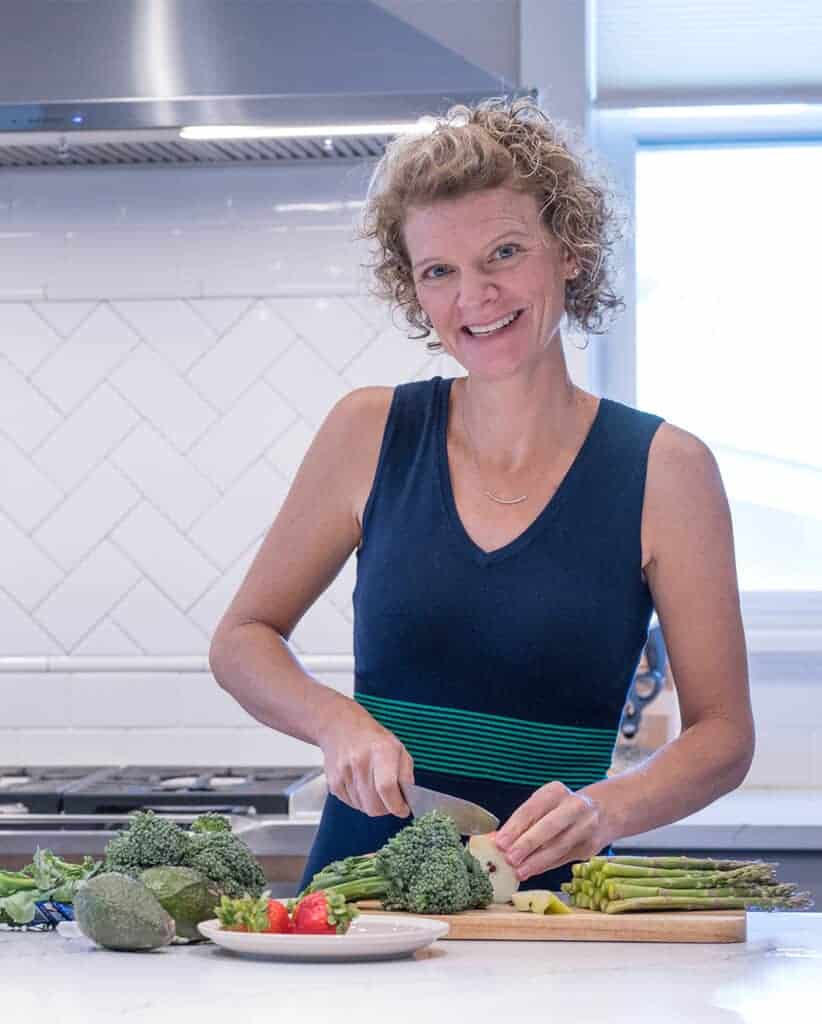 Herbivore's Kitchen is a plant-based food blog started by me, a vegan home chef, aspiring food photographer and how-to-be-a-better-food-blogger junkie. You'll mostly find creative and tasty vegan recipes and detailed deep dives into vegan ingredients (check out my Vegucation section) on my blog. I love knowing as much as I can about the food that I make. I'm also really into running a food blog as a business, so I've also got a section of my blog titled: Confessions of a Food Blogger where I get into the nitty gritty on how to build, manage, market and monetize a food blog.