Jump to Recipe
This Vegan Chinese Food: Asian BBQ Tofu Bowl post includes affiliate links. When I find a great product or service, I like to share it with my readers. Sometimes I use affiliate links so I can earn commission for my recommendations. Thank you for your support!
Asian BBQ Tofu Bowls
Forget takeout! Get your fix with this vegan Chinese food recipe: Spicy Asian BBQ Tofu Bowls. This easy Chinese food recipe will have dinner on the table in no time and make homemade Chinese food you're go-to instead of picking up your phone. Jasmine rice, steamed broccoli and sweet & spicy tofu, this vegan Chinese food recipe will have your taste buds singing (and help you to avoid throwing away all of those takeout containers)!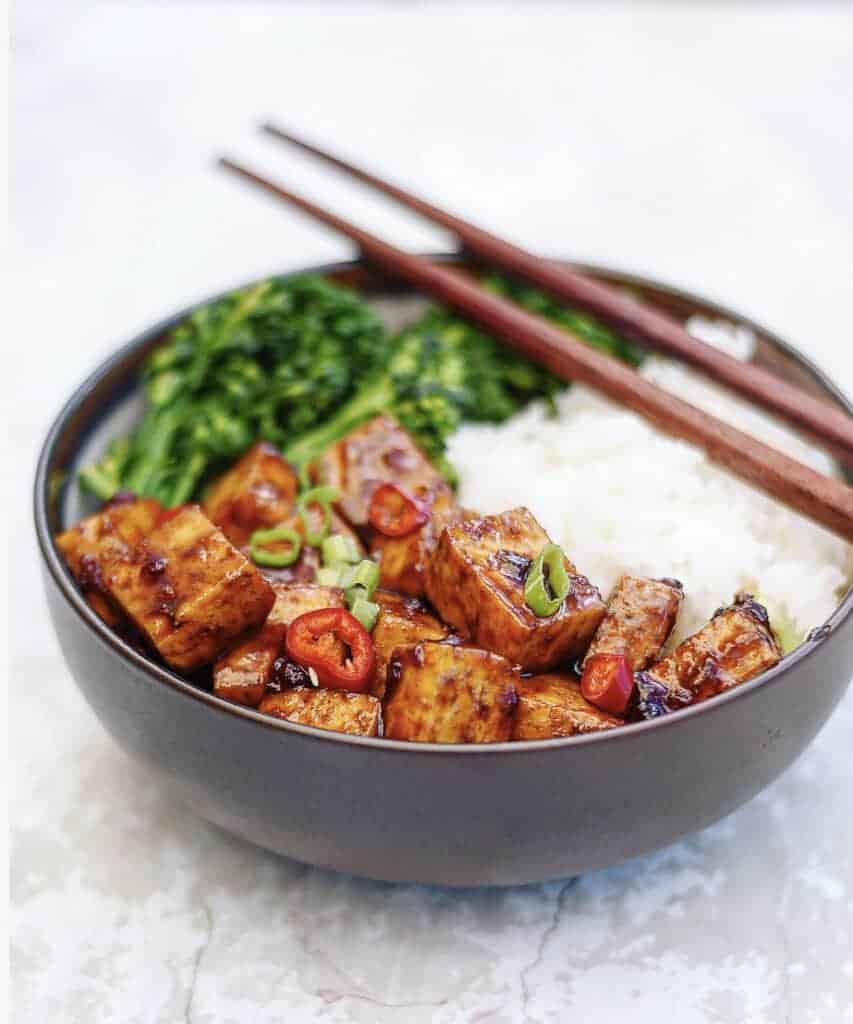 Vegan Chinese Food: It's Easier Than You Think
I used to think that a Chinese food hankering meant picking up the phone and calling the local restaurant for takeout. I just assumed that Chinese food recipes would be too complicated and too time-consuming to try at home. As it turns out though, that's not the case at all. It's easy to have a vegan Chinese dish on the table in the time it takes for it to come to your door. And, if that's not enough to convince you to try, consider this: many Chinese food recipes are easily adaptable for a vegan diet. Swap out any meat for tofu and substitute fish sauce with soy sauce (or make my vegan fish sauce) and you'll be well on your way!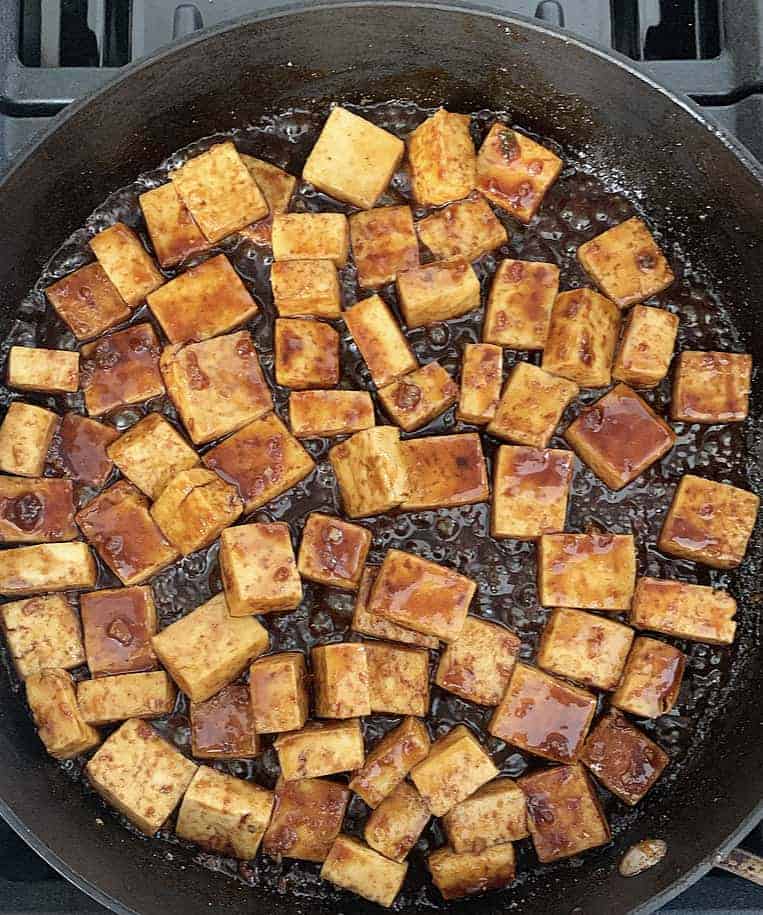 The Trouble with Takeout: Incentives to Cook at Home
Speaking of takeout… if the ease with which you can make your own vegan Chinese food isn't enough to convince you to put the phone down, consider the true leftovers from your Chinese food delivery. The packaging.
I don't purport to be perfect, but I am trying to think beyond the immediate satisfaction of my choices. Like choosing to cook over ordering takeout. As an exercise (and for your reading enjoyment) I decided to use this post as a two-for. First, I wanted to share a vegan Chinese food recipe that I know you'll love. But, I also wanted to give you bragging rights to all the trash you didn't send to the landfill by making it.
Recycling to the Rescue…Or Not.
Recycling (and its limitations) is in the news daily and it's been so disheartening to learn that so little of what we "recycle" as individuals actually gets recycled. Here's a sobering statistic: according to National Geographic, 91% of the plastic you think you're recycling is being recycled. Even sadder, "half of all plastic manufactured becomes trash in less than one year."
When I read statistics like this, I'm forced to reckon with my own behaviors. How each and every day several pieces of single-use plastic serve their small purpose, a purpose designed only to serve me, and then find their way into the trash. Oh sure, sometimes I'll wishcycle them into the recycling bin. Hoping that when they reach my local recycling facility, someone will know what to do with them. But, as I learned through this Waste Management article, the practice of wishcycling, while well-intentioned, actually exacerbates the problem.
So, what's a girl to do to do better?
Reduce for the Gold, Reuse for the Silver and Recycle for the Bronze
That's the good thing about a reckoning. It forces accountability and accountability can force a change in behavior. For me, I've been making more of an effort to focus on the first two of the three "Rs." That is: Reduce, Reuse & Recycle. Reducing your use of non-recyclable materials in the first place is the real winner. Reusing is pretty cool too. Every time I get a package in the mail and it's clear that the sender reused the envelope, my heart goes pitter-patter. So why not pay that good feeling forward and use it again?
How to do Chinese Takeout Better. Homemade Chinese Food.
Let's imagine for a moment that you've got a hankering for Chinese food. You think you don't have the time or the energy to pull it together, so you call up your local restaurant. Thirty minutes later, dinner for four (incidentally the same number of servings as the recipe below) is at your door.
Putting aside for a moment that, in that same thirty minutes you could have put together my Spicy Asian BBQ Tofu Bowl, let's talk about the true leftovers: The Packaging.
I wanted to take a closer look at the end result of takeout. That is, what happens when the meal is over? Can Reduce, Reuse & Recycle be applied effectively to ordering in? Not really, at least not based on what I learned. Reduce (spoiler alert) is best achieved by not ordering in. Reuse? Of course, there are some items on the list that can certainly be reused at least once. Those plastic containers that wonton soup comes in, for example. But, be careful with reuse as many of these items were intended to be disposable and were not designed for reuse, which can lead to health and safety concerns. How about recycling? Check it out.
What's Recyclable From Your Food Delivery
Plastic Bag for Delivery. Inevitably, when you answer the door to receive your takeout, the delivery person is going to hand you a plastic bag. As easy as it is to put these bags into your home recycling bin, they're not recyclable.(1) Not curbside anyway. You can, however, with all the time you save ordering in, run that bag to the nearest store that collects them for recycling. But what if your takeout comes in a paper bag? Good for you! That's recyclable! Unless, of course, it's covered in spilled food. Then you've got to throw it away.
Cardboard Takeout Containers. Cardboard containers are recyclable, right? Not always, and especially not food containers. Cardboard food containers are usually coated in polyethylene (PE) plastic. (2) This coating helps to keep all that food from leaking on to your recyclable paper bag (see above). Unfortunately, they're not recyclable. And even if they weren't coated in plastic, they'd be coated in food, making them non-recyclable.
Plastic Forks (for the non-chopstick user): Technically, plastic silverware can be recycled, but only sometimes. Marked as plastic type #6, plastic forks and other silverware is expensive to recycle and, therefore, often isn't. (3,4) Whether this type of plastic is recyclable is a local question. To find out what's recyclable in your area, check out How2Recycle.com and search by your zip code. Think you might want to reuse these items? Not a great idea. The construction, both the plastic used and the design, render these items potentially unsafe for reuse. (5) And that little plastic bag they come in? Also not recyclable.
I could keep going… plastic soup containers, Styrofoam clamshells, single-serving packages of soy sauce… oh my! But, I think the point is clear. Cooking at home is far more compatible with reducing your waste than ordering in. And, I'm not just picking on Chinese food. Pizza boxes aren't super sustainable either. As soon as they're stained with pizza grease, you've got to throw them away (at least that portion that is stained).
Vegan Chinese Food: Sustainable Eating at Its Best
Back to the food! As I've mentioned, one of the things I like best about this meal is that it's a thirty-minute effort. Prep is pretty easy, as vegan food goes. The sauce is an easy combination of ingredients. Hoisin sauce, the main ingredient, is the whole package. It's savory, sweet, salty and spicy. I typically buy mine at the store (it keeps this recipe within the 30-minute mark), but it's not terribly difficult to make. Here's a great recipe you can easily veganize by swapping out the honey for maple syrup. Add some rice vinegar, soy sauce, more maple syrup and Chinese 5-spice powder and a dash of sriracha and you're ready for some Asian vegan BBQ!
What's in My Kitchen to Make this Vegan Recipe Even Easier?
If you're going to avoid takeout and create this amazing vegan Chinese food at home, it helps to have the proper tools (as well as reusable good that will help you strut your sustainable self). Here's a short list of what helped me create this blog post and recipe. For the complete list, visit my Shop where you can find the kitchen gadgets I like as well as a list of books that I recommend.
About Herbivore's Kitchen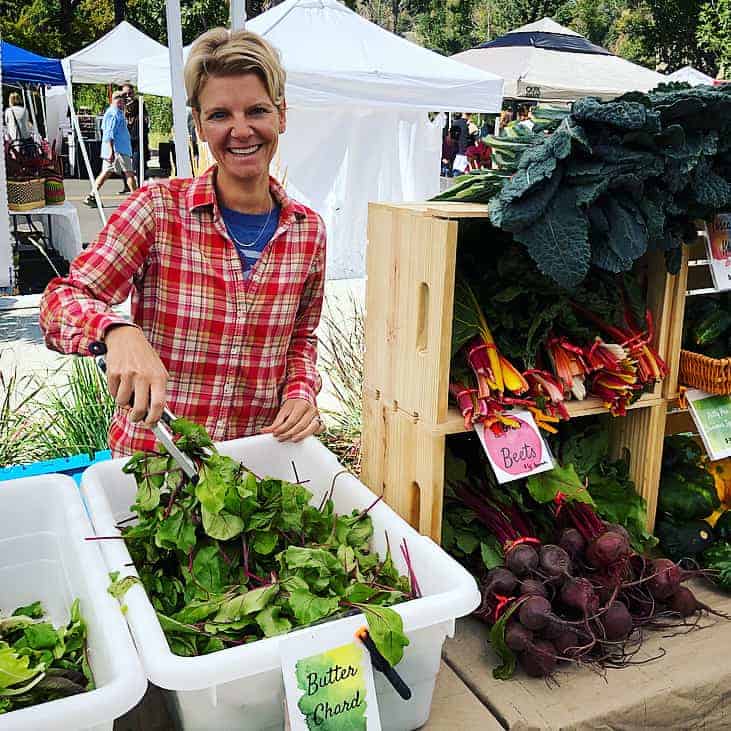 Herbivore's Kitchen is a blog run by me, a plant-based home chef and aspiring food photographer. I switched my and my family's diet to a plant-based diet after learning about the health benefits of going vegan. Making this change has prompted a variety of food and holistic-lifestyle related questions that I explore through this blog. I talk about how to pick and prepare the most nutritious foods, to how to reduce waste at home, to how to live a more sustainable lifestyle while on the road.
---
Sources:
(1) For the purposes of this post, I am referring to curbside recycling (recycling that is traditionally picked up from a consumer's home) and not specialty recycling which often requires individual consumers to take their recycling to processing centers.
(2) https://recyclespot.marcblogs.org/2017/07/13/melting-myths-about-wax-coated-food-containers/
(3) https://www.mnn.com/lifestyle/recycling/questions/can-plastic-forks-and-plates-be-recycled
(4) https://earth911.com/home-garden/recycling-plastic-utensils/
(5) https://news.wisc.edu/curiosities-is-it-safe-to-reuse-plastic-knives-and-forks/