Jump to Recipe
What's the skinny on this vegan pasta recipe? It's:
Vegan
Gluten-free
Dairy-free
Easy to clean up, requiring only a few dishes
On the table in under an hour
Advanced Planning Tip:
This recipe uses several farmer's market vegetables. If you're lucky enough to be hitting one up this weekend, be sure to check to see if that have garlic scapes or fairy tale eggplant. These are two of the special ingredients I used in this recipe. Don't be dissuaded from trying it though, even if you can't find these items. Regular eggplant and a head of garlic will do just fine. I have tips for how to swap them out in this blog post.
Prep Time Tip:
No secrets here! This one is quick and easy. There's some chopping and roasting, but you'll have this vegan pasta recipe on the table in under an hour!
---
Looking for ways to lighten up your pasta dishes for the summer? Try this farmer's market chickpea vegan pasta recipe! It's light and full of flavor. And, best of all, you'll have a great dinner time option to use up all those beautiful vegetables you find at the local farmer's market!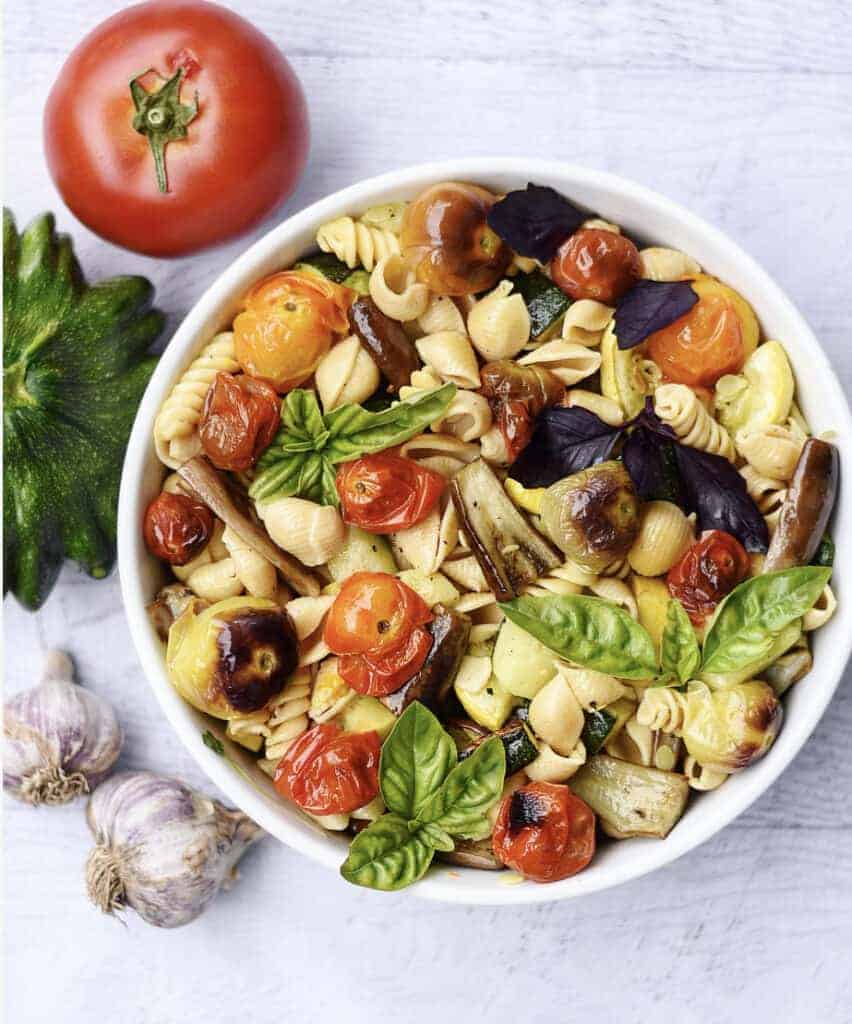 Go Vegan with the Bounty of Your Local Farmer's Market Using This Vegan Pasta Recipe
If you're anything like me, you hit the farmer's market and walk away with a variety of colorful and new-to-you vegetables. Case-in-point: the fairy tale eggplant. Then, after you get home, you start to panic a little bit: what to do with all of these vegetables? For me, the obvious choice for fresh vegetables comes in the form of a vegan pasta recipe. Roasted squash, zucchini and tomatoes make for a nice, light vegan pasta dish.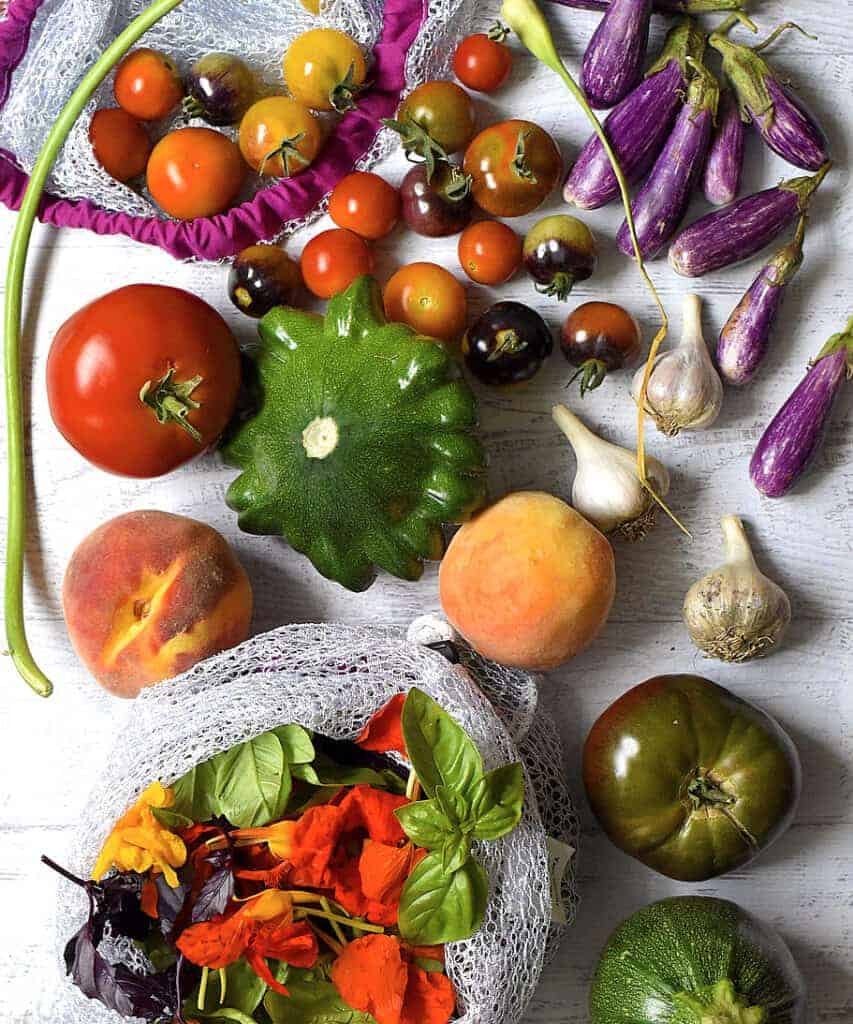 Last weekend was one of those experiences. True to form, I got totally carried away with a host of fresh vegetables. I bought squash, zucchini, heirloom tomatoes, fresh basil, garlic scapes and, yes, fairy tale eggplants.
If you're just getting started with a vegan diet, cooking right after a trip to the farmer's market is a great place to start. Fresh vegetables are the key to a tasty vegan recipe. They're bursting with flavor, often having been picked within hours of landing in your reusable farmer's market shopping bag. Forget needing cheese, cream or meat to enhance the flavors here. Let the veggies do the talking!
Hold On! Fairy Tale Eggplant and Garlic Scapes?
I discovered two new vegetable options this summer: fairy tale eggplants and garlic scapes. [In full (what I hope makes me totally relatable) disclosure: I had to research them before putting this vegan recipe together.] No one is born knowing what to do with a garlic scape.
How to Cook with Fairy Tale Eggplants
Fairy tale eggplants are a miniature variety in the larger eggplant category, fitting in the palm of your hand. They're more tender than the Italian eggplant you often find in the grocery store. And, in addition to their small size, they produce a much creamier texture when prepared. They're also lighter in color, boasting a brighter purple skin with white streaks. That's all well and good, but what you most likely want to know is:
(1.) how do you prepare a fairy tale eggplant and,
(2.) if farmer's market season is over, can you replace them with another eggplant variety?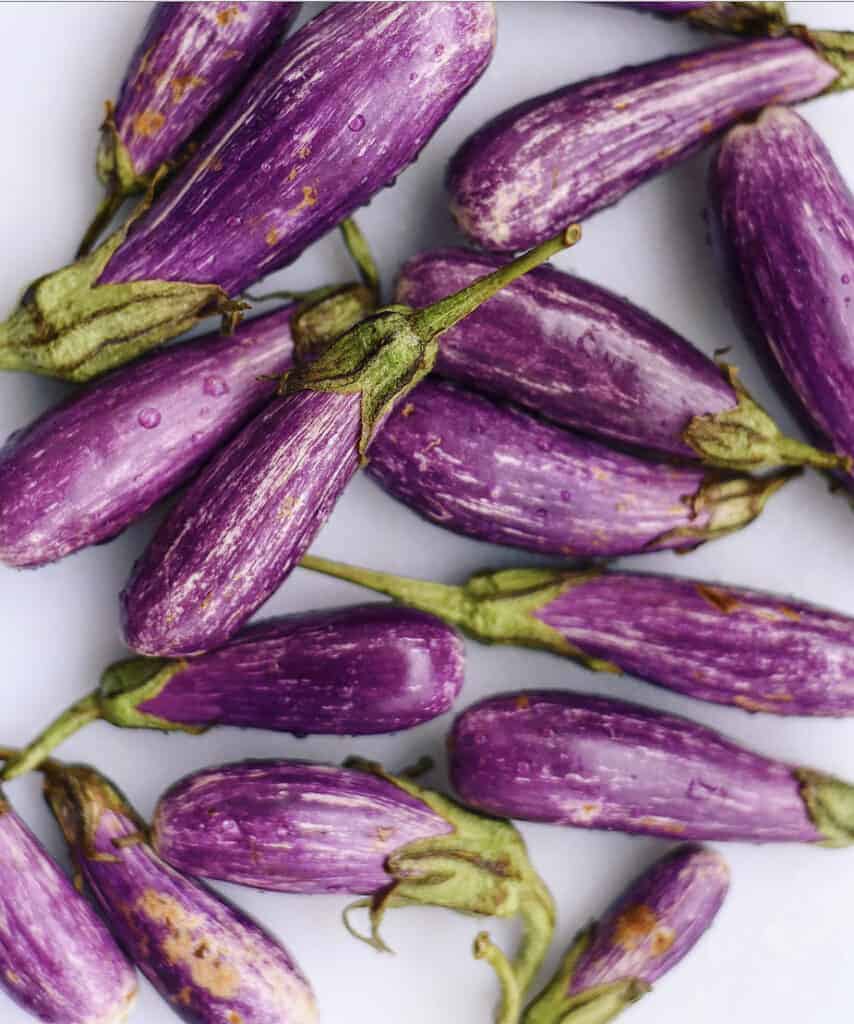 Different Methods for Preparing Fairy Tale Eggplants
The answer to your first question is…all kinds of ways. You can grill them (the Kitchn has a great vegan Grilled Fairytale Eggplant with Garlic and Mint). Or if you're looking for a vegetarian option with a Mediterranean feel, you can try roasting them. The Spruce Eats' Roasted Fairy Tale Eggplants With Mint & Feta sounds divine. I'm also working on a recipe to use them to make Baba Ganoush.
Subbing Italian Eggplant for Fairy Tale Eggplants
And to answer the second… yes. You can use other varieties of eggplant in this vegan pasta recipe. However you need to be mindful that fairy tale eggplants cook quickly. If you're using an Italian eggplant, you will need to adapt this recipe. You will need to cut it into smaller bite-sized pieces before roasting it and watch the timing. [Note that this recipe just calls for the fairy tale eggplants to be halved before roasting]. Also, be aware that the skin on a fairytale eggplant is tender. Whereas a larger variety of eggplant might have a tougher skin and may require peeling before cooking. I don't always do this, but I have had meals ruined by tough eggplant skin.
What in the World to do with a Garlic Scape?
I stumbled on these for the first time this summer and wanted them simply because they're curious looking vegetables. The local farmer selling them gave me a brief tutorial on: (1.) what they were, and (2.) how to prepare them. I bought them, brought them home and with a little online research, I fell in love. And, as it turns out, this is a happy affair occurring in farmer's markets everywhere – garlic scapes are in.
So what are garlic scapes?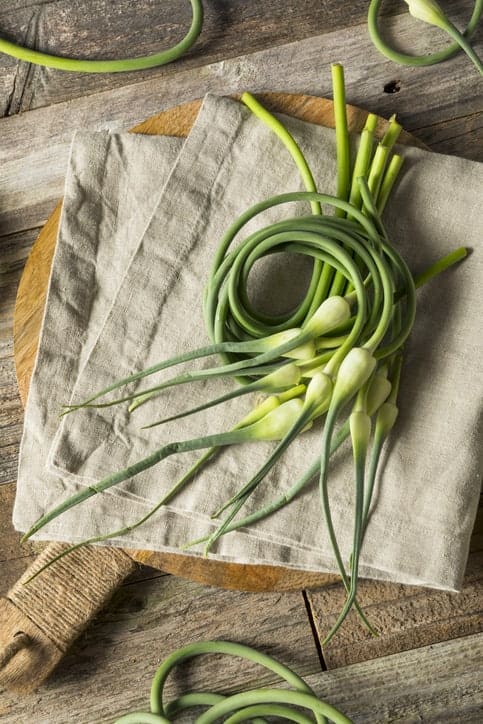 Garlic scapes are the stems that grow from the top of a hardneck garlic plant. They're often described as being more mild than the cloves of the bulb. Typically, this part of the garlic plant is removed in spring growing season. This allows the plant to concentrate its energy on producing a flavorful bulb. But garlic scapes a culinary gem all on their own. And don't you just love the idea of using more of the plant instead of throwing it away?
How Do You Cook with Garlic Scapes?
Parts of the stalk are too fibrous to eat. You want to make sure that you use the right part of the stem. Garlic scapes are long and curly, with a bulge in the middle. This is actually a flower that blooms and then drops its seeds to produce more garlic). The part of the garlic scape that you want to use is below the flower, but above that part of the stem that has a woody texture. [Think asparagus – when you prepare asparagus, you cut off the bottom of the stem that is too woody to eat.] To find this space on a garlic scape, start by bending the stalk below the flower until you reach the point where it snaps. Break it off and use everything below the flower and that point.
Need a visual? Check out this how-to video by Love Your Land on YouTube.
Once you have the usable section of garlic scape, you have options. You can eat them raw. For example, finely chop them up and throw them in a salad dressing or combine them into a pesto recipe. They're a popular vegetable to pickle (I can't wait to try that!). Or, you can use them in cooking, like I did with this chickpea pasta recipe.
Lighten Up by Using Chickpea Pasta in Your Vegan Pasta Recipe
I find that I enjoy taking a break from gluten from time to time, even though I don't follow a gluten-free diet. And, as a plant-based eater, I do look for clever ways to get protein into my family's diet. With all kinds of gluten-free pasta options popping up on the shelves: chickpea, brown rice, quinoa, red lentil, black bean… spaghetti night has taken on a whole new meaning for me. If you're just getting started with vegan recipes, vegetarian recipes or a plant-based diet, don't pass up an opportunity to get clever with your pasta options.
Lately I've been partial to chickpea pasta (I like the Banza® brand – look for the orange box) when making a vegan pasta recipe. It's high in protein and fiber and low on the glycemic index. Best of all, my kids can't tell the difference between this and traditional pasta. One thing to note when you're cooking it – it does tend to create more foam when boiling. I just turn the heat down and keep an eye on it.
Roasted Vegetables and Chickpea Pasta Make Great Vegan Pasta Recipe Partners
Okay! Now that you have the details on the ingredients, let's talk about this dish and why I love it. It's super easy and tasty. Vegan recipes can get time-consuming quickly. And, while I love making creative plant-based meals, some nights you've just got to get a healthy dinner on the table. This vegan recipe fits that bill.
Prep time is about 10 minutes. If you're a mildly good multi-tasker, you can combine your vegetable roasting with your pasta boiling and have the whole thing on the table in 30-35 minutes, leaving extra time to answer emails or get some of your prep dishes washed. [If you're in the latter category, I aspire to be you. I'll be browsing Instagram.]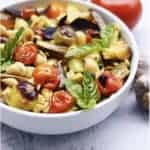 Vegan Pasta Recipes: Farmer's Market Vegetables & Chickpea Pasta
Looking for ways to lighten up your pasta dishes for the summer? Try this farmer's market chickpea vegan pasta recipe! It's light and full of flavor and, best of all, gives you a great dinner time option to use up all those beautiful vegetables (including maybe new-to-you veggies like fairy tale eggplants and garlic scapes) you find at the local farmer's market!
Ingredients
1

oz box

Banza(R) chickpea pasta

prepared in accordance with the package directions

1

Garlic scape

prepared as described above (or sub 1 garlic cloves, peeled and crushed)

1

pint

Fairy tale eggplants

washed with the stems removed and cut in half lengthwise

1

medium

Round zucchini (or sub 1 green zucchini)

washed and cut into bite-sized pieces

1

medium

Yellow squash

washed and cut into bite-sized pieces

8-10

small

Heirloom cherry tomatoes

washed and sliced in half

2

tbsp

Extra virgin olive oil

1/4

cup

Pine nuts

lightly toasted

Crushed red pepper, to taste

Salt & pepper, to taste

Fresh basil

washed and torn
Instructions
Preheat your oven to 400 degrees.

Toss the fairy tale eggplant, zucchini, garlic scapes and yellow squash in the EVOO. Season with salt and pepper and spread out on a baking sheet.

Roast in the oven for approximately 20 minutes, or until the vegetables are easily pierced with a fork and lightly browned.

While the vegetables are roasting, prepare the chickpea pasta.

When 5 minutes remains on the vegetables, toss in the heirloom tomatoes.

Combine the roasted vegetables, including the olive oil and juices from the tomatoes with the pasta.

Top with toasted pine nuts, crushed red pepper and fresh basil.
About Herbivore's Kitchen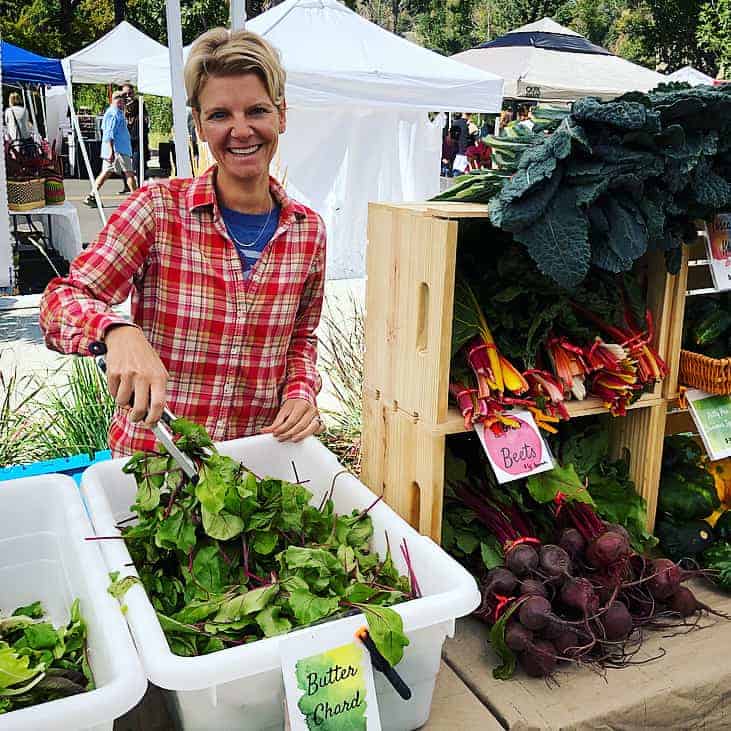 Herbivore's Kitchen is a blog run by me, a plant-based home chef and aspiring food photographer. I switched my and my family's diet to a plant-based diet after learning about the health benefits of going vegan. Making this change has prompted a variety of food and holistic-lifestyle related questions that I explore through this blog. I talk about how to pick and prepare the most nutritious foods, to how to reduce waste at home, to how to live a more sustainable lifestyle while on the road.