Jump to Recipe
Vegan Pizza Recipe Overview
This vegan pizza recipe is:
Vegan
Vegetarian
Dairy-free
Thai-inspired with citrusy lemongrass and spicy sriracha
Advanced-Planning Tip:
This recipe has one key component that requires some advanced planning. The pickled vegetables are best if made 24-48 hours in advance, but please see my 1-hour shortcut below.
Prep-Time Tip:
This recipe, including bake time, but excluding the pickled vegetables (see note above), requires about 1 ½ hours to complete.
If you think vegan pizza is impossible, then you need to think again. Cheese? Please! All it takes is a little creativity. And boy, did I get creative with this vegan bahn mi pizza recipe. It's the best of ALL worlds where the snacking satisfaction of pizza, meets lemongrass, meets the feel-good quality of vegan cuisine. That's right: tree-hugging, animal-loving pizza at its best.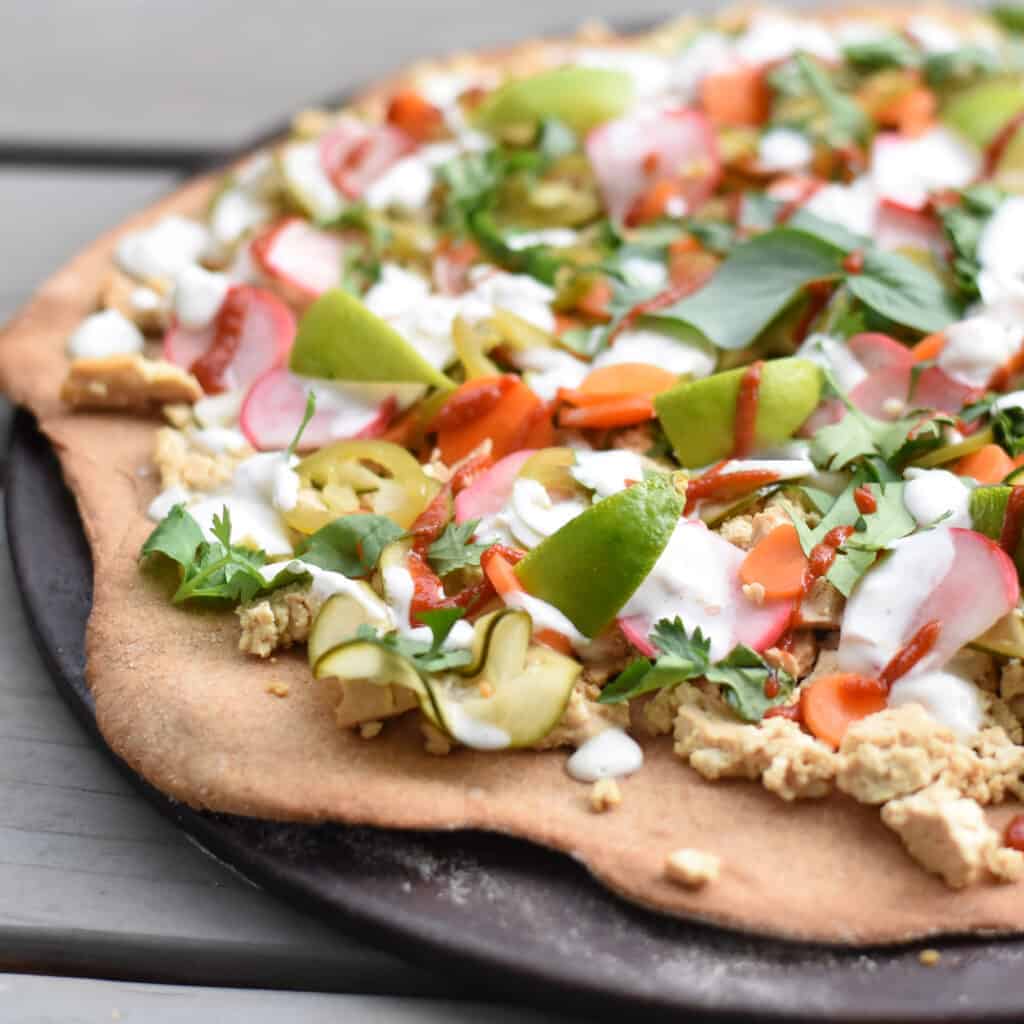 But First, Vegan Pizza Recipes Deserves Credit Where Credit Is Due
I am not, under any circumstances, an army of one. I spend a lot of time studying vegan recipes (and non-vegan recipes) from people who really know their way around the kitchen. And I'm better for it. Case-in-point: I adapted this recipe from The Wicked Healthy Cookbook. After I created this vegan pizza, I reached out to them to ask permission to share the components I borrowed from their cookbook. Lucky us! This vegan pizza recipe is shareable because of their generosity!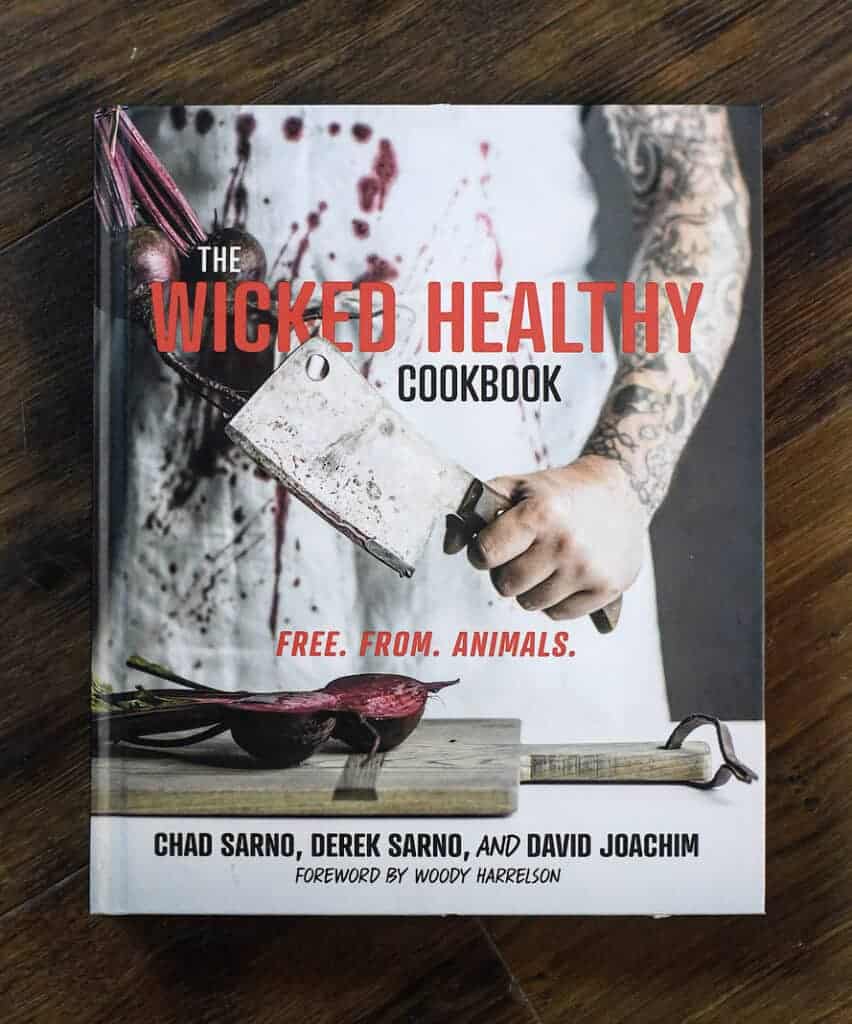 Maybe it's just me, but I like to sit down and read cookbooks – cover to cover – when I get them. And this vegan cookbook is a page-turner. If you're ever feeling like eating plant-based is denying you your favorite dishes from your omnivorous days, you need to pick up a copy of this vegan cookbook. Vegan poutine, plant-based BLTs, Vegan "Ribs" and dairy-free Mac and "Cheese" are just some of the gems you'll find in between its covers. When I stumbled across its plant-based Bahn Mi Sandwiches with Lemongrass Tofu and Ginger Aioli, I knew I had found an alternative to one of my favorite omnivorous meals of the past.
The Vegan Pizza Recipe Where Thai Food Meets Italian Cuisine
This summer I've been experimenting with a variety of different vegan pizza recipes. I've done traditional red sauce vegan pizza, minus the cheese, but loaded with veggies and EVOO. Then there was my spinach basil pesto pizza with mushrooms and spiralized zucchini topped with toasted pine nuts. And now, I've taken things even one step further by merging The Wicked Healthy Cookbook's Lemongrass Tofu recipe with bahn mi vegan pizza.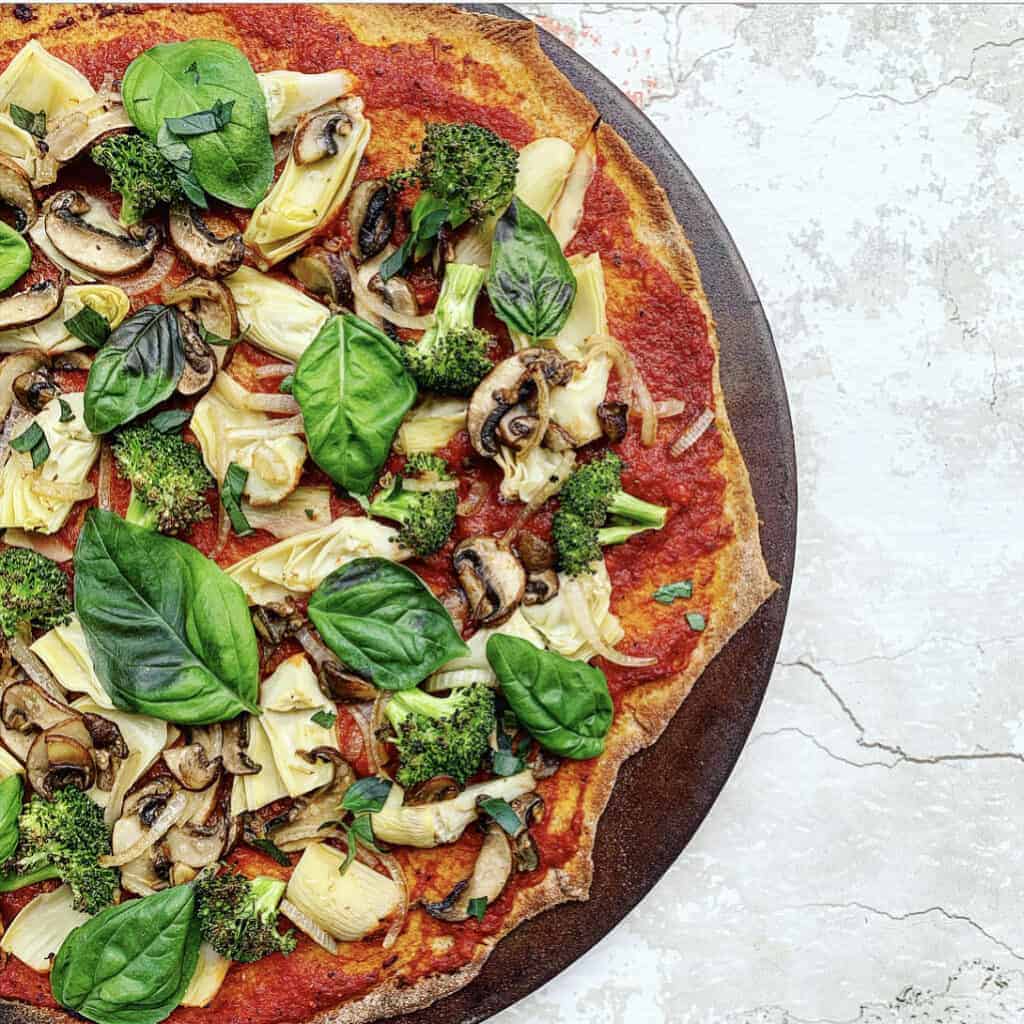 This vegan pizza has so many good things going on. I used peanut oil to season the homemade crust and topped it lemongrass tofu, pickled vegetables, thai spices, sriracha and ginger aioli. If you're looking to top regular old family pizza night, this is the recipe for you!
Pickled Vegetables: Easy and Tasty Ingredients
I've recently become a pickling convert. Pickling is also a great way to preserve the summer's bounty and extend it into fall eating, with quick-pickles lasting in the fridge for several weeks. Pickled vegetables offer quick snacks, they're good on sandwiches (pickle and hummus sandwiches are a go-to around here) and they make amazing taco toppings.
Quick Refrigerator Pickles Recipes
Few things annoy me more in the kitchen than starting up a recipe and realizing that one component requires multiple hours (or days!) to prepare. Vegan cooking in particular seems to have a lot of these components. Whether it's remembering to soak the nuts, or press the tofu, or pickle the vegetables, vegan recipes can be time consuming.
There are almost always short-cuts to these elements though. For example, if I've forgotten to soak cashews for 4 hours for my cashew cream sauce, I find that pouring boiling water over them and letting them sit for an hour works almost as well. Similarly, while I like leaving my quick-pickles in the fridge for at least a day to obtain a more in-depth pickled flavor. But, in a pinch, pickled vegetables can also be achieved in under an hour.
Super-Quick Pickle Recipe
To quick pickle vegetables for this Banh Mi vegan pizza recipe, slice your vegetables thin. This allows the maximum amount of surface area to be exposed to the pickling process. Then combine ½ cup of vinegar (most vinegars work well, but I would avoid seasoned vinegars and/or balsamic for this recipe) with 1 T. maple syrup and 1 t. salt. Whisk until well combined and cover the vegetables with the brine, allowing them to rest for an hour.
Not-As-Quick Pickle Recipe
If you're a planner-aheader, then you can pickle the vegetables for this recipe a few days before you're planning to make it. Or, better yet, make pickled vegetables as staple in your house. They're good for snacking, on sandwiches and (my favorite) as street taco toppings.
If you're going this route, start by washing some glass mason jars with hot water and soap and allowing them to air dry. You don't need to sterilize the jars as you would if you were shelf-stable canning because these pickled vegetables will be stored the in refrigerator. However, refrigerator pickles should be consumed in a couple-of-weeks time.
This method allows for a more robust flavor profile, allowing the pickling flavor to be better absorbed by the vegetables. Usually 24 hours is optimal before consuming and the flavor will get better from there. However, if you're pressed for time, the less-than-an-hour recipe above works well too.
For the Love of Lemongrass: Cooking with Lemongrass
Lemongrass is one of my all-time favorite scents. You will frequently find me diffusing it while sitting at my desk researching or writing. As an aromatic, lemongrass is credited with taking you from "obstructed" to "flowing."* An essential mind shift when writing, I suppose. And, I love cooking with it. The fragrant aroma you catch just before taking a bite of a recipe using it.
Fresh lemongrass (for me, anyway) can sometimes be a hard-to-find ingredient. My local grocery store doesn't always carry it, so I've been researching different substitution options. I'm currently working my way through trying each of these and will update this post as I do, but here's what I know so far:
Lemongrass Essential Oil
My research indicates that therapeutic grade essential oil, clearly marked as ingestible (food grade), can substitute for a fresh version of the same. However, it's important to know the quality of your essential oils. [I like Doterra.] Some brands harvest the oils using chemicals or solvent methods, where cold pressed and steam distillation harvest methods are preferred. In the case of lemongrass essential oil, research suggests adding 1 drop to a recipe and adding it later in the cooking process to prevent heat from deteriorating the flavor and quality. For detailed information on cooking with essential oils, check out Foodal.com's "Cooking with Essential Oils" post.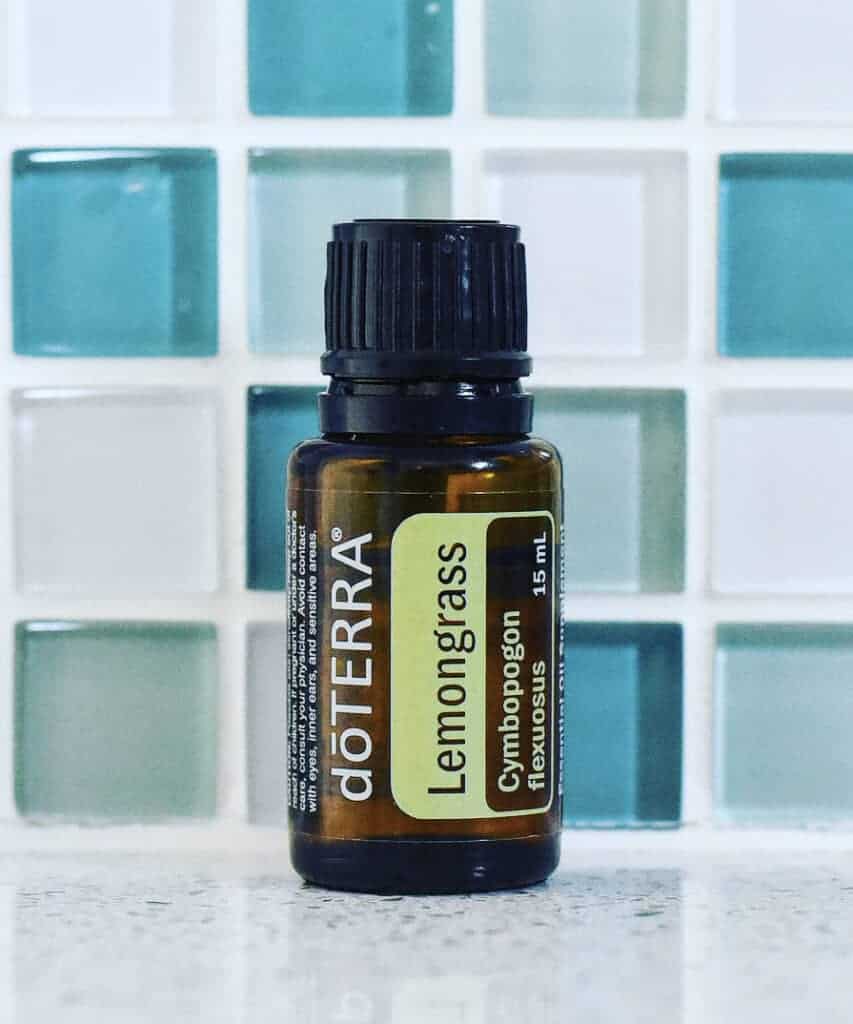 Lemongrass Powder
While fresh is best, lemongrass powder can be used as a substitute for fresh lemongrass. About 1 teaspoon of lemongrass powder is equivalent to 1 stalk of lemongrass in a recipe. One trick to cooking with powder is to divide the called-for amount in half, adding ½ at the beginning of the recipe for depth of flavor and ½ at the end for aromatics. I wasn't able to find it in my local grocery stores, so I purchased some from SpiceJungle.com.
Fresh Lemon Zest
In a pinch, lemon zest is a recommended substitute for fresh lemon grass. One teaspoon of lemon zest for every 1 stalk of lemongrass is the recommended exchange. As with essential oils, you should be careful when selecting lemons to zest. Choose organic lemons and thoroughly wash the rinds before zesting.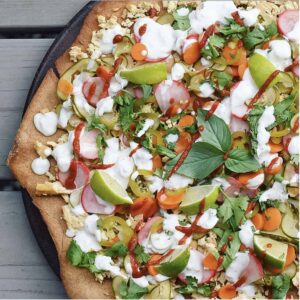 Bahn Mi Vegan Pizza Recipe
If you think vegan pizza is impossible, then you need to think again. Cheese? Please! All it takes is a little creativity. And boy, did I get creative with this vegan bahn mi pizza recipe. It's the best of ALL worlds where the snacking satisfaction of pizza, meets lemongrass, meets the feel-good quality of vegan cuisine. That's right: tree-hugging, animal-loving pizza at its best.
Equipment
Pizza Stone (recommended, not required)
Ingredients
Pickled Vegetables (Do This First. See 1-Hr. Pickling Option in Blog Post If Necessary)
1

carrot

cleaned and thinly sliced

2-3

red radishes

cleaned and thinly sliced

1

cucumber

peeled and thinly sliced

1

jalapeno

cleaned and thinly sliced

2-3

garlic cloves

peeled

1

pinch

crushed red pepper flakes

optional for heat
Pickling Brine
1

cup

vinegar

rice vinegar or apple cider vinegar recommended

1

cup

water

1

tbsp

maple syrup

1

tsp

salt
Whole Wheat Pizza Crust
1

cup

very warm water

(105-115 degrees)

1

pkg

dry active yeast

1

tbsp

peanut oil

1

tbsp

maple syrup

2 1/2

cups

whole wheat flour

white flour can be substituted in
Lemongrass Tofu (adapted from The Wicked Healthy Cookbook)
1

14 oz block

extra firm tofu

1/2

cup

orange juice

1/4

cup

maple syrup

3

tbsp

tamari

2

stalks

fresh lemongrass

thinly sliced lengthwise, or smashed and scored

1

small red chile

sliced into thin rounds

1/2

tsp

fresh ginger

grated
Ginger Garlic Aioli (from the Wicked Healthy Cookbook)
1/4

cup

plant-based mayonnaise

I like the Follow Your Heart brand

3

tbsp

minced pickled ginger

1

tbsp

fresh lime juice

1

tbsp

minced fresh cilantro

1/4

tsp

sea salt

fresh black pepper

to taste
Instructions
Pickled Vegetables
In a medium-sized mason jar pack your pickling vegetables in tightly. Make sure the jars are properly cleaned as described in the blog post above. Add the garlic cloves and crushed red pepper.

In a small saucepan, bring the vinegar, water, syrup and salt to a boil. Boil until the salt is properly dissolved.

Place your glass jar in the sink and gently pour the vinegar solution into the jar. Make sure the vegetables are fully submerged, pressing them down with a wooden spoon if necessary. Leave a small amount of space at the top of the jar. Seal and allow to cool on the counter. Refrigerate for later use. Pickled vegetables can be used over several weeks.
Whole Wheat Pizza Crust
Preheat your oven to 450 degrees. Place your pizza stone in the oven to preheat it.

In a small bowl, whisk the instant yeast, peanut oil and maple syrup into the hot water until dissolved. Allow to rest for 5 minutes. The yeast should activate, causing bubbles in the water.

After 5 minutes, slowly combine the water with the flour and salt into your food processor.

Pulse until a well-formed dough ball forms. The dough should not be too sticky. If it is too sticky, add more flour 1 T. at a time. If the dough is too dry, add more water 1 T. at a time.

Once the dough is the right consistency, gently knead it a few times.

Lightly flour a large flat surface (I wash my counter tops with soap and water and roll the dough out to a thin crust. Carefully transfer it to the hot pizza stone, lightly dusted with cornmeal (to prevent sticking). Lightly brush it with peanut oil and bake for 10-15 minutes until crispy.
Lemongrass Tofu (adapted from The Wicked Healthy Cookbook)
Preheat your oven to 325 degrees. Drain & press the tofu.

Combine the remaining ingredients in a small bowl.

Crumble the tofu into a medium-sized, glass baking dish and then cover with the marinade.

Bake for approximately 45-minutes, stir, and then bake for another 20-30 minutes or until the marinade is absorbed. Check frequently to avoid burning.
Ginger Garlic Aioli (from the Wicked Healthy Cookbook)
Combine all ingredients in a small bowl.
Putting Your Vegan Pizza Together
When the crust has finished baking, add a layer of pickled vegetables to the pizza crust.

Add a layer of crumbled lemongrass tofu.

Spoon the ginger aioli onto the pizza and (optional) add a few dashes of sriracha for some spice.

Top with fresh cilantro, thai basil (or sub sweet basil) and lime wedges (for aesthetics – just squeeze the juice on to the pizza).
About Herbivore's Kitchen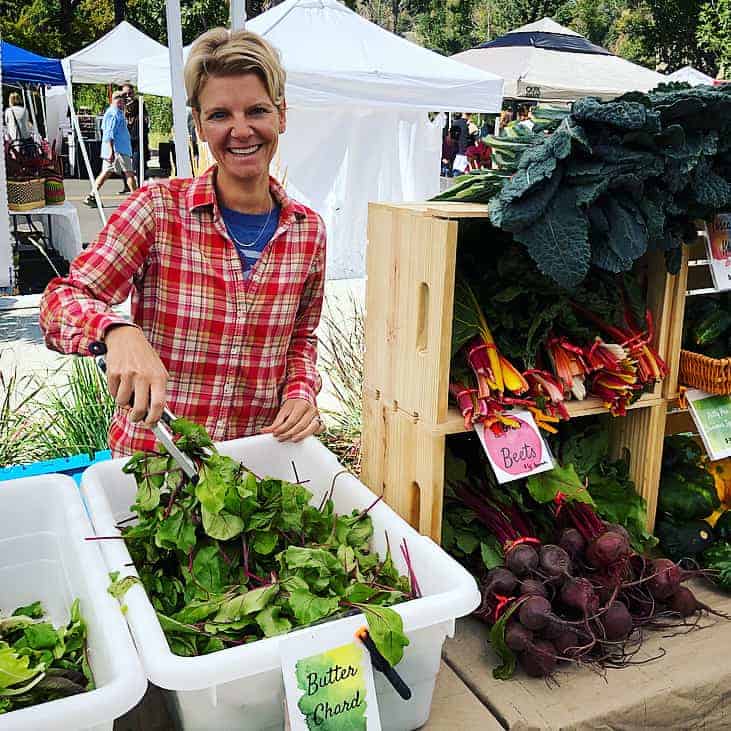 Herbivore's Kitchen is a blog run by me, a plant-based home chef and aspiring food photographer. I switched my and my family's diet to a plant-based diet after learning about the health benefits of going vegan. Making this change has prompted a variety of food and holistic-lifestyle related questions that I explore through this blog. I talk about how to pick and prepare the most nutritious foods, to how to reduce waste at home, to how to live a more sustainable lifestyle while on the road.