This Vegan Pozole Soup includes affiliate links. When I find a great product or service, I like to share it with my readers. Sometimes I use affiliate links so I can earn a commission for my recommendations. Thank you for your support!
Jump to Recipe
Warm Up This Winter with this Pozole Vegetariano Recipe
This vegan pozole is bursting with roasted chili flavor! Are you in search of some good vegan Mexican recipes? If so, then this pozole recipe should be on your list. This vegan soup recipe honors traditional pozole by using roasted guajillo chilies as its base and hominy as its star ingredient.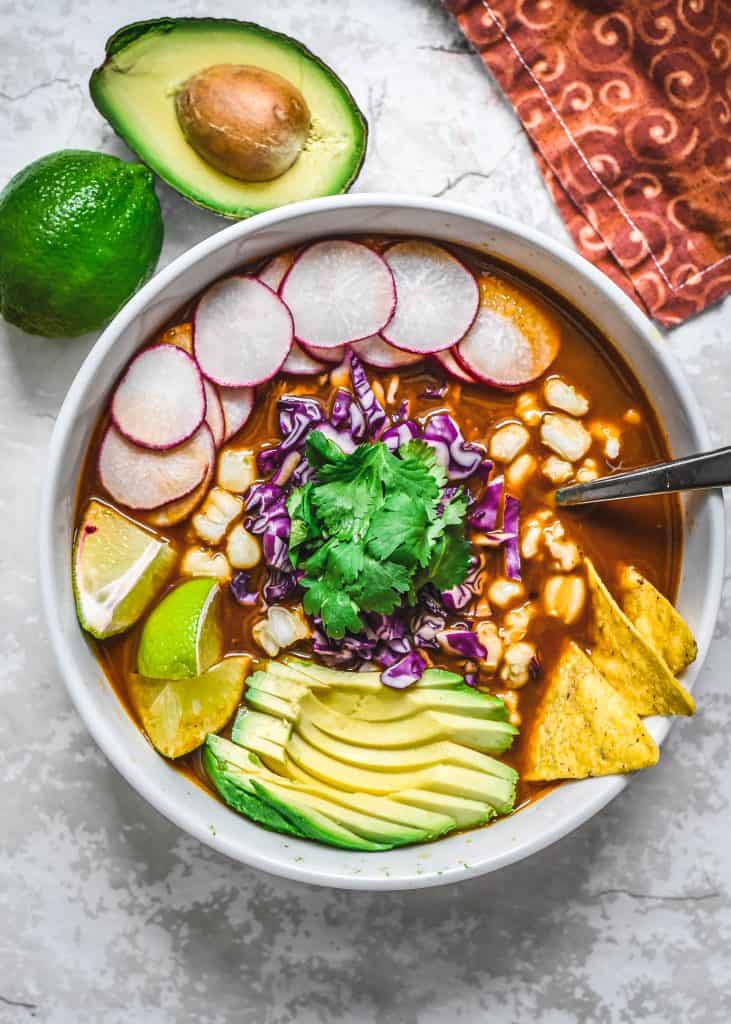 What is Pozole?
Pozole (sometimes also called posole) is a traditional Mexican stew, often served on holidays or for celebrations. There are three popular varieties: pozole rojo (red), pozole verde (green) and pozole blanco (white). This recipe is for pozole rojo.
Pozole Rojo has a warm, robust quality that comes from roasted guajillo chilies, the main ingredient in the broth. The guajillo chilies are soaked and blended with onions, garlic and some spices to create a warm and spicy red sauce. This red sauce forms the base for this vegan pozole soup.
What is Hominy?
Hominy is the star ingredient in this vegan pozole recipe.
So what is hominy? Hominy is dried maize that has been treated to soften the kernels, giving them a pleasant, chewy texture.
Although you'll often find it accompanied by shredded pork or chicken, this vegan pozole recipe ditches the idea of meat and instead relies on the flavor of the broth and, of course, plenty of pozole toppings.
What Are the Best Vegan Pozole Toppings?
Upon serving, pozole is traditionally topped with shredded cabbage, cilantro, avocado, sliced radishes and fresh limes.
In addition, I like to add pickled jalapenos, pickled red onions and some toasted pepitas for crunch!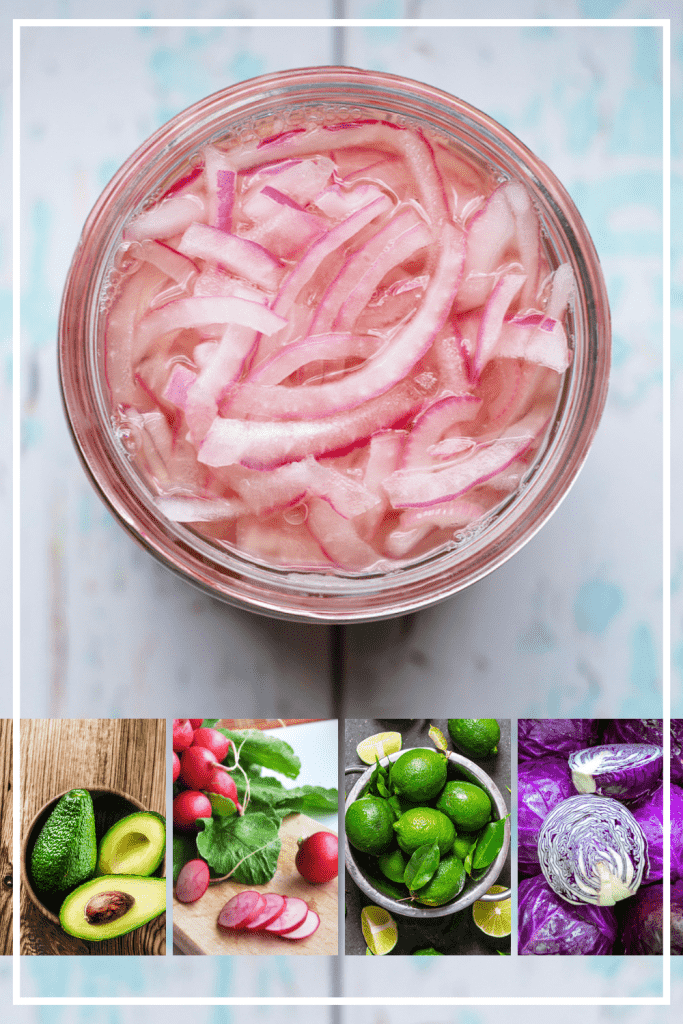 Vegan Pozole: Cooking with Guajillo Chilies
I discovered pozole several years ago and I've been in love with it ever since. The chili-based broth has a warming quality that is unique and memorable. For that reason, I wanted this vegan pozole recipe to be as traditional as possible.
In my research, I came across several recipes that omitted dried chilies from the recipe. I can appreciate why. Cooking with chilies can be daunting first experience. Just ask anyone who has made the mistake of taking out their contacts after working with them. (Consider yourself warned.)
While chilies impart a sort of foreboding, they're really amazing ingredients once you get the hang of them. I encourage you to try making this pozole recipe using dried guajillo chilies – the chilies traditionally used in Mexican posole.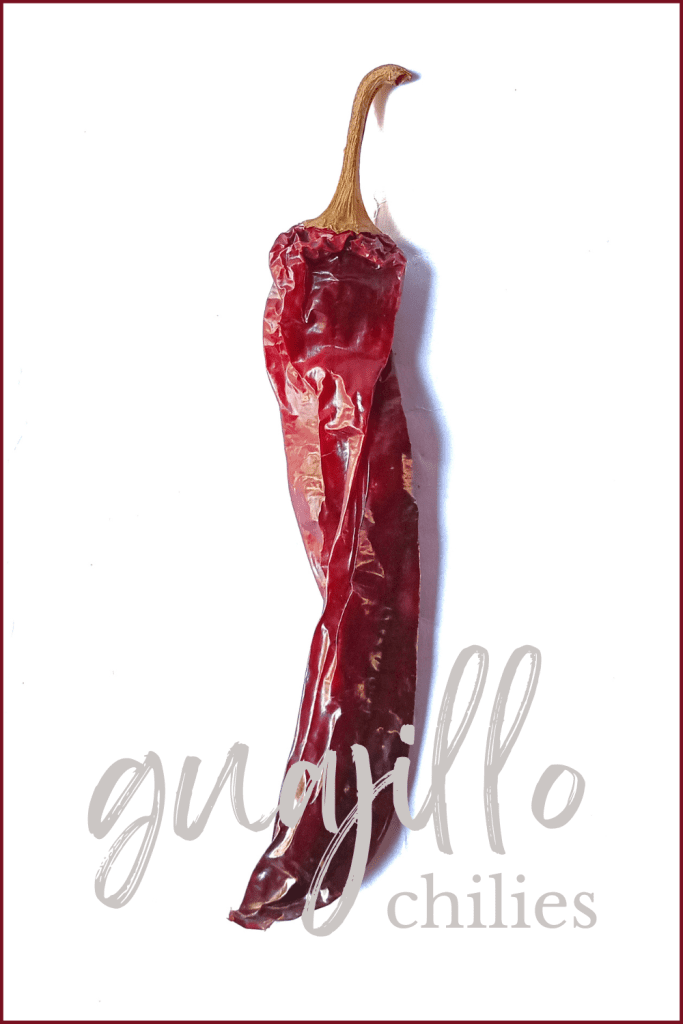 Guajillo chilies are a popular chili in Mexican cooking. They're a long, dark red pepper with a sweet smoky flavor and a mild to medium heat level.
I had expected them to be hard to find, but I lucked upon a package of dried guajillo chilies at my local natural grocery store. If you're having trouble finding them at home, you can buy them online. Or, take a look at this very helpful chili substitute primer by RawSpiceBar.
Some pozole recipes I researched added other chilies to increase the heat or change the flavor profile of the pozole. For this pozole recipe, I elected to use just guajillo chilies. But, I do anticipate creating new and different versions of this vegan soup going forward.
Toasting Your Guajillo Chilies
I started by toasting my guajillo chilies. The toasting gives the chilies a smoky flavor which adds complexity to the pozole.
It may seem like a step to skip, but I do find that in vegan cooking opportunities to add depth of flavor should not be missed. I think taking the meat out of a dish can often lead to a thinness, especially in a stew like this where the meat would have been braised and then slow-cooked.
And no, I'm not trying to talk you out of vegan cooking, but I think it's important to recognize that meat does have its role in flavorful cooking, so I'm always looking for plant-based ways to generate more flavor.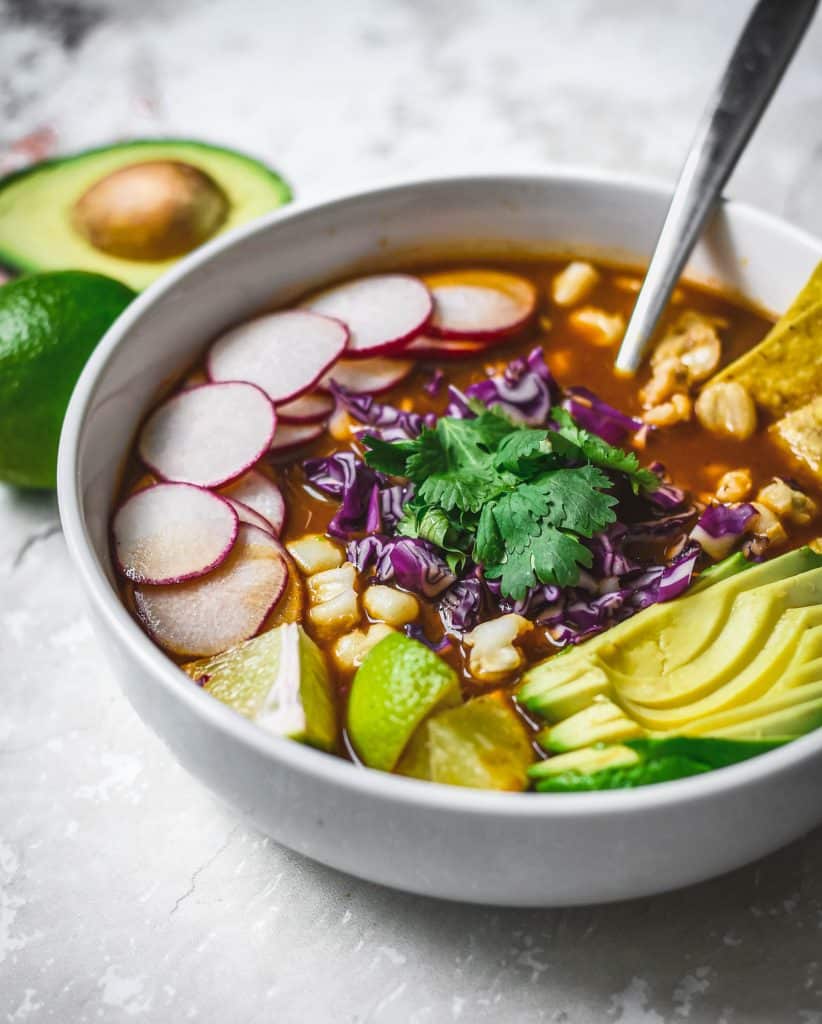 Different recipes call for different means to toasting your chilies. Some recipes will have you toast the chilies on a sheet pan in the oven, while others have you toast them in a skillet.
While properly toasted chilies will give your pozole as wonderful flavor, burned chilies will impart an acrid, bitter flavor. Trust me, you don't want that. To toast them properly, heat up a skillet and when medium-hot, quickly toast each side of the dried chilies for 20-30 seconds. You're looking for a warm, fragrant smell.
Seeding and Soaking Your Guajillo Chilies
Once the dried chilies are toasted, they'll be slightly softer and easier to work with. Many recipes call for you to destem and seed them at this stage. You'll also want to remove the membranes inside the chili. Personally, I found it difficult to do this when the chilies were still dried, so I opted to soak mine first and then remove the stems, seeds and membranes.
To soak the chilies, place them in a bowl and pour 3 cups of boiling water over them. Allow them to rest, submerged, for 15-20 minutes. After this, they'll be pliable and easier to work with. You'll want to save some of the soaking water for your red sauce as well. I would recommend 1 ½ cups (or half of the soaking water). Using too much of the soaking water can also lead to a bitter flavor in your red sauce.
Making the Red Sauce for Your Vegan Pozole
Once you have your chilies ready, you'll make your red sauce which will serve as the base for your pozole broth.
For this vegan pozole recipe, I did take a small break from tradition by using onions and tomato paste. As I mentioned before, pozole is traditionally made by slow-roasting pork in the broth. And, as you may know, meat often gives a dish a rich umami flavor. If you've ever had traditional pozole, or you're making this dish for someone who has, you're going to want to replicate that flavor using plant-based ingredients. Caramelized onions and tomato paste are two wonderful ways to do that.
To make this red sauce, I caramelized an onion in a large stockpot with a pretty healthy dash of olive oil. Once the onions were starting to caramelize, I added garlic, oregano, cumin and my tomato paste so that I could toast those as well. Once the tomato paste had taken on a dark red color and the combination of ingredients gave off a fragrant smell, I added my 1-part soaking water, 1-part fresh water, the chilies and two bay leaves and let it simmer covered for 10-15 minutes.
Pozole Vegetariano: Putting It All Together
Once you've got your red sauce, you're pretty much home free on this vegan soup recipe. Use the time that the red sauce is simmering to prepare your toppings. Wash and tear the cilantro, thinly slice the cabbage, radishes and avocado and (if you're really into it) make your tortilla chips.
After the red sauce has finished simmering, remove the bay leaves. Then, either using an immersion blender or a stand-up blender, thoroughly blend the sauce. Once the sauce is complete, add the vegetable broth and hominy and allow the pozole broth to simmer for another 10-15 minutes. You can also choose to add additional beans at this stage for added protein and/or to make the soup more filling. Kidney beans are a popular choice.
To serve the pozole, add the broth to each bowl and then top with the cilantro, radishes, cabbage, avocado and tortilla chips!
What's in My Kitchen That Makes This Vegan Pozole Recipe Easier?
Want to know what tools and resources I keep on hand to make this Pozole Vegetariano recipe easier? Here's a short list of what helped me create this blog post and recipe. For the complete list, visit my Amazon Shop where you can find the kitchen gadgets I like as well as a list of books that I recommend.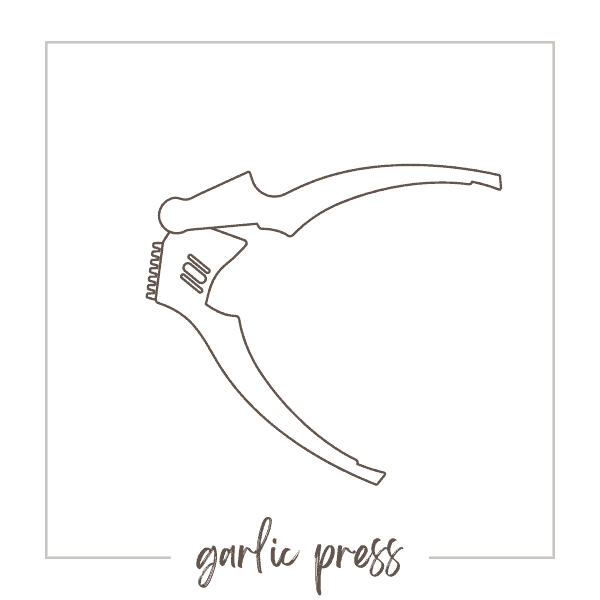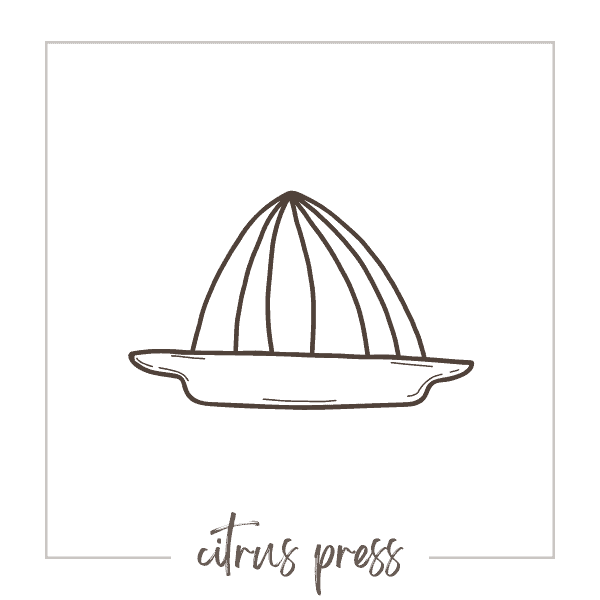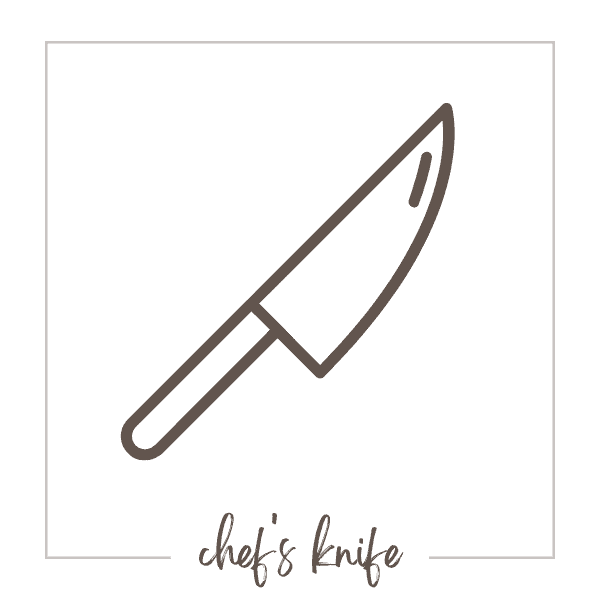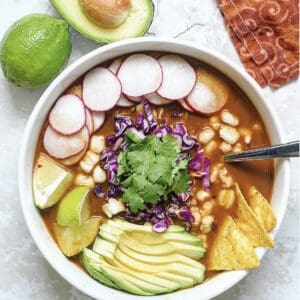 Vegan Pozole Soup
This vegan pozole is bursting with roasted chili flavor! Are you in search of some good vegan Mexican recipes? If so, then this pozole recipe should be on your list. This vegan soup recipe honors traditional pozole by using roasted guajillo chilies as its base and hominy as its star ingredient.
Ingredients
8-10

dried guajillo chilies

2

tbsp

olive oil

1

yellow onion

roughly chopped

4

cloves

garlic

roughly chopped

1/4

cup

tomato paste

1

tbsp

oregano

Mexican oregano is best if you can get your hands on it

2

tsp

cumin

1

tbsp

salt

add to taste

1 1/2

cup

fresh water + 1 1/2 cups reserved soaking water

see instructions below

1

qt.

low sodium vegetable broth

2

25 oz cans

hominy

drained and rinsed

1

14 oz can

red kidney beans

optional; drained and rinsed

1

tbsp

fresh lime juice

1

bunch

cilantro

washed and torn

3-5

red radishes

washed and thinly sliced

2

avocados

thinly sliced

1

small head

purple cabbage

thinly sliced
Instructions
Heat a shallow skillet to medium-hot. Once hot, toast the guajillo chilies 20-30 seconds on each side until fragrant. Be VERY careful not to burn.

Once toasted, soak the guajillo chilies in 3 cups boiled water for 15-20 minutes. After soaking, gently remove the stems, seeds and membranes from the chilies. Reserve 1 ½ c. of the soaking water.

In a large stockpot, heat 2 T. of olive oil until shimmering. Add the onions and reduce the heat to medium-low. Allow to cook for 8-10 minutes, stirring occasionally until the onions become golden brown. Increase the heat to medium, then add the garlic, tomato paste, oregano and cumin and allow to cook for 3-5 more minutes.

Add the soaking water, the fresh water, salt (I added a full T. of salt, but I recommend adding it gradually and seasoning to taste) and 2 bay leaves and allow to simmer for 10-15 minutes.

Remove the bay leaves and, using an immersion blender, blend the chilies and other ingredients into a thick, red sauce.

Add the vegetable broth, hominy, fresh lime juice and (optional) red kidney beans. Simmer until hot.

Serve topped with fresh cilantro, sliced radishes, avocado, purple cabbage and fresh limes.
About Herbivore's Kitchen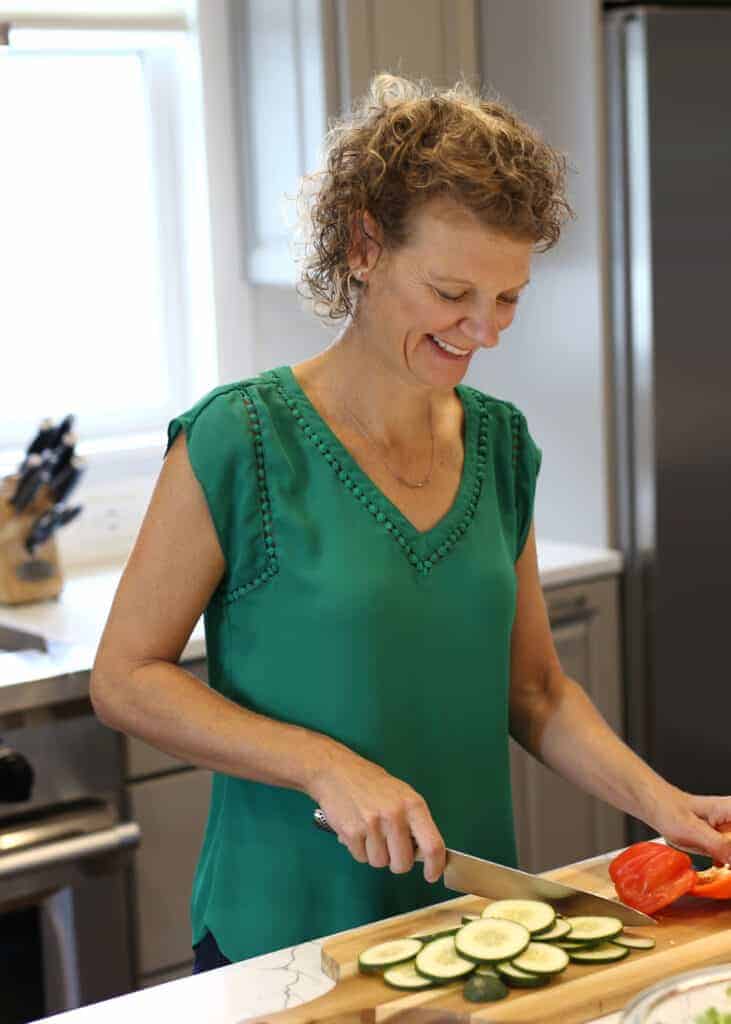 Herbivore's Kitchen is a blog run by me, a plant-based home chef and aspiring food photographer. I switched my and my family's diet to a plant-based diet after learning about the health benefits of going vegan. Making this change has prompted a variety of food and holistic-lifestyle related questions that I explore through this blog. I talk about how to pick and prepare the most nutritious foods, to how to reduce waste at home, to how to live a more sustainable lifestyle while on the road.
---