Jump to Recipe
Miso Ramen with Miso Glazed Delicate Squash
Miso ramen for the win! This easy miso ramen recipe features miso glazed delicata squash, shiitake mushrooms and bok choy making for an amazing vegan dinner idea. This vegan ramen recipe features a savory miso broth and ramen rice noodles for a gluten-free meal.
If You Haven't Tried Miso Ramen, It's Time!
It's true. I've been on a bit of a ramen kick lately. What can I say? It's mid-October and we've already had a collective 7 days of significant snowfall here in the Rocky Mountains. No one can blame me if I want to eat nothing by soup.
Several weeks ago, I posted a Thai Red Curry Ramen Bowl, which had a creamy coconut broth to offset its spiciness. And while that ramen bowl remains one of my favorites, I decided to change up the broth to make a quick(er) and easi(er) vegan soup recipe. This ramen noodle broth is simply made using garlic, ginger, shiitake mushrooms, water, tamari and miso paste.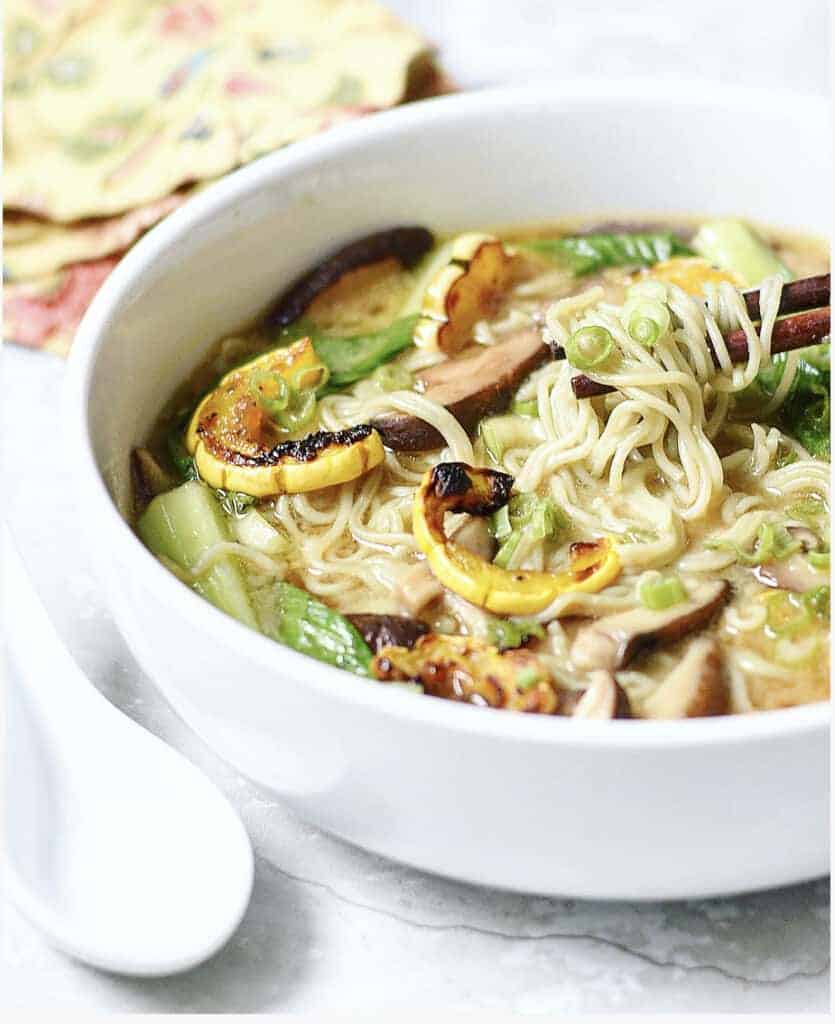 Cooking Lesson: Learn About Miso
In case you missed it, I wrote about everything miso in my recipe post: Easy Vegan Miso Soup. In addition to providing tasty vegan recipes, I also like to sprinkle in a little food education. So, here's a quick review on miso.
Miso is a fermented soybean paste and, quite possibly, the most effective means of getting the umami flavor in vegan cooking. There are several varieties of miso paste, ranging in color and depth of flavor. The most-mild miso is white (or light) miso, followed by yellow miso and then red miso. If you've got an aversion to soy, don't worry. You can also find specialty miso pastes, like chickpea miso, brown rice miso and millet miso.
I use miso in many of my recipes, including things like vegan cheese and salad dressings. It's the star ingredient not only in the broth for this dish, but also in the glaze that I used for the delicate squash. Miso is salty in flavor, but also has a richness to it that lends significant depth of flavor to any dish. It's also been identified as a healthy ingredient, full of probiotics that (if cooked with properly) help to maintain a healthy gut. In my Easy Vegan Miso post, I share several sources regarding the health properties of miso. I encourage you to check them out!
Making the Miso Ramen Broth
The broth for this miso ramen is pretty easy. When I cook with shiitake mushrooms, I like to give them a nice sear. I just like the way they taste with a little bit of a crispier texture. To do this, I start by cooking my shiitakes in my stockpot with a little sesame oil. Once they are lightly browned, I add my garlic and ginger and allow that to cook until fragrant (about 1-2 minutes). Then I throw in the whites of my scallions, 6 cups of water and a ¼ cup of tamari. I allow this to simmer while I prepare my miso glaze, ramen noodles and delicata squash.
How to Make Miso-Glazed Delicata Squash
For this vegan recipe, I wanted to make a miso ramen that used fall ingredients. Originally, I thought I would just add roasted delicate squash to my bowl but then I got inspired and decided to try roasting the squash with a miso glaze for some extra flavor. I loved how it came out. It was such a complementary flavor to the miso ramen broth and bonus! The extra miso-glazed squash is excellent for snacking on!
Making the Miso Glaze
If you've come across miso glaze in the past, it's likely been used on fish. Miso black cod was one of my go to dishes before I started cutting animal products out of my diet. I use miso glaze on tofu with some frequency and I didn't see any reason that it wouldn't work on squash. And, let me tell you, the results were fantastic!
The miso glaze recipe I use is a modification from the New York Times recipe for miso-glazed fish. Unlike the recipe, I'm not marinating my squash in the miso glaze, so I opted to make it a bit thicker. I did this by skipping the sake, which isn't an ingredient I regularly have on hand anyway. It worked out fine. I also swapped out the refined sugar in the recipe for maple syrup in a one-to-one ratio. To avoid having any lumps in my miso glaze, I combined all of the ingredients in my mini food processor (a very handy kitchen tool, I might add) and pulsed it until all the ingredients were combined in a thick sauce.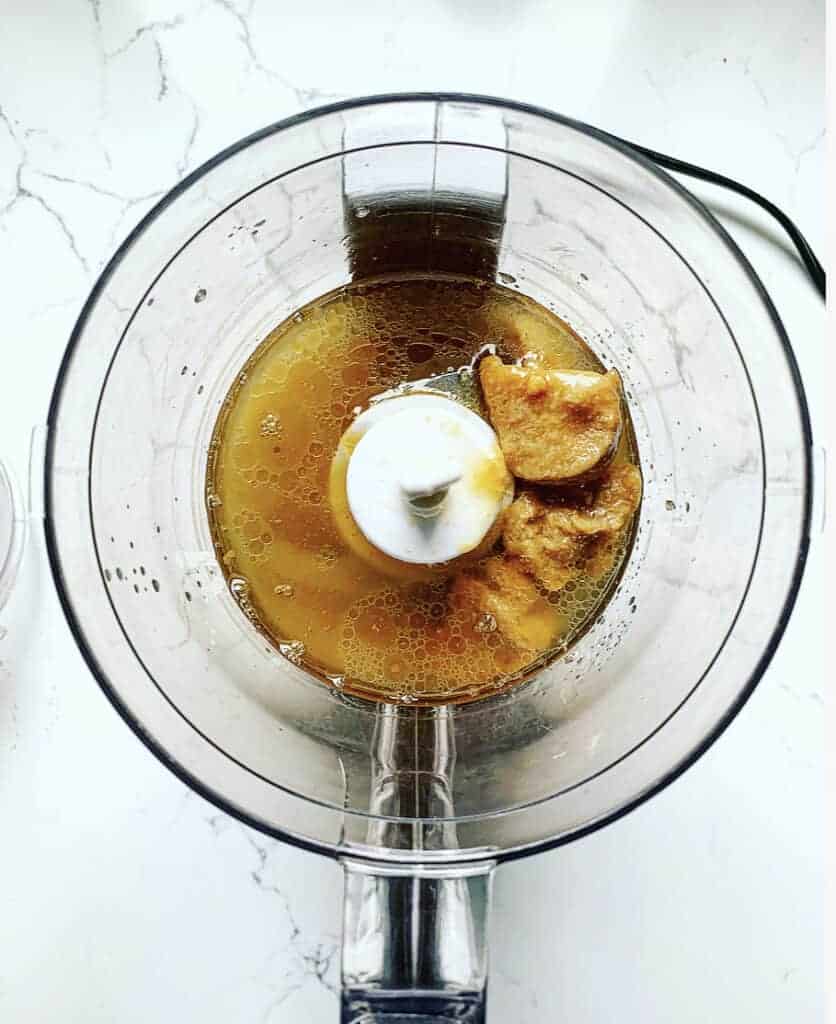 Autumn's Signature Squash: Delicata Squash
Cooking with fall's bounty of squashes isn't an opportunity to be missed. One of my favorites is delicata squash. Why? Because you don't have to peel it. The skin of delicata squash is so tender, the squash can be cut and roasted without having to remove the skin.
Putting the Miso-Glazed Delicata Squash Together
I started by washing my squash really well. You need to do this since you'll be eating the skin. I also did a little research on winter squash and learned that non-organic versions are often grown using pesticides. Given that you're eating the skin of this particular winter squash, it just makes sense to buy organic.
After washing my delicata squash, I trimmed the ends of the squash, giving myself a flat surface to use when slicing the squash in half lengthwise. From there, I scooped out the seeds. You can, if you'd like, keep the seeds and roast them. They're also an edible treat!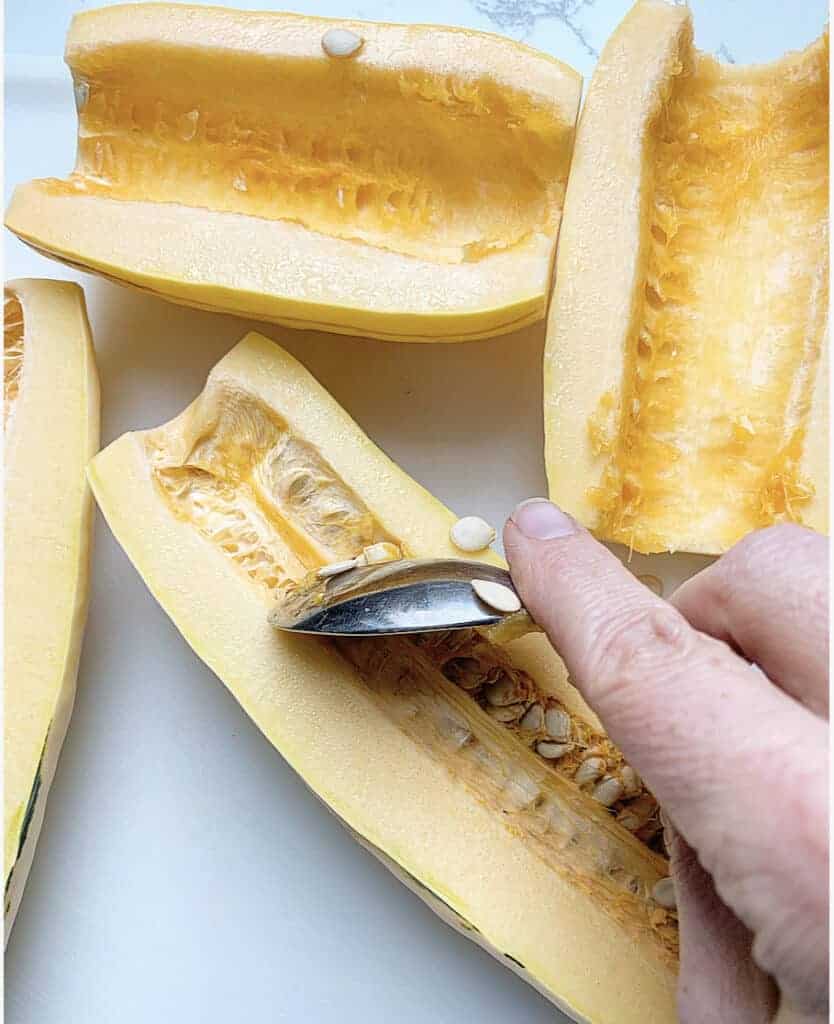 I opted to slice the squash halves into narrow (about ¼" pieces). The smaller pieces make for a faster roasting time and nice, bite-sized pieces in my miso ramen. Because the sugars in my miso glaze will burn before the squash is done roasting, I pre-roasted my squash pieces at 425 degrees, seasoned with a little bit of a neutral oil (I chose grapeseed) and salt and pepper. Roasting time was about 15 minutes, flipping the squash halfway through. Once the squash was a nice gold brown, I removed the squash from the oven and tossed it in my miso glaze. I then returned it to my baking sheet and put it under the broiler for about 2 minutes or until the sugars in the miso glaze had caramelized, giving the squash the perfect sweet and salty crust.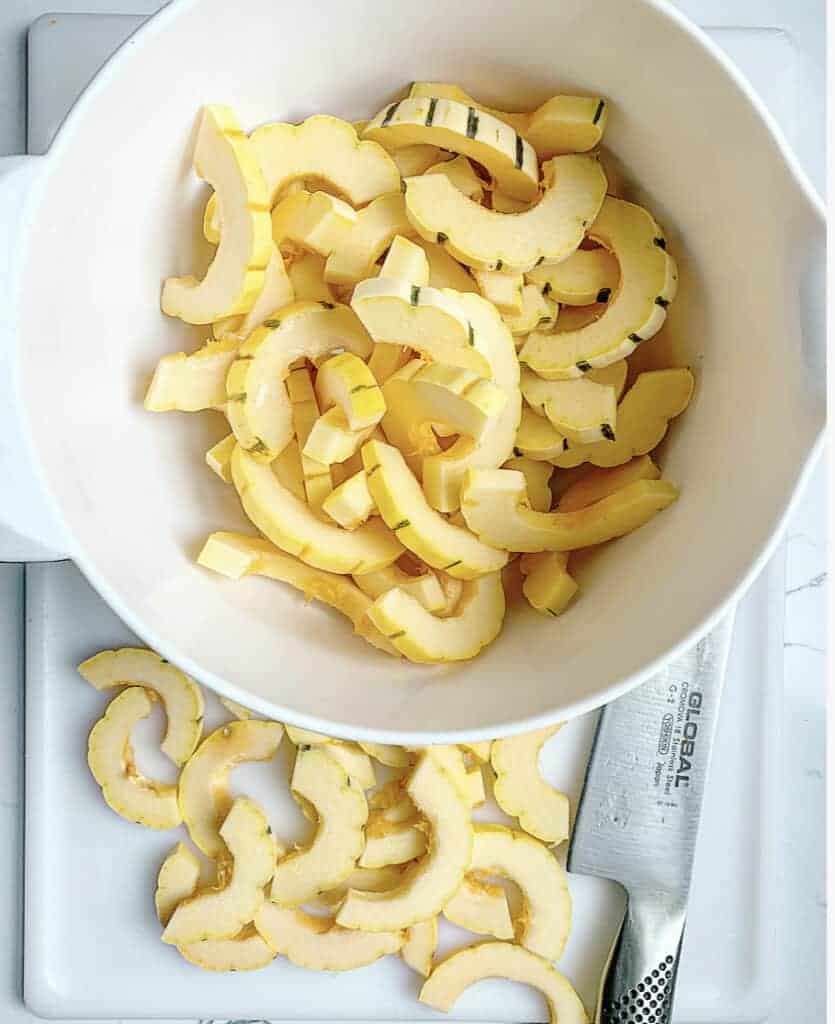 A Note On Broiling
Making everything with a miso glaze these days has taught me a few things… like don't broil with parchment paper. No, I didn't set my kitchen on fire – I kept the paper far enough away from the broiler to avoid catastrophic consequences. But, it's generally not a safe practice.
Why was I using parchment paper in the first place? Well, because the sugars in the miso glaze will caramelize nicely on the delicata squash as it's cooking, but when they're in direct contact with the pan they will burn making clean up difficult. I mean, once you're eating the miso-glazed delicata squash, you'll hardly notice the clean up but I thought fair-warning was appropriate.
Silicon baking sheets, which I since replaced my parchment paper with aren't good under the broiler either. They're generally recommend only up to 450 degrees and broilers can heat up to 550. And, while a broiler pan is nice, who doesn't hate keeping that clunky thing around? The best option? Good, solid aluminum baking sheets. I took my cue from Epicurious and ordered Nordic Ware Natural Aluminum Baking Sheets. They're sturdier than most other baking sheets, which enables them to avoid warping and the aluminum material helps to conduct heat evenly.
Building Your Miso Ramen Bowls
By the time your delicata squash is ready, your ramen broth should be done. The only thing left to do is to make the ramen noodles and add in any additional vegetables.
Lately, I've been cooking with ramen rice noodles. Using rice noodles and tamari in this vegan recipe also makes this dish gluten free. Whatever type of ramen noodles you choose, you'll need about four bricks to feed four people. I like to cook my ramen noodles separately from the broth, allowing me to control how soft the noodles are when serving. To make my bowls, I add the pre-cooked ramen noodles to the bottom of the bowl (cooked slightly al dente) and add the hot broth just before serving.
For this recipe, I also added bok choy. Bok choy has a bold mustardy flavor, which I love. Not everyone does though, so if you're not into it, spinach is a nice alternative. Similar to my ramen noodles, I add my greens just before serving so they're only wilted slightly and maintain a bright green color. Topping this ramen noodle bowl is pretty simple. I added the greens from my sliced scallions and just a dash of sriracha for a little bit of spice.
What's in My Kitchen to Make This Vegan Recipe Easier
This post includes affiliate links. When I find a great product or service, I like to share it with my readers. Sometimes I use affiliate links so I can earn commission for my recommendations. Thank you for your support!
I often get asked what gadgets and tools I have in my kitchen that help me pull all of my recipes together. I included a list below along with a description about why I like them so much. If you have any questions about them, please feel free to reach out to me in the comments!
About Herbivore's Kitchen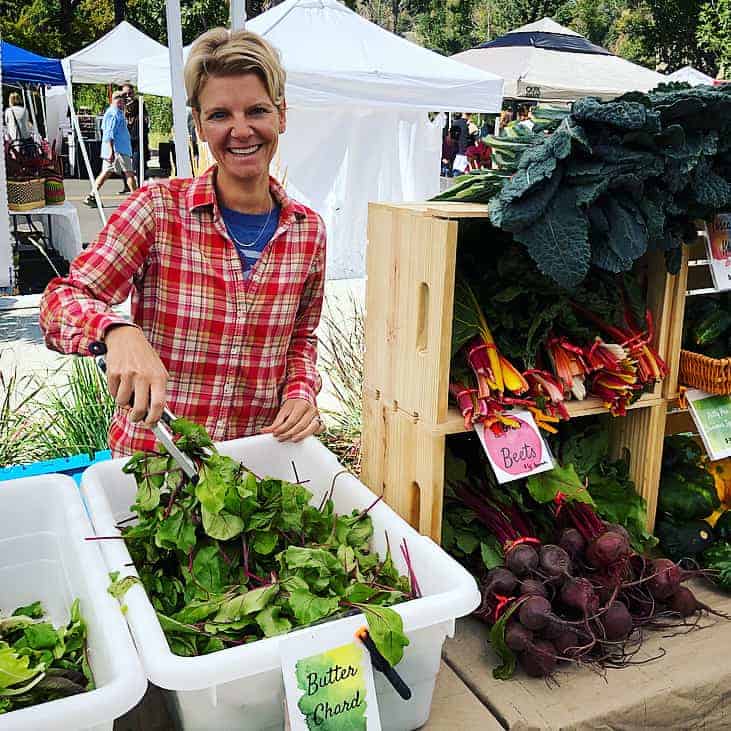 Herbivore's Kitchen is a blog run by me, a plant-based home chef and aspiring food photographer. I switched my and my family's diet to a plant-based diet after learning about the health benefits of going vegan. Making this change has prompted a variety of food and holistic-lifestyle related questions that I explore through this blog. I talk about how to pick and prepare the most nutritious foods, to how to reduce waste at home, to how to live a more sustainable lifestyle while on the road.