The post below includes affiliate links. When I find a great product or service, I like to share it with my readers. Sometimes I use affiliate links so I can earn commission for my recommendations. Thank you for your support!
Jump to Recipe
Moo Shu Pizza with Hoisin BBQ Jackfruit
This vegan moo shu pizza is the ultimate vegan Chinese food dish. Or, Italian vegan recipe. Depending on how you think about it. This vegan recipe uses jackfruit cooked in a spicy Asian BBQ sauce and then topped with shaved carrots and red cabbage over a white flour pizza crust brushed with sesame oil and more Asian BBQ sauce.
Vegan Chinese Food: Moo Shu Remastered
A few weeks ago, I was at home at four o'clock in the afternoon simultaneously craving Chinese food and pizza. In the past, this dilemma would have resulted in ordering takeout. But, if you read my blog post for my Spicy Asian BBQ Tofu Bowls, you know how I feel about all the packaging that takeout requires.
After waffling for a while, I decided to get creative with moo shu. Usually served as moo shu pork, this dish typically features a combination of shredded pork, cabbage, scrambled eggs, carrots, scallions and bean sprouts. I've always had it served with moo shu pancakes which, I'm not afraid to admit. I have not yet mastered making. More on that below.
Obviously, pork wasn't an option. I was also feeling a little tofu'd out and, while I think shiitake mushrooms would make for an amazing substitute (I'll get to them, I'm sure), I've been wanting to take my jackfruit game to the next level. Moo shu seemed like the perfect candidate.
What is Jackfruit? And What Does Jackfruit Taste Like?
I encountered my first jackfruit in the flesh while traveling in Vietnam. It wasn't what I expected. It's a fairly large fruit, resembling a watermelon in size, but with a rough bumpy skin. It doesn't look particularly appetizing, but it's worth getting your head around.
The immature fruit (often called young jackfruit or green jackfruit) is what's used in a recipe like this. It is mild in taste and the fruit comes apart with the same consistency as pulled chicken or pork. I find that, like many vegan meat substitutes, jackfruit does a good job of picking up the flavors that it is cooked in. When I cook with it, I usually choose heavier sauces and flavors. The mature fruit is yellow and sweet in taste. It can be eaten as is or cooked into desserts as a natural sweetener.
Before you get too impressed with the image of me tackling a fruit that weighs almost as much as I do with a sharp knife, you should know that you can also buy jackfruit in a can. Which is what I do. I live in the remote mountains in Colorado. I'm lucky that I can get it in a can, let alone the whole fruit. So, if you're looking for jackfruit, try the canned goods section of the grocery store and not necessarily the produce section.
How to Cook Jackfruit
For this section of my post, I'm going to stick with how to cook canned jackfruit. If you're a DIY-er, then there are plenty of videos online that you can review to start with the whole fruit. Canned jackfruit is packed in water or brine, which you'll need to drain and discard. I like to thoroughly rinse my jackfruit as well.
Once rinsed, I'll lay out the pieces on a cutting board and, using two forks (one in each hand) I'll pull each piece of jackfruit apart. It will come apart like shredding pork or chicken. When I have my jackfruit shredded, I'll spread it out on a clean towel and pat it dry. I like to do this so that when I sauté the jackfruit, I don't have a lot of liquid in the pan. This way, I'll get a crispy outer edge to it, much like you would with pork or chicken.
Once dry, I'll add my jackfruit to a deep-sided saucepan with a little oil. For this recipe, I chose sesame oil as it's a common flavor used in moo shu recipes. You don't need a lot, as the flavor of sesame oil goes along way. I used a ½ a tablespoon. If you feel like you need more oil, try mixing sesame oil with a neutral oil, like avocado or grapeseed oil. I'll lightly sauté the jackfruit pieces in the pan until I've got a slight golden crust. Then, I'll add my Asian BBQ sauce and lower the heat, allowing the sauce to be absorbed while the sugars in the sauce caramelize. The end result is a nice, crispy pulled meat consistency with a sweet and spicy BBQ flavor.
Vegan Chinese Food: Turning Moo Shu into Pizza
Now that I had my moo shu "pork" down, I had to decide how to serve it. And those aforementionedpancakes? Not a four o'clock in the afternoon project. Recipes call for two dough balls to be rolled out together with a thin layer of sesame oil in between. Once the pancakes are cooked, the individual pancakes should come apart easily. That's yet to be the case when I've made them. So, instead of another moo shu pancake attempt, I decided to merge my two cravings together: vegan Chinese food and pizza.
Since moo shu pancakes are white-flour based, I decided on a homemade white flour pizza crust. Unlike traditional pizza, you don't make this pizza and then bake the whole thing in the oven. There's no cheese to melt, the moo shu jackfruit is already cooked and the other ingredients are best raw. In this case, all you want to bake is the crust. I rolled mine out on a pizza stone and then lightly brushed it with the sesame oil before baking it.
While the crust was baking, I put together my Asian slaw, which was a twist on a traditional moo shu recipe. It worked out perfectly. The acidic bite of rice vinegar and the spice of the fresh ginger cut the sweetness of the bbq sauce in a very nice way. Once the pizza crust was baked, I added a thin layer of my spicy Asian BBQ sauce, topped it with the pulled jackfruit and my Asian slaw and served it immediately with some fresh cilantro and a little extra sriracha for kick on the side.
Kitchen Gadget Tips
I often get asked what gadgets and tools I have in my kitchen that help me pull all of my recipes together. I included a list below along with a description about why I like them so much. If you have any questions about them, please feel free to reach out to me in the comments!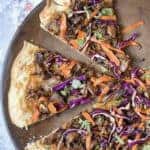 Vegan Moo Shu Pizza with Hoisin BBQ Jackfruit
This vegan moo shu pizza is the ultimate vegan Chinese food dish. Or, Italian vegan recipe. Depending on how you think about it. This vegan recipe uses jackfruit cooked in a spicy Asian BBQ sauce and then topped with shaved carrots and red cabbage over a white flour pizza crust brushed with sesame oil and more Asian BBQ sauce.
Ingredients
Pizza Dough
1

cup

very warm water

1

pkg

active dry yeast

1

tbsp

olive oil

1

tbsp

maple syrup

2

cup

white flour

plus additiona flour if necessary (add 1 T. at a time)

pinch

salt
BBQ Jackfruit
2

14 oz cans

jackfruit

drained and dried (see blog post)

1/2

tbsp

sesame oil

if you need more oil, combine sesame oil with a neutral high-temp oil, like grapeseed or canola oil

salt and pepper

to taste

Asian BBQ sauce

recipe below
Asian BBQ Sauce
9

tbsp

hoisin sauce

3

tbsp

rice vinegar

3

tbsp

soy sauce

3

tbsp

maple syrup

1

scallion

washed and chopped, separate the white parts from the green parts and mince the white parts)

2

cloves

garlic

peeled and crushed

1

tbsp

fresh ginger

peeled and minced

pinch

Chinese 5-spice powder

1

tsp

sriracha sauce
Asian Slaw
2

scallions

washed and chopped

1/2

carrot

washed and peeled into thin strips

1/4

head

purple cabbage

sliced thin

1

tbsp

sesame oil

1

tbsp

rice vinegar

1

tbsp

soy sauce

1/2

tbsp

maple syrup

1

tsp

fresh ginger

minced

1

clove

garlic

crushed
Instructions
Preheat oven to 400 degrees. Preheat your pizza stone if you have one.

Drain and rinse the jackfruit. On a cutting board, using two forks, gently pull apart the jackfruit. It should have the appearance of pulled pork or chicken as you work. Wrap the pulled jackfruit into a clean towel and allow to dry, pressing out any additional moisture. Allow to rest.

While the jackfruit is drying, in a small bowl, mix together all of the ingredients for the Asian BBQ sauce.

In a large skillet, heat 1 T. of your high temperature oil. I used sesame oil. When shimmering, add the jackfruit and season with salt and pepper. Allow to cook, stirring occasionally, until the jackfruit becomes just a little bit crispy.

Add roughly 2/3rds of your Asian BBQ sauce. Stir to combine. Cook until the liquid is absorbed and the jackfruit takes on crispy edges, stirring frequently. About 10-15 minutes.

While the jackfruit is cooking, make your pizza dough. Combine the dry yeast package, with 1 T. oil, 1 T. maple syrup and 1 c. very warm water. Allow to sit for five minutes. You should start to see bubbles. In the meantime, put 2 c. white flour into your food processer and a pinch of salt.

Slowly add the yeast and water to the flour in the food processor and mix until a dough ball forms. You may need to add more flour. Add additional flour 1 T. at a time.

Roll out your pizza dough and allow it to bake until almost the desired crispiness. About 10-12 minutes. Pull it out of the oven, spread the remaining BBQ on the top and bake until crispy. About 2-3 minutes. The sauce should thicken slightly.

While the pizza crust is cooking, mix the last 6 ingredients for the Asian slaw together and combine in a small bowl with the scallions, purple cabbage and carrots. Toss and allow to rest.

Remove the pizza dough from the oven. Top the pizza with the pulled BBQ jackfruit, the Asian slaw, the green scallions and fresh cilantro.
About Herbivore's Kitchen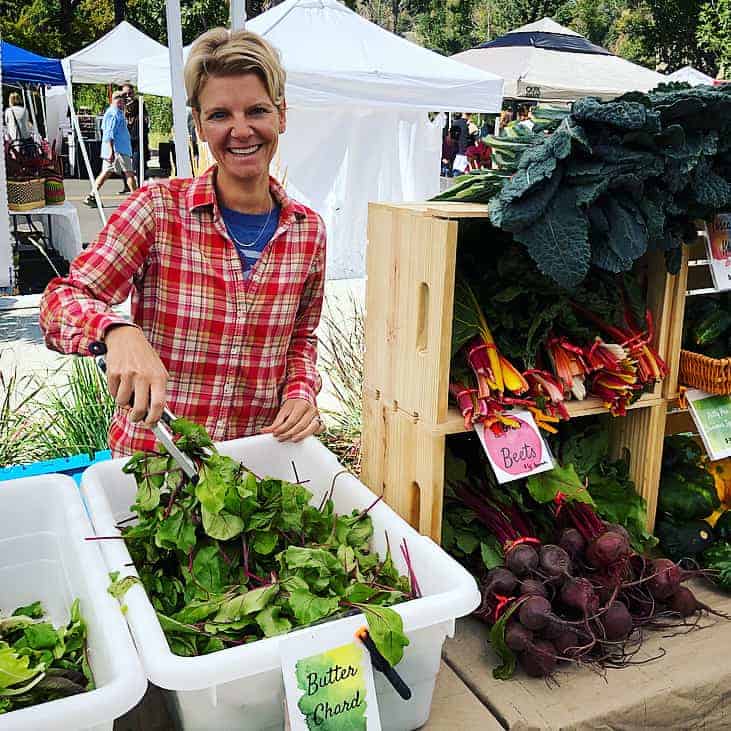 Herbivore's Kitchen is a blog run by me, a plant-based home chef and aspiring food photographer. I switched my and my family's diet to a plant-based diet after learning about the health benefits of going vegan. Making this change has prompted a variety of food and holistic-lifestyle related questions that I explore through this blog. I talk about how to pick and prepare the most nutritious foods, to how to reduce waste at home, to how to live a more sustainable lifestyle while on the road.