Jump to Recipe
Sweet Potato and Kidney Bean Vegan Breakfast Burritos
Easy, healthy vegan breakfast burritos make Sunday brunch look a little different around my house. This Mexican-inspired vegan breakfast burrito features sweet potatoes and kidney beans simmered in tomatoes, cumin and chipotle chili powder tucked in a tortilla wrap with fresh spinach, avocado, chopped tomatoes and toasted pumpkin seeds. What more could you want for a healthy, easy vegan breakfast recipe?
What Vegans Eat for Breakfast
Of all the meals that I struggled to adapt to a vegan diet, breakfast was the hardest. One of my favorite meals, especially on the weekends, was to make a breakfast burrito stuffed with hash browns, scrambled eggs, cheese and, yes… sometimes bacon. Until recently, I never fully realized just how much a breakfast like this slowed me down. As the saying goes – "you don't know what you don't know."
As I shifted from an omnivorous diet to a vegetarian diet and then to making my own vegan breakfast foods, things changed dramatically. I lost the bacon. Then gradually the eggs, followed shortly by the cheese. It did take a while to fully shift away from a traditional breakfast burrito, but my at-home vegan version came with benefits I hadn't expected. Breakfast became energizing, rather than coma-inducing. Once I started experiencing this, I looked forward to starting my days with beans, lentils, avocado and fresh salsa instead of eggs, bacon and cheese.
Variations on the Vegan Breakfast Burrito
I do a vegan breakfast burrito a lot of different ways. Most commonly, I make a batch of spicy red lentils early on in the week and we use this for a variety of meals. Lentils are super healthy, so they'll find their way into our quesadillas, nachos, burrito bowls and, of course, our breakfast burritos.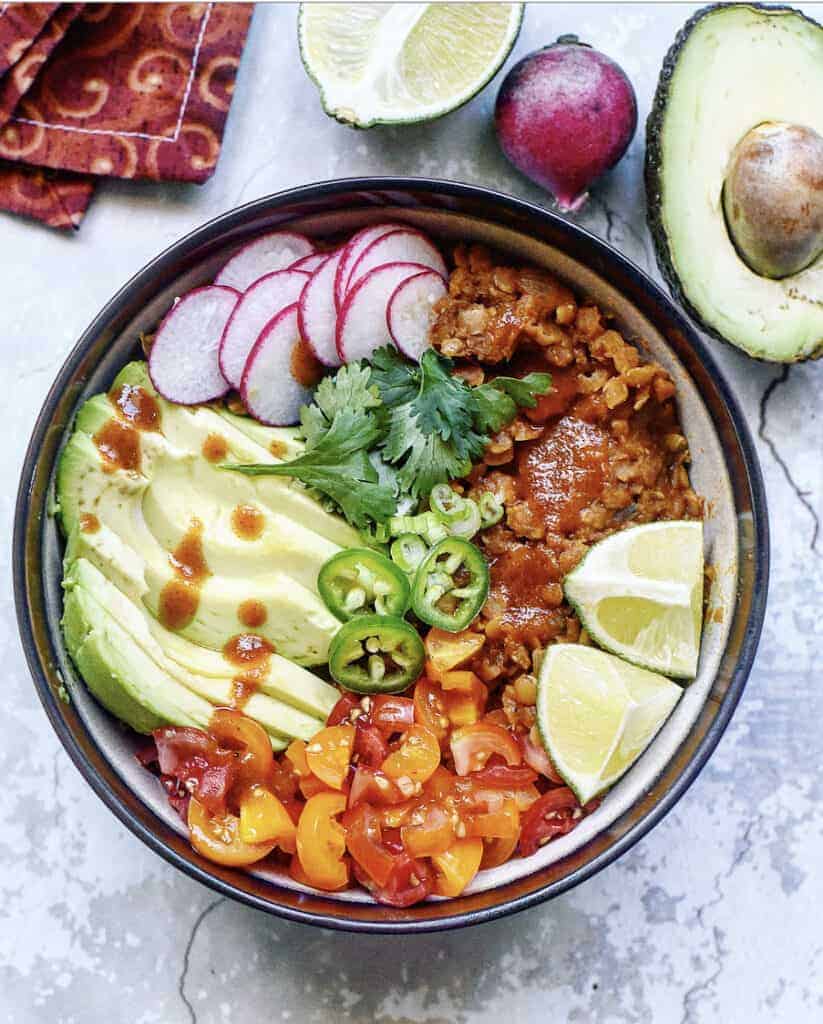 Sometimes though, I like to mix it up and make the substance of our breakfast burritos a little different. That's what I did here with this sweet potato and kidney bean combination. The sweetness of the sweet potato makes for a really nice contrast against the spiciness of the chipotle pepper and tangy acidity of the tomato paste.
For my breakfast burrito, I used a locally-made whole wheat flour tortilla as my base. Then I filled it with fresh baby spinach, the sweet potato and kidney beans, sliced avocado, diced tomatoes, cilantro and pumpkin seeds. Energy-instilling bliss!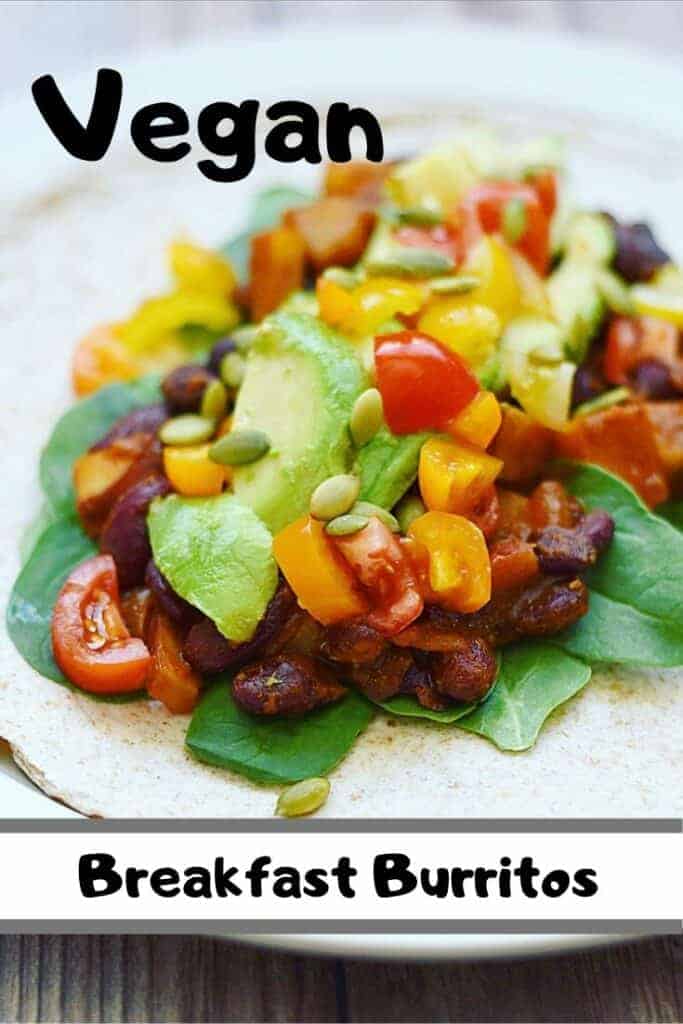 Like the red lentil recipe, this one would do just as well on a plate of vegan nachos. I make a vegan zesty nacho cheese sauce that would love to be paired with this mix. My kids will eat it inside a quesadilla (I get mine to stick together using avocado) or sometimes I like to get deconstructed. A deconstructed burrito bowl, that is. Whatever way you want to try it, the combination of tomatoes, sweet potatoes and kidney beans is a killer way to start your day!
Vegan Breakfast Burritos – They Are What You Make 'Em!
I think it's important to point out that this recipe for the sweet and spicy sweet potato and kidney beans breakfast burrito base was kind of a spontaneous food grab in my kitchen. I always have onions, garlic, tomato paste, cumin and chipotle chili powder on hand. Those are the staples. I happened to have an unused sweet potato and a can of red kidney beans. The combination sounded good. Don't be afraid to get creative! No kidney beans? Try black or pinto beans. Or red lentils. Don't have a potato? Make the beans and serve this with brown rice.
The toppings are likewise just what I have in the kitchen. I almost always have fresh cilantro. If I'm lucky, it's growing well on my windowsill. If not, I try and keep some in the fridge. Ever wonder how to properly store cilantro? Well, here's your cooking lesson for the day. To store cilantro, fill a jar with a couple of inches of water and put the cilantro stems down into the jar. Then cover the leaves with a plastic bag (wash it and reuse it when you're done). This should keep it fresh for a couple of weeks. (1)
For other toppings, I find sliced avocado to be a great substitute for cheese. Toasted pumpkin seeds find their way into almost all of my breakfast burritos – they add a healthy, nutty crunch. I like to roast them with a local salt company, Steamboat Salt Company's, El Jefe Habanero salt. To do this, I toss them in a very small amount of a high-temp oil (I like avocado oil) and sprinkle on some of this salt and run them through one cycle on my toaster oven. Bliss! And, finally, diced tomatoes, fresh spinach or purple cabbage and a dash of hot sauce and you've got yourself a breakfast of champions!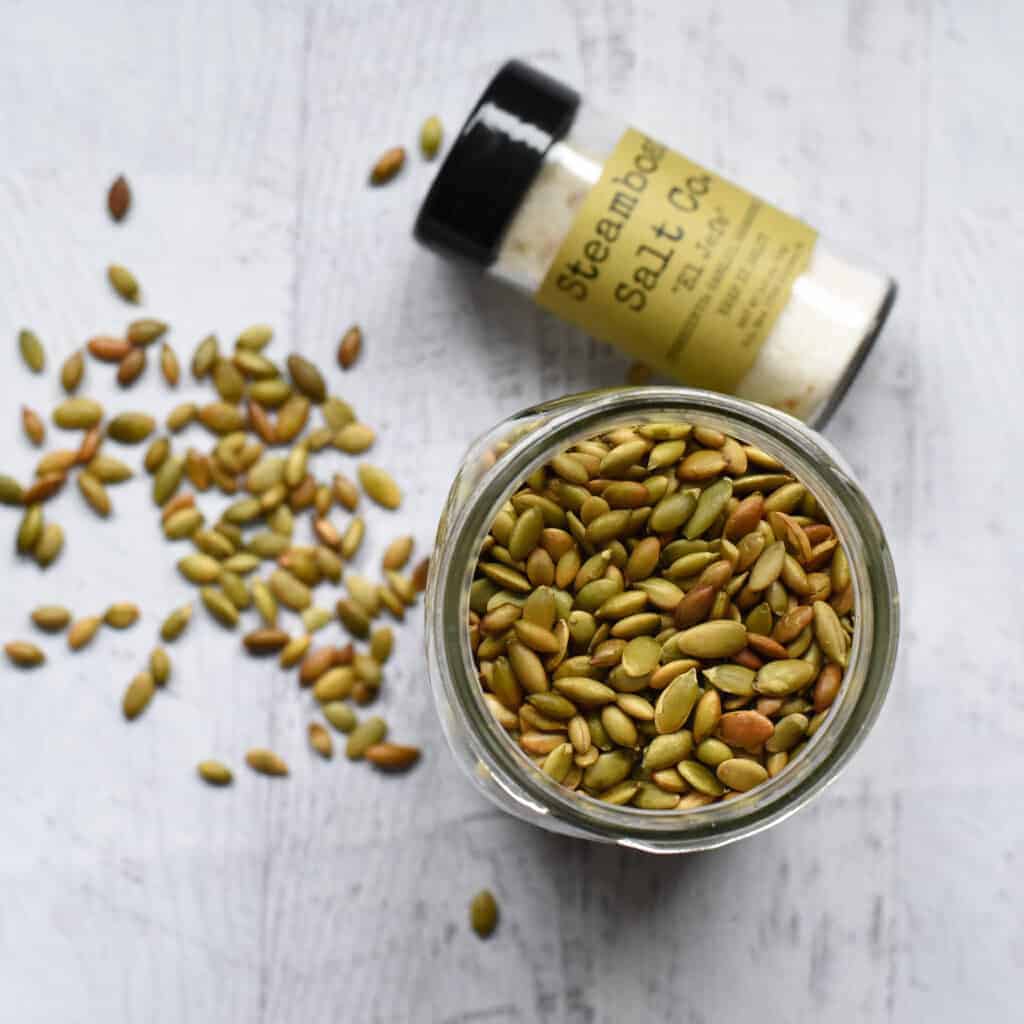 What's in My Kitchen to Make This Vegan Breakfast Burrito Recipe Easier?
This post includes affiliate links. When I find a great product or service, I like to share it with my readers. Sometimes I use affiliate links so I can earn commission for my recommendations. Thank you for your support!
I often get asked what gadgets and tools I have in my kitchen that help me pull all of my recipes together. I included a list below along with a description about why I like them so much. If you have any questions about them, please feel free to reach out to me in the comments!
This wooden spoon & scraper is great for getting your sweet potato and kidney bean vegan breakfast burrito filler evenly cooked. I like to use a deep-sided skillet (see below) when making this dish and it has square edges at the bottom. This spoon & scraper helps me get to them.
I only bought one of these a few months ago, but wow! I'm so much happier not peeling garlic cloves with my fingernails. I'm pretty sure I'll collectively get at least a day of my life back because of this device.
I've read a dozen posts about why you shouldn't use a garlic press. One of them actually suggested that they take up valuable kitchen space. I mean, I guess if you have a tiny kitchen you might have to make those choices. They're smaller than a can opener. I love mine. I hate, hate, hate mincing garlic.
No, that's not the brand. It's just the idea! But,I own this set of Global™ knives and They're some of my most prized possessions in the kitchen. This set is universally well-rated for the at-home chef and will get you a good, solid set of knives without totally breaking the bank.
I love having a skillet with some depth to it. I use it regularly when making a dish like this where there is some liquid that I need to cook off. A cast iron skillet would work as well, but mine is a little too small for this recipe. This is a non-stick pan, but to ease my mind about using it (and recommending it), I did a little research. In general, you don't want to overheat a non-stick pan. Be really thoughtful when you're preheating it on the stove before adding oil. If your oil is smoking, that's a sign that your pan is getting to hot. And, you should use soft utensils so as not to scratch the surface. Like that handy-dandy wooden scraper I suggested above?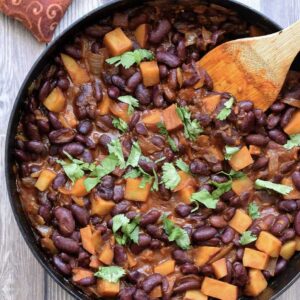 Sweet Potato and Kidney Bean Vegan Breakfast Bowls
Easy, healthy vegan breakfast burritos make Sunday brunch look a little different around my house. This Mexican-inspired vegan breakfast burrito features sweet potatoes and kidney beans simmered in tomatoes, cumin and chili powder tucked in a tortilla wrap with fresh spinach, avocado, chopped tomatoes and toasted pumpkin seeds. What more could you want for a healthy, easy vegan breakfast recipe?
Ingredients
For the Sweet Potato & Black Bean Filling
2

tbsp

olive oil

1/2

yellow onion

chopped

2

cloves

garlic

peeled and crushed

2

tbsp

tomato paste

1

tbsp

cumin

1

tbsp

chipotle chili powder

salt and pepper

to taste

1

sweet potato

scrubbed and cubed into bite-sized pieces (I did not peel mine)

1

28 oz can

kidney beans

rinsed and drained

2

cups

fresh water

fresh cilantro

washed and torn as garnishment
For Building Your Breakfast Burrito
4-6

tortillas

8-10

grape tomatoes

diced

1

avocado

sliced

2-3

handfuls

baby spinach

1/4

cup

toasted pumpkin seeds

see blog post for recipe

salsa

hot sauce
Instructions
Preheat a large, deep-sided skillet. When hot, add the olive oil. When shimmering, add the onions and reduce the heat to medium-low. Allow the onions to cook until the are soft and lightly browned. About 8-10 minutes.

Add the garlic and cook until fragrant. About 1-2 minutes.

Add the cumin, chili powder and tomato paste. Increase heat to medium and sauté until fragrant and the tomato paste has turned a dark red.

Add the diced sweet potatoes and kidney beans. Stir to coat.

Add the water and allow to simmer, covered, until the potatoes are soft and able to be pierced with a fork. Season to taste with salt and pepper.

Continue to simmer, uncovered, until any additional water has cooked off.

Serve immediately as a burrito with any of the optional ingredients and/or use as the base for vegan nachos, a vegan burrito bowl or vegan quesadillas.
About Herbivore's Kitchen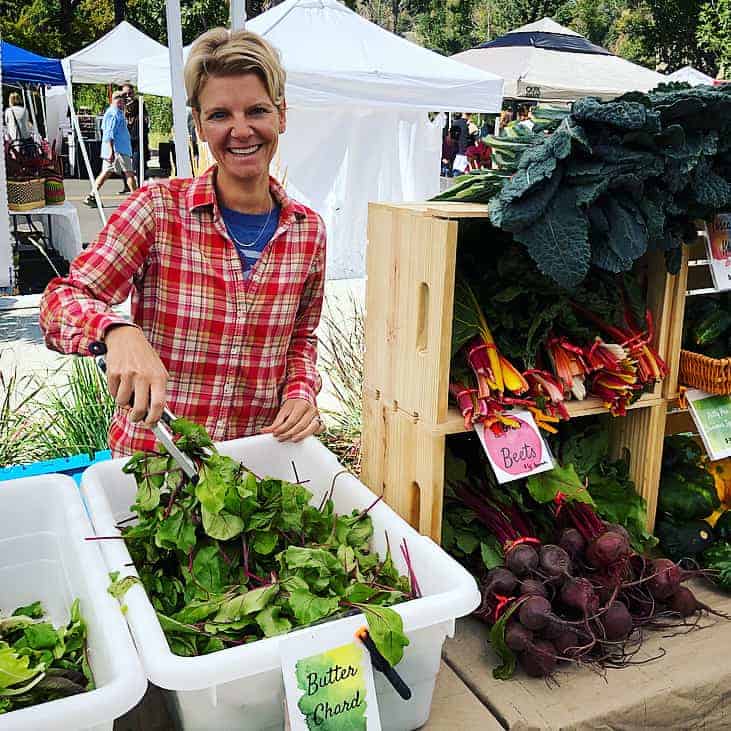 Herbivore's Kitchen is a blog run by me, a plant-based home chef and aspiring food photographer. I switched my and my family's diet to a plant-based diet after learning about the health benefits of going vegan. Making this change has prompted a variety of food and holistic-lifestyle related questions that I explore through this blog. I talk about how to pick and prepare the most nutritious foods, to how to reduce waste at home, to how to live a more sustainable lifestyle while on the road.
---
Sources:
(1)https://www.simplyrecipes.com/recipes/how_to_store_parsley_cilantro_and_other_fresh_herbs/