Jump to Recipe
Jamaican Jerk Jackfruit: The Best of Vegan Jamaican Food Served with Fresh Mango Salsa
This Jamaican Jerk Jackfruit with Jamaican Rice & Beans and Mango Salsa is one of my favorite vegan dinner ideas! This post includes a jerk seasoning recipe as well as a Jamaican jerk sauce for extra spice. I combined the Jamaican jerk jackfruit with Jamaican rice and beans and a homemade mango salsa to give a punch of citrusy and sweet to all that spice.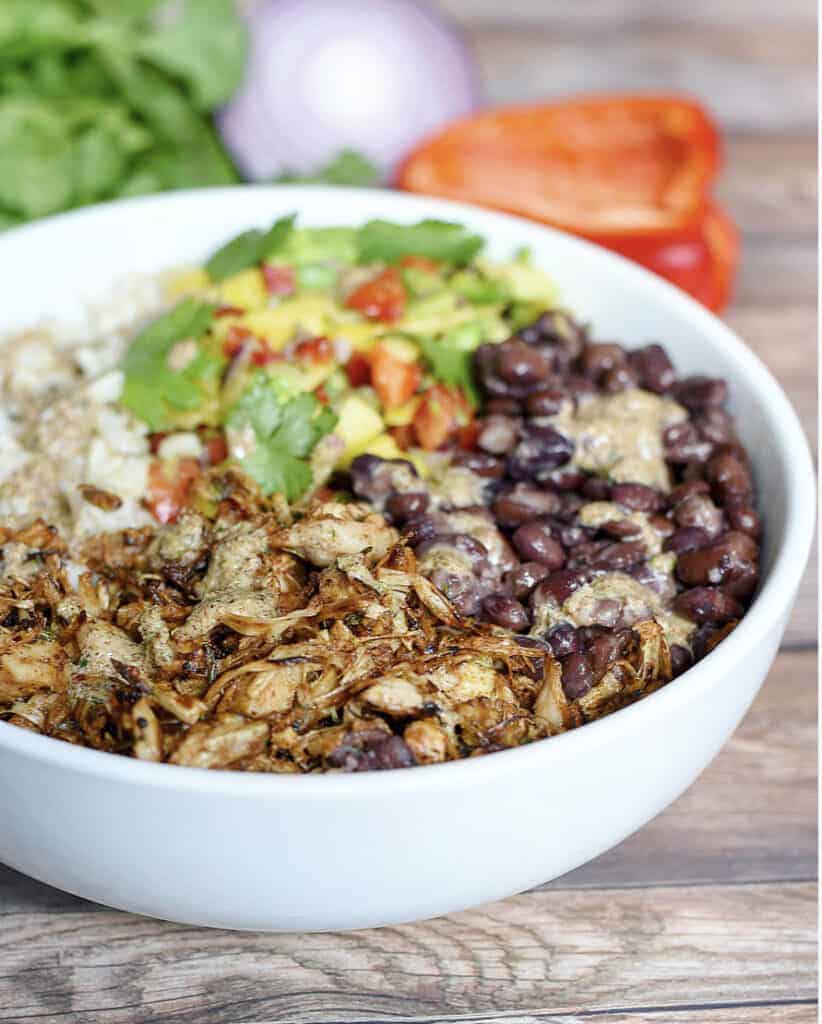 Vacation with a Side of Jamaican Jerk Rice and Beans
I traveled to Jamaica about a year ago and, if you know me, you know that I have a terrible memory. That is, for everything but food. My husband will recount an adventure that we had on a trip and I'll not remember any of it until he reminds me where we ate that day. Then, it all comes together for me. Food, and the tastes, smells, textures and experiences that come with it, is evidently how my brain logs information.
My memory of Jamaican food is intertwined with my memories of a family excursion filled with waterfalls, rope swings and cliff jumping. It was a great day of adventure, after which we sat in the hot, humid summer air in the backyard of a "jerk" hut and ate Jamaican jerk for the first time. Rice and beans for me; chicken for the omnivores. Then we sang Bob Marley tunes in the bus all the way home. Touristy, I know. But, I still remember my son's face after his first cliff jump (him=joy; me=horror) and my daughter's as we tubed down a river that was all-too-raging for a 6-year-old. And, man, I remember that Jamaican jerk.
What is Jamaican Jerk?
Jerk generally refers to the way that a meat (until now!) is seasoned and cooked in Jamaica. Jerk seasoning is a combination of herbs and spices blended together and typically rubbed on chicken. The meat is then grilled and after it's cooked, it's served with hot Scotch Bonnet Pepper sauce and a side of rice and peas. Scotch Bonnet Peppers are similar to habanero peppers. That's the traditional presentation. Clearly, I've taken liberties with it, but I thought you might appreciate the backstory.
If you haven't tried Jamaican jerk, you're in for something really spectacular! I want to prepare you, but I've been sitting at my keyboard for a while now and I can't come up with a succinct description of what Jamaican jerk tastes like. It's smoky. And it's sweet. And, it's really spicy. Like all kinds of spicy: hot like habanero, pungent like ginger, peppery like black peppercorns and aromatic like allspice.
What is Allspice?
I'm guessing if some of you haven't had Jamaican jerk before, then not everyone here is familiar with allspice.
Allspice is not, in fact, a blend of all spices. It did get its name, however, for tasting like a lot of spices. This is probably why describing Jamaican jerk is hard. There's just a lot going on. Allspice, the star ingredient, is the unripe, dried berries of the Pimento tree, an evergreen tree that grows in Jamaica. The whole, dried berry can be used in cooking or it can be ground into powder form. (1) The wood of the Pimento tree is used in the grilling process when making Jamaican jerk.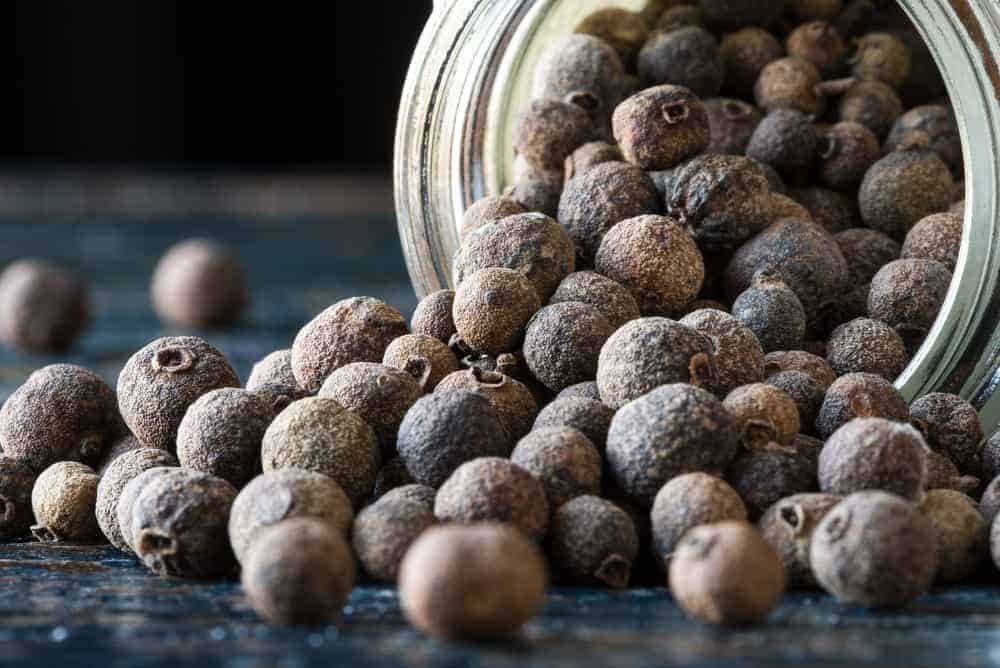 Allspice is often described as closely resembling the combination of nutmeg, cinnamon, cloves and black peppercorns. (In fact, some spice companies label this combination as allspice, so be sure to read the label before you purchase.) It's used in both sweet and savory dishes, most often in Caribbean and Central American cuisine.
The Tale of Jamaican Jerk Jackfruit (and a fortunate culinary faux pas)
In Jamaica, Jamaican jerk is most often served as chicken. To accommodate me that day since I don't eat chicken, my hosts served me rice and beans with a spicy, unnamed sauce on the side. It came in one of those clear plastic squeeze bottles. I doused my rice and beans in it. And then everyone at the table took the same sauce and doused their chicken in it. And that's what became Jamaican jerk for me.
Now that I'm finally tackling this recipe, I've learned something. First, that the chicken served was marinated and/or rubbed in the jerk seasoning before it was grilled. And that, actually, the "sauce" that I was putting on my rice and beans was very likely the jerk marinade used to season the chicken before grilling it. My hosts just gave it to me because the rice and beans were unseasoned. I just didn't know any of this because I didn't eat the chicken, but jerk chicken isn't commonly served with an additional sauce on the side.
Jamaican Jerk: Having it My Way
The thing is – now I've got the "sauce" thing stuck in my head and I can't get it out. I just want it on my rice and beans. And everywhere really. I like it that much. So, I made one up based on a collection of jerk seasoning recipes and a series of taste tests. It's less potent than a marinade or a rub and it captures what I remember in my mind. Of note, I used jalapenos and not habaneros. A personal heat-tolerance choice. Frankly, I love it. Some people can't help but lick the spoon when making cookies. I couldn't stop with my jerk sauce.
I also figured that there was no point in standing on ceremony if I was going to swap out the chicken for jackfruit. Once I made that leap, I decided that the whites and browns of beans, rice and jackfruit needed a pop of color and all that fiery spice needs some citrusy sweet to go with it. So, I decided to top the whole bit with a fresh mango-avocado salsa. I am my own person, as they say.
How to Make this Vegan Jamaican Jerk Recipe
This recipe is actually really easy to make. The hardest part is "pulling" the jackfruit and measuring out the spices for the Jamaican jerk seasoning. If you're looking to save some time, you can take a few shortcuts, like skipping the "sauce" (see below) and buying a prepared mango salsa.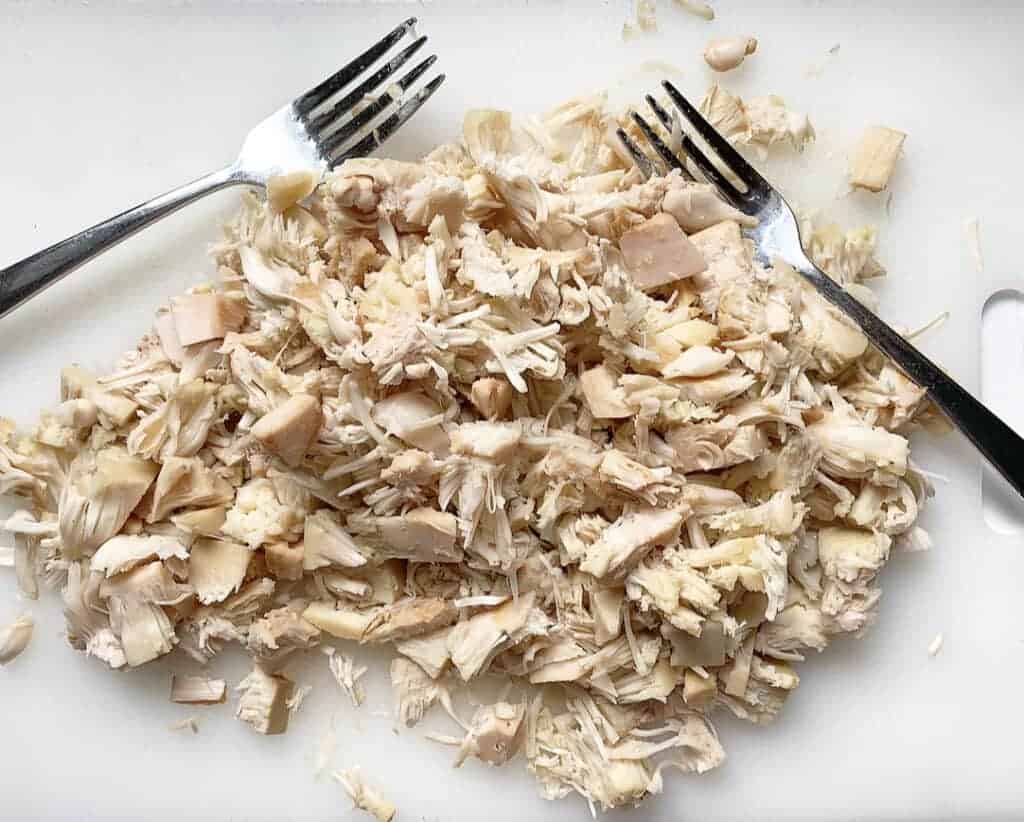 A Jamaican Jerk Marinade and a Rub? Only If You Want
As I mention above, in my quest to get back to what I remembered, I made both a Jamaican jerk marinade (now dubbed my Jamaican jerk sauce) and a rub. I used the rub to season the jackfruit as I cooked it. Then, I used the "sauce" to top my rice and beans. I loved the way that this came together, but it is my own twist on a Jamaican jerk dish. If you're willing to try it, most of the spices used in the rub are the same spices used in the marinade, so it wasn't a lot of extra work. If you want though, you can skip the marinade and just season the jackfruit with the rub.
How to Cook Jackfruit
Jackfruit is a large, watermelon-sized fruit native to Southeast Asia. It's a vegan darling these days because of the way the fruit pulls apart and cooks to resemble pulled chicken or pulled pork. On its own, jackfruit is pretty mild in flavor, so I like to use strong seasonings when I cook with it. I've done BBQ jackfruit pulled pork sandwiches, jackfruit street tacos and (my personal favorite) Moo Shu Jackfruit Pizza.
If you'd like to read up on jackfruit, I did a deep dive on it in the Moo Shu Pizza recipe. If you're thinking, "Seriously?! I just read a novel about a Jamaican vacation I didn't go on, followed by a dissertation on allspice!" let me leave you with a single tip: in this, and other recipes where I use jackfruit, I liked to cook it so that it had a crispiness to it. I buy jackfruit canned in a brine solution and when the jackfruit does into the pan wet, it ends up steaming instead of pan-frying. To get around this, I drain and rinse the jackfruit and then I roll it in a clean tea towel and squeeze out the excess moisture. Starting with a drier jackfruit enables the crispy finish.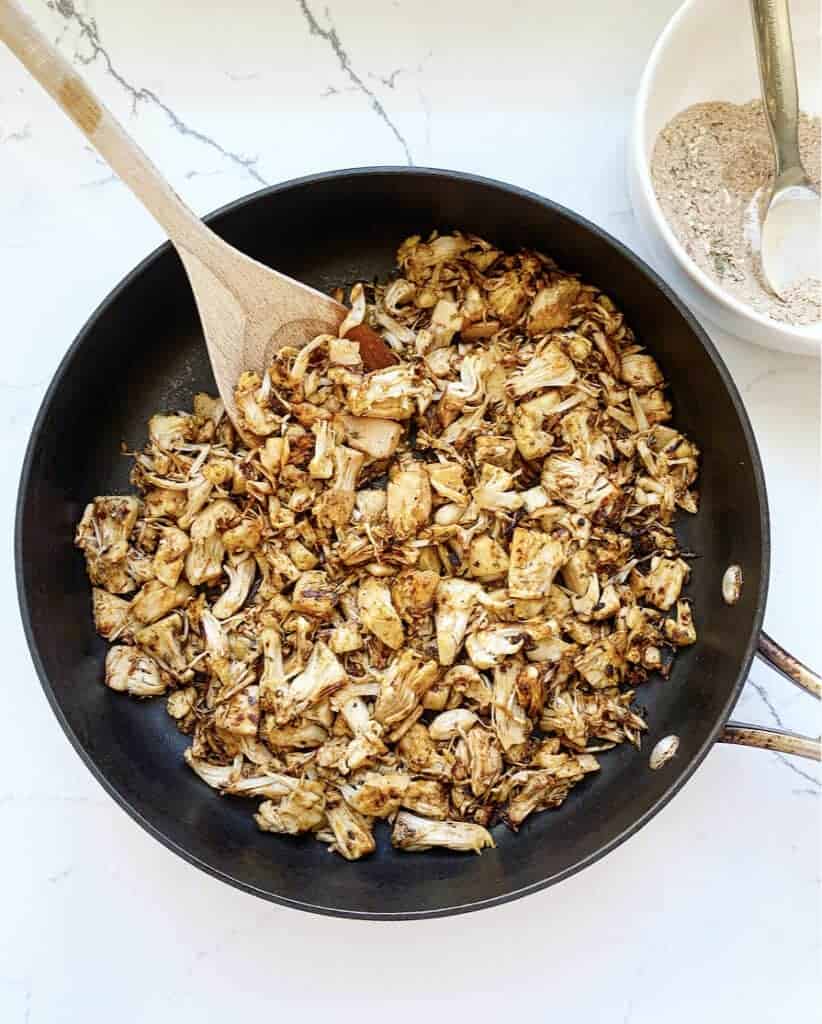 Jamaican Jerk Jackfruit: The Accompanying Sides
For this recipe, I did a no-frills rice and beans using brown rice and black beans. Jackfruit doesn't have a ton of nutritional value, so the rice and beans were a good way to pack in some nutrition.
Likewise, the fresh mango salsa is an addition of my own creation, but with the mango, avocado, red onion, jalapeno and red pepper, it's like a little side salad nutrition-wise. I also didn't use any additional oil in it, choosing to season it only with fresh lime juice and salt & pepper.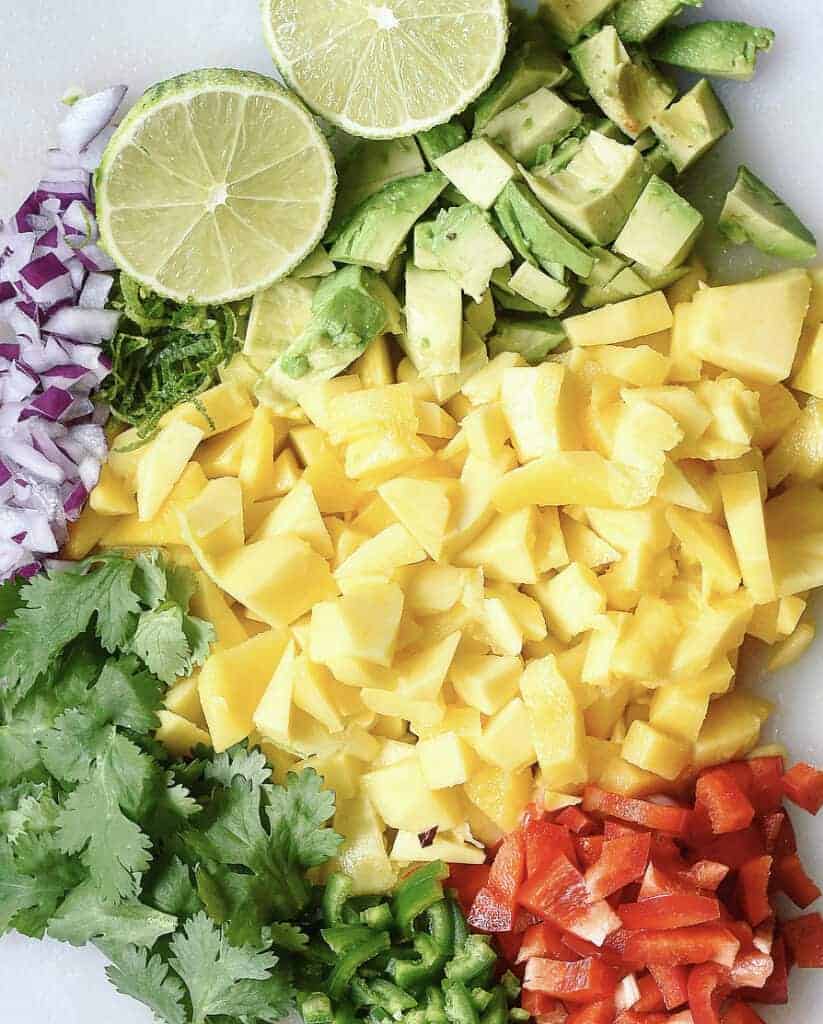 What's in My Kitchen to Make This Vegan Jamaican Jerk Jackfruit Recipe Easier?
This post includes affiliate links. When I find a great product or service, I like to share it with my readers. Sometimes I use affiliate links so I can earn commission for my recommendations. Thank you for your support!
I often get asked what gadgets and tools I have in my kitchen that help me pull all of my recipes together. I included a list below along with a description about why I like them so much. If you have any questions about them, please feel free to reach out to me in the comments!
I only bought one of these a few months ago, but wow! I'm so much happier not peeling garlic cloves with my fingernails. I'm pretty sure I'll collectively get at least a day of my life back because of this device.
No, that's not the brand. It's just the idea! But,I own this set of Global™ knives and They're some of my most prized possessions in the kitchen. This set is universally well-rated for the at-home chef and will get you a good, solid set of knives without totally breaking the bank.
Designed to serve pasta, I use these shallow dinner bowls all. the. time. I love that I can present all of the ingredients of a dish without over-serving in terms of portion. With a standard bowl, food ends up being stacked and that's no way to display all of your hard work. These bowls are an inexpensive, practical way to present everything from pasta bowls, curry bowls and burrito bowls.
There are a few tools in my kitchen that get used all the time and this mini 4-cup food processor is one of them. It's perfect for sauces that don't require me to bring out the big guns. Clean up is easy and it doesn't take up much space.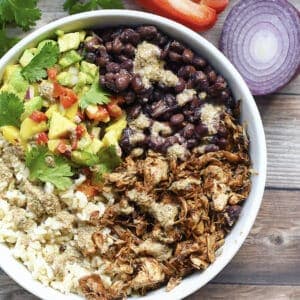 Jamaican Jerk Jackfruit with Fresh Mango Salsa
This vegan Jamaican Jerk Jackfruit with Jamaican Rice & Beans and Mango Salsa is one of my favorite vegan dinner ideas! This post includes a jerk seasoning recipe as well as a Jamaican jerk sauce for extra spice. I combined the Jamaican jerk jackfruit with Jamaican rice and beans and a homemade mango salsa to give a punch of citrusy and sweet to all that spice.
Ingredients
Fresh Mango Salsa
1

ripe mango

peeled and cubed

1/2

red pepper

deseeded and diced

1

avocado

diced

1/4

red onion

diced

1/2

jalapeno

deseeded and minced

1

lime

zest and juice

1

bunch

fresh cilantro

washed and torn

salt & pepper

to taste
Jamaican Jerk Jackfruit
2

14 oz cans

young jackfruit in brine

drained, rinsed and squeezed dry in a clean kitchen towel (see blog post for details)

2

tbsp

high-temp oil

I used grapeseed oil

Jamaican jerk seasoning

recipe below
Jamaican Jerk Seasoning
1

tbsp

garlic powder

1

tbsp

onion powder

1

tbsp

allspice

1

tbsp

turbinado or brown sugar

2

tsp

dried thyme

2

tsp

dried parsley

1

tsp

nutmeg

1

tsp

cayenne pepper

1

tsp

smoked paprika

1

tsp

salt

1/2

tsp

cinnamon

1/2

tsp

fresh ground black pepper
Jamaican Rice and Beans
1

cup

dry brown rice

prepared in accordance with package directions

1

28 oz can

black beans

drained and rinsed
Jamaican Jerk Sauce (Optional)
4

cloves

garlic

peeled

1/2

medium

yellow onion

roughly chopped

juice of 1 lime

1

tbsp

allspice

1

inch

fresh ginger

peeled and roughly chopped

1

tsp

dried thyme

1/2

jalapeno pepper

deseeded and roughly chopped

1

tbsp

apple cider vinegar

1

tbsp

turbinado or brown sugar

1/4

cup

grapeseed oil

1

tsp

salt

1/4

tsp

cinnamon

1/2

tsp

nutmeg

1/4

tsp

cayenne pepper
Instructions
Make your mango salsa by combining all of the salsa ingredients into a medium-sized bowl and allowing to sit.

Drain and rinse the jackfruit. On a cutting board, using two forks, gently pull apart the jackfruit. It should have the appearance of pulled pork or chicken as you work. Wrap the pulled jackfruit into a clean towel and allow to dry, pressing out any additional moisture. Allow to rest.

While the jackfruit is drying, in a small bowl, mix together all of the ingredients for the Jamaican jackfruit rub seasoning.

Toss the jackfruit in the rub. You may have more rub than you need, so add it slowly. You want the rub to adhere to the jackfruit with no excess dry rub.

In a cast-iron skillet, heat up your high-temp oil. When shimmering, add the jackfruit and season with salt and pepper. Allow to cook on medium heat for 10-15 minutes, stirring occasionally, until the jackfruit becomes just a little bit crispy.

While the jackfruit is cooking, make your rice in accordance with the package directions. Rinse and drain the beans and then allow them to simmer in a small sauce pan with a 1/2 cup water. Simmer until the water has cooked off and the beans are soft.

(Optional) Make the jerk sauce by combining all of the jerk sauce ingredients in a small food processor and blending until smooth.

Serve in bowls with rice, beans and the Jamaican jerk jackfruit, topped with fresh mango salsa, (optional) Jamaican jerk sauce and fresh cilantro.
About Herbivore's Kitchen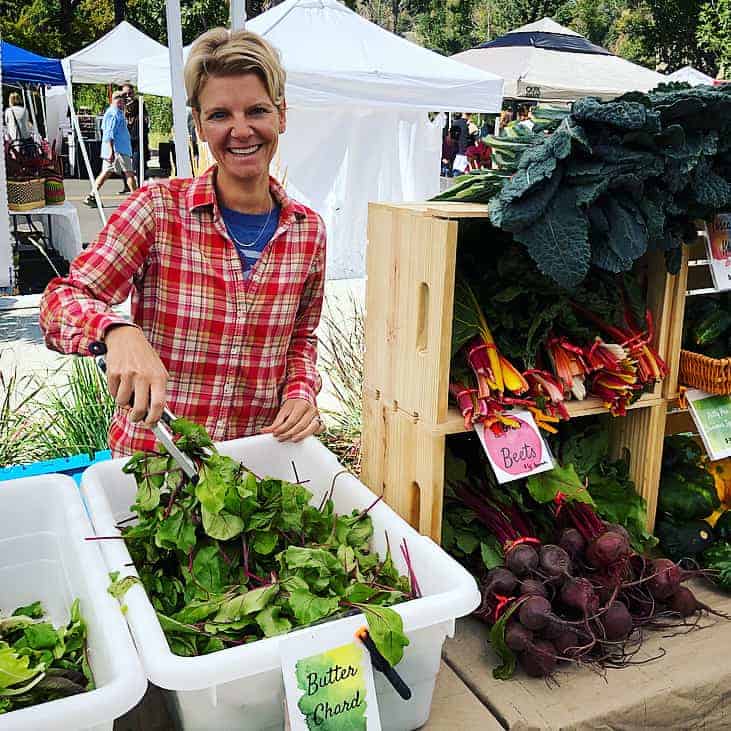 Herbivore's Kitchen is a blog run by me, a plant-based home chef and aspiring food photographer. I switched my and my family's diet to a plant-based diet after learning about the health benefits of going vegan. Making this change has prompted a variety of food and holistic-lifestyle related questions that I explore through this blog. I talk about how to pick and prepare the most nutritious foods, to how to reduce waste at home, to how to live a more sustainable lifestyle while on the road.
---
Sources
(1) https://www.thespruceeats.com/substitute-for-allspice-4151270