Jump to Recipe
---
This Vegan Thai Green Curry Noodle Bowl post includes affiliate links. When I find a great product or service, I like to share it with my readers. Sometimes I use affiliate links so I can earn commission for my recommendations. Thank you for your support!
---
Vegan Thai Green Curry Noodle Bowl
No vegan recipe collection is complete without a Thai green curry recipe! Green curry is spicy, rich and flavorful and makes for an easy vegan dinner option. I like to pack my green curry bowls with healthy vegetables and flavorful rice varieties to add in extra color and nutrition. For this green curry bowl, I added sautéed shiitake mushrooms, asparagus, broccolini and cumin-spiced sweet potatoes. I also swapped out the rice for ramen rice noodles to mix up my vegan dinner options.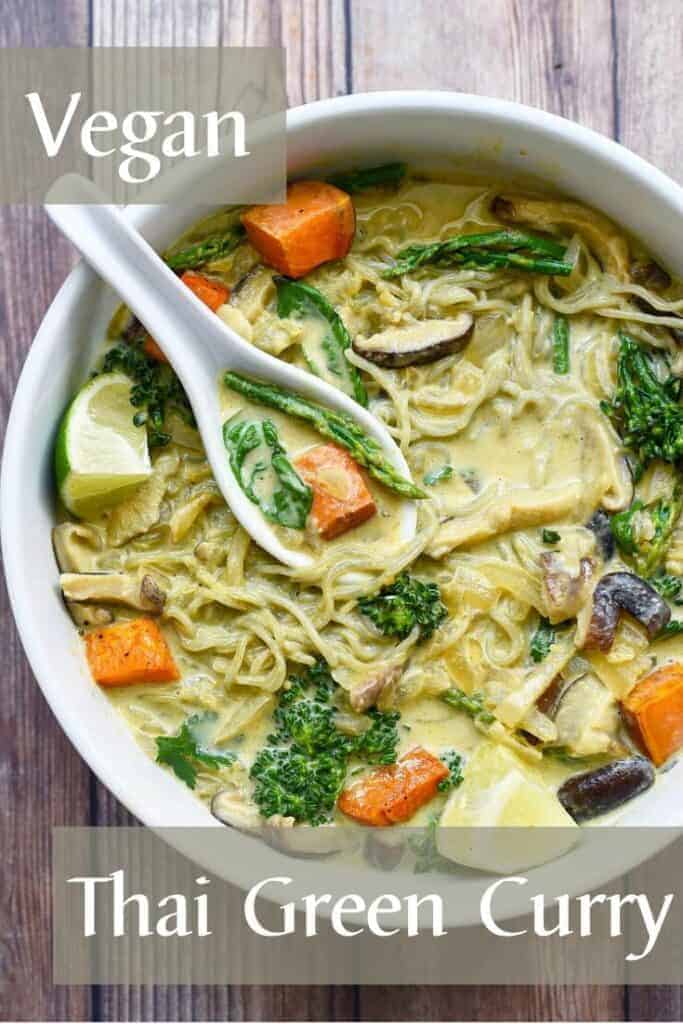 What is Green Curry?
Green curry is a Thai curry that blends together the flavors of garlic, galangal (Thai ginger), lemongrass, kafir lime, cilantro and cumin into a thick paste. (1) The paste is then used to make a broth, usually with coconut milk, which is then served over rice with meat and vegetables.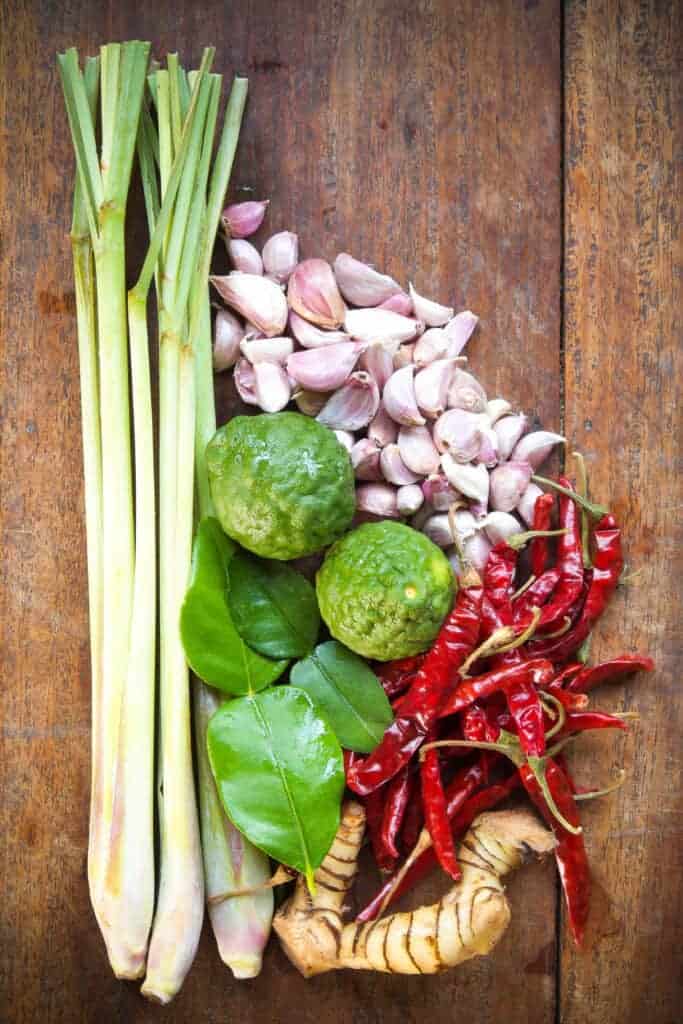 As with many Thai dishes, curry is often made using shrimp paste or fish sauce. This is why I like to make it at home. As many of you know, though, home for me is a small town in the Colorado mountains. This is another way of saying "good luck finding galangal or kafir lime leaves." Only on a good day can I find lemongrass stalks.
The good news though, is that you can buy commercially made vegan green curry paste in the store. Thai Kitchen®, a popular brand found in most grocery stores is the one I used in this recipe. However, if you're feeling ambitious, The Minimalist Baker has a vegan green curry paste recipe that uses simple ingredients you can find anywhere.
What Goes into a Green Curry?
Green curry is typically served over rice and features a meat with a variety of vegetables. These vegetables might include beans, bell peppers, eggplant, bamboo shoots and Thai sweet basil. Of the Thai curries, it tends to be the least spicy, but there is a sizeable margin for error here.
I decided to mix things up a bit and included shiitake mushrooms, asparagus, broccolini and cumin-roasted sweet potato in mine. I decided to omit tofu in this vegan recipe and make it veggie heavy instead. In my opinion, the cumin-roasted sweet potato stole the show. The sweetness of the roasted potatoes worked to temper the spice of the curry. I made up for the fish sauce by adding tamari, which added a savory balance to the richness of the coconut milk. Finally, I added some fresh lime juice and torn basil leaves at the end and the whole bowl just sang.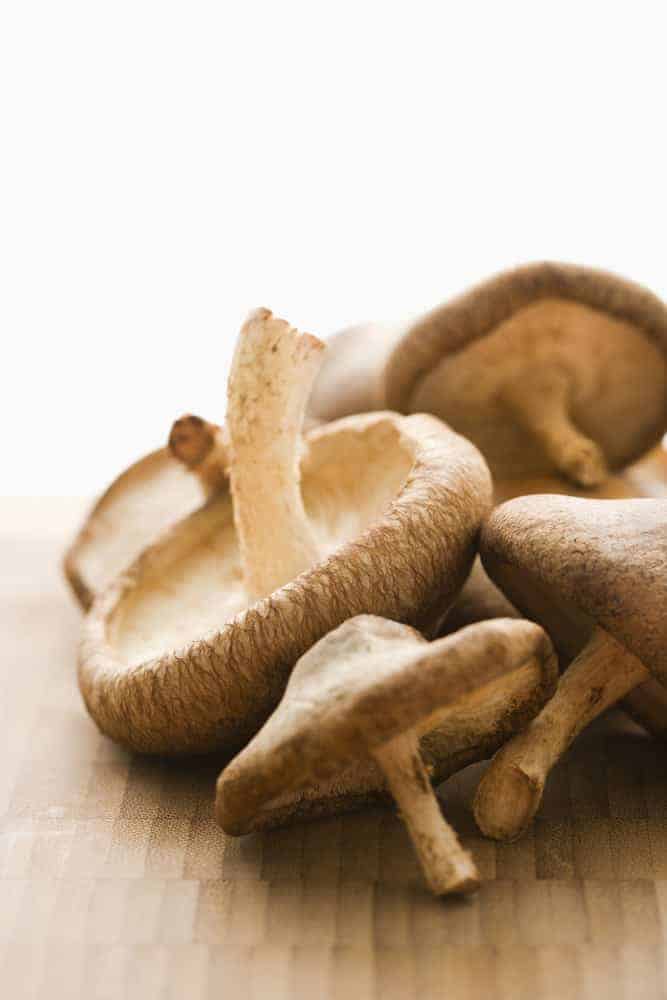 Putting this Curry Bowl Together at the End
You may notice as you read through the recipe that I cook a lot of elements of the bowl separately. For example, while the sweet potatoes are roasting, I blanch the asparagus and broccolini separately. I also cook the mushrooms and the ramen noodles apart from the other elements. While it's a bit more work, I do recommend doing it this way. You just end up with the best possible taste out of each of the ingredients. As an added bonus, it makes for a much better presentation!
What's in My Kitchen to Make This Vegan Recipe Easier?
Want to know what tools and resources I keep on hand to make my vegan cooking even easier? Here's a short list of what helped me create this blog post and recipe. For the complete list, visit my Shop where you can find the kitchen gadgets I like as well as a list of books that I recommend.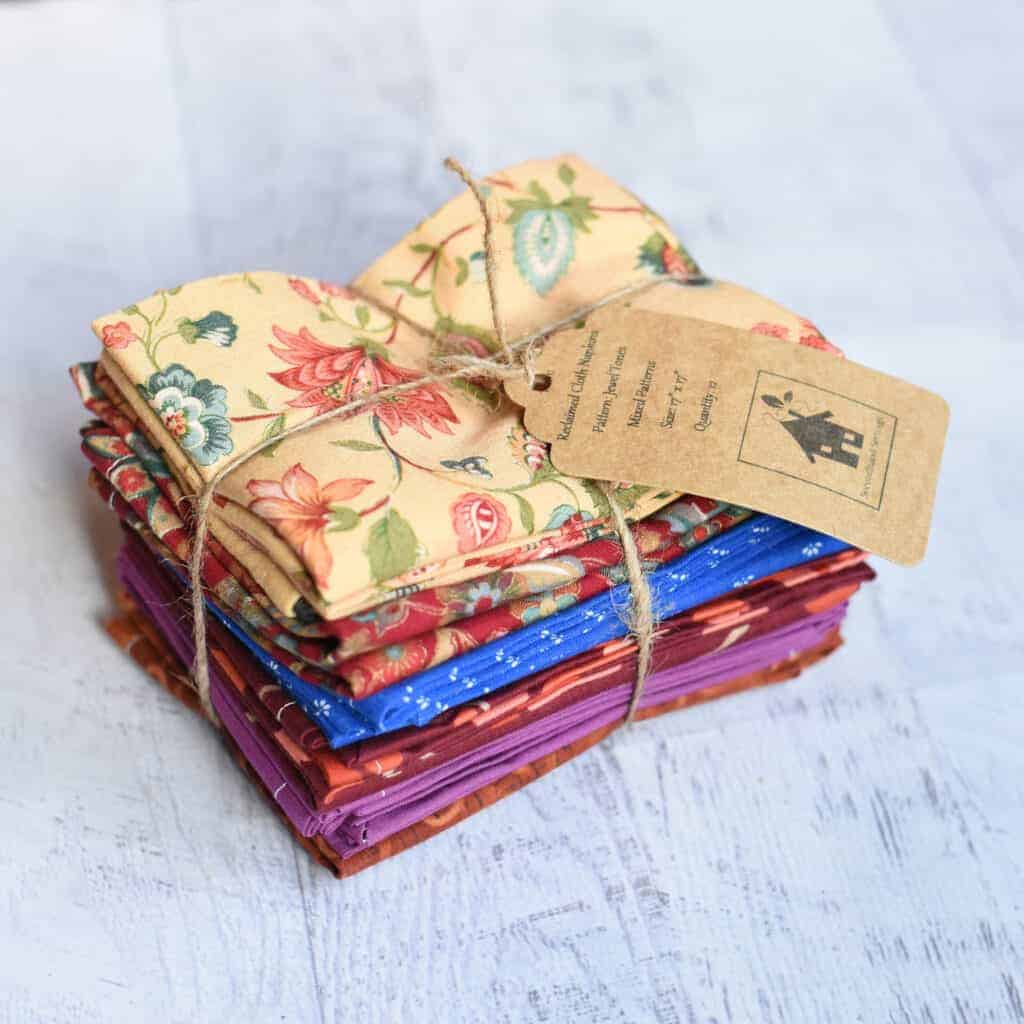 Before I get into cooking, I want to share these napkins. I found these on Etsy over a year ago and, not only do I LOVE them, I buy them as gifts for nearly everyone I know.
These napkins are upcycled and reusable, allowing you to not only avoid throwing away paper products but to also reuse fabrics – a small but significant way to cut back on water, dyes and chemicals used in the production process.
These napkins are so darling (they come in lots of different patterns and colors) and they're machine washable. I just throw them in with whatever load of laundry I'm doing. They don't wrinkle easily, so a quick fold will have them back on your table doing what they were meant to do… be reused!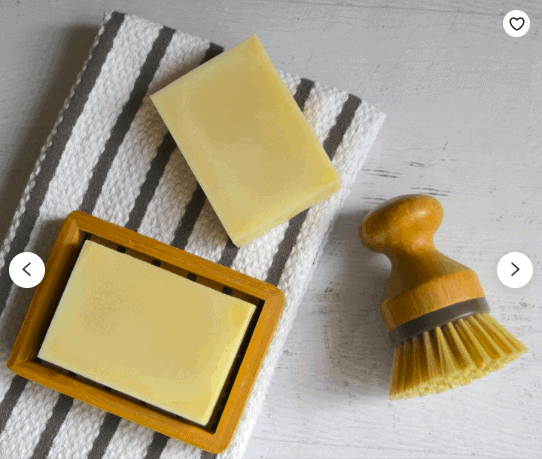 Okay, okay. I will be the first to admit that I don't use this for ever dish. It's a little tricky when you're trying to wash something with a narrow neck – like a milk jug. But I do use it for regular dishes, pots and pans. And it does a bang-up job every time.
By switching to this solid soap with an environmentally friendly brush, you're reducing yet another plastic bottle in your kitchen. I picked this up on Etsy too, which means I'm supporting a small business.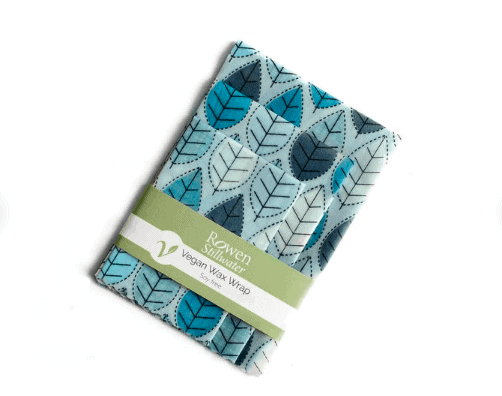 These vegan wax food wraps are an awesome alternative to plastic "cling" wrap, which as we know only clings half the time anyway. Handmade by Etsy seller Rowen Stillwater, these sustainability heroes are bestsellers with a five-star rating!
These wax wraps come in three sizes: small (8″ x 8″), medium (10″x10″) and large (12″x12″) and a variety of super cute patterns.
Best of all, when these vegan food wraps reach the end of their life – typically 6 months to a year, they can be composted. That's winning in the kitchen!
No, that's not the brand. It's just the idea! But,I own this set of Global™ knives and They're some of my most prized possessions in the kitchen. This set is universally well-rated for the at-home chef and will get you a good, solid set of knives without totally breaking the bank.
Noodle bowls are a favorite of mine and I love serving them when I have guests. I recommend picking up a set so that you have plenty of room for all of that delicious broth! I'm currently digging this decorative set!
Like the noodle bowls, eating miso ramen is more fun with the right spoon. These Asian soup spoons are perfect for this ramen noodle bowl!
These things are amazing! When I discovered parchment paper, I thought I had things figured out. No more greasing pans or ruining them with charred food. Then I discovered these silicon baking pads. They're oven-safe up to 450 degrees, dishwasher safe (top rack only) and easy to clean and REUSE!
Down a broiler pan? These aluminum baking sheets come highly recommended by the cooks who know best – Epicurious, Cooks Illustrated and Food & Wine. I bought mine because I needed a good, sturdy baking sheet to use under the broiler. One that wouldn't warp – and this one lives up to the task.
Aluminum is a good conductor of heat, so these baking sheets cook evenly. They're also light in color, so they discourage over-browning.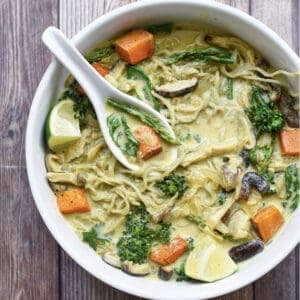 Vegan Thai Green Curry Noodle Bowl
No vegan recipe collection is complete without a Thai green curry recipe! Green curry is rich and flavorful and makes for an easy vegan dinner option. Pack your vegan green curry full of healthy vegetables and tofu. Make it a full vegan dinner by serving it with ramen noodles or over rice.
Ingredients
2

sweet potatoes

washed and diced into small, bite-sized pieces

1

tbsp

high-heat, neutral tasting oil

I like avocado oil or grapeseed oil

1

tbsp

cumin

2

bunches

broccolini

washed and trimmed

1

bunch

asparagus

washed, with the woody ends trimmed and then cut into bite-sized pieces

1

tbsp

coconut oil

1/2

yello onion

diced

1

tbsp

freshly grated ginger

1

clove

garlic

minced

8-10

shiitake mushrooms

rinsed, destemmed and sliced

4

oz jar

green curry paste

I like Thai Kitchen's

2

14 oz cans

full fat, unsweetened, coconut milk

1

cup

water or vegetable broth

2

tbsp

tamari

1

pkg

ramen noodles

I like Lotus Food's Jade Green Ramen Rice Noodles (R); there should be four "bricks" of noodles in each package, one for each diner

8-10

basil leaves

Thai basil is best if you can find it; washed and torn

1

handful

cilantro leaves

washed and torn

1-2

fresh limes

washed and quartered

sriracha sauce

optional for additional spice
Instructions
Preheat your oven to 450 degrees.

Wash and dry the sweet potatoes, then dice them into bite-sized pieces. Toss in 1 T. of a neutral-tasting, high-heat oil (I like to use avocado or grapeseed oil) and sprinkle with 1 T. of cumin powder.

Spread the sweet potatoes out on a baking sheet and roast for 25-35 minutes. Check the potatoes every 5-10 minutes and toss them around 15 minutes for even roasting.

Prepare your broccolini, asparagus, mushrooms, onion, garlic, ginger, basil and cilantro.

While the sweet potatoes are roasting, add 1-2 inches of water to a large, deep skillet or stockpot and bring to a boil. Once boiling, add the broccolini and asparagus. Blanch until they are bright green (about 2-4 minutes) and immediately transfer to a bath of ice water. Allow to cool for 1-2 minutes and then remove.

In a large stockpot, heat the coconut oil until shimmering. Add the mushrooms and sauté on high heat until they turn a golden brown then remove from the pot and set aside.

Add the onions into the stockpot and reduce the heat to medium. Sauté the onions until soft and translucent. About 5 minutes. Add the garlic and ginger and continue to sauté for 2-3 more minutes, being careful not to burn. Stir in the green curry paste until cook until fragrant about 1-2 minutes. Reduce the heat to medium-low and add the coconut milk, water and tamari. Simmer until warmed through.

Cook the rice noodles al dente in a separate pot. Drain and rinse with cold water. You want to avoid overcooking the rice noodles.

Add the cooked noodles to your serving bowls and add ~1 cup of the curry broth. Add the roasted sweet potatoes, broccolini, mushrooms and asparagus. Top with torn basil and cilantro and season with fresh limes and sriracha sauce.
About Herbivore's Kitchen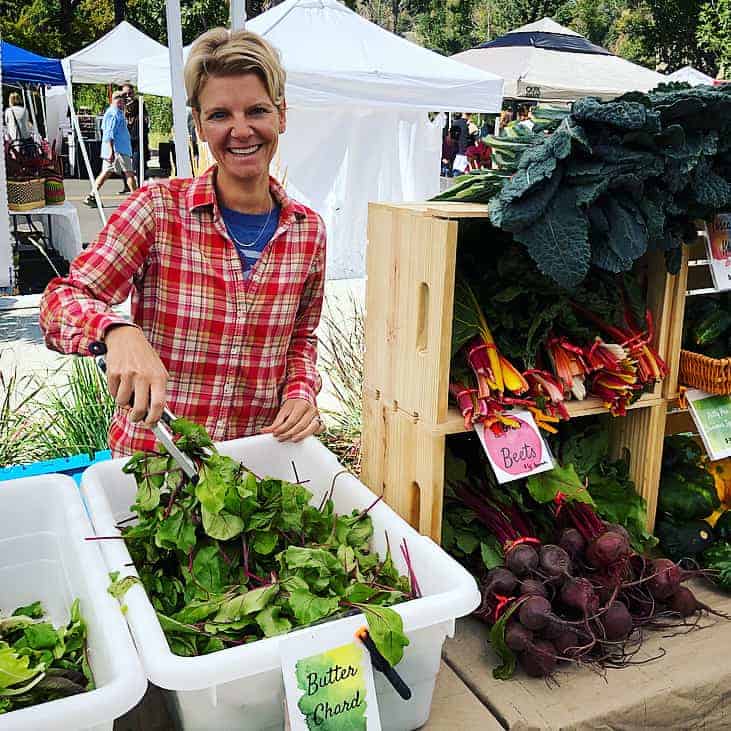 Herbivore's Kitchen is a blog run by me, a plant-based home chef and aspiring food photographer. I switched my and my family's diet to a plant-based diet at home after learning about the health benefits of going vegan. Making this change has prompted a variety of food and holistic-lifestyle related questions that I explore through this blog. I talk about how to pick and prepare the most nutritious foods, to how to reduce waste at home, to how to live a more sustainable lifestyle while on the road.