Jump to Recipe
Vegan Bibimbap Bowl with Korean Tofu Crumble & Pickled Vegetables
If you haven't yet tried bibimbap, you're missing out! Bibimbap, a Korean dish, means mixed ingredients ("bibim") and rice ("bap"). Here, I've created a vegan version using a Korean-marinated tofu crumble and crispy rice. These ingredients are complemented by quick-pickled vegetables, roasted sweet potatoes and sautéed shiitake mushrooms. This vegan dish offers up a ton of flavor. It's sweet, salty, spicy and a bit tangy with a ton of umami! It's also a great dish to serve a crowd, offering up great aesthetics and the flexibility for each diner to build their own bowl.
In this blog post, I'll spend some time talking about bibimbap. There's a lot of interesting background to this dish. Understanding its place in Korean culture will make you a dazzling dinner party host. True to form, I'll also include a little bit of food science. Specifically, I'll be talking about tricks to getting the perfect sautéed shiitakes. This handy food science tip will help you in your preparation of a variety of vegan dinners!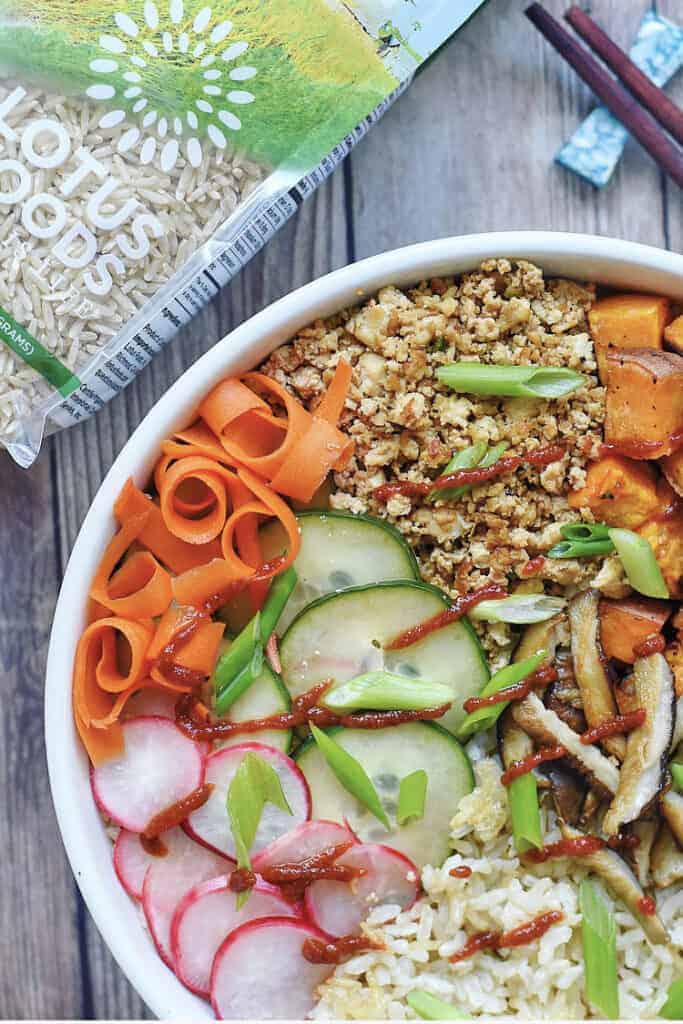 What Is Bibimbap?
As I mentioned above, bibimbap is a mixture of rice and other ingredients. While it's usually served in a decorative manner, with colorful ingredients grouped together, bibimbap should be well-mixed before it is eaten.
What Goes into a Bibimbap Bowl?
In Korea, bibimbap is often a way of using up leftovers, so the ingredients from one bibimbap bowl to another vary. Traditionally, however, bibimbap starts with a base of white rice. The rice is then topped with a variety of colorful ingredients. These ingredients may include shiitake mushrooms, julienned carrots, sliced cucumbers, daikon radish, spinach and bean sprouts. It sometimes includes a meat – usually a minced or thinly-sliced beef, as well as a soft-cooked egg (vegetarians like to break the yolk, giving the dish a creamy consistency when mixed). Kimchi is sometimes added as an additional topping. IMHO though, its star ingredient is Gochujang sauce.
Gochujang sauce is a fermented pepper paste, usually made with red chile pepper, glutinous rice, fermented soybeans and salt. (1) It's a little sweet, a little tangy, a little salty and a little spicy. Once you try it, you may forget you ever knew sriracha's name. Seriously though, it's a great condiment to have around and you shouldn't feel limited to saving it for bibimbap night. It's spicy, but deeply rich in umami – a product of the fermented soybeans. Gochujang sauce has grown in popularity in U.S. grocery stores in recent years, so it's very likely you will be able to find it in the ethic food section of your local store. If not, you can order it online here.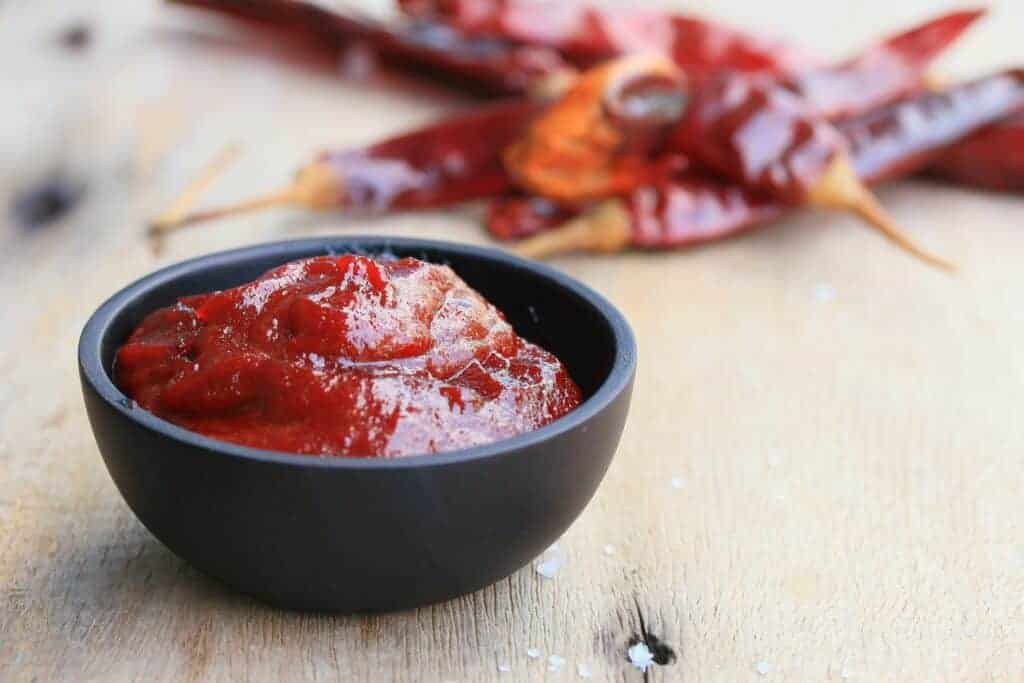 How Bibimbap is Served…with Philosophy on the Side
Earlier on in this blog post, I noted that bibimbap is a great dish to serve to a crowd because of its pleasing aesthetics. I didn't fully appreciate the significance of this until I started researching for this recipe. Bibimbap, the colors and flavors of the dish, as well as the way it is served – first with the ingredients neatly arranged by color and then with all of the ingredients well combined – is symbolic in Korean culture. The colors and flavors represent the regions of Korea, as well as parts of the body. (2)
Traditionally, bibimbap would include ingredients representing the five cardinal colors, which in turn represented the five material elements and the five essential flavors. (3) The equal distribution of the colors and flavors became a physical representation of the Taoist concept of yin yang, or the idea that all things must be in balance. When applied to a dish like bibimbap, this concept works to provide the body with a balance of healthy ingredients and pleasing flavors – all of which are intermingled just before eating. (4)
Interesting, right? I mean, who doesn't love a little philosophical discussion at the dinner table?
How Herbivore's Kitchen Does Bibimbap
I loved the concept of the colorful and symbolic organization of bibimbap toppings, so I wanted my ingredients to represent that as much as possible. Alas, getting the colors exactly right wasn't possible without the egg (yellow), but I think it all turned out alright. This dish is still wonderfully colorful and flavorful…and vegan.
Bibimbap Starts with the Rice
I started by swapping out traditional white rice for Lotus Food's® Organic Brown Jasmine Rice. No, it isn't white (one of the cardinal colors), but it is wonderfully flavorful. Plus, this brand remains one of my favorites. In addition to providing high-quality products, the company has a mission of promoting organic agriculture & rice biodiversity, as well as supporting local rice producers. All things that are near and dear to my heart, because how our food is produced is as important as how it's prepared. You'll find their ingredients in many of my recipes, like my Vegan Thai Green Curry Noodle Bowl and my Thai Red Curry Ramen Noodle Bowl – two of my most popular vegan recipes.
Bibimbap is sometimes served in a hot stone bowl, called a dolsat. You may see this dish on menus listed as "Dolsat Bibimbap." The dolsat continues to cook the rice after the bibimbap is served, creating a bottom layer of crispy rice. Bliss in a bowl. Unfortunately, I don't own a dolsat. This is because I have to draw the line with kitchen equipment somewhere and Not. At. All. because you should skip the crispy rice step. I included a method for achieving this wonder of an element in the recipe below.
If you're in the market for a dolsat though, I found one for you to try.
Forget the Beef…Add a Crispy Korean Tofu Crumble Instead
As I mentioned above, bibimbap often includes a modest amount of meat. This is usually thinly sliced beef, but several recipes I came across included a beef crumble. I liked that idea, thinking that the smaller bits would mix very well into the bowl. I adapted this concept into a crispy tofu crumble, but then took it up 10 notches by cooking the tofu in a Korean marinade. The marinade is sweet, spicy and salty…all the makings of a good bibimbap. I made it using a combination of tamari, maple syrup, sesame oil, garlic and ginger. Totally worth the extra time to prepare.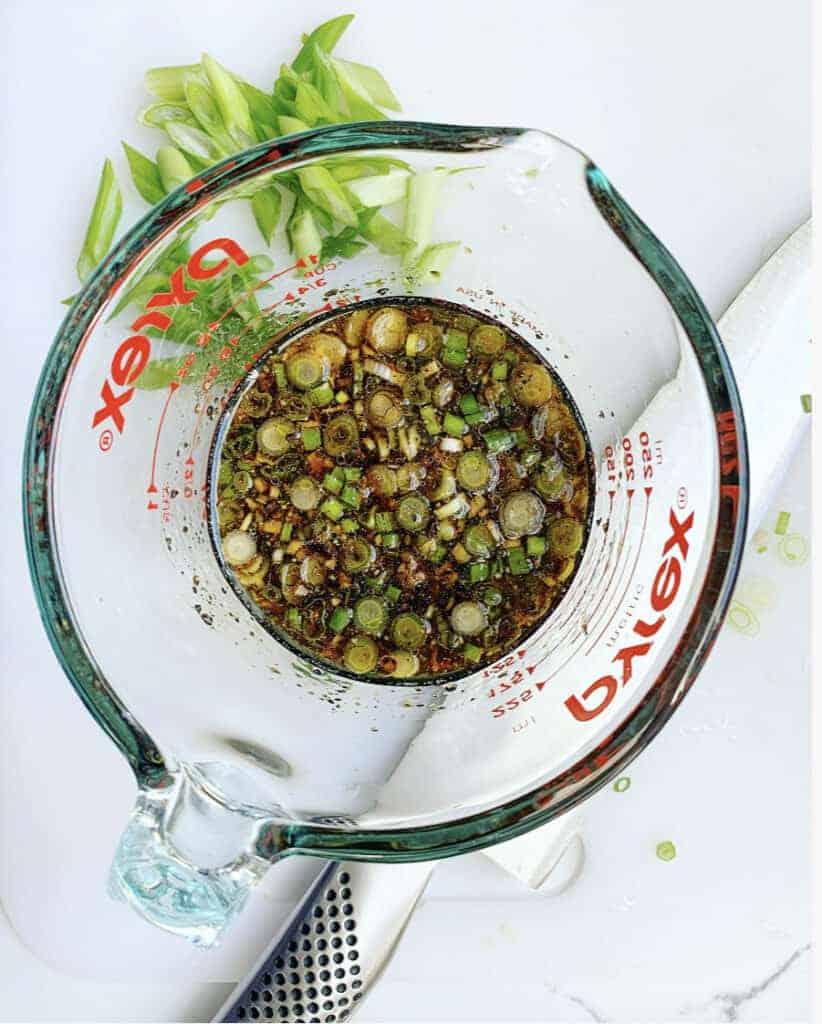 If you've explored my blog before, you know I am very keen of pressing and drying my tofu before cooking it. This makes all the difference in this recipe, so don't skip this step. Drying the tofu allows it to become crispy in the pan instead of steaming and becoming mushy.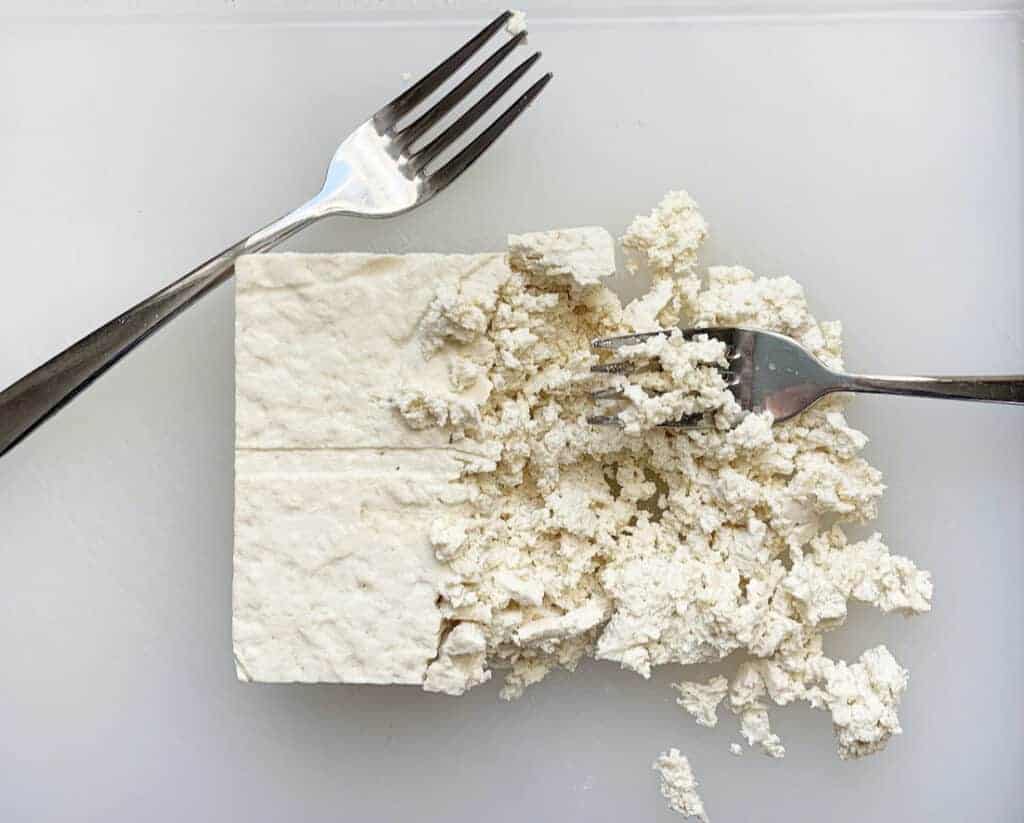 Pickled Vegetables
As I'm sure you're aware, kimchi is a very popular ingredient in Korean cuisine. Kimchi, a combination of fermented vegetables, is often included as a topping for bibimbap. The fermentation process takes time, however, so I opted to add some quick-pickled vegetables to my bibimbap. I can't say enough about how much this adds to the dish. Remember the five flavor sensations? This one is sour.
Roasted Sweet Potatoes
I thought this would be another good way to get the sweet flavor sensation into this vegan recipe. This was a simple ingredient to make. I just cubed two sweet potatoes (yams, actually, because I was after that bright orange color), tossed them in a neutral-tasting oil and seasoned them heavily with salt and black pepper. I roasted them in the oven while I prepared the rest of the dish.
And Finally … Some Food Science: How to Sauté Mushrooms
It wouldn't be an Herbivore's Kitchen blog post if I didn't throw a little food science into the mix. If you're still reading, this is a bonus for you because it will change the way you sauté mushrooms forever.
I love sautéed shiitake mushrooms, but I hate that they're little oil sponges. If you've ever sautéed mushrooms, you know what I am talking about. You add oil, then you add more oil. Then you end up with little oil-bloated mushrooms.
To get around this, I did some research and what I learned surprised me. According to Cooks Illustrated, you should simmer your raw mushrooms in a little bit of water before sautéing them. Why? Because the cooking process causes the air pockets inside of the mushrooms to collapse. Limiting that space inside of the mushroom before adding oil to the pan reduces the amount of oil that the mushrooms are able to absorb. This, in turn, allows the mushrooms to brown in the pan.
I decided to give this method a try. I washed and dried my shiitakes and divided them into two batches. For the first one, I simmered the mushrooms in a small amount of water for about 3 minutes. Then drained the pan and wiped it dry. I added the simmered mushrooms back to the pan with a 1 T. of toasted sesame oil and sautéed them (without a lot of stirring to encouraging browning) for about 3 minutes. The result was crispy, browned shiitakes with a fair amount of oil remaining in the pan. You can see the results below: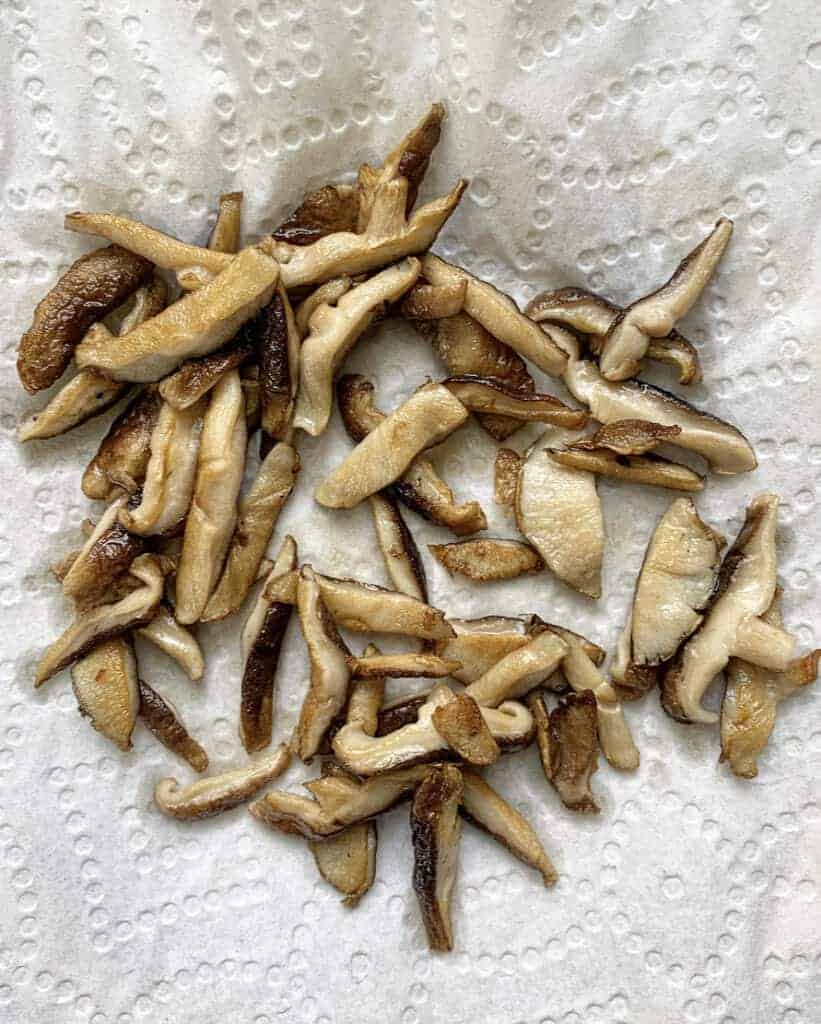 For the second group, I added the raw shiitakes directly to a hot skillet with 1 T. of sesame oil. Within a minute, the mushrooms had absorbed the oil and the pan was dry. I added a second tablespoons of oil and finished sautéing the mushrooms. Again, for about 3 minutes. Like the first group, the mushrooms did brown, but were more bloated than the first batch. The oil was mostly absorbed into the mushrooms, which mean that it took 100% more oil to cook the shiitakes the second way than the first. Here's what the second batch looked like: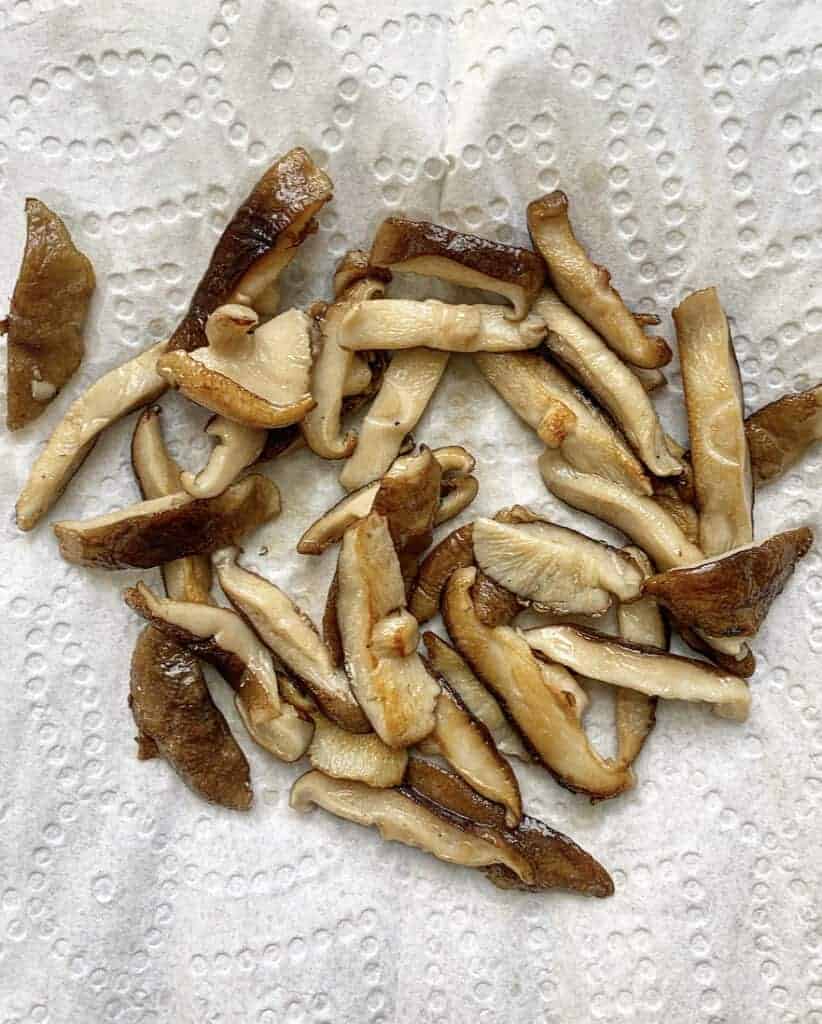 The verdict? If you'd like nicely browned sautéed shiitakes, try simmering them first. It's a short extra step and it will keep your mushrooms from becoming little oil bombs.
Putting Your Vegan Bibimbap Bowl Together
This recipe is a bit time-consuming, but I did try to organize it to be as efficient as possible. For example, I start with the pickled vegetables so that there is time for the pickling process to take place while the rest of the dish is coming together. The roasted sweet potatoes come next and so on and so forth. I recommend preparing the dish in this way. You can, of course, prep this dish beforehand. The pickled vegetables can be done in advance, as can the sweet potatoes, the tofu crumble and the mushrooms. You can also pre-cook the rice, but I would recommend doing the step to make it crispy just before serving.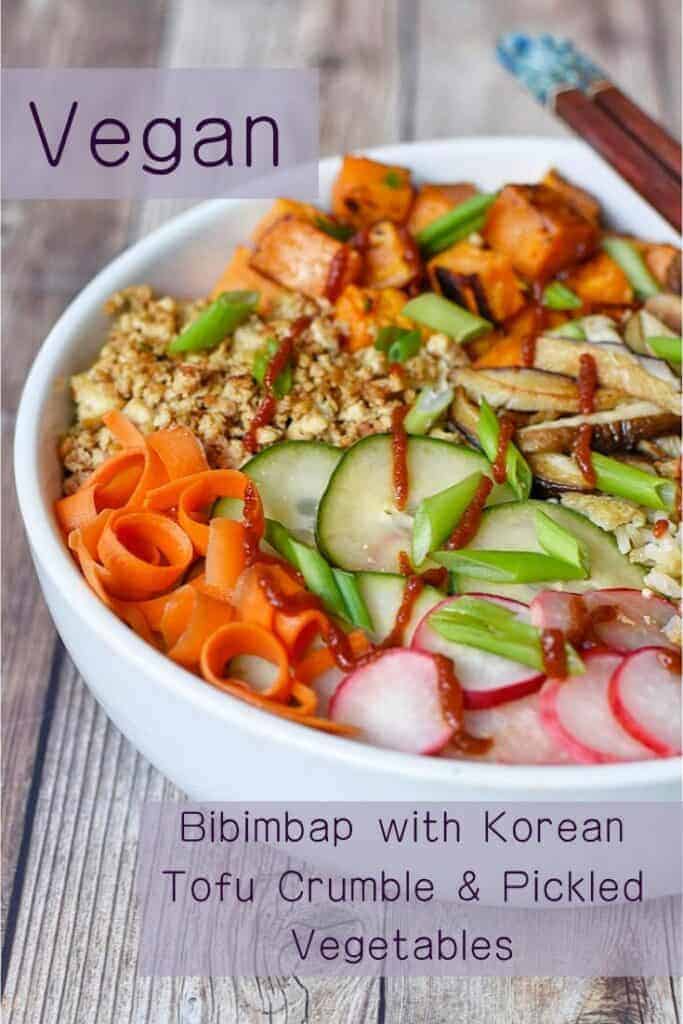 Enjoy!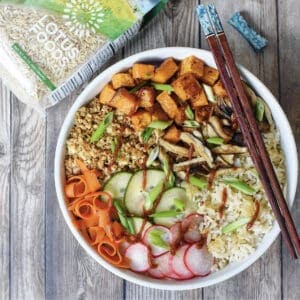 Vegan Bibimbap Bowl with Korean Tofu Crumble & Pickled Vegetables
If you haven't yet tried bibimbap, you're missing out! Bibimbap, a Korean dish, means mixed ingredients ("bibim") and rice ("bap"). Here, I've created a vegan version using a Korean-marinated tofu crumble and crispy rice. These ingredients are complemented by quick-pickled vegetables, roasted sweet potatoes and sautéed shiitake mushrooms. This vegan dish offers up a ton of flavor. It's sweet, salty, spicy and a bit tangy with a ton of umami! It's also a great dish to serve a crowd, offering up great aesthetics and the flexibility for each diner to build their own bowl.
Ingredients
Quick-Pickled Vegetables
1

cucumber

washed and thinly sliced

1

carrot

washed and peeled into thin slivers

2-3

red radishes

washed and sliced thin

1

cup

apple cider vinegar

1

tbsp

maple syrup

1

tsp

salt
Sweet Potatoes
2

large

sweet potatoes

washed and sliced

1

tbsp

high temp oil

I use grapeseed oil

salt & pepper

generously season
Korean Tofu Crumbles
2

10 oz pkgs

extra firm tofu

drained and crumbled

1/2

cup

tamari

1

tbsp

maple syrup

1

tsp

toasted sesame oil

2

cloves

garlic

crushed

1

scant tbsp

fresh ginger

minced

1/2

tsp

black pepper

1

tsp

Gochujang sauce

2

scallions

washed and sliced very thin (green & white parts)
Sauteed Shiitake Mushrooms
1/3

cup

water

~20

shiitake mushrooms

washed, destemmed and sliced

1

tbsp

toasted sesame oil
Crispy Rice
2

cups

Lotus Foods' Organic Brown Jasmine Rice

prepared in accordance with package directions

1

tbsp

toasted sesame oil
Instructions
Quick-Pickled Vegetables
In a small saucepan, combine the apple cider vinegar, maple syrup and salt. Bring to a boil until salt has dissolved. Pour over the cucumbers, carrots and radishes and allow to rest for 1 hour.
Roasted Sweet Potatoes
Preheat your oven to 450. Spread the sweet potatoes on a baking sheet. Toss with 1 T. oil (I like grapeseed oil) and season with salt and pepper. Roast for 20-25 minutes until crispy, stirring halfway through.
Korean Tofu Crumbles
Drain the tofu and shred into crumbles using two forks. Press the shredded tofu in a clean tea towel to reduce moisture.

Prepare the marinade by combining the tamari, maple syrup, sesame oil, garlic, ginger, black pepper and gochujang. Heat a large skillet and toast the tofu for 1-2 minutes.

Heat a large skillet and toast the tofu for 1-2 minutes. Add the marinade and sauté (with limited stirring to encourage crisping for 6-8 minutes).
Sauteed Shiitake Mushrooms
Simmer the sliced mushrooms in a skillet with water until soft.

Remove mushrooms; set aside. Drain and wipe out pan.

Heat the pan, add sesame oil and sauté until crisp. About 3 mins.
Crispy Rice
Heat sesame oil in a skillet. Add rice and pack it into skillet. Allow to crisp for 5-7 minutes. Do not stir.
Bibimbap Bowls
In a large, shallow bowl add rice and top with sweet potatoes, tofu crumble, pickled vegetables and shiitake mushrooms.

Sprinkle with scallion greens and season with gochujang sauce.

Mix thoroughly before eating.
About Herbivore's Kitchen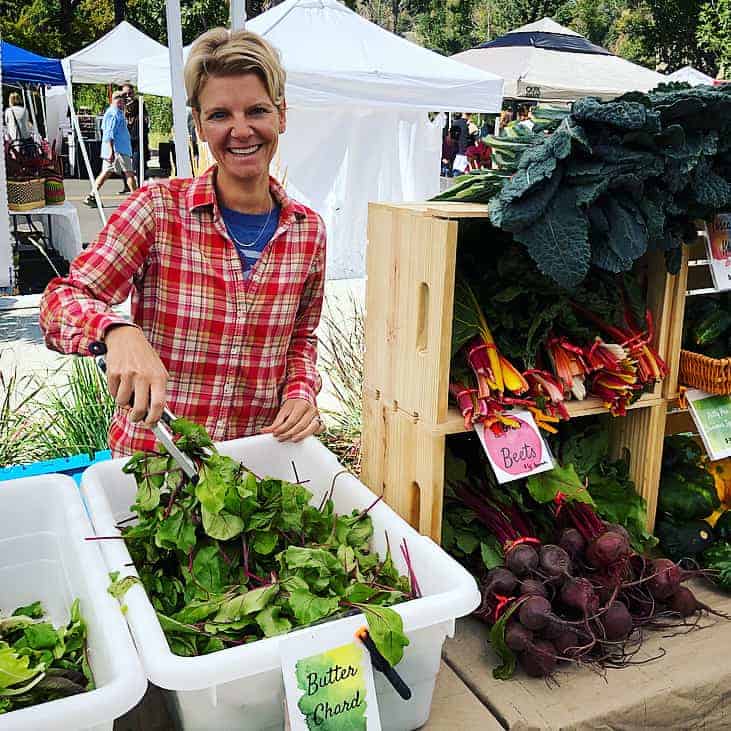 Herbivore's Kitchen is a blog run by me, a plant-based home chef and aspiring food photographer. I switched my and my family's diet to a plant-based diet after learning about the health benefits of going vegan. Making this change has prompted a variety of food and holistic-lifestyle related questions that I explore through this blog. I talk about how to pick and prepare the most nutritious foods, to how to reduce waste at home, to how to live a more sustainable lifestyle while on the road.