Jump to Recipe
---
This Kale & White Bean Ragu: Perfectly Paired with Pappardelle and Cashew Cream Sauce post includes affiliate links. When I find a great product or service, I like to share it with my readers. Sometimes I use affiliate links so I can earn commission for my recommendations. Thank you for your support!
---
Kale & White Bean Ragu: Perfectly Paired with Pappardelle and Cashew Cream Sauce
Looking for the ultimate in vegan comfort food? This pappardelle pasta with an easy kale and white bean ragù recipe will make even the coldest nights warm and cozy. Bring this Italian recipe to your table in a vegan friendly way by adding a healthy cashew cream sauce made with cashews, nutritional yeast and fresh lemon juice.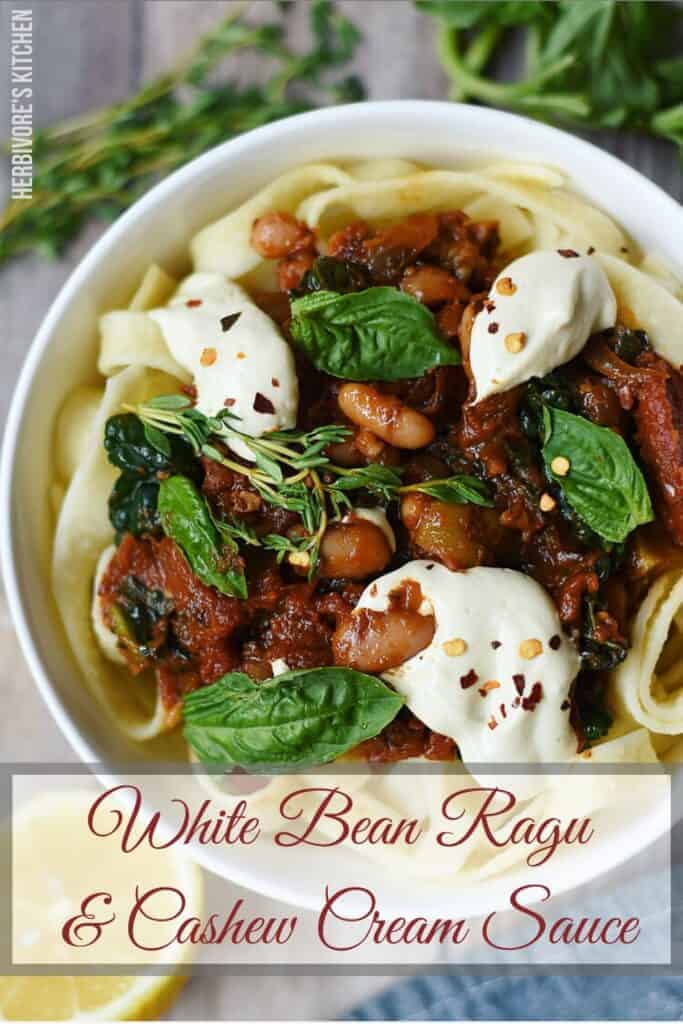 For the Love of Pasta!
There is nothing I love more than pasta. There will be nights when I am winding down in front of the TV with my family and will announce, out of the blue, that I could "really go for a bowl of spaghetti right now." This long-held love for pasta dates way back to my younger years, where I would eat spaghetti with sugary, salty jarred tomato sauce and beg babysitters (because my mother would never let me) to eat a bowl of spaghetti sauce by itself afterwards.
---
---
Since those days, I've learned a lot about commercially produced foods and the ingredients that go into them. Now, when I say "I could really go for a bowl of spaghetti right now" what I mean is, I could really go for a bowl of vegan pappardelle pasta with a homemade kale and white bean ragù.
While that probably sounds ludicrous because opening a jar of spaghetti sauce is far more simple than a homemade recipe, I'm here today to demonstrate that vegan pasta, with a savory sun-dried tomato sauce featuring kale and white beans, accented with a homemade cashew cream sauce, really isn't all that hard to make. Admittedly, you may not be inspired enough to make it for a late-night snack, but you won't need to because you will have made this wholly satisfying vegan meal for dinner already.
White Bean Ragù: Getting Protein into Your Pasta Recipes
This vegan pasta recipe is not only packed with flavor (more on that in a minute), it's also full of good-for-you ingredients. It's star, white beans, are a good source of vegan protein, as well as fiber, folate, manganese, thiamine, magnesium and iron. (*)
What Are the Different Types of White Beans?
This is actually a good question, as the description white beans actually covers several different types of beans which appear in different cuisines.
Navy beans – navy beans are the smallest of the white bean varieties. They are often used in Italian recipes. Navy beans get soft when cooked, lending a creamy texture to soups and sauces.
Great Northern Beans make their appearance most often in French cuisine (think cassoulet). Unlike navy beans, they maintain their shape and texture when cooked.
Cannellini beans are sometimes referred to as white kidney beans. They have a meatier texture than the first two white beans described. Like Great Northern beans, they maintain their shape and texture. Cannellini beans and are used most often in soups and stews.
Baby lima beans are the fourth category of white beans. These are sometimes referred to as "Butter Beans." They got their moniker for their rich, buttery taste. They're often cooked and eaten as a side dish.
If you're interested in learning more about white beans, be sure to check out my Vegucation post: White Beans: The Ultimate Guide for additional details about the different types of white beans, how to cook white beans and some other recipes using white beans.
---

---
White Bean Ragù: What About Those Other Flavorful Vegan Ingredients?
In addition to white beans, this ragù recipe gets much of its flavor from sun-dried tomatoes cooked in a healthy dose of caramelized tomato paste. Before you go looking for caramelized tomato paste, keep reading. This is not a special ingredient. It's a step you take in the cooking process to coax the most flavor out of tomato paste. You'll see how I do it in the recipe directions below.
Don't forget about the kale! I often feel like no vegan recipe is complete without kale in there somewhere. And, for the longest time, I wasn't kale's biggest fan. But, with a little education and some cooking tips, I've learned how to make this superfood tasty too!
A Lesson in Kale
For this recipe, I used lacinato kale. Lacinato kale is identified by its broad, blue-green leaves with a slight curl at the edges. This is the type of kale I use most often when making soups and sauces. Lacinato kale holds its flavor and keeps its shape in the cooking process. Curly kale, like the name implies, is a tightly curled kale leaf that's also readily available in the grocery store. This one goes in my morning smoothies.
Tips for Cooking with Lacinato Kale
Lacinato kale sometimes gets a bad rap for being tough and bitter. In fairness though, most things tough and bitter deserve a bad rap. Combatting these descriptors with right cooking techniques can help bring this superfood into your meals with a lot more flavor (and fewer "kale again?" groans).
Remove the Ribs. Cook and massage as much as you like, but the ribs are going to stay tough. To prepare kale for cooking, you want to cut the edible part of the leaf away from the ribs. To cut the leaf away from the ribs, I lay each leaf flat. Then, I draw the point of my knife blade along the edge of the rib on both sides.
Massage Your Kale. Massaging kale is a way of breaking down its structure (so it's not so hard to eat) as well as reducing some of the bitterness. For salads, recipes often recommend massaging kale in olive oil. This helps quicken the process of breaking down kale's structure and it gives it additional flavor. For this recipe, I massaged the kale on the same cutting board I used to chop the sundried tomatoes, using the oil from those to flavor the kale.
Don't Overcook Your Kale. Overcooking kale can lead to it becoming bitter. To find that happy place – in between bitter before and bitter after — I like to first massage my kale. Then I add it to a soup or stew at the end of the cooking process. In this recipe, the kale has been massaged in the sundried tomato oil and is already tasty on its own.
Kale & White Bean Ragu Requires Herbs and Spice and Everything Nice
Don't be fooled, despite the small quantities in which they are added, herbs and spices pack a big nutritional punch. Take oregano, for example. I bet you didn't know that this herb is known for its antioxidant and antibacterial properties. In fact, oregano has over 40 times (by weight) more antioxidant power than blueberries(*) which has long been hailed as a superfood. A superherb, indeed.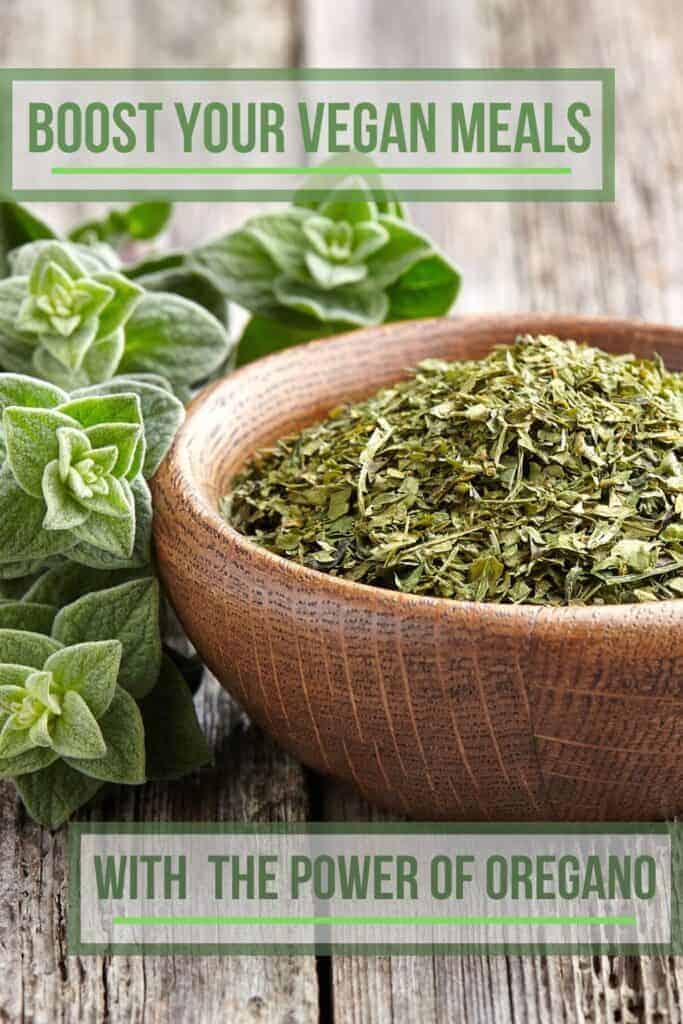 With this information in mind, I try and incorporate herbs and spices into my cooking with intention – both for their flavor and for their health benefits. Spices, like turmeric, go into my smoothies, lentil stews and golden milk dessert drinks. Likewise, I make it a point to include oregano (both fresh and dried) when making salads and sauces, like this White Bean Ragu. For this recipe, I used OregaWild, a spice blend from the U.S.-based company, North American Herb & Spice.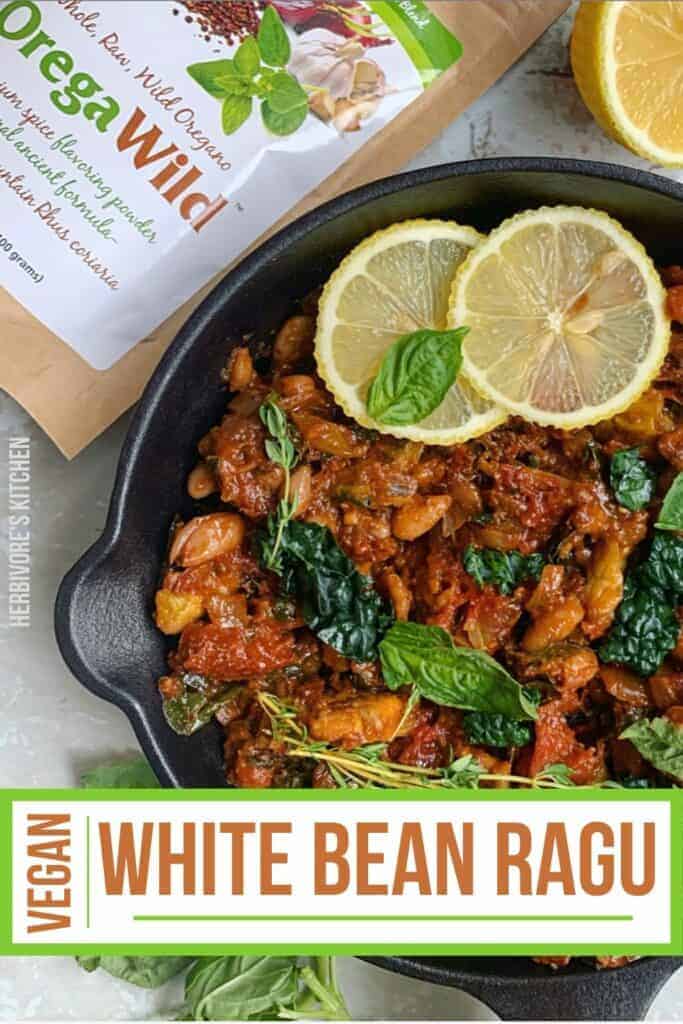 This company caught my eye for its commitment to sourcing wild handpicked herbs to use in its spices. I've been learning a lot lately about the loss of health benefits through the commercialization of growing produce. In an effort to grow more, faster and with less cost, many of our vegetables, fruits, herbs and spices lose some of their potency. Making conscious choices about these ingredients can go a long way in optimizing their health benefits. If you're curious about what I'm learning, I recommend Jo Robinson's Eating on the Wild Side. This book will have you picking out the optimal onion variety in no time flat!
White Bean Ragù: Putting This Recipe Together
Sometime earlier in this post, before I geeked out about kale and oregano, I mentioned that this vegan recipe was pretty easy. And it is. Despite some shopping, chopping and cooking, in terms of homemade vegan meals, this one keeps it pretty simple. The sauce can be made in one pot and comes together quickly. If you don't mind an extra baking sheet to wash, adding the roasted eggplant is simple and it cooks while the sauce is simmering.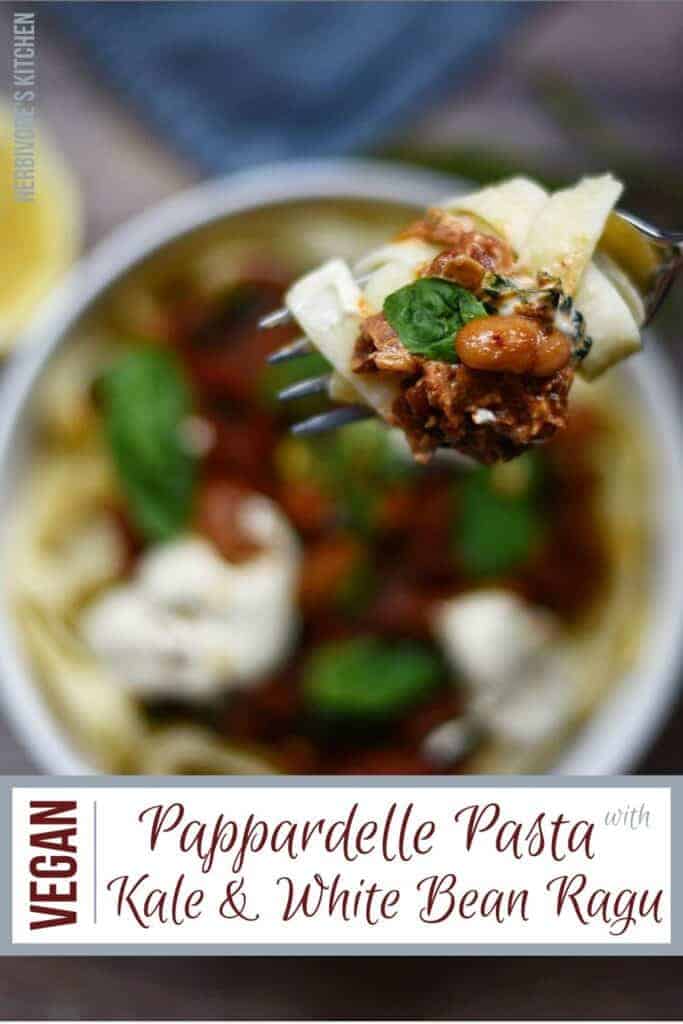 Even the cashew cheese sauce is easy. Yes, you have to soak the cashews. But, as long as you do it in hot water and start it first, they'll be ready when you are. I've long since abandoned the idea that cashews need to soak for more than an hour. From there, making the cashew cheese sauce is as easy as adding the soaked nuts, some water, nutritional yeast, fresh lemon juice, a pinch of salt and a clove of garlic to your blender.
To make putting this vegan recipe together as easy as possible, I laid out the directions to be efficient. You'll notice that, as I mentioned above, you'll soak the cashews first so that they'll be ready when the sauce and pasta are cooked. Likewise, roasting the eggplant is the second step, so that it will be done roasting in time to be added to the ragù. This vegan darling goes really over pappardelle pasta, which you can make while the white bean ragù simmers. After that, all you have to do is top it with fresh basil and settle in at the table, because a dish like this will have you lingering long after the meal is over.
What's in My Kitchen to Make This Kale & White Bean Ragu Recipe Easier?
It's true – a Vitamix is an expensive blender. But, oh! The things it can do and do well. If you're interested in getting more into vegan cooking, or you just want to eat healthier, then I think that this is a must-have kitchen tool. I use my Vitamix daily for breakfast smoothies and it really gets the job done when making vegan cheeses.
There are many versions of the Vitamix on the market. This is the version that I have.
Designed to serve pasta, I use these shallow dinner bowls all. the. time. I love that I can present all of the ingredients of a dish without over-serving in terms of portion. With a standard bowl, food ends up being stacked and that's no way to display all of your hard work. These bowls are an inexpensive, practical way to present everything from pasta bowls, curry bowls and burrito bowls.
I only bought one of these a few months ago, but wow! I'm so much happier not peeling garlic cloves with my fingernails. I'm pretty sure I'll collectively get at least a day of my life back because of this device.
I've read a dozen posts about why you shouldn't use a garlic press. One of them actually suggested that they take up valuable kitchen space. I mean, I guess if you have a tiny kitchen you might have to make those choices. They're smaller than a can opener. I love mine. I hate, hate, hate mincing garlic.
My cast iron skillet is one of my favorite kitchen tools. It's a great pan for a number of different recipes, but it's especially good for the slow-cooking that this sauce requires.
No, that's not the brand. It's just the idea! But,I own this set of Global™ knives and They're some of my most prized possessions in the kitchen. This set is universally well-rated for the at-home chef and will get you a good, solid set of knives without totally breaking the bank.
Want to get the most from your vegetables? This book is a brief history into vegetables popularly used in vegan cooking. It discusses how to choose the right varieties to get the maximum health benefit.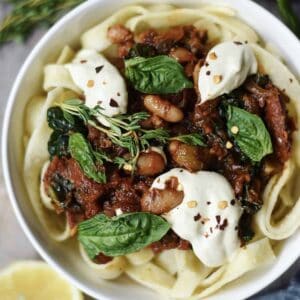 Pappardelle Pasta with Kale & White Bean Ragu and Cashew Cream Sauce
Looking for the ultimate in vegan comfort food? This pappardelle pasta with an easy kale and white bean ragù recipe will make even the coldest nights warm and cozy. Bring this Italian recipe to your table in a vegan friendly way by adding a healthy cashew cream sauce made with nutritional yeast and fresh lemon juice.
Ingredients
For the Kale and White Bean Ragu
1

eggplant

peeled and cut into 1/2 thick discs

1

tsp

table salt

for salting the eggplant

1

tbsp

high-heat oil

I like a good, high quality extra virgin olive oil or grapeseed oil (for roasting the eggplant); see Recipe Notes for whole food, plant-based diet version

1

tbsp

extra virgin olive oil

see Recipe Notes for whole food, plant-based diet version

1/2

yellow onion

chopped

4

cloves

garlic

minced

2

tsp

dried basil

2

tsp

dried oregano

I like to use North America Herb & Spice's OregaWild blend

1

tsp

dried thyme

2

tbsp

tomato paste

1

10 oz jar

sundried tomatoes packed in oil

drained and roughly chopped; see Recipe Notes for whole food, plant-based diet version

1/2

cup

red wine

see Recipe Notes for whole food, plant-based diet version

2

28 oz cans

whole, peeled tomatoes

drained (but reserving the tomato juices) and roughly chopped

1

14 oz can

Cannellini beans

also called white kidney beans, drained and rinsed

1

lemon

zest and fresh juice

1

bunch

lacinato kale

washed, destemmed and chopped into bite-sized pieces

fresh basil

washed and torn

crushed red pepper

to taste

1

pkg.

pappardelle or other thick noodle pasta
Cashew Cream Sauce
1

cup

cashews or cashew pieces

2

cups

very hot water

3/4

cup

water

1

tbsp

fresh lemon juice

1

tbsp

nutritional yeast

1

clove

garlic

1

tsp

table salt
Instructions
Combine 1 cup of cashews in 2 cups very hot water. Set aside to soak for 1 hour.

Peel and slice the eggplant. Lay the pieces out on a clean dish towel and lightly salt them with ½ tsp of salt. Allow to rest for 5 minutes. Flip and lightly salt the other side with the other ½ tsp of salt. Allow to rest for 5 minutes, then pay dry and spread out on a baking sheet with 1 tbsp oil. Roast at 400 degrees for 10 minutes, then flip the eggplant and roast for 10 minutes more.

Heat 1 tbsp olive oil in a cast iron skillet. When shimmering, add the onions and reduce the heat to low-medium. Allow the onions to cook slowly until browned. About 8-10 minutes.

Add the garlic and sauté for 1-2 minutes more.

Add the basil, oregano and thyme, tomato paste and sun-dried tomatoes. Stir to coat and increase the heat to medium. Sauté until the tomato paste becomes a dark brown.

Add the red wine and deglaze the pan. Add the chopped tomatoes, tomato juices, lemon zest and Cannellini beans. Reduce to a simmer and cook until the sauce has thickened. About 10-15 minutes.

While the ragù is simmering, prepare the cashew by combining the drained, soaked cashews in your blender with ¾ cup of water, lemon juice, garlic, nutritional yeast and salt.

Remove the eggplant from the oven and cut into bite-sized pieces. Add to the ragù. Massage the chopped kale until it becomes soft and dark green. Add the kale and 1 tbsp of the fresh lemon juice.

Cook the pappardelle pasta in accordance with package directions.

Serve the ragù over the pappardelle pasta and add 2-3 spoonfuls of cashew cream. Season with fresh basil and crushed red pepper.
Notes
To adapt this recipe to a whole food, plant-based diet, omit the eggplant. This will eliminate the oil and salt needed to roast the eggplant. You can, if desired, add plain, diced eggplant to the ragu instead. Then, sauté the onions in water or vegetable broth until softened. Instead of purchasing sun-dried tomatoes packed in oil, opt for dry sun-dried tomatoes. Red wine can likewise be omitted if desired.
About Herbivore's Kitchen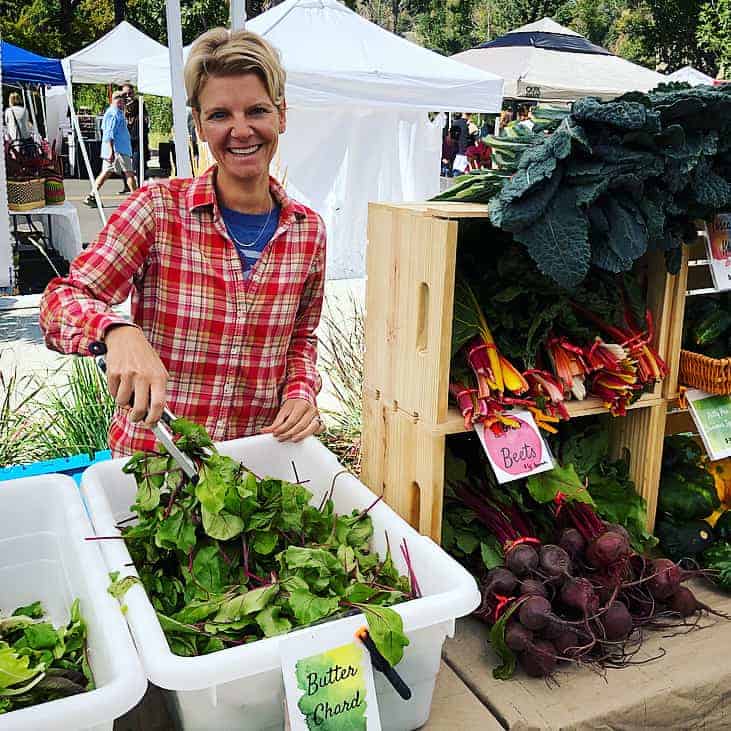 Herbivore's Kitchen is a blog run by me, a plant-based home chef and aspiring food photographer. I switched my and my family's diet to a plant-based diet after learning about the health benefits of going vegan. Making this change has prompted a variety of food and holistic-lifestyle related questions that I explore through this blog. I talk about how to pick and prepare the most nutritious foods, to how to reduce waste at home, to how to live a more sustainable lifestyle while on the road.