Jump to Recipe
---
This homemade soft pretzels recipe includes affiliate links. When I find a great product or service, I like to share it with my readers. Sometimes I use affiliate links so I can earn commission for my recommendations. Thank you for your support!
---
Homemade Soft Pretzels with a Vegan Cheese Sauce
Looking for a vegan appetizer suitable for a crowd? How about these homemade soft pretzels with an easy vegan cheese sauce? I know I am biased, but this vegan cheese sauce is the best! It's made with creamy cashews, nutritional yeast and red pepper to give it its nacho cheese color. Want to make this vegan appetizer even more simple? Make the soft pretzels into soft pretzel bites and get snacking even sooner!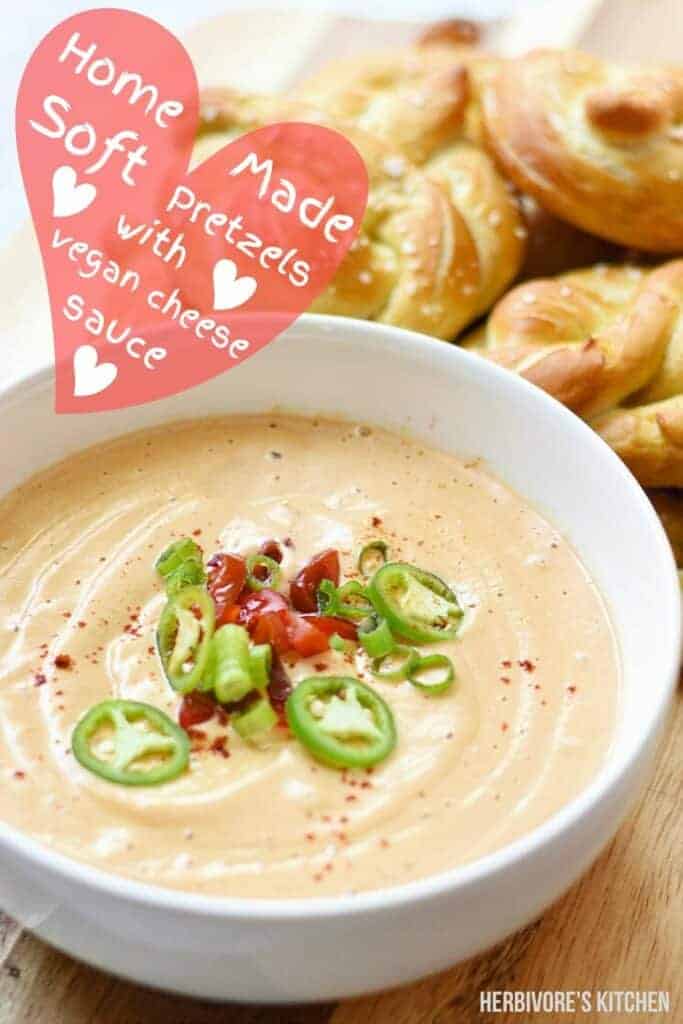 Homemade Soft Pretzels: They're Easier Than You Think!
Nothing is quite as reminiscent of childhood (mine, anyway) as a warm, salty soft pretzel. Soft pretzels marked a time of newly acquired independence when I was finally released into the wilds of the local shopping mall to wander alone while my mother ran her errands. My circuit was simple: Sam Goody for a new CD, Claire's for costume jewelry, Orange Julius for a drink and Hot Sam's for a soft pretzel (usually served with a gooey, cheese-like substance). I am totally dating myself by mentioning CDs, aren't I?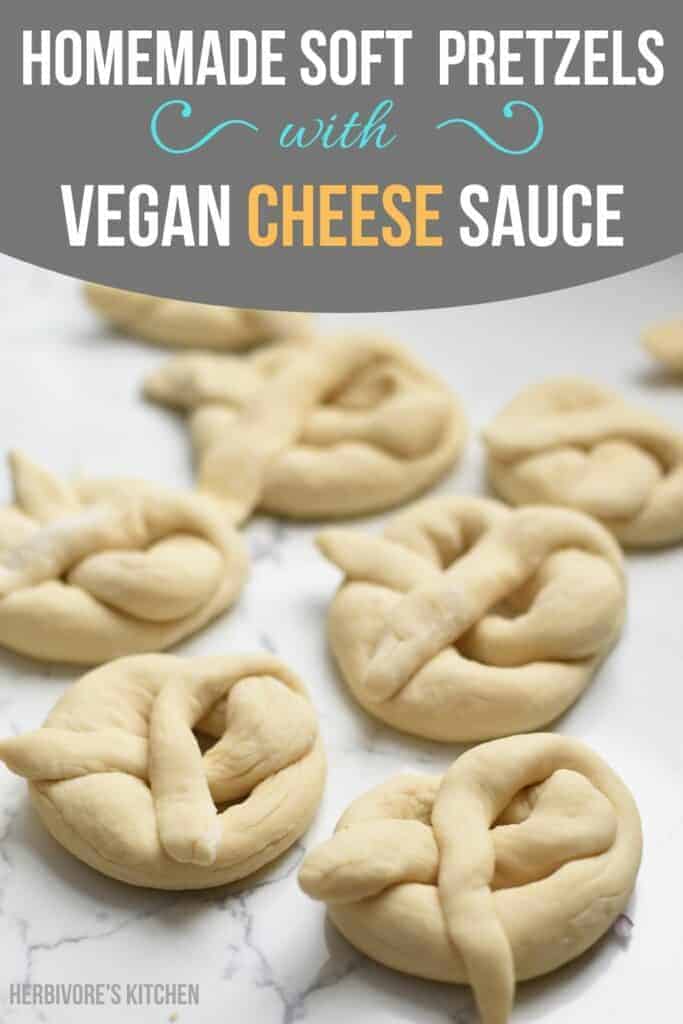 Now I'm a bit older and my tastes have changed. While I now find the nacho-cheese substance I used to crave cringeworthy, I still love a really good soft pretzel. Warm, soft on the inside and chewy on the outside. This combination is harder to come by than you might expect, and it's rarely found at the baseball stadium or an amusement park. The good news is homemade soft pretzels are really easy to make! With a little patience (and a good wire skimmer) you can have them at home any time you want!
For this soft pretzel recipe, I used spelt flour. Don't panic, all-purpose flour works just as well, but if you'd like your soft pretzels to have a little more nutritional benefit, spelt flour is where it's at.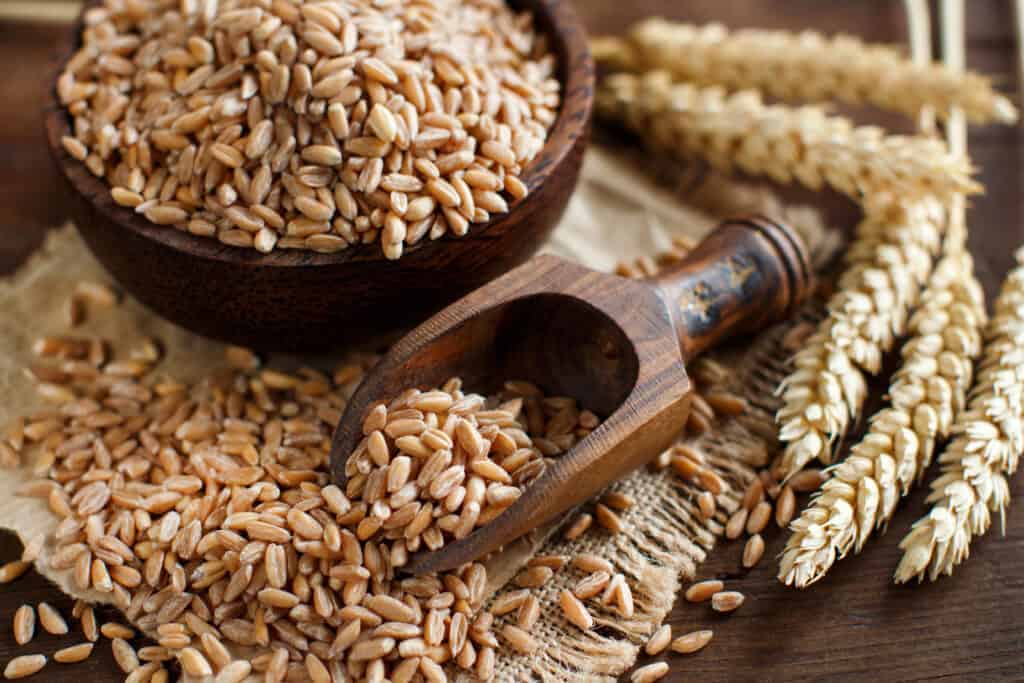 What is Spelt Flour?
Spelt flour is wheat flour's lesser-known cousin, but a little more mild with a sweeter, nutty flavor. It does contain gluten, although its chemically different than the gluten found in wheat. Some research claims that it is more easily digested than wheat and may be tolerable to those with gluten sensitivities, although it should be avoided by those with Celiac's disease. It produces a soft center and chewy exterior – exactly what you want in a soft pretzel. It also works really well for pizza dough. One thing to note — every time I buy spelt flour, it has a different color and texture so my pretzels look a little different. I've finally settled on One Degree's Organic Sprouted Spelt Flour as my spelt flour of choice.
Homemade Soft Pretzels: Have 'Em Your Way
This soft pretzel recipe will make about 6-8 soft pretzels depending on the size you'd like them. Or, if you're feeling a bit lazy, skip the twist and make 'em into pretzel bites. And, of course, you can always choose to top them however you see fit. For me, I like a good, flaky sea salt sprinkled on top. Other's may prefer some spice, so a flavored salt (like my friends at Steamboat Salt Company make) offer up a twist on the original. Got a sweet tooth? Not to worry, skip the salt and sprinkle on a little cinnamon and sugar and eat this treat for dessert. I just don't recommend dipping them in my vegan cheese sauce!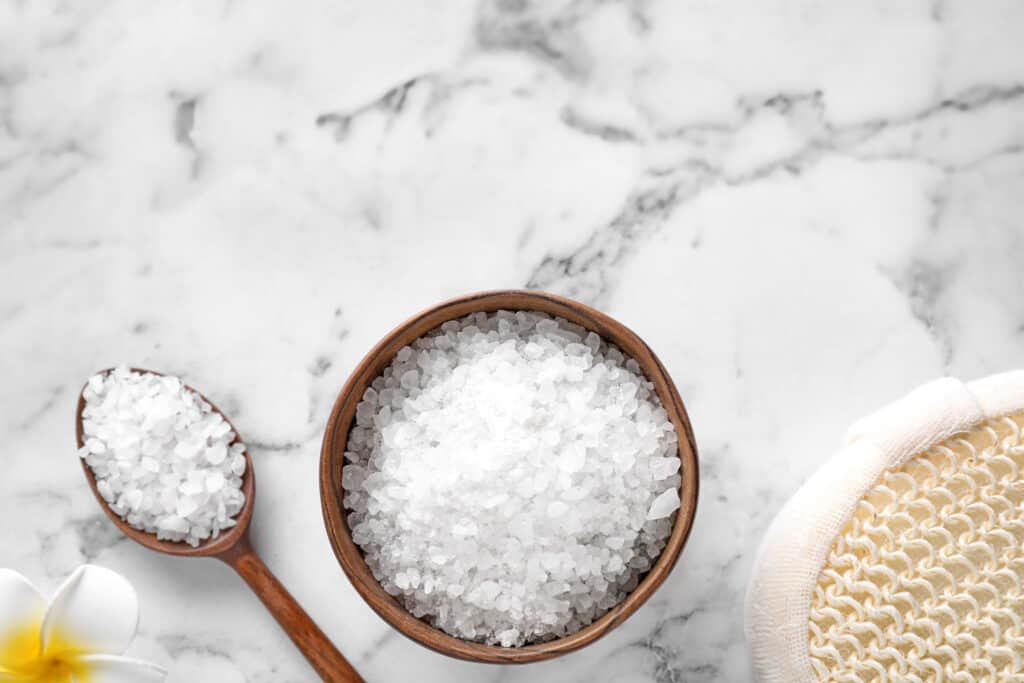 Vegan Cheese Sauce: The Perfect Dip for Your Homemade Soft Pretzels
Back to that cringe-worthy nacho cheese sauce. You know this stuff, right? It always comes in a dreading plastic cup and if you pause to cheer your team on for a moment, it will have a weird film over it when you return. You actively try not to think about what's in it.
Those days are over though, because this vegan cheese sauce is awesome. It tastes great and it made entirely with ingredients that you can pronounce. Phew! Its base is cashews, which are soaked in hot water to soften them. This process renders a super smooth, creamy vegan cheese sauce. The nacho-like flavor comes from a variety of vegetables and household condiments, including red onion, jalapeno, spicy brown mustard and lemon juice.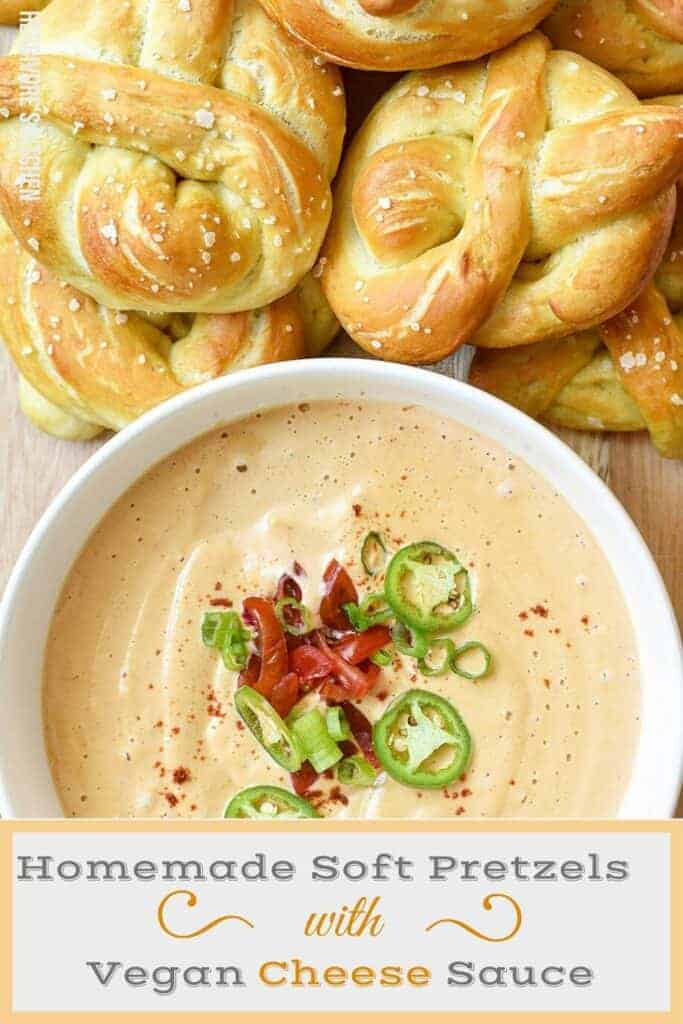 The two ingredients that you might be new to if you're vegan-curious but not fully versed in vegan cooking are: nutritional yeastand miso paste. Both of these ingredients are easy to find in the grocery store and things that you should keep on hand if you're going to get into vegan recipes.
What is Nutritional Yeast?
Nutritional yeast is an inactive, commercially produced yeast. It's often cited for its cheesy, nutty flavor, but it's more than just a flavor substitute. It's also a good source of Vitamin B12, something that vegan eaters need to be on the lookout for. I dug into this ingredient in my Basil Pesto Stuffed Shells recipe if you're interested in learning more.
What is Miso Paste?
Miso paste is my go-to ingredient for many of my vegan recipes. I use it in the broth of my Veggie-Loaded Vegan Pho as well as in a glaze for my Miso-Glazed Baked Tofu. It's salty, sweet, tangy and packed with umami. Miso paste is made from fermented soybeans, but there are soy-free alternatives if you're interested in them. My friends at South River Miso make some great options.
If you're interested in learning more about miso paste, I talk about it in greater detail in my Easy Vegan Miso Soup recipe.
Putting this Vegan Appetizer Together: Timing is Everything!
In terms of timing, this whole recipe shouldn't take more than 60-75 minutes to put together. The trick is to do things in the right order, because everything about this recipe is best served HOT! I recommend soaking the cashews first. Then start on the pretzel dough. While that's rising, you can prep the rest of your vegan cheese sauce ingredients. By then, the dough should have finished rising and you can make your homemade soft pretzels. While those are baking, finish up the vegan cheese sauce and then get comfy in your favorite chair because this game-day vegan appetizer is vegan comfort food at its finest!
What's in My Kitchen to Make This Vegan Recipe Easier?
Want to know what tools and resources I keep on hand to make my vegan cooking even easier? Here's a short list of what helped me create this blog post and recipe. For the complete list, visit my Shop where you can find the kitchen gadgets I like as well as a list of books that I recommend.
It's true – a Vitamix is an expensive blender. But, oh! The things it can do and do well. If you're interested in getting more into vegan cooking, or you just want to eat healthier, then I think that this is a must-have kitchen tool. I use my Vitamix daily for breakfast smoothies and it really gets the job done when making vegan cheeses.There are many versions of the Vitamix on the market. This is the version that I have.
This kitchen gadget really comes in handy when making things like ravioli, homemade bagels, homemade soft pretzels (I use it for this all the time) or cooking pasta nests. The larger diameter bowl makes it possible to scoop up these items without them falling apart.
If you're into deep frying, this tool is great for that as well, allowing you to drain off a large amount of the hot oil before laying your food out for serving. The skimmer is easy-to-clean and dishwasher safe.
Down a broiler pan? These aluminum baking sheets come highly recommended by the cooks who know best – Epicurious, Cooks Illustrated and Food & Wine. I bought mine because I needed a good, sturdy baking sheet to use under the broiler. One that wouldn't warp – and this one lives up to the task.
Aluminum is a good conductor of heat, so these baking sheets cook evenly. They're also light in color, so they discourage over-browning.
These things are amazing! When I discovered parchment paper, I thought I had things figured out. No more greasing pans or ruining them with charred food. Then I discovered these silicon baking pads. They're oven-safe up to 450 degrees, dishwasher safe (top rack only) and easy to clean and REUSE!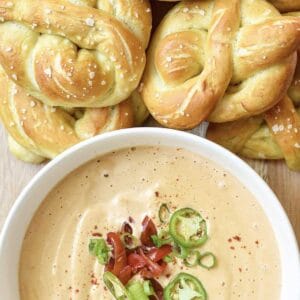 Homemade Soft Pretzels with Vegan Cheese Sauce
Looking for some vegan appetizers suitable for a crowd? How about these homemade soft pretzels with an easy vegan cheese sauce? I'm not one to brag, but this vegan cheese sauce is the best! It's made with creamy cashews, nutritional yeast, Dijon mustard, tomato paste, red onions and jalapenos for a perfect spicy bite. Want to make this vegan appetizer even more simple? Make the soft pretzels into soft pretzel bites and get snacking even sooner!
Ingredients
For the Homemade Soft Pretzels
1

tbsp

maple syrup

1

pkg

active dry yeast

1

cup

warm water

appro 100-110 degrees F

1

tbsp

extra virgin olive oil

2 1/2

cups

spelt flour

all-purpose flour will also work, but you may have to play around with the flour/water ratio a bit

1

tsp

table salt

2

tbsp

baking soda

for bathing the pretzels in an alkaline bath

6

cups

water

for bathing the pretzels in an alkaline bath

pinch

flaky sea salt

for seasoning the soft pretzels
For the Vegan Cheese Sauce
1

cup

cashews

soaked in hot water for about 1 hour

2

tbsp

nutritional yeast

3/4

cup

water

1

tbsp

light miso paste

1

tbsp

tomato paste

1/4

cup

red onion

coursely chopped

1

tbsp

spicy brown mustard

1

clove

garlic

1

tbsp

fresh lemon juice

1

tbsp

fresh jalapeno

deseeded and roughly chopped

paprika

for garnishment

scallions

sliced, for garnishment

jalapenos

deseeded and chopped, for garnishment

grape tomatoes

chopped for garnishment
Instructions
Prepare the cashews by soaking them 2 cups hot water for about 1 hour. It's best to do this first while you're making the pretzels.

Make the soft pretzel dough by combining the warm water, olive oil, yeast and maple syrup. Leave this mixture aside for about 5 minutes and allow the yeast to proof. It should start to bubble and a foam will appear on the water's surface.

While the yeast is proofing, combine the flour and salt in a larger bowl.

When the yeast is proofed, combine the wet and dry ingredients in the larger bowl.

Mix the dough with a wooden spoon until well combined and then knead until smooth.

Set the dough aside in a lightly oiled bowl and cover gently with a towel. Allow the dough to rise for approximately 30 minutes.

While the dough is rising, prepare the rest of your ingredients for the vegan cheese sauce. Pre-measure the nutritional yeast, miso paste, tomato paste, brown mustard and lemon juice. Chop the red onion and the jalapeno.

After the dough has risen, knead it 3-4 more times and roll it out into a log about 2 inches in diameter and 18 inches long. Cut it into equal parts — you should get about 8.

Prepare your alkaline bath by bringing your 6 cups of water and 2 T. of baking soda to a boil.

Roll each piece into a long 18-inch rope and then fold into a pretzel shape. Drop each pretzel into the alkaline bath for approx. 30 seconds and then place on a parchment covered baking sheet. Sprinkle with course sea salt.

Bake the pretzels at 400 degrees for approximately 15 minutes, but keep an eye on them as they bake. Take them out when they're golden brown.

While the pretzels are baking, rinse and drain the soaked cashews and combine them with the rest of the ingredients in your blender. Blend until creamy. Best served immediately.
Notes
This vegan cheese sauce does not reheat well in the microwave. The best way to warm this up is to return it to your blender and let it run until it's warm.
Trying to get recipe done faster? Make pretzel bites instead of full pretzels!
About Herbivore's Kitchen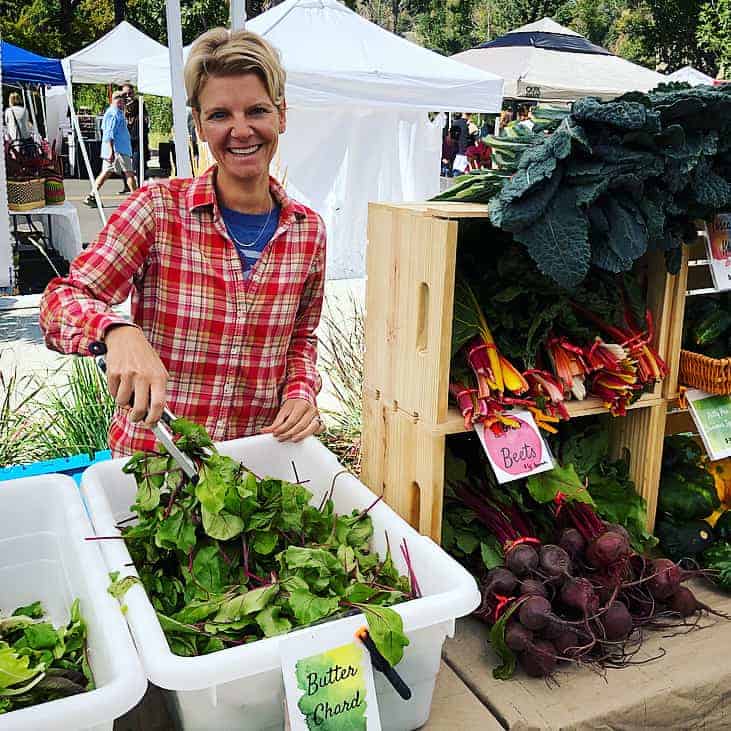 Herbivore's Kitchen is a blog run by me, a plant-based home chef and aspiring food photographer. I switched my and my family's diet to a plant-based diet after learning about the health benefits of going vegan. Making this change has prompted a variety of food and holistic-lifestyle related questions that I explore through this blog. I talk about how to pick and prepare the most nutritious foods, to how to reduce waste at home, to how to live a more sustainable lifestyle while on the road.