Jump to Recipe
---
This Easy Vegetable Lo Mein Recipe includes affiliate links. When I find a great product or service, I like to share it with my readers. Sometimes I use affiliate links so I can earn commission for my recommendations. Thank you for your support!
---
Easy Vegetable Lo Mein: The Ultimate in Vegan Chinese Food Recipes
Forget takeout! This vegan version of vegetable lo mein is packed with vegetables & oh-so-delicious ramen noodles. In addition to a ton of veggies, I used Lotus Foods' Organic Jade Pearl Rice Ramen Noodles™, which offer that same savory taste & pleasantly chewy sensation as the egg noodles traditionally used in lo mein recipes (but with a vegan & gluten-free friendly bonus).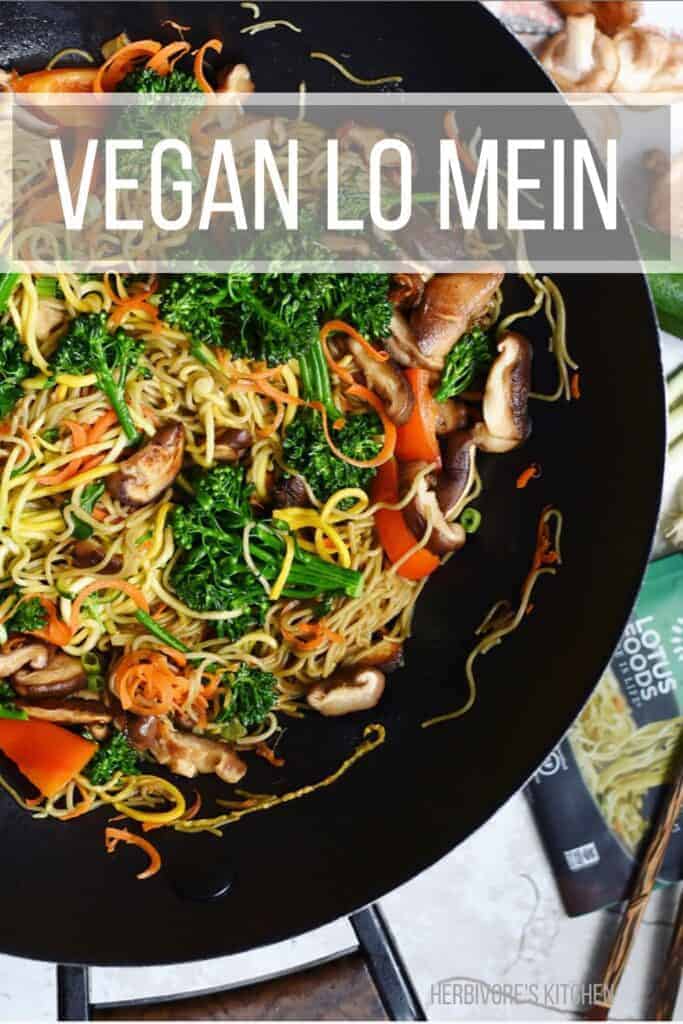 Think that's all this vegan recipe has to offer? Not so! It also uses a limited amount of oil for a healthy alternative to traditional lo mein. And don't forget about all of the takeout packaging you won't have to throw away by making this stir fry darling at home! How's that for your earth saving swagger?
What Is Lo Mein?
For starters, lo mein is high level comfort food. When TV characters are seen reaching into their fridge for Chinese takeout leftovers, you can bet those little white containers hold fried rice and lo mein.
Lo mein is a stir-fried noodle dish, made with delectably chewy egg noodles. These noodles not only hold up well when stir-fried, they are an excellent vehicle for trapping all of the saucy goodness, which is rich with oil-based fats, salt and a little bit of sweetness.
For years, vegetable lo mein was my go-to order at Chinese restaurants. The last time I ordered this dish though, I was already well into transitioning into a veggie-forward diet at home and I found it so disappointing. Despite it being vegetable lo mein, it was mostly noodles with some greenish-gray bok choy, a piece of broccoli and a mushroom or two. And, with what would have once been a celebrated lucky plate of All. That. Yummy. Greasy. Noodle. Goodness., now elicited a "meh."
The craving for lo mein didn't go away though, so I decided it was time I brought this dish into my kitchen in a vegan-friendly way. As it turns out, making lo mein at home doesn't mean giving up on parts of it that make it so desirable in the first place. In fact, I think making it at home is way better. And while you may be thinking, "yeah, but some nights I just want food delivered to my door because it's faster," think again. This dish is super easy and super fast. And, with some oil-reducing techniques, it can be made healthier. You've also got to admit, there's a lot less to throw away after this meal than its takeout counterpart, making it a win for the environment as well.
Let's Start with Lo Mein Noodles
As I mentioned, lo mein noodles are traditionally egg noodles. I'll be the first to admit, egg noodles have a specialness to them. They're springy and chewy, making each bite a treat. You can have a wonderful lo mein experience without them though. In fact, there are a variety of noodles that will work in this dish.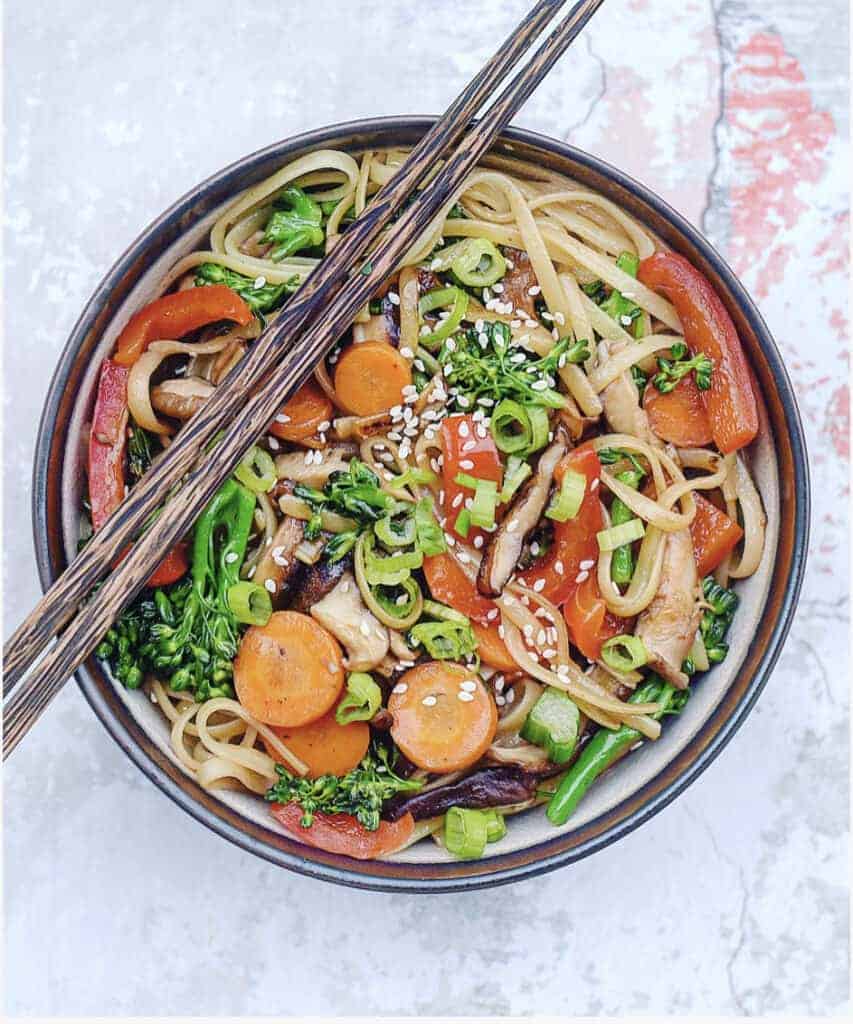 I've made this dish with traditional pasta noodles and it was still amazing. I used a thicker linguini noodle to replicate the gumminess of the egg noodles and cooked it al dente before adding it my wok. Of course, the best thing about using traditional pasta is that it's very easy to find, where vegan lo mein noodles (they do make them) often aren't.
Even better though, for this recipe I used Lotus Foods' Organic Jade Pearl Rice Ramen Noodles. For starters, swapping out rice noodles is just plain polite when it comes to our gluten-free friends. They deserve good vegan comfort food too. And, like their wheat counterparts, these rice noodles maintain a very pleasant chewiness when cooked al dente before being stir-fried. Aside from that, this brand remains one of my favorites. In addition to providing high-quality products, the company has a mission of promoting organic agriculture & rice biodiversity, as well as supporting local rice producers. All things that are near and dear to my heart, because how our food is produced is as important as how it's prepared. You'll find their ingredients in many of my recipes, like my Vegan Thai Green Curry Noodle Bowl.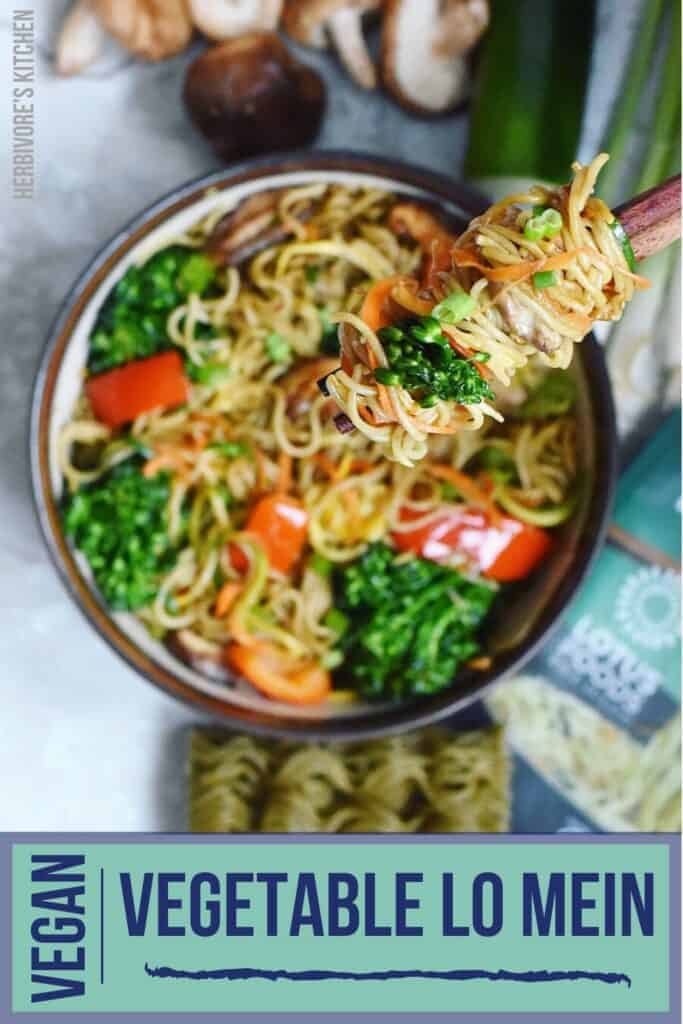 Now Let's Talk About That Lo Mein Sauce
Before I dug into researching this vegan recipe, I assumed that the sauce used to make lo mein was going to be time-consuming with several hard-to-find ingredients. That is not the case. At all. In fact, I'm willing to bet you have them all in your refrigerator already. There are three: soy sauce, sesame oil and sugar. That's it.
Of course, if you want to keep with the gluten-free theme, swap out the soy sauce with tamari. I use maple syrup in place of table sugar – partly because I like the way it stays sticky and sweet when it cooks down, but mostly because it's one of the only sweeteners I keep in the house. Feel free to try it out or use table sugar in its stead.
And, Finally, What Vegetables Do You Put in Your Vegan Lo Mein?
All the veggies! And why not?
Seriously though, in this version I included broccolini, red peppers, shiitake mushrooms, carrots, zucchini and yellow squash. To keep it interesting texturally, I kept the broccolini whole, diced the red pepper and sliced the shiitakes. The zucchini, yellow squash and carrots, though, were spiralized and stir-fried in with the noodles.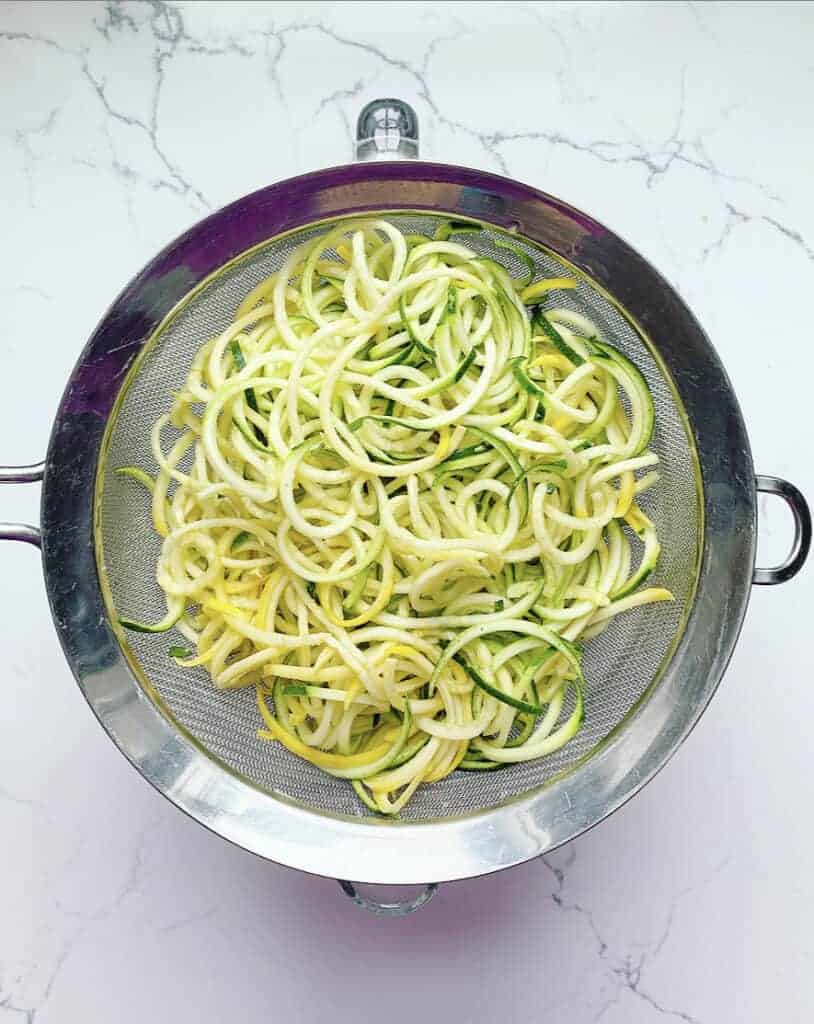 As I'm sure you know, zucchini and yellow squash tend to be very wet vegetables, so I put them in a colander and sprinkle them with a tsp of table salt. This causes the vegetables to shed water, which drips out of the colander. Usually, I'll have about a tbsp of water below the colander. Then I pat them dry before stir frying. Eliminating water from the vegetables is helpful because it allows the ingredients to stir fry, rather than steam.
Making this Vegan Lo Mein Healthier
I wanted to make this vegetable lo mein healthier than its takeout counterpart by using less oil. If you've ever watched stir fries being made in a restaurant, there's usually a large bin of oil next to the stovetop with a ladle in it. And oil goes into each dish…by the ladle. Here, I limited the amount of oil to 1 tsp of sesame oil in the sauce and 2 tbsp of grapeseed oil in the stir fry. And this is for a 4-person serving.
Using a Wok to Make this Vegan Lo Mein
How did I do this? I cooked this dish in my electric wok. While I do try to limit the number of kitchen gadgets I have, my wok makes the cut. Why cook with a wok? Well, for starters, there is plenty of room to toss! They also heat up quickly and evenly, enabling a nice sear on ingredients.
Cooking with a Wok Hack #1: They're Not Just for Stir-Frying!
See a wok and think only about stir fries? Think again. You can use a wok to cook in a variety of ways. For example, I use my wok to simmer as well. In fact, this hack is the trick used to limit the amount of oil used in this vegetable lo mein recipe.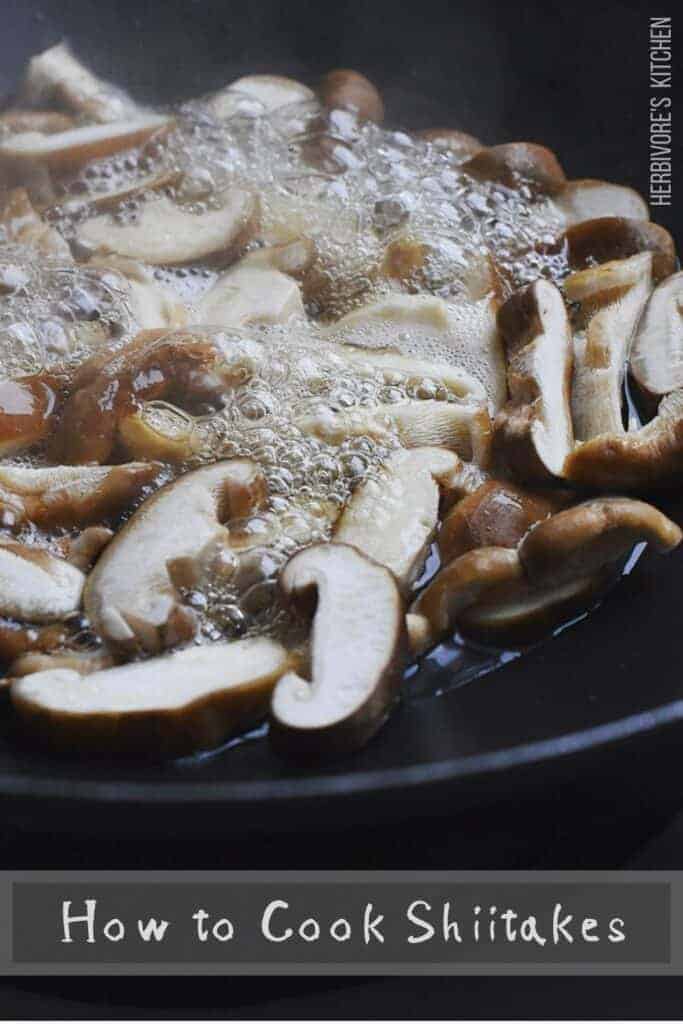 You see, mushrooms can be a bit of a challenge to cook when you're trying to limit your use of oil. They tend to absorb it quickly, leaving the pan dry to burn the other vegetables. Rather than adding them and with more… and more oil, I instead simmer the mushrooms in ¼ cup of water first, letting them cook until the water has cooked off. Then, I add a tbsp of oil and let them brown, which only takes a minute or two. This is enough oil to cook the broccolini and red pepper in as well, so I add those and stir fry them long enough for the broccolini to turn bright green.
Cooking with a Wok Hack #2: Use a High-Temp Oil
One of the things I like best about using a wok is that they get very, very hot. To accommodate this, you need to use a high-temp oil. When I first made this recipe, I used sesame oil exclusively, thinking that it would lend a nice flavor to the lo mein. As it turned out, there was just too much of it and the sesame flavor was overwhelming. So, for the final version of this recipe, I limited the sesame oil to the sauce and chose another high-temp oil for the stir-frying. In this case, one with a more neutral flavor: grapeseed oil.
Cooking with a Wok Hack #3: Sear, Don't Steam!
I like to keep the vegetables crisp in this dish, so I cook it in two stages. This is another key to cooking with a wok – don't over crowd it. When you do, you'll end up with steamed, mushy ingredients instead of bright crisp vegetables. So, when the mushrooms, broccolini and red peppers are done, I take them out of the wok and wipe it out. Then I stir fry the rice noodles in the second tbsp of oil, tossing them gently as they sear to a nice brown. The carrots, squash and zucchini go in next. I push the noodles to the side so that when these ingredients hit the pan, it's very hot. This sears them nicely. Also, remember that the squash and zucchini were salted prior to being cooked to reduce the amount of water in them. This also prevents them from steaming.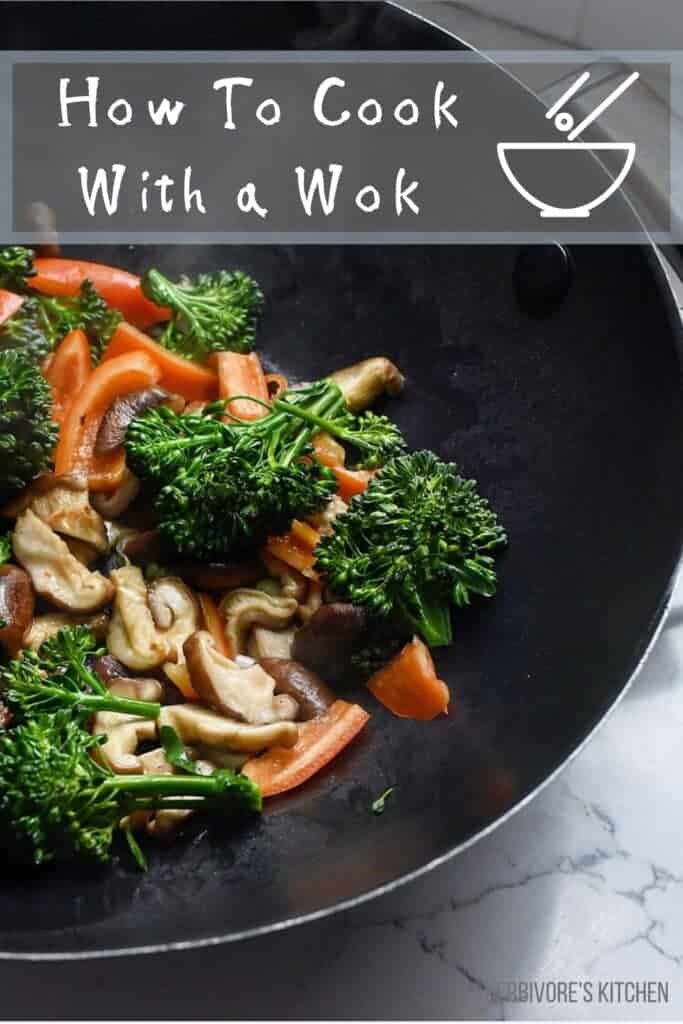 Finishing Up this Vegetable Lo Mein Dish
Once the noodles are cooked, I return the broccolini, red pepper and shiitake mushrooms to the wok and add the sauce. Making use that the pan is searing hot. At this stage, I toss the ingredients gently just to coat all of noodles. Sometimes just pushing and pulling the wok itself to move the ingredients around. As the sauce heats, it will start to thicken. I'm always careful not to overcook at this stage, since I've gone to great lengths already to make sure my ingredients are bright and crisp. As soon as the sauce is evenly distributed, I serve my vegetable lo mein, keeping the toppings simple with just a sprinkling of sliced scallions.
What's in My Kitchen to Make This Vegan Recipe Easier?
Want to know what tools and resources I keep on hand to make my vegan cooking even easier? Here's a short list of what helped me create this blog post and recipe. For the complete list, visit my Shop where you can find the kitchen gadgets I like as well as a list of books that I recommend.
While I do try to limit the number of kitchen gadgets I have, my electric wok makes the cut. Why cook with a wok? Well, for starters, there is plenty of room to toss! They also heat up quickly and evenly, enabling a nice sear on ingredients.
Vegetables never had it so good!
I'm telling you, vegetables just taste better when you cut them into fun shapes. Okay-that's only partially true. What totally true is that you can spiralize zucchini and replace your pasta for a veggie-forward "pasta" dinner (and make it even better by topping it with my Homemade Garden Vegetable Tomato Sauce). Not into zucchini? How about those crispy sweet potato chips topping my Veggie-Loaded Easy Vegan Ramen Soup? Who doesn't love chips!
Here's my theory: food tastes better if it's eaten with the utensils it was designed for. This is why I use Ramen Soup Spoons for my ramen bowls (check out my Veggie Loaded Veggie Ramen) and why I use chopsticks for dishes like my Vegetable Lo Mein.
These fiberglass chopsticks are attractive, inexpensive and reusable and won't give you splinters!
Designed to serve pasta, I use these shallow dinner bowls all. the. time. I love that I can present all of the ingredients of a dish without over-serving in terms of portion. With a standard bowl, food ends up being stacked and that's no way to display all of your hard work. These bowls are an inexpensive, practical way to present everything from pasta bowls, curry bowls and burrito bowls.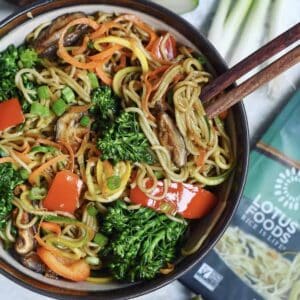 Vegetable Lo Mein: The Ultimate in Vegan Chinese Food
Forget takeout! This vegan recipe for vegetable lo mein is packed with vegetables, uses gluten-free rice ramen noodles and a limited amount of oil for a healthy alternative to traditional lo mein. In addition to its healthy ingredients, this vegan Chinese food recipe is earth-friendly. Just think of all the takeout packaging you won't have to throw away by making this vegan stir fry darling at home!
Ingredients
15-20

shiitake mushrooms

washed and sliced

1/4

cup

water

2

tbsp

high-heat, neutral tasting oil

divided

1

bunch

broccolini

washed and trimmed

1/2

red pepper

washed and sliced into bite-sized pieces

1

small

zucchini

washed and spiralized

1

small

yellow squash

washed and spiralized

1

tsp

table salt

1

carrot

washed and spiralized

1

pkg

Lotus Foods' Organic Jade Pearl Rice Ramen Noodles™

4 "cakes" or 1 "cake" per person

1/4

cup

tamari

1

tbsp

maple syrup

1

tsp

sesame oil

green scallions

sliced, for garnishment
Instructions
Spiralize the carrots, zucchini and yellow squash. Set the carrots aside and put the zucchini and yellow squash in a colander. Sprinkle with 1 tsp of salt and allow to rest until ready to stir fry.

Cook the Lotus Foods' Jade Pearl Rice Ramen Noodles al dente according to package directions. Rinse with cold water to stop the cooking process.

Combine the soy sauce, maple syrup and toasted sesame oil in a small bowl.

Drain and pat the yellow squash and zucchini dry with a clean towel. It is important to remove as much moisture as possible.

Add the shiitake mushrooms and water to your wok (or a large, deep-sided skillet). Simmer until the water has cooked off. Add 1 tbsp of neutral oil and sauté the shiitakes until browned. Add the broccolini and red pepper. Sauté until the broccolini is bright green. Remove from the wok.

Add 1 tbsp of the oil and add in the cooked rice noodles. Toss gently as the noodles start to sear.

Push the rice ramen to the side and add the spiralized vegetables to the wok. Toss for a minute or so, allowing them to sear. Add the other cooked vegetables and toss in the sauce. Stir fry until hot. Serve immediately with green scallions.
About Herbivore's Kitchen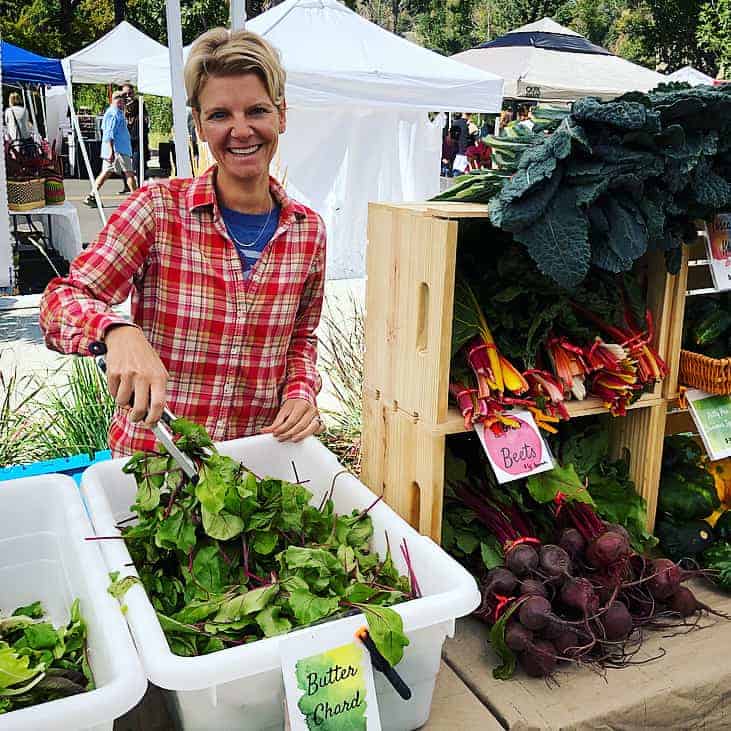 Herbivore's Kitchen is a blog run by me, a plant-based home chef and aspiring food photographer. I switched my and my family's diet to a plant-based diet after learning about the health benefits of going vegan. Making this change has prompted a variety of food and holistic-lifestyle related questions that I explore through this blog. I talk about how to pick and prepare the most nutritious foods, to how to reduce waste at home, to how to live a more sustainable lifestyle while on the road.