Jump to Recipe
---
This Vegan Sushi: Tuna Tower with Avocado post includes affiliate links. When I find a great product or service, I like to share it with my readers. Sometimes I use affiliate links so I can earn commission for my recommendations. Thank you for your support!
---
Vegan Sushi: Tuna Tower with Avocado
Did you think you'd have to give up sushi to go vegan? You were right! I promise you won't miss it though. Not with this vegan sushi tuna tower recipe. This dish is every bit as satisfying as the original, using tomatoes in place of the tuna. Sushi rice, avocado, sesame seeds and crushed pistachios make this homemade vegan sushi tuna tower better than any rolls you'd find at your local sushi joint.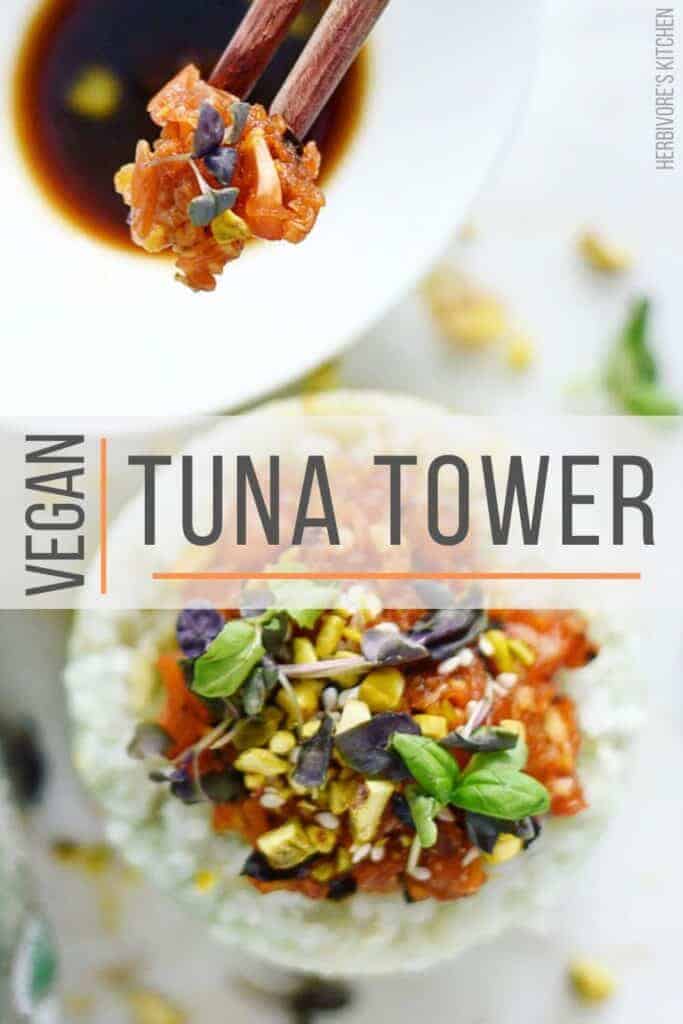 How to Make Vegan Sushi: Replacing the Tuna
In my research, I've come across a lot of ways to veganize sushi. My favorite though, is this Roma tomato "tuna." It's similar in color and texture and when marinated, it almost passes for the original. In fact, I'd venture to say that it's better – you can find the ingredients in almost any grocery store and it's far easier on the environment than its raw fish counterpart.
To prepare the tomato tuna, cut a cross hatch in the top of each tomato. The video below demonstrates how. After you cut the cross hatches, you'll need to blanch the tomatoes in boiling water until the skin begins to peel – about 1-2 minutes. Then, remove the tomatoes from the boiling water and place them in an ice bath to stop the cooking process. Once cooled, gently peel the skin from each tomato and remove the seeds using a pairing knife. Then, slice the remaining tomato flesh into small pieces. The tomatoes should have the appearance of tuna tartare.
To get a sushi flavor, I marinate the tomatoes in a combination of tamari, garlic, ginger, sriracha and some torn nori. This is a bit of a cheat over a true sushi roll where the tuna wouldn't be marinated, but this step does transform the tomatoes into something that tastes like it belongs wrapped up in sushi rice. And speaking of sushi rice…
The Best Sushi Rice Recipe
You may not know this, but the rice used to make sushi is a specific variety. Rice typically comes in short, medium and long grains and this designation indicates the rice's ability to absorb liquid (among other things). So, choosing the right rice for your dish can make a big difference.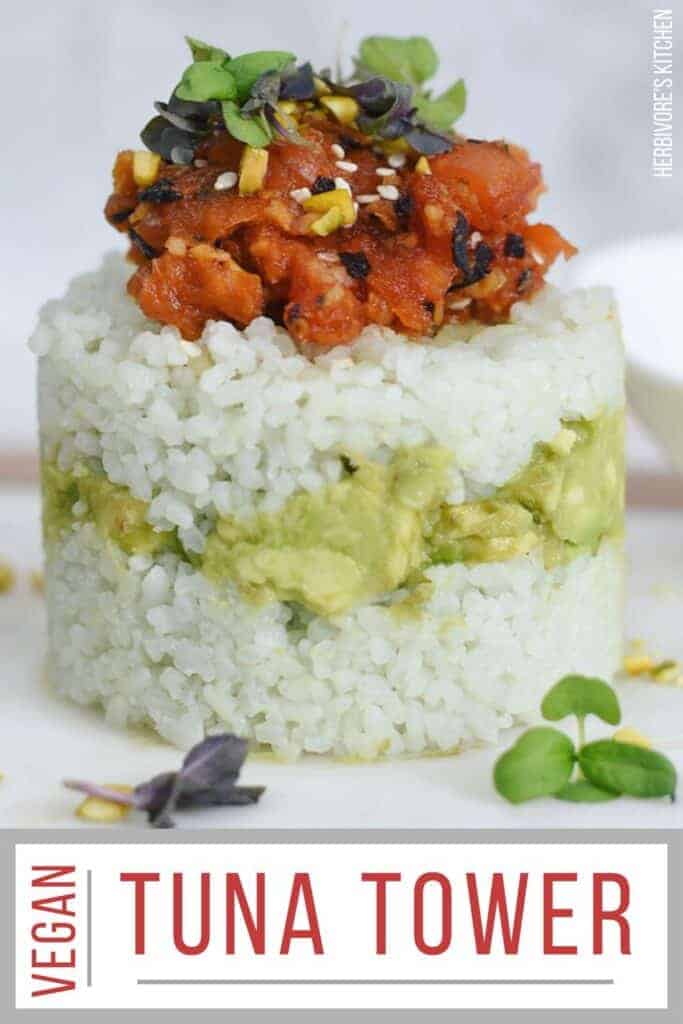 Long-grain rice, like basmati and jasmine absorb less liquid and stay separated and fluffy when cooked. They're great options for dishes like my Jamaican Jerk Jackfruit with Fresh Mango Salsa and Vegan Bibimbap Bowl with a Korean Tofu Crumble and Pickled Vegetables.
Short-grain rice, on the other hand, absorbs liquid easily. Thus, becomes a great vehicle for dishes my Vegan Paella and, you guessed it, sushi rice. Sushi rice is more than just a sticky, short-grain rice. With a little extra effort, you can make it so that when you close your eyes, you'll think you're at your favorite sushi joint. The trick is a rice-vinegar, sugar and salt solution added after the rice has had a chance to cool. Just fold this mixture into the rice and you'll be eating this rice by the spoonful! [Hint: Use a wooden spoon and gently fold the mixture in so as not to damage the rice.]. For this recipe, I used Lotus Foods' Organic Jade Pearl Rice. This short-grain variety has a lovely green hue to it, which made for a stunning tuna tower.
How to Put this Vegan Sushi Tuna Tower Together
The trick to this dish is a food ring. It's such a simple kitchen tool, but I didn't own one until last year. My husband read Anthony Bourdain's Kitchen Confidential and it was on his list of Kitchen Tools that Every Chef Must Have. So, I got some food rings and plastic condiment bottles for Christmas that year. And some really nice chef's knives too. Those were also on the list.
The details of how to make the tower are demonstrated in the video above. It's a pretty simple exercise though – you just need to gently pack the ingredients into the ring and then careful pull it up when you're done. For as simple as it is, it does make for good looking food, doesn't it?
Once the tower has been made, it's all a matter of adding the rest of the ingredients. Before I add the tomato tuna, I like to strain the tamari from it so that when it goes on to the top of the tower it doesn't drain into the rice. As garnishments, I selected sesame seeds (no surprise there) and microgreens. I also added crushed pistachios, which I just loved for additional color, flavor and texture.
What's in My Kitchen to Make This Vegan Recipe Easier?
Want to know what tools and resources I keep on hand to make my vegan cooking even easier? Here's a short list of what helped me create this blog post and recipe. For the complete list, visit my Shop where you can find the kitchen gadgets I like as well as a list of books that I recommend.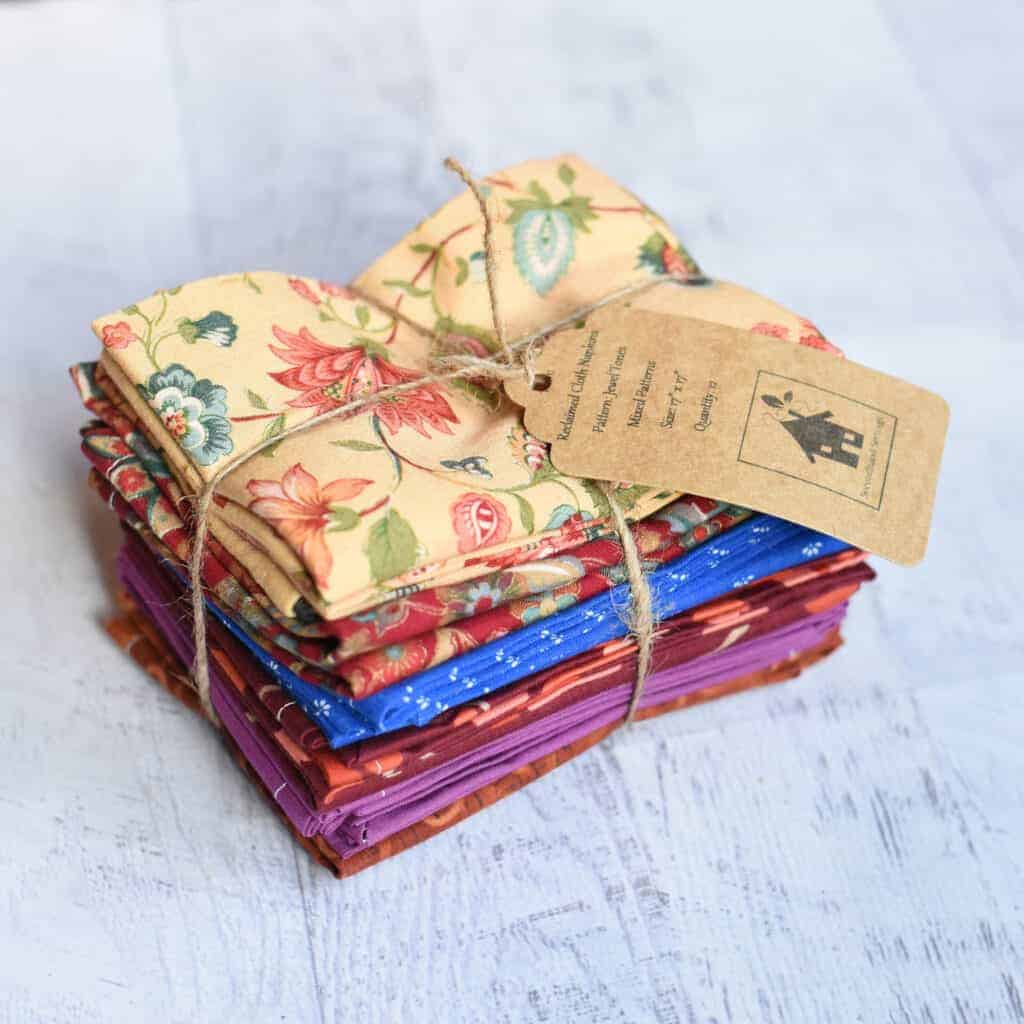 Before I get into cooking, I want to share these napkins. I found these on Etsy over a year ago and, not only do I LOVE them, I buy them as gifts for nearly everyone I know.
These napkins are upcycled and reusable, allowing you to not only avoid throwing away paper products but to also reuse fabrics – a small but significant way to cut back on water, dyes and chemicals used in the production process.
These napkins are so darling (they come in lots of different patterns and colors) and they're machine washable. I just throw them in with whatever load of laundry I'm doing. They don't wrinkle easily, so a quick fold will have them back on your table doing what they were meant to do… be reused!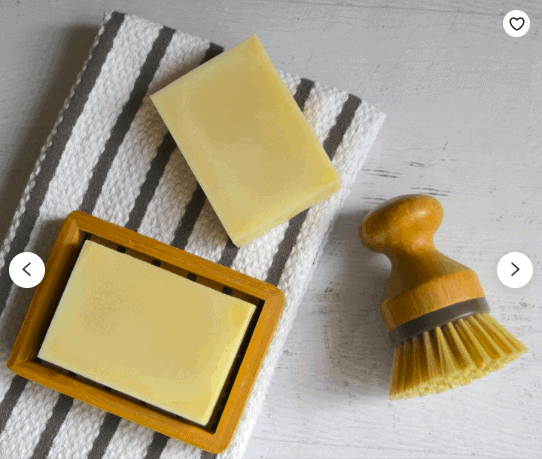 Okay, okay. I will be the first to admit that I don't use this for ever dish. It's a little tricky when you're trying to wash something with a narrow neck – like a milk jug. But I do use it for regular dishes, pots and pans. And it does a bang-up job every time.
By switching to this solid soap with an environmentally friendly brush, you're reducing yet another plastic bottle in your kitchen. I picked this up on Etsy too, which means I'm supporting a small business.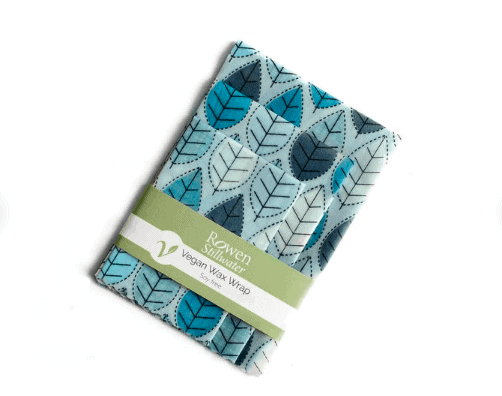 These vegan wax food wraps are an awesome alternative to plastic "cling" wrap, which as we know only clings half the time anyway. Handmade by Etsy seller Rowen Stillwater, these sustainability heroes are bestsellers with a five-star rating!
These wax wraps come in three sizes: small (8″ x 8″), medium (10″x10″) and large (12″x12″) and a variety of super cute patterns.
Best of all, when these vegan food wraps reach the end of their life – typically 6 months to a year, they can be composted. That's winning in the kitchen!
These simple, inexpensive kitchen tools will take your ordinary dishes to new heights (pun intended). Food rings are perfect for positioning rice in a curry bowl and making things like my Vegan Tuna Tower.
This wooden spoon & scraper is a great tool for making sushi rice. You want a gentle tool for folding the rice seasoning into the rice, so wooden spoons are recommended. The squared off edge will help you get to the corners of your cooking pan, ensuring that all of that yummy rice is seasoned evenly!
No, that's not the brand. It's just the idea! But, I own this set of Global™ knives and They're some of my most prized possessions in the kitchen. This set is universally well-rated for the at-home chef and will get you a good, solid set of knives without totally breaking the bank.
Vegan Sushi: Tomato "Tuna" Towers with Avocado
Did you think you'd have to give up sushi to go vegan? You were right! I promise you won't miss it though. Not with this vegan sushi tuna tower recipe. This dish is every bit as satisfying as the original, using tomatoes in place of the tuna. Sushi rice, avocado, sesame seeds and crushed pistachios make this homemade vegan sushi tuna tower better than any rolls you'd find at your local sushi joint.
Ingredients
5

Roma tomatoes

washed

1/4

cup

tamari

1

tbsp

garlic

finely minced or crushed

1

tbsp

fresh ginger

finely minced

1/4

sheet

nori

torn into fine pieces

1

tsp

sriracha

1

avocado

diced and mashed

1

cup

sushi rice

I used Lotus Foods' Jade Pearl Rice

2

tbsp

unseasoned rice vinegar

1

tbsp

sugar

1

tsp

salt

microgreens

as garnishment

crushed pistachios

as garnishment

sesame seeds

as garnishment

~1

tsp

wasabi powder

I like Eden Foods
Instructions
Prepare the rice in accordance with package directions.

Wash the roma tomates and cut a shallow cross hatch in the top of each. Briefly blanch the tomatoes in boiling water for 1-3 minutes, until the skins start to peel. Remove from boiling water and place in an ice bath.

While the tomatoes are cooling, combine the tamari, garlic, ginger, nori and sriracha in a mixing bowl.

Peel the skin from the tomatoes, then slice each tomato into quarters lengthwise. With a sharp knife, remove the seeds from piece and slice into small pieces.

Marinate the seedless tomato pieces in the tamari marinade.

Combine the rice vinegar, sugar and salt in a small pot. Bring to a boil and whisk until the salt and sugar are dissolved. Add the solution to the cooked rice and allow the rice to cool.

Strain the tamari marinade from the tomatoes. The garlic, ginger and nori will remain with the tomatoes.

Using a food ring, prepare the "tuna" tower by packing the bottom third with the cooled, seasoned rice. Add a layer of avocado. Add a second layer of rice.

Gently remove the food ring and top the tower with the "tuna." Sprinkle with sesame seeds, crushed pistachios and microgreens. Serve with tamari and wasabi paste. See recipe notes.
Notes
You only need to blanch the tomatoes until the skin begins to peel. Then, remove them and put them in an ice bath. This will stop the cooking process. You don't want mushy tomatoes!
That marinade? So good! But make sure that your garlic and ginger pieces are small. They'll end up in the final dish.
Speaking of the marinade… I drain it before I add the "tuna" to the tower. That way, you end up with a clean-looking dish.
The mixture I add to the rice is not to be missed! It helps the rice to stick together and adds flavor.
I like to serve this with pickled ginger and a wasabi/tamari sauce. Most likely, you can find wasabi powder in your local grocery store. Mix it with a little water until it becomes a paste.
About Herbivore's Kitchen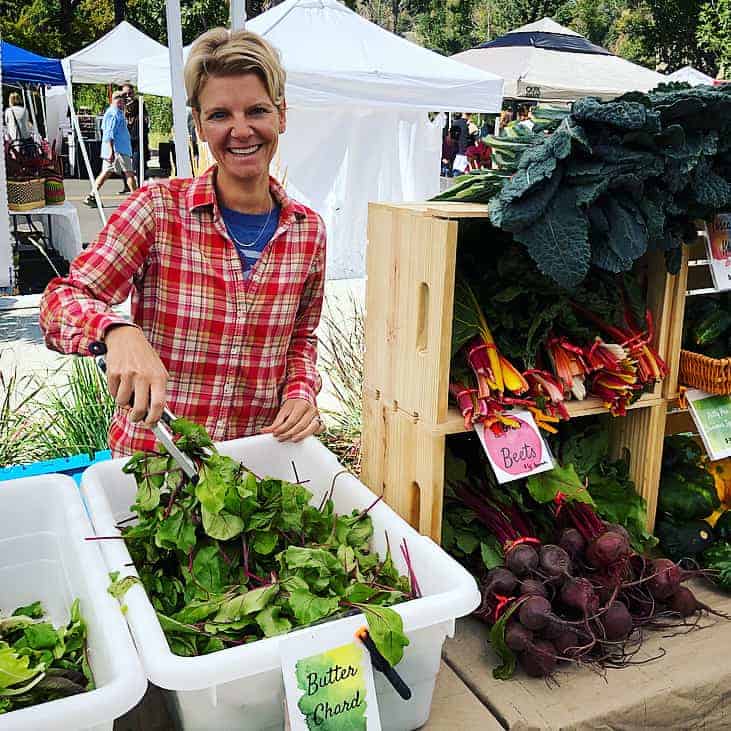 Herbivore's Kitchen is a blog run by me, a plant-based home chef and aspiring food photographer. I switched my and my family's diet to a plant-based diet after learning about the health benefits of going vegan. Making this change has prompted a variety of food and holistic-lifestyle related questions that I explore through this blog. I talk about how to pick and prepare the most nutritious foods, to how to reduce waste at home, to how to live a more sustainable lifestyle while on the road.