Jump to Recipe
---
This vegan BLT sandwich includes affiliate links. When I find a great product or service, I like to share it with my readers. Sometimes I use affiliate links so I can earn a commission for my recommendations. Thank you for your support!
---
The Best Vegan BLT Sandwich (with Mushroom Bacon)
Nothing beats a BLT sandwich, especially this vegan mushroom bacon version! This easy vegan bacon recipe makes the most satisfying vegan BLT sandwich – salty and savory with a hint of sweet! And, of course, it's also loaded with tomatoes, lettuce, avocado and vegan mayonnaise.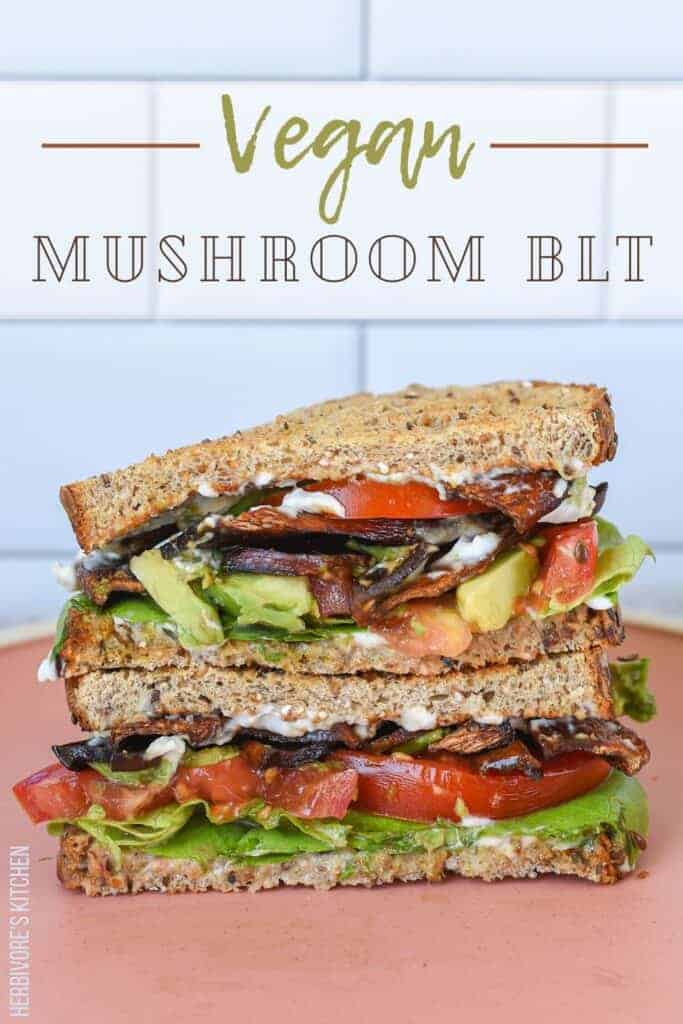 The Best Plant-Based Bacon for a Vegan BLT Sandwich: King Oyster Mushroom Bacon
One of my favorite sandwiches is a BLT. Or, rather, it used to be a BLT sandwich. Now it's a MLTA (mushroom bacon, lettuce, tomato and avocado sandwich). It's taken some work to find to find a vegan version of the BLT though.
I've been experimenting with vegan bacon for a while now and believe me when I tell you: I've tried it all. Tofu vegan bacon, rice paper vegan bacon, tempeh vegan bacon, shiitake mushroom bacon, eggplant vegan bacon… Some of these options are better than others, but it wasn't until recently that I came across an idea that really worked. I was at the grocery store to pick up some king oyster mushrooms intending to use them to make a vegan satay (more on that later) when I got inspired to try vegan bacon again instead.
What is a King Oyster Mushroom?
If you're not familiar with them, king oyster mushrooms are a brown-cap mushroom with a disproportionately large white stem. You can find them in most grocery stores. When you're shopping for king oyster mushrooms though, also be on the lookout for king trumpet mushrooms, French horn mushrooms, king brown mushrooms or trumpet royales – they're all the same.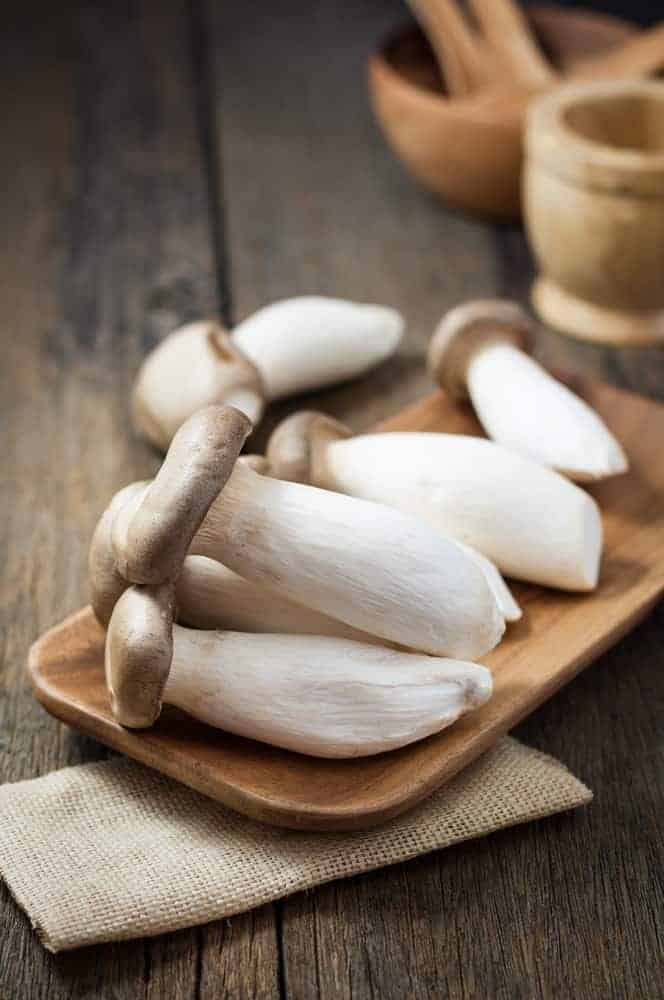 Unlike some mushroom varieties, the stem of a king oyster mushroom is edible. In fact, it's this part of the king oyster mushroom that's used in many of my vegan recipes like this vegan mushroom bacon BLT, my Miso-Glazed Scallops over Soba Noodles and the forthcoming, but highly anticipated (my words), Vegan Mushroom Satay. The stem has a meaty, but not woody, texture that absorbs marinades well.
Bringing the Bacon Flavor to Plant-Based Ingredients
This vegan bacon uses one of my favorite tricks: my vegan bacon sauce. I use this sauce any time I want to recreate a non-vegan recipe that relies on bacon. Recipes like my Vegan No Coq au Vin with Creamy Polenta. This sauce is a sure-fire way to get that rich, depth-of-flavor into plant-based ingredients.
Bacon, like many other meats, doesn't taste like much on its own. Anyone ever eat poached chicken as a child? It's the seasoning and preparation that make meat a vehicle for flavor. The rich flavors in bacon come from the curing process where salt and smoke are utilized to prepare the meat. Different seasonings — brown sugar, bourbon, pepper, maple syrup and blackstrap molasses (to name a few) – applied during the smoking process are what bring people to the breakfast table.
So why not apply this same methodology to a plant-based ingredient? I'll readily admit that it was the fat, salt and sweet that I craved in bacon. So, I set out to create a marinade to bring these flavors together. To do this, I use a combination of tamari (salt), maple syrup (sweet) and safflower oil (fat) with some smoked paprika spice to give my vegan bacon an authentic taste.
From there, I just needed to find the right carrier to give me that texture – meaty, with hints of chewiness and crispiness. I started with tofu and tempeh. While both are excellent absorbers of marinades, they don't offer up the right texture. Tofu won't crisp crisp like bacon. It becomes tough and very chewy. Tempeh has a beany, crumbly texture that (IMHO) is just all wrong for vegan bacon. Rice paper will crisp up, but it isn't chewy and lacks any nutritional value. Eggplant will get you most of the way there but falls short in the chewy category. In the end, nothing does it quite like a mushroom.
Why Mushrooms Make the Best Vegan Bacon
Mushrooms, on their own, are fairly neutral-tasting, but absorb marinades quite well. They also retain their structure when cooked instead of becoming mushy – allowing them to obtain that chewy/crispy combination that I wanted. The problem with using most mushroom varieties to make mushroom bacon is that the mushrooms become quite small when cooked. So, as much as I like shiitake bacon, it's a lot of work for a little food. They come out more like bacon bits than, long strips of bacon that work well in a sandwich or look good next to a stack of pancakes. Using the stem of a king oyster mushroom though, gives you the benefits of cooking with mushrooms along with a good-sized piece to work with.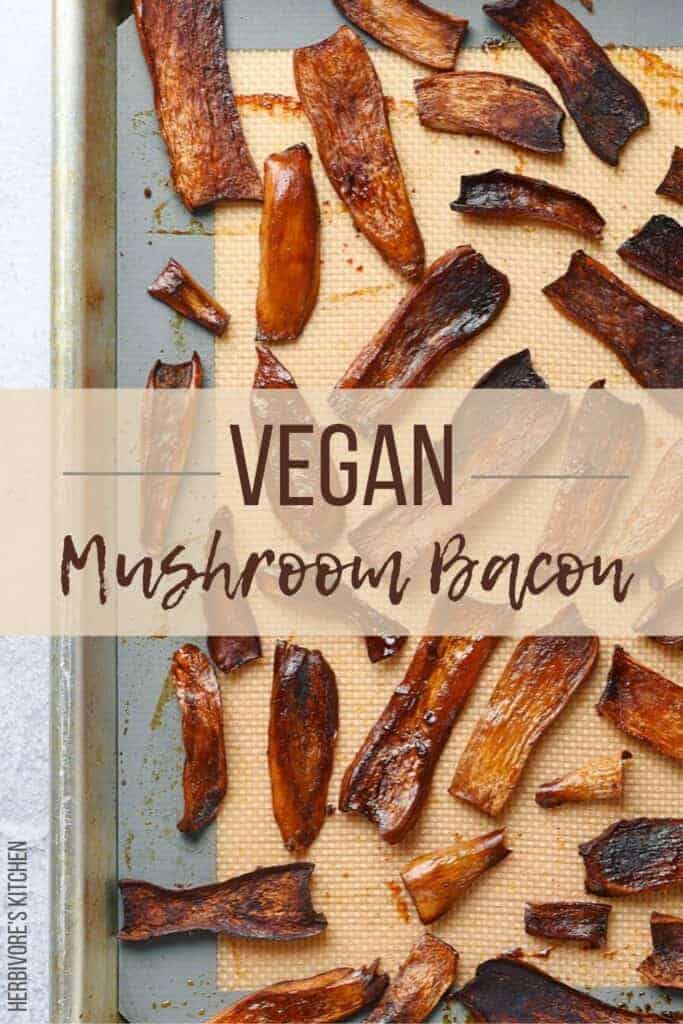 Making Your Mushroom Bacon for Your Vegan BLT Sandwich
There isn't too much you need to do to prepare your mushroom bacon. You'll first want to clean your mushrooms. Cleaning mushrooms has always been a bit of a mystery to me. Cooking tips recommend not washing your mushrooms for fear of them absorbing too much water, rendering them soggy messes. I used to strictly adhere to this advice; then, about two years ago, I visited a mushroom farm and suggested to the farmer that I didn't wash, but rather wiped, my mushrooms clean. He looked at me like I had 10 heads. From that point on, I've washed my mushrooms.
To do this, put your mushrooms a large colander and with a just more than a trickle of warm water running. Pick each one up and thoroughly rub it with your hands to remove any dirt. Don't worry that even this amount of water could be too much. According to Cooks Illustrated, mushrooms actually retain very little of the water you use to wash them if you're being conscientious. Once the mushrooms are cleaned, you'll remove the caps (save these for another dish!) and slice the stems lengthwise into strips. Keep the strips thin – about ¼".
Marinating Your Vegan Mushroom Bacon
As I mentioned earlier, the marinade I use to get a bacon flavor into plant-based ingredients is a combination of salty and sweet and contains some fat. Once the marinade is made, I lay the strips of king oyster mushroom stems out in a shallow dish and pour the marinade over them. Then, I'll cover the dish and allow them to sit. I've done this for as little as 30 minutes and for as long as overnight. The longer, the better but they will taste pretty amazing either way.
Cooking Your Vegan Mushroom Bacon for your Vegan BLT Sandwich
A high-temperate oven is the key to getting mushroom bacon crispy, but not shriveled and dry. I set my oven to 425º. While the oven is preheating, I'll prepare a baking sheet with a silicon mat (it makes for easier clean-up) and a light brushing of a high-temperature oil. I prefer using safflower oil for its low cost and its neutral flavor. I'll bake the mushroom bacon for 20 minutes, flip each piece and then bake them for 15-20 minutes more. In the end, you want the mushrooms to be pretty crisp – this will make for the most authentic BLT experience.
Putting Your Vegan BLT Sandwich Together
Once the mushroom bacon is done, the sandwich part is pretty typical. I like to thick-slice vine-ripened tomatoes and use butterhead lettuce when I can find it. I'm also partial to this sandwich on toasted bread. Avocado is a nice addition – it lends a creaminess to this vegan BLT sandwich and reduces the amount of mayonnaise you might otherwise use.
Speaking of mayonnaise, if you haven't tried vegan mayonnaise, you're missing out. When I first started adding plant-based recipes to my family's rotation I'll admit, I was very wary. But a quick glance at the ingredient listed encouraged me to try it. Vegan mayonnaise is made using a neutral-tasting oil, soy milk (but you can find soy-free varieties) and salt. Flavor enhancers like vinegar and lemon juice are also sometimes used. I really like Follow Your Heart®'s Veganaise using grapeseed oil. It's rich and creamy and hits the spot in much the same way that traditional mayonnaise would.
What's in My Kitchen to Make This Vegan BLT Sandwich Recipe Easier?
Want to know what tools and resources I keep on hand to make my vegan cooking even easier? Here's a short list of what helped me create this blog post and recipe. For the complete list, visit my Shop where you can find the kitchen gadgets I like as well as a list of books that I recommend.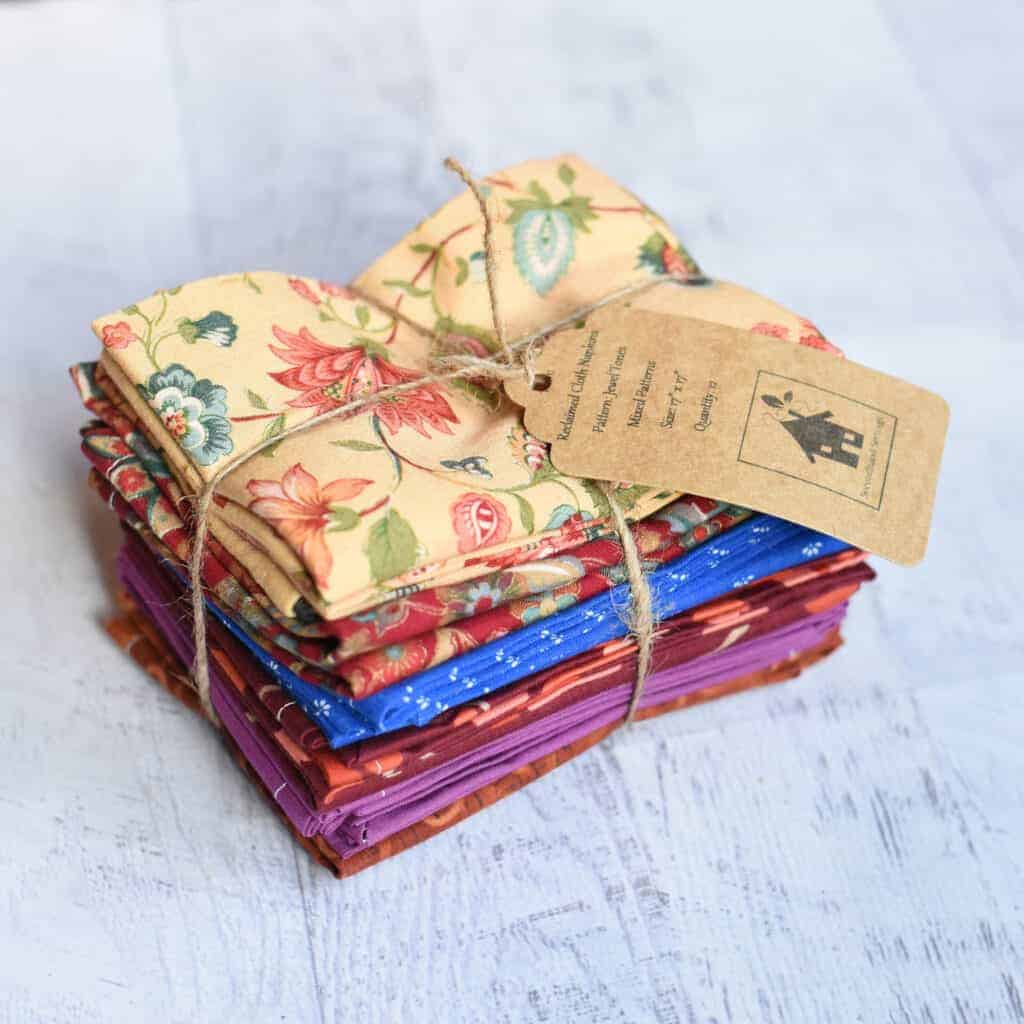 Before I get into cooking, I want to share these napkins. I found these on Etsy over a year ago and, not only do I LOVE them, I buy them as gifts for nearly everyone I know.
These napkins are upcycled and reusable, allowing you to not only avoid throwing away paper products but to also reuse fabrics – a small but significant way to cut back on water, dyes and chemicals used in the production process.
These napkins are so darling (they come in lots of different patterns and colors) and they're machine washable. I just throw them in with whatever load of laundry I'm doing. They don't wrinkle easily, so a quick fold will have them back on your table doing what they were meant to do… be reused!
No, that's not the brand. It's just the idea! But, I own this set of Global™ knives and They're some of my most prized possessions in the kitchen. This set is universally well-rated for the at-home chef and will get you a good, solid set of knives without totally breaking the bank.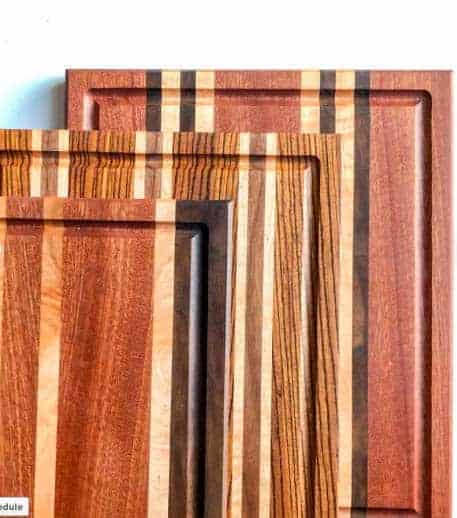 Recently, I spent some time researching the best cutting boards. I've been a plastic cutting board believer for a long time. And, yes, you can put them in the dishwasher.
Wood cutting boards, though, are a healthier option. This board I found on Etsy is made of maple and walnut, both hardwoods. Hardwoods are fine-grained, offering up fewer deep cuts for bacteria to hide. They're also "self-healing" in that, over time, the wood will partially repair itself over time. So, a well-cared for wood cutting board, even though it costs more at the outset, should last you a long time.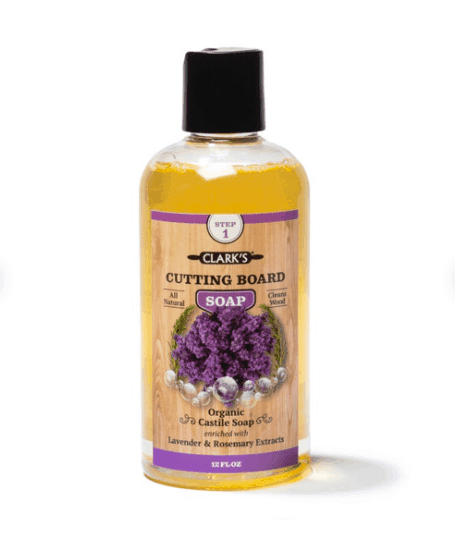 Speaking of wood cutting board care… this natural castile-based soap is free from animal products. Just another step in making your kitchen more sustainable! And it's scented with rosemary and lavender oils, so it smells amazing too!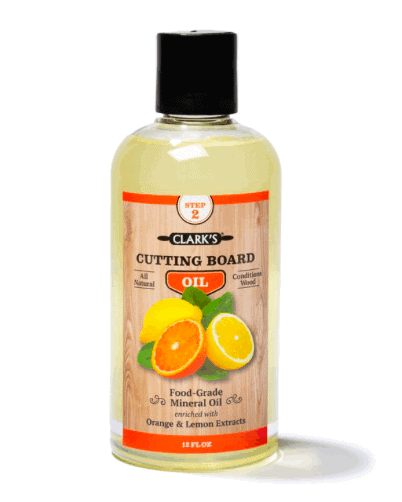 And, after you clean your wood cutting board, be sure to treat it with food-grade mineral oil. Mineral oil will help prevent your cutting board from drying and cracking, thereby extending its useful life. I like this mineral oil because it exceeds FDA standards for food-grade mineral oil and it doesn't contain any potential allergens, enabling you to use it without worry.
Down a broiler pan? These aluminum baking sheets come highly recommended by the cooks who know best – Epicurious, Cooks Illustrated and Food & Wine. I bought mine because I needed a good, sturdy baking sheet to use under the broiler. One that wouldn't warp – and this one lives up to the task.
Aluminum is a good conductor of heat, so these baking sheets cook evenly. They're also light in color, so they discourage over-browning.
These things are amazing! When I discovered parchment paper, I thought I had things figured out. No more greasing pans or ruining them with charred food. Then I discovered these silicon baking pads. They're oven-safe up to 450 degrees, dishwasher safe (top rack only) and easy to clean and REUSE!
Love to cook with cast iron? Ever forget how hot those handles get? Yeah, me too. The Ove Glove will help to protect your hands when cooking (and forgetting).
These pot holders are heat safe to 540 degrees and two come in a package – one for holding the handle and one for supporting the bottom of your cast iron skillet (because we all know it's too heavy to pick up with one hand).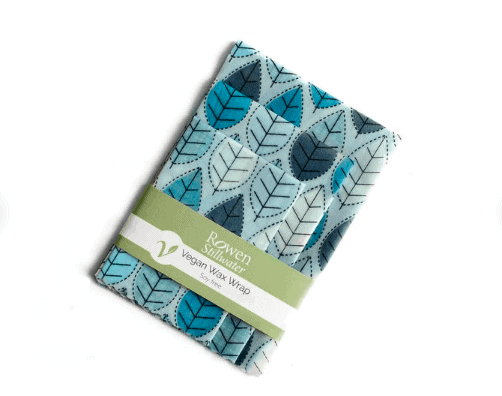 These vegan wax food wraps are an awesome alternative to plastic "cling" wrap, which as we know only clings half the time anyway. Handmade by Etsy seller Rowen Stillwater, these sustainability heroes are bestsellers with a five-star rating!
These wax wraps come in three sizes: small (8″ x 8″), medium (10″x10″) and large (12″x12″) and a variety of super cute patterns.
Best of all, when these vegan food wraps reach the end of their life – typically 6 months to a year, they can be composted. That's winning in the kitchen!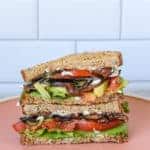 The Best Vegan BLT Sandwich (with Mushroom Bacon)
Nothing beats a BLT sandwich, especially this vegan mushroom bacon version! This easy vegan bacon recipe makes the most satisfying BLT sandwich – salty and savory with a hint of sweet! And, of course, it's also ¬loaded with tomatoes, lettuce, avocado and vegan mayonnaise.
Total Time
1
hour
30
minutes
Ingredients
16

oz

king oyster mushrooms

1/2

cup

low-sodium tamari

4

tbsp

maple syrup

2

tsp

balsamic vinegar

1

tsp

smoked paprika

2

tbsp

safflower oil

or other high-temp, neutral-tasting oil

4

slices

good sandwich bread

1

vine-ripened tomato

1

avocado

4-6

leaves

butterhead lettuce

or other lettuce

2

tbsp

vegan mayonnaise Wash the king oyster mushrooms gently under running water to remove any excess dirt.
Instructions
Wash the king oyster mushrooms gently under running water to remove any excess dirt.

Remove the mushroom caps and reserve these for another recipe.

Trim the rough end of the mushroom stem and then slice each stem into ¼" strips lengthwise.

Prepare the marinade by combining the tamari, maple syrup, balsamic vinegar, smoked paprika and 1 tbsp of the safflower oil.

Lay the mushroom stems in a shallow dish and pour the marinade over the stems. Cover and refrigerate for at least 30 minutes.

While the mushrooms are marinating, preheat your oven to 425º and lightly baste a baking sheet with the remaining tbsp of safflower oil. I like to use a silicon baking mat when making mushroom bacon as it allows for easier clean up.

Roast the mushrooms on the middle rack for 20 minutes. Flip each piece and roast for 15-20 minutes more. Keep an eye on the mushrooms during the final 15-20 minutes. You want them to be quite crispy, but to avoid burning them.

While the bacon is roasting, assemble your other ingredients. Toast the bread, wash the lettuce leaves and slice the tomato and avocado.
Recipe Notes
If you want to make mushroom bacon in advance, I recommend baking it until it is just shy of crispy then storing it in an airtight container in the refrigerator. When you're ready to eat it, finish the roasting process just before serving.
About Herbivore's Kitchen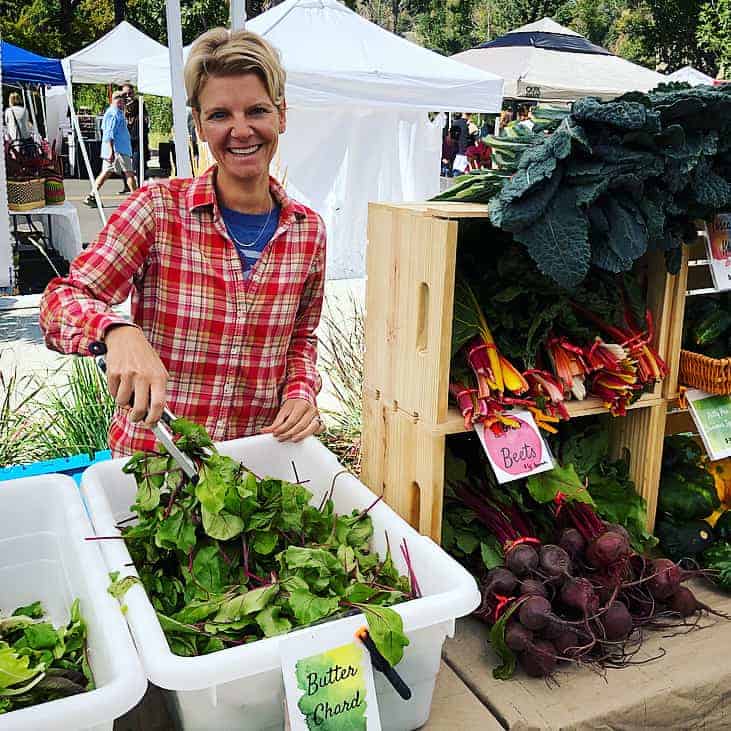 Herbivore's Kitchen is a blog run by me, a plant-based home chef and aspiring food photographer. I switched my and my family's diet to a plant-based diet after learning about the health benefits of going vegan. Making this change has prompted a variety of food and holistic-lifestyle related questions that I explore through this blog. I talk about how to pick and prepare the most nutritious foods, to how to reduce waste at home, to how to live a more sustainable lifestyle while on the road.