Jump to Recipe
---
This ramen noodle salad post includes affiliate links. When I find a great product or service, I like to share it with my readers. Sometimes I use affiliate links so I can earn commission for my recommendations. Thank you for your support!
---
Summer Fresh Ramen Noodle Salad
Here's a ramen noodle recipe to add to your summer meal selection! Served cold, this ramen noodle salad features Lotus Foods' Forbidden Rice® Ramen Noodles. Red bell peppers, green edamame and luscious yellow mango along with a tangy Asian-inspired dressing make this ramen noodle salad really sing!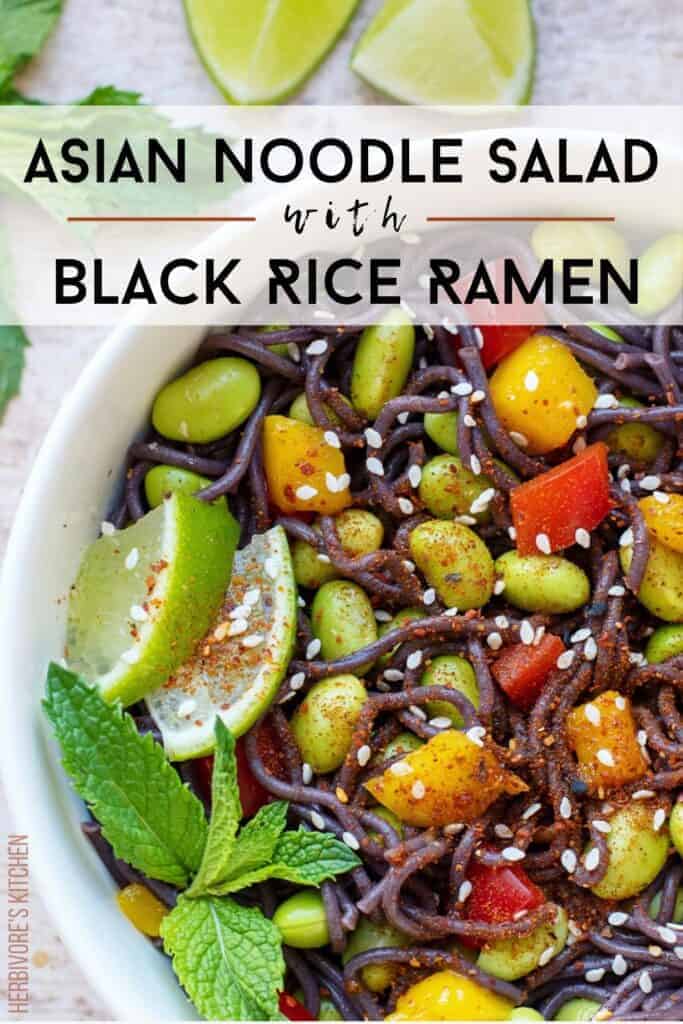 What I love most about this Asian noodle dish though, is how quickly it comes together. Lotus Lotus Foods' Forbidden Rice® Ramen Noodles cook in about four minutes, which is a little less time than you need to cut a mango. For tips on that tricky fruit, check out this video by Clean & Delicious. Seriously though, this is a great, quick option for a backyard party or a light vegan dinner. You'll have in on the table in no time.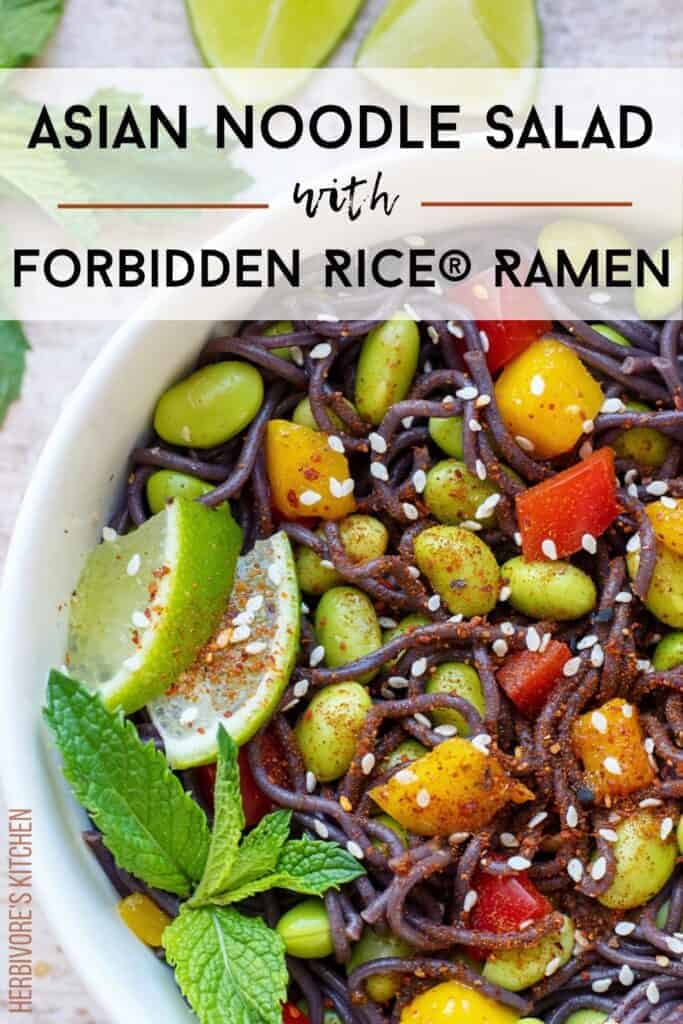 Why Lotus Foods' Forbidden Rice® Should Headline Your Ramen Noodle Salad
If you're not familiar with Forbidden Rice®, it's an ingredient that you ought to get to know. Like other naturally colorful foods, Forbidden Rice® is high in antioxidants. It's also believed to have anti-cancer and anti-inflammatory effects, making it the healthiest among rice options.
What Makes this Ramen Noodle Salad Sing?
Color, of course! This vegan recipe is a pretty as it is tasty with the bright colors of red bell peppers, bright green edamame and sweet, fresh mango. To give this Asian noodle salad some extra pop, I added fresh, torn mint leaves and a tangy Asian-inspired salad dressing. The familiar sweet and sour flavor of rice vinegar with the saltiness of tamari makes sure that this dish hits all of your taste buds.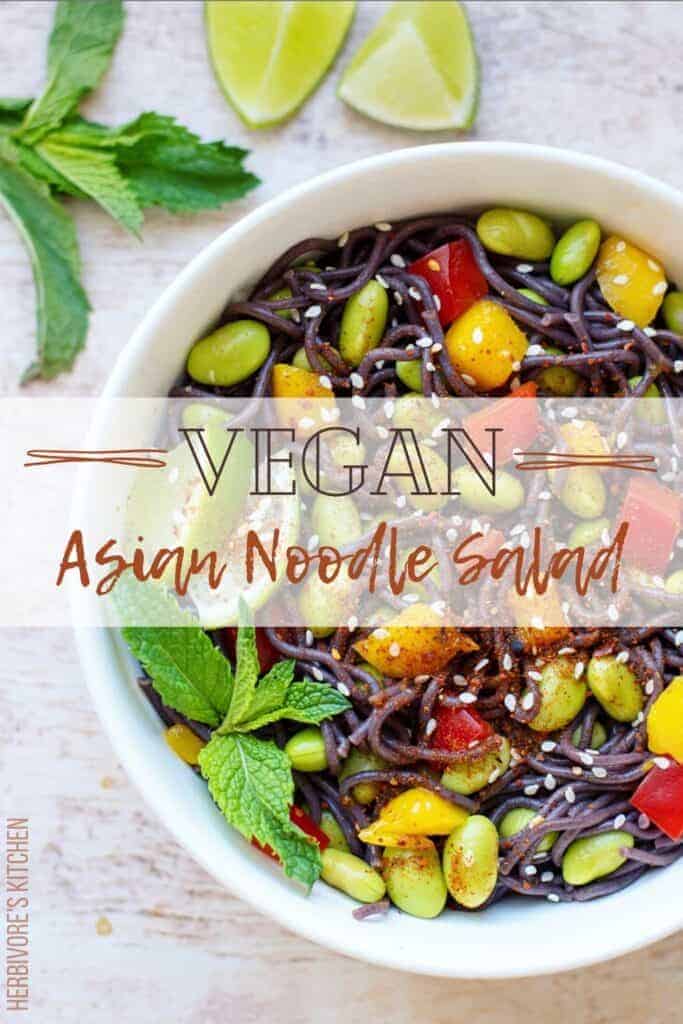 For an extra twist, I added a sprinkle of togarashi seasoning as a topping. Togarashi is a Japanese 7-spice blend of dried chiles, sesame seeds, granulated orange peel, salt and granulated nori, that lends a unique flavor to vegan cooking. I have made it before, but granulated orange peel is a little tricky to come by. This time, I purchased mine from Spice Jungle. I dig this store. Like, really dig it. They have spice blends for just about every dish you could want. Expect to see it coming up more and more in my recipes – because who doesn't love making things easier?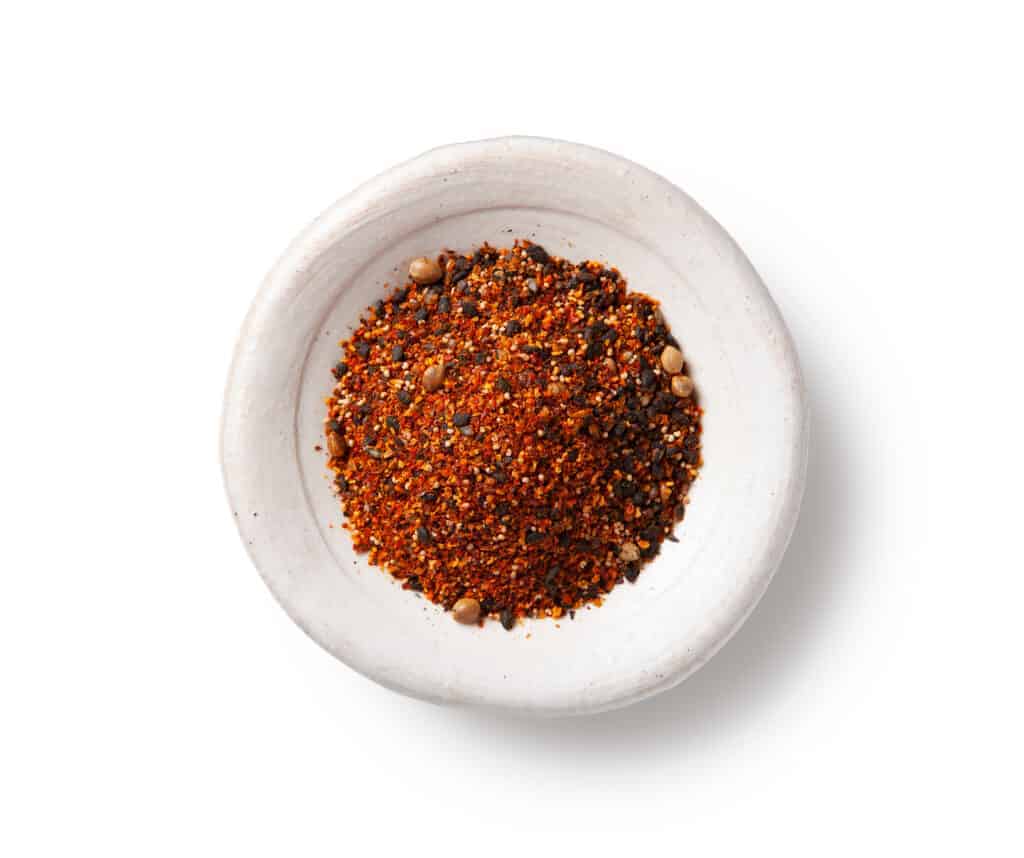 What's in My Kitchen to Make This Ramen Noodle Salad Easier?
Want to know what tools and resources I keep on hand to make my vegan cooking even easier? Here's a short list of what helped me create this blog post and recipe. For the complete list, visit my Shop where you can find the kitchen gadgets I like as well as a list of books that I recommend.
No, that's not the brand. It's just the idea! But, I own this set of Global™ knives and They're some of my most prized possessions in the kitchen. This set is universally well-rated for the at-home chef and will get you a good, solid set of knives without totally breaking the bank.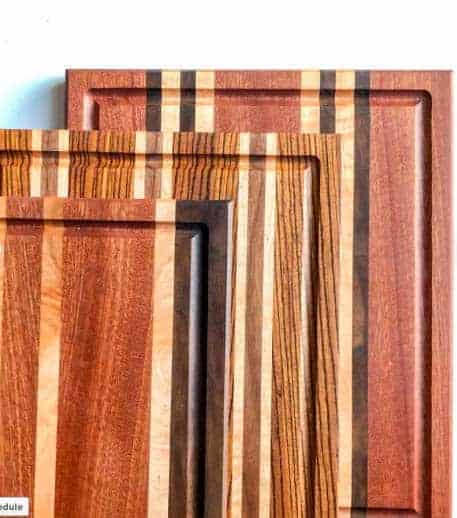 Recently, I spent some time researching the best cutting boards. I've been a plastic cutting board believer for a long time. And, yes, you can put them in the dishwasher.
Wood cutting boards, though, are a healthier option. This board I found on Etsy is made of maple and walnut, both hardwoods. Hardwoods are fine-grained, offering up less deep cuts for bacteria to hide. They're also "self-healing" in that, over time, the wood will partially repair itself over time. So, a well-cared for wood cutting board, even though it costs more at the outset, should last you a long time.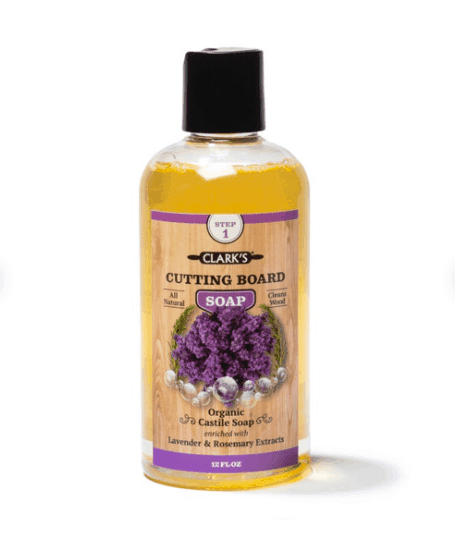 Speaking of wood cutting board care… this natural castile-based soap is free from animal products. Just another step in making your kitchen more sustainable! And it's scented with rosemary and lavender oils, so it smells amazing too!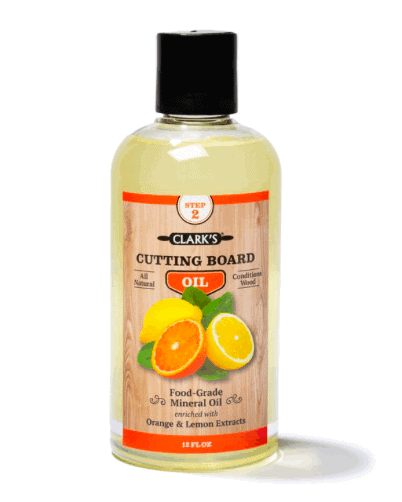 And, after you clean your wood cutting board, be sure to treat it with food-grade mineral oil. Mineral oil will help prevent your cutting board from drying and cracking, thereby extending its useful life. I like this mineral oil because it exceeds FDA standards for food-grade mineral oil and it doesn't contain any potential allergens, enabling you to use it without worry.
Noodle bowls are a favorite of mine and I love serving them when I have guests. I recommend picking up a set so that you have plenty of room for all of that delicious broth! I'm currently digging this decorative set!
I maintain that this is an essential kitchen tool. Yes, I know that you can squeeze a lemon (or lime, or orange) with your hands, but do that and then try this and see just how much more juice you get from each fruit. It also has the added benefit of separating (most) of the seeds from the juice.
Here's my theory: food tastes better if it's eaten with the utensils it was designed for. This is why I use Ramen Soup Spoons for my ramen bowls (check out my Veggie Loaded Veggie Ramen) and why I use chopsticks for dishes like my Vegetable Lo Mein. These fiberglass chopsticks are attractive, inexpensive and reusable and won't give you splinters!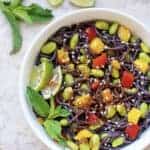 Summer Fresh Ramen Noodle Salad
Add this to your list of summer recipes! This Asian-inspired ramen noodle salad is so fresh! Nutrition rich Forbidden Rice® ramen noodles serve as the base for this ramen noodle salad. This ramen recipe is complemented with red peppers, green edamame and bright mango and topped with a tangy Asian salad dressing, fresh mint and zesty lime!
Ingredients
2

cakes

Lotus Foods' Forbidden Rice® Ramen Noodles

2 bricks

1

mango

diced

1

red pepper

diced

1

cup

edamame

steamed

1/4

cup

rice vinegar

1/4

cup

tamari

1

tbsp

toasted sesame oil

2

tbsp

maple syrup

juice of 1 lime

1

bunch

fresh mint

washed and torn

sesame seeds

as optional garnish

lime wedges

as optional garnish

2

tsp

togarashi seasoning

as optional garnish (I buy mine from Spice Jungle)
Instructions
Prepare the Lotus Foods' Forbidden Rice® Ramen Noodles in accordance with package directions. After cooking the noodles, rinse them thoroughly in cold water to stop the cooking process. Set aside.

Steam the edamame then rinse in cold water to stop the cooking process.

Dice the mango and red bell pepper. Wash and tear the fresh mint.

Combine the rice vinegar, tamari, toasted sesame oil, maple syrup and lime juice. Toss in the rice ramen noodles, red bell pepper, fresh mango, fresh mint and edamame.

Serve cold with fresh mint leaves, sesame seeds, lime wedges and togarashi seasoning.
About Herbivore's Kitchen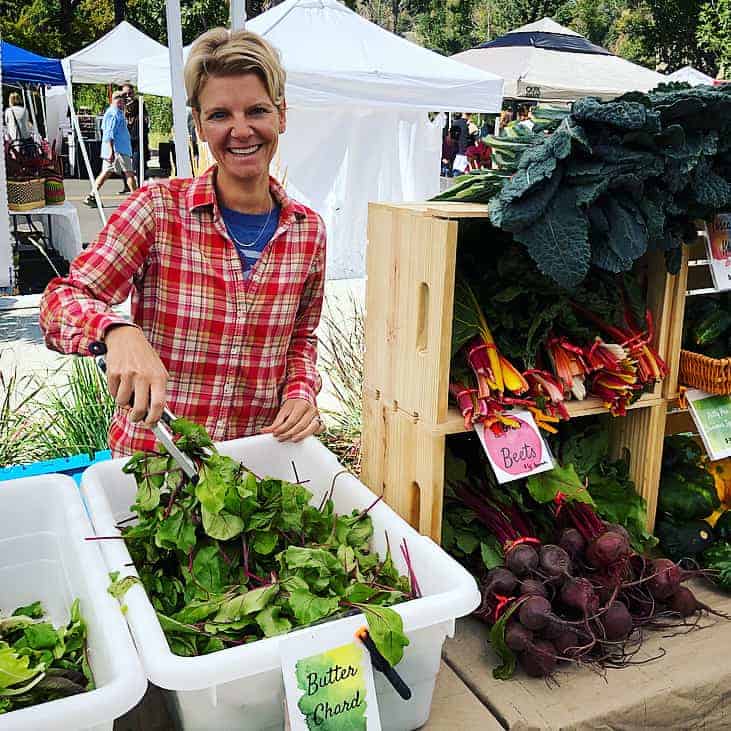 Herbivore's Kitchen is a blog run by me, a plant-based home chef and aspiring food photographer. I switched my and my family's diet to a plant-based diet after learning about the health benefits of going vegan. Making this change has prompted a variety of food and holistic-lifestyle related questions that I explore through this blog. I talk about how to pick and prepare the most nutritious foods, to how to reduce waste at home, to how to live a more sustainable lifestyle while on the road.