Jump to Recipe
---
This Garlic Smashed Potatoes with Chimichurri Sauce post includes affiliate links. When I find a great product or service, I like to share it with my readers. Sometimes I use affiliate links so I can earn commission for my recommendations. Thank you for your support!
---
Garlic Smashed Potatoes with Chimichurri Sauce
Move over baked potatoes, smashed potatoes are the new kid in town! Baked smashed potatoes are an easy vegan recipe that will have your taste buds singing your praises. For this vegan recipe, I chose to top my smashed potatoes with a tangy, herby chimichurri sauce – one of my favorite summertime condiments.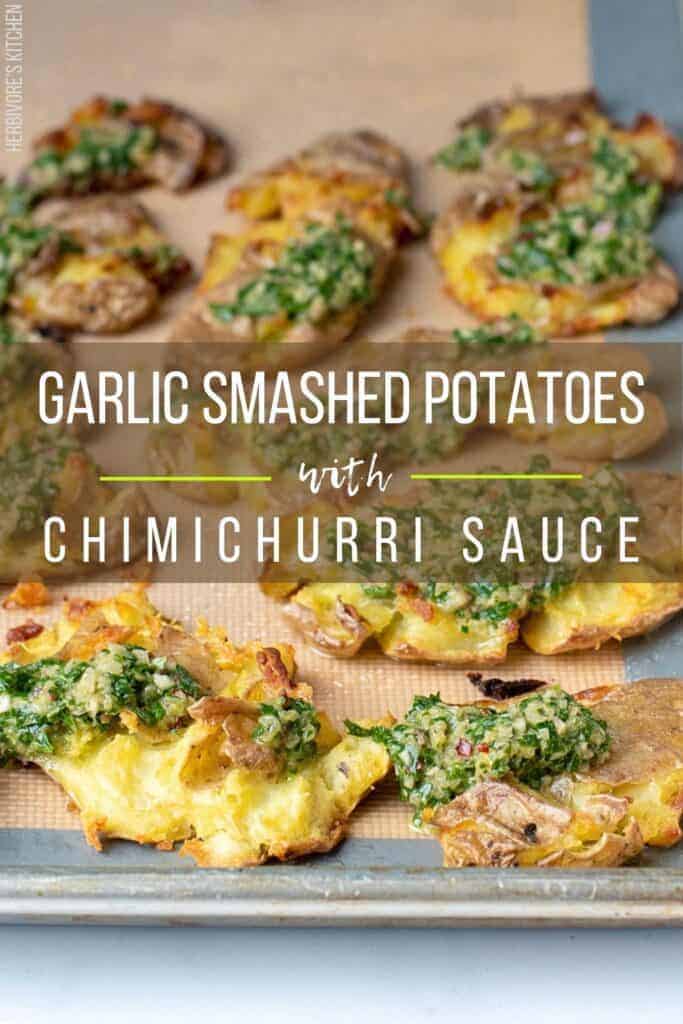 Garlic Smashed Potatoes? Tell Me More!
If you haven't tried making smashed potatoes yet, you need to get your oven mitts out. These vegan treats are so easy to make. They're baked, but that won't get in the way of a crispy exterior and a soft baked potato inside.
Making Smashed Potatoes with Fingerling Potatoes
Smashed potatoes are made with fingering potatoes. You might not recognize the name, but you've likely come across these tiny tubers on the menu at some point. Fingerling potatoes are their own variety of potato, not a baby version of the full-sized potatoes you see in the grocery store. Their draw is their thin skin which makes them perfect for a recipe like these Garlic Smashed Potatoes. Fingerling potatoes come in different colors and different varieties with fancy names like Russian Banana, Purple Peruvian and Ruby Crescent. My preference is the yellow-gold Russian Banana.
How to Make Garlic Smashed Potatoes
For this vegan recipe, these small spuds are steamed first. Steaming the potatoes softens them so that their time in the oven is all about making them crispy. Once they've been steamed, they're drizzled in safflower oil (or another heat-tolerant oil), sprinkled with salt and garnished with crushed garlic. Then, the whole combination is baked in a 400º oven until they're perfectly delicious.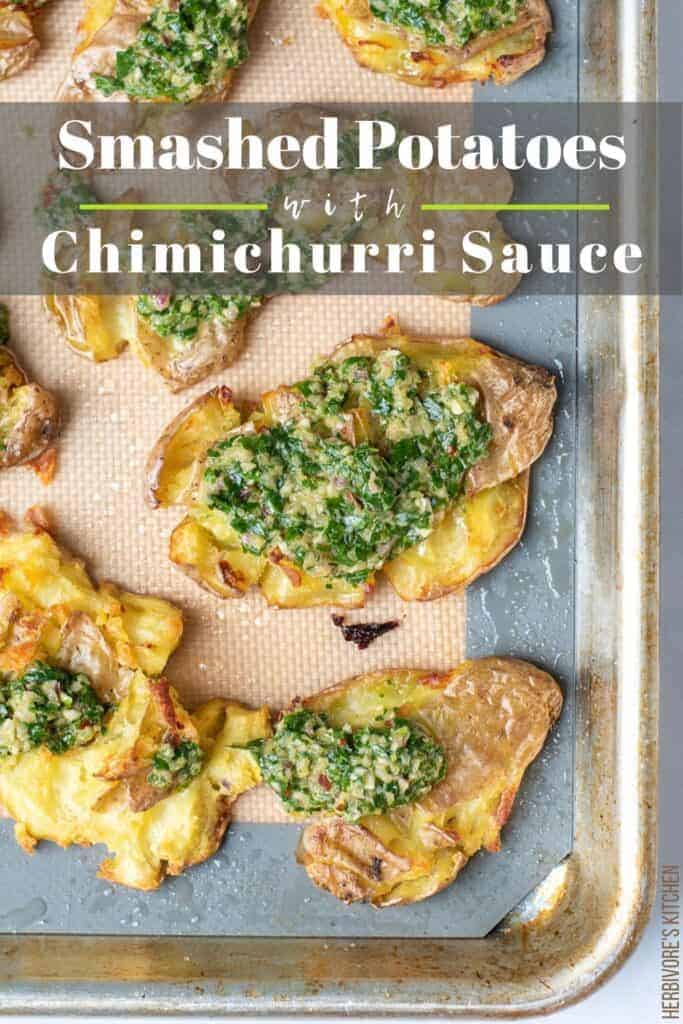 Already So Yummy! Now About That Chimichurri Sauce…
Chimichurri sauce is a gift from Argentinian cuisine. It's a thick, salsa-like condiment, featuring fresh parsley and cilantro. Often, I grow these primary ingredients in my summer garden (or in my Aerogarden in the winter). Using just-picked herbs makes this exceptional sauce all that much better. Red wine vinegar, garlic and a jalapeno pepper give chimichurri it's tangy kick, while rich extra virgin olive oil gives it a delightful creaminess.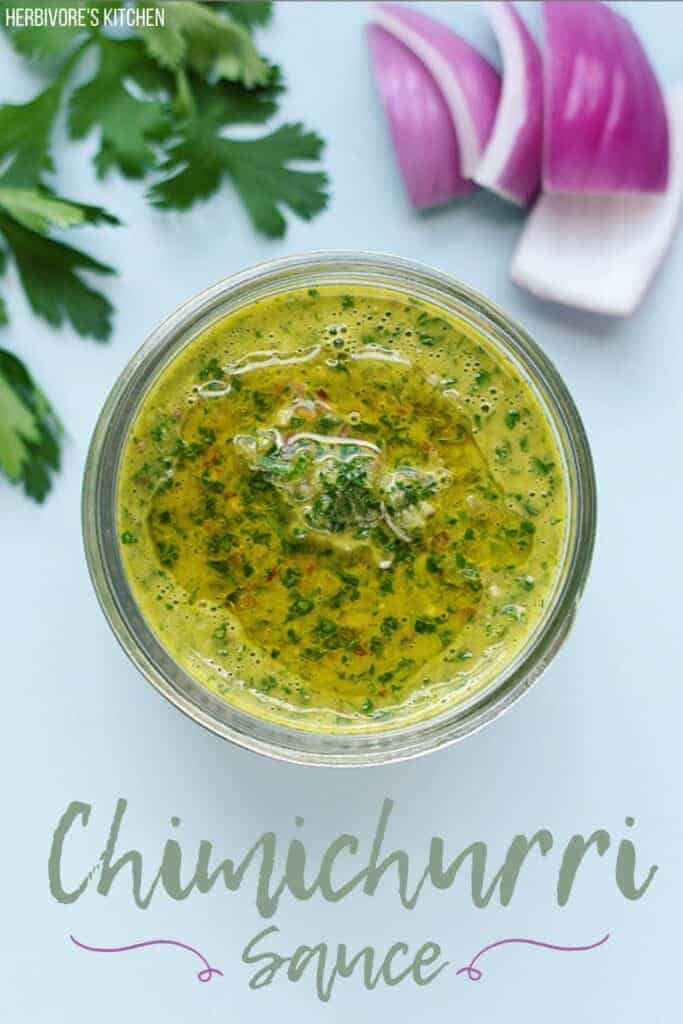 I don't reserve chimichurri sauce for smashed potatoes. This ingredient is a staple in my kitchen. In the summer, I make it once a week and use it to bring flavor to my breakfast burritos, give my avocado toast a tangy boost or top my grilled Portobello mushrooms. You can find my recipe for chimichurri here along with some of my favorite ways to use it.
Putting These Garlic Smashed Potatoes with Chimichurri Sauce Together
This vegan snack, appetizer… ah… entrée? is super easy to put together. As soon as the smashed potatoes come out of the oven, generously spoon chimichurri sauce over them and then get ready, get set and GO! At least that's how it happens in my house. You need to move fast on this vegan recipe. Oh, and if by any chance you have leftovers… throw them in a frying pan in the morning and enjoy them for breakfast!
What's in My Kitchen to Make This Garlic Smashed Potatoes with Chimichurri Sauce Recipe Easier?
Want to know what tools and resources I keep on hand to make my vegan cooking even easier? Here's a short list of what helped me create this blog post and recipe. For the complete list, visit my Shop where you can find the kitchen gadgets I like as well as a list of books that I recommend.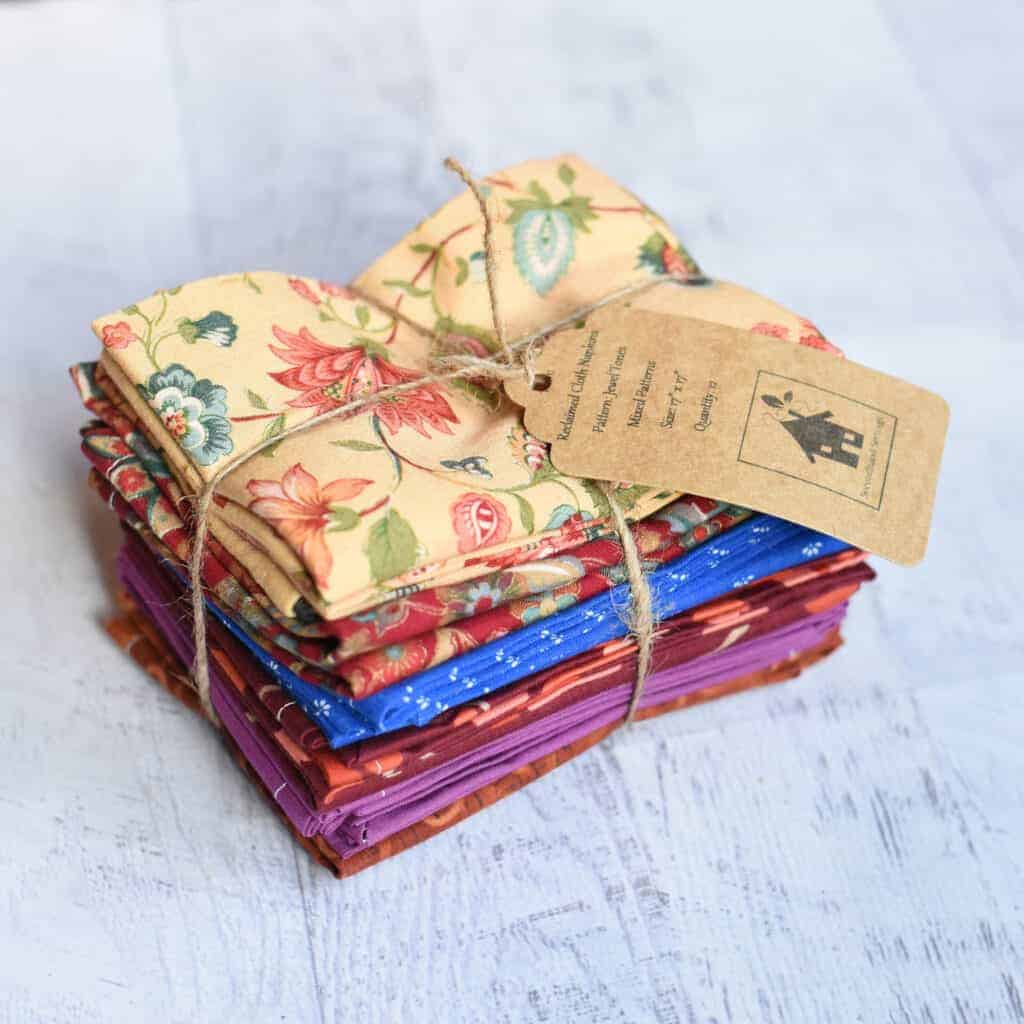 Before I get into cooking, I want to share these napkins. I found these on Etsy over a year ago and, not only do I LOVE them, I buy them as gifts for nearly everyone I know.
These napkins are upcycled and reusable, allowing you to not only avoid throwing away paper products but to also reuse fabrics – a small but significant way to cut back on water, dyes and chemicals used in the production process.
These napkins are so darling (they come in lots of different patterns and colors) and they're machine washable. I just throw them in with whatever load of laundry I'm doing. They don't wrinkle easily, so a quick fold will have them back on your table doing what they were meant to do… be reused!
I only bought one of these a few months ago, but wow! I'm so much happier not peeling garlic cloves with my fingernails. I'm pretty sure I'll collectively get at least a day of my life back because of this device
I've read a dozen posts about why you shouldn't use a garlic press. One of them actually suggested that they take up valuable kitchen space. I mean, I guess if you have a tiny kitchen you might have to make those choices. They're smaller than a can opener. I love mine. I hate, hate, hate mincing garlic.
Down a broiler pan? These aluminum baking sheets come highly recommended by the cooks who know best – Epicurious, Cooks Illustrated and Food & Wine. I bought mine because I needed a good, sturdy baking sheet to use under the broiler. One that wouldn't warp – and this one lives up to the task.
Aluminum is a good conductor of heat, so these baking sheets cook evenly. They're also light in color, so they discourage over-browning.
These things are amazing! When I discovered parchment paper, I thought I had things figured out. No more greasing pans or ruining them with charred food. Then I discovered these silicon baking pads. They're oven-safe up to 450 degrees, dishwasher safe (top rack only) and easy to clean and REUSE!
There are a few tools in my kitchen that get used all the time and this mini 4-cup food processor is one of them. It's perfect for sauces that don't require me to bring out the big guns. Clean up is easy and it doesn't take up much space.
I bought this a few years ago and have success growing herbs and lettuces in it ever since. I love that it is mostly hands off — perfect for someone who has trouble keeping plants alive. I use my own seeds using the Grow Anything seed pods.
These seed pods work with the Aerogarden Bounty – the indoor gardening center. I use these pods along with my own seeds to keep an indoor garden of fresh herbs going all year long.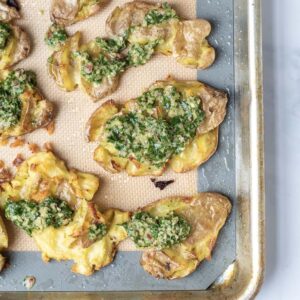 Garlic Smashed Potatoes with Chimichurri Sauce
Move over baked potatoes, smashed potatoes are the new kid in town! Baked smashed potatoes are an easy vegan recipe that will have your taste buds singing your praises. For this vegan recipe, I chose to top my smashed potatoes with a tangy, herby chimichurri sauce – one of my favorite summertime condiments.
Ingredients
1.5

lbs

fingerling potatoes

2

tbsp

safflower oil

or other heat tolerant cooking oil

1

tbsp

garlic

crushed

1

tsp

salt

chimichurri sauce

find my recipe here
Instructions
Carefully wash the potatoes. Leave the skins intact.

Preheat the oven to 400º.

Set up a steamer basket in a large stockpot with 1-2" of water in the bottom. Bring to a boil. Add the fingerling potatoes and steam for ~20 minutes until the potatoes can easily be pierced with a fork.

Prepare a baking sheet with parchment paper or a silicon baking mat. Arrange the steamed potatoes on the sheet, allowing for space between each potato.

Using a potato masher, smash the potatoes until they are ~ ½" thick.

Drizzle with the safflower oil and evenly distribute the crushed garlic. Sprinkle with the salt.

Bake on the middle rack for 40-45 minutes until the potatoes' edges are browned and crispy.
About Herbivore's Kitchen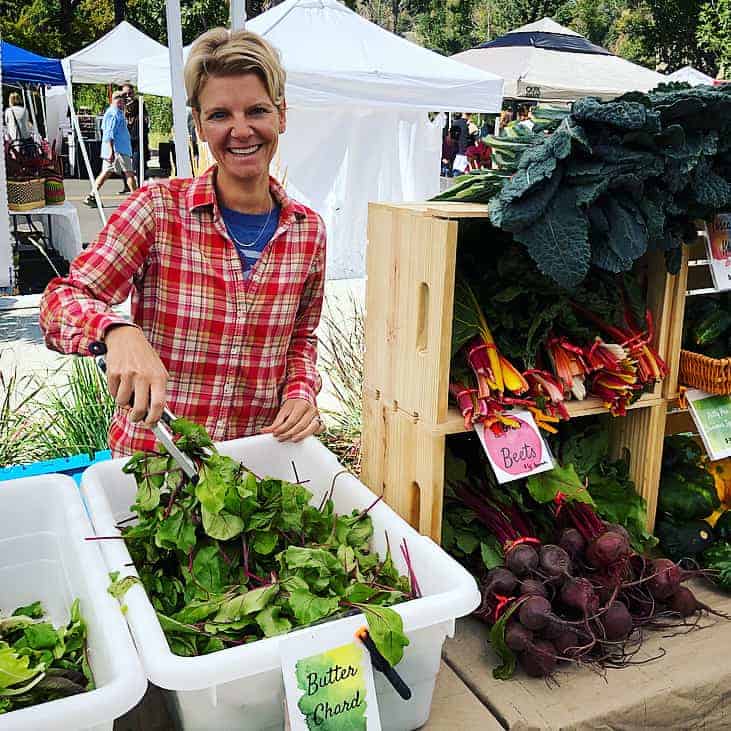 Herbivore's Kitchen is a blog run by me, a plant-based home chef and aspiring food photographer. I switched my and my family's diet to a plant-based diet after learning about the health benefits of going vegan. Making this change has prompted a variety of food and holistic-lifestyle related questions that I explore through this blog. I talk about how to pick and prepare the most nutritious foods, to how to reduce waste at home, to how to live a more sustainable lifestyle while on the road.