Jump to Recipe
---
This chimichurri sauce post includes affiliate links. When I find a great product or service, I like to share it with my readers. Sometimes I use affiliate links so I can earn commission for my recommendations. Thank you for your support!
---
Chimichurri Sauce
This chimichurri sauce recipe is a great way to liven up your summer time dishes! A combination of fresh herbs, red wine vinegar, garlic and spicy red chili flakes, chimichurri is a popular condiment that hails from Argentina.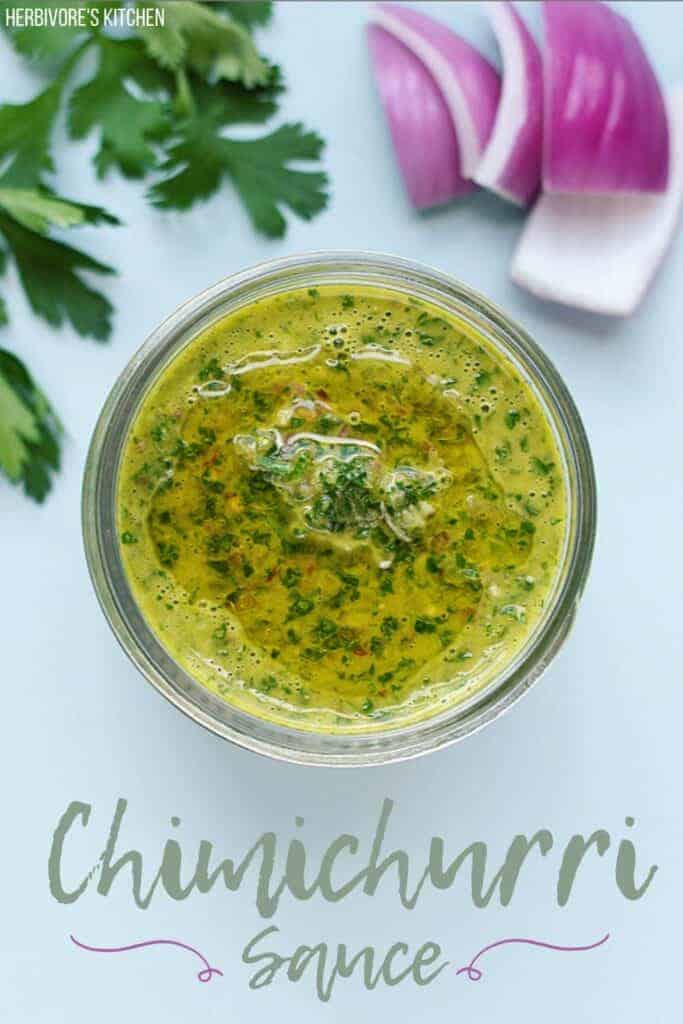 If you're familiar with Argentinian cuisine, you know that beef is often on the menu. So, when you're looking for chimichurri recipes, you'll often find them accompanying dishes like flank steak and other animal-sourced mains, like shrimp and chicken. Don't despair though, because chimichurri sauce works equally well on vegan-friendly dishes, like my Garlic Smashed Potatoes and Grilled Portobello Steak! I also like to use it as a topping to my vegan tacos and breakfast burritos as a leftover.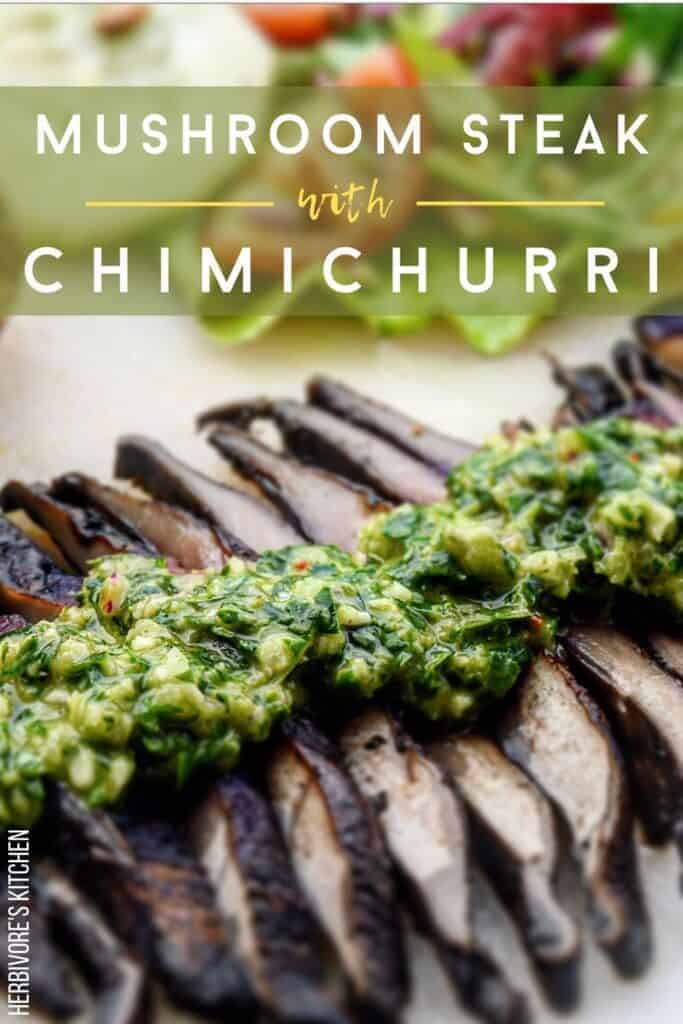 How to Make Chimichurri Sauce
The key to chimichurri sauce is fresh herbs! This recipe calls for equal parts parsley and cilantro, two herbs that are readily available at the grocery store. Chimichurri gets its kick from red wine vinegar, garlic and crushed red pepper flakes and its richness from a really good extra virgin olive oil. As you can see, chimichurri sauce is like a little herb salad in a jar!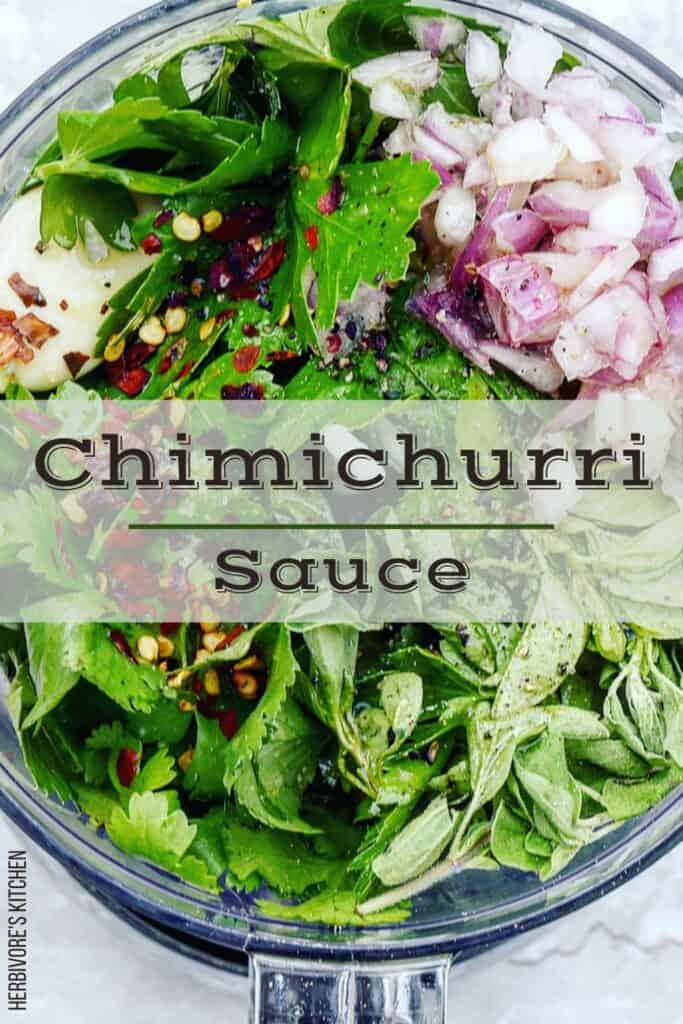 The hardest part of making chimichurri is prepping the herbs. Removing the leaves can be a time-consuming endeavor, but I have a trick to make it easier. Cilantro stems are edible and hold the same flavor as the leaves without the concern of bitterness. So, getting that single cup of cilantro is easy. Just wash the bunch and cut the just under the leaves, leaving the top part of the stem intact.
Parsley is a different story – you do want to remove the leaves from the stems for this herb, as the stems have a more bitter flavor. Fortunately, I find breaking parsley leaves from the stems to be less daunting than dealing with cilantro. The leaves are thick and easy to pull from the stems. It should only take you about 10 minutes to get a full cup of the leaves.
After you've prepped the herbs, making chimichurri sauce is really easy. All you need to do is combine the ingredients in a food processor and pulse a few times. Then, voila! You have the summer time sauce to beat all sauces. There's no cooking involved.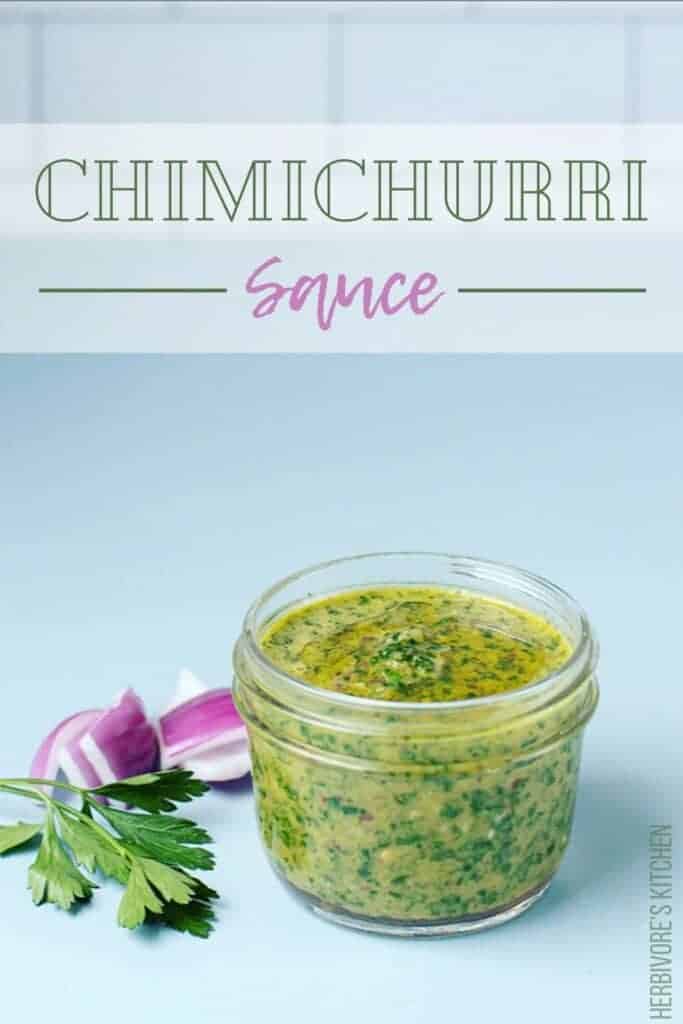 What's in My Kitchen to Make This Chimichurri Sauce Recipe Easier?
Want to know what tools and resources I keep on hand to make my vegan cooking even easier? Here's a short list of what helped me create this blog post and recipe. For the complete list, visit my Shop where you can find the kitchen gadgets I like as well as a list of books that I recommend.
No, that's not the brand. It's just the idea! But, I own this set of Global™ knives and They're some of my most prized possessions in the kitchen. This set is universally well-rated for the at-home chef and will get you a good, solid set of knives without totally breaking the bank.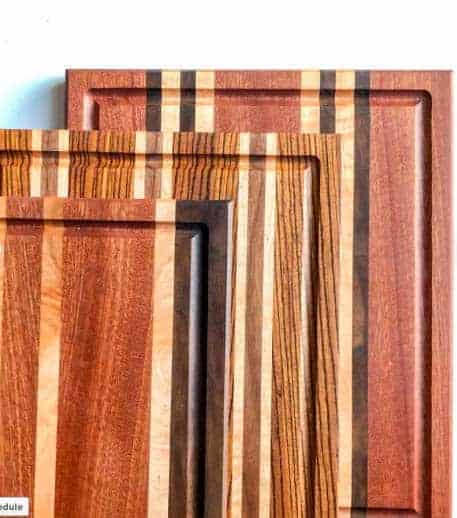 Recently, I spent some time researching the best cutting boards. I've been a plastic cutting board believer for a long time. And, yes, you can put them in the dishwasher.
Wood cutting boards, though, are a healthier option. This board I found on Etsy is made of maple and walnut, both hardwoods. Hardwoods are fine-grained, offering up less deep cuts for bacteria to hide. They're also "self-healing" in that, over time, the wood will partially repair itself over time. So, a well-cared for wood cutting board, even though it costs more at the outset, should last you a long time.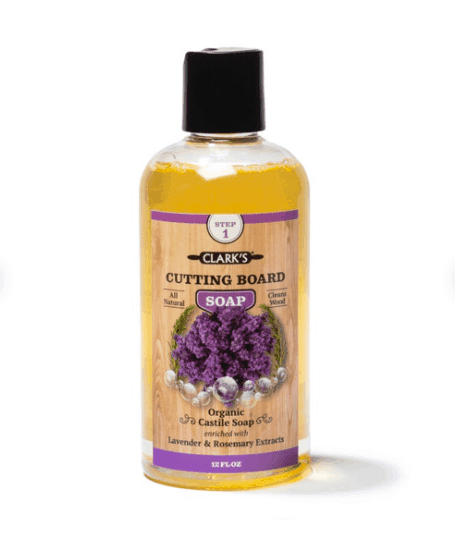 Speaking of wood cutting board care… this natural castile-based soap is free from animal products. Just another step in making your kitchen more sustainable! And it's scented with rosemary and lavender oils, so it smells amazing too!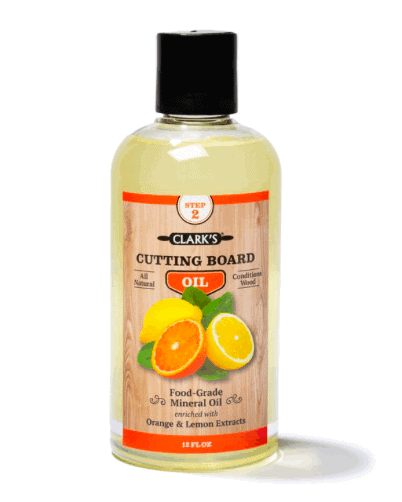 And, after you clean your wood cutting board, be sure to treat it with food-grade mineral oil. Mineral oil will help prevent your cutting board from drying and cracking, thereby extending its useful life. I like this mineral oil because it exceeds FDA standards for food-grade mineral oil and it doesn't contain any potential allergens, enabling you to use it without worry.
I maintain that this is an essential kitchen tool. Yes, I know that you can squeeze a lemon (or lime, or orange) with your hands, but do that and then try this and see just how much more juice you get from each fruit. It also has the added benefit of separating (most) of the seeds from the juice.
There are a few tools in my kitchen that get used all the time and this mini 4-cup food processor is one of them. It's perfect for sauces that don't require me to bring out the big guns. Clean up is easy and it doesn't take up much space.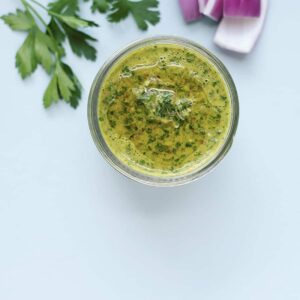 Chimichurri Sauce
This chimichurri sauce recipe is a great way to liven up your summer time dishes! A combination of cilantro, parsley, red wine vinegar, lemon juice and spicy red chili flakes, chimichurri is a popular condiment that hails from Argentina. This chimichurri recipe is easy, making this flavorful sauce a readily available accent for all kinds of dishes!
Ingredients
1

cup

cilantro

1

cup

parsley

1/4

cup

red onion

1

jalapeno

deseeded and roughly chopped

2

cloves

garlic

1/2

cup

red wine vinegar

1/2

cup

extra virgin olive oil

1/2 tsp

salt

1/2

tsp

crushed red pepper
Instructions
Wash the cilantro and trim the stems just below the leaves.

Wash the parsley and remove the leaves from the stems.

Roughly chop the red onion and jalapeno.

Combine the cilantro, parsley, red onion, jalapeno, garlic, red wine vinegar, olive oil, salt and crushed red pepper in a mini food processor. Pulse until well combined.
About Herbivore's Kitchen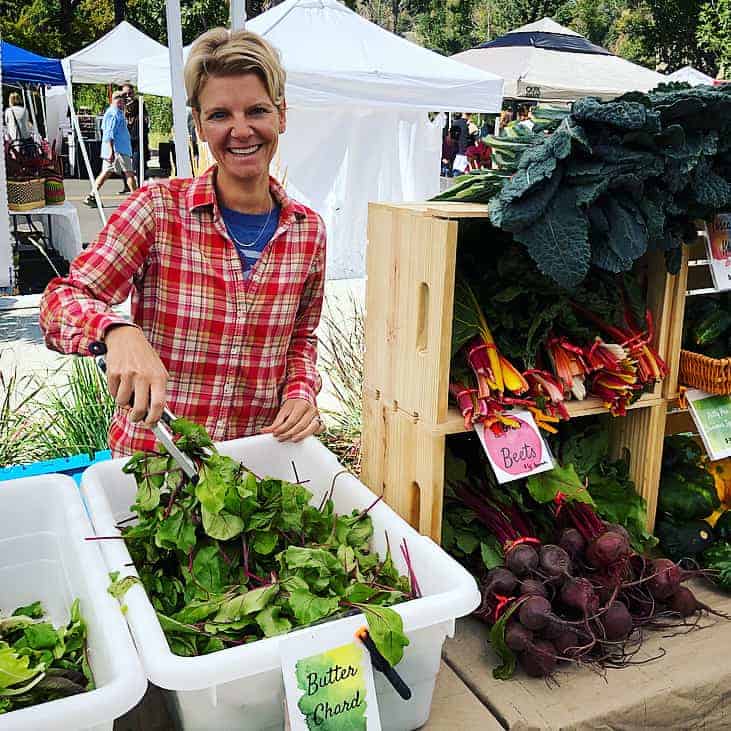 Herbivore's Kitchen is a blog run by me, a plant-based home chef and aspiring food photographer. I switched my and my family's diet to a plant-based diet after learning about the health benefits of going vegan. Making this change has prompted a variety of food and holistic-lifestyle related questions that I explore through this blog. I talk about how to pick and prepare the most nutritious foods, to how to reduce waste at home, to how to live a more sustainable lifestyle while on the road.