Jump to Recipe
---
This vegan fettuccini alfredo post includes affiliate links. When I find a great product or service, I like to share it with my readers. Sometimes I use affiliate links so I can earn commission for my recommendations. Thank you for your support!
---
Vegan Fettuccini Alfredo with Cashew Cream Sauce
I know we're in the heat of summer, but the need for vegan comfort food knows no season. And lately, I've been craving fettuccini alfredo. Like, the real deal – gluten-heavy, carb-loaded pasta with a rich and creamy sauce. It's been a long time since my body did well on dairy, so I decided to see if I could come up with a dairy-free, vegan fettuccini alfredo to match my desire.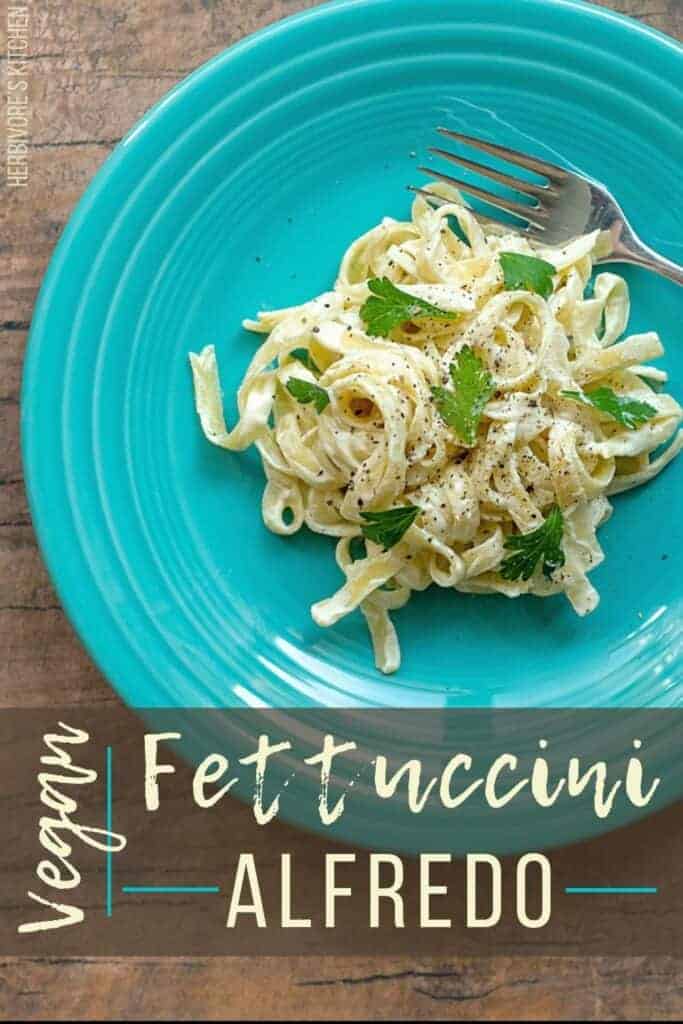 Let's Talk Traditional Fettuccini Alfredo
When I'm creating a vegan recipe for a dish, I often think about ingredient substitutes individually. This helps me to come up with a vegan version that comes as close to the original as possible. In many cases, the flavors in the vegan version are different, but really tasty in their own right. This vegan fettuccini alfredo comes pretty close though. It's rich and creamy and highly satisfying!
The Key to Vegan Fettuccini Alfredo: Cashew Cream Sauce
Traditional fettuccini alfredo is a fairly simple dish, typically made with six main ingredients including: pasta, butter, cream, garlic, salt and parmesan cheese. Right away, this recipe dishes up several stumbling blocks for a vegan chef. Luckily, it's very possible to achieve a rich, creamy sauce with vegan ingredients.
Cashews are my go-to ingredient for replacing cream and butter in a vegan recipe. Cashews are a soft nut that, when soaked and blended, produce a thick, savory sauce that mimics the texture of a dairy cream sauce. In addition to cashews, this cashew cream sauce gets its flavor from the addition of fresh lemon juice, garlic, salt and nutritional yeast.
What is Nutritional Yeast?
If you're new to vegan cooking, you might not be familiar with nutritional yeast. Nutritional yeast is a popular ingredient in vegan recipes. It's often cited for its cheesy, nutty flavor, but it's more than just a flavor substitute – it actually has a lot of "nutritional" benefit. If you want to learn more, I did a deep dive on this wonderful, vegan-friendly ingredient in my "What is Nutritional Yeast?" blog post. Oh, and if you're going to be cooking with it, you need to know its common nickname — "nooch."
What Pasta to Use in Your Vegan Fettuccini Alfredo
While there are many nights that I swap out traditional pasta for chickpea pasta and zucchini zoodles, I decided to use semolina fettuccini noodles for this recipe. Traditional pasta is so comforting sometimes. You should feel free to adapt this recipe to either one of those other options though. They're lighter and they both play well with the cashew cream sauce.
When using traditional pasta, I like substituting the water used in the cashew cream sauce with pasta water left over from the cooking process. When cooked, traditional wheat pasta releases some starch into the cooking water. Simply swapping this water into sauces will give you a creamier, more robust sauce than using plain water from the tap.
Putting this Vegan Fettuccini Alfredo Dish Together
This dish is best served immediately. I time everything so that when the pasta is done, the pasta water goes right into the blender with my cashew cream sauce ingredients. When the sauce is done, I toss it in the pasta until each strand is completely coated. Then I sprinkle on some fresh parsley, fresh cracked pepper and some vegan parmesan cheese.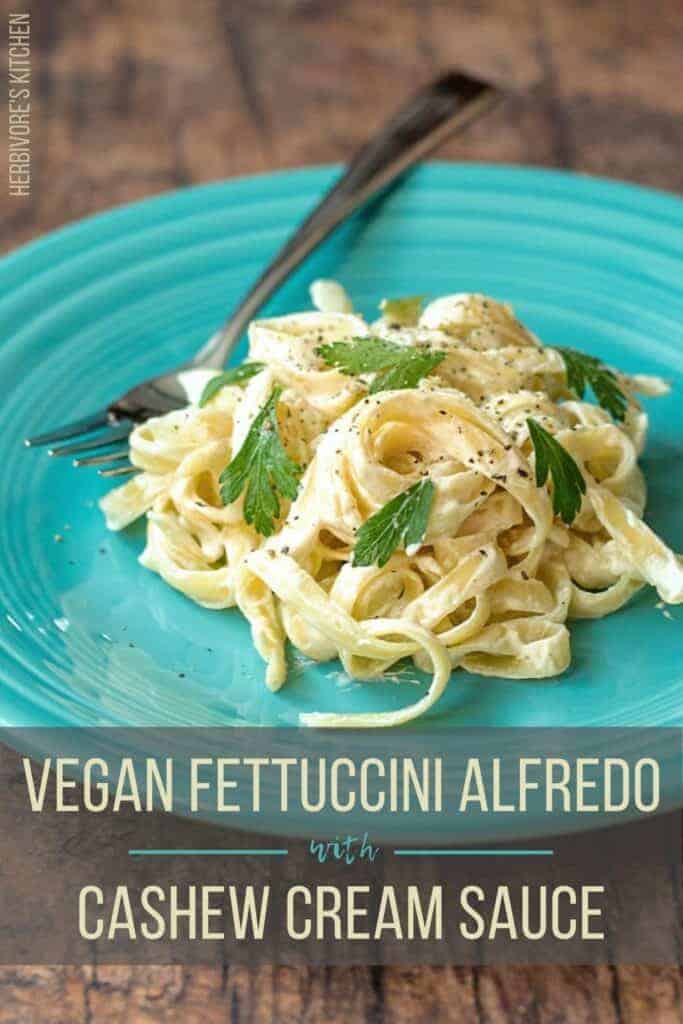 Cashews work better in the sauce if they've been soaked in hot water beforehand, so I start with that first. I used to recommend 3+ hours for soaking, but I've realized that if I use hot water, I can just let the cashews soak while I'm prepping my other ingredients. Thirty minutes in very hot water works nicely.
One important thing to note: if you're making this dish in advance, don't toss the pasta in the sauce until you're ready to serve the dish. Cashew cream sauce doesn't reheat well in the microwave or on the stove top. Instead, store the cooked pasta and the finished cashew cream sauce separately in the refrigerator. Warm the pasta by running it under hot water and reheat the cashew cream sauce by returning it to your blender and blending until hot.
What's in My Kitchen to Make This Vegan Fettuccini Alfredo Recipe Easier?
Want to know what tools and resources I keep on hand to make my vegan cooking even easier? Here's a short list of what helped me create this blog post and recipe. For the complete list, visit my Shop where you can find the kitchen gadgets I like as well as a list of books that I recommend.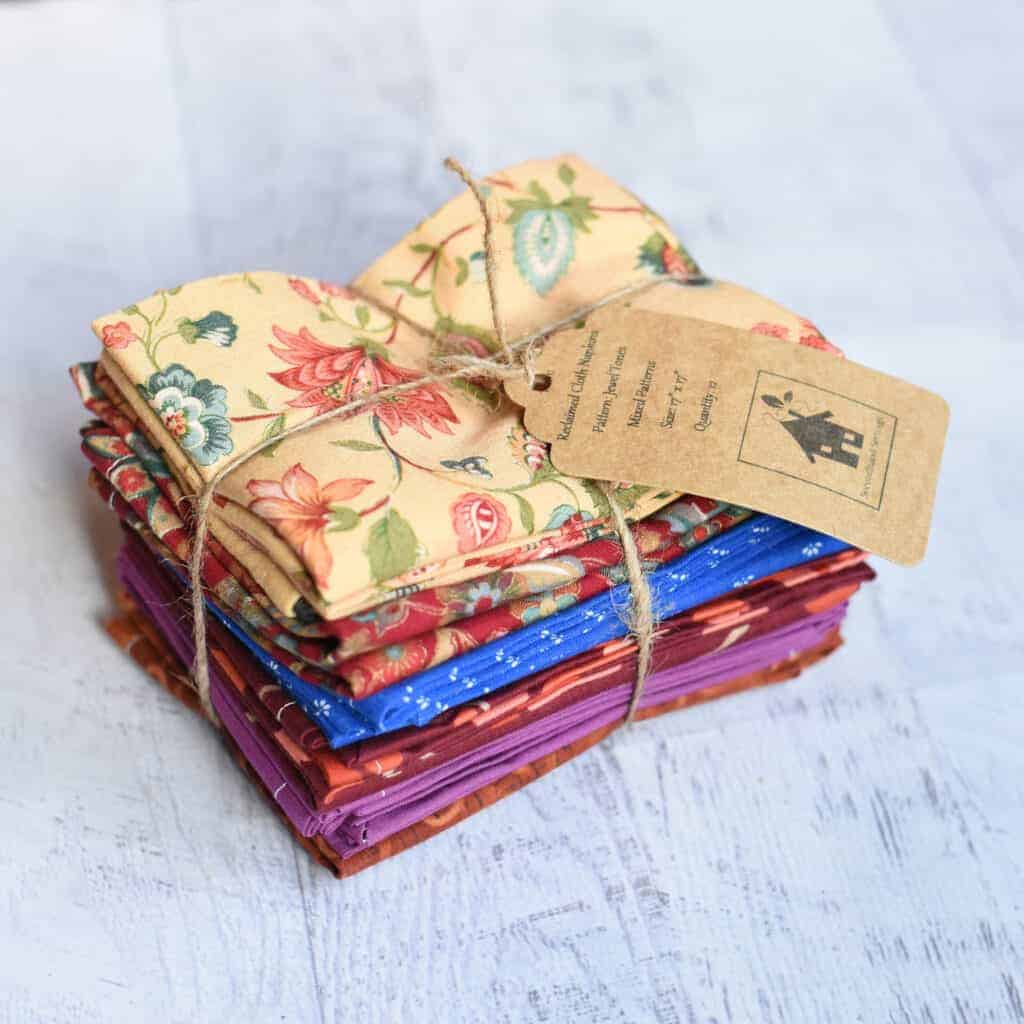 Upcycled, Reusable Napkins
Before I get into cooking, I want to share these napkins. I found these on Etsy over a year ago and, not only do I LOVE them, I buy them as gifts for nearly everyone I know.
These napkins are upcycled and reusable, allowing you to not only avoid throwing away paper products but to also reuse fabrics – a small but significant way to cut back on water, dyes and chemicals used in the production process.
These napkins are so darling (they come in lots of different patterns and colors) and they're machine washable. I just throw them in with whatever load of laundry I'm doing. They don't wrinkle easily, so a quick fold will have them back on your table doing what they were meant to do… be reused!
It's true – a Vitamix is an expensive blender. But, oh! The things it can do and do well. If you're interested in getting more into vegan cooking, or you just want to eat healthier, then I think that this is a must-have kitchen tool. I use my Vitamix daily for breakfast smoothies and it really gets the job done when making vegan cheeses.
There are many versions of the Vitamix on the market. This is the version that I have.
I maintain that this is an essential kitchen tool. Yes, I know that you can squeeze a lemon (or lime, or orange) with your hands, but do that and then try this and see just how much more juice you get from each fruit. It also has the added benefit of separating (most) of the seeds from the juice.
These iconic Pyrex liquid measuring cups are a staple in any kitchen. I love them because they're multi-sized, durable and can easily go into the microwave for making things like homemade chocolate syrup for my Chocolate Banana Vegan Pancake recipe or for getting coconut milk to its fully liquid state before combining in it a recipe like my Savory Mushroom Bisque.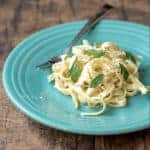 Vegan Fettuccini Alfredo
This Vegan Fettuccini Alfredo the ultimate in vegan comfort food! Made with a rich cashew cream sauce, this plant-based fettuccini alfredo is the perfect vegan dinner option when the weather starts to get cooler.
Ingredients
1

lb

dry fettuccini noodles

1

tbsp

salt

1

cup

cashew pieces

3/4

cup

pasta water, reserved

1

clove

garlic

1

tbsp

fresh lemon juice

2

tbsp

nutritional yeast

1

tsp

salt

fresh parsley

optional

fresh ground pepper

optional
Instructions
Put 1 cup of cashew pieces in a 2-cup glass measuring cup. Fill with 2 cups of boiling water. Set aside.

Add 1 tbsp of salt to 4 quarts of water in a large stockpot. Bring to a boil. Add the fettuccini pasta and cook to al dente. Testing the doneness of the pasta often.

Drain the pasta, reserving 3/4 cup of the pasta water.

Drain and rinse the cashews. Combine the cashews, pasta water, garlic, fresh lemon juice, nutritional yeast and salt in a high-speed blender. Blend until smooth. The sauce should become warm in the blender.

Gently toss the cooked pasta in the cashew cream sauce. Serve with fresh parsley, fresh cracked pepper and vegan parmesan cheese.
Recipe Notes
Cashew cream sauce is best served immediately. It does not reheat well in the microwave or on the stove top. If you do need to reheat the cashew cream sauce, add it back to your high-speed blender and blend until hot.
About Herbivore's Kitchen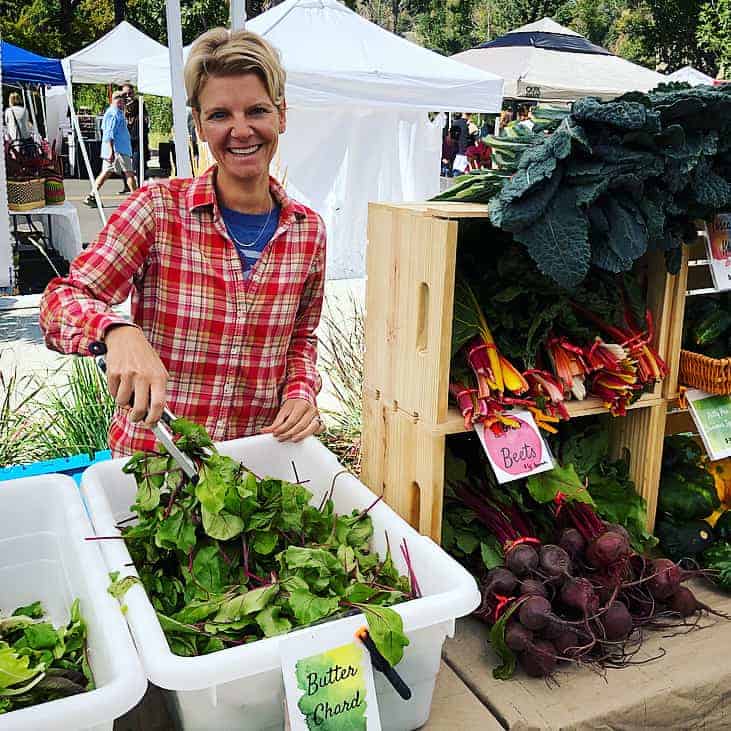 Herbivore's Kitchen is a blog run by me, a plant-based home chef and aspiring food photographer. I switched my and my family's diet to a plant-based diet after learning about the health benefits of going vegan. Making this change has prompted a variety of food and holistic-lifestyle related questions that I explore through this blog. I talk about how to pick and prepare the most nutritious foods, to how to reduce waste at home, to how to live a more sustainable lifestyle while on the road.