Jump to Recipe
---
This Lentil Veggie Burger recipe includes affiliate links. When I find a great product or service, I like to share it with my readers. Sometimes I use affiliate links so I can earn commission for my recommendations. Thank you for your support!
---
Black Lentil Veggie Burger Recipe with Baked Sweet Potato Fries
Which came first, the vegan veggie burger or the sweet potato fries? In this case, it was the sweet potato fries. Or, more specifically, it was Maya Kaimal's Spicy Ketchup.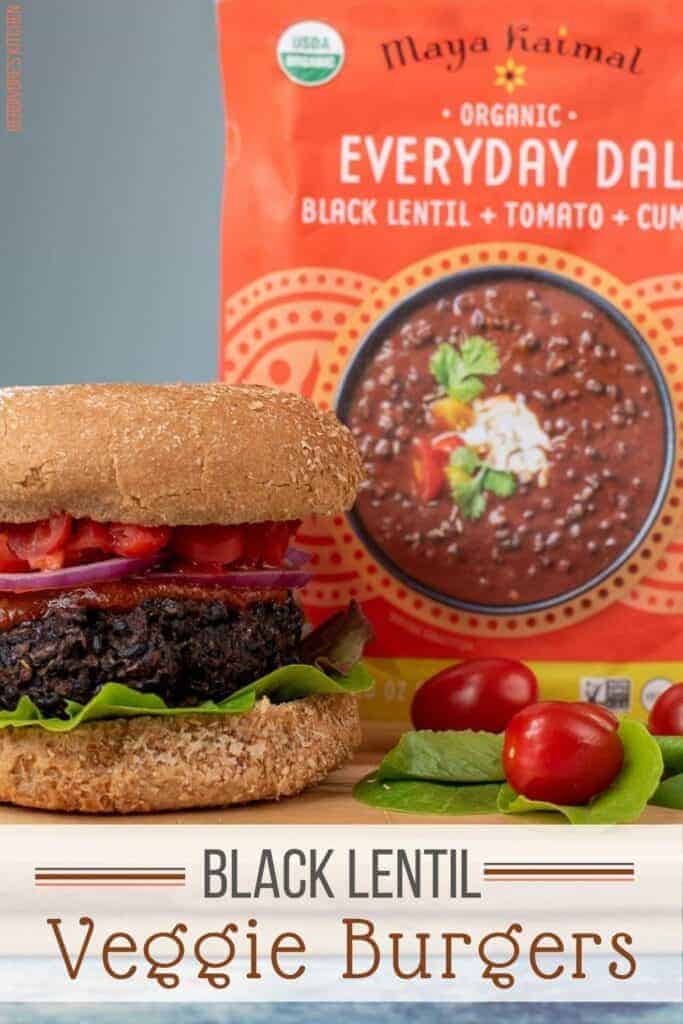 Maya Kaimal is one of my favorite vegan-friendly brands. So much so, that it wasn't Maya Kaimal that reached out to me to share the brand with my followers, but me that reached out to Maya Kaimal to ask if I could. If you're not familiar with Maya Kaimal foods, then it's time for you to be introduced. And, frankly, there's no better recipe combination than this Indian-inspired Black Lentil Veggie Burger Recipe with a side of Curry-Spiced Baked Sweet Potato Fries.
Some Baked Sweet Potato Fries on the Side Please!
A few months ago, Maya Kaimal reached out to me as asked me if I would play around with some recipes using her Spicy Ketchup. When I received the product, my first thought was, "the word 'spicy' doesn't do this condiment justice." It's spicy, yes. But it's also sweet and tangy and all things tomato sauce – rich in umami with just the perfect amount of salt.
My second thought was, "how can I do this sauce justice?" Maya Kaimal's Spicy Ketchup is a unique flavor in need of a unique recipe to really make it shine. I wanted to come up with something interesting, but also something Indian-inspired to highlight the flavors of the sauce. My first inclination was to make fries, of course, because who doesn't think of fries when they think of ketchup. But not just fries, sweet potato fries. And not just sweet potato fries, but curry-spiced sweet potato fries. That was it: curry-spiced baked sweet potato fries.
How to Get Perfect Oven-Baked Sweet Potato Fries
As it turns out, the curry-spiced part of baked sweet potato fries isn't the hard part. It's the oven-baked part that is a little bit tricky. If you follow me though, you know I hardly ever truly fry anything. I just hate dealing with used deep-frying oil and…spatter. I really hate spatter. It took some experimenting and reading up on food science, but the trick to crispy baked sweet potato fries is two-fold. First, you want the potatoes to be the right size and dry before going into the oven. Second, you want to bake the fries, then focus on getting them crispy. Too much emphasis on crispy at the outset lends itself to burnt fries every time.
Regarding my first point, the size of the uncooked fries matters. For this recipe, I spiralized the sweet potatoes, but I was careful about the width. Too skinny, like shoestring fries, and you'll end up with burned bits. In my experience, this cut is just too small for baking. Instead, I chose a thicker, ribbon cut. This is a special attachment on my spiralizer. If you don't have one, plan on cutting stick fries with a sharp knife.
Baking the fries before turning up the heat is my second hack. If you go straight for crispy fries, you're likely to burn them before the inside is cooked through. I bake them at 350º for 30 minutes before turning up the heat to 450º and getting them crispy on the outside.
An Easy Indian-Inspired Veggie Burger Recipe
After finishing the fries, I decided my plate looked a little lonely. And what goes better with fries than a veggie burger? I have a few recipes for veggie burgers, but for this recipe I wanted to create a lentil veggie burger to complement the curry spice of the fries. And then I thought, "why not make it easy on myself (and tasty for my family) by incorporating Maya Kaimal's Everyday Dal?"
Maya Kaimal's Everyday Dal meals are a quick and easy way for me to get a healthy, vegan dinner on the table. I often make them and create simple meals, like Indian-Inspired Quesadillas or Baked Potatoes with Lentil Dal.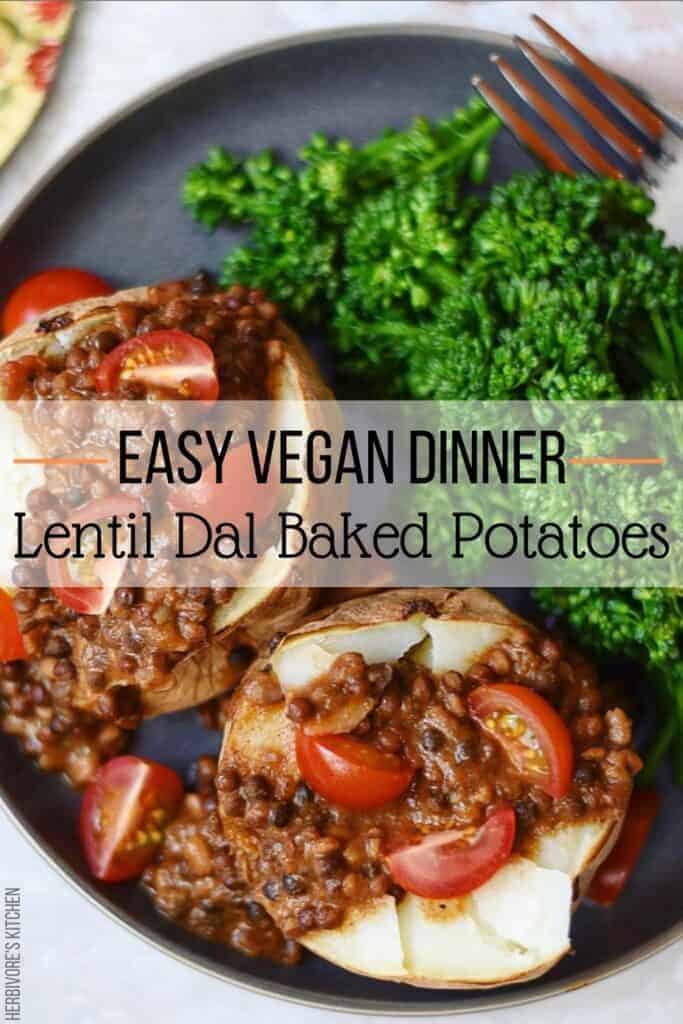 For these veggie burgers, I opted to use Maya Kaimal's Black Lentil, Tomato and Cumin Everyday Dal. It's a spicy blend of lentils, tomatoes, onions, coconut cream and cumin. I mixed it with 1 cup of Lotus Foods' Forbidden Rice®, flaxseed meal (used as a binding agent), onion and garlic. Then I topped them with lettuce (from my summer garden) mixed with a few mint leaves, tomato, red onion and, of course, the Spicy Ketchup. The savory spice of the Everyday Dal and the healthy additions of Forbidden Rice and flaxseed meal make this veggie burger recipe both wholesome and delicious.
What's in My Kitchen to Make This Veggie Burger Recipe with Baked Sweet Potato Fries Easier?
Want to know what tools and resources I keep on hand to make my vegan cooking even easier? Here's a short list of what helped me create this blog post and recipe. For the complete list, visit my Shop where you can find the kitchen gadgets I like as well as a list of books that I recommend.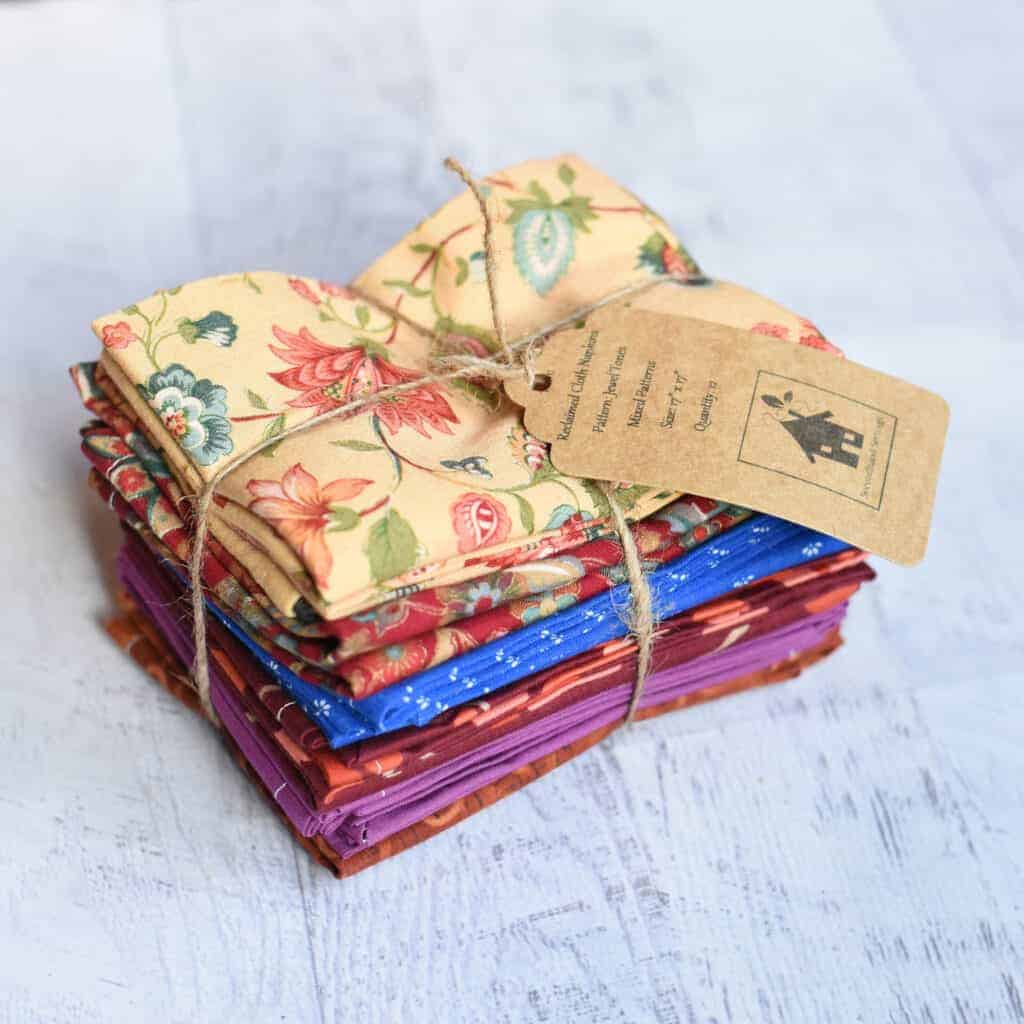 Before I get into cooking, I want to share these napkins. I found these on Etsy over a year ago and, not only do I LOVE them, I buy them as gifts for nearly everyone I know.
These napkins are upcycled and reusable, allowing you to not only avoid throwing away paper products but to also reuse fabrics – a small but significant way to cut back on water, dyes and chemicals used in the production process.
These napkins are so darling (they come in lots of different patterns and colors) and they're machine washable. I just throw them in with whatever load of laundry I'm doing. They don't wrinkle easily, so a quick fold will have them back on your table doing what they were meant to do… be reused!
I picked the Hamilton Beach 8-Cup Food Processor. I use my food processor all. the. time. But, for this recipe, I used it to make the pizza dough. I like making pizza dough in my food processor because it's a lot easier than trying to make it with a bowl and spoon and, damn, my KitchenAid mixer is really heavy. I only get that out of the cabinet when there are cookies involved.
Down a broiler pan? These aluminum baking sheets come highly recommended by the cooks who know best – Epicurious, Cooks Illustrated and Food & Wine. I bought mine because I needed a good, sturdy baking sheet to use under the broiler. One that wouldn't warp – and this one lives up to the task.
Aluminum is a good conductor of heat, so these baking sheets cook evenly. They're also light in color, so they discourage over-browning.
These things are amazing! When I discovered parchment paper, I thought I had things figured out. No more greasing pans or ruining them with charred food. Then I discovered these silicon baking pads. They're oven-safe up to 450 degrees, dishwasher safe (top rack only) and easy to clean and REUSE!
Spiralizer Vegetables never had it so good! I'm telling you, vegetables just taste better when you cut them into fun shapes. Okay-that's only partially true. What totally true is that you can spiralize zucchini and replace your pasta for a veggie-forward "pasta" dinner (and make it even better by topping it with my Homemade Garden Vegetable Tomato Sauce). Not into zucchini? How about those crispy sweet potato chips topping my Veggie-Loaded Easy Vegan Ramen Soup? Who doesn't love chips!
This is a great kitchen gadget for making things like Vegan Sweet Potato Nachos and Easy Vegan Lentil Lasagna. When purchasing a mandoline, I would recommend going with a sturdier option, which does tend to cost a little more. But, they're very sharp kitchen tools and your fingers will be close to the blade. You don't want a version that could slip on the counter as you're slicing.
I only bought one of these a few months ago, but wow! I'm so much happier not peeling garlic cloves with my fingernails. I'm pretty sure I'll collectively get at least a day of my life back because of this device.
Love to cook with cast iron? Ever forget how hot those handles get? Yeah, me too. The Ove Glove will help to protect your hands when cooking (and forgetting).
These pot holders are heat safe to 540 degrees and two come in a package – one for holding the handle and one for supporting the bottom of your cast iron skillet (because we all know it's too heavy to pick up with one hand).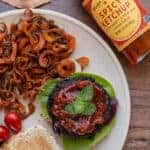 Lentil Veggie Burger Recipe with Baked Sweet Potato Fries
Looking for some food fusion in your life? This Indian-inspired veggie burger recipe is one of my new favorite vegan recipes. I used Maya Kaimal's Everyday Dal to make these easy veggie burgers, then paired them with curry-spiced baked sweet potato fries with a side of Maya Kaimal's Spicy Ketchup dipping sauce. It's simply one of the best vegan veggie burger recipes out there!
Total Time
1
hour
30
minutes
Ingredients
For the Baked Sweet Potato Fries
3

sweet potatoes

also called garnet yams; washed and unpeeled

3

tbsp

safflower oil

1

tbsp

curry powder

1/2

tsp

salt & pepper
Black Lentil Veggie Burger Recipe
1

package

Maya Kaimal's Black Lentil, Tomato & Cumin Everyday Dal

you can learn more about Maya Kaimal here

1

cup

Lotus Foods' Forbidden Rice® you can purchase the rice here

1/2

yellow onion

roughly chopped

2

cloves

garlic

roughly chopped

1/2

cup

flaxseed meal

4

hamburger buns

I like to use sesame seed buns

4-6

Butterhead lettuce leaves

1

tomato

sliced

1/2

red onion

sliced

10-12

mint leaves

washed and dried

Maya Kaimal's Spicy Ketchup
Instructions
For the Baked Sweet Potato Fries
Wash and spiralize the sweet potatoes on a thick spiral setting (or use a sharp knife or a mandolin to cut stick fries).

Soak the fries in cold water for 30 minutes to extract some of the starches. This will help them to crisp up in the oven. After soaking, pat the fries dry and lay them out on a clean kitchen towel. Salt the fries with 1 tsp of salt and allow them to rest for 15 minutes. This will draw moisture out of the fries.

Pat the fries dry then toss them in 3 tbsp of safflower oil. Season generously with curry powder and spread the fries out on a baking sheet.

Roast the fries on the middle rack for 15-20 minutes, depending on the thickness of the fries. At this stage, you just want the middle of the fries to be cooked.

Give the fries a toss and increase the temperature for 450º. Allow them to crisp up for 10-15 additional minutes. Keep an eye on them and stir them frequently to avoid burning at the edges of the baking sheet.

Season with fresh ground pepper and Maya Kaimal's Spicy Ketchup on the side and enjoy!
For the Black Lentil Veggie Burgers
Cook the Lotus Foods' Forbidden Rice® in accordance with the package directions.

Combine the rice, Everyday Dal, onion, garlic and flaxseed meal in a large food processor. Pulse until the ingredients are well combined.

Allow the mixture to chill in the refrigerator for at least an hour. It will firm up and become suitable for making veggie burger patties.

Preheat your oven to 400º.

Prep a baking sheet with parchment paper or silicon baking sheets and bake the veggie burgers for 30 minutes, pausing to flip them halfway through.

Lightly toast the hamburger buns.

Serve the veggie burgers immediately, topped with lettuce, tomato, red onion, mint and Spicy Ketchup.
About Herbivore's Kitchen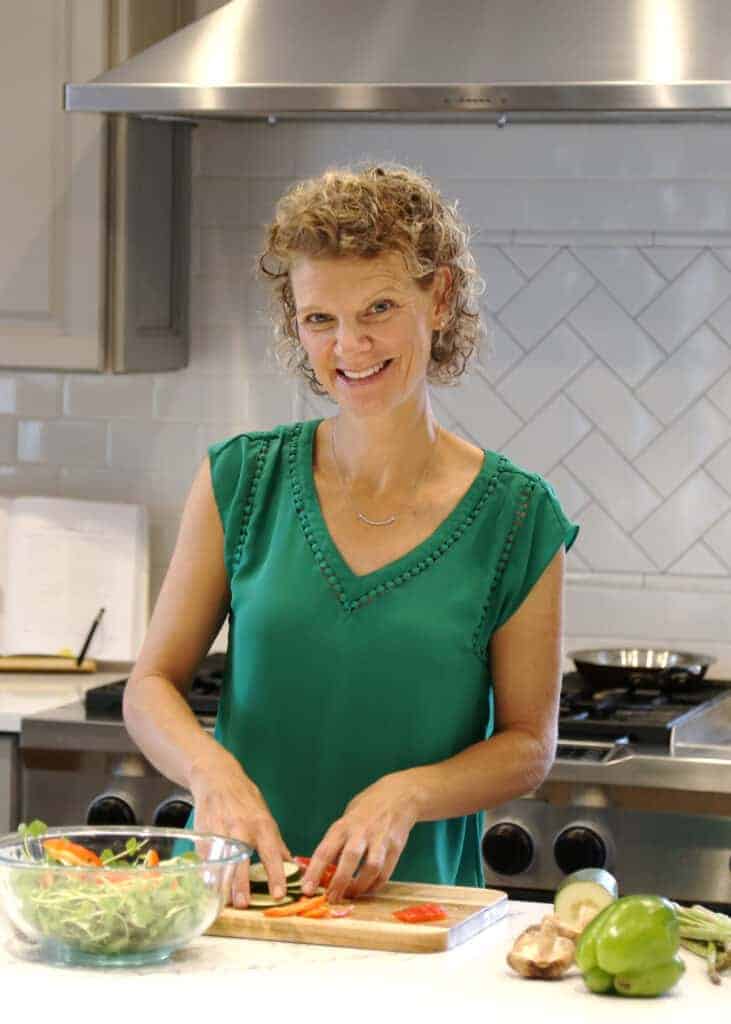 Herbivore's Kitchen is a blog run by me, a plant-based home chef and aspiring food photographer. I switched my and my family's diet to a plant-based diet after learning about the health benefits of going vegan. Making this change has prompted a variety of food and holistic-lifestyle related questions that I explore through this blog. I talk about how to pick and prepare the most nutritious foods, to how to reduce waste at home, to how to live a more sustainable lifestyle while on the road.