Jump to Recipe
---
This post includes affiliate links. When I find a great product or service, I like to share it with my readers. Sometimes I use affiliate links so I can earn commission for my recommendations. Thank you for your support!
---
Veggie-Loaded Easy Vegan Ramen Soup
This easy vegan miso ramen soup will have you trading in your takeout for homemade ramen any day of the week! A rich, miso broth paired colorful vegetables and chewy al dente ramen rice noodles is the ultimate in vegan comfort food.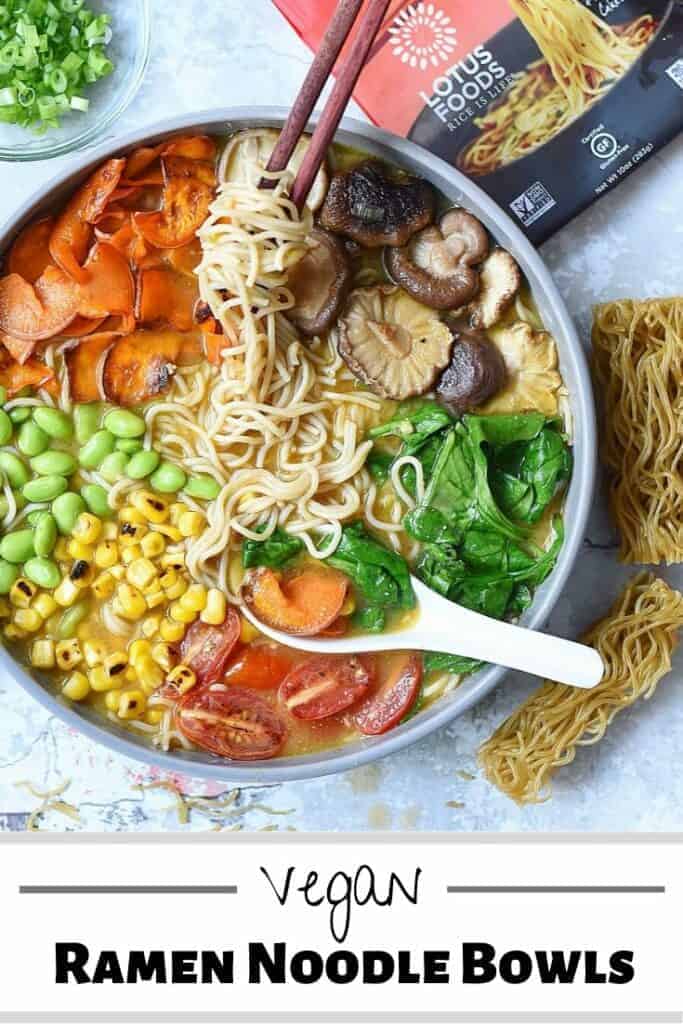 It's Easy! Make Ramen Soup at Home
For the longest time, ramen soup held the top spot on my list of dining out dishes. I just had it in my head that it was a difficult dish to make and whatever attempts I made at home would never do it justice. Vegan ramen (or even vegetarian ramen) can be hard to find when you're out though, so when I changed my diet to include fewer animal products, I was afraid that ramen would be out of my life forever.
The prospect of this – never again getting to slurp those chewy, decadent noodles soaking in savory broth – motivated me to figure things out. And, I'm happy to say… that I did. AND it was much easier than I thought. Depending on how ambitious you are with accessory ingredients, you can have ramen soup on your table in 30 minutes or less. Vegan ramen, no less.
Vegan Ramen Soup – So Many Different Possibilities
I now have a couple of different ramen noodle bowls in my repertoire, each of which makes me incredibly happy. My favorite might be my Thai Red Curry Ramen Noodle Bowl. It's both creamy and spicy. But I also love my Miso Ramen with Miso-Glazed Delicata Squash – the miso-glazed squash makes it deeply savory. Of course, this Veggie-Loaded Ramen, also sporting a rich umami broth, also makes me swoon. Do I need to pick one?
The answer is, of course not. Ramen is such an amazing way to warm up on chilly evening, so it's nice to have variety.
Retrofitting Restaurant Ramen Soup
This ramen soup was inspired by a ramen bowl served at a local restaurant. Remember how I said that vegan ramen when dining out was hard to come by? This is because ramen broth typically gets its rich, umami flavors from bone broth. So, even if you order ramen soup with tofu and vegetables at a restaurant, you do need to ask about the ramen broth. Bonito flakes (fish flakes) and fish sauce are common ingredients in ramen soup, making them neither vegan or vegetarian.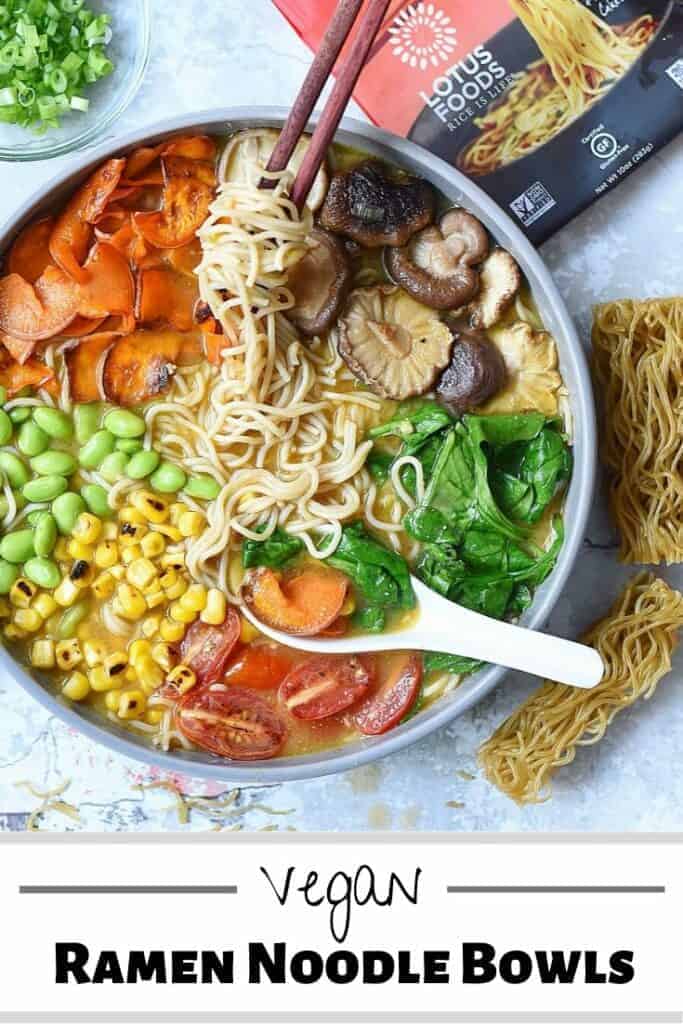 Imagine then, my surprise and delight when a local restaurant opened up with a wholly vegan ramen broth! It was packed with vegetables – some of which threw me for a loop. Tomatoes and corn in ramen? But, with one bite, my view of ramen was forever changed. All vegetables are welcome! It was enough to make me want to donate my noodle bowls and make dining out on ramen a weekly tradition.
Life though. Dining out regularly is not easy – not when you've got kids with a variety of school activities. Takeout is an option, of course, but I've been trying really hard not to. There's just so much packaging waste when you order in for a family of four. That, and I'm really into the idea of knowing exactly what's going into my food. There's no better way to do that than to make it yourself. And that's what this recipe is about…finding something I loved and then figuring out how to bring it home.
Finding the Umami for Your Vegan Ramen
It's hard to say what the best element of ramen is. I think it's a toss-up between the savory ramen broth and the chewy, al dente noodles. This broth gets its rich umami flavors from a combination of garlic, ginger, tamari and miso paste. These are all vegan ingredients that offer up that oh-so-sought-after flavor crucial to ramen soup.
Miso, you say? But isn't that a lot of salt and soy? I thought we were going for healthy(ish)?
You're right – miso offers up an incredible flavor profile that is savory, tangy, a little bit sweet and a whole lot salty. It's my ingredient of choice for. Just. About. Everything. As such, I thought it would be useful to do a little research on salt and miso paste. As I learned, there's a special relationship between the soy used to produce miso, and the process by which is it made, that balances out the negative aspects of too much salt and too much soy. If you're interested in what I learned and the sources I used, you can find more information on my blog post for Easy Vegan Miso Soup.
As for the noodles, the credit goes entirely to my partner, Lotus Foods, sponsored this recipe. For starters, swapping out rice noodles is just plain polite when it comes to our gluten-free friends. They deserve good ramen too. I even use tamari with them in mind. Aside from that, this brand remains one of my favorites. In addition to providing high-quality products, the company has a mission of promoting organic agriculture & rice biodiversity, as well as supporting local rice producers. All things that are near and dear to my heart, because how our food is produced is as important as how it's prepared. You'll find their ingredients in many of my recipes, like my Vegan Thai Green Curry Noodle Bowl.
Making the Ramen Soup Broth
This ramen broth is very easy and that is by design. You can definitely get complicated with ramen broth and that's okay too. When I have the time, I like to make it the "right" way, by first creating the dashi and then the tare. But sometimes you just want ramen. Like, right now. This broth is designed for those times.
This ramen broth is a simple combination of low-sodium vegetable broth, water, tamari and miso paste seasoned with garlic, ginger and scallions. That's it! It comes together in about 20 minutes and most of that is idle time.
Building Your Ramen Soup Bowl
In terms of cooking, this is my favorite part of this vegan recipe. Why? There are all kinds of little food science hacks, of course! Like brining the shiitakes and salting the sweet potato. These little steps make a big difference, so I hope you'll take the time to try them! Oh, and if you're really into food science, I've got some book recommendations for you below!
Getting Those Ramen Noodles Oh. So. Chewy.
Once the broth is made, it's all a matter of adding toppings. Noodles, of course, are a must. I like to make my separately and cook them until they are al dente. That way, when they hit the hot broth they have a little room to cook some more and still stay chewy. After all, chewy noodles might be the best part of ramen.
Charred Sweet Corn? Yes Please!
Because fresh corn isn't available in the winter, I used frozen sweet corn. I wanted a slight char and I thought that if I started with frozen, I could add it to a very hot cast iron skillet and get the char before the corn cooked through and became tough. It worked out great, but be sure to add only enough corn to the bottom of the pan to cover the bottom of the pan. If you add too much, the corn will steam and you won't get the effect you're looking for.
Perfectly Plump, but Captivatingly Crispy. How to Roast Shiitake Mushrooms the Right Way
This is a trick I picked up geeking out with America's Test Kitchen (ATK). Brine your mushrooms before roasting them. ATK capitalized on mushrooms' likeness to meat by adapting brining as a means to keep mushrooms moist long enough to obtain that crispy, browned exterior that makes them taste tremendous. This only takes an extra 10 minutes. And, in addition to being perfectly cooked, they'll also be well seasoned, with just enough salt to bring out their umami wonder.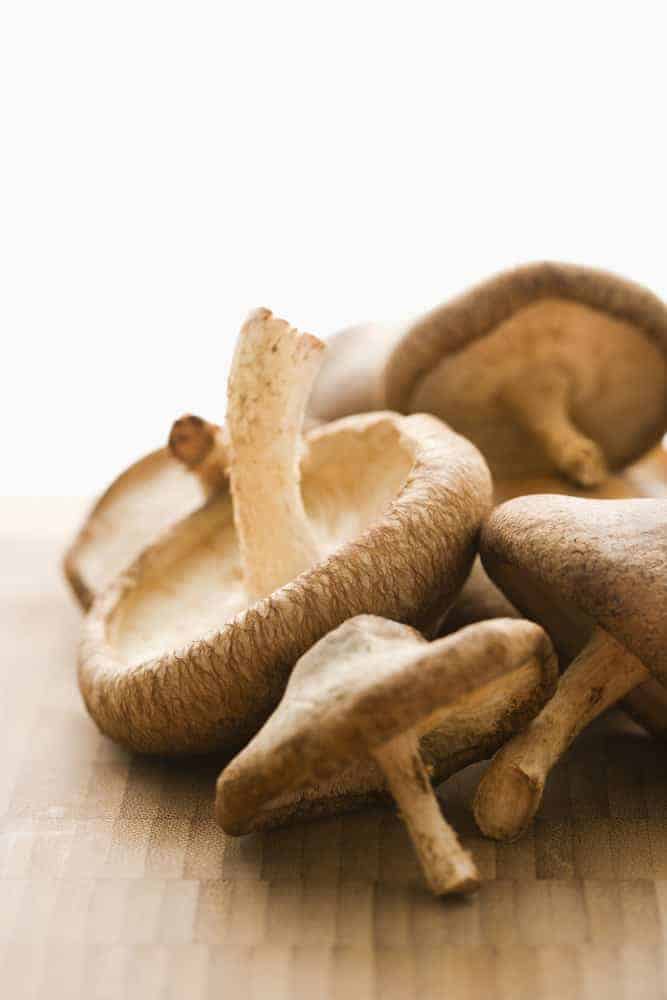 Salting Your Veggies BEFORE You Roast Them
This is another ATK trick, but I learned it through The Science of Good Cooking – a food science geek's bible. It's not vegan (or vegetarian) specific, but there's a wealth of information in here to help you get your dishes right every time.
In this case, the trick is to salt your sweet potatoes before roasting them. The salt will draw the water out of the vegetables, enabling them to become crispy in a hot oven instead of steaming – which makes them soggy. A little salt goes a long way – once they were spiralized, I just sprinkled on a teaspoon. After that, you just need to let them rest for a bit and then pat them dry.
Want to see this trick in action in other dishes? Check it out in my Miso Glazed Delicata Squash dish!
And Finally…Getting the Spice Level Right. May I Introduce You to Togarashi?
In my few years of cooking vegan, I've learned one thing is for sure. When you eliminate ingredients (like dairy and animal fats) that pack in a lot of umami, you've got to find your flavor elsewhere. Hopefully, in healthier ways.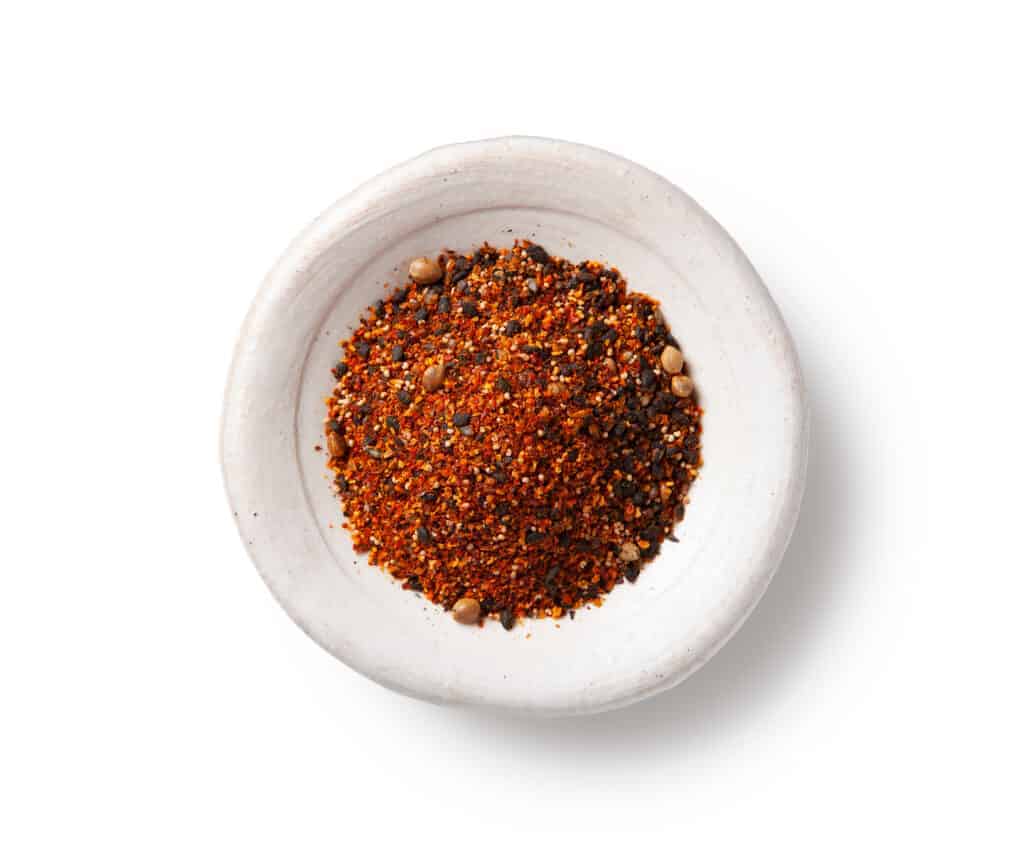 Spice is a great way to explore flavors and since I've taken my kitchen vegan, I've started using spices I'd never heard of before. Like togarashi seasoning. This is a Japanese 7-spice blend of dried chiles, sesame seeds, granulated orange peel, salt and granulated nori, that lends a unique flavor to ramen. I have made it before, but granulated orange peel is a little tricky to come by. This time, I purchased mine from Spice Jungle. I dig this store. Like, really dig it. They have spice blends for just about every dish you could want. Expect to see it coming up more and more in my recipes – because who doesn't love making things easier?
What's in My Kitchen to Make This Vegan Recipe Easier?
Noodle bowls are a favorite of mine and I love serving them when I have guests. I recommend picking up a set so that you have plenty of room for all of that delicious broth! I'm currently digging this decorative set!
Like the noodle bowls, eating ramen soup is WAY more fun with the right spoon! These Asian soup spoons are perfect for this ramen noodle bowl!
No, that's not the brand. It's just the idea! But,I own this set of Global™ knives and They're some of my most prized possessions in the kitchen. This set is universally well-rated for the at-home chef and will get you a good, solid set of knives without totally breaking the bank.
Vegetables never had it so good!
I'm telling you, vegetables just taste better when you cut them into fun shapes. Okay-that's only partially true. What totally true is that you can spiralize zucchini and replace your pasta for a veggie-forward "pasta" dinner (and make it even better by topping it with my Homemade Garden Vegetable Tomato Sauce). Not into zucchini? How about those crispy sweet potato chips topping my Veggie-Loaded Easy Vegan Ramen Soup? Who doesn't love chips!
Down a broiler pan? These aluminum baking sheets come highly recommended by the cooks who know best – Epicurious, Cooks Illustrated and Food & Wine. I bought mine because I needed a good, sturdy baking sheet to use under the broiler. One that wouldn't warp – and this one lives up to the task.
Aluminum is a good conductor of heat, so these baking sheets cook evenly. They're also light in color, so they discourage over-browning.
These things are amazing! When I discovered parchment paper, I thought I had things figured out. No more greasing pans or ruining them with charred food. Then I discovered these silicon baking pads. They're oven-safe up to 450 degrees, dishwasher safe (top rack only) and easy to clean and REUSE!
Best of all – they handy dandy fit to those aluminum baking sheets I recommended above.
If you're a food science geek like me, let this be your bible. While not vegan (or vegetarian) specific, this book offers up a wealth of information about how to cook food. Little tricks, like salting your zucchini zoodles for sauces like Homemade Garden Vegetable Tomato Sauce and what type of potato will work best in soups like my Vegan "No Chicken & Biscuits."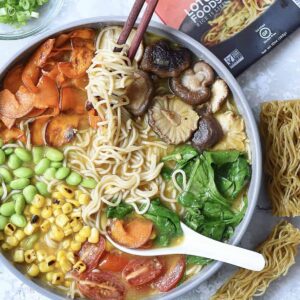 Veggie-Loaded Easy Vegan Ramen Soup
This easy vegan miso ramen soup will have you trading in your takeout for homemade ramen any day of the week! A rich miso broth, paired colorful vegetables and chewy al dente ramen rice noodles is the ultimate in vegan comfort food.
Ingredients
15-20

shiitake mushrooms

washed and destemmed

2

quarts

water

5

tsp

table salt

2

tsp

sesame oil

1

medium sized

sweet potato

spiralized on the wide setting, or thinly sliced

1

tsp

table salt

1

cup

frozen sweet corn

1

pint

red grape tomatoes

sliced in half

1

cup

frozen edamame

shelled

1

tbsp

sesame oil

1

inch

fresh ginger

peeled and finely minced

3

garlic cloves

crushed or finely minced

3

scallions

sliced thin with the white parts separated from the green parts

1

quart

low-sodium vegetable broth

6

cups

water

1/4

cup

low-sodium tamari

4

tbsp

yellow miso paste

see Recipe Notes for my recommendation

1

package

Lotus Foods' Millet and Brown Rice Ramen Noodles

4 bricks per package = 1 brick per person

5-7

handfuls

baby spinach

togarashi seasoning

see Recipe Notes for my recommendation
Instructions
Preheat oven to 400 degrees.

Trim the stems off the shiitakes (these are woody and not edible). Submerge the shiitakes in 2 quarts of water with 5 teaspoons of dissolved table salt. I lay a small plate over the mushrooms in the bowl to ensure that the mushrooms are fully submerged. Allow to brine for 10 minutes. Drain and then pat the mushrooms dry. Once dry, spread them out a baking sheet. Toss in 1 teaspoon sesame seed oil and roast for 30 minutes, flip and then roast for 10 more minutes.

Wide spiralize (or thinly slice) one sweet potato. Sprinkle with 1 teaspoon table salt. Allow to rest for 15 minutes. The potatoes should shed moisture. Pat dry, then spread out on a baking sheet and toss in 1 tsp sesame oil. Roast for 10 minutes, then flip. Roast for another 8-10 mins. Be careful not to burn. The thinner you slice the potatoes, the quicker they will cook. I wanted a crispy, almost potato chip texture.

Heat a cast iron skillet until very hot. Thinly spread 1 cup frozen corn in the skillet. Do not stir – allow to char briefly. About 1-2 minutes. Set aside.

Slice 1 pint of grape tomatoes in half.

Defrost 1 cup frozen edamame.

Heat a large stock pot with 1 tablespoon of sesame oil. When hot, add fresh minced ginger, crushed minced garlic cloves and white ends of the scallions. Cook briefly, being careful not to burn. About 1-2 minutes. Add the vegetable broth, water and tamari. Simmer for 10 minutes.

Remove 1 cup of the hot broth and allow to cool slightly. In a small bowl combine the slightly cooled broth and 4 tablespoons of yellow miso paste. Stir to make a slurry. Turn off the heat to the large pot of broth & add the slurry. Stir to combine.

Prepare 1 brick of Lotus Foods' Millet and Brown Rice Ramen Noodles for each person in accordance with directions.

To make the ramen bowls, add 1 handful of baby spinach to the bottom of the bowl. Ladle in the broth – about 2-3 ladles per person. Add the mushrooms, tomatoes, corn and edamame. Add the sweet potato chips at the very end. They won't stay crispy for long, but the flavor is amazing. Garnish with scallion greens & Togarashi seasoning.
Notes
Togarashi seasoning is a Japanese 7-spice blend of dried chiles, sesame seeds, granulated orange peel, salt and granulated nori, that lends a unique flavor to ramen. You can make your own, but it's much easier to buy it pre-made. I purchased mine from Spice Jungle.
This recipe calls for yellow miso paste, which is typically very easy to find in the grocery store. The brand I often use is Cold Mountain Miso. If you decide that you are into miso (as I am!), you might want to check out South River Miso. I've used their Sweet White Miso for this recipe and it's excellent! They also offer hard to find varieties like Brown Rice Miso and Chickpea Miso.
About Herbivore's Kitchen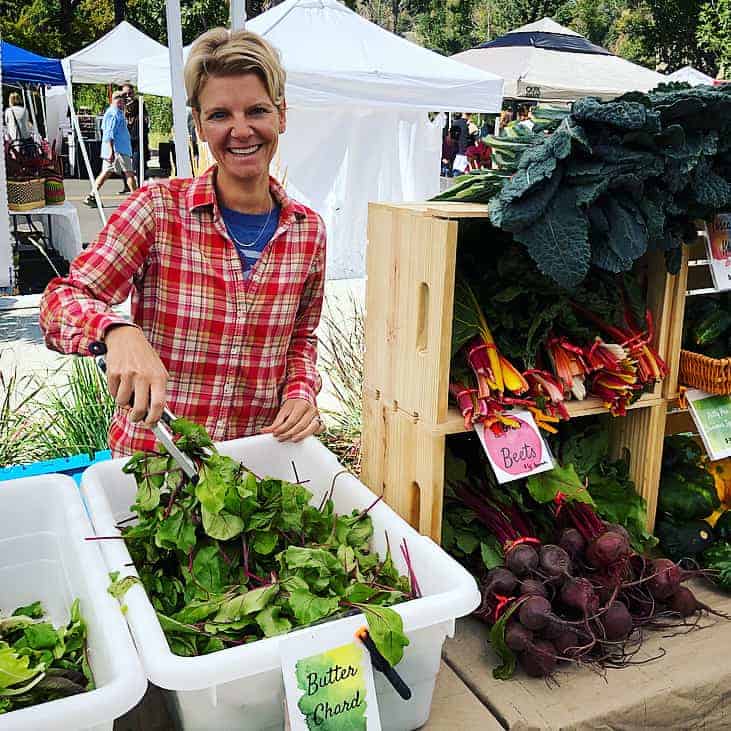 Herbivore's Kitchen is a blog run by me, a plant-based home chef and aspiring food photographer. I switched my and my family's diet to a plant-based diet after learning about the health benefits of going vegan. Making this change has prompted a variety of food and holistic-lifestyle related questions that I explore through this blog. I talk about how to pick and prepare the most nutritious foods, to how to reduce waste at home, to how to live a more sustainable lifestyle while on the road.