Jump to Recipe
---
This Pickled Red Onions Recipe includes affiliate links. When I find a great product or service, I like to share it with my readers. Sometimes I use affiliate links so I can earn commission for my recommendations. Thank you for your support!
---
Quick Pickled Red Onions Recipe
I am a fool for pickled red onions! I use this pickled red onion recipe at least weekly as I like to always have a jar of them in the refrigerator. Pickled red onions are an asset to so many vegan recipes. I add them to my avocado toast in the morning, my burritos at lunch time and my tacos at dinner. You think I'm kidding, but I'll take any opportunity I can find to eat them!
What Are Quick Pickled Red Onions?
Forget sanitizing jars and heaps of boiling water, quick pickling is all you need to know. Quick pickling (also known as refrigerator pickling) is just that – a quick and easy way to pickle a variety of fresh vegetables. Unlike shelf stable pickles, quick pickles are immediately stored in the refrigerator and will last several weeks. I like to quick pickle carrots, green beans and asparagus, but most of all… I really like quick pickled red onions.
How to Make Pickled Red Onions
It's so easy! Because quick pickling doesn't develop the same deeply fermented flavors as canning, you need to be a little strategic to get the most bang for your buck. One trick is to offer up as much surface area to the brine as possible. So, for example, when I am quick pickling red onions, I make the effort to slice my onions as thinly as possible.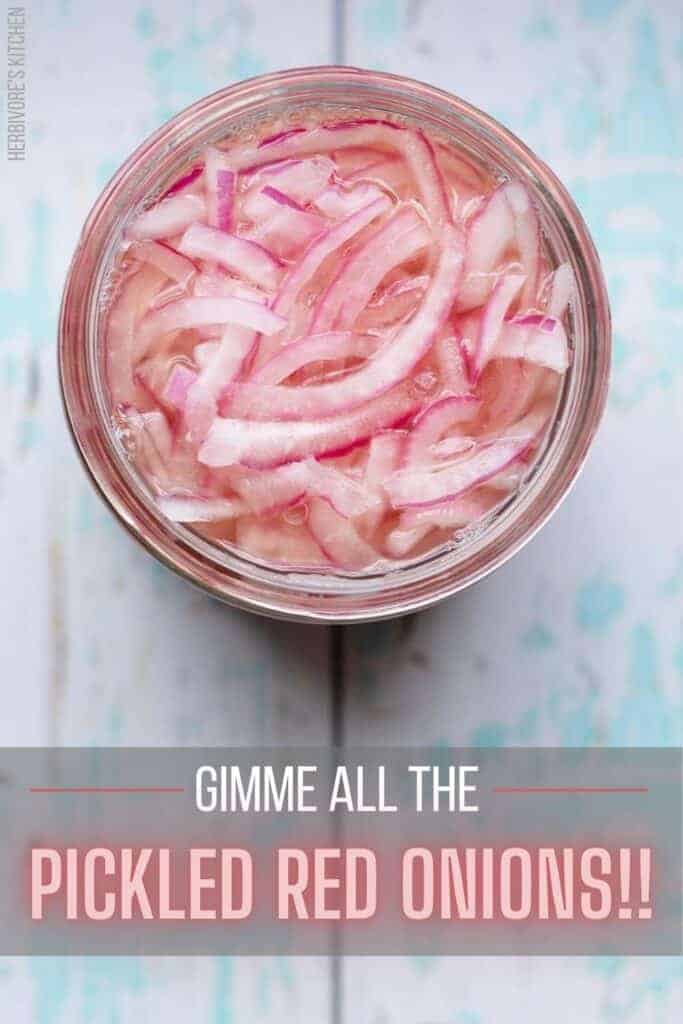 Making the Brine for Pickled Red Onions
Another tip: get creative with the brine. Yeah, yeah. I know that's not directly helpful, but as you make these quick pickled red onions more often don't be afraid to experiment. For example, I was mostly making them with apple cider vinegar, but then I tried rice wine vinegar, white wine vinegar and red wine vinegar. They all have different flavors, but my favorite is rice wine vinegar.
You also might want to experiment with the vinegar to water ratio. A lot of recipes call for 1:1, but I actually like ¾ cup of water for every 1 cup of vinegar. Likewise, the balance of sugar and salt is another place for experimentation. I like 1 tsp of salt and 1tbsp sugar. I rarely use white sugar, but in this case I like it best. Some recipes call for maple syrup. I've tried this and it's good as well. Just swap it out 1:1 with white sugar.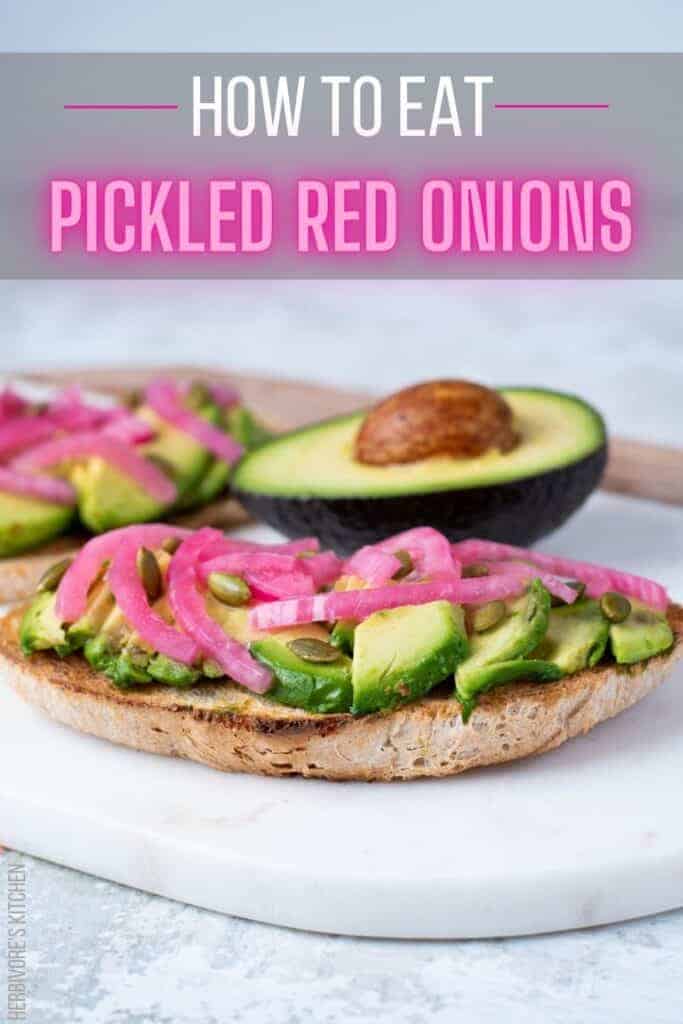 And, finally, give some thought to adding spices. When I make quick pickled carrots, asparagus or green beans, I like to add garlic cloves and other spices. When I make quick pickled red onions, I'm a purist. I don't add anything but vinegar, water, salt & sugar.
Prepping Your Pickled Red Onions
Once you have your ingredients determined, quick pickled red onions are a very simple process. Start by thoroughly washing a mason jar with hot water and soap. Slice the red onions and pack them tightly into the jar. While you're prepping the red onions, the brine can be cooking and cooling in the background. All you need to do is bring the brine ingredients (the water, vinegar, sugar and salt) to a boil until the salt and sugar have dissolved. Then allow the brine to cool and pour it over the onions. Tightly seal the lid and put the pickled red onions in the refrigerator.
How Long Do You Pickle Pickled Red Onions?
Quick pickled onions can be good after an hour, but they're best after they've been in the refrigerator a few days. While I go through them quickly, I do focus on smaller batches – usually 8 – 10 oz. The vinegar solution and refrigeration will prevent bacteria from growing. Just make sure that the onions are fully submerged in the solution. Over time though, the vegetables will start to become soggy, so it's best to plan on a new jar about every two weeks.
How Do You Eat Pickled Red Onions?
Ah… my favorite topic! On everything? Well, not everything but I do go through them pretty quickly. My absolute favorite way to eat quick red onions is on my avocado toast in the morning. True story: I actually don't like avocado toast at all. That is, unless it has pickled red onions on it. I do have a recipe for this, but you'll have to wait for my upcoming cookbook (due out June 2021) to get all the details.
Quick pickled red onions are also fantastic on so many dishes. Here's a list of some of my favorite ways to eat them: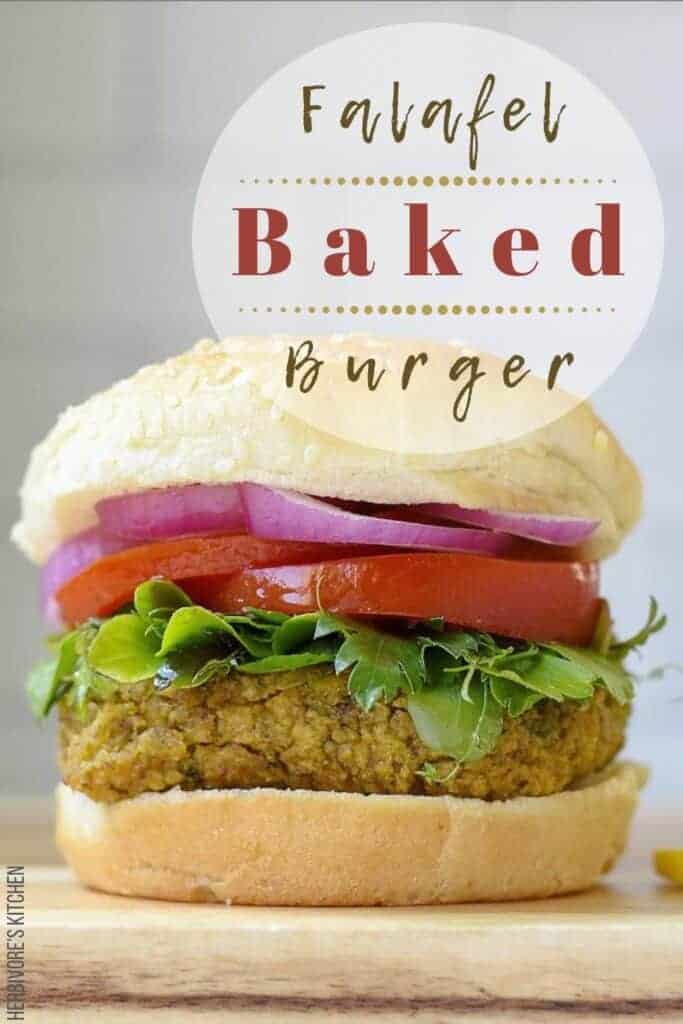 This vegan recipe calls for sliced red onions on top, but pickled red onions would be even more fantastic!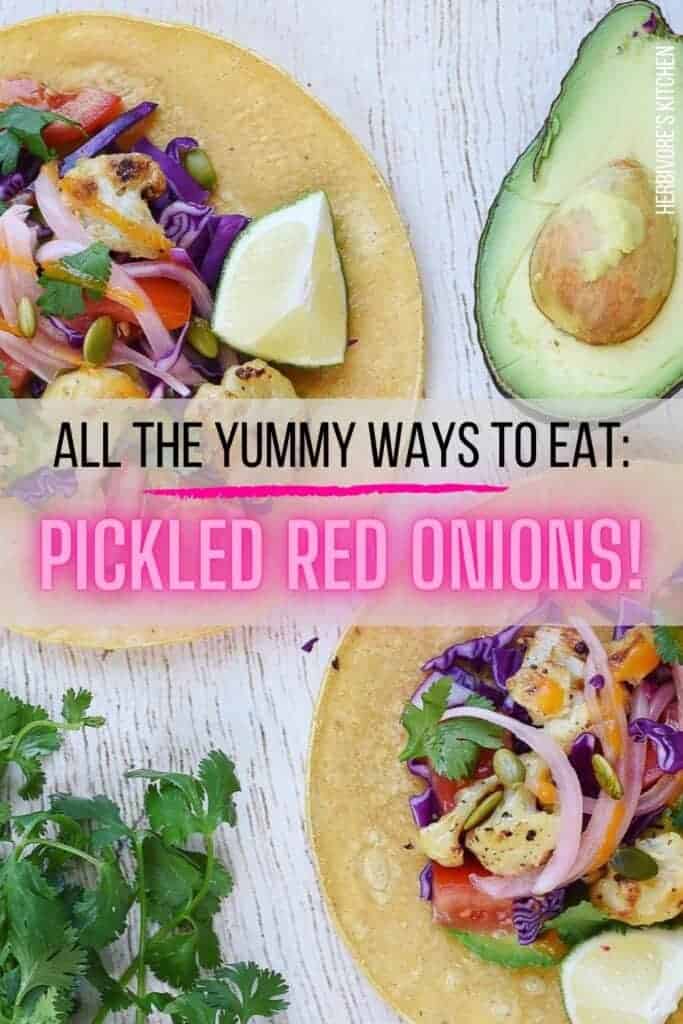 This vegan street taco recipe mimics fish tacos with crispy cauliflower in its stead. Pickled red onions bring a tang that complements the rich, battered cauliflower.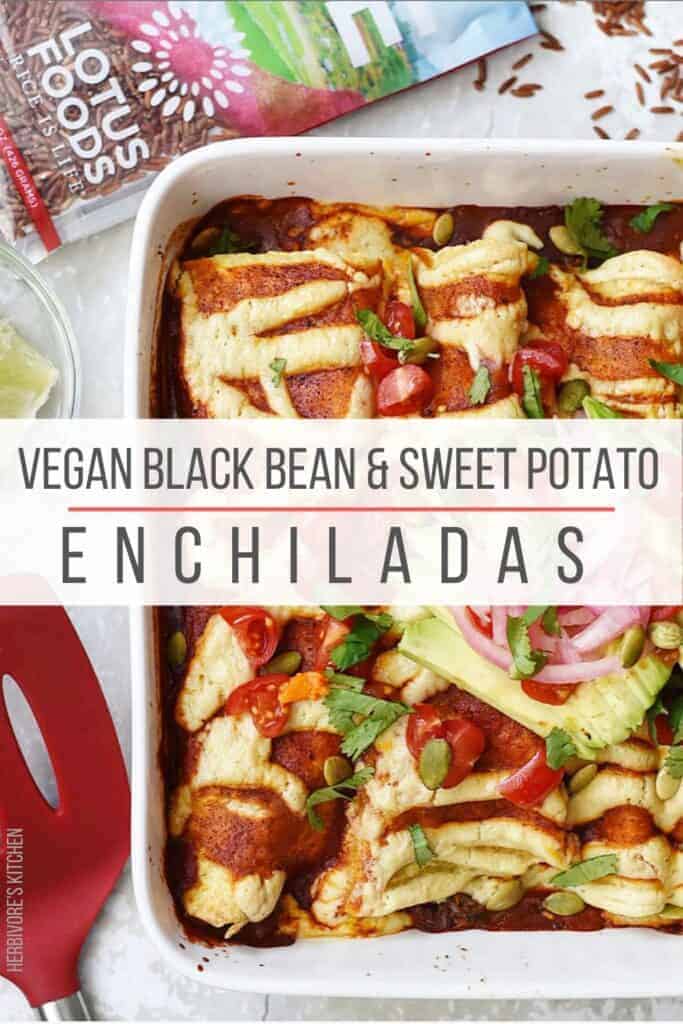 I substitute cheese in this recipe with cashew cream sauce. The pickled red onions are an amazing contrast to that richness.
This twist on tamales relies on creamy polenta which makes an excellent backdrop for pickled red onions.
What's in My Kitchen to Make This Pickled Red Onions Recipe Easier?
Want to know what tools and resources I keep on hand to make my vegan cooking even easier? Here's a short list of what helped me create this blog post and recipe. For the complete list, visit my Shop where you can find the kitchen gadgets I like as well as a list of books that I recommend.
How cute are these 8 oz mason jars! Let's be honest, if you're going to go to the trouble of making things like Pickled Red Onions, Peach Jam, Chimichurri and Homemade Herby Dressing, you want those ingredients to: (a) keep, and (b) look like all the effort you put into them.
These jars are the perfect size for homemade items. They come with decorative labels to keep everything straight in your fridge.
No, that's not the brand. It's just the idea! But, I own this set of Global™ knives and They're some of my most prized possessions in the kitchen. This set is universally well-rated for the at-home chef and will get you a good, solid set of knives without totally breaking the bank.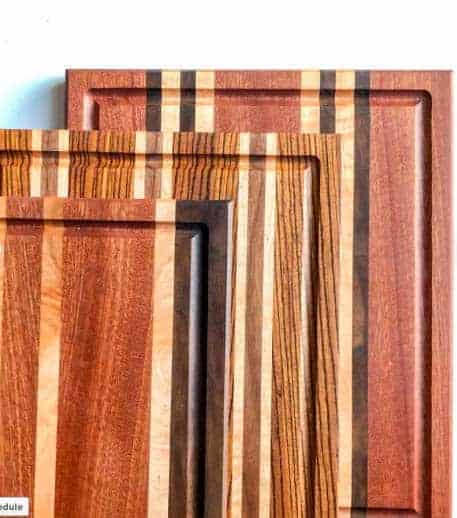 Recently, I spent some time researching the best cutting boards. I've been a plastic cutting board believer for a long time. And, yes, you can put them in the dishwasher. Wood cutting boards, though, are a healthier option. This board I found on Etsy is made of maple and walnut, both hardwoods. Hardwoods are fine-grained, offering up less deep cuts for bacteria to hide. They're also "self-healing" in that, over time, the wood will partially repair itself over time. So, a well-cared for wood cutting board, even though it costs more at the outset, should last you a long time.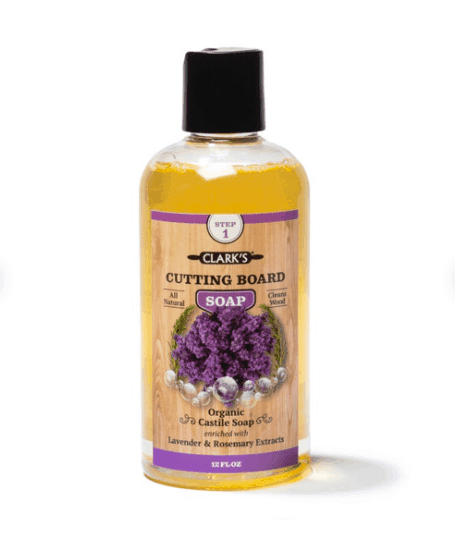 Speaking of wood cutting board care… this natural castile-based soap is free from animal products. Just another step in making your kitchen more sustainable! And it's scented with rosemary and lavender oils, so it smells amazing too!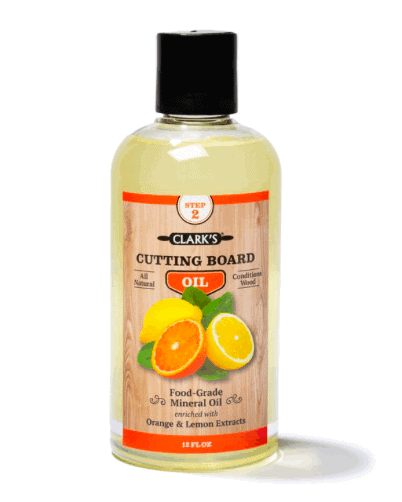 And, after you clean your wood cutting board, be sure to treat it with food-grade mineral oil. Mineral oil will help prevent your cutting board from drying and cracking, thereby extending its useful life. I like this mineral oil because it exceeds FDA standards for food-grade mineral oil and it doesn't contain any potential allergens, enabling you to use it without worry.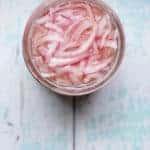 Quick Pickled Red Onions Recipe
I am a fool for pickled red onions! I use this pickled red onion recipe at least weekly as I like to always have a jar of them in the refrigerator. Pickled red onions are an asset to so many vegan recipes. I add them to my avocado toast in the morning, my burritos at lunch time and my tacos at dinner. You think I'm kidding, but I'll take any opportunity I can find to eat them!
Ingredients
2

large or 3 small red onions

peeled and thinly sliced

1

cup

rice wine vinegar

or substitute apple cider vinegar

3/4

cup

water

1

tbsp

sugar

1

tsp

salt
Instructions
Thoroughly wash a mason jar with soap and hot water. This recipe makes enough brine for a 16 oz jar or two 8 oz jars. Set aside to dry.

Combine the vinegar, water, sugar and salt in a small sauce pan. Bring to a boil and cook until the sugar and salt have dissolved. Allow to cool.

Tightly pack the thinly sliced red onions into the jar, leaving a small gap at the top of the jar. Carefully pour the brine over the red onions, tightly seal the jar and store it in the refrigerator for at least 1 hour. These onions will be at their prime around 48 hours, but they can be kept in the refrigerator for several weeks.
About Herbivore's Kitchen
Herbivore's Kitchen is a blog run by me, a plant-based home chef and aspiring food photographer. I switched my and my family's diet to a plant-based diet after learning about the health benefits of going vegan. Making this change has prompted a variety of food and holistic-lifestyle related questions that I explore through this blog. I talk about how to pick and prepare the most nutritious foods, to how to reduce waste at home, to how to live a more sustainable lifestyle while on the road.