Jump to Recipe
---
This Mediterranean-Inspired Buddha Bowl recipe includes affiliate links. When I find a great product or service, I like to share it with my readers. Sometimes I use affiliate links so I can earn commission for my recommendations. Thank you for your support!
---
Mediterranean-Inspired Vegan Buddha Bowl
There's something so perfect about a buddha bowl. It's a simple and delicious way to put dinner on the table. This vegan buddha bowl is loaded with healthy ingredients — whole grain rice, chickpeas, sweet potatoes and broccolini and then topped with oh.so.tempting tahini dressing. This vegan recipe is so easy (to make and on the eyes) – what's not to love!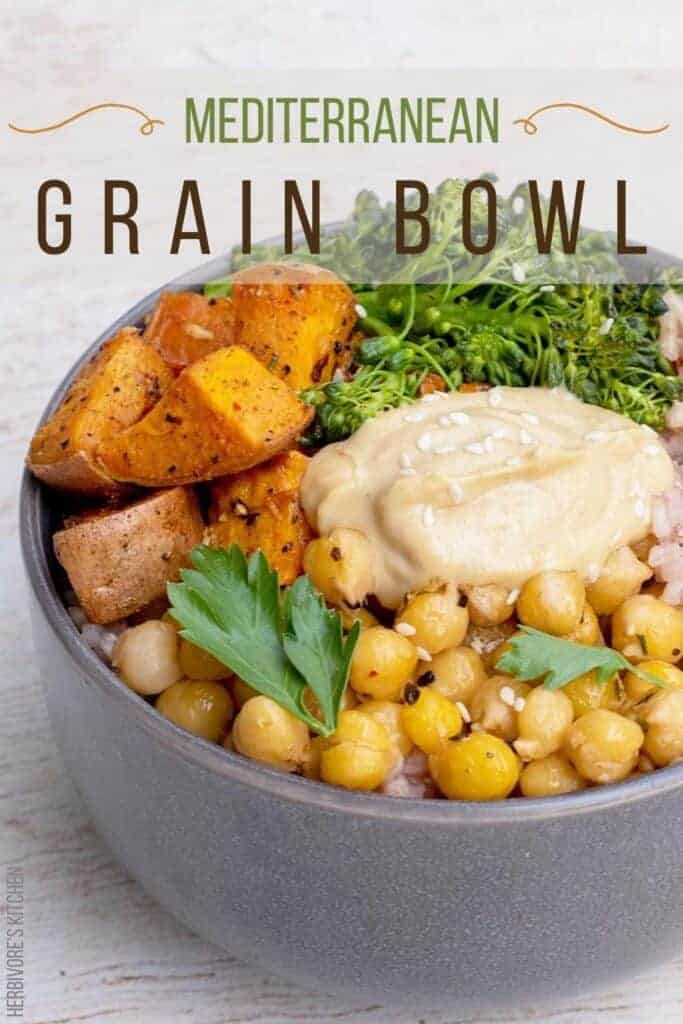 What is a Buddha Bowl?
If your first question is: what the heck is a buddha bowl? you're not alone. I saw the term buddha bowl all the time on menus, in cookbooks and cooking magazines, but I hadn't ever really stopped to consider what makes a bowl of food a buddha bowl?
As it turns out, a buddha bowl is almost exactly what you'd expect. Coined buddha because of the often large, round serving dish, this popular dish is simply a large bowl filled with a variety of vibrantly colored and flavorful ingredients in small quantities. Buddha bowls are a vegan darling in particular. You'll almost certainly find them in any vegan cookbook that you pick up. They have a way of making the suggestion: you should be a vegan look waayyyy more interesting.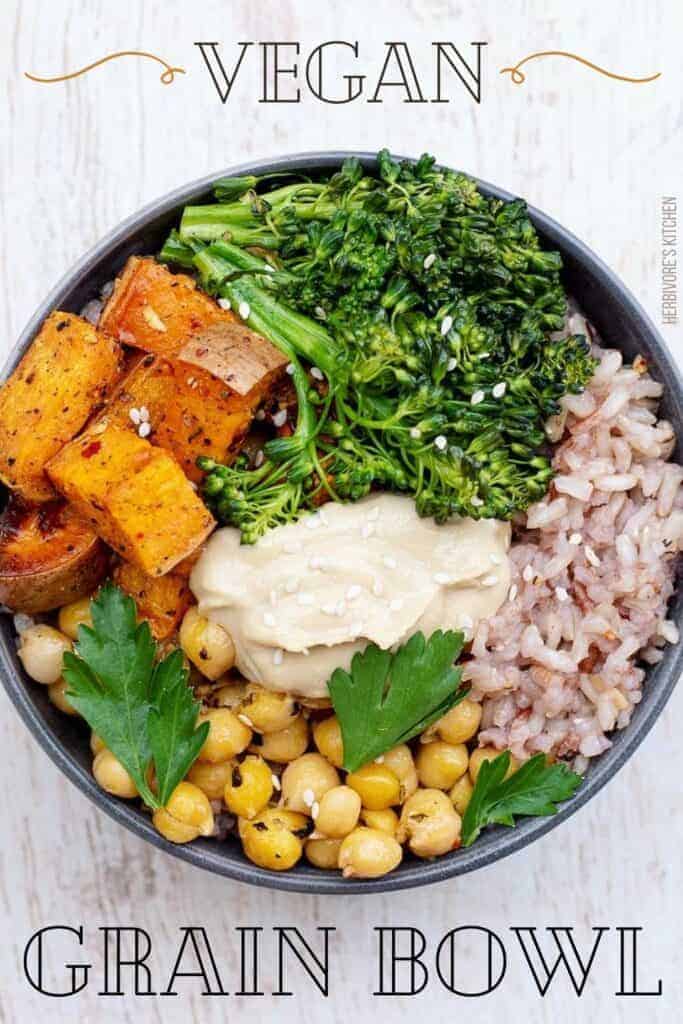 This very broad definition offers up a lot of leeway when it comes to choosing ingredients for a buddha bowl. A good buddha bowl though, tends to follow a certain formula. That is: start with a grain, add a protein, load up the veggies, use spices liberally for flavor and top it all off with a good dressing and some nuts or seeds for added nutrition.
The Best Buddha Bowl Starts with a Grain
One of the key ingredients in a buddha bowl is the grain. This is typically used as the base of the buddha bowl and makes it more of a meal. Rice is one of the easiest grains to use if you're new to buddha bowls. Don't feel limited to white rice either. There are so many good options out there – hearty brown rice, nutritious black rice, or nutty red rice! As you know, I'm a huge fan of Lotus Foods. I'm always using their products in my recipes, including their Organic Tricolor Blend Rice in this vegan recipe.
Rice isn't the only option though! Farro, quinoa, wheatberries, millet and buckwheat are all great options. Whole farro, perhaps my favorite of them all, is a healthy whole grain. This ancient grain (sometimes also referred to as spelt) has a nutty flavor and a chewy consistency. Because the grain is still intact, whole farro takes a little while to cook (about 40 minutes), but it's well worth the effort. In addition to being a source of vegan protein, farro is also a good source of fiber, antioxidants, magnesium, zinc and iron.
Be Sure to Add Some Protein to Your Buddha Bowl
Vegan protein comes in all different forms, so don't be afraid to be creative with your buddha bowl! Tofu, chickpeas, lentils, beans, tempeh – they're all good options. For this Mediterranean-inspired buddha bowl, I used chickpeas sautéed in a Mediterranean spice blend that I picked up from SpiceJungle.com. This spicy blend includes garlic, onion, chile peppers, mustard seed and lemon peel for a burst of flavor with bite.
If you're not familiar with them, chickpeas (otherwise known as garbanzo beans) are a vegan darling. These protein-packed legumes are also high in fiber. They're an incredibly versatile vegan ingredient making their many of my other recipes, like my Baked Falafel Sandwiches and my Chickpea Tuna Salad. If you'd like to learn more, check out my How to Cook Chickpeas tutorial here.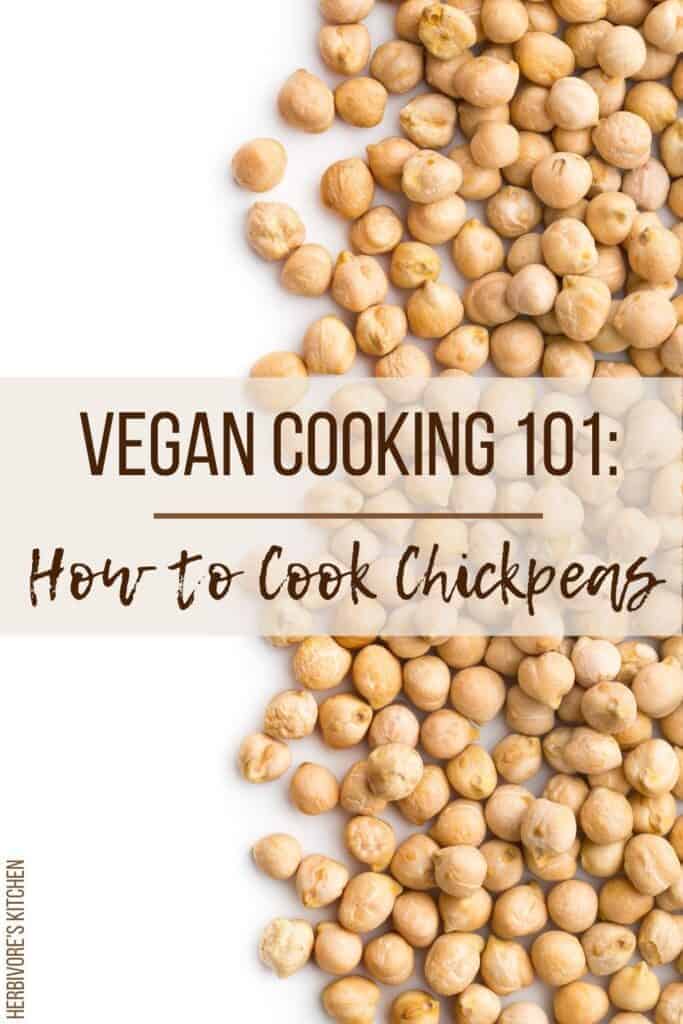 Cooking Broccolini for this Vegan Buddha Bowl
For this recipe, I roasted broccolini with just a bit of olive oil, salt and pepper. If you haven't tried roasted broccolini before, you're in for a treat. Broccolini is a hybrid of broccoli and gai lin (or Chinese broccoli). It is not baby broccolini, although it is commonly referred to as such. Broccolini's florets are smaller with longer, thinner stems. It has a more mild, sweeter taste than broccoli, which is why I prefer to cook with it over broccoli.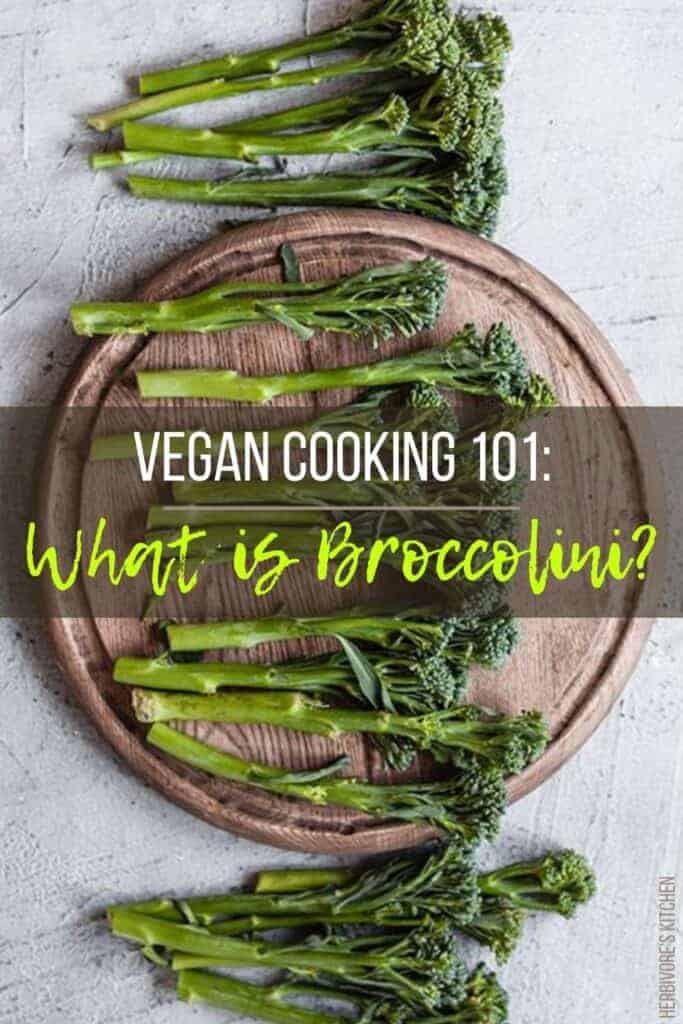 To make roasted broccolini, I start by trimming the rough ends off of each stem. Broccolini stems are edible, so I like to take advantage of cooking as much of the plant as possible. Then I toss them in olive oil and season them generously in salt & pepper. I like a slight char on my roasted broccolini. I achieve this by roasting it on the middle shelf at 400º for about 20 minutes.
Every Good Buddha Bowl Deserves a Great Dressing!
Just like any good salad, a buddha bowl isn't complete without a flavorful dressing and some fun garnishments. Since this buddha bowl has Mediterranean flavors, I decided to top it with a rich tahini dressing. A combination of tahini, lemon juice, garlic, salt and olive oil, this simple vegan-friendly dressing offers up a cool tanginess to contrast the chilies in the Mediterranean spice blend. As a final touch, I sprinkled some sesame seeds and fresh parsley on top.
What is Tahini?
Not familiar with tahini? This popular vegan ingredient is simply sesame seed paste. On its own, tahini has a strong, earthy flavor. While a good tahini can be eaten on its own, it's typically not consumed this way. Rather tahini is with other ingredients. Most likely, you've tasted it as the perfect tang in hummus, but tahini can also be used in baking as well. Be on the lookout for tahini cookies!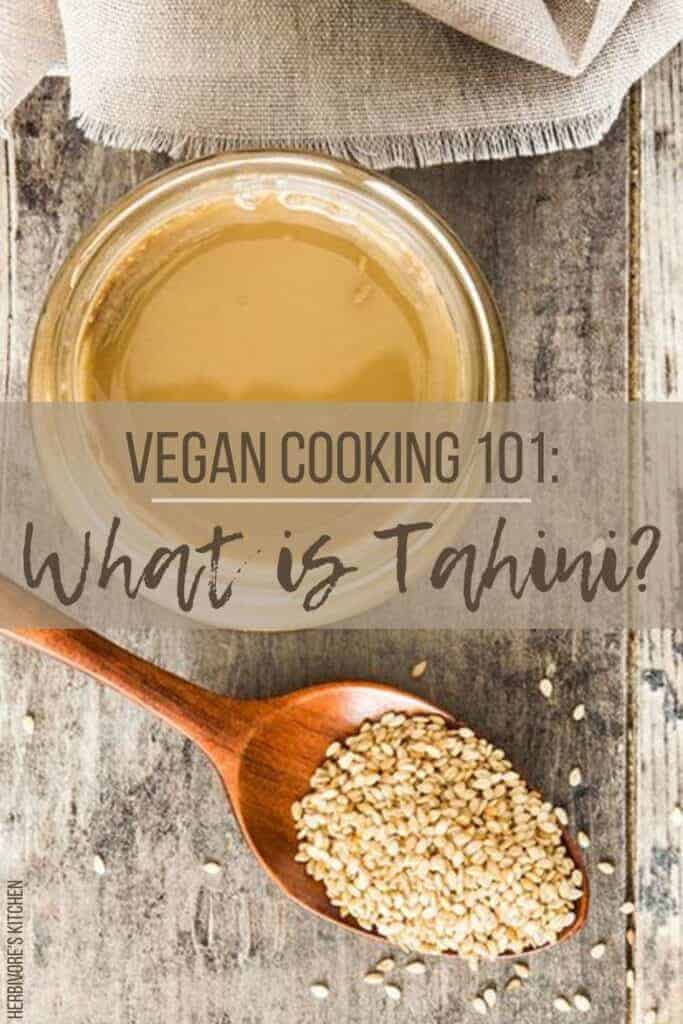 What's in My Kitchen to Make This Mediterranean-Inspired Buddha Bowl Recipe Easier?
Want to know what tools and resources I keep on hand to make my vegan cooking even easier? Here's a short list of what helped me create this blog post and recipe. For the complete list, visit my Shop where you can find the kitchen gadgets I like as well as a list of books that I recommend.
Down a broiler pan? These aluminum baking sheets come highly recommended by the cooks who know best – Epicurious, Cooks Illustrated and Food & Wine. I bought mine because I needed a good, sturdy baking sheet to use under the broiler. One that wouldn't warp – and this one lives up to the task.
Aluminum is a good conductor of heat, so these baking sheets cook evenly. They're also light in color, so they discourage over-browning.
These things are amazing! When I discovered parchment paper, I thought I had things figured out. No more greasing pans or ruining them with charred food. Then I discovered these silicon baking pads. They're oven-safe up to 450 degrees, dishwasher safe (top rack only) and easy to clean and REUSE!
No, that's not the brand. It's just the idea! But, I own this set of Global™ knives and They're some of my most prized possessions in the kitchen. This set is universally well-rated for the at-home chef and will get you a good, solid set of knives without totally breaking the bank.
There are a few tools in my kitchen that get used all the time and this mini 4-cup food processor is one of them. It's perfect for sauces that don't require me to bring out the big guns. Clean up is easy and it doesn't take up much space.
I maintain that this is an essential kitchen tool. Yes, I know that you can squeeze a lemon (or lime, or orange) with your hands, but do that and then try this and see just how much more juice you get from each fruit. It also has the added benefit of separating (most) of the seeds from the juice.
I only bought one of these a few months ago, but wow! I'm so much happier not peeling garlic cloves with my fingernails. I'm pretty sure I'll collectively get at least a day of my life back because of this device.
Designed to serve pasta, I use these shallow dinner bowls all. the. time. I love that I can present all of the ingredients of a dish without over-serving in terms of portion. With a standard bowl, food ends up being stacked and that's no way to display all of your hard work. These bowls are an inexpensive, practical way to present everything from pasta bowls, curry bowls and, of course, buddha bowls.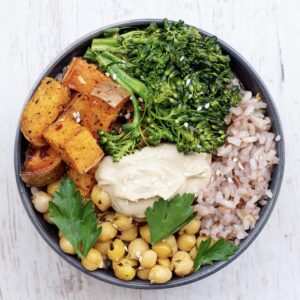 Mediterranean-Inspired Vegan Buddha Bowl
There's something so perfect about a buddhabowl. This vegan buddha bowl is loaded with healthy ingredients like wholegrains, chickpeas, sweet potatoes and broccolini and then topped with oh.so.temptingtahini dressing. This vegan recipe is so easy (to make and on the eyes) –what's not to love!
Ingredients
2

cups

dry Lotus Foods' Organic Tri-Colored Blend Rice

you can find it here

2

sweet potatoes (garnet yams)

cubed

4

bunches

broccolini

washed and trimmed

1/2

cup

+ 2 1/2 tbsp extra virgin olive oil

divided

salt & pepper

1

tbsp

Spice Jungle's Mediterranean Spice Blend, divided

optional; you can find the spice blend here (see Recipe Notes for alternative options)

1

14 oz can

chickpeas

drained and rinsed

1/2

cup

tahini

1

tsp

salt

4

tbsp

fresh lemon juice

1

clove

garlic

sesame seeds

as optional garnish

fresh parsley

as optional garnish
Instructions
Preheat your oven to 400º.

Prepare the Lotus Foods' Organic Tri-Colored Blend Rice in accordance with the package directions.

While the rice is cooking, toss the cubed sweet potatoes in 1 tbsp of extra virgin olive oil and sprinkle with ½ tbsp of Mediterranean spice blend. Spread the sweet potatoes out on an aluminum baking sheet prepared with a silicon baking mat or parchment paper.

Likewise, toss the broccolini in 1 tbsp extra virgin olive oil and season generously with salt and pepper. Spread the broccolini out on a separate baking sheet prepared with a silicon baking mat or parchment paper.

Roast the sweet potatoes on the middle rack for 20 minutes. Pause to stir the sweet potatoes then roast for an additional 20 minutes. Keep an eye on the sweet potatoes for the final 10 minutes. They should be slightly crisp on the outside and not dried out.

When the sweet potatoes are stirred at 20 minutes, add the broccolini baking sheet in the oven and roast for 20 minutes.

While the vegetables are roasting, spread the drained and rinsed chickpeas out on a clean kitchen towel. Gently rub the chickpeas to remove as many of the skins as possible.

Add the chickpeas to a medium sized sauce pan and cover with water. Bring to a simmer and cook for 20 minutes until the chickpeas are soft.

Drain the water from the chickpeas and add 1/2 tbsp extra virgin olive oil. Gently saute the chickpeas in the olive oil until they begin to crisp very slightly. Then sprinkle 1/2 tbsp of Mediterranean Spice Blend over the chickpeas and stir to coat. Set the chickpeas aside.

Combine the tahini, ½ cup olive oil, salt and garlic in a small food processor. Blend until creamy. Then slowly stir in the lemon juice.

Build your buddha bowls by first adding the cooked rice to the bowl. Then top with roasted broccolini, roasted sweet potatoes, chickpeas and the tahini dressing. Sprinkle with sesame seeds and fresh parsley. Serve immediately.
Notes
I'm a big fan of SpiceJungle.com's Spice Blends and use them frequently in my recipes. For this Mediterranean-Inspired Buddha Bowl, I used Spice Jungle's Mediterranean Spice Blend. If you don't have this particular spice blend, you can substitute in a different spice blend (just be sure to test your proportions). If you don't have a spice blend, I would recommend using some fresh lemon juice, crushed red pepper, salt & pepper as your seasoning.
About Herbivore's Kitchen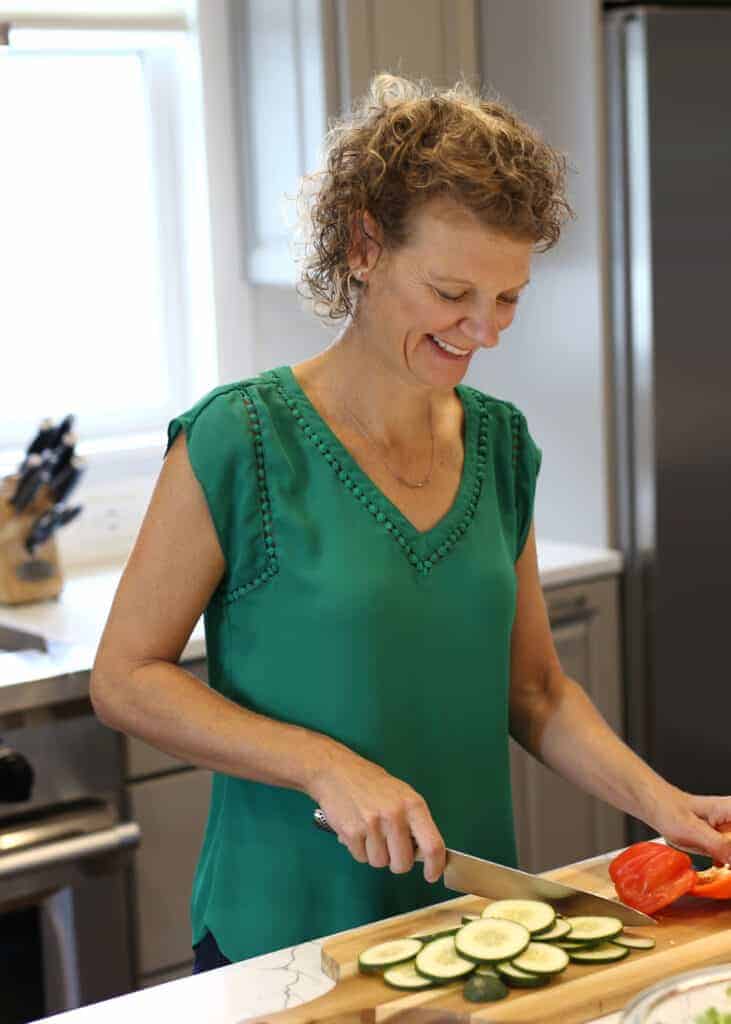 Herbivore's Kitchen is a blog run by me, a plant-based home chef and aspiring food photographer. I switched my and my family's diet to a plant-based diet after learning about the health benefits of going vegan. Making this change has prompted a variety of food and holistic-lifestyle related questions that I explore through this blog. I talk about how to pick and prepare the most nutritious foods, to how to reduce waste at home, to how to live a more sustainable lifestyle while on the road.