Jump to Recipe
---
This Kale Chips Recipe includes affiliate links. When I find a great product or service, I like to share it with my readers. Sometimes I use affiliate links so I can earn commission for my recommendations. Thank you for your support!
---
The Best Baked Kale Chips Recipe
Want to make the best baked kale chips ever? This kale chips recipe is super easy with only four ingredients, making this healthy vegan snack readily accessible. The trick to crispy baked kale chips is all in the technique. In this blog post, I talk about how to get the perfect kale chips every time!
The Magic of this Kale Chips Recipe
It sounds crazy, but the most incredible thing happens when I make this kale chips recipe. My kids flock to it like they're heeding the siren's call of a Dorito. It's remarkable if you think about it. After all, kale chips are… well… baked kale. Kale, that roughage that I barely want to eat when it's raw. But, toss it in some extra virgin olive oil, salt and pepper and make it crispy and suddenly everyone's fighting over kale. So what's the trick? Let's find out!
How to Make the Best Kale Chips
This kale chips recipe is admittedly light on ingredients. There are four of them and I'd be willing to bet you have three of them in your kitchen right now. Ingredients aren't really what makes this kale chips recipe the best kale chips recipe. For great kale chips, it's all in the technique.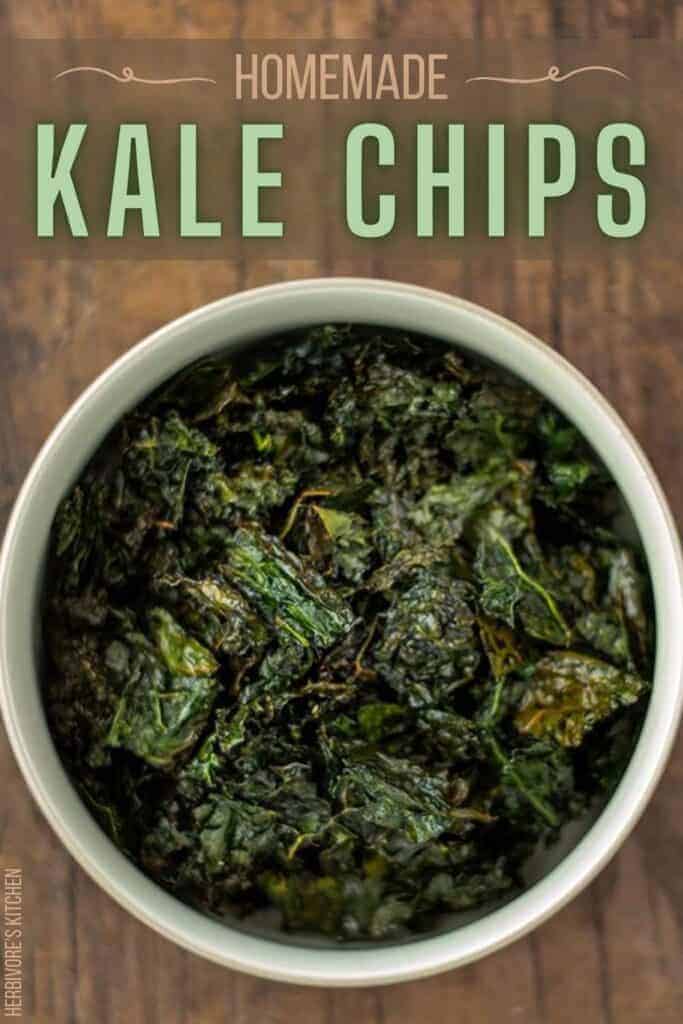 The Best Kale Chips Recipe Tip #1: Destem the leaves.
Start by removing the stems from the leaves of the kale. Kale stems are tough and woody and not really pleasant to eat. This used to be my most dreaded part of making kale chips. In fact, it almost caused me to stop making them altogether. I would painstakingly cut the rib from the leaves with a paring knife. It took forever and then, when I saw how much the leaves shrank in the oven, I wanted to shove "making kale chips" into the "tried that once" category and never look back. Then I picked up this trick: to quickly remove the stems, all you have to do is first pinch the leaves along the stem, almost as though you're folding a piece of paper to then tear along the fold. Then, grab the stem by the bottom and then slide your other hand from the base of the leaves to the top. Viola! Quick and easy stem removal! Need a visual? Check out this handy video by The Produce Guy.
The Best Kale Chips Recipe Tip #2: Cut the Leaves in Even-Sized Pieces
I do this quickly by stacking like-sized leaves on top of one another and slicing through them, cutting each of the leaves into horizontal ribbons. For the larger pieces toward the bottom of the leaves, I'll slice those in half again.
The Best Kale Chips Recipe Tip #3: Wash and Thoroughly Dry the Leaves
While washing may be obvious, failing to make sure that your kale leaves are completely dry foils many attempts at crispy kale chips. If the leaves go into the oven with moisture, the kale chips with steam leading to a soggy kale chip mess. I find the best way to get the leaves dry quickly is to run them through the salad spinner.
The Best Kale Chips Recipe Tip #4: Keep the Recipe Simple
I often see a kale chip recipe that includes a lot of moisture-laden ingredients. Each time I've tried one, I've ended up with soggy kale chips. My conclusion is this: the moisture from these types of ingredients causes the kale chips to steam in the oven rather than crisp up. Now when I make kale chips, I stick with olive oil (and not a lot of it) and some dry seasonings.
The Best Kale Chips Recipe Tip #5: Massage the Kale
Perhaps you've come across this technique before, but if you haven't it might sound a little strange. Massaging kale (and by that, I mean literally massaging it) breaks down the toughness of the leaves. It's also a great way to make sure that the entire leaf is coated in oil and seasonings.
The Best Kale Chips Recipe Tip #6: Kale Chips Need to Breathe
While it results in extra dishes, make the effort to spread your kale chips out on a couple of baking sheets. They're more likely to crisp up if they're not piled on top of one another. And you'll get more evenly baked kale chips this way too.
The Best Kale Chips Recipe Tip #7: Let the Chips Cool on the Baking Sheet
Unless they're close to burnt, leave the chips on the baking sheet and let them cool there. If you pile them up too early, they'll become soggy.
What Kind of Kale is Used in this Kale Chips Recipe?
Now that we know the "how" to making the best kale chips, let's talk about the what. As in, what kind of kale to use for this kale chips recipe. Here, I used Lacinato kale (also known as Tuscan or dino kale). Lacinato kale is identified by its broad, blue-green leaves with a slight curl at the edges. This is the type of kale I use most often when making soups and sauces and it is readily available at the grocery store. I even have some growing in my garden.
Don't feel limited to this variety though as a lot of different types of kale make good kale chips. Just don't mix and match in the same batch, as they tend to cook at different rates.
How to Store Your Kale Chips
One compliant about kale chips that you'll almost never see about Doritos is that they can become soggy when stored. Alas, this is the nature of health food. Homemade kale chips aren't really built to last. However, now that I have my new trick to remove the leaves from the stems, making them is so much less of a hassle. So, instead of making large batches and then having to throw them away after a couple of days, I make them more regularly to ensure that every bite is a crispy one. That being said, once the chips are completely cooled, they will keep for a day or so in an airtight container.
What's in My Kitchen to Make This Kale Chips Recipe Easier?
Want to know what tools and resources I keep on hand to make my vegan cooking even easier? Here's a short list of what helped me create this blog post and recipe. For the complete list, visit my Shop where you can find the kitchen gadgets I like as well as a list of books that I recommend.
I love this addition to my kitchen. Being able to effectively dry lettuces and herbs makes salads taste better. Wet lettuce leaves prevent the oils in salad dressings from sticking to the lettuce, rendering a gorgeous plate of greens soggy before their time. Another good reason to invest in a salad spinner: dry greens store better and last longer in the fridge.
Down a broiler pan? These aluminum baking sheets come highly recommended by the cooks who know best – Epicurious, Cooks Illustrated and Food & Wine. I bought mine because I needed a good, sturdy baking sheet to use under the broiler. One that wouldn't warp – and this one lives up to the task.
Aluminum is a good conductor of heat, so these baking sheets cook evenly. They're also light in color, so they discourage over-browning.
These things are amazing! When I discovered parchment paper, I thought I had things figured out. No more greasing pans or ruining them with charred food. Then I discovered these silicon baking pads. They're oven-safe up to 450 degrees, dishwasher safe (top rack only) and easy to clean and REUSE!
No, that's not the brand. It's just the idea! But, I own this set of Global™ knives and They're some of my most prized possessions in the kitchen. This set is universally well-rated for the at-home chef and will get you a good, solid set of knives without totally breaking the bank.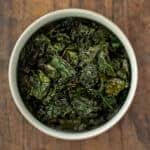 The Best Baked Kale Chips Recipe
Want to make the best baked kale chips ever? This kale chips recipe is super easy with only four ingredients, making this healthy vegan snack readily accessible. The trick to crispy baked kale chips is all in the technique.
Ingredients
2

bunches

Lacinato kale

1

tbsp

extra virgin olive oil

salt & pepper

5-7 generous twists of each mill
Instructions
Preheat your oven to 275º.

Wash the kale and prepare it by removing the leaf from the rib (or stem). See my blog post for details on how to do this efficiently.

Slice the kale into bite-sized pieces and thoroughly dry it using a salad spinner (or blot with a towel). The drier the kale is, the more likely the kale will crisp in the oven.

Combine the kale, olive oil salt and pepper in a large bowl and massage the olive oil and seasonings into the kale. As you massage the kale, it will become darker in color and slightly wilted. Once this happens, stop massaging.

Spread the kale out on two baking sheets prepared with a silicon baking mat or parchment paper. Bake on the middle racks for 10 minutes. Then pause to stir the kale. Return the baking sheets to the oven for an additional 10-15 minutes, checking on the kale at 10 minutes. It should be crispy, but not burnt.

Remove the baking sheets from the oven and allow the kale chips to cool completely. Serve within 1-2 days. Store the kale chips in an airtight container.
About Herbivore's Kitchen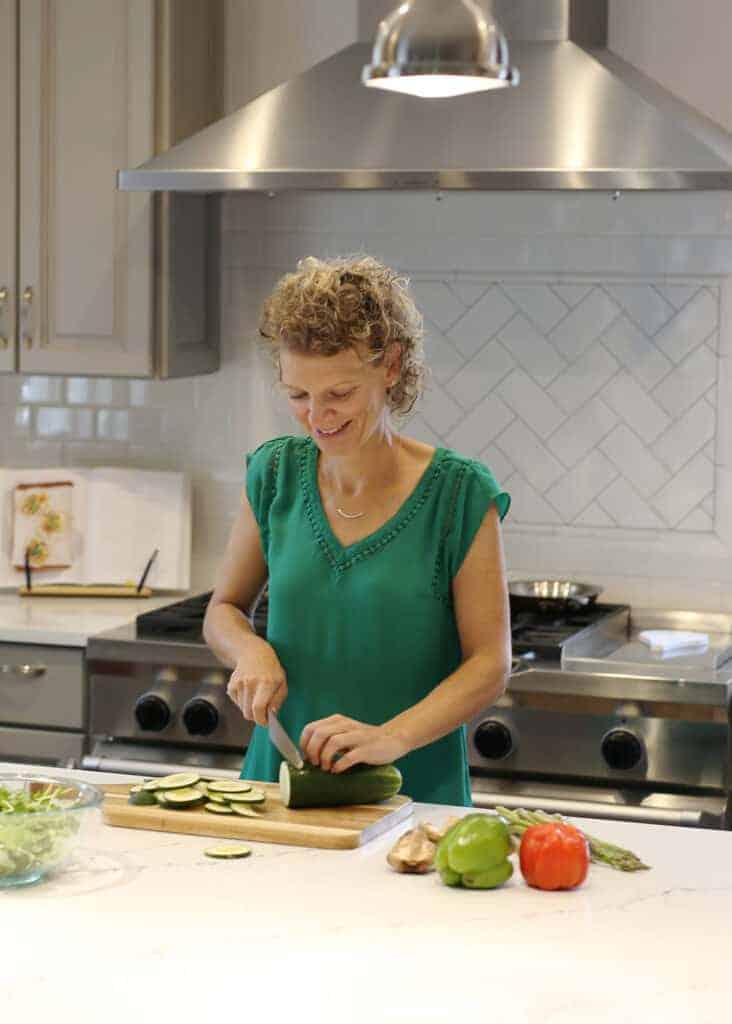 Herbivore's Kitchen is a blog run by me, a plant-based home chef and aspiring food photographer. I switched my and my family's diet to a plant-based diet after learning about the health benefits of going vegan. Making this change has prompted a variety of food and holistic-lifestyle related questions that I explore through this blog. I talk about how to pick and prepare the most nutritious foods, to how to reduce waste at home, to how to live a more sustainable lifestyle while on the road.