Jump to Recipe
---
This Guacamole Recipe includes affiliate links. When I find a great product or service, I like to share it with my readers. Sometimes I use affiliate links so I can earn commission for my recommendations. Thank you for your support!
---
The Best Mango Guacamole Recipe
Looking for the best guacamole recipe to brighten up your summer recipe box? This homemade mango guacamole recipe is sweet, creamy and spicy! It features fresh avocado, mango, red pepper, spicy jalapeno, zesty lime and cilantro. This easy recipe is a simple way to dazzle your summer (vegan) BBQ guests!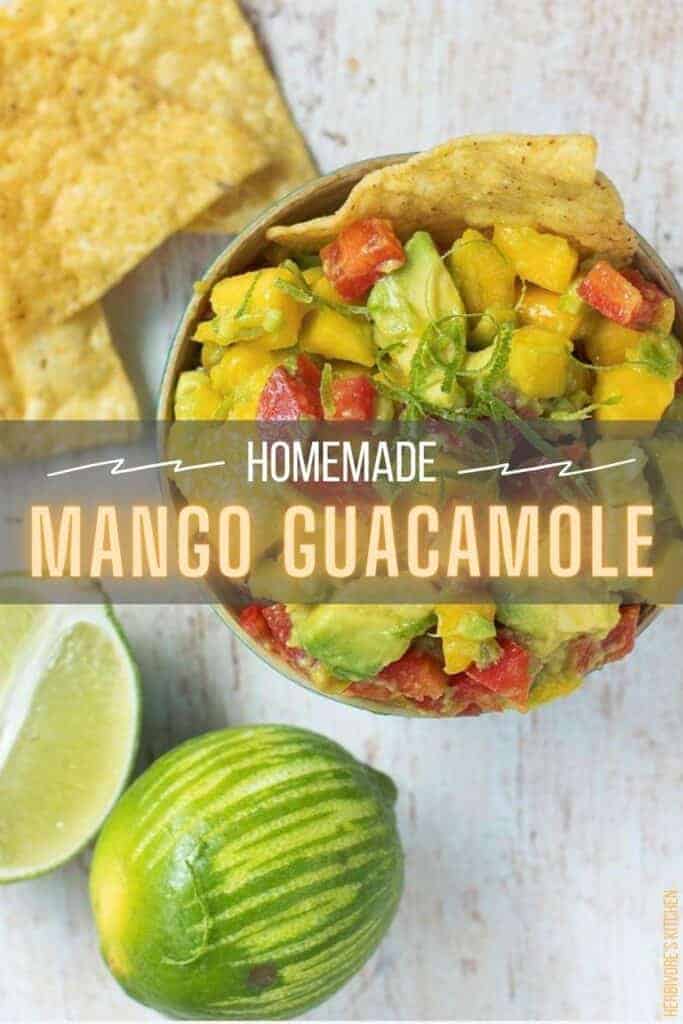 Prepping to Make This Easy Guacamole Recipe
Of course, the first step in prepping for any recipe is to make sure you have all of the right ingredients. The success of this vegan recipe depends on using ripe mangoes and avocados, so let's talk a little bit about how to shop for, store and prepare these fresh ingredients.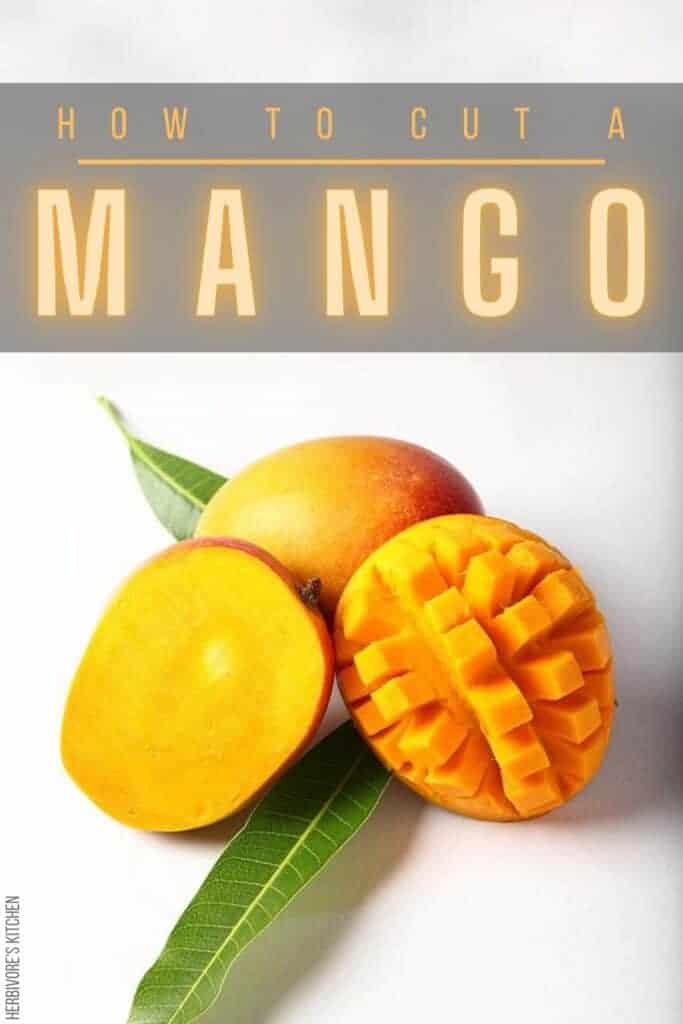 How to Shop for Mangos
According to mango.org, you shouldn't focus on color when shopping for guacamole-ready mangoes. That's not an indicator of ripeness. Instead, rely on your senses of touch and smell. Ripe mangoes will have a sweet, fruity smell at the stem end. Regarding feel, a ripe mango will be mostly firm with just a slight amount of give when squeezed. If the mango is hard, it's not ready yet. But you can help it along by leaving it out at room temperature or storing it in a brown paper bag.
How to Cut a Mango
Mangoes can be a bit of a pain to prepare, but there are tricks to make cutting a mango easier. Mangoes contain a large, oblong pit in the center. To obtain the most "meat" from this fruit, you want to slice the fruit lengthwise along each side of the pit. Here's are the step-by-step instructions for getting as much from this delicious fruit as possible!
STEP 1: Safety comes first, of course! Start by slicing a small amount off the stem end of the mango. You want to create a flat surface for resting your mango while you do the rest of your cutting. Determine which sides of the mango are the "mango cheeks." The cheeks hold the most meat and reside on either side of the pit on the center. If you inspect the mango from the top down, you'll notice that the fruit isn't circular, but rather oval in shape. The wide sides are the mango cheeks. This is where you'll want to start your cutting.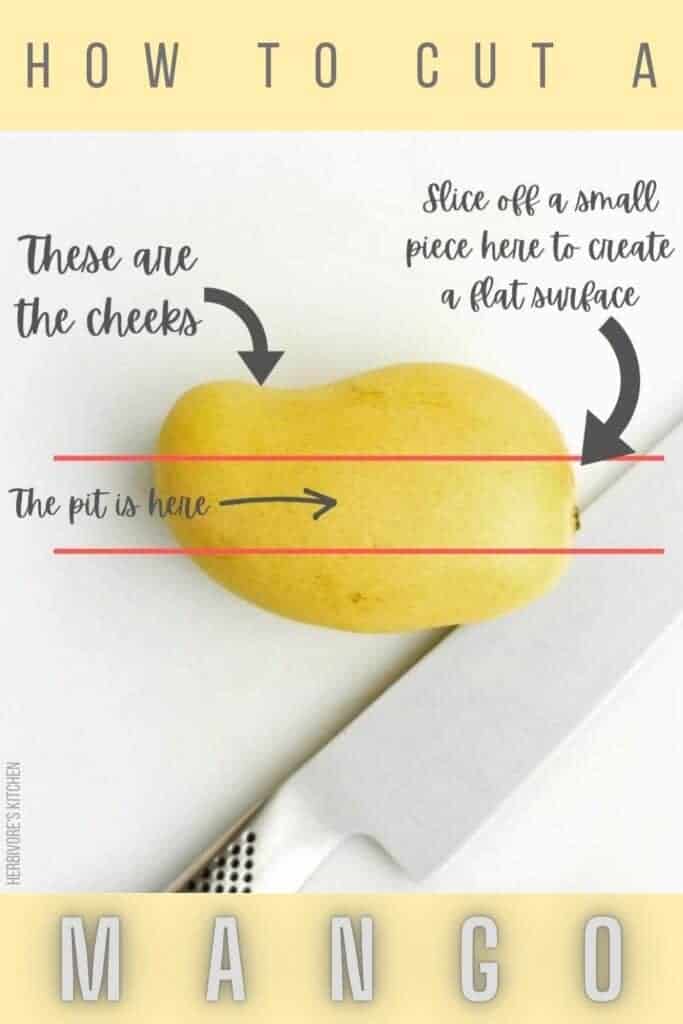 STEP 2: Starting from the top of the mango, move your knife slightly off center and slice down through the mango. If you hit the pit, move your knife over slightly and try again. Do this for both mango cheeks.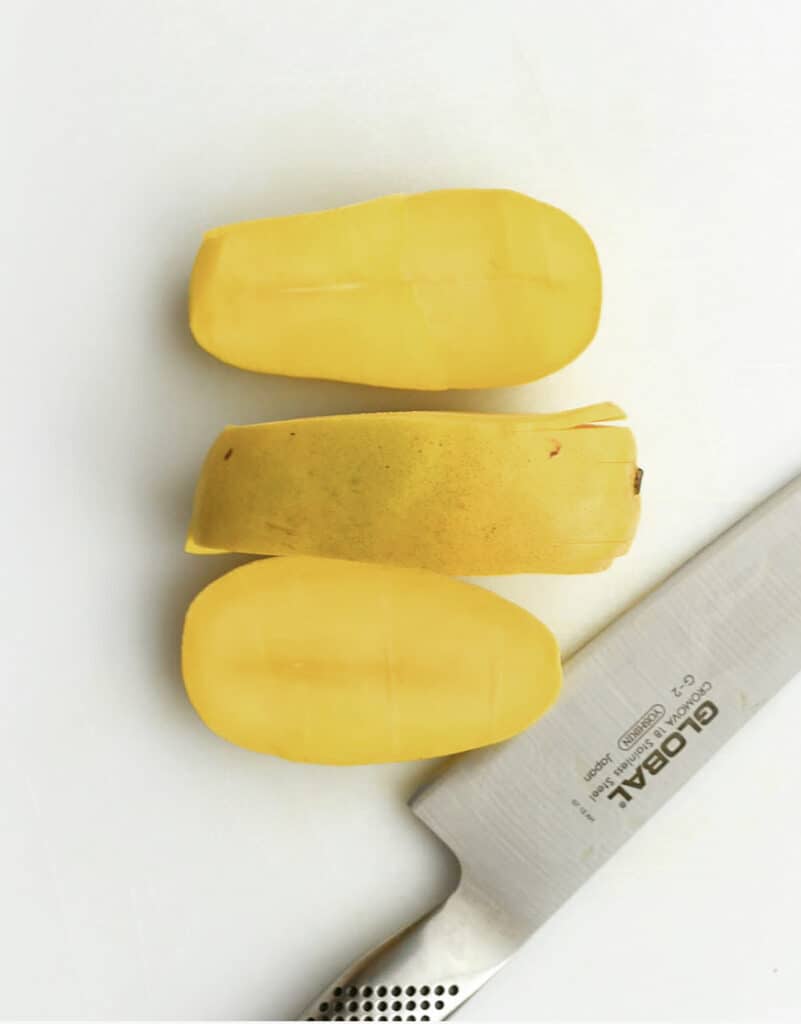 STEP 3: Once the cheeks have been removed, you might find that you can slice off smaller pieces on the more narrow sides of the pit. Gently score the cheeks creating diced chucks of the mango. Then, invert the skin and carefully cut the diced pieces from the skin. Finally carefully trim any mango meat from the skin removed from the narrow sides of the mango.
How to Shop for Avocados
Avocado shopping is very similar to shopping for mangoes. Ripe avocados will be firm with a gently give when squeezed. You should also be on the lookout for a bumpy texture on the exterior skin. Unlike mangoes, color does matter. A ripe avocado will be dark green.
How to Store Avocados
I actually learned quite a bit about storing avocados when researching for this post. I always thought that avocados should be stored at room temperature, out of direct sunlight. That's right, but only if the avocado isn't already ripe. Ripened avocados should be used immediately or stored in the refrigerator to prolong freshness.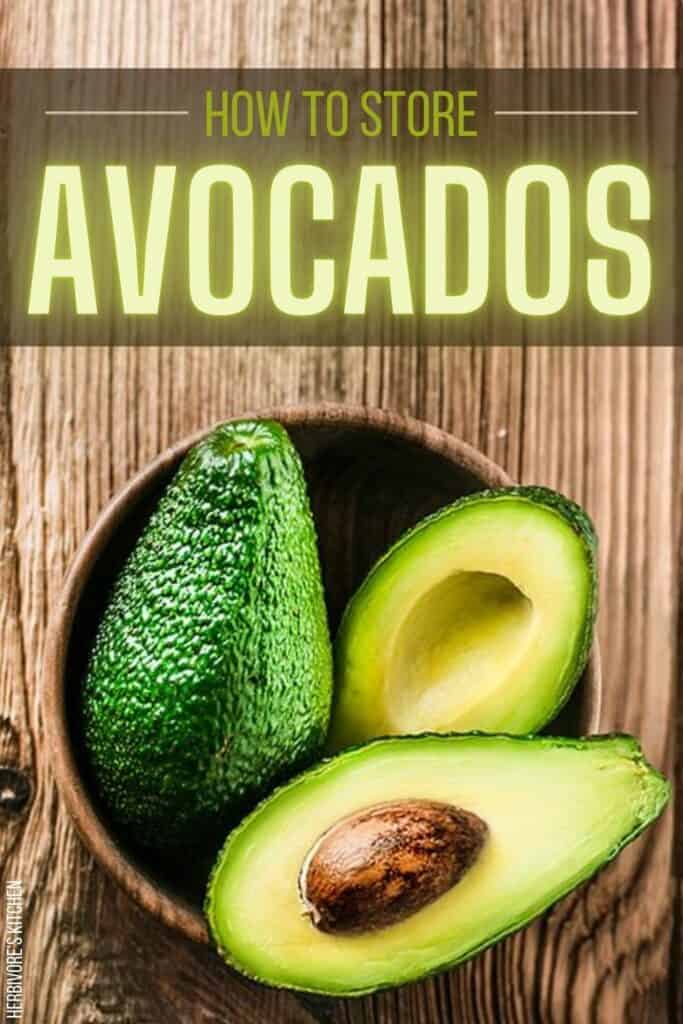 To speed up the ripening process, avocados can be placed in a brown paper bag (like mangoes) but with the addition of a banana. The ripened banana produced ethylene gas which is then trapped by the paper bag. Ethylene initiates the ripening of fruit – including avocados (because you know avocados are a fruit, right?).
Be sure to check out avocadosfrommexico.com for more avocado information!
How to Cut Cilantro
I talked about this in my Chimichurri Sauce recipe (another great summertime condiment, btw). Cilantro stems are edible and hold the same flavor as the leaves. Unlike herbs like parsley, cilantro stems aren't bitter. So, preparing cilantro is easy. Just wash the bunch and cut the just under the leaves, leaving the top part of the stem intact.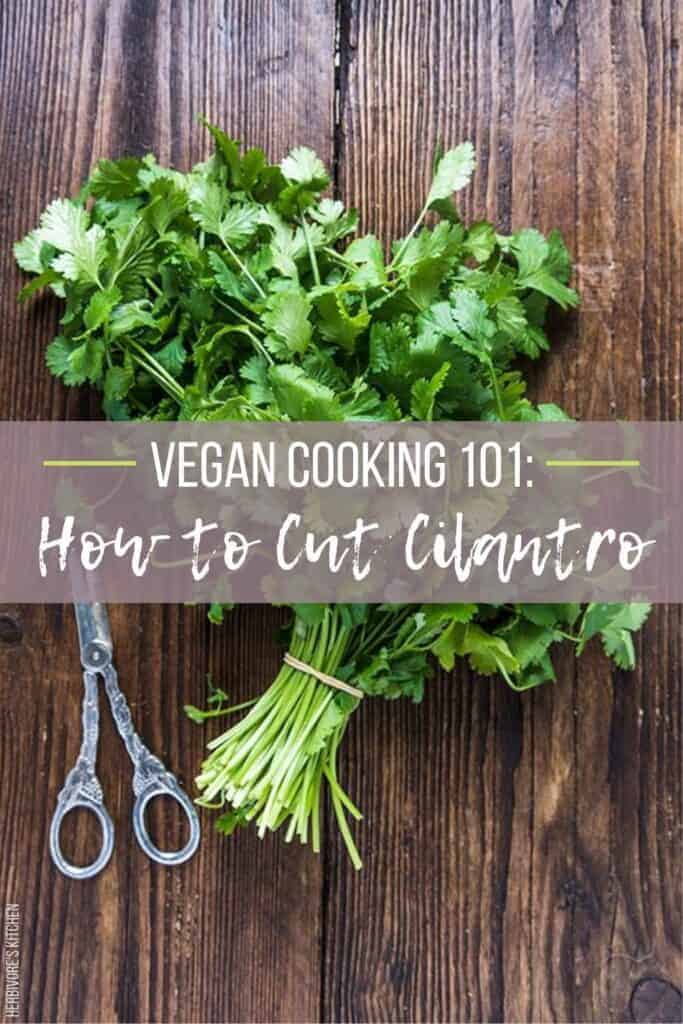 Putting this Mango Guacamole Recipe Together
Once you have all the ingredients, this mango guacamole recipe comes together in a snap! I like to put everything into a large, glass Pyrex bowl that comes with a lid. This makes for easy guacamole storage! To get the avocados just right, I recommend using a potato masher. Then add the diced mango, diced red pepper, red onion, jalapeno, lime juice and lime zest. Then season with salt and pepper to taste.
How to Eat This Mango Guacamole Recipe
This mango guacamole is so good that you could just eat it with a spoon (or by a lake with some tortilla chips as I shared in my Ultimate Guide to Vegan Camping Recipes)! My favorite ways are a little more involved though. This mango guacamole recipe makes an excellent topper to my Crispy Cauliflower Vegan Tacos as well as my Citrus Marinated Portobello Mushroom Fajitas. And don't forget to serve it on the side of my Spicy Red Lentil & Roasted Cauliflower Vegan Tacos!
What's in My Kitchen to Make This Guacamole Recipe Easier?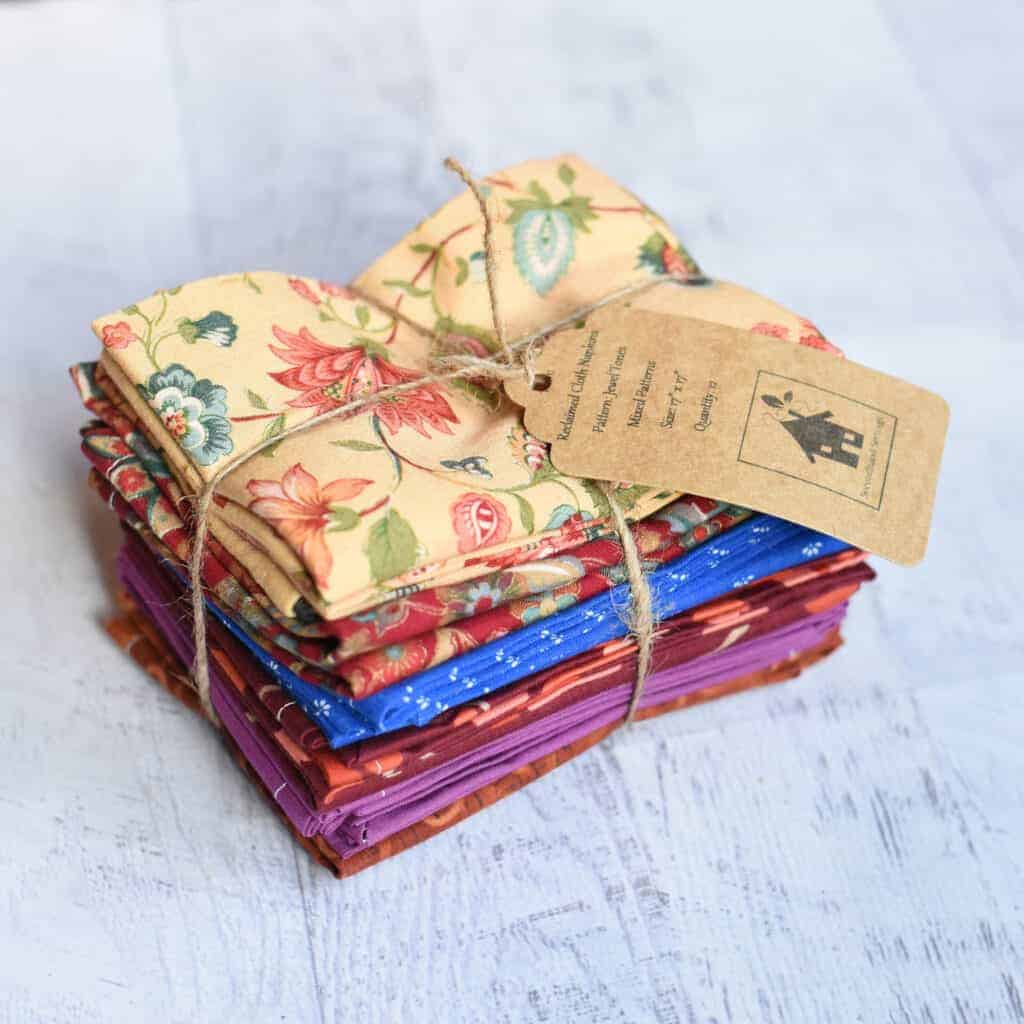 Before I get into cooking, I want to share these napkins. I found these on Etsy over a year ago and, not only do I LOVE them, I buy them as gifts for nearly everyone I know.
These napkins are upcycled and reusable, allowing you to not only avoid throwing away paper products but to also reuse fabrics – a small but significant way to cut back on water, dyes and chemicals used in the production process.
These napkins are so darling (they come in lots of different patterns and colors) and they're machine washable. I just throw them in with whatever load of laundry I'm doing. They don't wrinkle easily, so a quick fold will have them back on your table doing what they were meant to do… be reused!
This set of glass nesting bowls is well worth owning! Four different sizes mean that you'll never not have the right bowl for whatever project you are working on. And the lids! So so nice to have. These glass mixing bowls are fridge, freezer, microwave and dishwasher safe.
No, that's not the brand. It's just the idea! But, I own this set of Global™ knives and They're some of my most prized possessions in the kitchen. This set is universally well-rated for the at-home chef and will get you a good, solid set of knives without totally breaking the bank.
I maintain that this is an essential kitchen tool. Yes, I know that you can squeeze a lemon (or lime, or orange) with your hands, but do that and then try this and see just how much more juice you get from each fruit. It also has the added benefit of separating (most) of the seeds from the juice.
This handy dandy little tool is about to bring a ton of flavor to your dishes! If you don't zest, it's something you should start doing. Everything from lemon, to lime, to oranges are zestable ingredients. I add lime zest to my corn salsa used in my Spicy Lentil Street Tacos Recipe and lemon zest is a great add for dishes like homemade tomato sauce.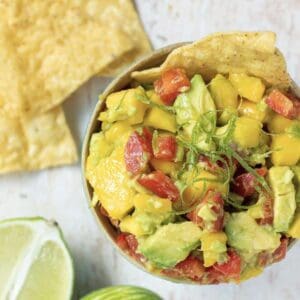 Mango Guacamole Recipe
Looking for the best guacamole recipe to brightenup your summer recipe box? This homemade mango guacamole recipe is sweet,creamy and spicy! It features fresh avocado, mango, red pepper, spicy jalapeno,zesty lime and cilantro. This easy recipe is a simple way to dazzle your summer(vegan) BBQ guests!
Ingredients
1

large

mango

diced (see my blog post for how to cut a mango)

2

avocados

diced

1/4

red onion

finely chopped

1

red pepper

diced

1/4

jalapeno

deseeded and finely chopped

1

lime

juice and zest

salt & pepper

to taste
Instructions
Combine the mango, avocado, red onion, red pepper, jalapeno,lime juice and lime zest. Mix thoroughly and season with salt & pepper.
About Herbivore's Kitchen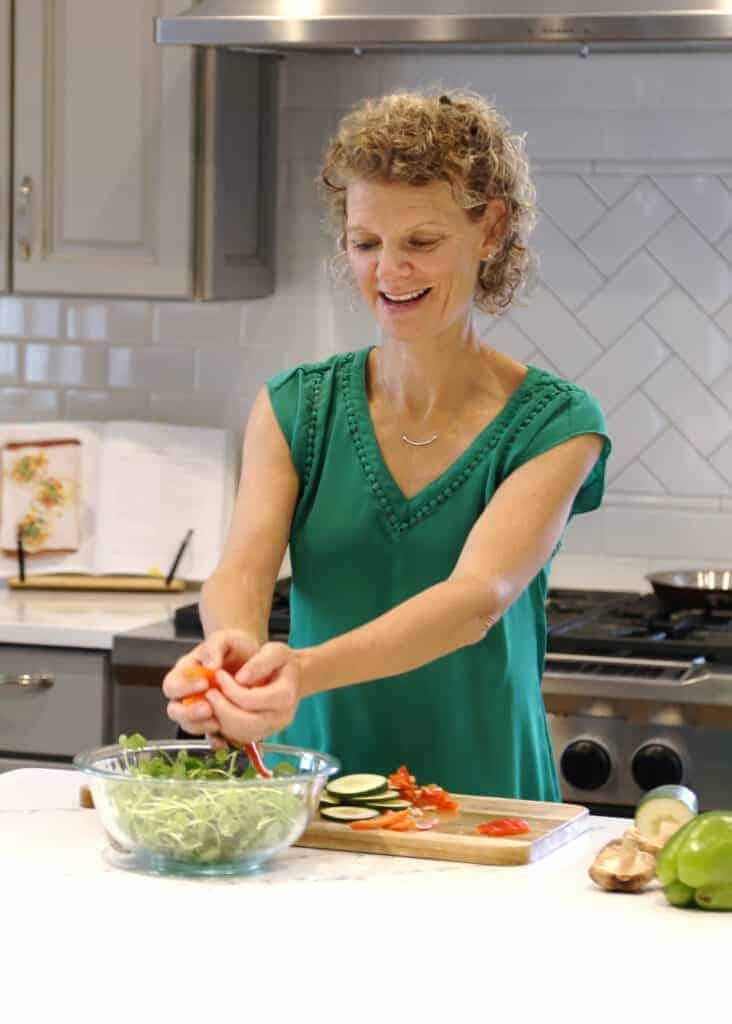 Herbivore's Kitchen is a blog run by me, a plant-based home chef and aspiring food photographer. I switched my and my family's diet to a plant-based diet after learning about the health benefits of going vegan. Making this change has prompted a variety of food and holistic-lifestyle related questions that I explore through this blog. I talk about how to pick and prepare the most nutritious foods, to how to reduce waste at home, to how to live a more sustainable lifestyle while on the road.