Jump to Recipe
---
This Teriyaki Tofu Shish Kebabs post includes affiliate links. When I find a great product or service, I like to share it with my readers. Sometimes I use affiliate links so I can earn commission for my recommendations. Thank you for your support!
---
Teriyaki Tofu Shish Kebabs (Shish Kabobs)
All the summer feels! Nothing tastes quite as good as shish kebabs right off the grill! Featuring teriyaki tofu, mushrooms, peppers and squash, this shish kebab recipe is an easy way to get plenty of healthy vegetables on the table.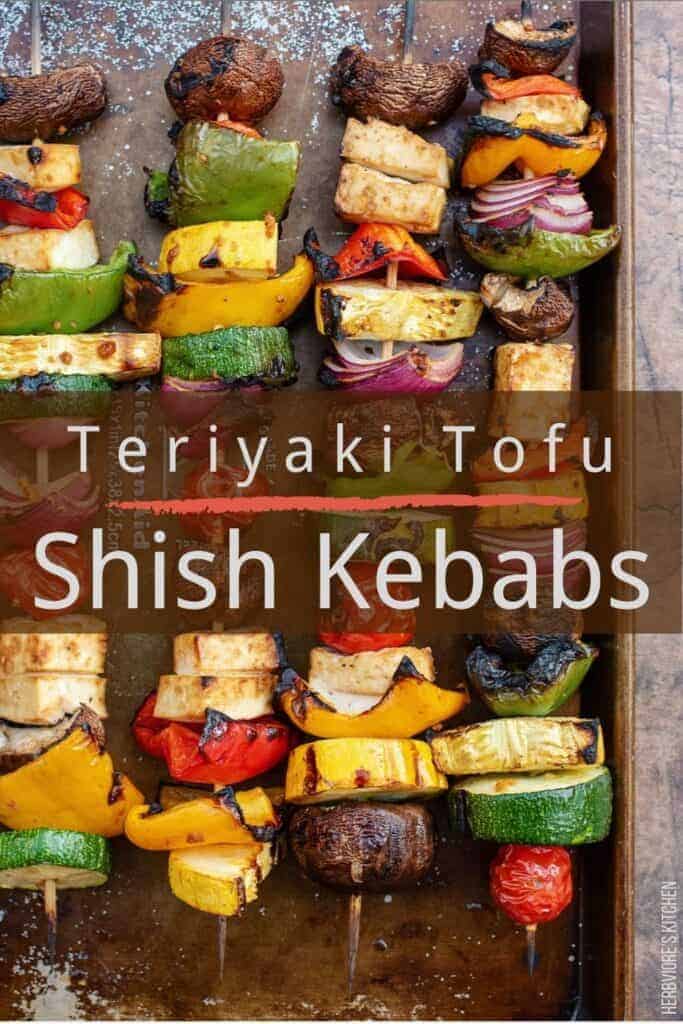 You Say Kabob, I Say Kebab
When writing this piece for my blog, I waffled over whether to call these vegan skewers shish kebabs or shish kabobs. My American upbringing has me pronouncing it as shish kabob (I also grew up saying pop instead of soda though), but my research suggests that the origins of this dish have it spelled as shish kebab.
The words shish kebab stem from the Turkish words şiş kebap. In Turkish, şiş kebap means skewer of roasted meat. At their introduction, shish kebabs were just an easy way of cooking and preparing meat, typically lamb. Over time though, the shish kebab evolved to include a variety of meats based on cultural preferences. Later, vegetables found their way on the skewers and eventually shish kebabs became worldwide darlings. Maybe you've had Southeast Asian satay, Japanese yakitori or French brochettes? My shish kabob growing up is merely the North American interpretation of the shish kebab.
But Your Vegan Shish Kebab Doesn't Have Meat…
Now, before any of my skeptics point it out, I do recognize that grilled tofu is not roasted meat in the traditional sense of a shish kebab. There is always someone who needs to point that out. To them I say: I've heard it all before. I've been appropriating meat-based words for a while now (see my vegan meatballs). It's for everyone's benefit, I promise. Unless recipe seekers google something like tofu skewers when looking for a vegan shish kebab recipe, they'd never find me. Believe me, I looked it up. No one is looking for tofu skewers. And, wouldn't they be missing out?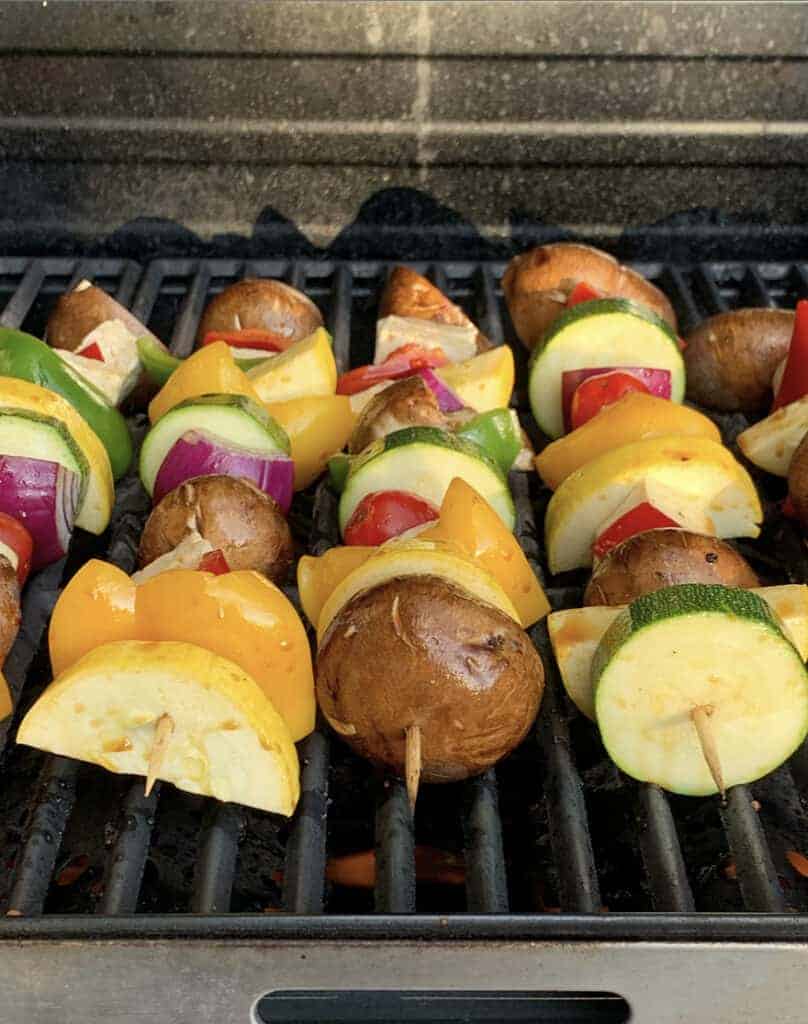 What to Include on Your Shish Kebabs
To me, shish kebabs are a great way to use up extra vegetables from the refrigerator at the end of the week. Inevitably, I have peppers and onions (and grilled onions are oh. so. good). Mushrooms are a great shish kebab add as well as zucchini and yellow squash. Personally, I like to add to tomatoes to mine, but bear in mind that they will cook the fastest, so you do need to like them fully blistered and a little bit messy.
Tofu is a great addition to shish kebabs as well, especially if when marinated before grilling or roasting. Tofu (and mushrooms actually) are great absorbers of flavor. For this recipe, I make a homemade teriyaki sauce and let the skewers rest in the marinade for at least an hour before throwing them on the grill or in the oven. Soaking the skewers in the marinade has an added bonus too: it keeps them from burning on the grill or in the oven.
How to Make Shish Kebabs – Roasted or Grilled?
In the summertime, I'm all about cooking my shish kebabs on the grill. I like the grill hot because I'm looking for a char on the tofu and vegetables. Exposing them to high heat for a shorter period of time is a good way to do this – the char happens before the vegetables turn to mush. A hot grill also helps to keep food from sticking, which is an issue sometimes with the tofu cubes.
For extra flavor, I continue to marinate the skewers while they're on the grill. The sugars in my teriyaki marinade do make a mess, so there is some clean up involved after grilling shish kebabs. Making sure your grill is clean is important though. Food is less likely to stick to a clean grill.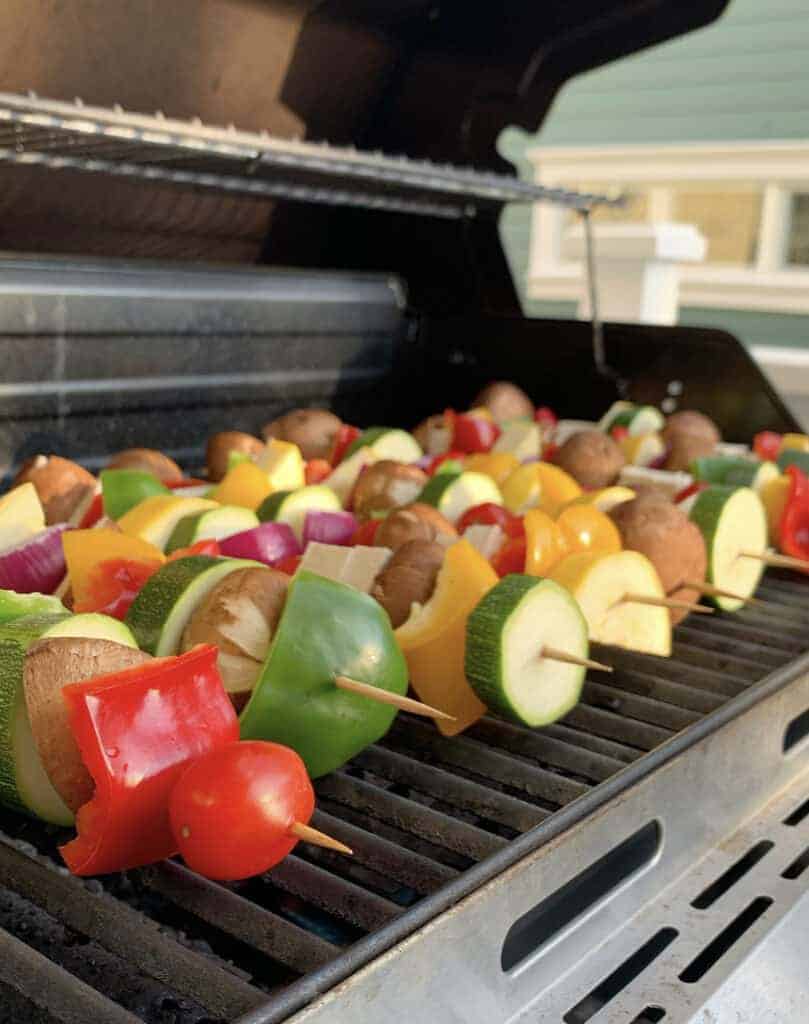 In the wintertime, it's just as easy to roast shish kebabs in the oven. I do this by laying them out on a baking sheet and baking them at 400º for about 15 minutes. Then I switch to the broiler and let the vegetables obtain a char on the edges. Keep a close eye on your shish kebabs under the broiler though. They will burn quickly. Please also note that it's not a good idea to use parchment paper or silicon baking mats at this temperature. Safe temperatures for both of these items is below broiling temperatures. And, finally – refer back to my comment about soaking the skewers before cooking with them. Bamboo skewers are less likely to ignite if they're been soaked prior to being roasted or grilled.
About that Homemade Teriyaki Sauce
Homemade teriyaki sauce is so easy to make! I highly recommend it over any store-bought brand because the ingredients don't have to be complicated. And, by "complicated" I mean inclusive of additives and other unpronounceable ingredients. My teriyaki sauce is a simple combination of garlic, ginger, tamari, water, maple syrup and rice vinegar. When I make it, I make a double batch to store in the refrigerator for later use.
What's in My Kitchen to Make This Teriyaki Tofu Shish Kebab Recipe Easier?
Want to know what tools and resources I keep on hand to make my vegan cooking even easier? Here's a short list of what helped me create this blog post and recipe. For the complete list, visit my Shop where you can find the kitchen gadgets I like as well as a list of books that I recommend.
Down a broiler pan? These aluminum baking sheets come highly recommended by the cooks who know best – Epicurious, Cooks Illustrated and Food & Wine. I bought mine because I needed a good, sturdy baking sheet to use under the broiler. One that wouldn't warp – and this one lives up to the task.
Aluminum is a good conductor of heat, so these baking sheets cook evenly. They're also light in color, so they discourage over-browning.
Admittedly, I didn't own a tofu press for a long time. I pressed my ­tofu by wrapping my tofu in a clean tower and topping it with a heavy cast iron skillet. I did this for a number of years without issue until my cast iron tipped off of the tofu on day and landed on my new hardwood floor, denting it. My husband gave me this tofu press for Christmas after that.
Now that I have a tofu press, I'm all about them. And this tofu press is pretty slick. It applies even pressure to a block of tofu. And pressure matters. Too little and you won't drain enough of the liquid. Too much and you'll crush your tofu, making it impossible to cube it for even cooking.
No, that's not the brand. It's just the idea! But, I own this set of Global™ knives and They're some of my most prized possessions in the kitchen. This set is universally well-rated for the at-home chef and will get you a good, solid set of knives without totally breaking the bank.
Love to cook with cast iron? Ever forget how hot those handles get? Yeah, me too. The Ove Glove will help to protect your hands when cooking (and forgetting).
These pot holders are heat safe to 540 degrees and two come in a package – one for holding the handle and one for supporting the bottom of your cast iron skillet (because we all know it's too heavy to pick up with one hand).
I only bought one of these a few months ago, but wow! I'm so much happier not peeling garlic cloves with my fingernails. I'm pretty sure I'll collectively get at least a day of my life back because of this device.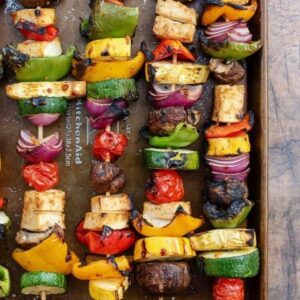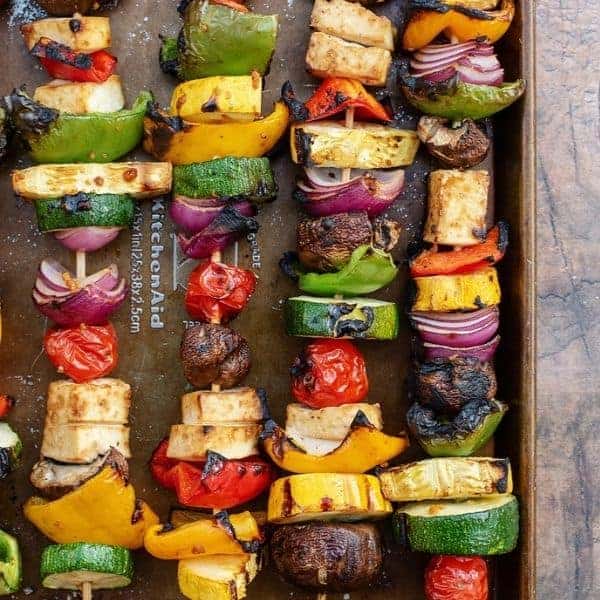 Teriyaki Tofu Shish Kebabs
All the summer feels! Nothing tastes quite asgood as shish kebabs right off the grill! Featuring teriyaki tofu, mushrooms,peppers and squash, this shish kebab recipe is an easy way to get plenty of healthyvegetables on the table.
Ingredients
2

10 ox blocks

extra firm tofu

3

bell peppers, mixed colors

washed and cut into bite-sized pieces

1

red onion

cut into bit sized wedges

12-15

button mushrooms

washed and cut in even-sized pieces

1/2

pint

grape tomatoes

washed

1

zucchini

washed and cut into 1/2" pieces

1

yellow squash

washed and cut into 1/2" pieces

1/2

cup

tamari

1/2

cup

+ 1 tbsp water

1

tbsp

minced fresh garlic

1

tbsp

minced fresh ginger

2

tbsp

maple syrup

1

tbsp

rice vinegar

1

tsp

sriracha

1

tbsp

cornstarch
Instructions
Press the tofu for at least 20 minutes. Press the tofu by slicing each block of tofu in half (creating two thinner slabs) and lining paper towels under, in between and on top of the stacked slabs to absorb water from the tofu. I recommend putting a cutting board on top of the tofu blocks and weighing it down with something heavy. This works, or you can invest in a tofu press (my preferred method).

Prepare the vegetables as described in the ingredients list.

Prepare the marinade by combining the tamari, ½ cup of water, garlic, ginger, maple syrup, rice vinegar and sriracha into a small sauce pan. Bring to a simmer.

Add the cornstarch and 1 tbsp of water in a separate bowl and whisk to combine until all lumps are removed.

Add the cornstarch slurry to the simmering marinade and continue to simmer, stirring frequently, until the marinade has thickened. About 6-8 minutes. Transfer the marinade to a dish large enough to hold the skewers while marinating.

Slice the pressed tofu into 1-inch cubes.

Thread the skewers with your desired ingredients (this is the fun in shish kebabs! They can be make-your-own) and lay each skewer into the marinade. Cover and let the skewers rest in the refrigerator for at least one hour).

Preheat your oven (to 400º) or grill (I like a hot grill).

If grilling, lay the skewers out on a hot grill. Grill for ~10 minutes, then turn each skewer and baste with additional marinade. Grill for another ~5 minutes until the vegetables begin to char slightly. Remove the skewers from the grill and serve immediately.

If roasting, add the skewers to a baking sheet and roast on the middle rack for about 15 minutes. Pause to turn the skewers and baste with the marinade. After 15 minutes, switch to the broiler and allow the vegetables to char under the broiler. Keep an eye on them, as they will burn quickly. About 2-4 minutes. Remove the skewers from the oven and serve immediately.
About Herbivore's Kitchen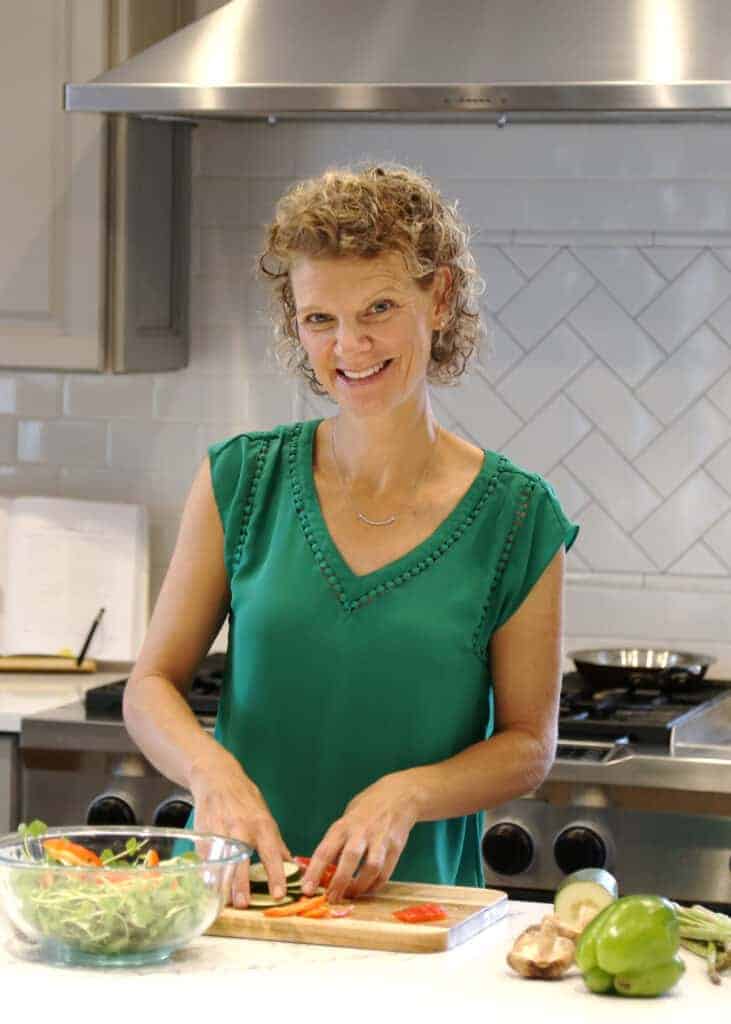 Herbivore's Kitchen is a blog run by me, a plant-based home chef and aspiring food photographer. I switched my and my family's diet to a plant-based diet after learning about the health benefits of going vegan. Making this change has prompted a variety of food and holistic-lifestyle related questions that I explore through this blog. I talk about how to pick and prepare the most nutritious foods, to how to reduce waste at home, to how to live a more sustainable lifestyle while on the road.