Jump to Recipe
This Vegan Lentil Bolognese Recipe includes affiliate links. When I find a great product or service, I like to share it with my readers. Sometimes I use affiliate links so I can earn a commission for my recommendations. Thank you for your support!
Vegan Lentil Bolognese Recipe
This vegan lentil bolognese ranks among the best vegan pasta sauces — at least in my family! This sauce is so easy to make and it works well in a variety of vegan pasta recipes — like my Easy Vegan Lasagna recipe to my Creamy Vegan Stuffed Shells!
What Are Lentils?
If you're new to vegan cooking, you might have some questions about lentils. Questions like: what are lentils? Are lentils good for you? And, how do you cook lentils? If you have these questions, you're in luck! I have a blog post that's all. about. lentils. You can read it here. If you just want to get to cooking already, I'll give you the lentil cliff notes here.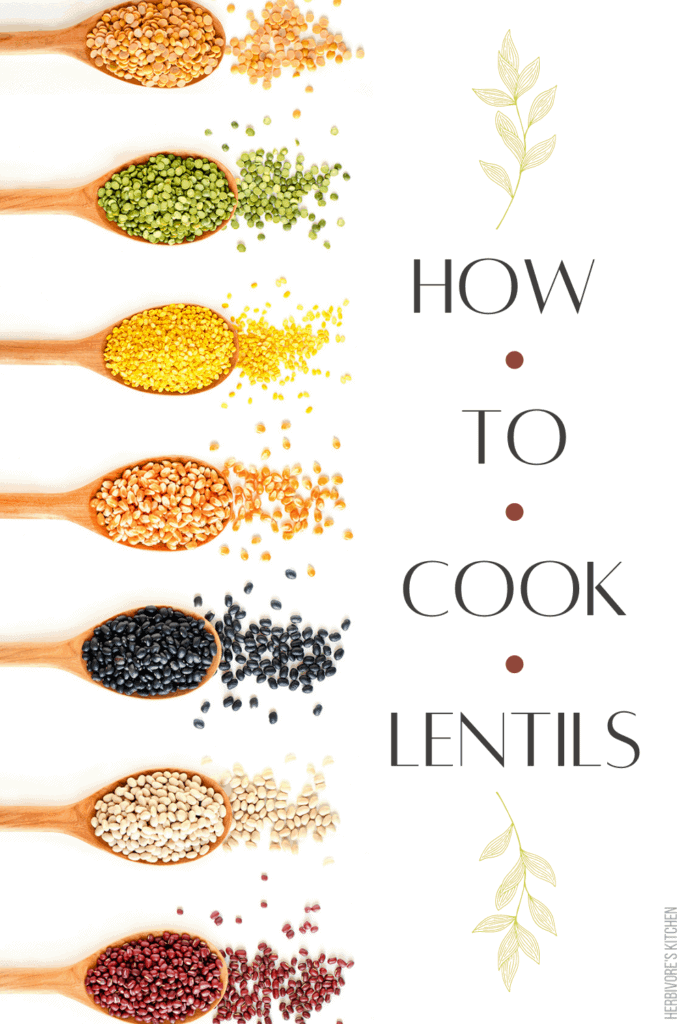 Lentils are in the legume family. They're a vegan darling because they are so versatile — I use them in Mexican, Italian, Irish, and Indian dishes alike. They're also high in protein, fiber and nutrients like B Vitamins, magnesium, zinc and potassium. And if that's not enough to have you trying lentils in your vegan cooking, you should also know that lentils are one of the most environmentally friendly foods.
Lentils come in different varieties with different cook times, consistencies and flavors. I dig into those details in my all about lentils post. For this recipe, I chose red lentils. You may also come across green, brown and black lentils at the grocery store though. All lentils are really easy to cook. Unlike other dried legumes, they don't require soaking before cooking. Just simmer them in your liquid ingredients and you're done!
Using Red Lentils in This Vegan Lentil Bolognese Recipe
Using red lentils in this vegan pasta sauce recipe was an easy choice. Red lentils are slightly sweeter than their green and brown counterparts. When cooked, they absorb liquid ingredients and become soft, making for a thick, rich vegan pasta sauce. I find the addition of red lentils to my pasta sauce to be a great way to add healthy calories to my pasta dishes.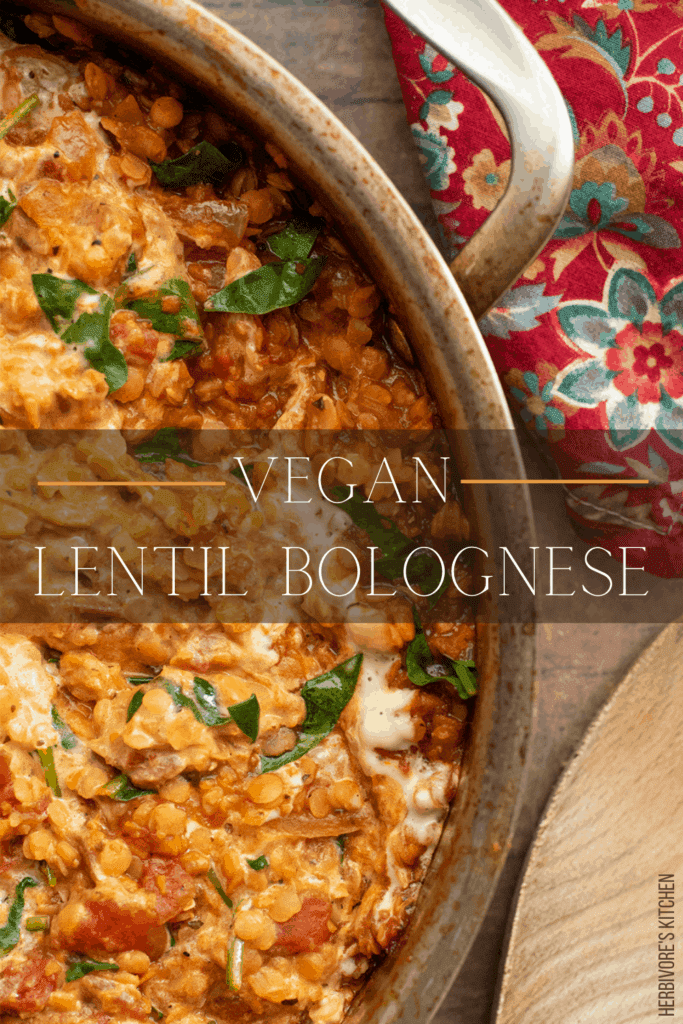 Vegan Lentil Bolognese Recipe: How to Cook the Lentils
I start this recipe with slow-cooked mushrooms, onions and garlic. Then I add carrots, celery and some herbs and sauté all these yummy ingredients in tomato paste. The result is a really flavorful base. Low-sodium diced tomatoes and lentils get added next. As the sauce simmers, the lentils absorb the juice from the tomatoes and with it all of the flavors of the slow-cooked vegetables. Then I wrap this vegan recipe up with a touch of homemade cashew cream sauce and fresh lemon juice.
How to Serve This Vegan Lentil Bolognese Recipe
When I make a batch of this Vegan Lentil Bolognese, I often freeze a portion of it for easy, vegan weeknight meals. It's great just tossed with a cavernous pasta (like rotini — perfect for catching all that thick, yummy sauce).
If I've got the time to dally around in my kitchen, my Easy Vegan Lasagna recipe is another way I use this sauce. What I love about this lentil bolognese recipe is how the lentils absorb the moisture from the zucchini that I use in place of lasagna pasta.
I also love using this lentil bolognese recipe in my Vegan Stuffed Shells. This savory vegan dinner option is one of my family's favorites. Even my kids eat it with gusto. It's also a great way to feed a crowd on a small budget. Lentils are an inexpensive way to way to bring a healthy vegan dinner to the table.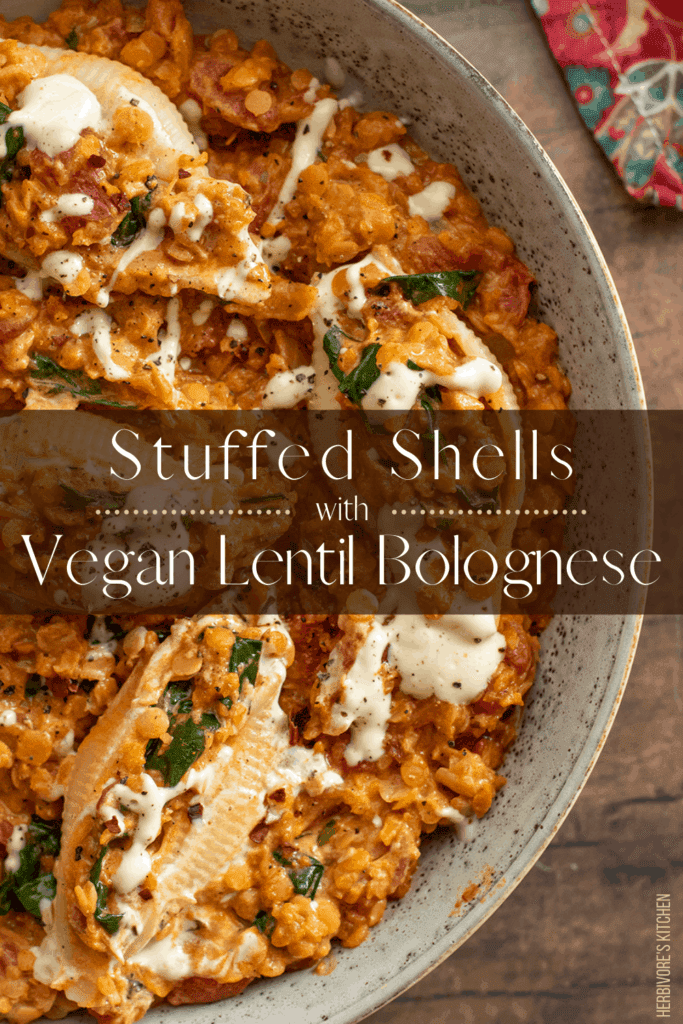 What's in My Kitchen to Make This Vegan Lentil Bolognese Recipe Easier?
Want to know what tools and resources I keep on hand to make my vegan cooking even easier? Here's a short list of what helped me create this blog post and recipe. For the complete list, visit my Shop where you can find the kitchen gadgets I like as well as a list of books that I recommend.
I love having a skillet with some depth to it. I use it regularly when making a dish like this where there is some liquid that I need to cook off. A cast iron skillet would work as well, but mine is a little too small for this recipe.
This is a non-stick pan, but to ease my mind about using it (and recommending it), I did a little research. In general, you don't want to overheat a non-stick pan. Be really thoughtful when you're preheating it on the stove before adding oil. If your oil is smoking, that's a sign that your pan is getting too hot. And, you should use soft utensils so as not to scratch the surface. Like that handy-dandy wooden scraper I suggested above?
No, that's not the brand. It's just the idea! But, I own this set of Global™ knives and They're some of my most prized possessions in the kitchen. This set is universally well-rated for the at-home chef and will get you a good, solid set of knives without totally breaking the bank.
This garlic peeler is a simple silicon tube. Despite its simple design, it skillfully removes even the toughest of garlic skins. I'm so much happier not peeling garlic cloves with my fingernails. I'm pretty sure I'll collectively get at least a day of my life back because of this device.
I've read a dozen posts about why you shouldn't use a garlic press. One of them actually suggested that they take up valuable kitchen space. I mean, I guess if you have a tiny kitchen you might have to make those choices. They're smaller than a can opener. I love mine. I hate, hate, hate mincing garlic.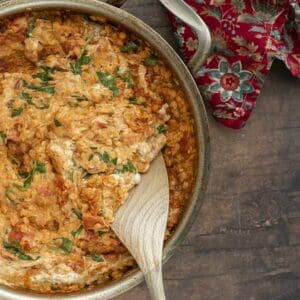 Vegan Lentil Bolognese Recipe
This vegan lentil bolognese ranks among the best vegan pasta sauces. Flavored with slow cooked onions and garlic and made creamy with a cashew cream sauce, this bolognese recipe is sure to be a family favorite.
Ingredients
Cashew Cream Sauce
1

cup

cashews

3/4

cup

water

1

tbsp

lemon juice

1

clove

garlic

2

tbsp

nutritional yeast

1/2

tsp

salt
Red Lentil Bolognese
2

tbsp

extra virgin olive oil

1/2

yellow onion

diced

2

tsp

salt

divided

1

tbsp

fresh garlic

minced

1

tsp

dried basil

1

tsp

dried parsley

1

tsp

dried oregano

1/2

tsp

crushed red pepper

+ additional crushed red pepper as seasoning, to taste

1/4

cup

tomato paste

1

carrot

washed and finely diced

1

stalk

celery

washed and finely diced

1

cup

red lentils

rinsed, drained and picked free of debris

1

28 oz can

low-sodium diced tomatoes

1

cup

water

with 1 cup of additional water on the side if necessary

2

cups

baby spinach

loosely packed

fresh ground pepper

to taste
Instructions
Put the cashews in a 2-cup measuring glass. Cover with hot water and set aside for at least 30 minutes.

Heat up a large, deep-sided skillet. When warm, add the olive oil and heat until shimmering. Add the onions and 1 tsp of salt and reduce the temperate to medium-low heat. Allow the onions to cook until lightly browned. About 12-15 minutes.


Add the garlic, basil, parsley, oregano and crushed red pepper. Continue to cook until fragrant. About 1-2 minutes.


Increase the heat to medium and add carrots and celery. Stir to combine and sauté for 1-2 minutes.

Add the tomato paste and stir to combine. Sauté until the tomato paste becomes a dark red. About 2-3 minutes.


Add the red lentils, diced tomatoes and 1 cup of water. Cover and simmer on medium-low heat until the lentils are soft and the water has been mostly absorbed. Stir occasionally. About 20 minutes. If the pan becomes too dry, you may need to add more water 1/2 cup at a time. 


When the lentils are fully cooked, remove the lid from the lentil bolognese and add the spinach and 1 tbsp fresh lemon juice. Stir to combine and set aside.

Drain and rinse the cashews. Combine the cashews with 3/4 cup of water, 1 tbsp fresh lemon juice, the garlic clove, 1 tsp salt and the nutritional yeast. Blend until creamy. 


Stir 1 cup of the cashew cream sauce into the red lentil bolognese. Any remaining cashew cream sauce can be used as an additional topping for saved for another vegan recipe.
Notes
To make this Red Lentil Bolognese Sauce without the cashew cream, eliminate the first step and the last two steps.
About Herbivore's Kitchen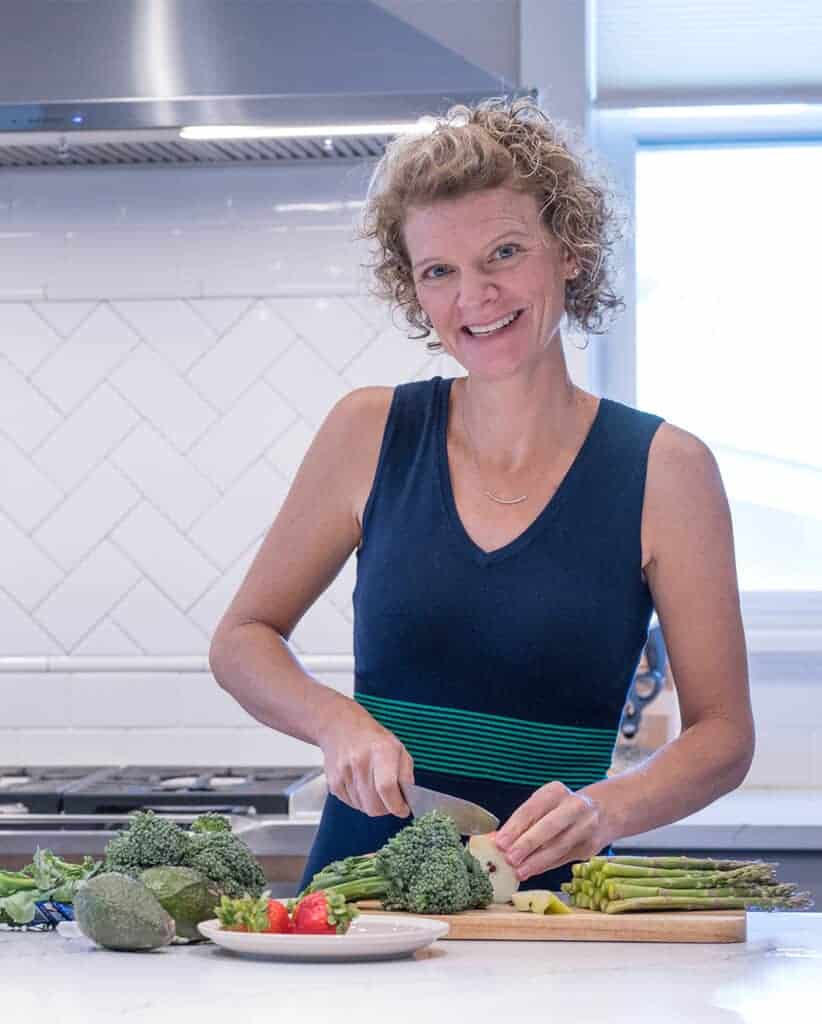 Herbivore's Kitchen is a blog run by me, a plant-based home chef and aspiring food photographer. I switched my and my family's diet to a plant-based diet after learning about the health benefits of going vegan. Making this change has prompted a variety of food and holistic-lifestyle related questions that I explore through this blog. I talk about how to pick and prepare the most nutritious foods, to how to reduce waste at home, to how to live a more sustainable lifestyle while on the road.