Jump to Recipe
This Vegan Christmas Cookies: Vegan Peanut Butter Blossom Cookies Recipe includes affiliate links. When I find a great product or service, I like to share it with my readers. Sometimes I use affiliate links so I can earn a commission for my recommendations. Thank you for your support!
Vegan Peanut Butter Blossom Cookies: Get Your Vegan Christmas Cookies Fix with this Simple Recipe!
Peanut Butter Blossom Cookies were my favorite Christmas cookies growing up and eh… well… sometimes still today.
You see, we usually travel to my parents' house for Christmas where my mom spends days baking cookies in anticipation of our arrival. Despite the fact that we all live in the continental United States, this trip usually requires 3 flights and a multiple hour drive. Each way. Between the travel and the coordination of getting all of our packages there in advance, it's easy to succumb to her traditional peanut butter blossoms. What can I say, I am a fallible vegan.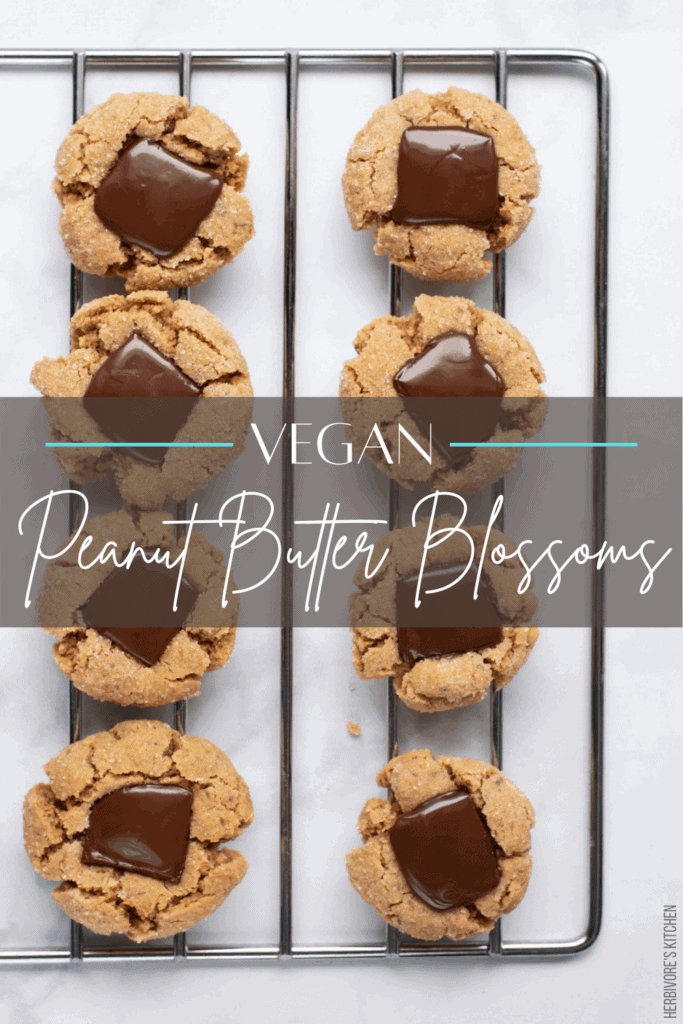 This year though, I'm responsible for my own Christmas cookie baking. (#covid19timecapsule). If you follow me regularly, you know that baking is not my strength. All those exact measurements and such. Despite this, the call for vegan Christmas cookies was too strong to ignore and so here we are on near-eve of Christmas with this family-tested and approved Vegan Peanut Butter Blossom Cookies Recipe.
What's in Vegan Peanut Butter Blossom Cookies?
Truth be told, transitioning a traditional peanut butter blossom recipe into a vegan cookie recipe wasn't that hard at all. I simply swapped vegan butter for butter, oat milk for milk and flaxseed eggs for eggs. The results were pretty fantastic (a far cry better than my so-far attempts at Vegan Chocolate Crinkle Cookies).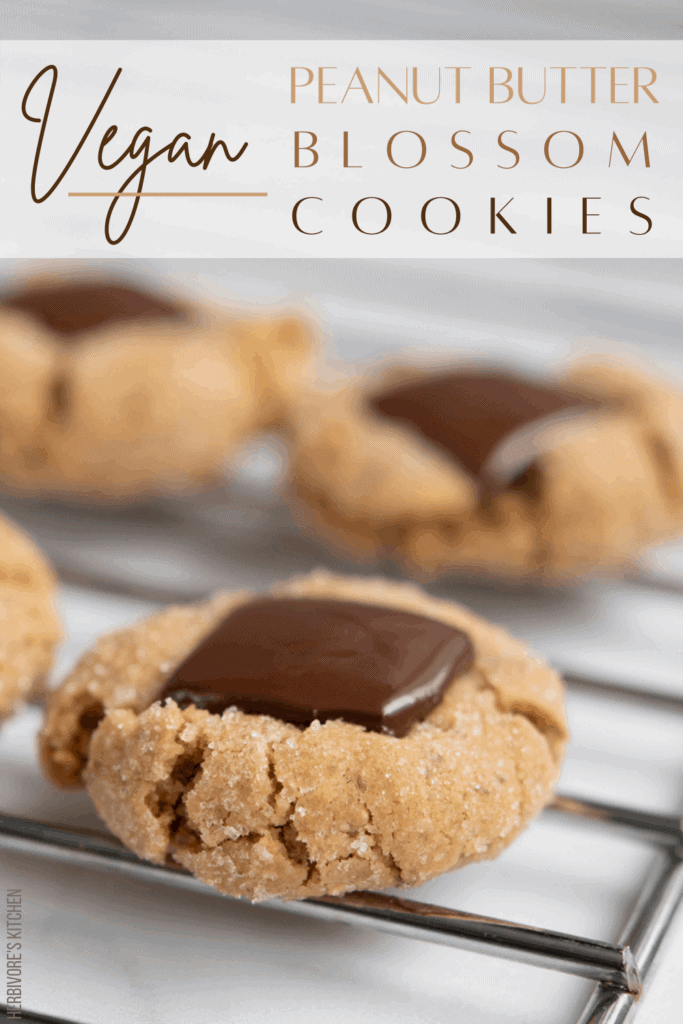 What is a Flaxseed Egg?
If you're new to vegan cooking, you may not be familiar with flaxseed eggs. Flaxseed eggs are a simple mixture of ground flaxseed meal and water. When left to rest for 5+ minutes, the flaxseeds absorb the water and become gelatinous, creating a binding agent that's healthier than eggs.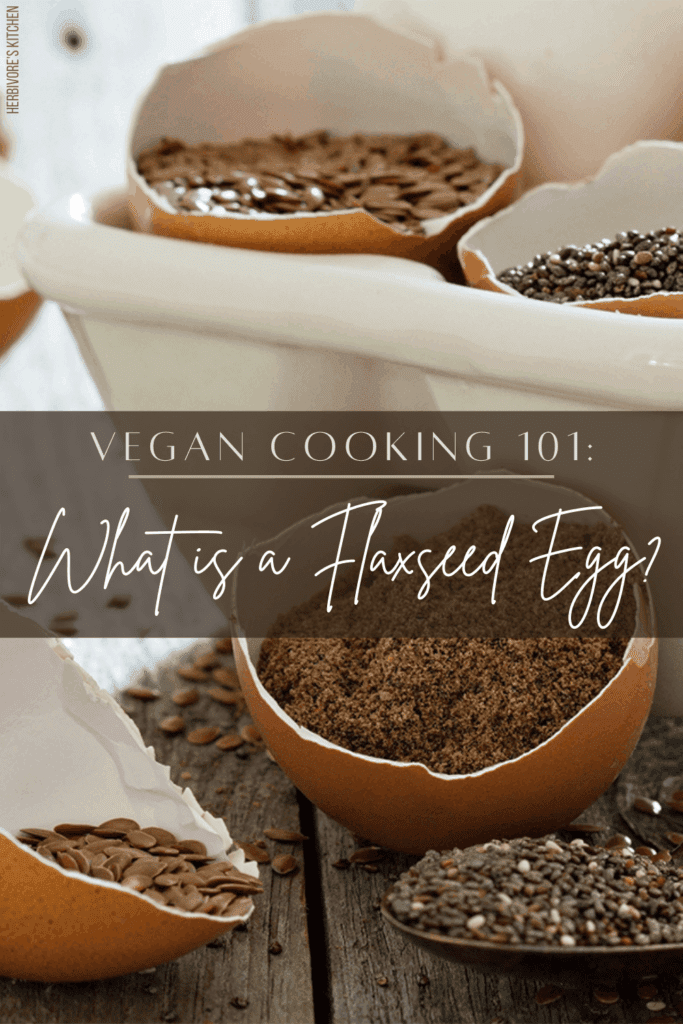 Substituting Butter & Milk in these Vegan Peanut Butter Blossom Cookies
I typically buy commercially made vegan butter for my recipes. My favorite is Miyoko's European Style Cultured Vegan Butter. It's free of palm oil and contains nuts, so it's able to brown like traditional butter. As an interesting fun fact though, I have made my own vegan butter using coconut oil and butter beans (makes sense doesn't it) with great success (so far). Stay tuned for that recipe to hit the blog.
Regarding vegan milk, I really prefer to use oat milk when I am making anything sweet. My favorite brand is Pacific Food's Organic Oat Original. It's smooth and creamy and has just the right amount of sweetness. This plant-based milk swaps out for dairy milk on a 1:1 ratio.
Choosing a Peanut Butter for these Vegan Peanut Butter Blossom Cookies
I was a child of the 80s, so I grew up on heavily sweetened commercial peanut butter. I don't recommend that for this recipe – the cookies will end up too sweet. Instead, try a natural peanut butter. One that is just blended peanuts. Then keep it around the house. Over time, you'll learn to love this simple, healthy vegan ingredient on just about anything!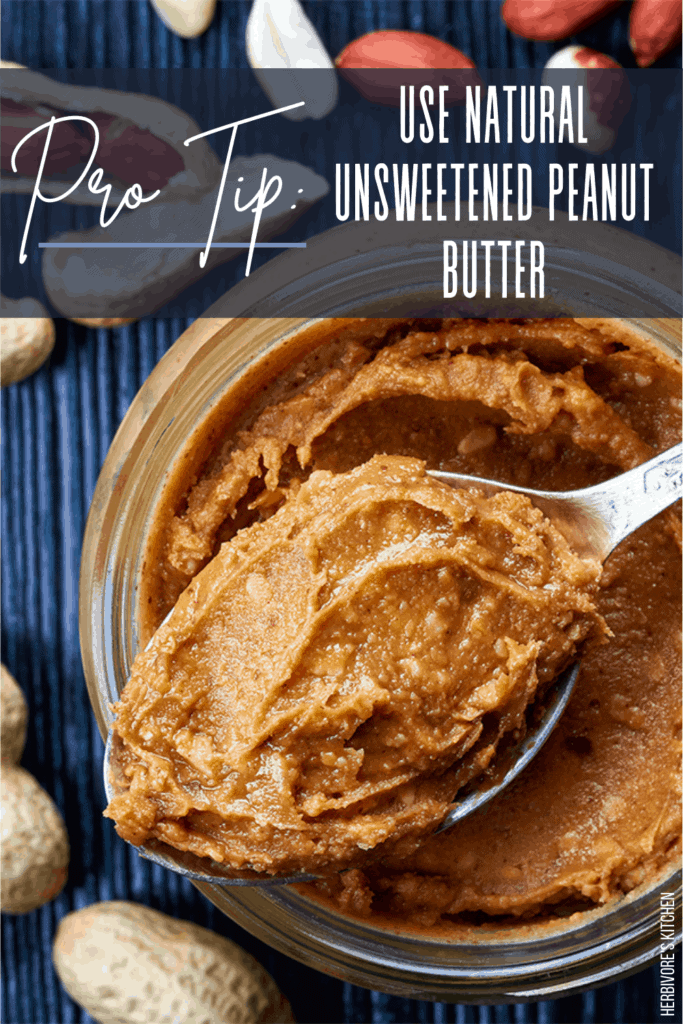 Vegan Chocolate: Don't Be Fooled by Cocoa Butter
The chocolate kiss is where this recipe deviates the most from a traditional peanut butter blossom recipe. Instead of using a Hershey's Kiss, I used Chocolove's Dark Chocolate bars and broke them into individual blocks.
Shopping for vegan chocolate has a bit of a learning curve. If you've done this, you might be wondering why seemingly vegan dark chocolates aren't labeled as vegan.
At first, I thought that it must be the universal ingredient cocoa butter. After all, the word butter doesn't generally denote dairy free. Cocoa butter though, is made from the oil in a cocoa bean, making it a dairy-free ingredient.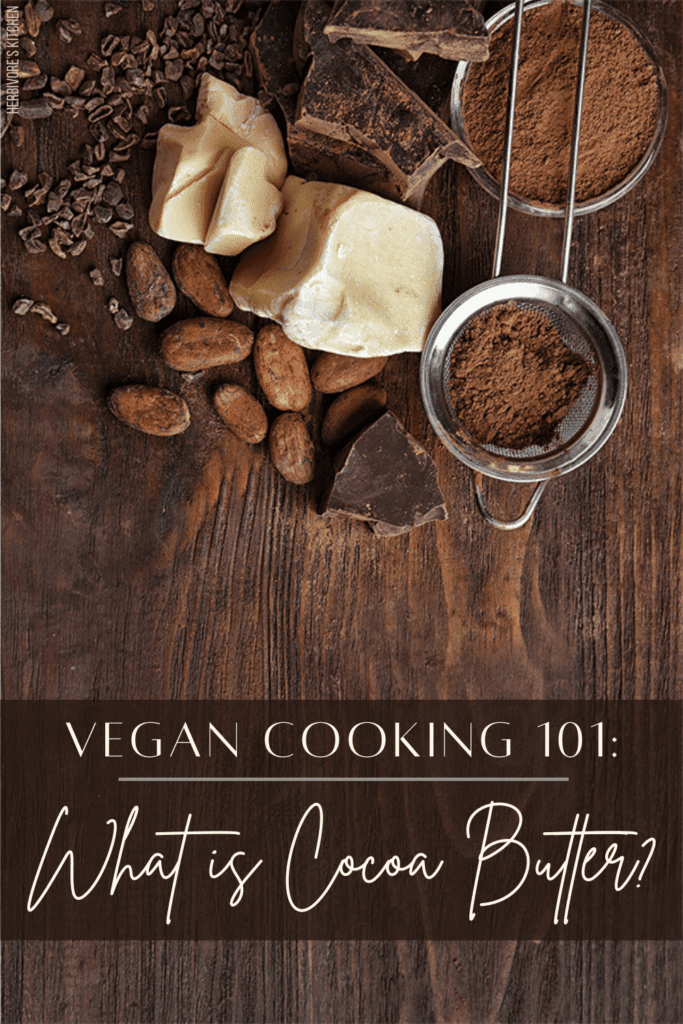 So, what precludes a dairy-free, vegan designation? Dark chocolate is typically produced in facilities that also produce milk chocolate. The possibility of cross-contamination is not wholly avoidable, so these products aren't labeled as vegan.
Given my fallible vegan status, I'm not one to get hung up on this. Especially in the case of Chocolove, which uses separate equipment for melting and molding dark chocolate. If you're looking for the vegan label, check out Theo® Dark Chocolate for Baking or Hu® Kitchen.
Like These Vegan Cookies? Be Sure to Check Out My Other Vegan Desserts and Vegan Treats!
Going vegan doesn't have to mean giving up dessert! If you've got a sweet tooth to satisfy, take a look at these other vegan treats and vegan desserts!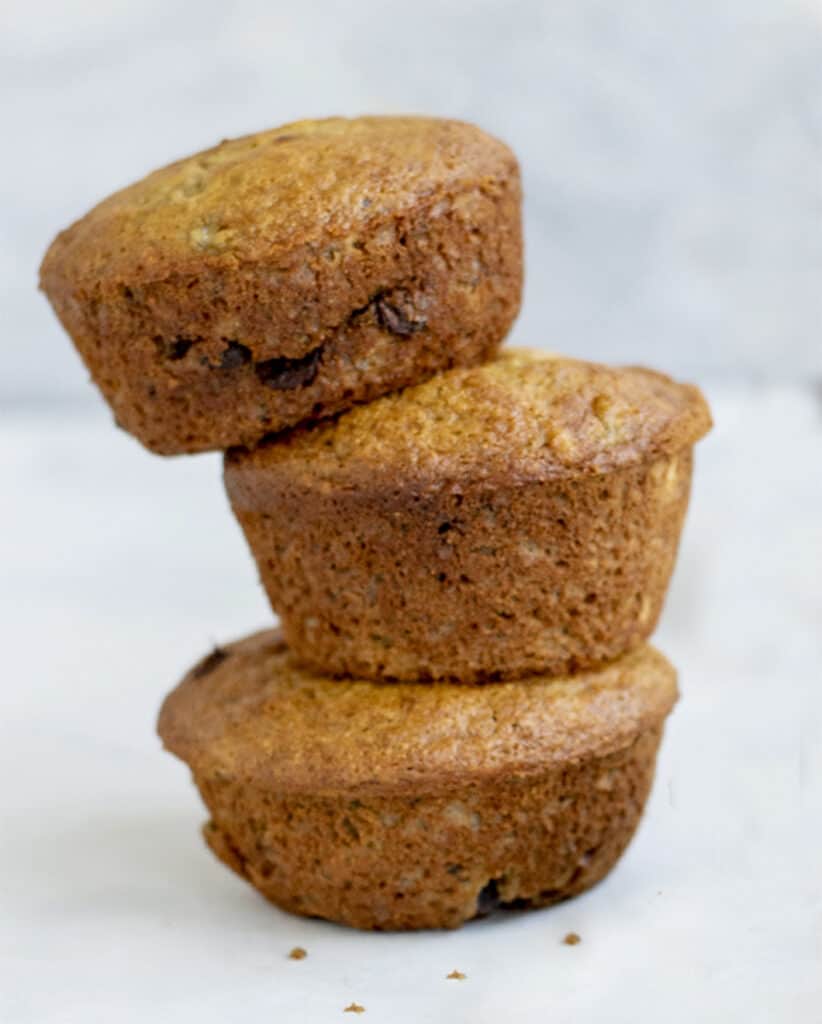 Gluten-Free Banana Bread Recipe
These easy-to-make banana bread muffins are gluten free! They're a great vegan snack option to have on hand or a simple, grab-and-go vegan breakfast option.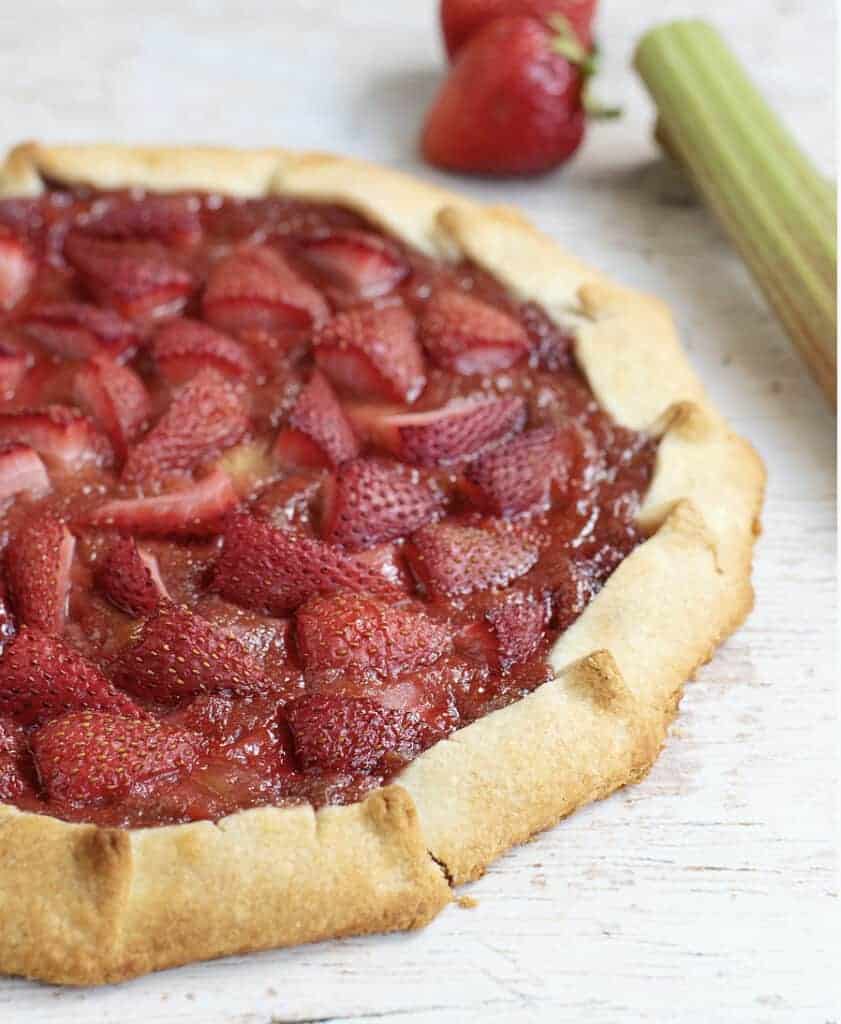 Strawberry Rhubarb Galette
This vegan dessert uses only a few simple ingredients and takes all of the complications of making homemade pie out of the equation. It's a great way to satisfy your sweet tooth!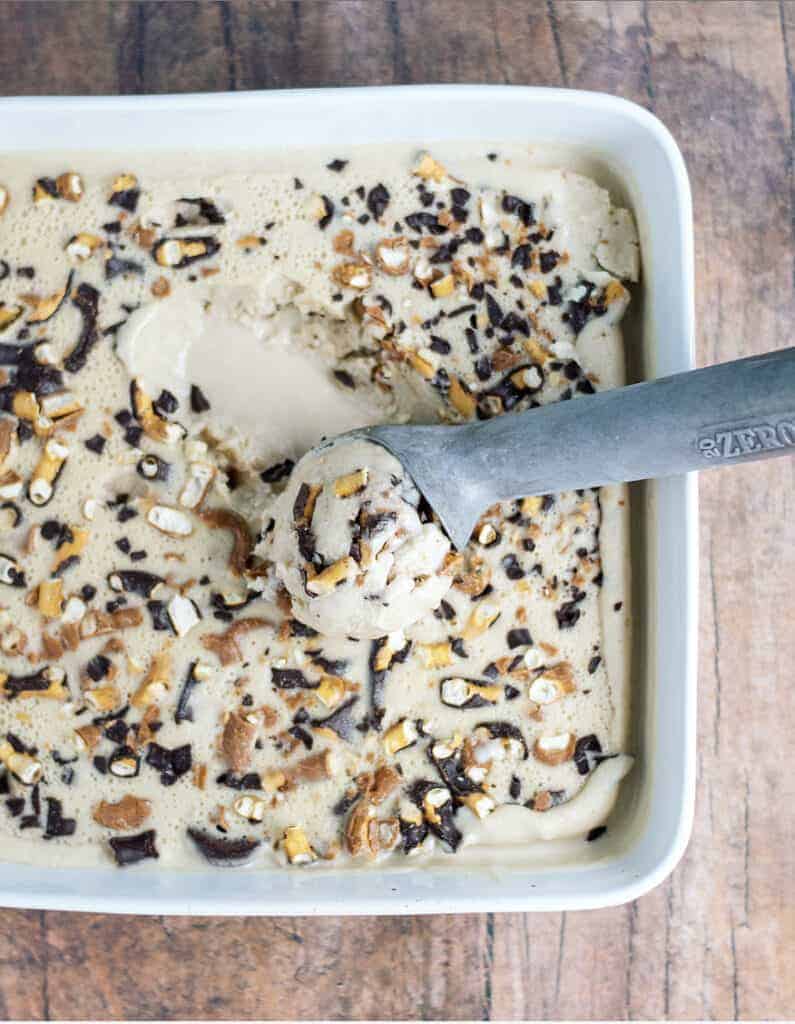 Chocolate Peanut Butter Pretzel Vegan Nice Cream
This nice cream — aka vegan ice cream — has a cashew cream base and is packed with peanut butter covered pretzels and bits of dark vegan chocolate.
What's in My Kitchen to Make Vegan Peanut Butter Blossom Cookies Recipe Easier?
Want to know what tools and resources I keep on hand to make my vegan cooking even easier? Here's a short list of what helped me create this blog post and recipe. For the complete list, visit my Shop where you can find the kitchen gadgets I like as well as a list of books that I recommend.
Down a broiler pan? These aluminum baking sheets come highly recommended by the cooks who know best – Epicurious, Cooks Illustrated and Food & Wine. I bought mine because I needed a good, sturdy baking sheet to use under the broiler. One that wouldn't warp – and this one lives up to the task.
Aluminum is a good conductor of heat, so these baking sheets cook evenly. They're also light in color, so they discourage over-browning.
These things are amazing! When I discovered parchment paper, I thought I had things figured out. No more greasing pans or ruining them with charred food. Then I discovered these silicon baking pads. They're oven-safe up to 450 degrees, dishwasher safe (top rack only) and easy to clean and REUSE!
Before you ask… yes, I do have a standing KitchenAid mixer. You might be wondering why a person with a standing mixer would also need a handheld mixer. The answer is pretty simple though — it's all about effort.
Standing mixers are fantastic for heavy duty projects. Like dough. But they're not required for every job. Take mashed potatoes for example. They whip up in no time flat. Actually, probably in less time than it takes to set up your standing mixer. For those jobs, I like a simple, easy to clean handheld mixer and that's exactly what this is.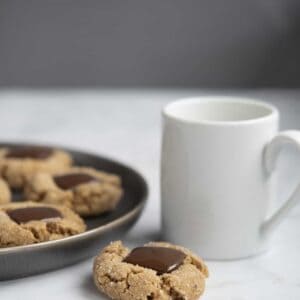 Vegan Peanut Butter Blossom Cookies
Satisfy your sweet tooth with these vegan peanut butter blossom cookies! You can enjoy these vegan Christmas cookies with a few simple swaps on a traditional peanut butter blossom recipe.
Ingredients
2

tbsp

flaxseed meal

1/3

cup

water

1

cup

vegan butter

softened, I like Miyoko's EuropeanStyle Cultured Vegan Butter

1

cup

peanut butter

I prefer natural, unsweetened peanut butter

1

cup

brown sugar

1

cup

white sugar + 1/2 cup white sugar for rolling the dough

1/4

cup

oat milk

2

tsp

vanilla extract

3 1/2

cups

all-purpose flour

1

tsp

salt

2

tsp

baking powder

6

oz

vegan chocolate bars

see Recipe Notes
Instructions
Preheat the oven to 375º.

Combine the flaxseed meal and water in a small bowl. Set aside for 5 minutes. The flaxseed meal will absorb the water and thicken. In vegan cooking, this is often called a flaxseed egg.

In a medium-sized mixing bowl, combine the butter, peanut butter, brown sugar, white sugar, vanilla and oat milk. Use a hand mixer to thoroughly combine the ingredients. Add the flaxseed eggs and stir to combine.

In a large mixing bowl, combine the flour, salt and baking soda. Stir to combine.

Combine the wet ingredients into the dry ingredients. Stir to combine.

Spread ½ cup of sugar on a small plate.

Take a large spoonful of cookie dough and roll it in your hands to make a ping-pong sized ball. Roll the ball in the sugar and place it on the baking sheet, keeping the dough balls about 2 inches apart on the baking sheet. Continue this process until you have used all of the dough.

Bake the cookies for 12 minutes on the middle rack.

Remove the baking sheet and add the blocks of chocolate to the center of each cookie. Press the chocolate block into the cookie, causing the cookie to crack slightly and secure the chocolate in the depression.

Return the baking sheet to the oven for 3 minutes.

Allow the cookies to cool on a cooling rack and store in an airtight container with a piece of parchment paper in between each layer of cookies.
Notes
For this recipe, I used Chocolove's Dark Chocolate bars. These bars contain cocoa liquor, sugar, cocoa butter, soy lecithin and vanilla. These are all dairy-free ingredients. The bars are not marked as vegan because they are processed in a facility that also produces milk chocolate bars. Chocolove provides the following statement: We do not claim that Chocolove bars are vegan. Most of our dark chocolate arrives at our facility as kosher pareve which means it is completely free of milk products, according to Jewish dietary law. The remainder arrives kosher dairy, which means the dark chocolate was made on equipment that also makes milk chocolate. Chocolove has separate equipment for melting and molding milk chocolate and dark chocolate. We take measures to assure that milk chocolate is kept away from dark chocolate.
About Herbivore's Kitchen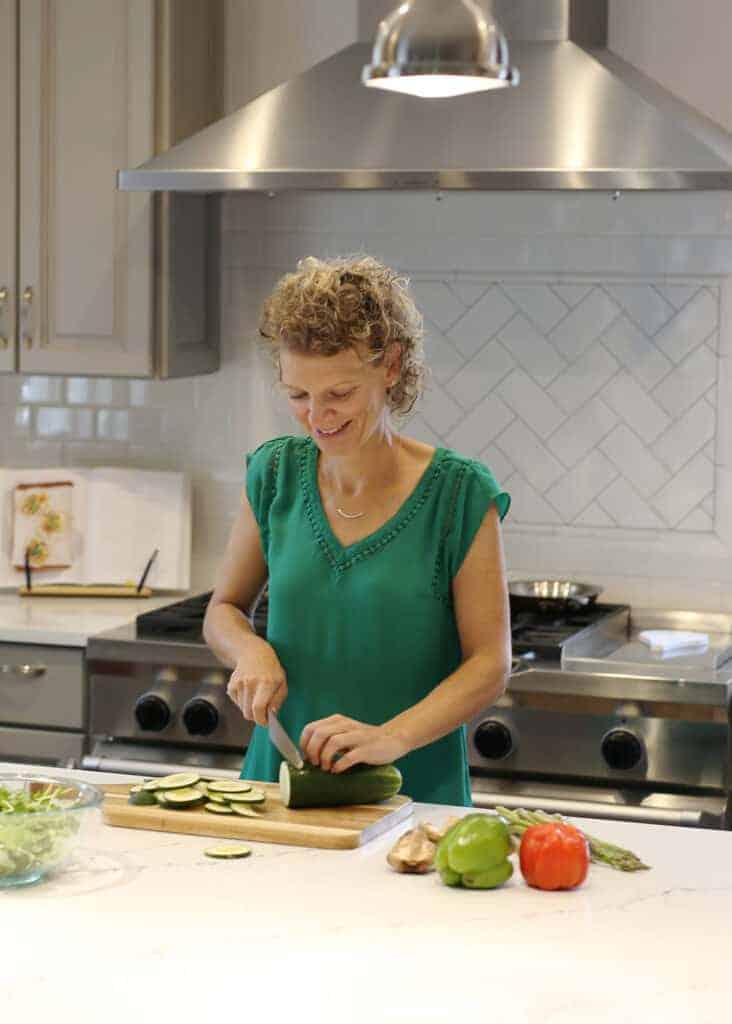 Herbivore's Kitchen is a blog run by me, a plant-based home chef and aspiring food photographer. I switched my diet to a plant-based diet after learning about the health benefits of going vegan. Making this change has prompted a variety of food and holistic-lifestyle related questions that I explore through this blog. I talk about how to pick and prepare the most nutritious foods, to how to reduce waste at home, to how to live a more sustainable lifestyle while on the road.