Jump to Recipe
This Vegan Baked Pasta with Cashew Cream Recipe includes affiliate links. When I find a great product or service, I like to share it with my readers. Sometimes I use affiliate links so I can earn a commission for my recommendations. Thank you for your support!
Looking for Vegan Pasta Recipes? This Vegan Baked Pasta Recipe with Savory Cashew Cream is a Healthy Dinner Winner!
This healthy, vegan baked pasta recipe features lentil-stuffed rigatoni pasta nestled in a rich tomato sauce with a savory cashew cream drizzle.
Is pasta healthy? It can be! Especially when you pack it full of lentils and veggies. This vegan baked pasta dish is a twist on one of my go-to vegan dinner options: my Lentil Bolognese Sauce. I've dressed this sauce up a few different ways, including my popular Vegan Stuffed Shells recipe. For this vegan dish though, I added a rich tomato sauce base and baked the final dish for a few minutes at the end.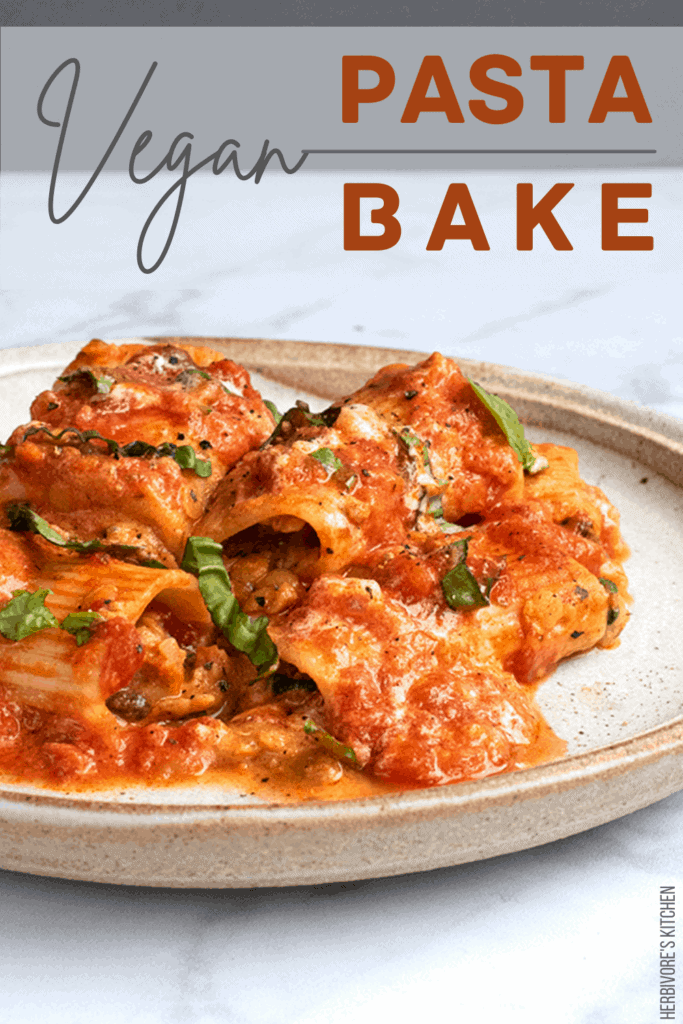 What's in This Vegan Baked Pasta?
Let's start by talking about the star of this recipe: Lentil Bolognese Sauce. If you're not familiar with it, Lentil Bolognese Sauce is a popular vegan adaptation to traditional Bolognese sauce. Bolognese sauce is a tomato-based sauce featuring ground beef or pork. The sauce is slow-simmered with garlic and onions and served over a wide-noodle pasta.
The vegan version is similar, swapping out meat with protein-rich red lentils. Like its traditional counterpart, it features a rich, tomato-based sauce simmered with onions and garlic. I don't like to stop there though, so I also include bits of carrots, celery, spinach, mushrooms and plenty of toasted tomato paste accented with parsley, oregano and thyme. As the sauce simmers, the red lentils absorb the liquids, leaving a thick, hearty stew-like consistency. Perfect for stuffing rigatoni!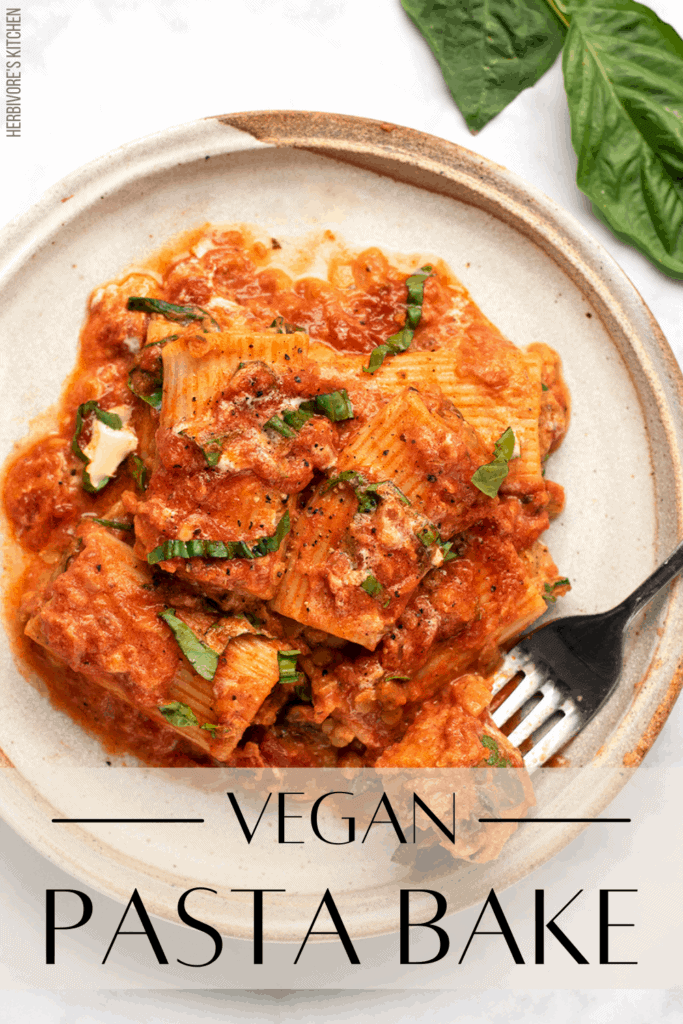 As with many pasta dishes, traditional Bolognese is usually topped with grated parmesan cheese. And, in the case of an Italian pasta bake, a thick layer of melted mozzarella cheese. For this recipe, I use my vegan cashew cream sauce instead. It's a blend of cashews, garlic, salt, fresh lemon juice and nutritional yeast. It's rich and creamy – everything a former cheese lover could ever hope for!
Let's Get Vegu-Cated!
When I post a vegan recipe, I love to share information about the most vegan-y ingredients. I think it might be helpful information for those of you that are new to vegan cooking. I used to do this in each post, but then I realized that I was getting a touch repetitive. So, instead, I launched my Vegu-Cation Section of my blog. In it, you'll find all kinds of helpful vegan cooking tips. Tips like:
If you're new to vegan cooking, you might be wondering about lentils. Maybe you have questions like: What are lentils? Are lentils good for you? What is the trick to cooking lentils? And, what are some good vegan lentil recipes? Get all the answers to your burning lentil questions here!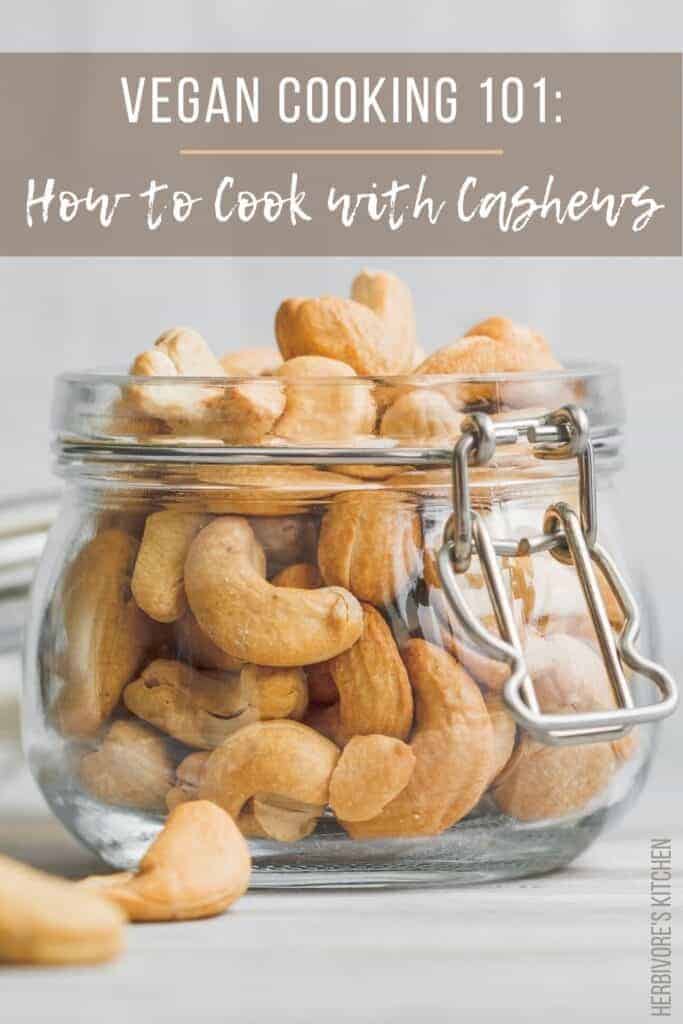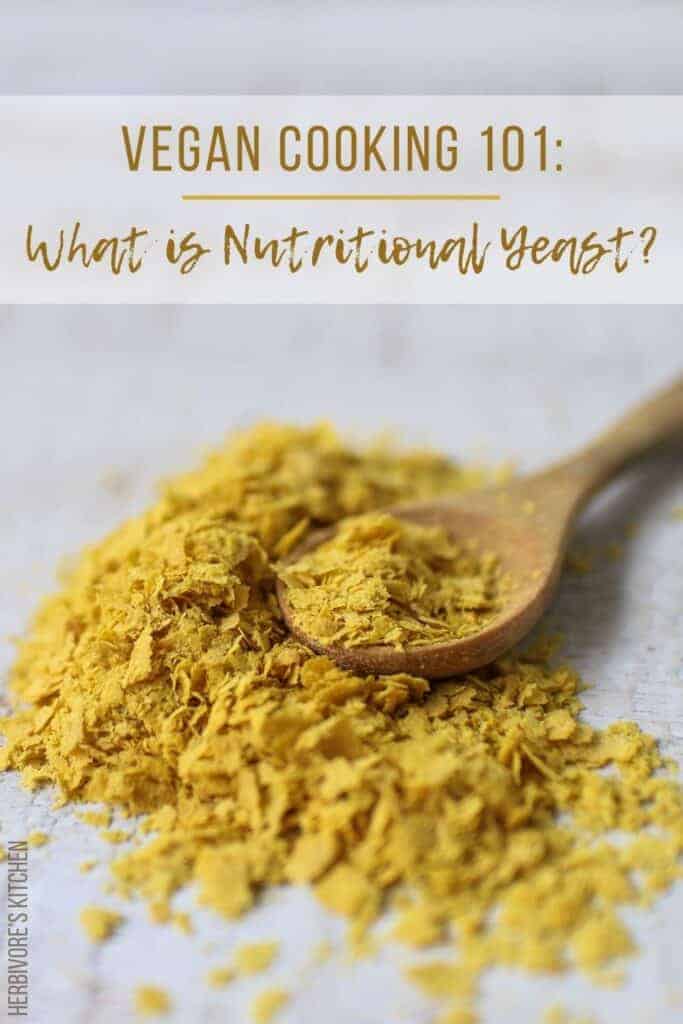 Love This Vegan Baked Pasta Recipe with Cashew Cream?
Did you love this Vegan Baked Pasta Recipe with Cashew Cream? Then be sure to check out some of my other savory vegan recipes. Recipes like my Easy Vegan Shepherd's Pie or my Vegan Beef Stew.
This Vegan Shepherd's Pie Recipe is an easy way to get your comfort food fix and stay healthy. Made with lentils and plenty of fall-friendly vegetables, this savory vegan version of Shepherd's Pie is a dinner your whole family will enjoy!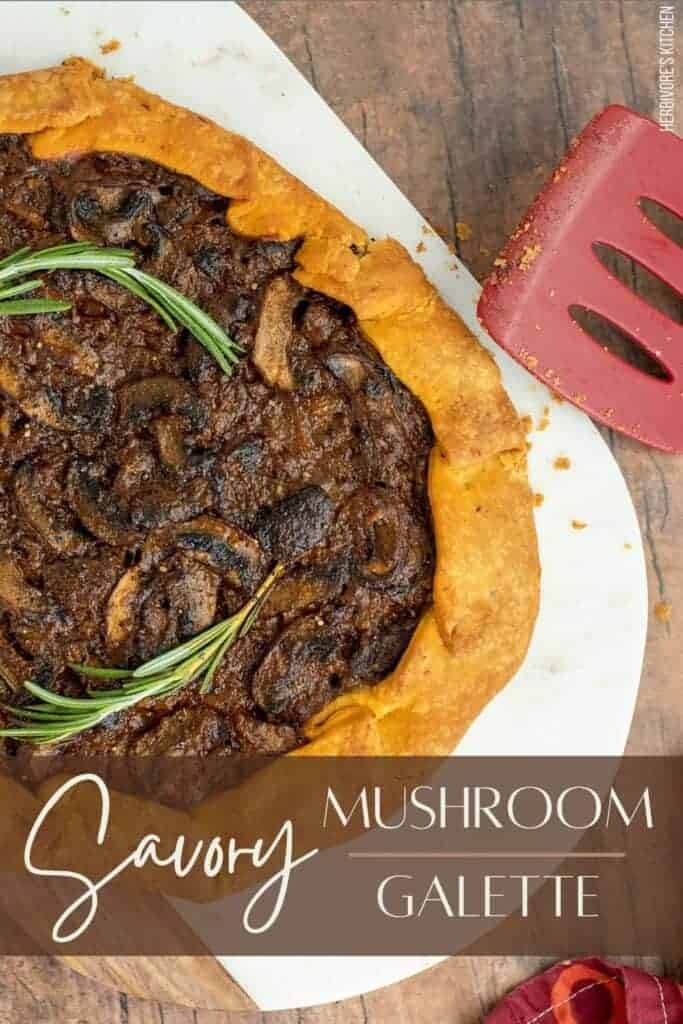 Did you know that galettes aren't just to satisfy your sweet tooth? This savory galette recipe features slow-simmered mushrooms in a rich, creamy tomato sauce baked to perfection. And, yet this galette is 100% vegan friendly! While this mushroom galette looks like a million dollars, it's actually quite easy to make — a great way to get a vegan dinner on the table this fall!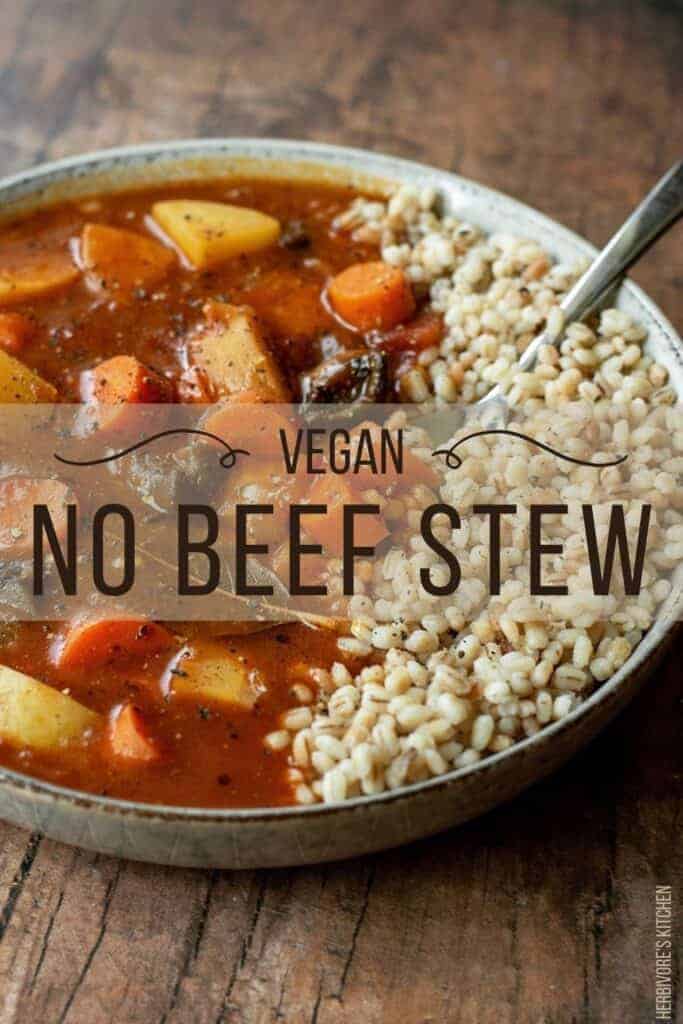 Fall has arrived! Personally, I think that there is no better vegan comfort food than stew. This vegan beef stew recipe is reminiscent of traditional beef stew with a thick, rich sauce and plenty of tender vegetables. It's hearty and healthy and makes getting a tasty vegan dinner on the table easy!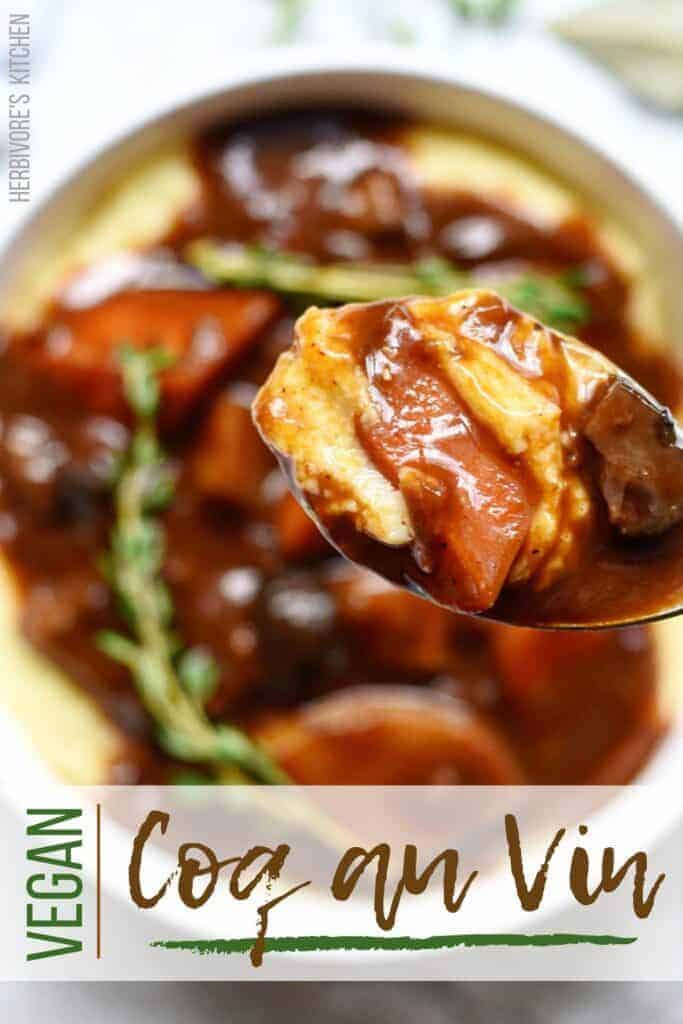 Forget the coq! If you like vin, this Vegan Coq au Vin over Creamy Polenta is the vegan recipe for you! A flavorful "bacon" sauce and red wine are used to make this vegan comfort food rich and savory! This vegetable-loaded, this vegan-friendly ragu is combined with polenta so creamy, you won't believe that it's vegan. Vegan French cuisine at its finest!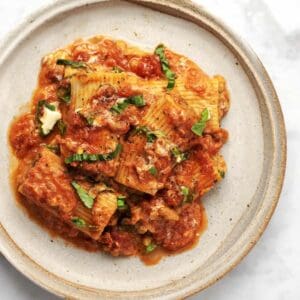 Vegan Pasta Bake with Cashew Cream
This healthy, vegan baked pasta recipe features lentil-stuffed rigatoni pasta nestled in a rich tomato sauce with a savory cashew cream drizzle.
Instructions
Preheat the oven to 350º.

Add the tomato sauce to a large, deep-sized skillet. Make sure that the skillet is oven safe.

Using a small spoon, fill the prepared rigatoni with the Lentil Bolognese and nestle the stuffed rigatoni into the skillet. Continue until the skillet is full.

Drizzle the saved cashew cream sauce over the stuffed rigatoni.

Bake the pasta in the oven on the middle rack until the sauce is heated through. About 20 minutes.

Serve immediately with fresh basil and crushed red pepper.
Notes
For this recipe, you will want the rigatoni to be slightly undercooked to accommodate for the baking at the end of the recipe.
Both my Lentil Bolognese Sauce and my Cashew Cream freeze well. When I make them, I like to make double or triple batches so that I have them on hand for quick and easy weeknight vegan meals.
About Herbivore's Kitchen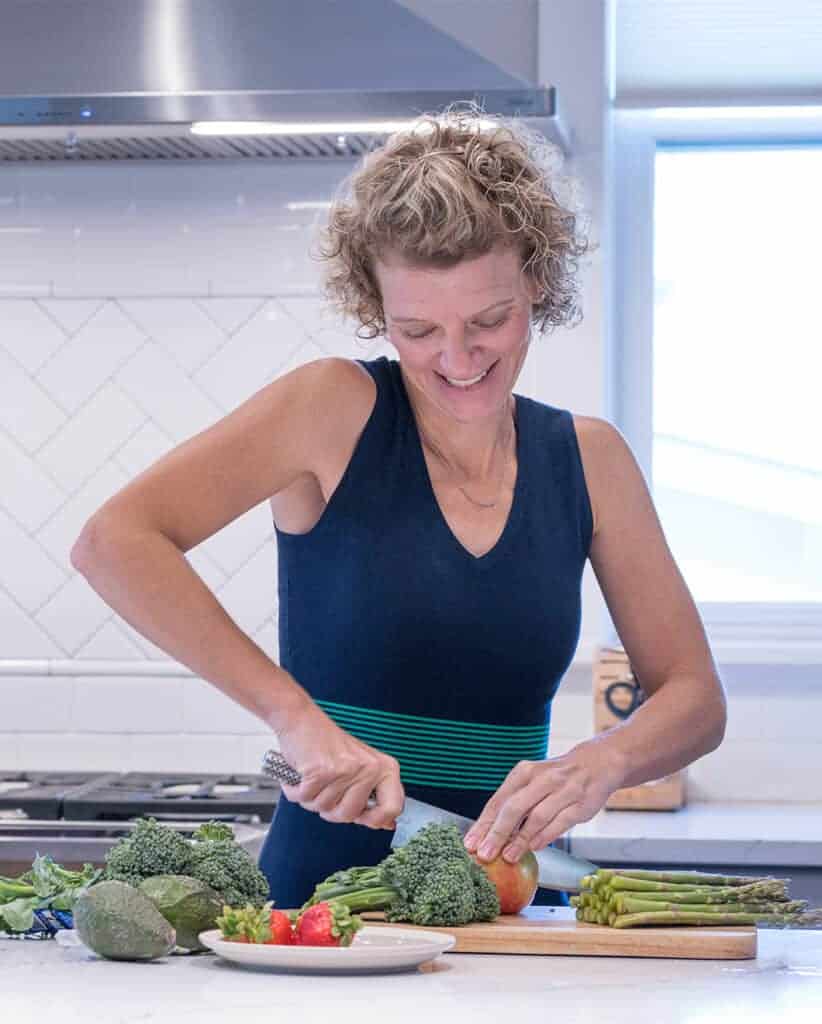 Herbivore's Kitchen is a blog run by me, a plant-based home chef and aspiring food photographer. I switched my diet to a plant-based diet after learning about the health benefits of going vegan. Making this change has prompted a variety of food and holistic-lifestyle related questions that I explore through this blog. I talk about how to pick and prepare the most nutritious foods, to how to reduce waste at home, to how to live a more sustainable lifestyle while on the road.