Jump to Recipe
This Sweet Potato Sushi Roll: Discover the Best Sushi Rolls for Beginners includes affiliate links. When I find a great product or service, I like to share it with my readers. Sometimes I use affiliate links so I can earn a commission for my recommendations. Thank you for your support!
Sweet Potato Sushi Roll: Learn How to Make Sushi & Discover the Best Sushi Rolls for Beginners
This sweet potato sushi roll recipe is hands down one of my favorite ways to make sushi at home. These vegan sushi rolls are full of flavor, including crunchy tempura-style sweet potato, fresh asparagus and mint. They're drizzled with homemade teriyaki sauce and then topped with home-grown microgreens and sesame seeds.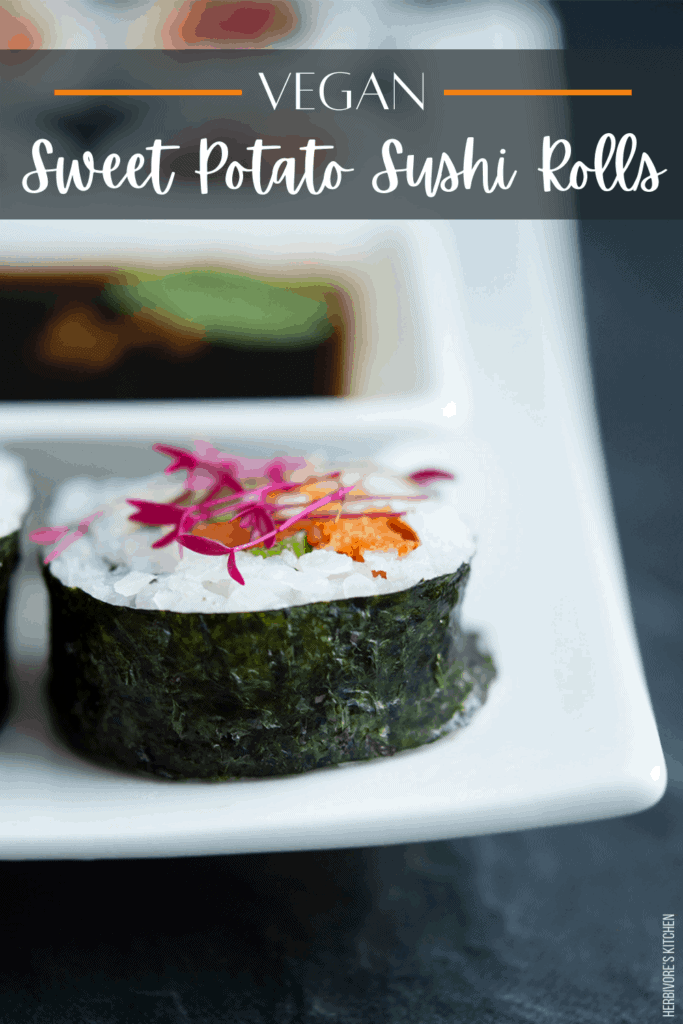 Perhaps the greatest thing about this recipe though — it's one of the best sushi rolls for beginners that I can think of. Sweet potatoes, asparagus and mint are all easy to find at the grocery store. Using veggies for sushi rolls eliminates the intimidation factor of dealing with sea-life ingredients.
Panko Crusted Sweet Potatoes: The Star of This Sweet Potato Sushi Roll
Tempura sweet potato sushi rolls have always been one of my favorite vegan sushi roll options. In truth, I'll eat just about anything tempura style. It's hard to beat this airy, crispy, crunchy delicacy. For me though, tempura falls squarely into the "don't try this at home" category. It's just too much work.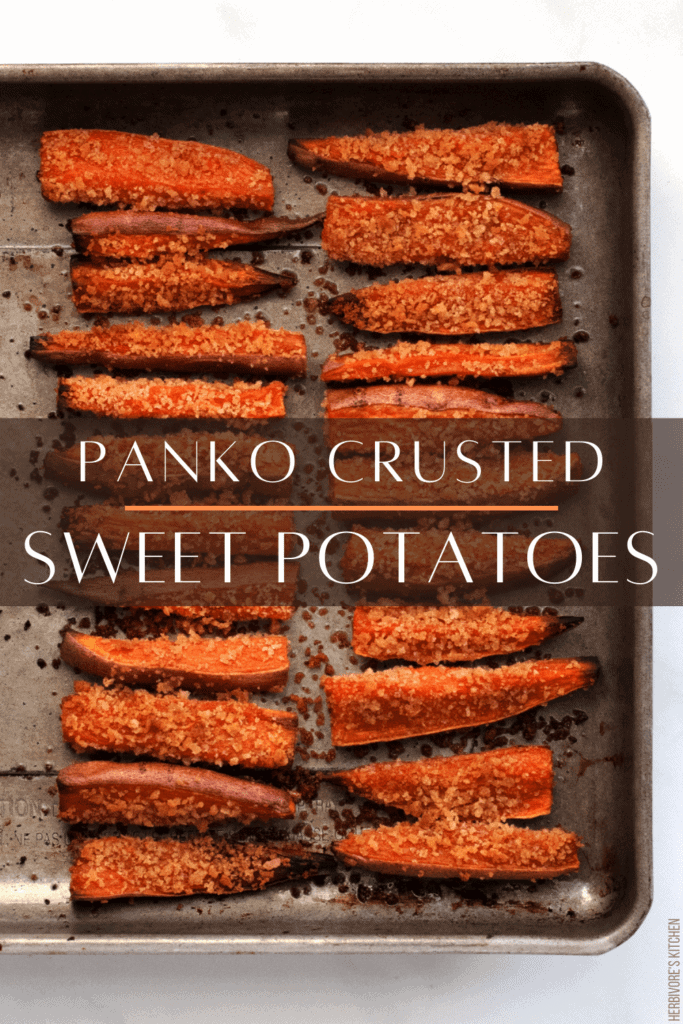 I can't resist the temptation of tempura sweet potato though, so I decided to come up with a satisfying alternative: panko crusted sweet potatoes. This vegan sushi filling is super easy to make and delivers a similar satisfying crunch. It's simply roasted sweet potatoes that have been rolled in panko breadcrumbs and baked to crispy perfection. There's no spatter and you won't have to dispose of messy, used oil.
What Are Panko Breadcrumbs?
This sushi recipe calls for panko breadcrumbs. If you're not familiar with them, don't worry. They're pretty easy to find. But what are panko breadcrumbs?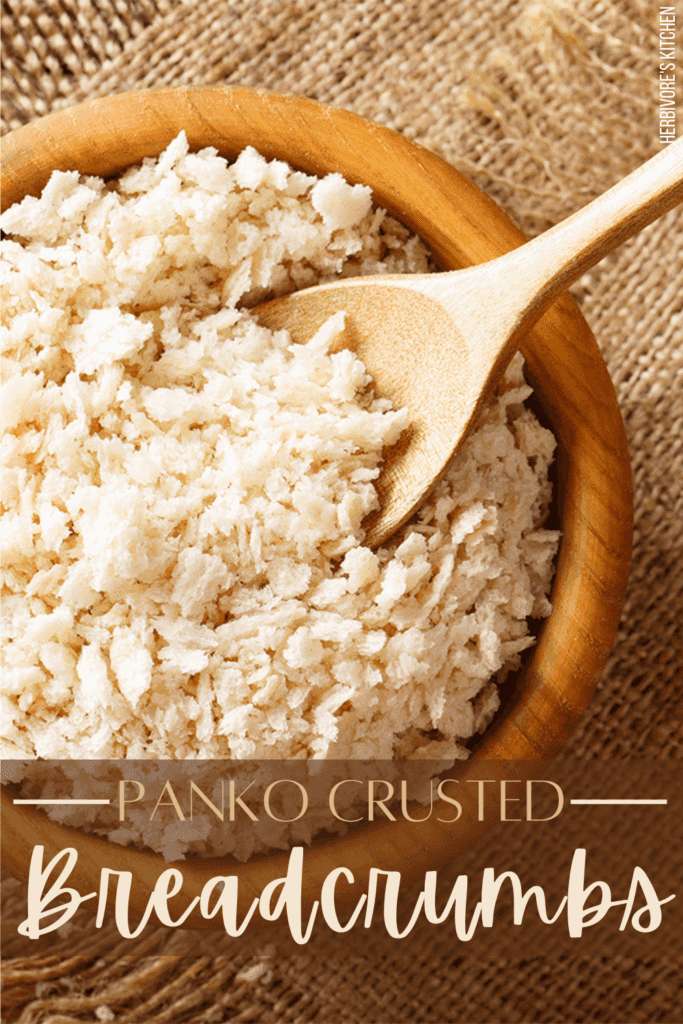 Panko is most often found in Asian recipes. Once you try it though, I think you'll agree – that needs to change. Panko is made from crustless white bread which is flaked before it is dried (Think: breadflakes versus breadcrumbs). This process results in a lighter, airier breadcrumb that stays crispier throughout the cooking process.
The Other Vegan Sushi Fillings in These Sweet Potato Sushi Rolls
In addition to panko crusted sweet potatoes, I also include fresh asparagus spears and fresh mint. I'll admit, this wasn't a design entirely of my own. It was inspired by a local restaurant that has since closed, leaving me sushi-less.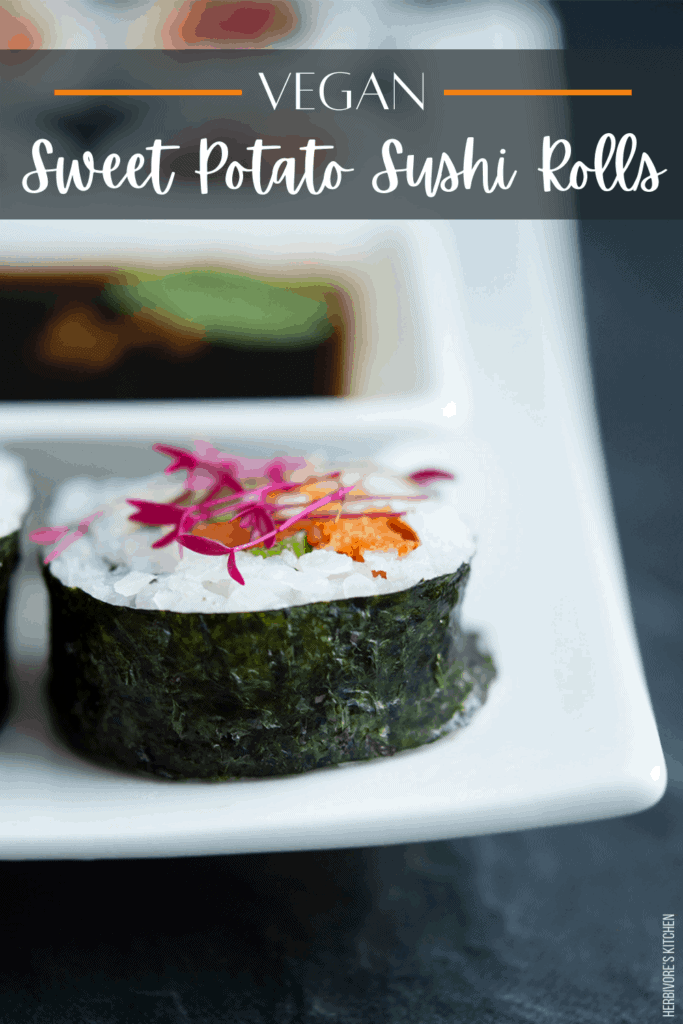 Prepping the Asparagus for This Sushi Recipe
The preparation of these vegan sushi ingredients is incredibly easy. I steam the asparagus to get just the right texture. Steaming is an easy preparation that keeps the nutritional benefits of asparagus mostly intact. It also promotes the vibrant green color of the asparagus – a beautiful contrast to the bright orange of the sweet potatoes.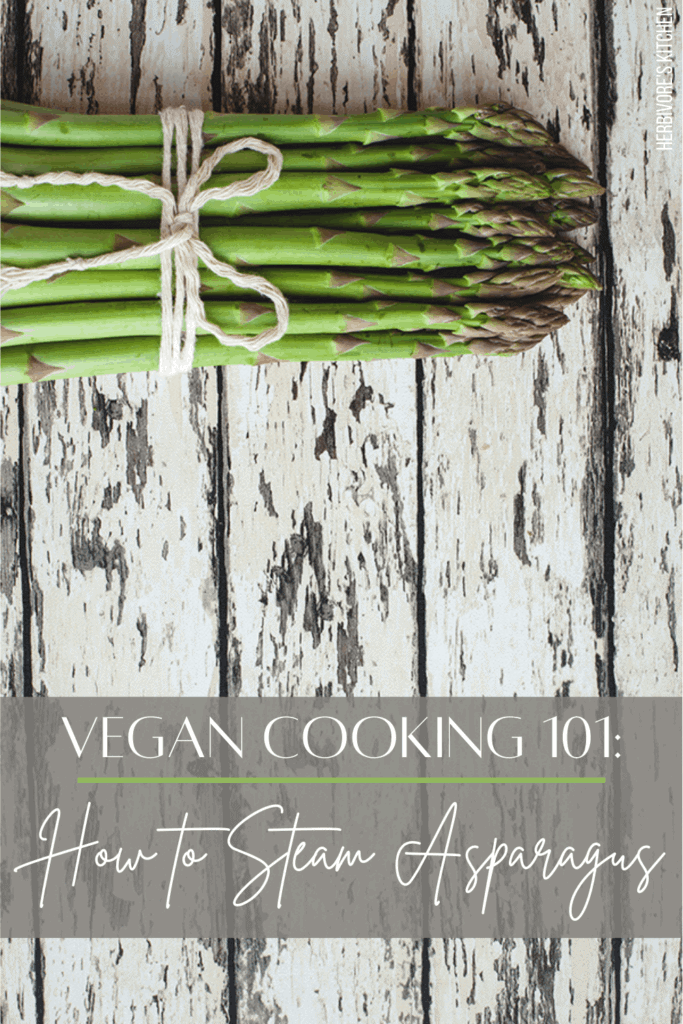 I typically steam my vegetables using a steamer basket on the stove, but I recently learned that microwave steaming is a great alternative for prepping asparagus. To steam asparagus in the microwave, simply wash and trim the spears and wrap them in a moist paper towel. Then microwave the bundle in the microwave on high for about 3 minutes. Just be careful removing the asparagus from the microwave as the steam will be very hot!
Adding Flavor with Fresh Herbs
It's easy to overlook the power of adding fresh herbs to a recipe like this one. Fresh herbs can be hard to find, and you often end up with more herbs that you need for any given recipe.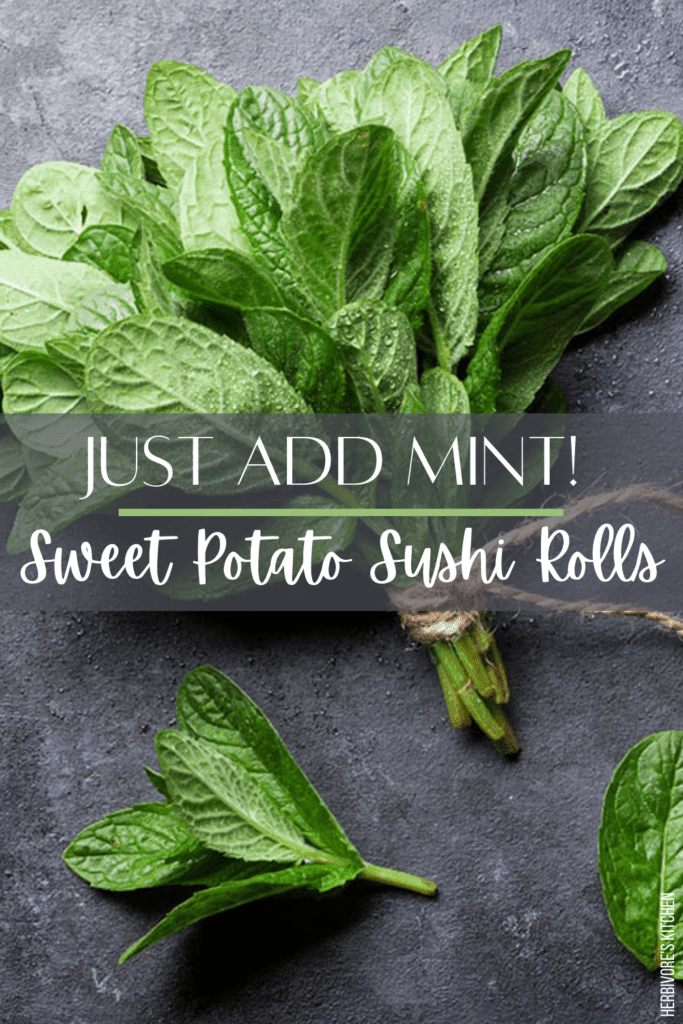 This vegan sushi recipe is no exception. I buy a small 5 oz package of fresh mint for it and only use about ½ of it. Never fear though, I've got other recipes for that mint! Be sure to check out my Veggie-Loaded Vegan Pho. It's one of my favorite vegan recipes on this site!
Homemade Vegan Teriyaki Sauce
If you're like me, you have the same problem with commercially made sauces as you have with fresh herbs. You buy them for one recipe and never get to use them up. Teriyaki sauce is one of those sauces for me. I was forever finding half-used bottles of it in the back of my refrigerator. Not any more though. I now have a simple homemade vegan teriyaki sauce recipe that I use when the occasion calls.
This vegan teriyaki sauce is super easy to make, using only a few common ingredients. It takes about 15 minutes to pull together and stays in the fridge for at least a week. That's only if you have leftovers though. With this easy homemade sauce, you can make only what you need. Or, you can use the leftovers in another vegan recipe, like my Teriyaki Tofu Vegan Shish Kebabs.
How to Make Sushi Rice
Learning how to make good sushi rice is one of the keys to making sushi at home. Sushi rice is a special variety of rice. It's a Japanese short grain rice that becomes sticky when cooked – perfect for keeping your sushi rolls intact. A mixture of rice vinegar, sugar and salt is mixed into the rice as it cools. The result is a slightly sweet, tangy rice that tastes wonderful in homemade sushi rolls.
Putting These Sweet Potato Sushi Rolls Together
Making sushi at home is actually pretty fun. It makes for a great interactive dinner experience whether you have kids at home or are looking for the perfect date-night activity. All it requires is a simple sushi rolling kit. The sushi rolling kit can be basic – you really only need the rolling mats.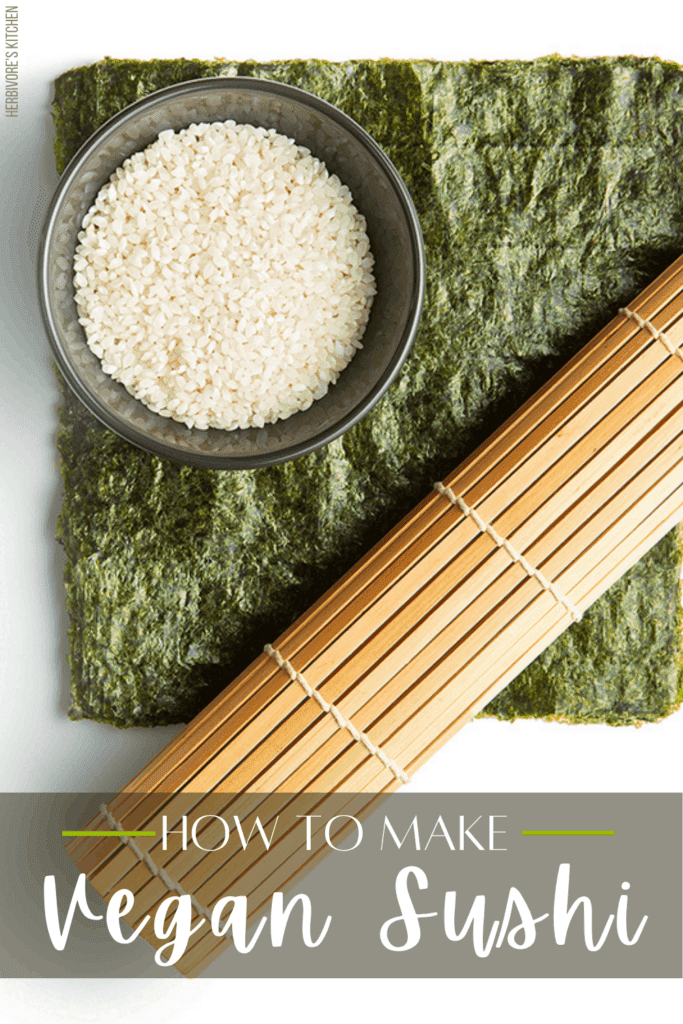 Below is a step-by-step visual description of how to make sushi, along with a couple of tips I've picked up along the way.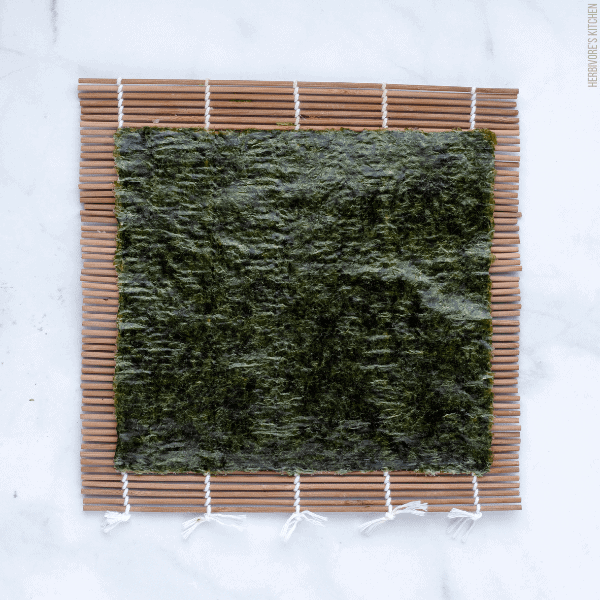 Step 1: How to Make Sushi
Start with a single sheet of nori and place it in the middle of your sushi rolling mat.
Step 2: How to Make Sushi
Add 1/4 of the sushi rice to the nori and gently spread it out. I find it works best to wet your fingers to keep the rice from sticking to your hands.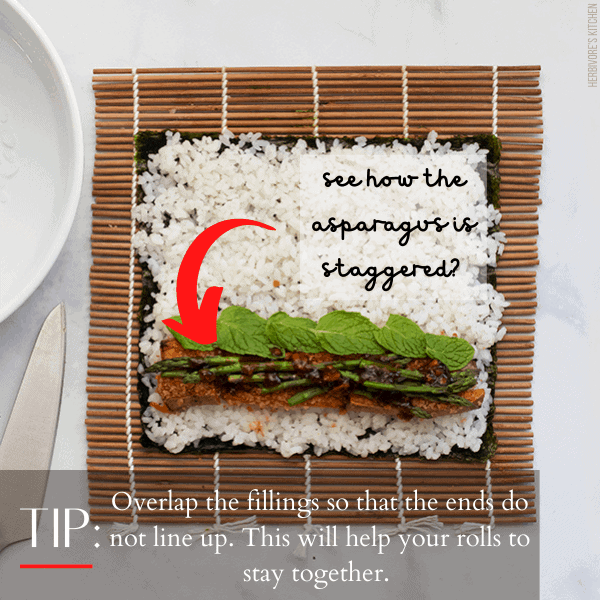 Step 3: How to Make Sushi
Add the ingredients to the bottom third of the nori. Stagger the ends of the ingredients — this will help your sushi rolls stay together.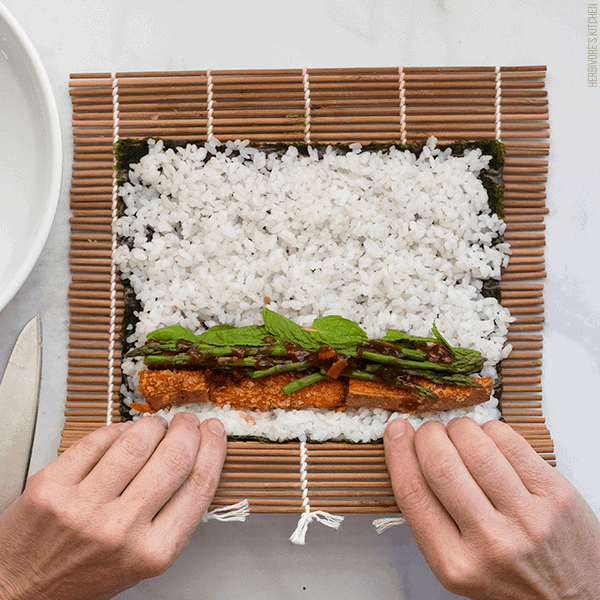 Step 4: How to Make Sushi
Starting at the bottom, bring the end of the sushi rolling mat up over the sushi roll filling.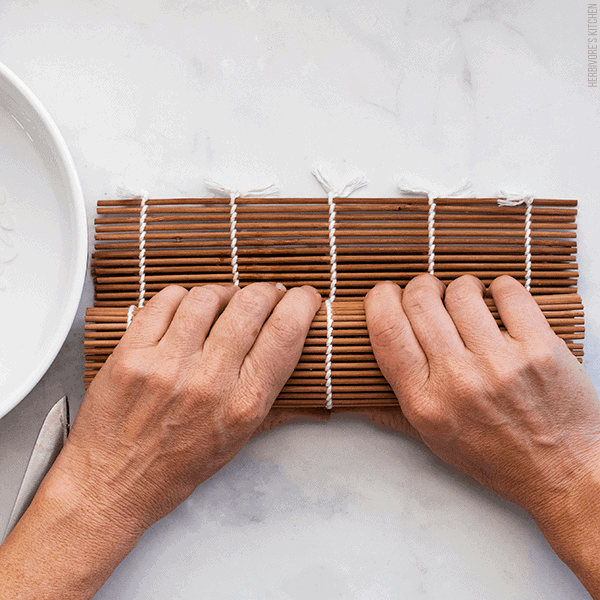 Step 5: How to Make Sushi
Gently press down on the mat as you roll the sushi. This will compress the ingredients together.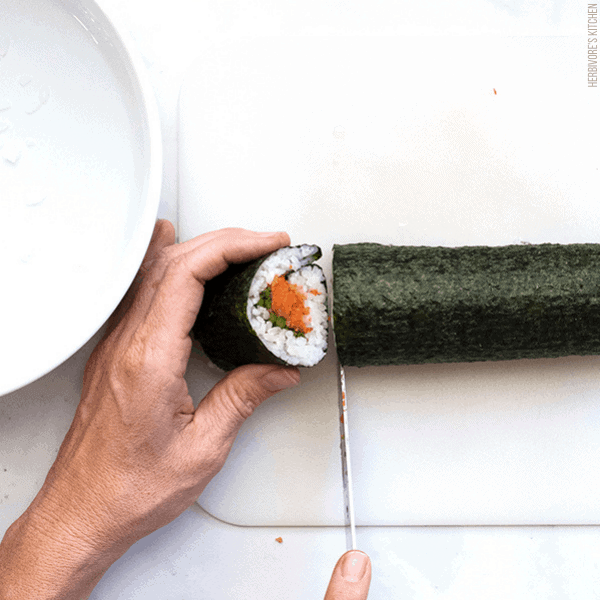 Step 6: How to Make Sushi
Use a sharp knife to cut 6-8 sushi pieces from each roll. I find that wetting the blade of the knife in between cuts makes for a cleaner cut.
Love These Sweet Potato Sushi Rolls? Be Sure to Check Out Some of My Other Vegan Sushi Recipes!
Vegan recipes offer up some of the best sushi rolls for beginners. It's easy to find ingredients and you won't need to worry about serving undercooked or raw seafood. By using flavorful ingredients like panko breadcrumbs, teriyaki sauce and miso glaze, you can transform simple plant-based ingredients into amazing sushi rolls.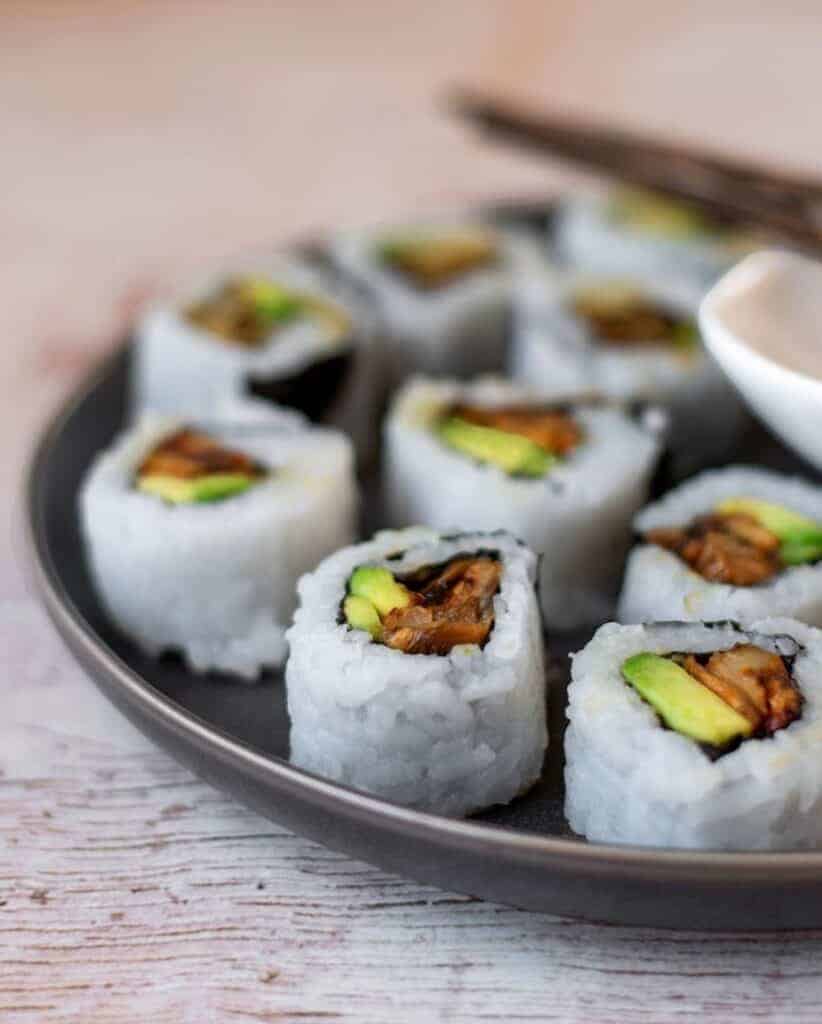 These vegan unagi rolls are the answer to eel rolls. Miso-glazed eggplant replaces the teriyaki eel for a umami-packed vegan sushi experience!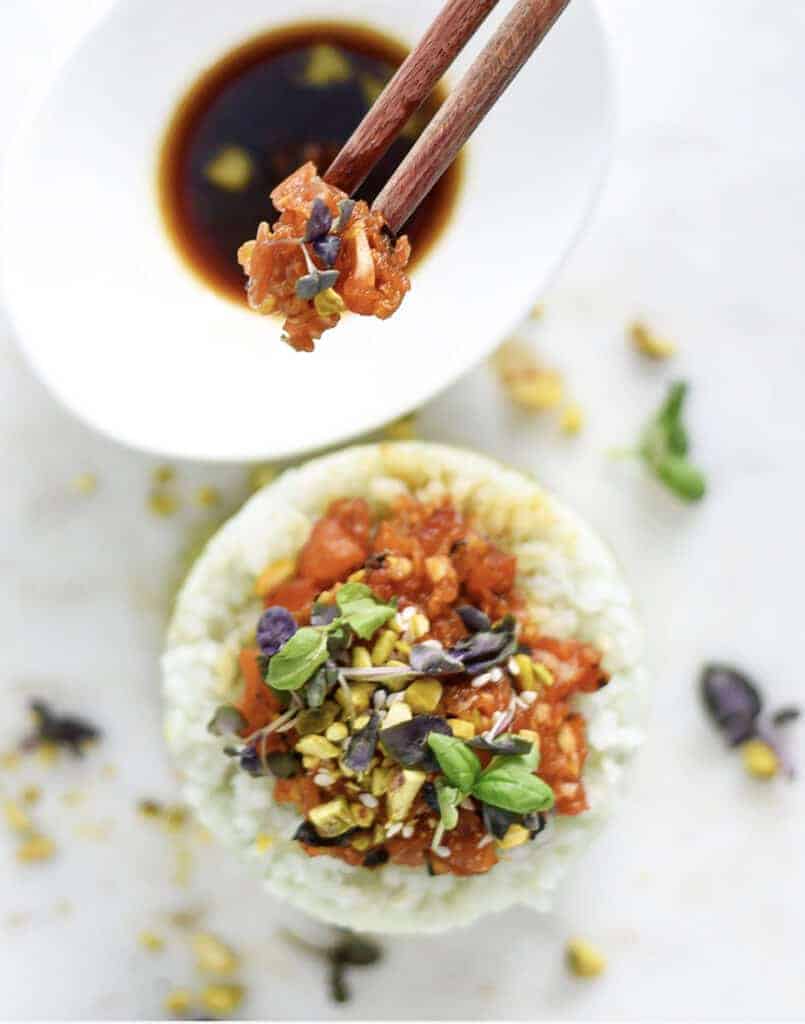 This is a showcase vegan sushi dish if ever there was one! A tower of sushi rice with a layer of fresh avocado is topped with vegan "tuna" — made using Roma tomatoes in a savory tamari sauce.
What's in My Kitchen to Make Sweet Potato Sushi Roll: Discover the Best Sushi Rolls for Beginners Easier?
Want to know what tools and resources I keep on hand to make my vegan cooking even easier? Here's a short list of what helped me create this blog post and recipe. For the complete list, visit my Shop where you can find the kitchen gadgets I like as well as a list of books that I recommend.
Making a vegan sushi recipe at home may sound intimidating, but don't let it scare you away. It's actually a fun way to include other family members in food preparation.
This simple sushi making kit strikes the balance between providing the right equipment and limiting your kitchen gadgets. It comes with 2 bamboo sushi rolling mats, a rice paddle and a rice spreader. All you need to make vegan sushi recipes at home!
If you're going to go to the trouble of making sushi at home, you'll want to display it properly! These jewel-toned sushi plates include dipping bowls and chopsticks for the full sushi-eating experience!
've tried a lot of non-aerosol oil dispensers over the years. Most of them were disappointments, either because they delivered a direct stream of oil instead of a mist before becoming clogged or because my hand would cramp so badly trying to hand pump out a few measly drops.
These dispensers are game changers though. I have the set of two, one that keeps olive oil and a second that I filled with grapeseed oil. They help me to use a fine amount of oil when I only need a small amount.
A couple of years ago, I replaced my traditional crockpot with this multi cooker. I love this thing. It has settings for sautéing, simmering, braising, boiling and warming (among others). It's one-pot, slow cooking at its finest. I sauté my onions and garlic, then bring my broth to a boil, reduce it to a simmer and low, slow cook it all afternoon. All in one device.
Steaming vegetables is an excellent way to retain their nutrients. It's also a great pre-roasting trick for vegetables like cauliflower. Steaming cauliflower before roasting it gives it a wonderful soft-on-the-inside, crispy-on-the-outside texture which is great for recipes like my Cauliflower Buffalo Wings and Roasted Cauliflower in a Sticky Lemon Sauce.
I love this steamer basket because it's simple, resizable and cleans up easily. It's also inexpensive and compacts well for easy storage in the kitchen.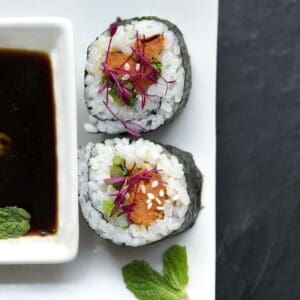 Vegan Sweet Potato Sushi Rolls
Looking for the best sushirolls for beginners? Try starting with these vegan sweet potato sushi rolls!
Ingredients
Sushi Rice
1 1/2

cups

dry sushi rice

prepared in accordance with the package directions (see Recipe Notes)

2

tbsp

rice vinegar

1

tbsp

sugar

1

tsp

salt
Sweet Potato Sushi Rolls
2

sweet potatoes (garnet yams)

washed and cut into thick fries

1

tbsp

safflower oil + additional oil for spraying on to the fries

or other heat-tolerant oil

salt & pepper

a few generous twists from each mill

1

cup

panko breadcrumbs

see my blog post for a detailed description of panko breadcrumbs

1/2

tsp

salt

1

bunch

asparagus

washed and trimmed

5

oz package

fresh mint

washed and destemmed

4

nori sheets

sesame seeds

as optional garnish

microgreens

as optional garnish

tamari

for dipping sushi

2

tsp

wasabi powder + 1/2 tsp water

for making wasabi paste
Vegan Teriyaki Sauce
1

tbsp

fresh garlic

minced

1

tbsp

fresh ginger

minced

1/2

cup

tamari

1/2

cup

water

2

tbsp

maple syrup

1

tbsp

rice vinegar

1

tbsp

cornstarch

2

tbsp

water
Instructions
Preheat the oven to 425º.

Prepare the sushi rice by combining the rice vinegar, sugar and salt into a small saucepan. Heat until the sugar and salt have dissolved. Combine with the cooked rice and allow the rice to cool slightly.

Toss the sweet potato fries in the safflower oil and season with salt and fresh ground pepper. I recommend a few generous twists from each mill. Lay the sweet potato fries out on a baking sheet and roast them on the middle rack for 20-25 minutes, pausing to flip the fries halfway through.

While the sweet potato fries are roasting, prepare the teriyaki sauce by combining the garlic, ginger, tamari, water, maple syrup and rice vinegar in a small saucepan. Bring to a simmer.

In a separate bowl, combine the cornstarch with 2 tablespoons of water and stir until the cornstarch has dissolved into the water. Then add the cornstarch slurry to the saucepan. Simmer for about 10 minutes, stirring frequently. The sauce will begin to thicken. Allow the sauce to cool slightly (it will continue to thicken), then store in an airtight mason jar.

Remove the sweet potatoes from the oven and allow them to cool. When they are cool enough to handle, combine the panko breadcrumbs and ½ tsp of salt. Spread the breadcrumbs out on a shallow plate. Roll the roasted sweet potatoes in the panko breadcrumbs, gently pressing the breadcrumbs into the sweet potatoes.

Arrange the sweet potato fries back on to the baking sheet and spray them lightly with safflower oil. Then return the fries to the middle rack of the oven and roast for 10 minutes until the panko has crisped. See Recipe Notes.

Steam the asparagus and cut the spears into 3-inch pieces. See Recipe Notes.

Make the sushi rolls by laying 1 sheet of nori on the bamboo rolling mats. Wet your hands (this keeps the rice from sticking to your hands) and add 1/4 of the rice to the nori. Using the rice spreader or your hands, spread the rice out on sheet of nori, creating a thin layer of rice. Place a row of sweet potato fries, asparagus spears and mint leaves about 1/3rd of the way from the bottom of the nori sheet. Drizzle the fillings with teriyaki sauce.

Starting at the bottom of the mat, roll the mat up and over the filling. Gently press and then continue to roll. Unroll the mat and then use a sharp, wet knife to slice the roll into 6-8 pieces. See my blog post for visual instructions.

Top with sesame seeds and microgreens, if desired, and serve with tamari and wasabi paste.
Notes
I use my KitchenAid Multi-Cooker to make rice. It's similar to a crockpot, but with a number of different settings for simmering, sautéing, slow-cooking and yes… cooking rice. I have found over the years that it's just too easy to overcook rice on the stovetop. This handy kitchen appliance gets the job done right every single time.
I use a non-aerosol spray dispenser for lightly coating the sweet potato fries in oil for the final stage of baking. I've tried a number of different brands, but I find that this spray oil dispenser works the best.
You can steam the asparagus in a steamer basket on the stovetop for 3-5 minutes. The asparagus should be bright green and slightly crisp when done. If you don't have a steamer basket, simply roll the asparagus spears in a slightly dampened paper towel and microwave on high for 3 minutes. Be careful removing the asparagus from the microwave as the steam will be very hot!
About Herbivore's Kitchen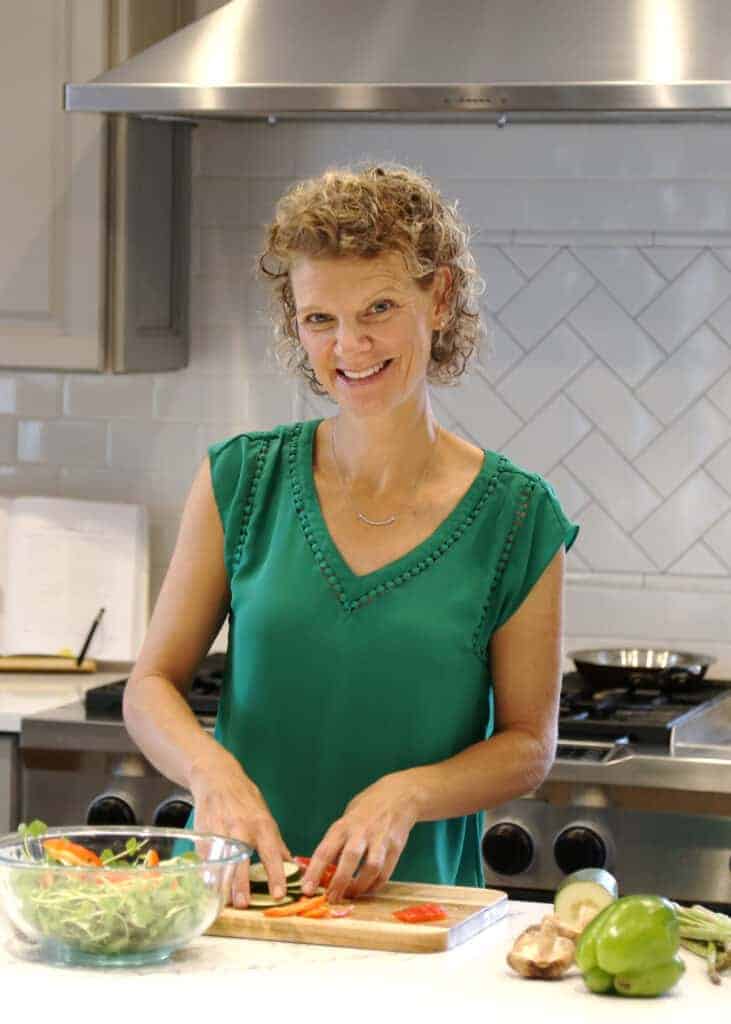 Herbivore's Kitchen is a blog run by me, a plant-based home chef and aspiring food photographer. I switched my diet to a plant-based diet after learning about the health benefits of going vegan. Making this change has prompted a variety of food and holistic-lifestyle related questions that I explore through this blog. I talk about how to pick and prepare the most nutritious foods, to how to reduce waste at home, to how to live a more sustainable lifestyle while on the road.