This Is Cocoa Butter Vegan? Whether You Call It Cocoa Butter or Cacao Butter, This Cooking Fat Is Vegan post includes affiliate links. When I find a great product or service, I like to share it with my readers. Sometimes I use affiliate links so I can earn a commission for my recommendations. Thank you for your support!
Is Cocoa Butter Vegan? Whether You Call It Cocoa Butter or Cacao Butter, This Cooking Fat Is Vegan
When I first started vegan cooking, I didn't have a strong grasp on what ingredients qualified as vegan. As such, I avoided foods that sounded un-vegan even if I wasn't sure. Enter cocoa butter.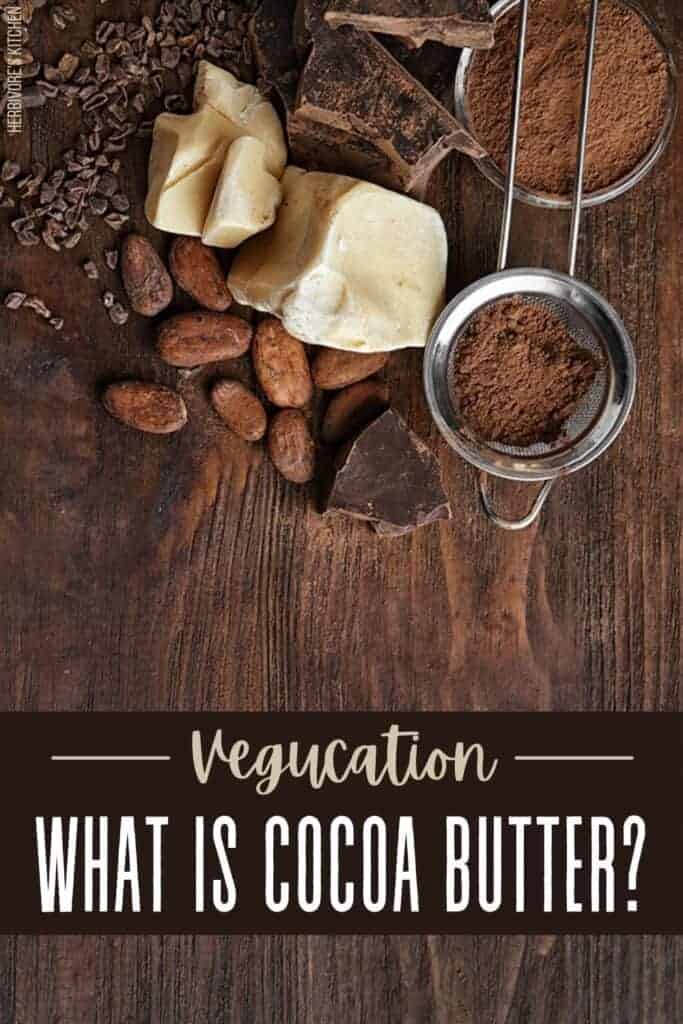 If ever there was a vegan ingredient that sounded like it included dairy, it's cocoa butter. As it turns out though, cacao butter gets the green light from a plant-based perspective. Unlike dairy butter, which is churned from cream, cocoa butter is derived from the fat extracted from cacao beans. This pale yellow fat is pressed from the roasted beans and the remainder of the bean is ground into cocoa powder.
Cacao Butter and Vegan Dark Chocolate
Cocoa butter winds up in just about every chocolate recipe for a few reasons. First, it's legally required. At least in the United States. Around here, 100% cocoa butter must be used for a product to be called chocolate. Second, cocoa butter tastes and smells like cocoa (as one might expect). And, finally, it has a low melting point – right around 101º Fahrenheit – making it perfect for a treat that melts in your mouth and not (all together now!) in your hands.
How to Cook with Cocoa Butter
Cocoa butter has a high smoke point, making it a great vegan substitute for dairy butter. Its slightly sweet flavor makes it a popular choice in vegan desserts. When melted, it has a smooth, silky texture. You know the one – that unmistakable slick of goodness that a piece of slowly melting chocolate leaves on your tongue. That's cocoa butter.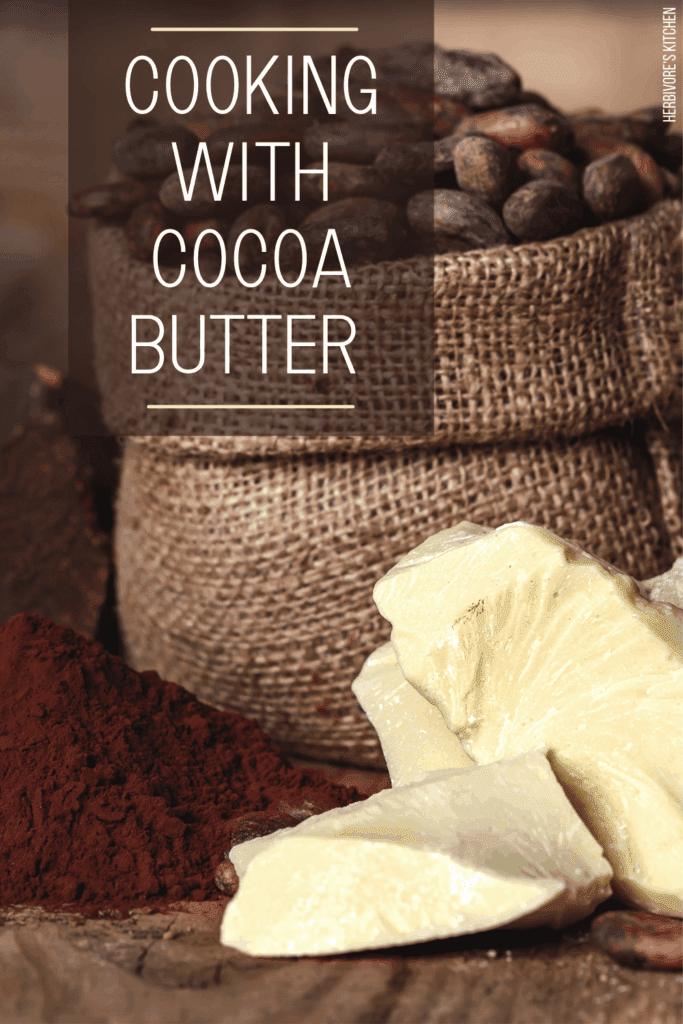 How to Shop For & Store Cocoa Butter
When shopping for cocoa butter, make sure you buy food grade as cosmetic grade options aren't suitable for consumption. If you're buying dark chocolate, just be on the lookout for ingredients like casein, whey, milk solids and milk powder in addition to cocoa butter. Inclusion of any of these ingredients will strip chocolate of its dairy-free status.
Because of cocoa butter's low melting point, it should be kept in a cool place – like the refrigerator. It's naturally high in antioxidants, so it has a long shelf life. If kept cool, cocoa butter should last years and not months.
Is Cacao Butter Good for You?
Now that we've answered the question: is cocoa butter vegan? let's ask the natural follow up question: is cocoa butter good for you?
Cocoa butter is a combination of saturated and monosaturated fats, so it should be consumed in moderation. Fat aside, it is thought to be high in antioxidants and minerals so you can think some positive thoughts while eating chocolate. It just could be lowering your blood pressure and improving your heart health!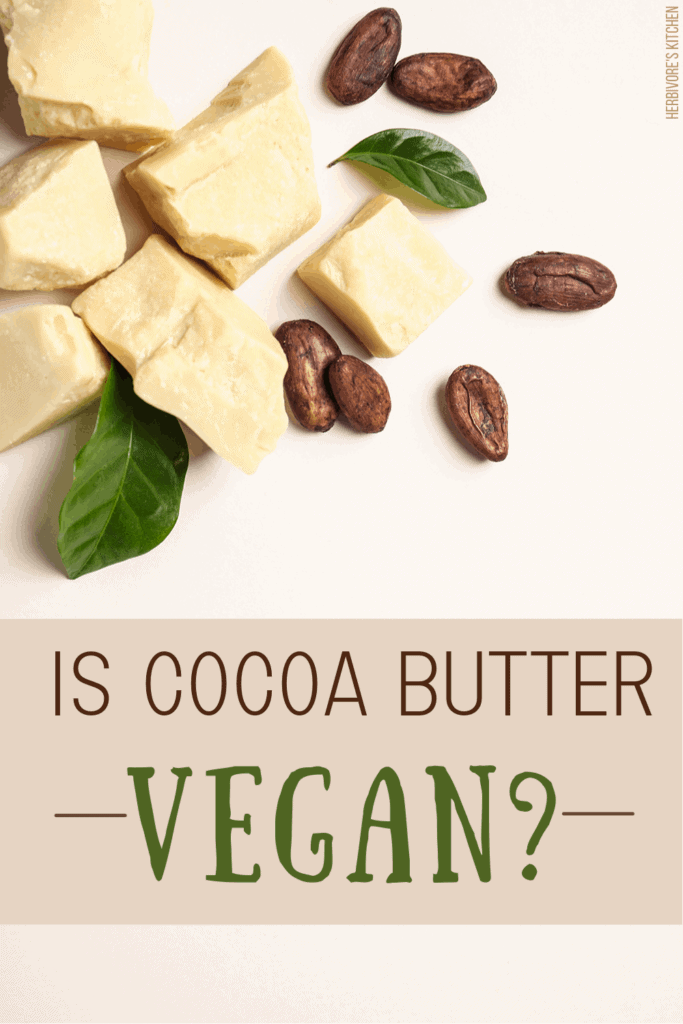 Cocoa Butter and Skin Care
Cocoa butter is also a popular ingredient in skin care products. Its high fatty acid content is thought to nourish the skin and lock in moisture but research is on-going. So, until cocoa butter officially joins the ranks of Vitamin A and the Fountain of Youth, feel free to keep eating that dark chocolate!
Did You Like Learning About Cacao Butter?
Did you like learning about cacao butter? Be sure to check out the Vegucation section of my blog. I get down to the details on all kinds of vegan ingredients, like chia seeds, nutritional yeast and tofu!
About Herbivore's Kitchen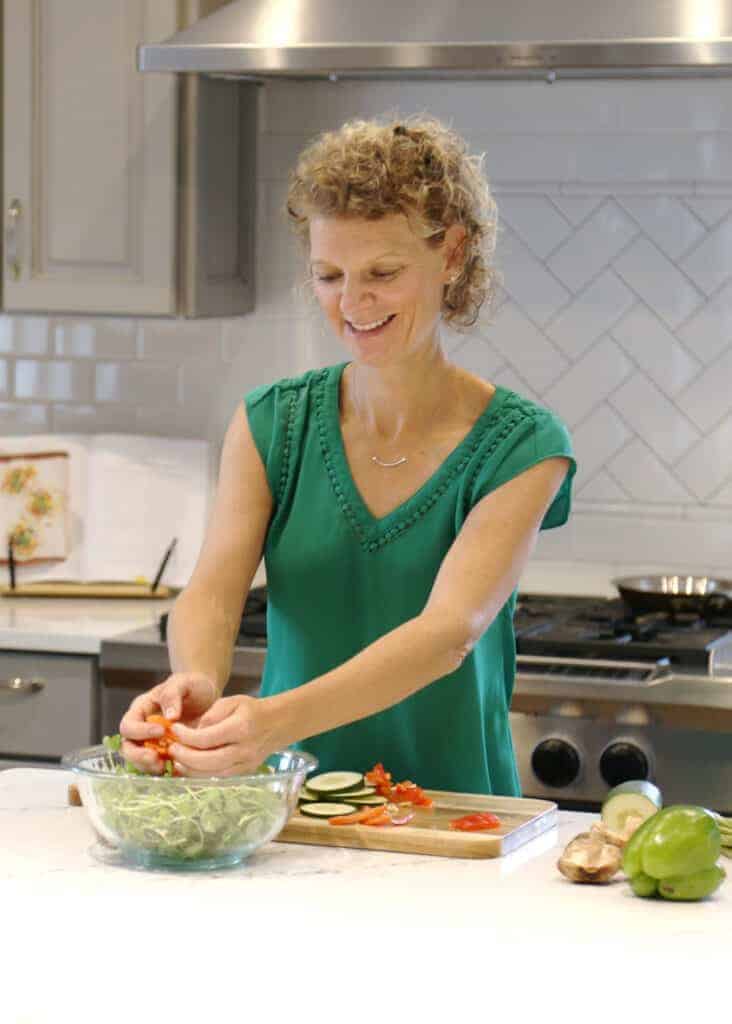 Herbivore's Kitchen is a blog run by me, a plant-based home chef and aspiring food photographer. I switched my diet to a plant-based diet after learning about the health benefits of going vegan. Making this change has prompted a variety of food and holistic-lifestyle related questions that I explore through this blog. I talk about how to pick and prepare the most nutritious foods, to how to reduce waste at home, to how to live a more sustainable lifestyle while on the road.