This Vegan Meat Recipes: How to Make Vegan Meat with Whole Food Ingredients post includes affiliate links. When I find a great product or service, I like to share it with my readers. Sometimes I use affiliate links so I can earn a commission for my recommendations. Thank you for your support!
How to Make Vegan Meat with Whole Food Ingredients
Looking for homemade vegan meat recipes? Learn how to make plant-based meat substitutes using whole food ingredients like beans, mushrooms and jackfruit. These healthy vegan meat alternatives will satisfy even the most devote carnivores!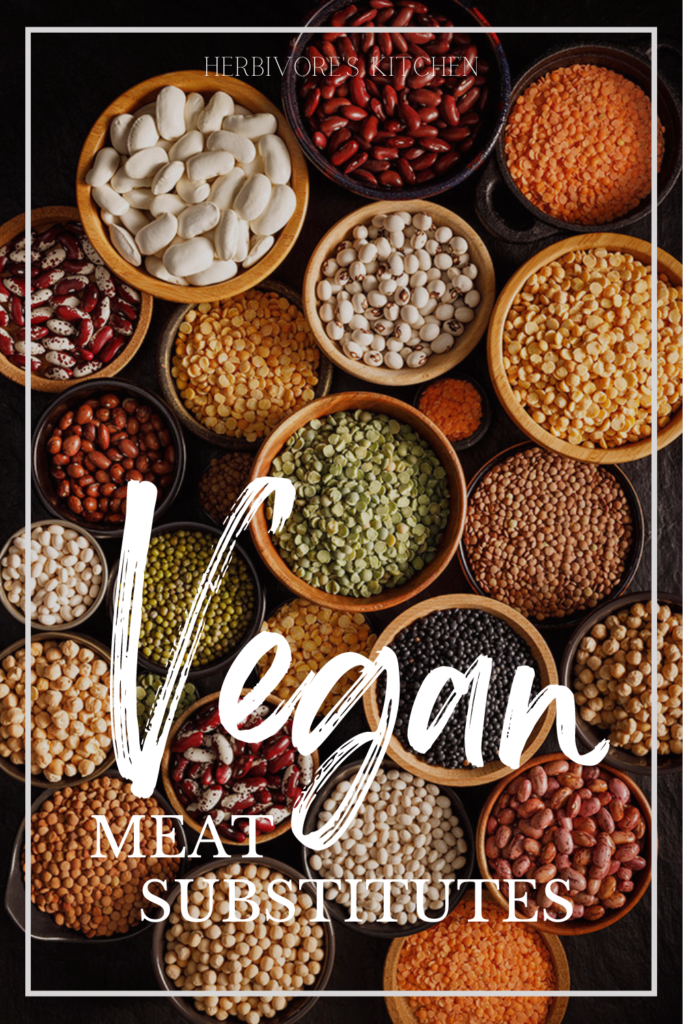 What is Vegan Meat?
Vegan meat is a tough thing to define. For starters, the term itself is an oxymoron. If it's meat, it can't be vegan.
Personally, I use the term only to indicate that my chosen plant-based ingredient is intended as a substitute for meat in a traditional dish. This helps beginner vegans or home cooks that are interested in incorporating more plant-based meals into their diet better understand the recipe.
The Evolution of Plant-Based Meats
Vegan meat substitutes have been around for a long time. Long-time vegans have been using tofu, tempeh and seitan for years. These alternatives struggled to appeal to true meat eaters however. Honestly, with the exception of tofu, they struggle to appeal to me.
What is Tofu?
Tofu is made from the milk extracted from soybeans that is then coagulated and pressed into blocks. It comes in a variety of textures, from extra firm to silken.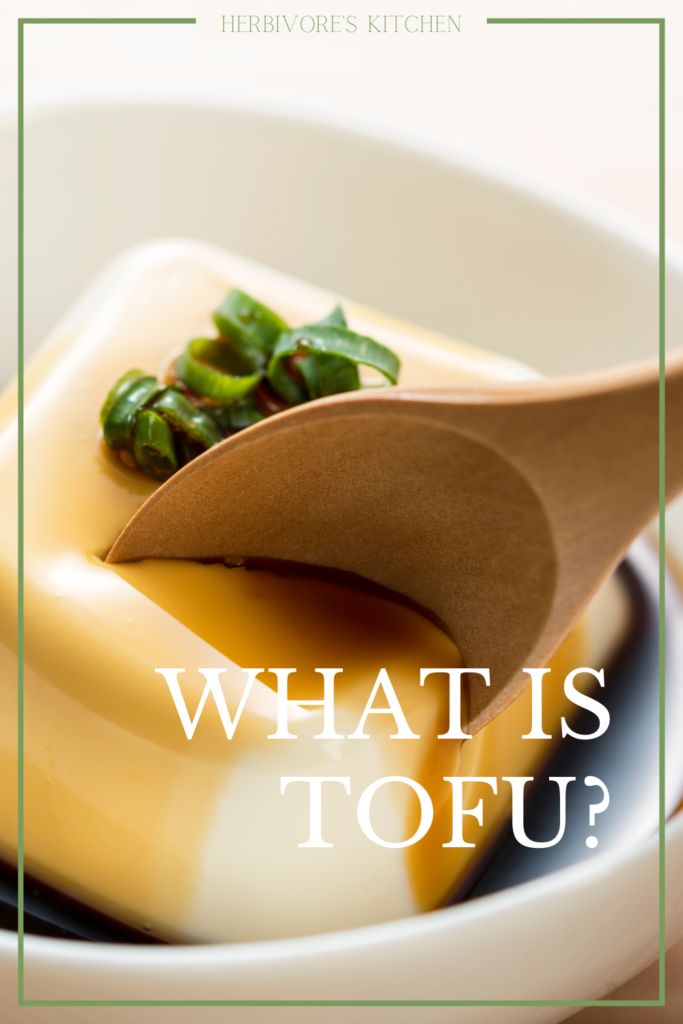 Tofu is fairly mild in flavor on its own and it does a great job of absorbing the flavors in which it is cooked. It does well simply cut into blocks and added to soup, baked, roasted and pan fried. I especially like roasting it in a miso glaze.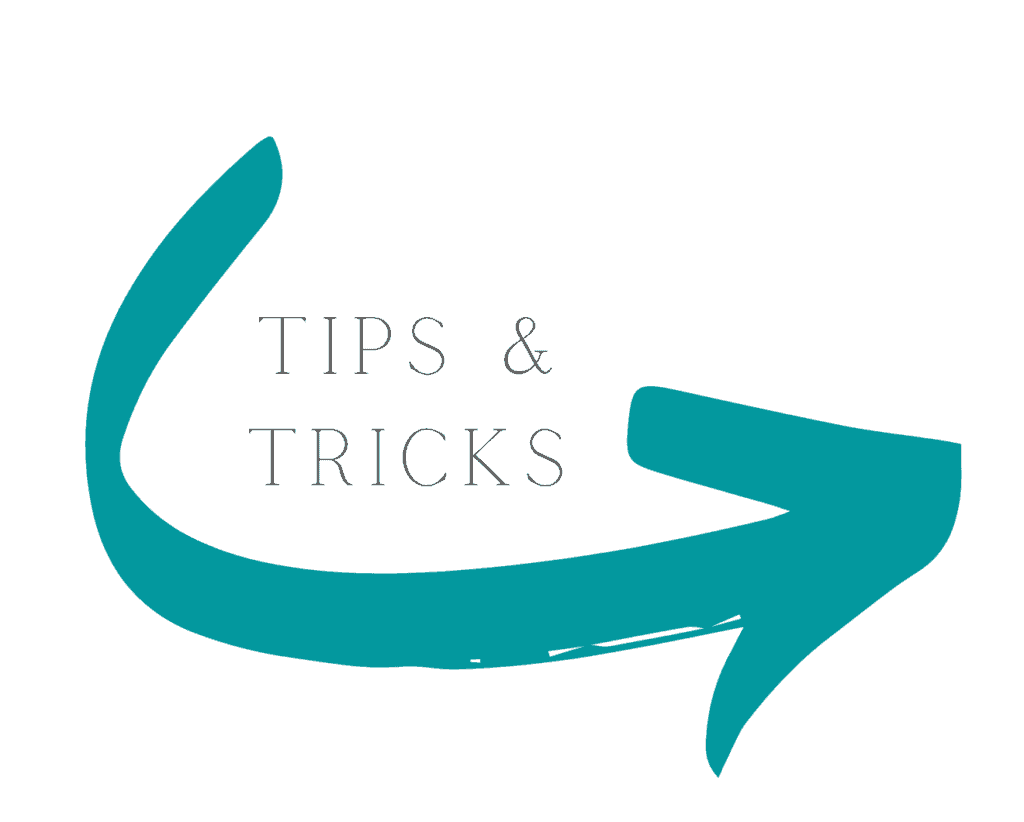 What is Tempeh?
Tempeh, like tofu, is made from soybeans although it's not usual for other beans and grains to be added.
To make tempeh, soybeans are fermented and then packed into a brick. Tempeh is high in protein, fiber, vitamins and mineral. Tempeh tends to have a stronger fermented flavor than tofu and it has a chewier texture.
What is Seitan?
Seitan is made from gluten, which is how it got its nickname "wheat meat." Seitan is mild in flavor and has a texture similar to processed meats like hot dogs, chicken nuggets and meat loafs. It is good pan-fried, grilled and stir-fried.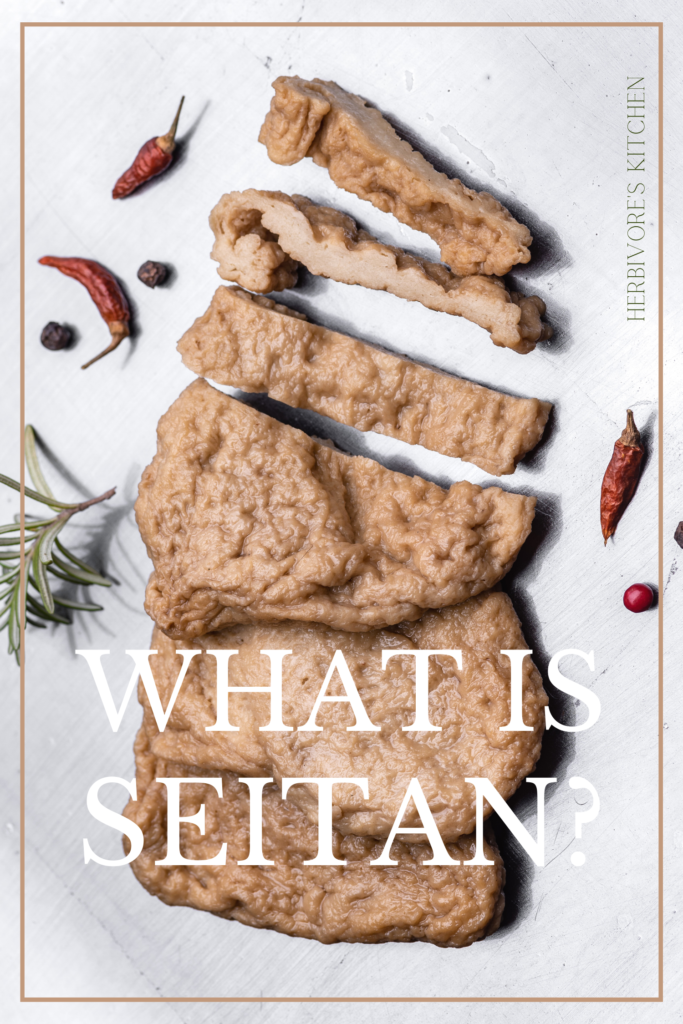 Today's vegan meat alternatives, like Beyond Meat and Impossible Foods, seek to capture a larger market by replicating the appearance and texture of real meats. Plant-based burger patties, sausage crumbles, chicken nuggets are now readily available at most grocery stores.
What is Vegan Meat Made Of?
Commercial vegan meat alternatives tend to include a lot of processed ingredients. For example, one of the most popular vegan meats contains pea protein, canola oil, coconut oil, rice protein and potato starch.
Like meat, these products contain protein and fat, making them a better alternative for the planet but not necessarily a healthier alternative for you. This is especially true when you consider the nutrition you could derive from making your own vegan meats using whole foods.
How to Make Vegan Meat with Whole Foods
Personally, I don't like commercially produced meats. Sure, they taste fine and I'm grateful that there are widely-available plant-based options out there.
But… adding more plant-based foods to my diet started as an opportunity to eat healthy and do right by the planet. Commercially produced meats only check one of those boxes. Think about it – you only have so much calorie consumption a day. Why not fill it with as many good-for-you ingredients as possible?
With that goal in mind, I set out to recreate some of my favorite dishes with whole food plant-based meat alternatives. Dishes like Vegan Cassoulet, Black Bean & Sweet Potato Enchiladas, Vegan BLT Sandwiches, Shepherd's Pie, Vegan Chorizo and General Tso's are some of my favorites.
These dishes use whole food meat alternatives in lieu of bacon, shredded pork, ground beef and chicken. Some of these alternatives are simple. For example, my General Tso's recipe simply swaps cauliflower in for chicken. My Vegan Chorizo though – that uses a blend of kidney beans, walnuts and sun-dried tomatoes.
My Favorite Vegan Meat Ingredients
There are plenty of options when it comes to substituting meat with plant-based ingredients. Black beans, kidney beans, mushrooms, cauliflower and lentils are some of my favorites.
Let's take a look each of these ingredients and how I use them in some of my favorite plant-based recipes.
Vegan Meat Substitute: Beans
Yes, I know. Beans. So obvious.
But there's more to using beans as a vegan meat substitute than heating them up. Beans make a wonderful ingredient in a number of meat substitutes.
Making Vegan Sausage with Kidney Beans
My favorite, perhaps, is using kidney beans to make vegan sausage. They're…well, meaty – for lack of better word. And the dark red color doesn't hurt either. Kidney beans are good source of protein, fiber vitamins and minerals. Kidney beans contain carbs, but they rank low on the glycemic index.
In my Easy Vegan Chorizo recipe (from my 5-Ingredient Vegan Cookbook) I use kidney beans as the main ingredient. I supplement the kidney beans with toasted walnuts and sun-dried tomatoes and season this combination with spicy chorizo seasoning.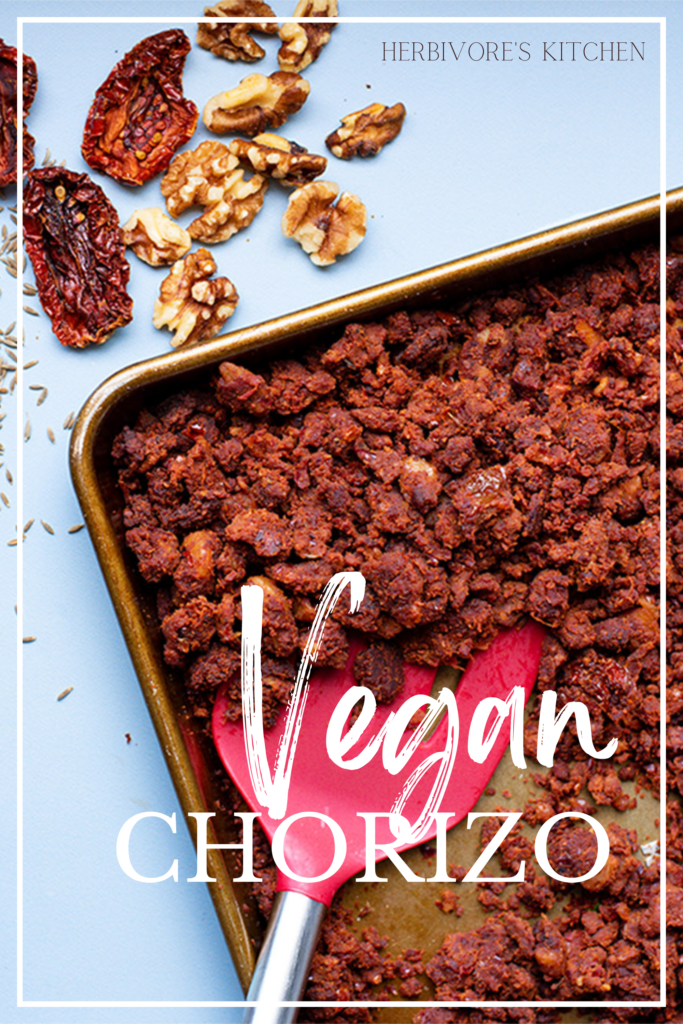 My easy vegan sausage links recipe is simple, containing only mashed kidney beans and sausage seasoning. You can find this recipe as part of my Vegan Bangers & Mash recipe.
Black Beans: A Staple in Vegan Mexican Recipes
Black beans are a staple in my vegan cooking as well. Also called turtle beans, black beans are high in fiber and B vitamins, iron and manganese. They're easy to find, whether you're looking for them dried or canned.
My Black Bean & Sweet Potato Enchiladas are a family favorite. I make them on the regular – for our meals at home… and when we're hut tripping it in the winter! Black beans, of course, are intended to be a substitute for ground beef, a common ingredient in traditional enchiladas.
Mushrooms: The Ultimate Vegan Meat Substitute
Mushrooms are one of my favorite ways to replace meat in traditional recipes.
If you don't cook with mushrooms often, you're missing out. There is more to mushrooms than the common button mushroom. Lion's mane, king oyster, shiitakes – they each have different flavors and textures making them ideal candidates for vegan meat alternatives.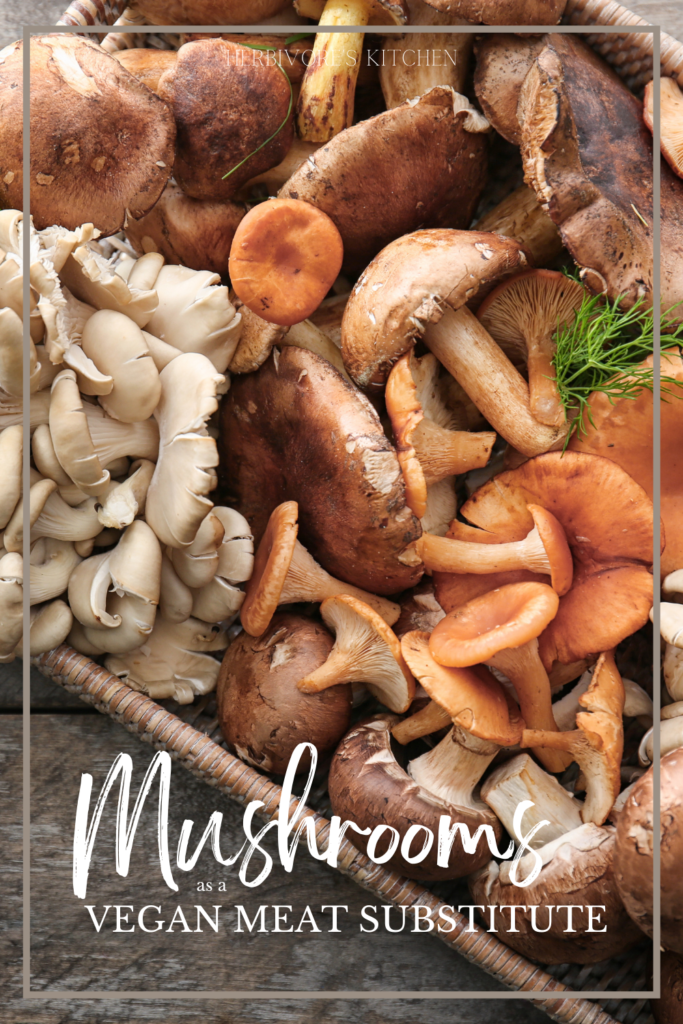 For example, I use shredded King Oyster mushroom stems in place of shredded duck in my Vegan Cassoulet recipe. This mushroom's stems are firm and pull apart just like slow-cooked duck would. Mushrooms, porous as they are, do a wonderful job of absorbing the savory cassoulet broth.
I use shiitake mushrooms in place of beef in my Pho Chay recipe – one of my favorite dishes to make in the wintertime. Shiitakes are rich in umami, with a buttery flavor. When cooked, they're chewier than button mushrooms, making them a satisfying addition to this vegetable-forward dish.
Lion's Mane mushrooms though – these guys have my heart. Not only are they cool to look at, they make an outstanding vegan meat substitute for crab. That's right, Lion's Mane mushrooms are the key ingredient in my Vegan Crab Cakes.
Jackfruit: Shredded Vegan Meat Perfection
Jackfruit is one of the most interesting vegan meat substitutes. It is a large, watermelon-sized fruit native to Southeast Asia. The "meat" of jackfruit is mild in flavor and shreds in the same way that chicken or pork would shred.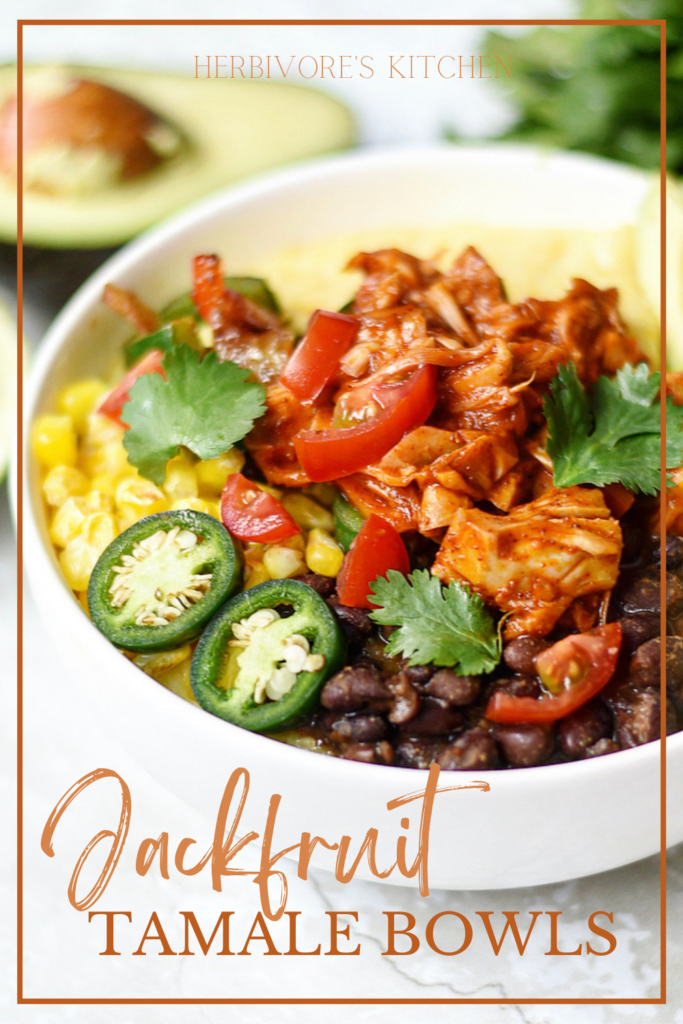 Jackfruit can be purchased whole in many Asian markets, but most grocery stores carry it canned. It's packed in water or brine. When I cook with it, I drain it, rinse it and then press as much moisture out of it as I can with clean kitchen towels.
Once it's dry, I pan-fry it the same way I would shredded chicken or pork. It's a featured ingredient in my Moo Shu Pizza, Deconstructed Vegan Tamales and Jamaican Jerk Jackfruit Bowls.
Cauliflower: The Plant-Based Darling of Asian-Inspired Vegan Meals
Cauliflower is a good example of a plant-based meat substitute that doesn't get a lot of extra treatment. It's a simple 1:1 swap in many of my vegan recipes. The trick is to steam the cauliflower before battering it for the recipes that call for it. This ensures a soft interior and a crispy exterior.
For example, I use cauliflower as a chicken substitute in many of my Asian Vegan Recipes. It's the highlight in my Crispy Orange Cauliflower and Sweet & Sticky Lemon Cauliflower.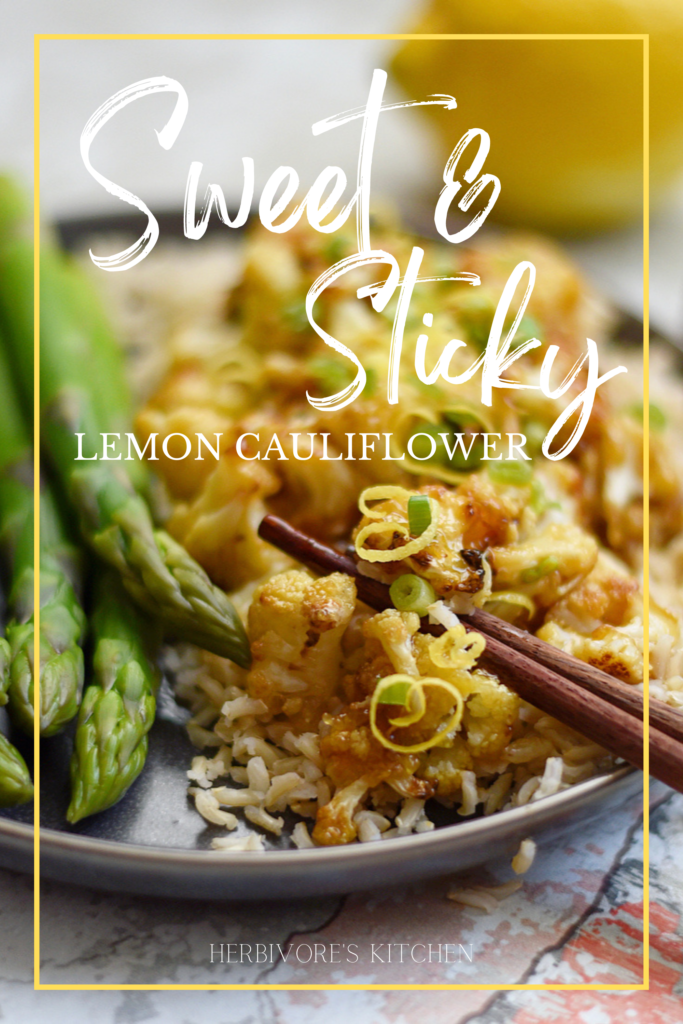 Cauliflower is also an ideal game day vegan ingredient as well. My Baked Cauliflower Buffalo Wings are an excellent vehicle for a vegan buffalo sauce. You can even use the leftovers to make Buffalo Cauliflower Pizza.
Lentils: Vegan Ground Beef
These vegan-friendly, protein-packed powerhouses are one of my favorite ingredients in my pantry. Unlike most other dried legumes, lentils do not require soaking before cooking.
When shopping for lentils, you may notice different types. Among the most common are brown lentils, green lentils, red lentils and black lentils. Each variety has a different cook time and consistency.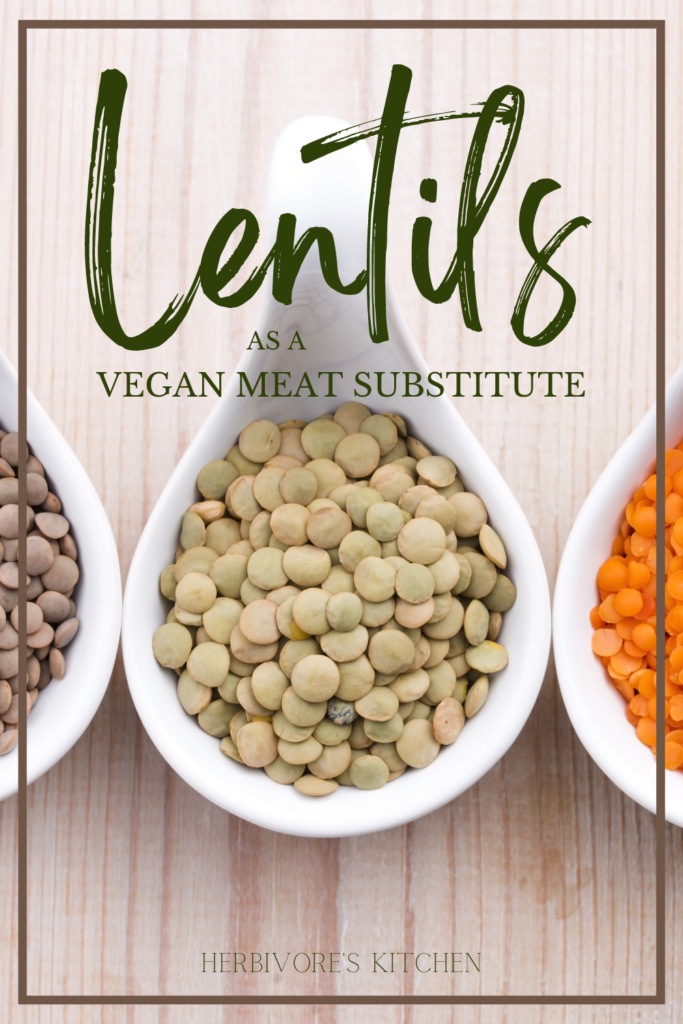 For example, green and brown lentils take longer to cook and maintain their shape and some firmness throughout the cooking process. They're popular in dishes like vegan meatloaf and I use them in my Easy Vegan Shepherd's Pie.
By contrast, red lentils and beluga lentils (or black lentils) cook quickly. Red lentils become soft when cooked, so they're perfect for vegan recipes like my Spicy Red Lentil & Roasted Cauliflower Vegan Tacos and my Vegan Lentil Bolognese.
About Herbivore's Kitchen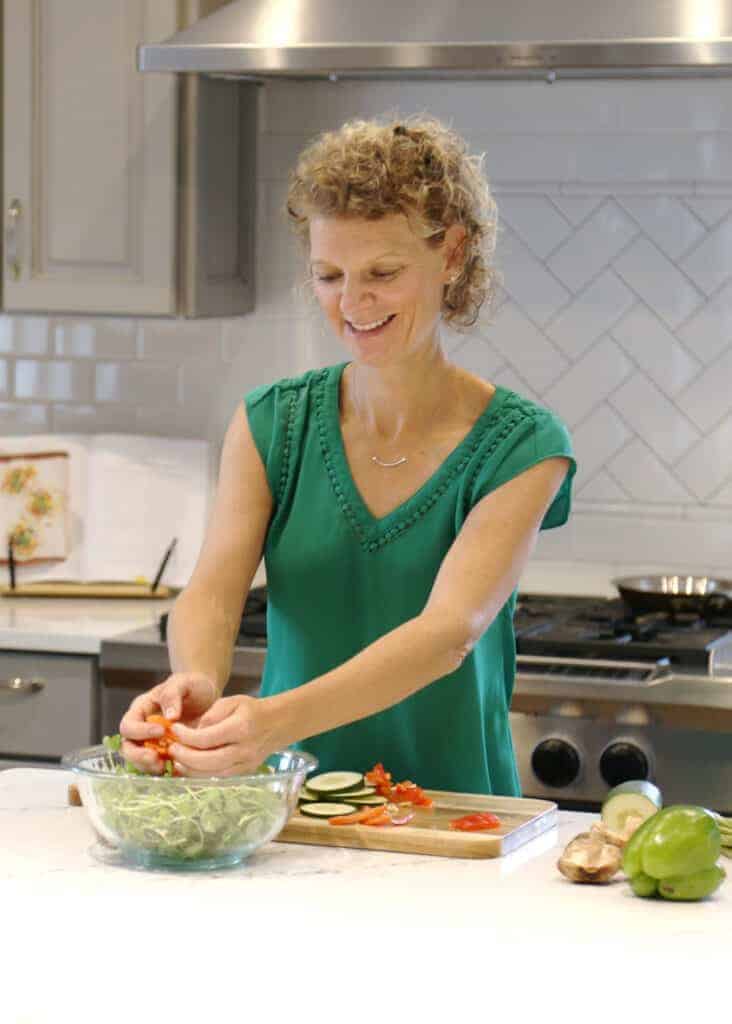 Herbivore's Kitchen is a plant-based food blog started by me, a vegan home chef, cookbook author, aspiring food photographer and how-to-be-a-better-food-blogger junkie. You'll mostly find creative and tasty vegan recipes and detailed deep dives into vegan ingredients (check out my Vegucation section) on my blog. I love knowing as much as I can about the food that I make. I'm also really into running a food blog as a business, so I've also got a section of my blog titled: Confessions of a Food Blogger where I get into the nitty gritty on how to build, manage, market and monetize a food blog.